24+ Best Niche Site Ideas for Your Blog in 2022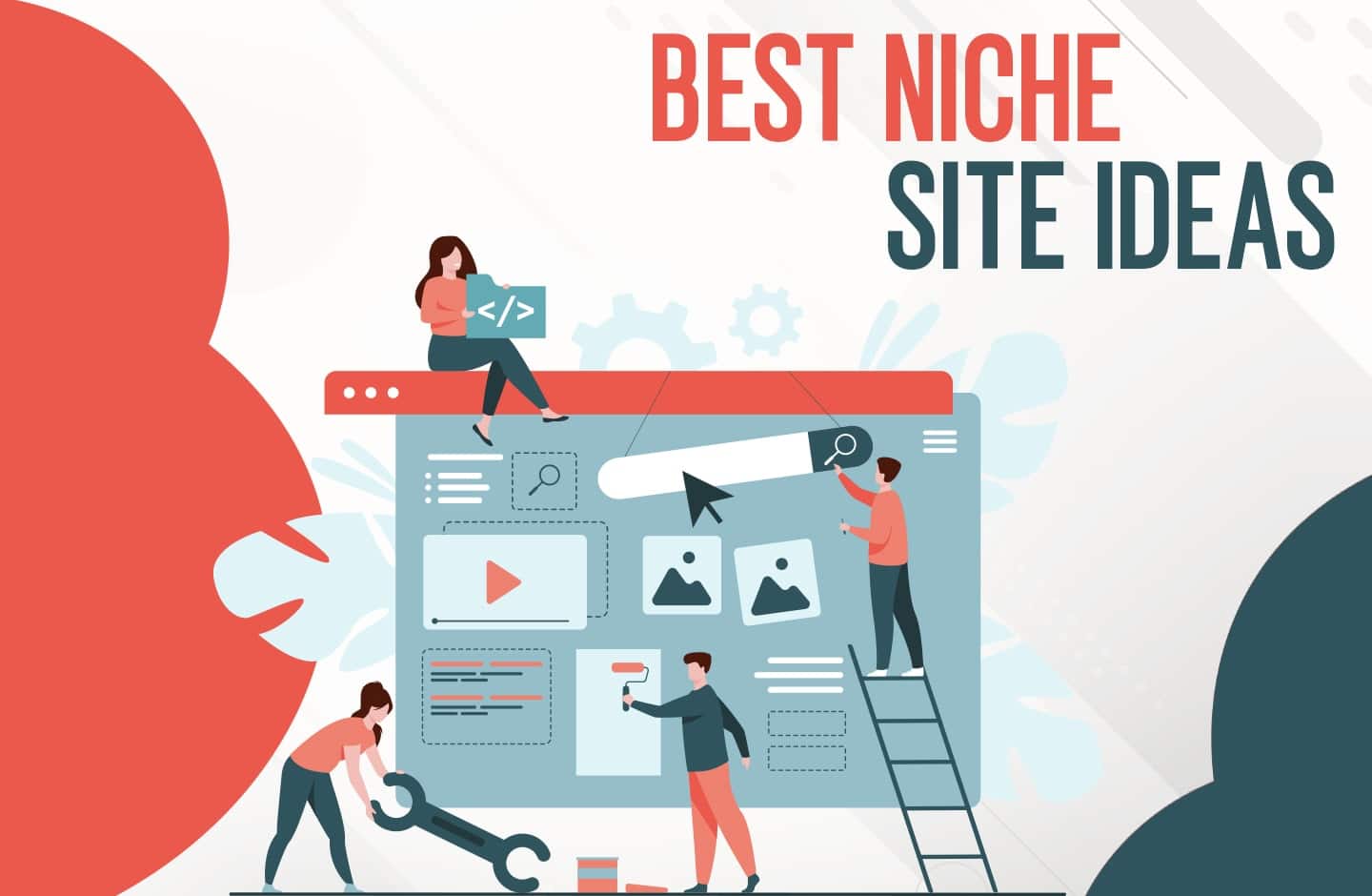 You're finally ready to make money blogging.
Well, you're in the right place. One of the best ways to make money online is to create a profitable website in a highly targeted niche.
The quality of your niche website is one of the most important factors in determining if your site makes money or simply be a hobby.
Think about selecting your niche as choosing the foundation you're going to build your house on. Even if you write amazing content and perfectly optimize your site if you don't choose a good niche your site might never rank and therefore never make money.
You can read my guide, "How To Build A Niche Website" for a step-by-step tutorial on how to create your site itself once you've picked out the perfect niche.
Let's get into how you go about picking that perfect niche and some ideas to get you started.
What You'll Learn 
What a Niche Site Is

What a Sub Niches Are

What Makes The Best Niche Site

Our 25 Best Niche Site Ideas
What Is A Niche Site?
A niche site is a site that has authority on a specific topic (AKA: topical authority) Anyone with a laptop can put out a site with information these days but if the information is inaccurate or unfocused you can expect search engines to kick that content to the back of the web.
When you create a niche site you are making it known that your site has expertise in one sector and as a result, you should be a trusted source. If your site had content on everything under the sun, Google knows no one can have good information if it's not focused.
One thing to consider is that even niche sites are getting extremely competitive these days. A website based on something like tennis can be considered highly competitive as so many people are trying to profit in the space.
What's the solution?
You could go after a sub-niche instead.
What Are Sub Niches?
You can think of sub-niches as an even more targeted niche.
If you start a site that is too broad, such as "dogs", you might find your content does not rank well because search engines have not established your expertise in that niche. 
A better strategy would be to find less competitive sub-niches that still allow you to promote the offers you want.
You could pivot your niche into sub-niches like "raw diet for dogs" or even a particular breed like labradortraininghq.com.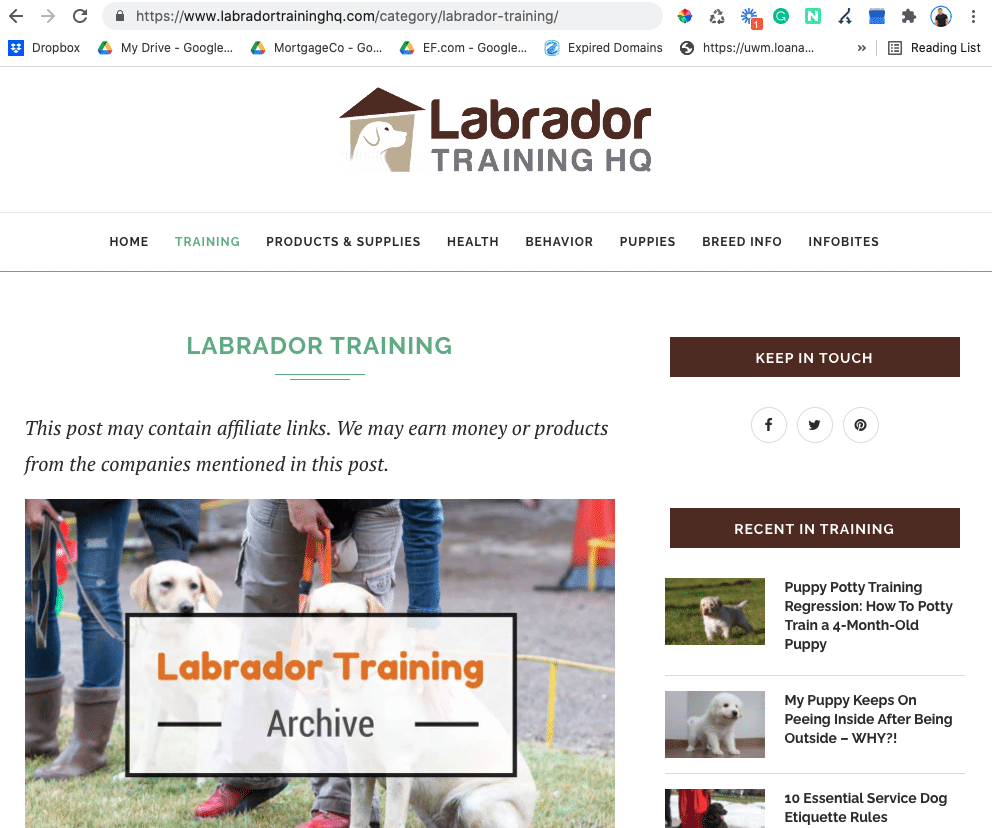 Because your information will be more targeted you'll have better luck picking up less competitive long-tail keywords.
Instead of competing with big dog brands to tank for the word "dog food", you can rank for something like " best food for lab puppies"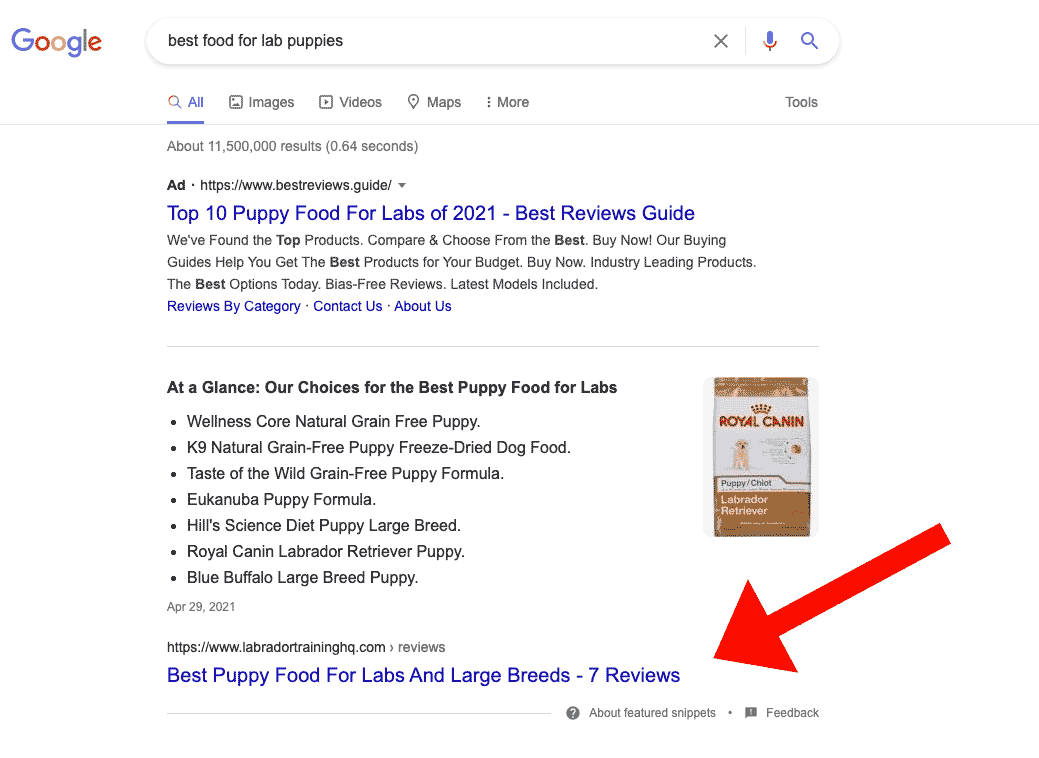 Pro Tip: When you're going after longer tail keywords not only are they less competitive but it's likely people searching for something specific have higher purchase intent and therefore are more likely to convert on your offer.
What Makes The Best Niche Site?
A great niche site idea should check these boxes.
Affiliate Offers: There is no point in building a site that you want to make money on in a category that has nothing for you to promote. Even if you are a huge fan and expert on a topic if there are no affiliate offers in that space you'll have a hard time generating revenue for your site.
Keyword Research: The most important thing you can do before starting your site is keyword research. I look for keywords that have a lot of search volume but are not too competitive. Search volume is the number of queries Google gets for that specific keyword.
My favorite tool to use is Ahrefs but there are plenty of good Ahrefs Alternatives, some that are even free.
Competitive Advantage: I'm sorry to break it to you but you're not the only one trying to make money in this space. It's not surprising this industry is a gold mine but as a result, we are in a gold rush. Competition is fierce among marketers going after particular niches that pay the most.
Your niche needs to strike that perfect balance between having enough traffic and not being too saturated.
Domain Name: The domain name you chose has a profound effect on the quality of your niche site. Domain flipping is an option where you can purchase a domain name that already has some authority within your niche. This gives you a leg up as opposed to creating your site from scratch.
Your domain name should be short and highlight the niche you've chosen to be in. If you're having a hard time finding a domain name in your space this could be a sign this niche is oversaturated. 
Expertise: Google does not want to serve content produced by just anyone. They want content produced by experts that have topical authority in their niche. Your niche idea should be something you can speak to at a high level.
If you have built a career around vintage cars that might be a good jumping-off point for you. Lean into the things you already know and continue your education in that space.
Will People Spend Money: Another great consideration of a good niche site. Are people willing to spend money in this space? There are a lot of things people are passionate about, foraging, swimming, visiting every state in the United States for example, but are they willing to spend money in these spaces, likely not. You want a niche where people are required to purchase something you review or advise on so that your affiliate links can be tied to it.
Now that you've got an understanding of what qualifies a good niche site let's take a look at some ideas.
25 Best Niche Site Ideas
1. Camping
Outdoorsy and camping sites are a great option for a profitable niche.
Remember what I said, "a successful niche site should be targeted and well researched."
Pro Tip: Don't try to go after tents as your site's niche. That's way too broad and you won't find too many offers. Instead try camping in a specific climate or location.
Take a look at this example: BikeHikeSafari
You can see the author has chosen a very specific niche: biking & hiking. He has also chosen a niche where there are plenty of affiliate offers available to him. Chances are those gear reviews are filled with affiliate links he is profiting from. 
Use this idea as a jumping-off point. Think about a niche that fits into your lifestyle. If you hate hiking and don't know anything about the outdoors you're going to have a hard time coming up with content in this space.
Adversely if this is a space you're interested in think of a way you can set yourself apart. Maybe you only camp in snowy climates or maybe you only hike over 100-mile hikes.
2. Dogs 
Dogs are a great niche site idea because so many people are passionate about them and willing to spend money on them.
Let's take a look at an example of a dog niche website that is doing it right.
Check out TerrierOwner.com
This site is focused tightly on people that own terriers, not just people that own dogs.
They then took it a step further by creating categories by breed and then making it seem like their product recommendations are for that breed only.
So instead of trying to go for the keyword "best dog bed" which is very competitive, they went for the longer tail keyword with higher purchase intent "best Jack Russell dog bed."
When you're thinking of profitable niche ideas you should think about how best to structure your site to pick up the most qualified traffic.
3. Exercise & Fitness
We live in a society that will always have an obsession with diet and exercise. Whether it's to look good or feel good the amount of money spent in this niche is one of the highest.
According to The Global Wellness Institute, "US consumers spend more on physical activity than any other country in the world—$265 billion."
Remember what I said about picking a niche people spend a lot of money in. The fitness niche is one of the best.
Diary of a Fit Mommy is a great example of a successful niche.
This creator did not try to take on fitness as a whole or even fitness for women. She went after fitness for mothers, a group that is motivated to feel better.
From that site screenshot, you can see she has a guide to the best supplements and within that guide, there are affiliate links. Sia is an expert in fitness so her content is well researched and she has linked to products to sell which means she is generating revenue.
4. Clothing
This niche can have a lot of competition but luckily you know by investing in a sub-niche you can break through that.
Let's think about some ideas that could get your wheels turning in this category. Maybe you are a particular body size and therefore are an expert in dressing that body type.
Here is an example from The Modest Man.
A site dedicated to dressing and styling shorter men. That's a brilliant niche. People looking for this content are looking to purchase clothing that fits them well. This targeted audience is in the position to be sold to and as a shorter man, the author is an expert.
One thing I love about this site is not only is he monetizing through affiliate links but also through a guide. There are so many online business models that you can implement once your niche site starts generating traffic. The great thing about a guide is it can turn into a passive income stream.
5. Digital Nomads
The thing about being a digital nomad is that you need very particular things. Expensive things.
You might be reading this as a nomad yourself and if you are chances are you know that you need equipment for your work that is reliable, well researched, and light.
As a result, a digital nomad niche website is a great idea.
Two Wandering Souls is a blog dedicated to remote work life and travel.
They have guides on the best backpacks, laptops, headphones, and more. If someone was trying to begin their journey this one-stop-shop would be a great resource to help.
Pro Tip: Your content should always add value and be helpful. While you are likely trying to make money from your site, most of your traffic will come from helping others with free education and resources.
As with most successful niche sites, this site is monetized in more than one way. They have product guides filled with amazon associates' affiliate links, resources for getting started and they even have a guide on how to make money on the road.
 This is truly how you want to structure a site that will generate passive income.
6. Fishing
Fishing is a skill that requires finesse and patience.
Most people don't have either which is why they run to the web to find information on the best ways to fish specific locations.
If you happen to have grown up along a particular river or have expertise in a specific style this niche could be a great one.
DIY Fly Fishing is a site dedicated to fly fishing in California. Now, that's a pretty targeted audience.
This site is interesting because instead of using affiliate links it is a membership site. Essentially the information is gatekept and users need to pay to access it.
The creator can do this because he has created an authority site in a specific niche.
Pro Tip: If you are going to create a membership site charge a small monthly fee to access it. This way you can put clients on rebill and at such a small rate they won't even notice they pay for it.
7. Tiny Homes
The thing that makes a great niche site idea is when the site answers a lot of technical questions. When someone is thinking of building a tiny house they don't need to reinvent the wheel. They are looking to find people that have done it successfully before them.
Tiny homes can end up costing quite a bit of money especially if construction gets off course. If you have a site in this space you can position yourself as the person who will save others time and money.
The Wayward Home is a great example of a site in this niche.
Pro Tip: What you want to consider is the average order value of items in your space. Chances are you will be using affiliate links that kickback a percentage of the sale to you. If the items you're promoting are high tickets then that kickback is even larger.
Tiny homes are still pretty pricey so this niche is a great option for large payouts.
8. Rock Climbing
The best niche sites are highly educational with a smaller percentage trying to promote goods.
Pro Tip: I think a perfect balance is 70% education and 30% content that is product-based.
The reason for this is that you want people to trust you are an expert in your field. Why should they buy something you recommend?
If you've been providing them with well-researched content and created an authority site your audience will be more likely to convert to your offers.
Climbingblogger.com is a great example of this. Not only does the author have a ton of free resources he's even conducting his own polls and research. You can tell he is an expert in his field. His site does have affiliate links in them but the products he is promoting still seem to have been personally vetted.
9. Organization
This niche has gotten wildly popular.
I can't open my phone without seeing a color-coordinated cabinet with items in acrylic bins.
Fun fact: Each of those little bins can run from $20 – $100.
Most of the pantries or closets you see have tons of them which means people are shelling out a lot of money to make their Pinterest dreams come true.
RiOrganize is a great example of a site that is making money in this niche. Her blog posts explain her process for organizing every room in your house while linking you to the products to purchase.
If I were to monetize this site I would lean into a free traffic source like Pinterest or Reddit.
Why? This site is founded on visuals and is in large majority used by women. You can create pins for free and embed your affiliate links into each one of them. Essentially you could make money solely off Pinterest affiliate marketing.
10. Project Management Tools
Let's face it, we all need a little help managing our projects. One of my favorite is Asana but there are plenty of alternatives for Asana.
The thing about managing projects is a good template can make all the difference. These templates are the foundation of your business and ensure things run smoothly.
Elizabeth, from A Girls Guide To Project Management, saw a hole in the market she could help fill.
She was able to monetize her blog and create passive income by creating template packages you can purchase. They're at a decent price point too.
Affiliate sites are not the only way to make money online today this is a great example of how niche websites with a good amount of traffic can be successful.
11. Virtual Interior Design
Now, this is a niche that's filled with money-making pockets.
When you chose a niche you would think about one that can be monetized in more than just selling products. 
With this niche sure you can sell interior design products but you can also make money through Google display ads, guides, and design services themselves.
You can check out JuliannRachel.com to get an idea of how she has made her site highly monetized.
Viewers can flip through her design guides that are filled with affiliate links or request virtual designs. This is another niche that could expand its inbound traffic by having a Pinterest strategy in place.
12. 5k Running
This niche doesn't offer as much of a monetizing opportunity as some of the others but if it's something you're passionate about you might want to take a crack at it.
Remember when I spoke about finding a niche people spend money in. Running is a fairly inexpensive sport so your opportunities to make affiliate revenue are a bit limited.
However, running is a sport that people need guides for.
Pro Tip: I'd monetize a running site by selling a couch to 5k course, training plans, diet plans, and of course adding affiliate links to articles on my favorite shoes.
Here is an example of a great running site: I am Running This
As you can see they've carved a nice niche for themselves in an otherwise pretty saturated market. They further defined their niche by focusing on vegan running. This niche within a niche will have a very specific audience thats looking for answers that fit their parameters. 
13. Zero Waste
I know what you're thinking. "Jon, what do you mean zero waste didn't you just tell me to pick a niche I can sell things in."
I did.
But believe it or not, you do have to buy some things to become zero waste. For example, compost bins, reusable water bottles, reusable utensils, and more.
The interesting thing about this niche is that ZeroWasteChef offers a book. It is of course a digital download to save paper and therefore trees.
Pro Tip: If I was the creator of this site I would monetize through webinars. Webinars are virtual events you can host live or sell recordings to.
Cooking is a great skill to share visually. If you're an expert in cooking from a specific area or culture this could be a great niche for you.
14. Photography
Photography is an expensive hobby that also requires a certain level of skill.
Pro Tip: Costly + Skill Based = The Perfect Niche.
Why? because when a niche is complex people need the resources to learn its specific nuances. This means they are Googling to try and find answers which you might have on your site.
Once they find the answers they are looking for they might review the rest of your site and purchase a product an expert like you has recommended.
Mirrorlessons is a great example of a niche site idea that nails this.
The niche is targeted to mirrorless cameras and the author is educating on how to use them and then of course reviews a ton of options. Rather pricey options, so when they make a sale he will get a big payout. Assuming he's read my guide to affiliate marketing.
He's also got display ads running on his site which offer even more revenue.
15. Dooms Day Prepping
A great way to hone in on a niche is for people to be obsessed with that topic and constantly looking for more information on it.
Preppers are a group of people that are super passionate about preparing for the end of the world or an apocalyptic situation.
Their passion makes them a very engaged and active audience looking for advice that to them could mean life or death.
The Prepared Blog is a great example of information preppers need. They have education on what plants are edible to guides and kits. Honestly, they've maxed out the monetization of this site.
Pro Tip: As you build your site remember that you don't have to sell directly from your site. You can collect email addresses and sell to your traffic in their inbox. This is a great way to retarget people with information and products they've viewed on your site.
16. Home Birth
Speaking of life and death situations. The birth of a child is an event with super high stakes. Many women want to give birth at home but want to be safe about it and don't know where to start.
This is a great niche for just that reason. When things are as high stake as this people are willing to pay top dollar for education resources that help it go smoothly.
Bad Ass Mother Birther has created a niche site around this exact idea.
Her blog does a great job of making money through selling ebooks and guides but it's leaving a lot of money on the table.
Pro Tip: Just because you have a product to sell does not mean you shouldn't promote affiliate offers. Some people worry their site will get too commercial and no one will trust the information if it's filled with affiliate links. To combat this really test and believe in the products you promote.
17. Local Wineries
Have you heard of micro-influencers?
More and more influencers with millions of followers are getting looked over by brands in exchange for micro-influencers who have just a few thousand followers.
Why?
Well, micro-influencers are more trusted by their followers and more relatable. By going super local you're also going super-niche so your audience is likely living in or be fans of your location.
This website, A Taste of Temecula, is dedicated to wineries from a small town in California.
Instead of going for all the wines in California, they positioned themselves as experts in a specific area, and as a result they show up on top of the search engine results page.
18. Saltwater Aquarium
Saltwater aquariums are super hard to maintain and super expensive. Having access to a saltwater aquarium expert is essential to the well-being of your tank.
Enter saltwateraquariumadvice.com. This site offers the expertise of Andrej, a biologist, renowned marine aquarium author, and total reef geek.
No one wants to watch their fish die or lose a ton of money so Andrej finds himself in a market where he can sell his advice.
This guy made the smart move to turn his site into a membership site. Users just need to pay a fee to unlock their resources.
19. Couponing
How does one make money off a site about couponing?
In this niche, you can still make money from affiliate links by calling attention to sales going on for products.
Your audience is looking to buy something, which is half the battle, but they want a great deal. If you call out products to buy on sale you sill facilitated the sale so you can still get an affiliate kickback.
If you take a look at The Krazy Coupon Lady's website you'll see she has hundreds of reviews on products that are on sale.
She could improve the amount of money her site makes by turning it into a membership site. Membership site access is generally cheap so her viewers won't mind paying it to save money overall.
20. Gluten-Free Blog
If you've recently been diagnosed with Celiac intolerance you might have a tough time adjusting to your new gluten-free life.
Channel Signals, stated that keywords related to this category were searched 2.4 to 3.4 million times in a month. So the search volume is huge. Maybe too big so let's look at an option to refine this niche into something more targeted.
Gluten Free Mommy helps hone this niche to moms looking for gluten-free baking ideas.
This site seems to be one of those sites that is simply a passion project which is a shame because there is a real potential to make money from this site.
If it were me I'd throw in a paid membership site, courses and shopping lists with affiliate links and she could have a revenue stream on her hands.
21. Vegan Bodybuilding
A lot of advice is needed around vegan bodybuilding. It's hard to get the correct amount of protein when you're on a plant-only diet.
As a result, vegan bodybuilding is a great niche option.
There is a lot of flexibility in this niche.
Pro Tip: You can do affiliate marketing without a website. Vegan bodybuilding could be just the niche to do it in. As long as you create a robust social media following you can simply embed your link into a swipe-up feature to drive traffic to it.
Take some inspiration from No Meat Athlete.
This site is one worth checking out because they've hit on almost every revenue stream. The site is organized well and has a diverse mix of products to choose from. You can see that they've leaned into affiliate programs to maximize their traffic.
22. Art
Art is generally expensive and not just because of the skill and time it takes the artist to produce a piece. Art supplies are expensive too.
This makes an art niche one that could be lucrative. Not only are you teaching how to produce a certain style of art but you are linking them to the products they need to purchase to make it happen.
You could make money in this niche in a variety of ways. For one, you could sell a paint along course, think about a Bob Ross style video where you break down exactly how you produced a piece. Then you could link to the products you use with affiliate links. You could take it a step further and have display ads on your site as well.
Let's take a look at JeanneOliver.com
This site is a greater example of teaching a skill in a number of ways. Not only does she offer courses and workshops she also offers a podcast, which is another way to get affiliate programs in front of your audience.
My favorite thing about this site is she also offers business consulting which makes perfect sense. If you are creating a successful online business why would you not add another revenue stream by teaching others to do it as well.
23. Hand Weaving
If you have any knowledge of an art form or anything that might be going extinct this puts you in a unique situation to create a successful niche.
Information is slowly getting lost or forgotten and people are willing to pay a price to relearn it.
Let's take a look at this site, Peggy Osterkamp.
Handweaving is an extremely complex skill. To put it plainly you can't just wing it, you need guidance from an expert.
Pro Tip: Meet your audience where they are. You can see Peggy put out a book and a DVD. Many people learning to hand weave are of a generation that appreciates getting their information in that format. This is a way to sell a product in a way her audience can consume it. If you're creating a blog on cryptocurrency chances are people in their 20's don't want a book or DVD.
24. Bullet Journaling
This industry is taking the digital market by storm. In case you don't know what bullet journaling is, it's essentially a highly organized planner that is customized to the user's preferences.
How are people making money in this space? They are selling guides and templates that others can use to model their journal off of as well as the journals themselves.
Pro Tip: If you don't want to hold any inventory in your digital business you could find a company that drop ships journals to your customers so that all you have to do is facilitate the sale.
Here is an example of someone making money in this niche: Tiny Ray Of Sunshine.
This creator has made courses as well as linked all of her recommended items on her site. She's making money with all of these offers.
Final Findings:
I hope these niches have got your wheels turning about a space you might find success in. Remember to consider if it has affiliate opportunity, enough traffic, and is an area you could be an expert in. There are endless small pockets on the web where people are looking for guidance. Hopefully, your website is one they will stumble across next.