9 Best Pet Affiliate Programs with High Payouts (2022)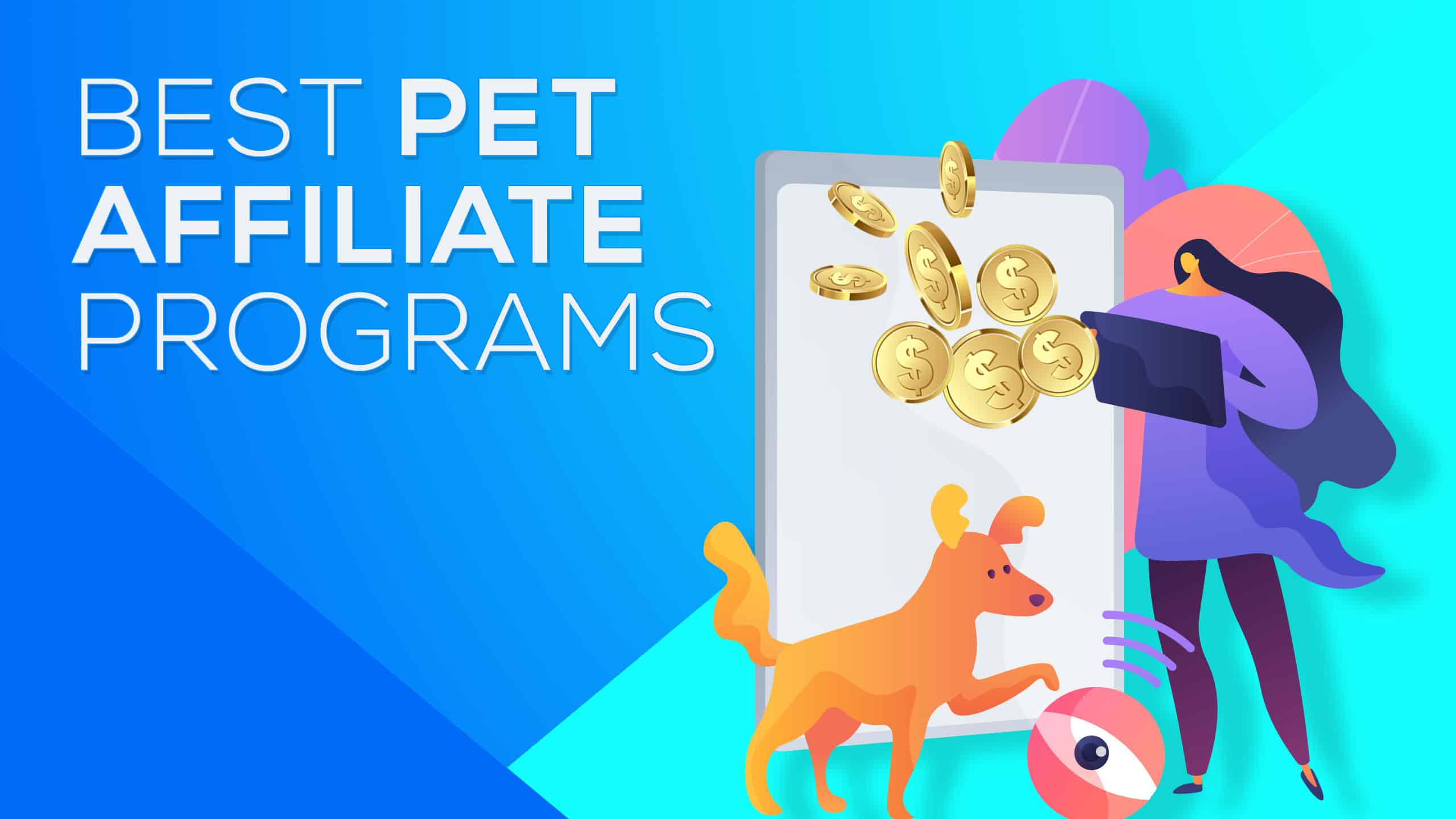 Here at JonTorres.com, we're all about a good sub-niche.
Carving out a unique place within a profitable niche is not only a great way to build topical authority, but it also brings in more leads and conversions.
As an affiliate marketer, this should be music to your ears.
When it comes to micro-niches, the pet industry provides several excellent opportunities for affiliate marketers.
In fact, according to this analysis, Americans spent over $72 billion on their pets in 2018 alone.
Pet affiliate programs offer one of the most diverse and varied selections of products and services out there.
That means, whatever your pet sub-niche may be, you can find a high-paying affiliate product to promote.
On this list you'll find companies that provide custom dog food, professional training services, pet GPS devices, and natural health remedies, just to name a few.
Keep reading to learn more about these high paying pet affiliate programs for pets.
Here Are the Top Pet Affiliate Programs
1. Pet Care Supplies

About the Company:
Pet Care Supplies is a comprehensive pet care site that provides a wide array of pet products.
Now, as you'll see the products you'll find here are mainly to improve the health of your dog or cat.
Just a few examples of what they provide are flea and tick medication, joint care products, skin and coat products, and digestion aids.
You can also find pet accessories such as harnesses and leashes.
In my opinion, this program is suited to people who are focused on dogs and cats exclusively. You won't find much in terms of birds, rodents, or any other type of pet.
If you are in the dog and cat niche, however, you'll have access to an absolutely huge selection of pet health products.
I will add, this site has an entire section dedicated to homeopathic pet care, so if your audience is inclined towards natural pet care, this is the program for you.
The commission rate is set at 13 percent, which isn't bad at all, and you'll get 60-day cookies.
Program Basics:
Commission Rate: 13%
Cookie Duration: 60-days
Average Order Value: $90
Affiliate Program: Pet Care Supplies Affiliate Program
2. Yumwoof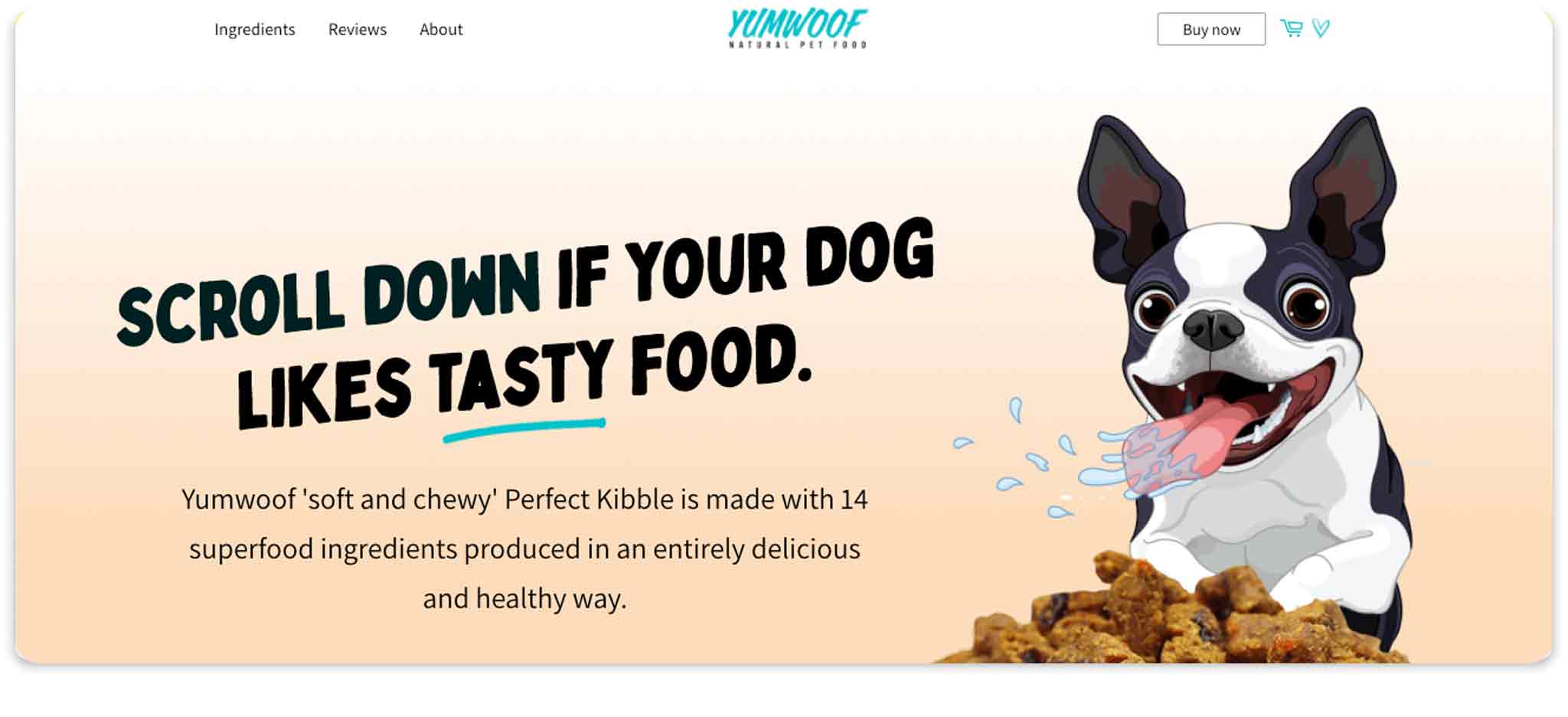 About the Company:
Yumwoof is an incredible company that uses human-grade ingredients to create soft and chewy kibble for dogs.  
With just 14 active ingredients, Yumwoof provides the ultimate nutrition your dog needs to live a healthy life. 
Some of the active ingredients include fresh chicken, eggs, Organic Coconut Oil, Gluten-Free Oats, carrots, and more. My favorite thing about them is that the food is made in a kitchen and not a factory. 
What sets them apart is that they collaborate with top pet nutritionists and veterinarians to develop top-notch kibble for your furry pet. 
For those looking for a high-quality dog food affiliate product, I would look no further than Yumwoof. 
Program Basics: 
Commission amount: 15%
Cookie duration: 45 days
Estimated EPC: $200
Affiliate Program: Yumwoof Dog Food Affiliate Program
3. Bark Box
About the Company:
Okay, this is one of the most unique and exciting options on the list.
Bark Box is a subscription-based service that sends a themed box to your door every month.
Each box is filled with products for your dog such as treats and toys.
One of the coolest things about Bark Box is that they design all of their toys in-house, so you won't find them anywhere else.
Each box contains two toys, two bags of treats and a chew. The subscription costs $22 every month which is on par for other monthly box subscription services.
Now, clearly this program is best suited to you if your target audience is dog owners.
Keep in mind, however, that many people would purchase this as a gift for someone, which widens your target audience a bit more.
Let's talk about the program.
Like many affiliate programs, Bark Box uses a tiered commission rate system.
If you sell between 1-100 subscriptions, you'll get $15. Between 101-200 subscriptions will get you $17 and above 200 subscriptions is $19.
The best part is, these payments are on a monthly basis for all previous, qualified subscriptions, which is exactly what you want in order to earn a passive income.
Program Basics:
Commission Rate: $15-$19 recurring monthly
Cookie Duration: 30-day
Affiliate Program: Bark Box Affiliate Program
4. Whistle Pet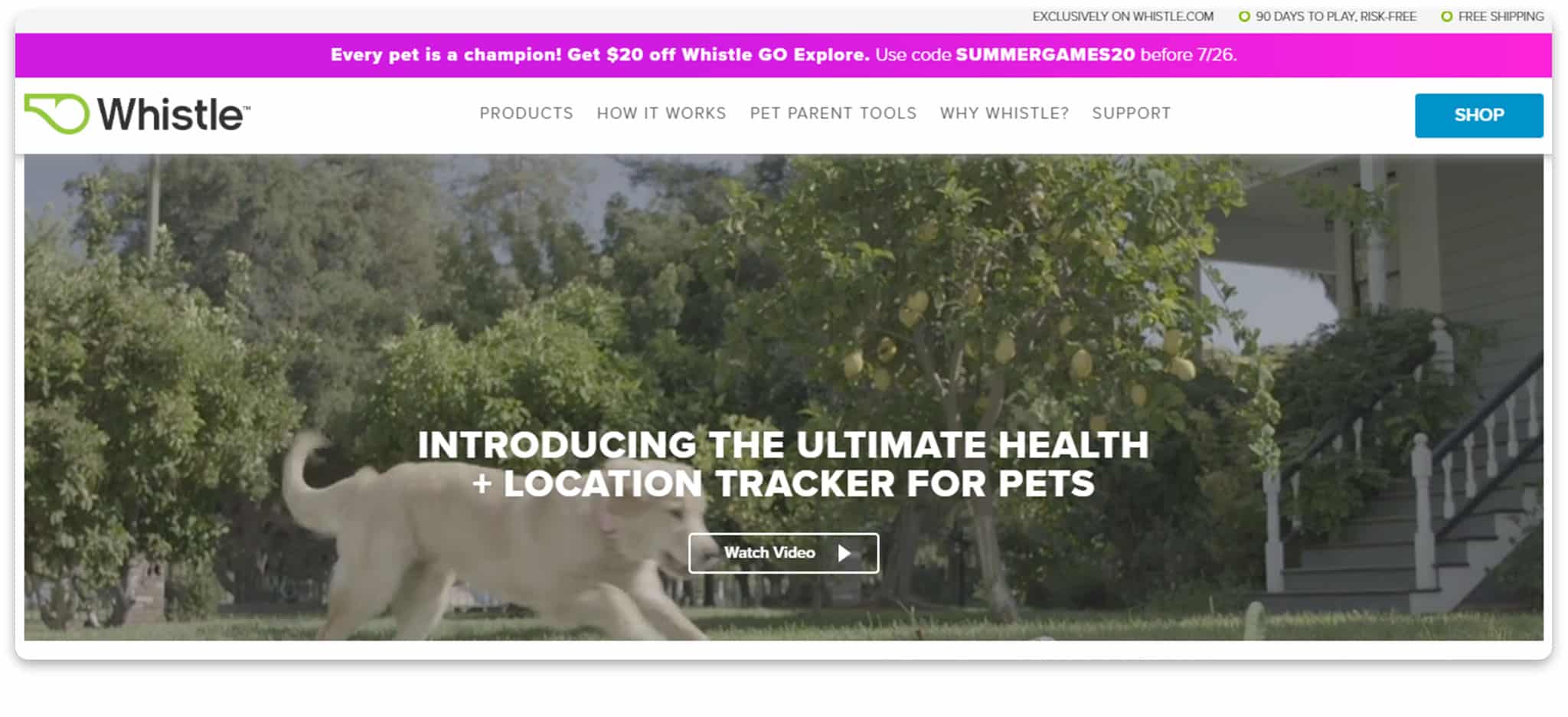 About the Company: 
Here's an option for all you tech nerds out there.
Whistle Pet is an innovative company that has created a line of products to help you track your pet's location and health.
The first product I'll talk about is the Whistle Go Explore GPS and health tracker.
This handy little device attaches directly to your pet's collar. Through the app on your mobile devices, you can keep track of their location, monitor their food intake, and even talk to an online vet.
The device has a 20-day battery life and an adjustable night light.
The second product they offer is the basic Whistle Go GPS and health tracker.
This product doesn't include the night light feature and has shorter battery life but you'll still have access to basic GPS and health features.
Both products are based on a subscription service. The Whistle Go Explore costs $129.95 plus $9.95/mo and the Whistle Go is $99.95 plus $9.95/mo.
This program offers a 10 percent commission on all sales, which is pretty good for a fairly high priced product.
They also offer bonuses and increased commission rates for high-performance affiliates.
Program Basics:
Commission Rate: 10%
Cookie Duration: 30-days
Average Order Value: $100
Affiliate Program: Whistle Pet Affiliates
5. Embark Vet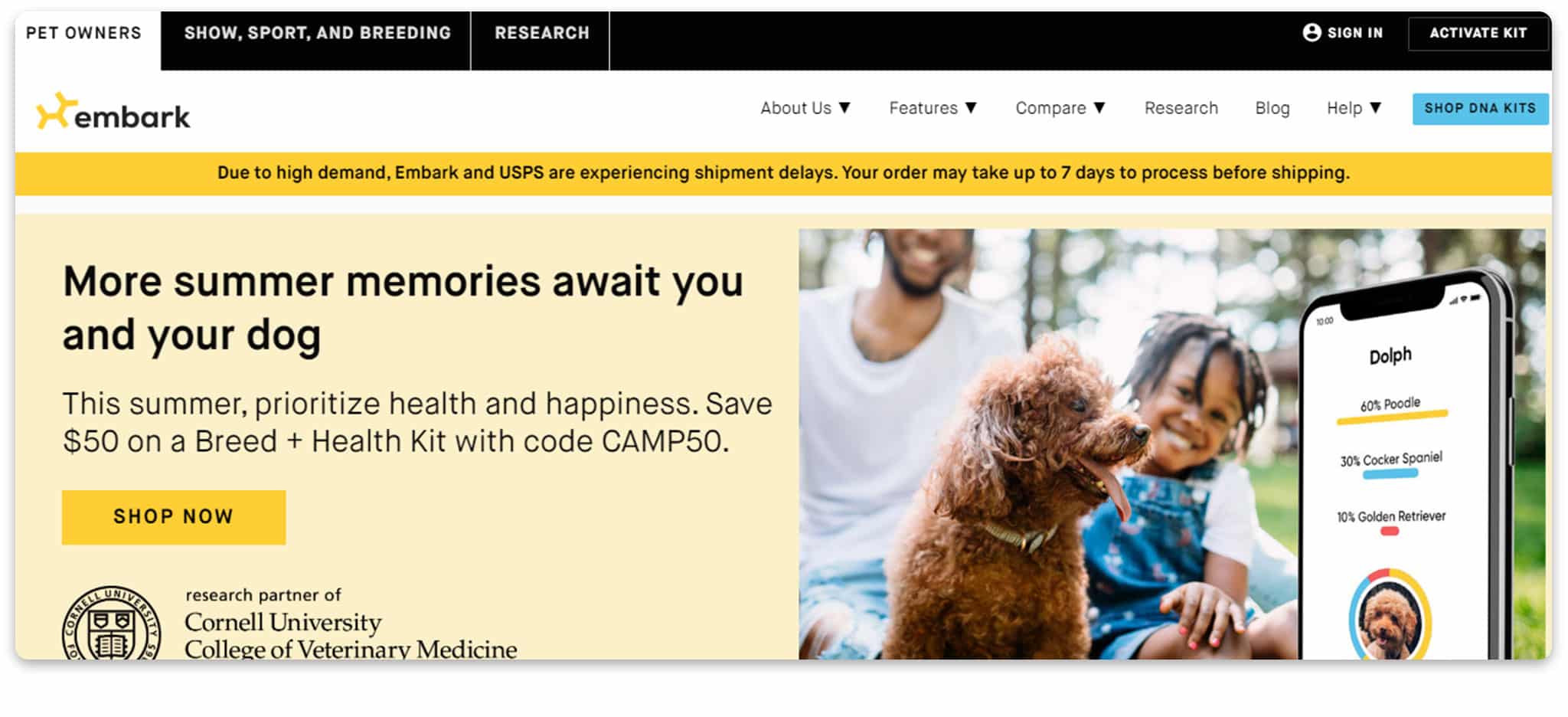 About the Company:
For those of you who are passionate about adopting rather than shopping for dogs, this company will appeal to you.
Embark Vet offers a very unique service. Just like popular services like Ancestry.com and 23&Me, Embark Vet offers ancestry DNA tests.
Now, unlike those other companies, this product reveals your dog's ancestry.
This is especially appealing to people who have mixed-breed dogs, or who have adopted from shelters.
Embark Vet has over 350 breeds in their genetic database and uses 200 genetic markers to identify your dog's breeds.
The other great thing about this service is that it screens for genetic health concerns.
That means you can be proactive about your dog's health rather than waiting for something to go wrong.
As for the affiliate program, they offer up to 10 percent commission on all sales.
They have a dedicated affiliate manager who can help you out whenever you run into any problems.
Program Basics:
Commission Rate: 5%-10%
Cookie Duration: 30-days.
Affiliate Program: Embark Vet Affiliates
6. Pet Cube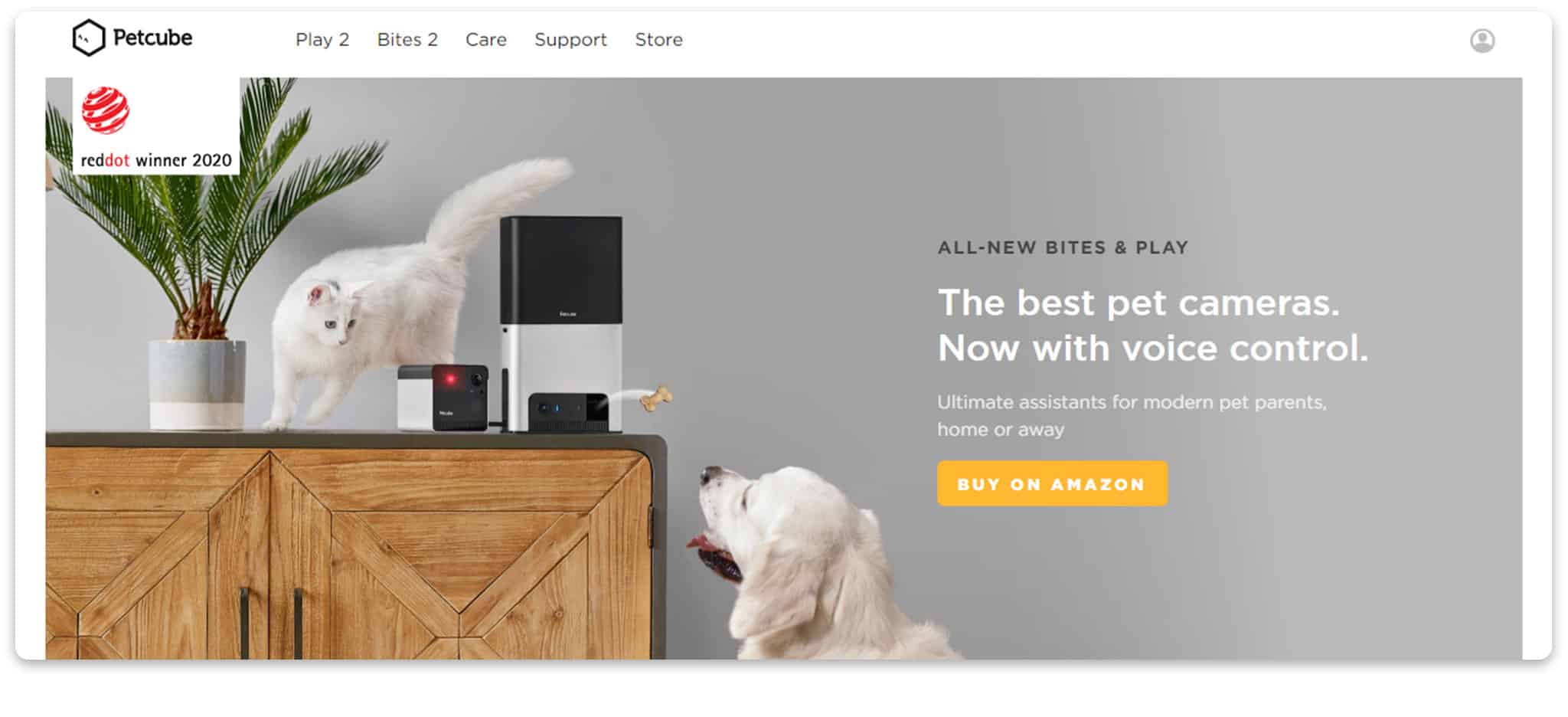 About the Company:
We've all had that moment of guilt as we leave the house for work knowing our pet will be home alone for the next few hours.
Pet Cube has an innovative solution to this problem through its advanced pet cameras.
Now, these aren't your basic home monitoring cameras.
Pet Cube offers a curated selection of pet cameras that include voice control. That means you can hear and speak to your pet through the camera.
You'll also be notified via sound and motion alerts.
On top of the awesome voice control feature, they also offer cameras that include treat dispensers and laser toys.
With this product, you can talk to your pet and even give them treats when you're away from home which has the potential to appeal to a huge audience.
The affiliate program offers a 10 percent commission on all sales and does monthly payouts.
These products cost upwards of $180 so there's some real potential to make money here.
Program Basics:
Commission Rate: 10%
Affiliate Program: Pet Cube Affiliates
7. Revival Animal Health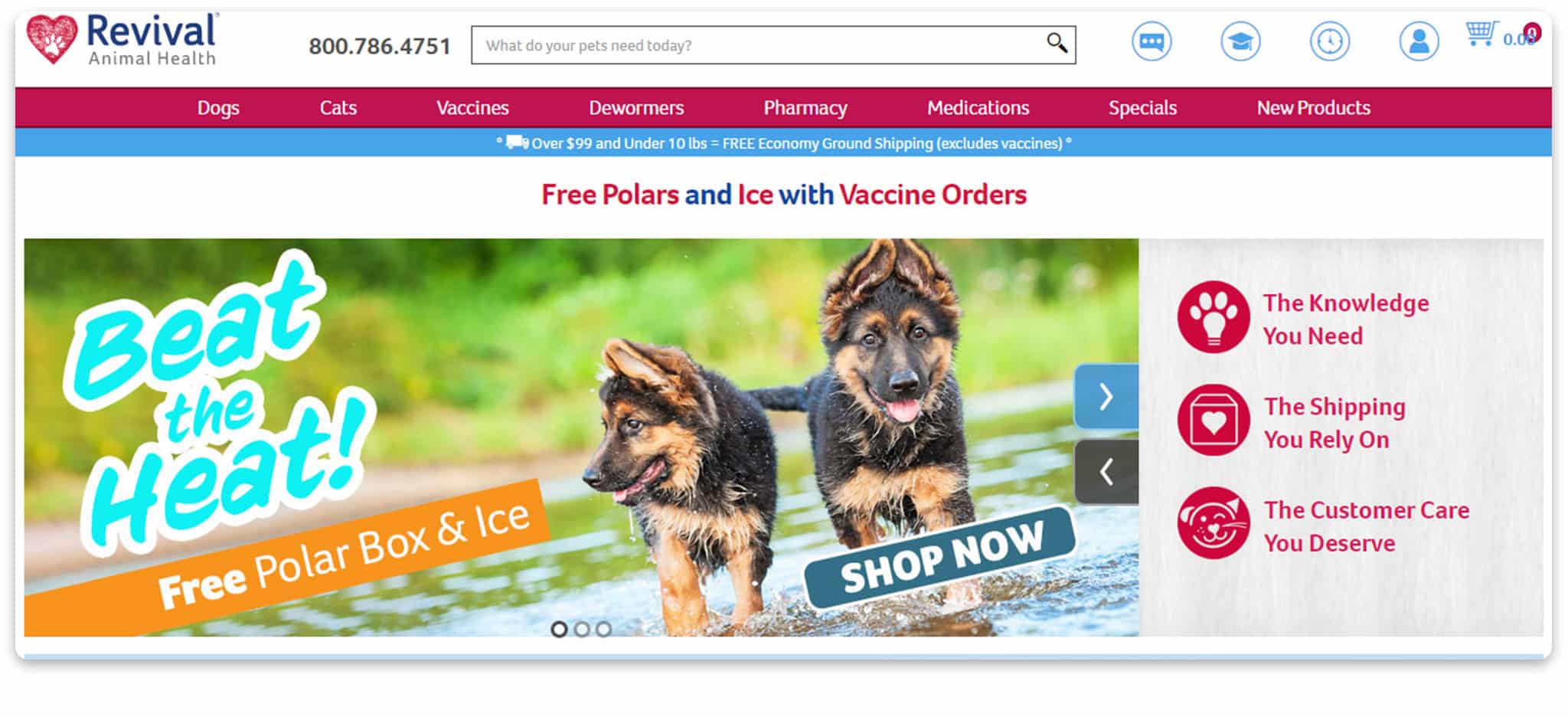 About the Company: 
This company is all about the health of your animal. Again, we have a program that's mainly focused on dogs and cats.
With this company, you'll find a large selection of products aimed to improve your pet's health. Products on this site include vaccines, dewormers, and medications.
You can also find grooming supplies, vitamins, supplements, and pet accessories.
This site is run by a dedicated team of pet experts including veterinarians and pet care professionals.
This program is great for just about anyone in the dog or cat niche. This site has products from trusted brands so it's easy to promote to your audience.
Now, the average order value on this site is about $110. With a 10 percent commission rate, you're in a good position to make a decent paycheck with this program.
Program Basics:
Commission Rate: 10%
Cookie Duration: 45-day
Average Order Value: $110
Affiliate Program: Revival Animal Health Affiliates
8. Ollie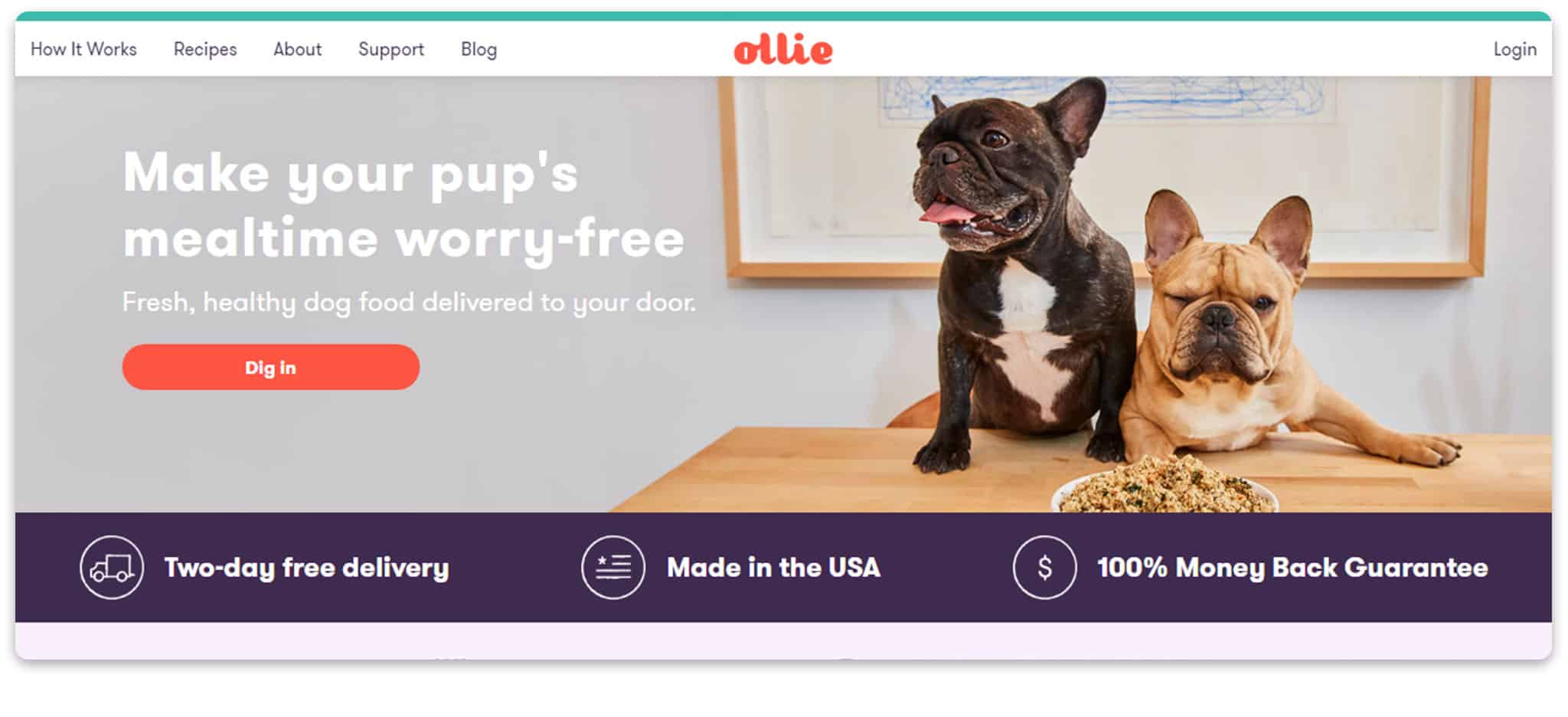 About the Company: 
Ollie is a dog food company, but they've gone above and beyond what most dog food companies provide.
Ollie is a tailored service that creates fresh dog food specifically for your dog's dietary needs.
The service starts with you letting Ollie know important details about your dog.
You'll tell them about your dog's breed, age, weight, and any allergies they may have.
Next, Ollie takes all of this information into account and crafts specialized food just for your dog.
The last step in the process is delivery. Ollie delivers the food straight to your door, which makes it incredibly convenient.
Now, Ollie's dog food is probably not what you think of when you imagine dog food. A far cry from the dry pellets you may be used to, Ollie's food is always fresh and made with whole food ingredients.
In order to store the food, all you have to do is throw it in the freezer.
Obviously, this is a pretty specialized service. This product is really going to appeal to an audience who goes above and beyond for their dogs.
The Ollie affiliate program offers one of the best commission rates in the game.
Affiliates can earn up to $60 per sale with 30-day cookies.
Because of the quality of the product and the high commission rate, I would recommend this program to anyone with a dedicated, dog-loving audience.
Program Basics:
Commission Rate: $60
Cookie Duration: 30-days
Average Order Value: $100
Affiliate Program: Ollie Affiliate Program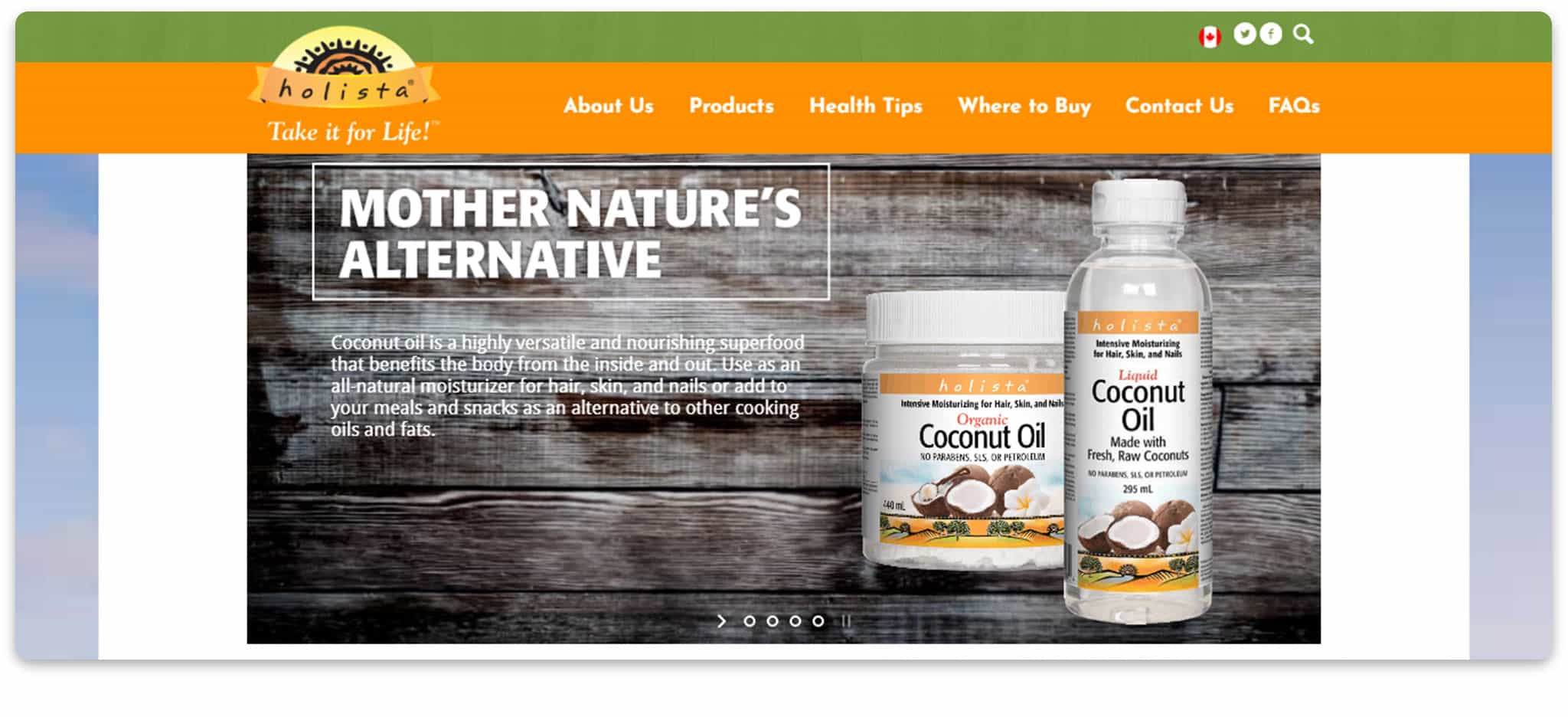 About the Company:
Holista offers another unique line of products that are different from anything else on this list.
Holista, as you may have guessed, offers holistic pet health remedies, specifically in the form of CBD products.
Now, if you have no idea what CBD is, here's a quick overview.
CBD is a hemp product that provides health and behavioral benefits that can improve sleep, appetite, nervousness, and calming effects.
Holista has three types of dog treats that target different areas. The first product is formulated to help with heart and immune system care.
The second product helps with joint and mobility and the last is geared towards improving stress and anxiety.
Holista also offers products for pets other than dogs and cats.
In fact, they have a line of products formulated specifically for horses in the form of CBD oil and pellets.
Now, if you're a bit skeptical about the benefits of these products, you can rest easy knowing that Holista has implemented extensive lab testing for all of its products.
They also have a dedicated veterinarian advisory board to ensure that all of the products are safe and effective.
All in all, these products are going to appeal to people who are looking for a natural alternative or supplement to traditional medications.
The affiliate program offers a high commission rate starting at 25 percent and ranging up to 45 percent on all sales.
Program Basics:
Commission Rate: 25%-45%
Affiliate Program: Holista Affiliate Program
10. Dog Training Depot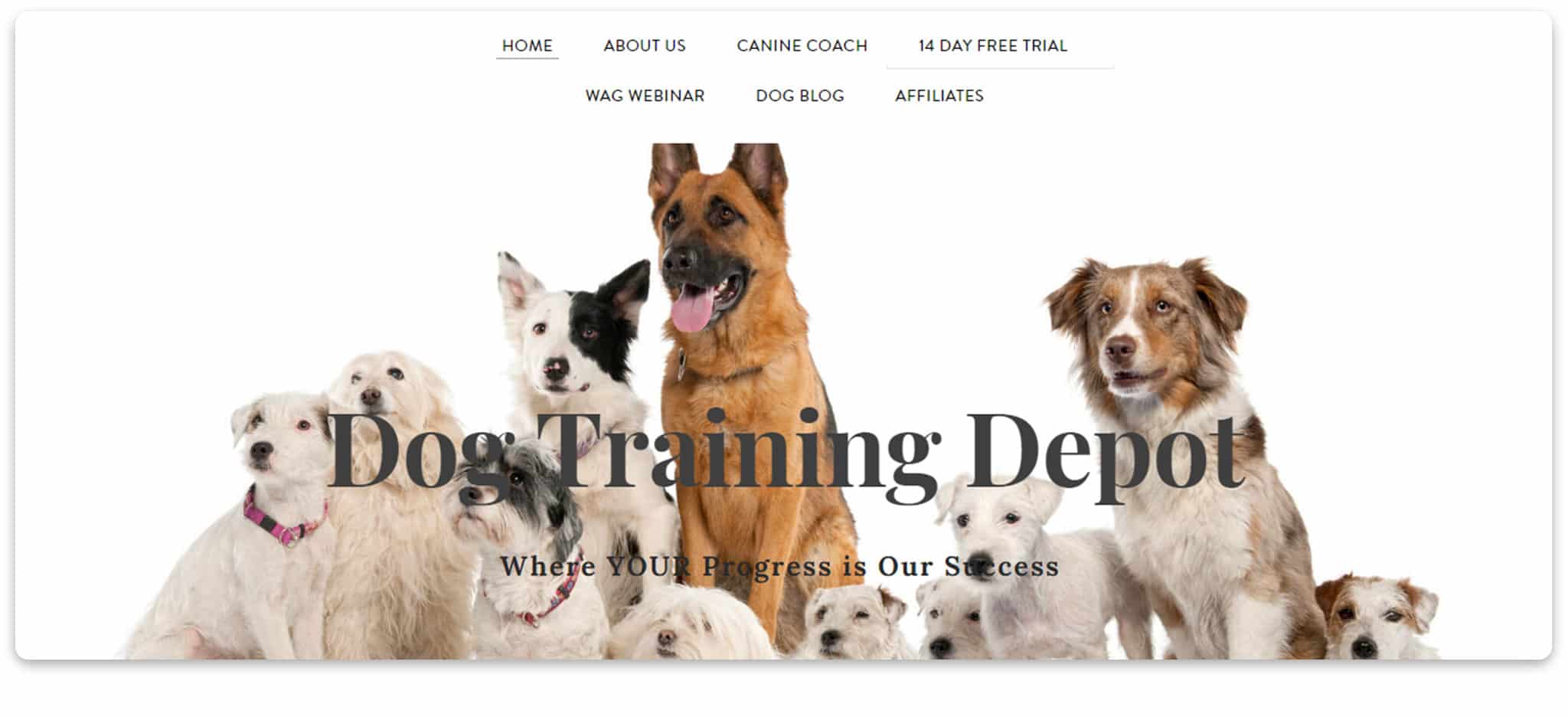 About the Company: 
Dog Training Depot is a company that provides online programs to help you train your dog and solve common behavioral issues.
This company is run by professional dog trainers who have crafted specialized dog training programs for specific needs.
The Canine Coach package is an extensive 12-week program that targets 18 behavioral issues. This program is listed at $97 and includes a 14-day free trial.
The professionals behind this program implement a rewards-based training system. That means the programs are designed to train your dog without raising your voice or using shock collars.
Now, aside from the 12-week training package, this company also offers bi-monthly webinars that cost an additional $7.95 per month.
Dog Training Depot has tiered commission rates.
The first tier gives affiliates a 50% commission on all sales when the customer decides to continue after the free trial.
The second tier gives affiliates an additional 10% whenever an affiliate they refer makes a sale.
All things considered, these commission rates have the potential for high earnings.
Program Basics:
Commission Rates: Starting at 50%
Affiliate Program: Dog Training Depot Affiliates
Final Advice
There's no doubt that the pet industry is highly profitable.
And judging by the programs I've listed above, it's a great niche for affiliate marketing.
The products are unique and innovative, there's a huge selection to choose from and the commission rates are typically pretty high.
My final advice to you is to choose a few programs that really cater to what your audience is looking for.
Lastly, if you're looking for some guidance on how to shape your affiliate marketing strategy, take a look at my comprehensive guide to affiliate marketing.