107 BEST Affiliate Programs With High Payouts (Updated 2020)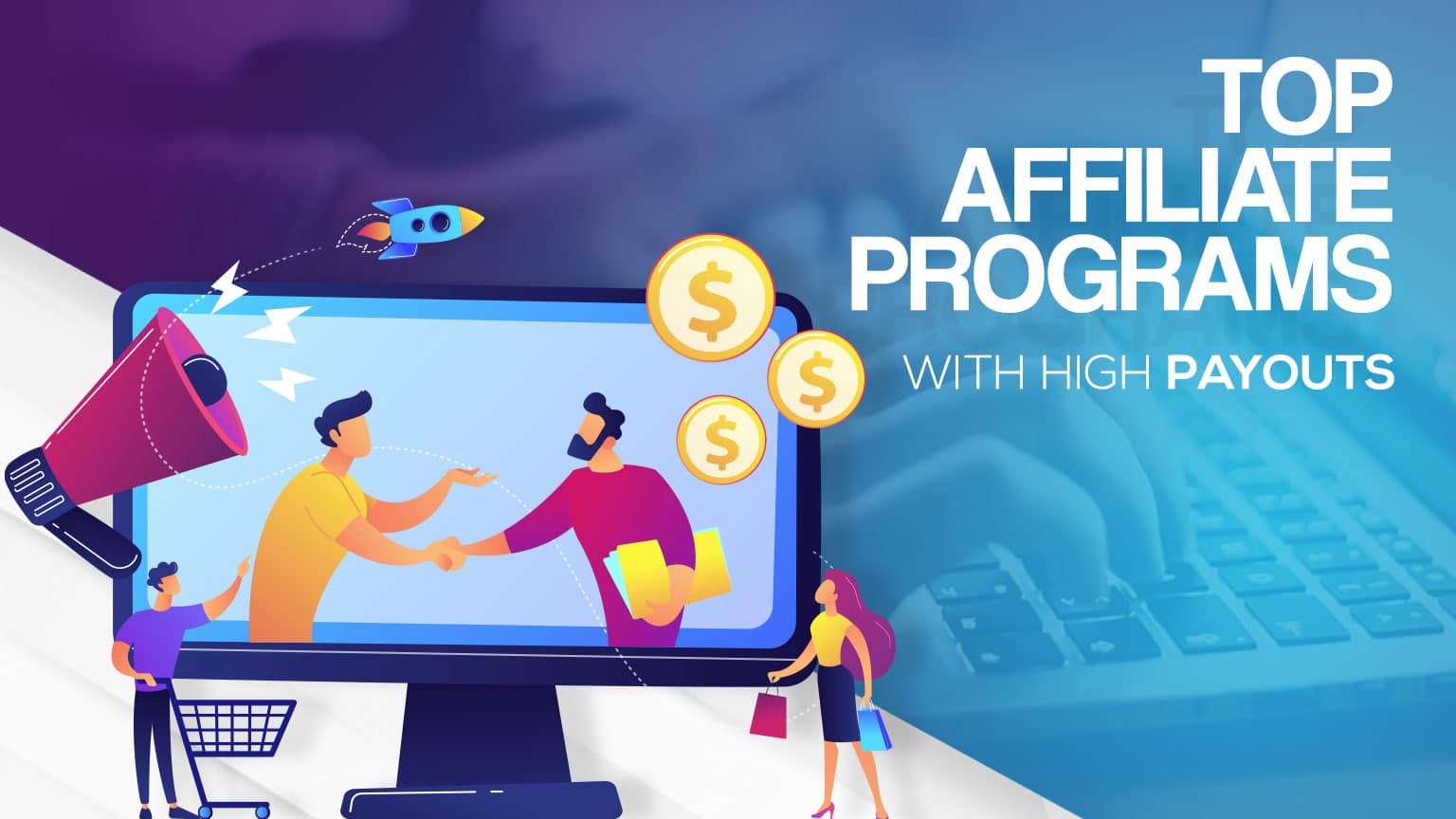 Disclosure: jontorres.com may receive a small portion of the sales of products or services listed on this page. For more information please visit our advertiser disclosure page. 
If I had to guess why you're here, I'd say you're after one thing: passive income.
Wouldnt it be nice to wake up to affilaite commissions like this?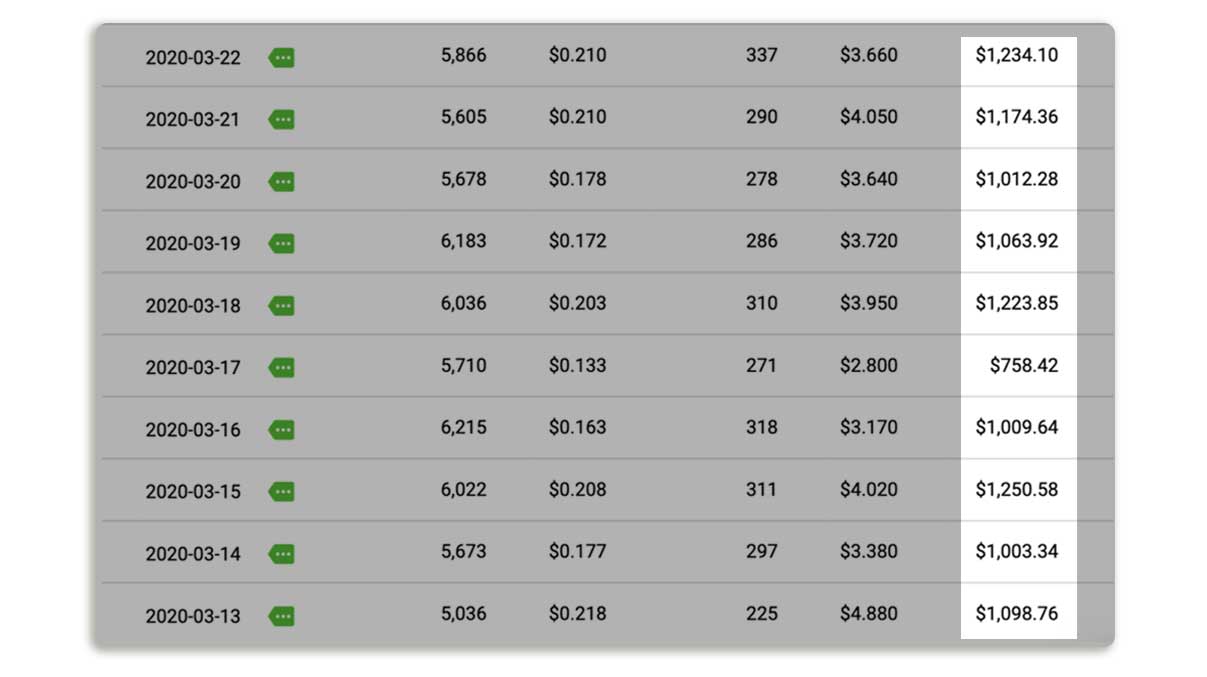 If the answer is yes– and why wouldn't it be– affiliate marketing should be the first step you take in your mission to make money online.
So, let's get right into it. In this article, I'll explain to you what affiliate programs are and how to pick the right one. Then we'll go over the best affiliate programs in the game.
If you want to learn how to start your own blog and make big money then keep reading. You can read my guide on or my guide on how I made over $500k with a blog.
What are Affiliate Programs?
Alright, so what is affiliate marketing anyway? Forbes Magazine has summed it up quite nicely, 
"When you sell anything for anyone else and you receive a commission for it, you're marketing as an affiliate. You're not just a salesperson working for that company. You're independent and on your own. There are no thresholds that need to be met. But the more you sell, the more you earn." 
The power of affiliate marketing should not be underestimated. In 2020 alone, affiliate marketing spending is projected to be at $6.82 billion.  
Affiliate programs are the platforms through which companies find and work with their affiliate marketers. There are affiliate programs for pretty much any category you can think of.  
Because there are so many options out there, sometimes it's easier to register with an affiliate network — a website that aggregates several programs into one place.
RELATED: Check out the top affilaite programs in real estate 
How to apply to affiliate programs?
As you begin applying to affiliate programs, it's good to diversify the pricing strategies of the products you choose.
There two ways to make consistent money with affiliate marketing: recurring payments and high-ticket items. Here's what that means:
Recurring payments:

 these are commissions for products based on a subscription service. You can earn a commission of the sale for the lifetime of the subscription and when they renew. 

 
High-ticket items: 

The big money comes when you promote high-end products. Think about it, would you rather make 35% on a $400 sale or a $20 sale? The answer is pretty obvious. However, high ticket items tend to convert at a much slower rate, which is why we want to diversify with recurring commissions. 

 
How to Pick an Affiliate Program
The big question– how do you choose an affiliate program? Here are some easy tips to get you started: 
Choose a program that fits your brand

 

Only choose products that represent your niche

 

Read the fine print closely. Understand the commission, cookies and pay schedule. 

 

Do the research and make sure it's a trustworthy program.

 

Choose products that you actually like

 
Now that we've covered the basics, let's get down to business. Here's a list of the best affiliate programs and networks with high payouts.  
🌐
Web Hosting Affiliate Programs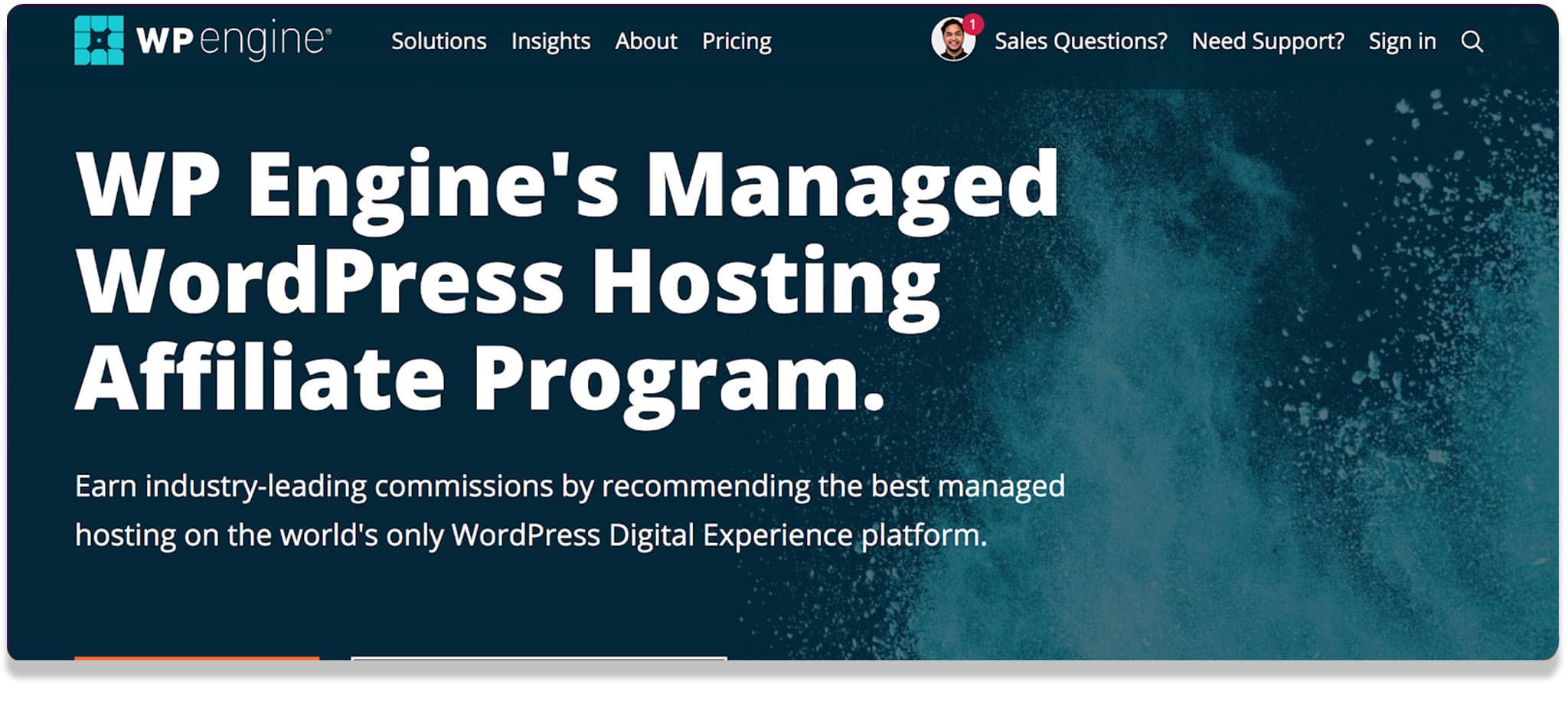 The Company: 
WP Engine Hosting is a WordPress hosting software that is marketed as a WordPress Digital Experience Platform. This simply means that they have created an effective software for creating digital experiences, not just a website.
WP Engine Hosting is an incredibly popular product, powering over 500,000 digital experiences across the web. People use this product for campaign sites, content hubs, e-commerce extensions and more.  
Program features: 
$200 starting commission for WP Engine plans

 

35% starting commission for 

StudioPress

 themes

 

Excellent affiliate support

 

Affiliate discounts on WP Engine products

 

Affiliate cookies last for 180 days

 
How the program works: 
WP Engine Hosting offers an affiliate program where you can promote WP Engine plans and StudioPress themes. It's no coincidence it's at the top of this list– WP Engine offers one of the best affiliate programs out there.
In fact, it won the Pinnacle Award for merchant of the year and placed in the top 100 ShareASale PowerRank Program.
This program stands out for offering customizable sales funnels to help you better convert leads and make money. Each time you refer a new customer, you earn a higher commission rate.
As you can see, this is one of the highest paying affiliate programs and it has tons of benefits. They offer bonuses when you hit a certain number of sales.  Here's a quick look at what you can make with WP Engine Affiliate Program:
Now, in order to get paid, it is required that your referral doesn't cancel the plan for at least 62 days. You'll receive payment on the 20th of every month.
One great benefit of working with WP Engine is that they offer two-tier tracking. This means that you can refer affiliates to the program and for every sale they make, you earn $50. Sounds pretty good right?
To get started, visit the WP Engine website. You can find information on the affiliate program under the "Solutions" tab. Click the register button on the Affiliate page.
From here you'll need to create an account on ShareASale. Proceed with the application. Once approved, you'll receive your affiliate link along with tips and tools.
Get started as an affilaite with WP Engine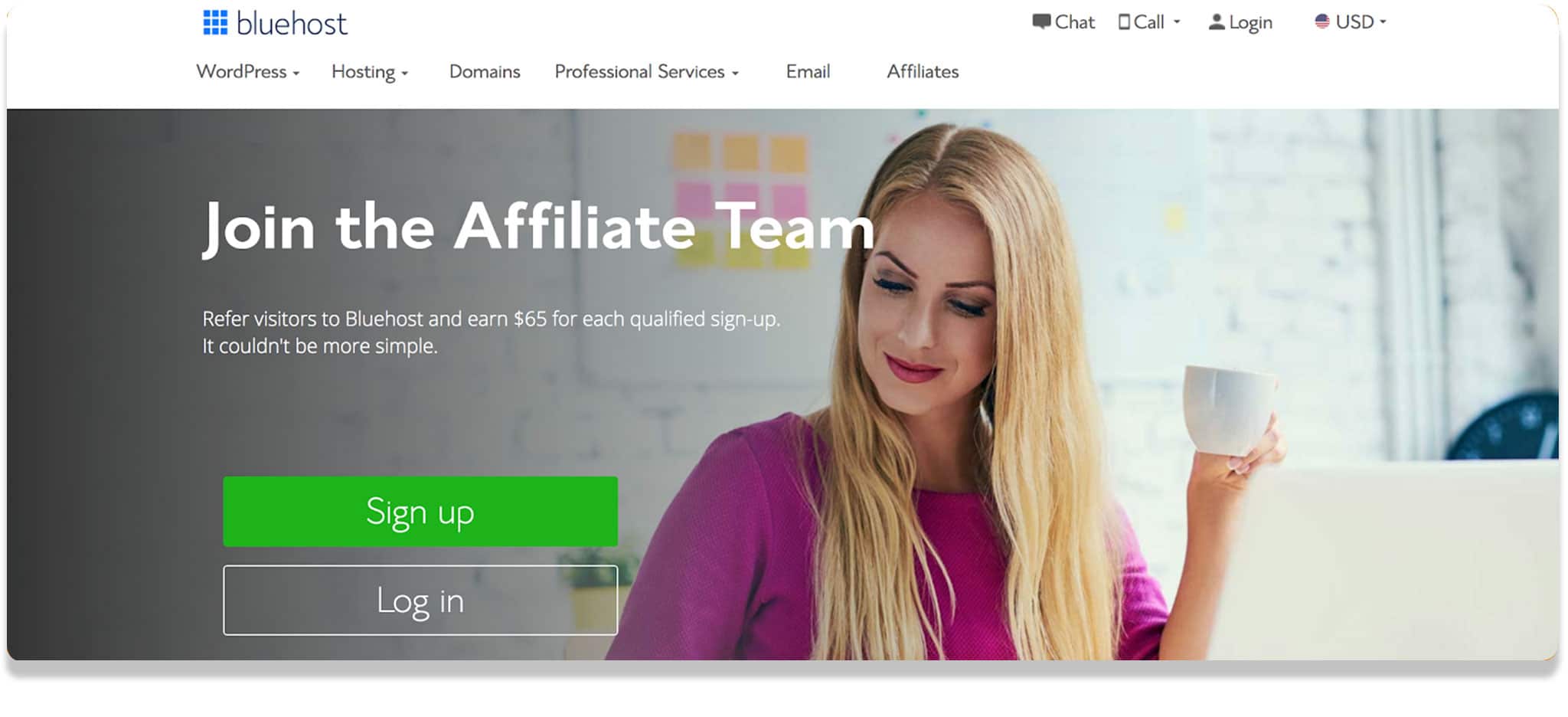 The Company: 
Bluehost makes one of the leading web host software on the market. They offer super affordable plans for all types of web hosting, including WordPress hosting.
Bluehost has been around for nearly two decades and is one of the most trusted web hosting companies around. Located in Utah, Bluehost provides web hosting services to over 2 million domains around the globe.
In addition to providing cheap web hosting plans, they provide an impressive selection of features to help users better promote their websites.
Program Features: 
Free registration

 

Advanced link tracking technology

 

Dedicated support team

 

Unlimited referrals

 

Customize your campaigns

 

Great selection of ads and banners 

 
How the program works: 
Bluehost is one of the best options for beginner affiliate marketers. If you're interested in the web hosting space but don't know where to start, Bluehost is a smart choice.  I also like Siteground, you can check out my Bluehost vs SiteGround comparison.
One of the reasons Bluehost has such a popular affiliate program is because they offer extremely cheap plans (just $2.95/mo) and a commission rate of $65 per referral.
As you can imagine, it's easier to sell a plan for just a couple of dollars so you have the opportunity to bring in a lot of sales.
Getting started with Bluehost is simple. The sign-up process is fast and free. After registering, you'll receive your unique affiliate link.
The affiliate program will provide you with convenient banners and ads that you can implement on your website. Whenever someone clicks on the banner and signs up for Bluehost, you get $65. It's that simple.
Get started as an affilaite with Bluehost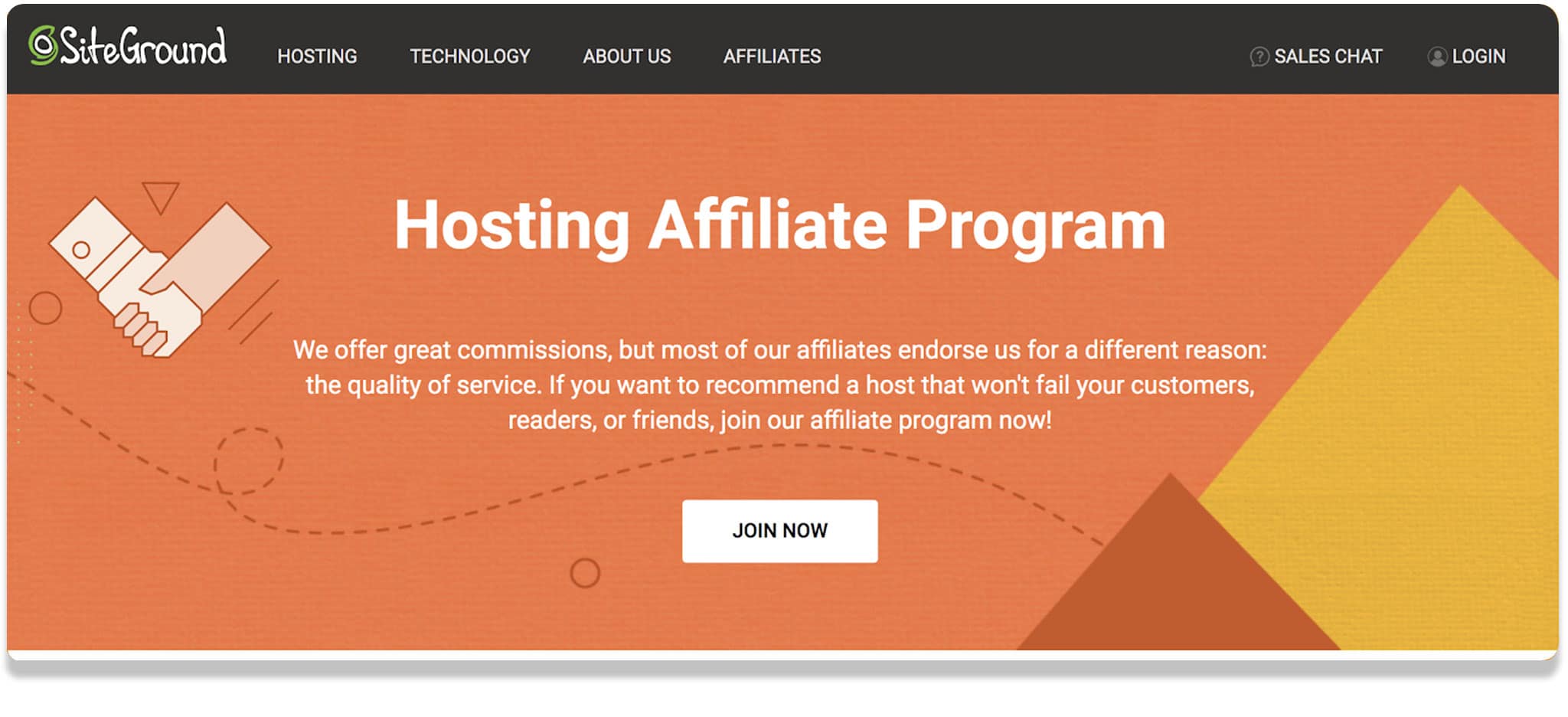 The Company: 
Last on our list for web hosting companies is Siteground. Siteground was started back in 2004 by four college friends.  
Sixteen years later and it's one of the most successful web hosting companies out there. Siteground hosts 2 million domains and has offices located around the world. 
Despite the huge success, Siteground manages to maintain highly personal service to each of its users. Like Bluehost, Siteground is known for its affordable plans. They also have cutting edge security to ensure all websites are protected.
Siteground is a great company to work with because they offer a diverse array of plans that are great for both large and small businesses.  
Program Features: 
Weekly payouts

 

24/7 support

 

Attractive promotional banners

 

1-month free hosting for affiliates

 

Customized landing pages

 

Marketing tools

 

Tiered commission

 
How the program works: 
Siteground gives its affiliates the opportunity to make a great commission, even with one sale. If you start out with only 1 sale in your first month, you'll still receive $50.
The more sales you make, the higher your commission rate is. At 11 sales per month, you can bring in $100 per sale. 
One of the biggest perks of this affiliate program is weekly payouts. Rather than getting paid once a month like most affiliate programs, you can get paid every week, even with a single sale.
Siteground has a withholding period of just 30 days. This is much shorter than the 60 day period you'll find with WP Engines. This period is to verify that the purchase is legitimate before you receive payment. 
Siteground provides all of its affiliate marketers with a guide to get started. This will allow you to make your link available to your visitors, and help you understand the essential elements of affiliate marketing. 
Get started as an affiliate with SiteGround
🖥️ Website Builder and Plugins Affiliate Programs
 The Company: 
Wix is a website builder that specializes in beautiful templates and user-friendly software. Users can pick from pre-made templates or have a custom template created for them. Wix is a smart choice to work with because it appeals to a wide variety of users.
One of the best features that Wix offers is the SEO tools. All you have to do is answer some simple questions and the Wix software will provide you with an SEO strategy unique to your business.  
With over 160 million users worldwide, this company is a safe choice for any affiliate marketer.  
Program Features: 
$100 for every referral

 

Uncapped referrals

 

Creative promotional material

 

User-friendly dashboard

 
Helpful tools

 

30-day cookies

 
How the program works: 
The Wix affiliate program offers one of the highest commission rates on this list. At $100 per conversion, you have a great opportunity to make some money with this program.
The one thing to keep in mind is that commissions are based on users who sign up for Wix Premium. 
In order to become a Wix affiliate, you'll have to complete the application process. Once you're approved, you will get your personal affiliate link for Wix.  
The one big downside to working with Wix is the high payout minimum. In order to get paid, you need to bring in $300 per month.
In comparison to other programs, this is on the high side. However, if you consider it, each referral brings in $100, meaning you only need to make three sales to hit the target. 
Lastly, cookies only last for 30-days with this program, so be ready to hustle to keep those referrals flowing. Overall, there are a few small downsides to this program but the high referral commission is a huge plus. 
Get started as an affiliate with Wix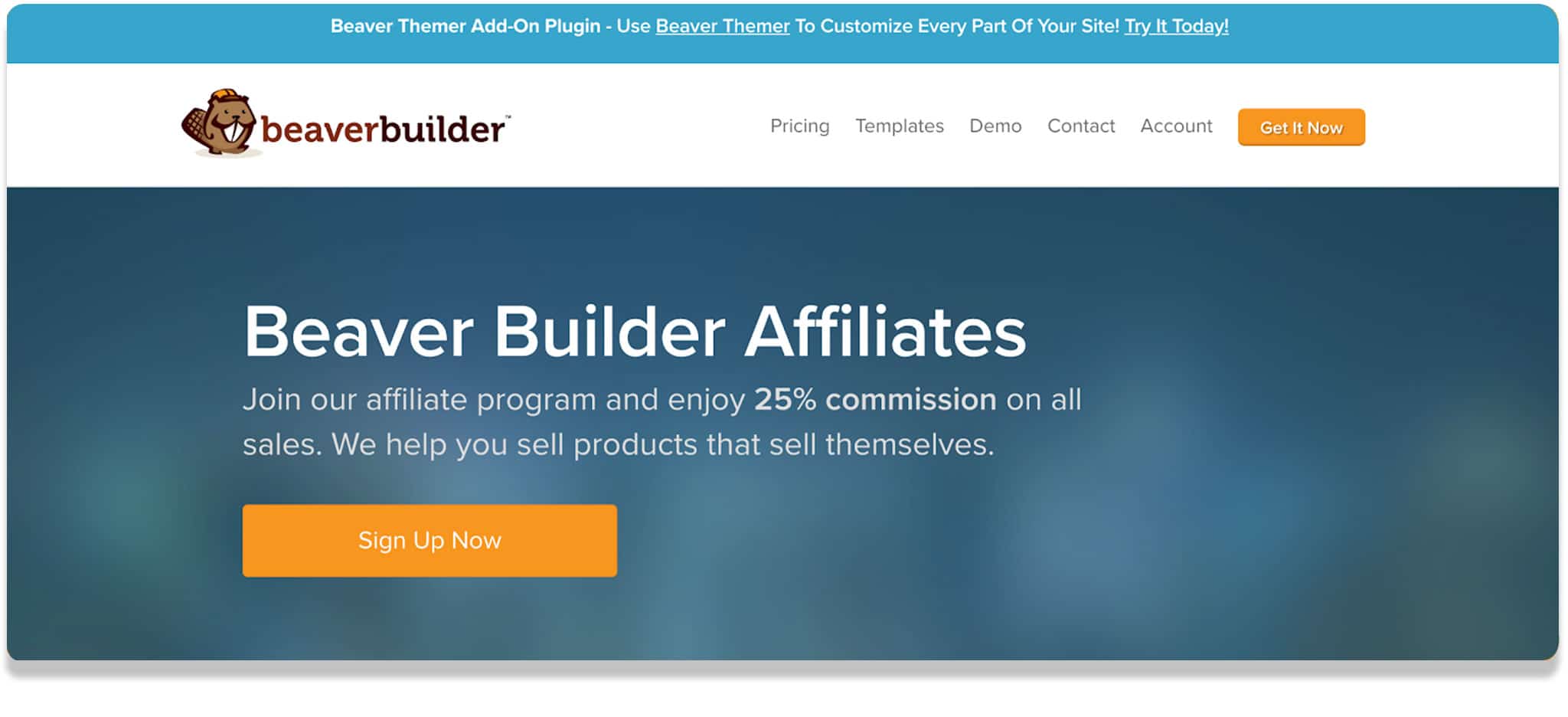 The Company: 
Beaver Builder is a WordPress page builder that is known for its ease of use, beautiful themes, and excellent user support. This software is actually a full design system that comes complete with a WordPress plugin for page building.
Creating a beautiful web page is easy with Beaver Builder. Choose from dozens of pre-made templates and customize them to fit your brand. You can also add your own images, text, and columns to your page.  
This product appeals to both WordPress users and web professionals alike, making it a good choice for affiliate marketers.  
Beaver Builder comes in three packages: 
Standard: $99 
Pro: $199 
Agency: $399 
Program Features: 
25% commission on sales

 

Commission on annual renewals

 

World-class support 

 

Promotional tools

 

Approval within 24 hours

 
How the program works: 
Beaver Builder may have one of the most convenient affiliate programs simply because they approve your application in a day. Once you're approved, they'll provide you with an affiliate link so you can start promoting.
They offer several creative banners in multiple colors and styles to include on your website. Beaver Builder has one of the best support teams on this list and a list of helpful marketing tips.
The downside to this affiliate program is that they only offer a 25% commission on your sales. That means if you sell the standard package, you're only making about $25 on that sale. So, in order to make a decent commission, you're going to have to aim for the pricier packages.  
The plus side is that they track customer renewals. So if someone renews a package that they purchased with your affiliate link, you will receive a commission.
Get started as an affiliate with Beaver Builder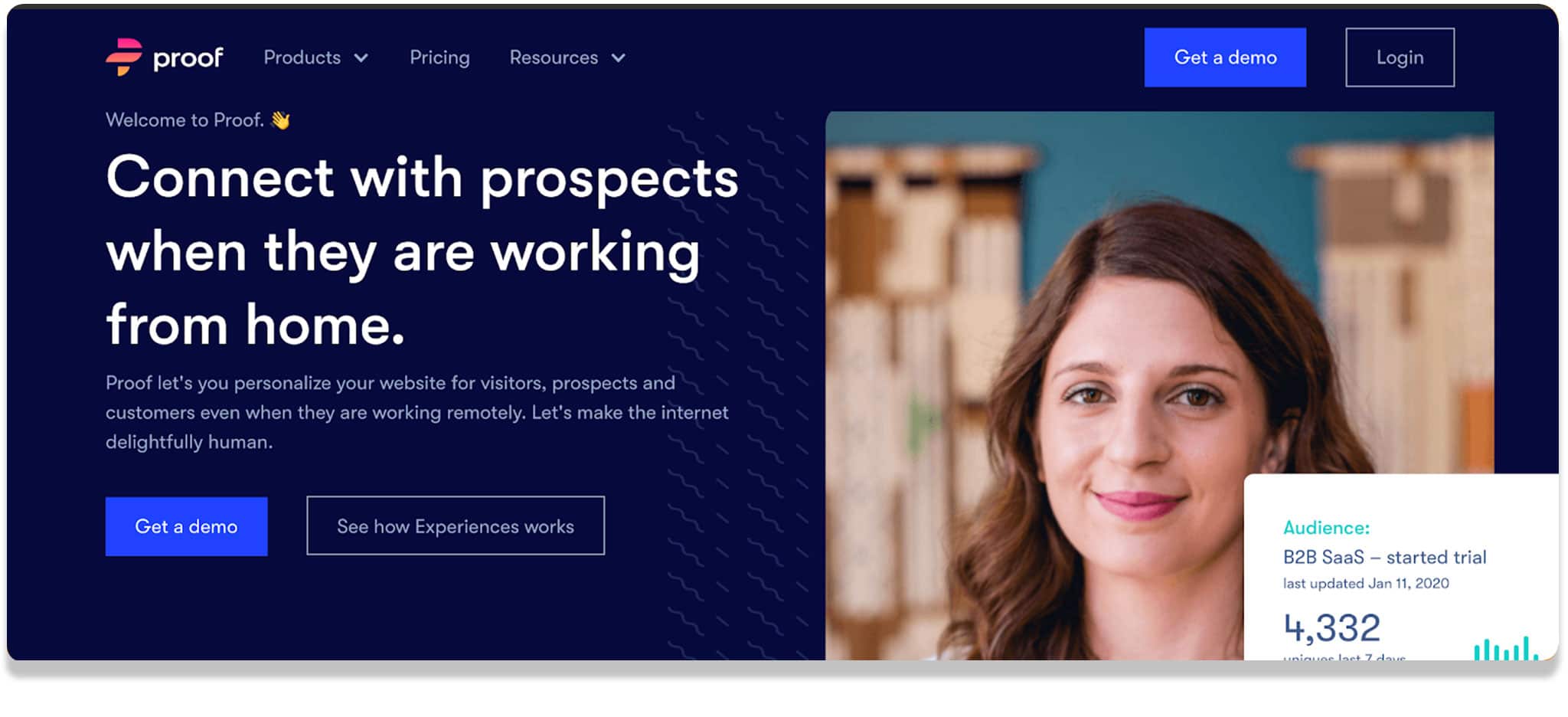 The Company: 
Proof is a unique company that allows users to create personalized experiences for every visitor. They offer products that allow you to customize existing websites and boost your credibility.
The biggest draw to using Proof is the ability to personalize your website without coding. This software allows you to change the font, hide elements, and change images. Proof can help you create a website that better fits your overall brand.  
Personalize visitor experience according to audience behavior, traits, and events. Proof makes sure you'll have super-fast load times, beautiful templates, regular reports, and the ability to create single-page apps.  
Program Features: 
Commissions last the lifetime of the account

 

Payment is once a month

 

Cookies last for 90 days

 
How the program works: 
Proof refers to its affiliates as partners. To find the affiliate program, scroll the bottom of the homepage and locate the Partner link, under the Company tab.  
Proof makes it super easy to join. Once you get your referral link you can start making money.  
There is no tier when it comes to commissions. Proof keeps it simple and offers a 30% commission rate from the jump, and that's how it stays. They offer a fairly long period for cookies at 90 days, but not quite as long as other programs.
Overall, Proof offers a solid affiliate program for people looking to get started. 
Get started as an affiliate with Proof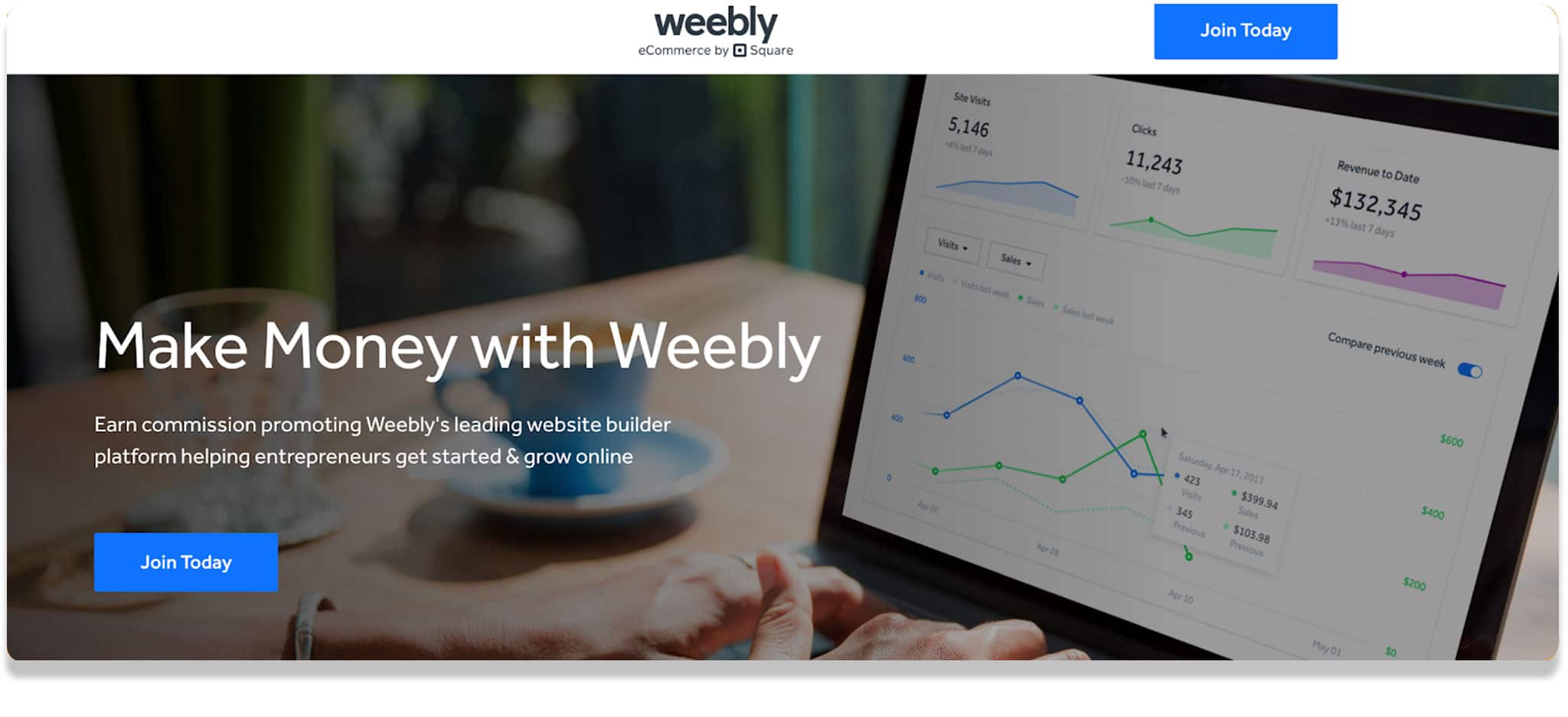 The Company:  
Weebly is an all-inclusive, user-friendly website builder that is great for small businesses and individuals.
This software includes drag and drop tools which makes it a good choice for beginners. This feature can limit some of your customization options but the simple design is often worth it for people not comfortable with coding. 
One of the best features from Weebly is the SEO guides. If you are just starting out, having some help in this arena is a huge plus. The SEO guides can help you understand how to rank high in a google search.
The software gives you the ability to edit meta titles and descriptions. You can also create custom URLs and add optimized text to each image on the site.   
Although Weebly hasn't been known for its beautiful templates, they've recently put a lot of energy into creating stylish new templates.  
Lastly, everyone who registers with Weebly gets a free domain name for a full year.
 
Paid plans on Weebly start at $6/month and go up to $26/month. 
Program Features: 
30% commission on sales

 

120-day cookies

 
$60 earnings per click

 

Promotion material provided

 

Reliable link tracking

 

Monthly payments

 
How the program works: 
Weebly is a part of the ShareASale affiliate network. To sign up, visit the ShareASale website.  
Now, you might be thinking 30% commission on a plan that only costs $6/month doesn't sound like much money. In reality, you actually make a percentage of the entire yearly package.
So that means, if someone uses your link to buy the $6/month plan, you'll make about $20. Sure, that's not a huge number, but it's not bad for a low priced product. 
It's also great because it's much easier to sell lower-priced products– you'll just have to sell a higher volume to make a decent paycheck.    
The best part of the program is the length of the cookies– 120 days. That means if a customer is referred to the product using your link, you will get a commission if they purchase the product within the next 120 days. 
Get started as an affiliate with Weebly 
❤️ Dating Affiliate Programs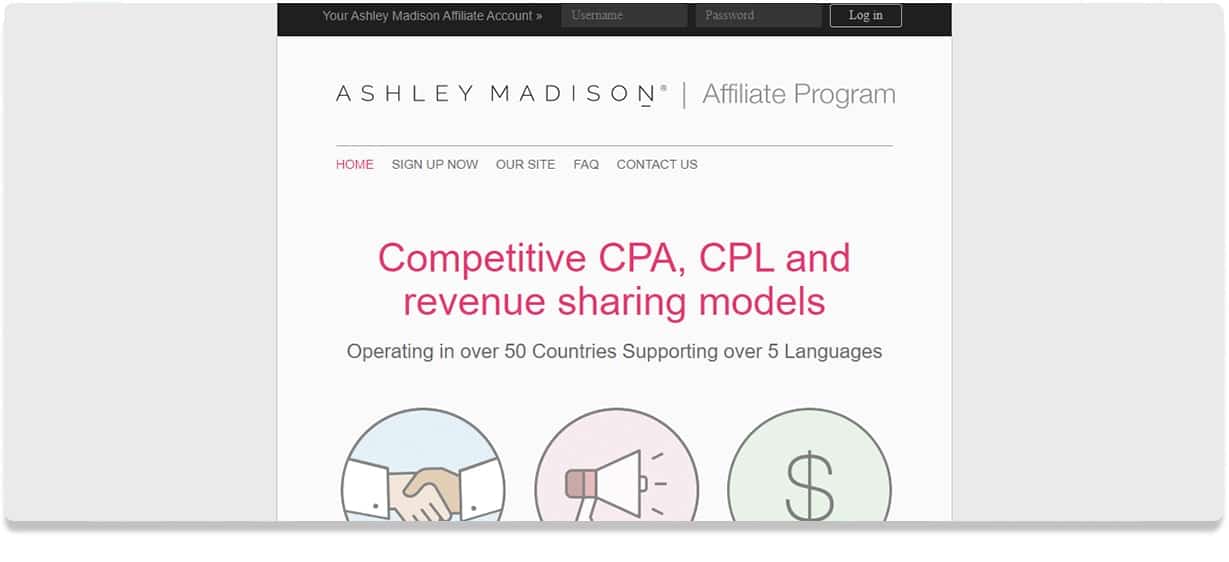 Love it or hate it, Ashley Madison has carved out a profitable niche in the online dating industry. Ashley Madison is best known for helping people find discreet relationships. With over 40 million users, it's safe to say the service is extremely popular.
As an affiliate for Ashley Madison, you can expect to take home anywhere from $35 to $100 per sign up. Cookies last for 100-days which is more than reasonable in comparison to other affiliate programs.
Sign up: Ashley Madison Affiliate Program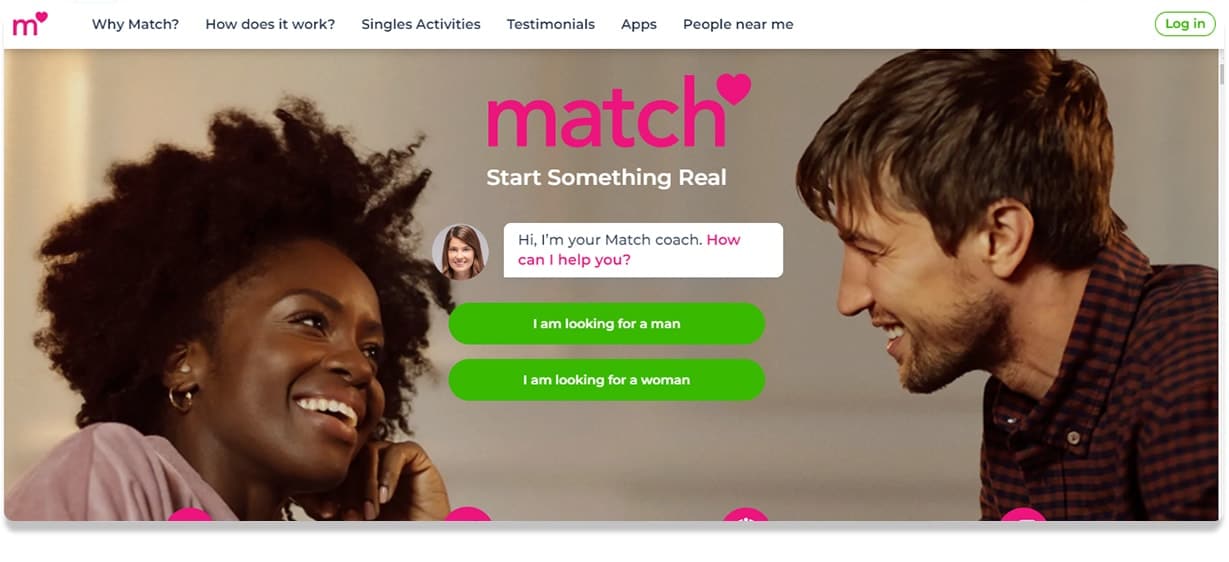 Match.com has been at the forefront of online dating for a very long time. That's part of what makes it such an easy service to promote as an affiliate marketer. Match.com is an online dating service that helps people find serious relationships in their city.
Match.com affiliates take home a remarkable amount of money. This isn't all that surprising– affiliates in the dating niche are known to make an impressive income.
The Match.com affiliate program offers its affiliates a whopping 75% commission every time a user signs up for the paid service. With a massive 120-day cookie duration, you really can't go wrong with this dating affiliate program.
Sign up: Match.com Affiliate Program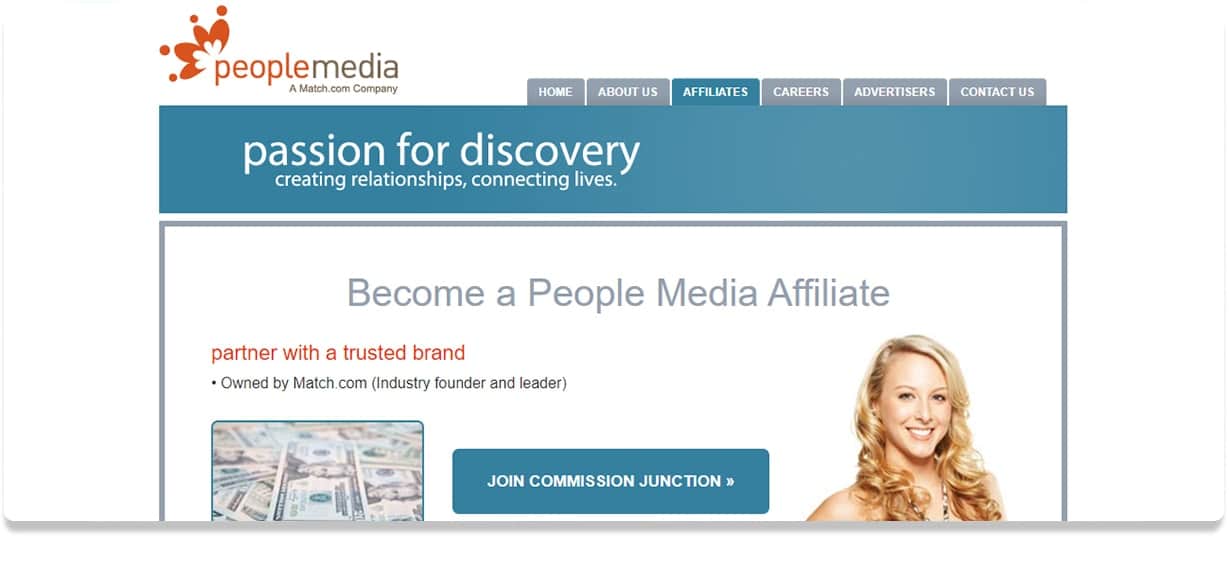 OurTime is a very specific dating site that caterers towards older adults. The age demographic for this site is mainly 50 years and up. Because this is such a specific niche, you can attract a targeted audience who is likely to sign up.
OurTime affiliates can earn 50% on each successful sign-up. That's an extremely generous commission for any affiliate program. OurTime also offers 120-day cookies so you have a huge window for making conversions.
Sign up: OurTime Affiliate Program
🐶 Pet Affiliate Programs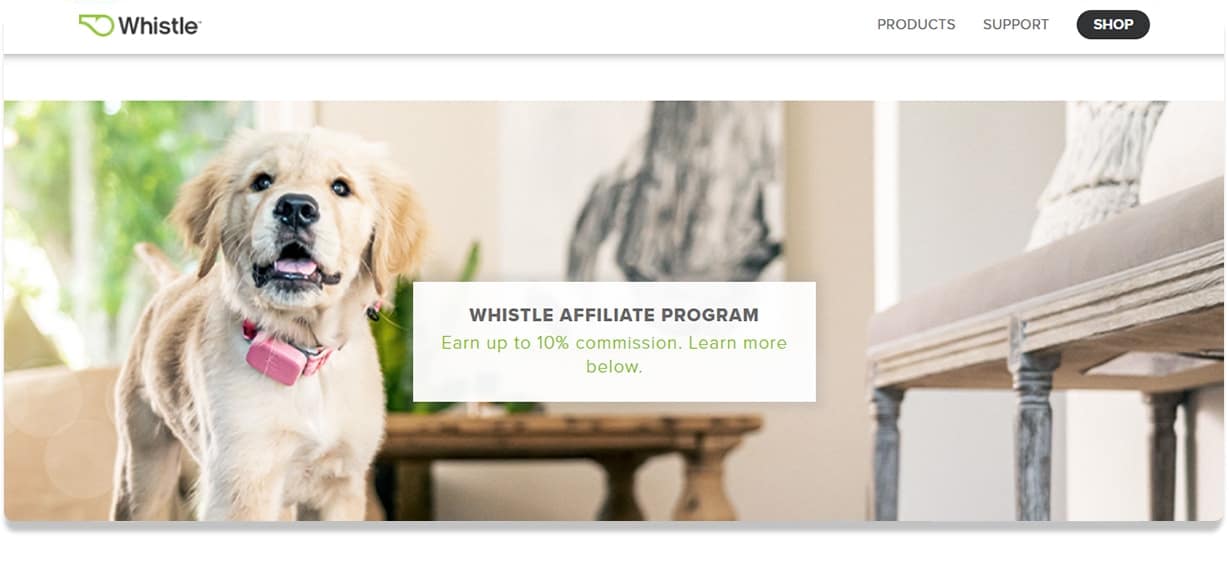 Whistle Pet offers a great product for pet owners who worry about their pet running off. Whistle Pet offers a unique collar attachment that tracks the location of your pet. This little GPS device will show you where your pet is at all times for ease of mind. A huge added benefit is that this device also detects health issues, food intake, and alerts you of possible concerns.
Whistle Pet offers it's affiliate marketers a 10% commission rate on its products. The base price for WhistlePet products is $99.95 + $9.95 per month, so you have the opportunity to make a decent paycheck here.
Sign up: Whistle Pet Affiliate Program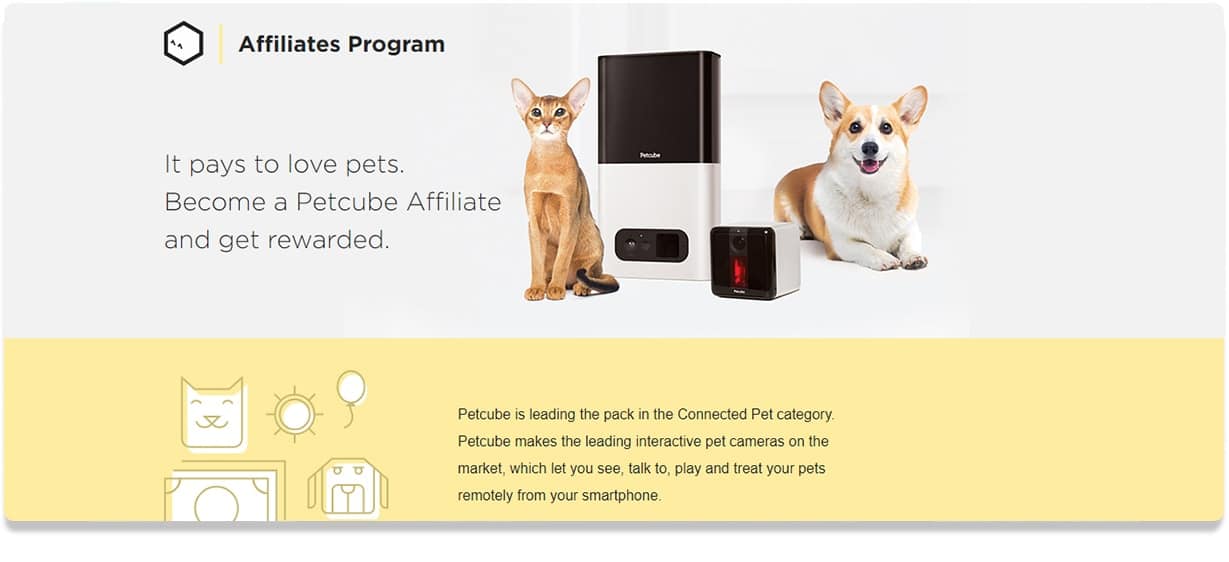 Pet Cube is the perfect solution to a lonely pet. Nobody likes leaving their pet for the day knowing they'll be bored at home. Pet Cube is a camera and microphone device that allows you to see and talk to your pet, even when you're away. Some cameras even include treat dispensers and laser toys for added fun.
Pet Cube affiliates make 10% on every sale made with their affiliate link. Pet Cube products start at $180 so the commission rate is actually pretty great. This is a great high-ticket item to add to your list of affiliate products.
Sign up: Pet Cube Affiliate Program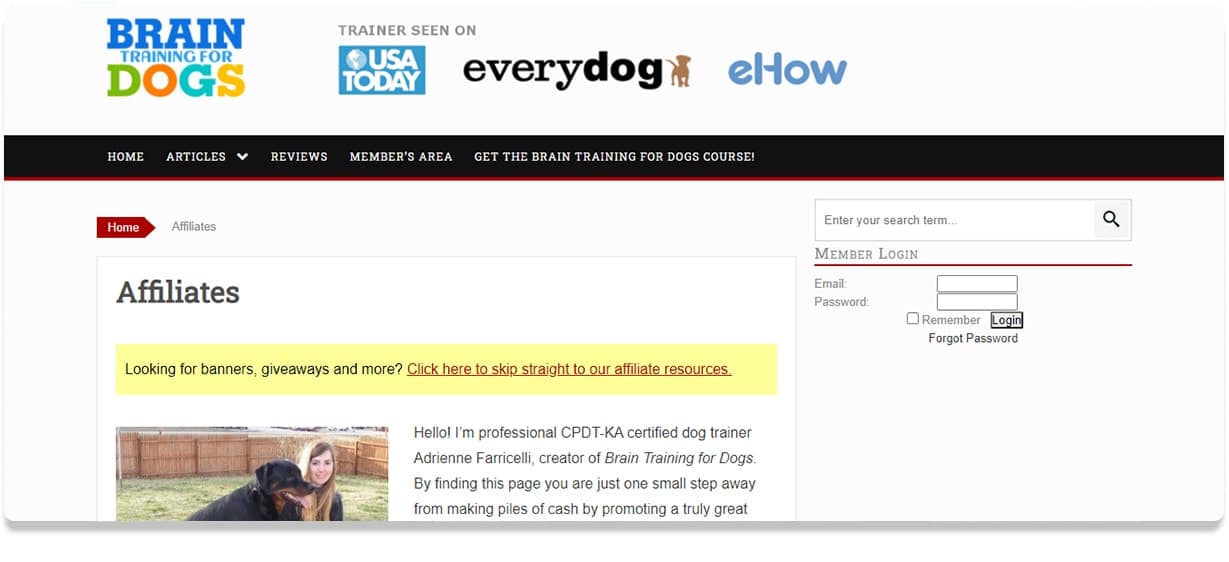 Brain Training 4 Dogs is a 7-video training course for people seeking affordable professional dog training. The program was developed by Adrienne Farricelli, a professional dog trainer with over a decade of experience. This program is designed to diminish poor behavior and tap into the "hidden intelligence" of your pet.
This program offers a seriously high payout at 75% of every sale. The entire course costs $47 making this an easy product to sell. With a generous 60-day commission, this is a great program for boosting your affiliate salary.
Sign up: Brain Training 4 Dogs Affiliate Program
Check out more Pet Affiliate Programs
🏡 Real Estate Affiliate Programs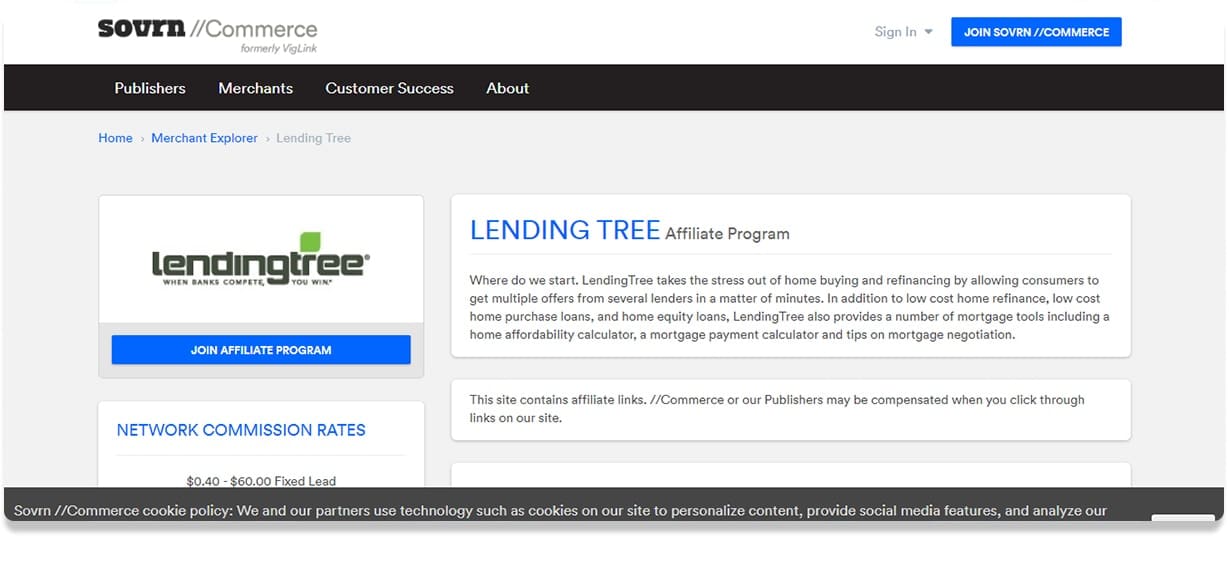 Lending Tree is a well-known company that helps people find the right loan. Lending Tree offers resources on loans for homes, small businesses, and cars. It also helps people find the right credit card match with a large selection to choose from.
Lending Tree affiliates can earn $60 per sign up which is an excellent commission rate. You can earn that rate each time you successfully refer a customer with your affiliate link. The only downside to this program is the relatively short cookie duration of 14-days.
Sign up: LendingTree Affiliate Program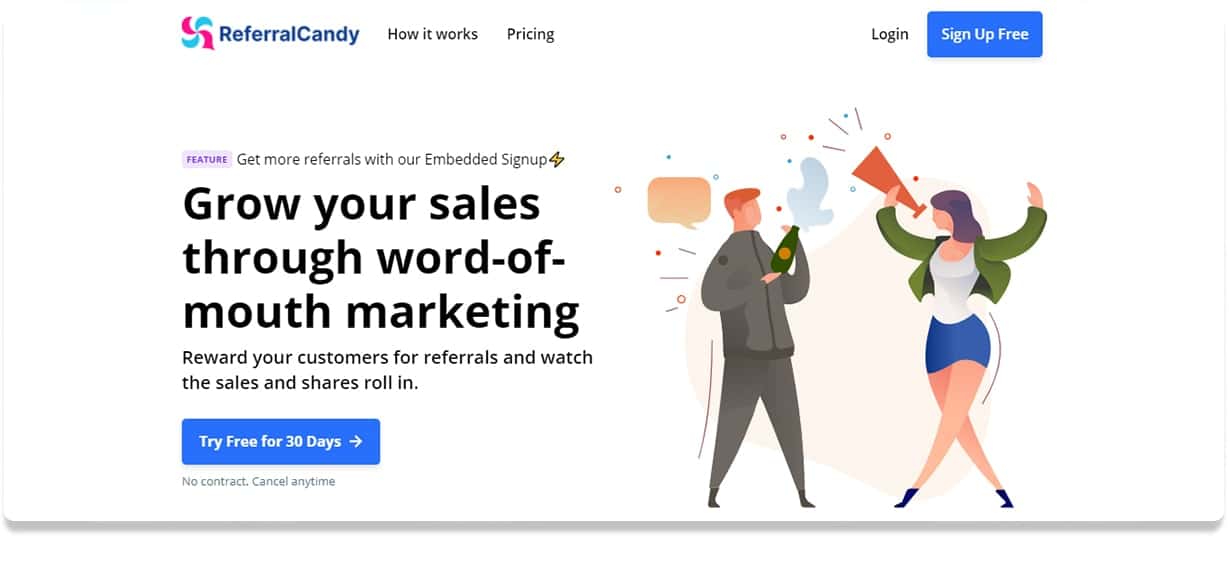 House Plan Gallery offers its customers an extensive range of home design resources. The most popular of these resources are the premade floor plans that are available for purchase through the site. These floor plans range anywhere from $1500 to $3000.
House Plan Gallery affiliates earn 20% of each sale made. That's a pretty high number considering the price of the products. You can easily take home $300 on a single sale. If you're in the real estate niche, I highly recommend this program for bringing in a real income.
Sign up: House Plan Gallery Affiliate Program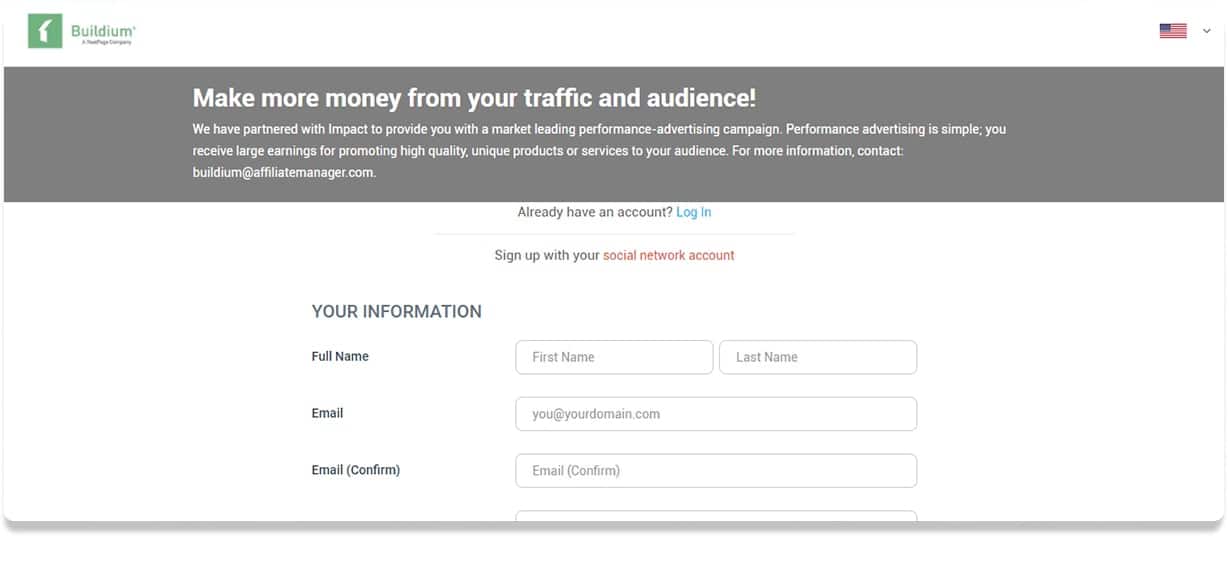 For those of you in real estate, Buildium should be a familiar name. This company offers several real estate management solutions including property accounting and property listing. Buildium offers several subscription-based plans, which should be music to your ears as an affiliate marketer.
As you know, I always recommend adding a few subscription-based commissions to your portfolio in order to build a passive income. Plans cost anywhere from $50 to $460 per month. Affiliate marketers for Buildium take home 25% of each sale. On top of that, the company will pay you an additional sum for every qualified lead you refer to the company.
Sign up: Buildium Affiliate Program
Check out more Real Estate Affiliate Programs
✈️  Travel Affiliate Programs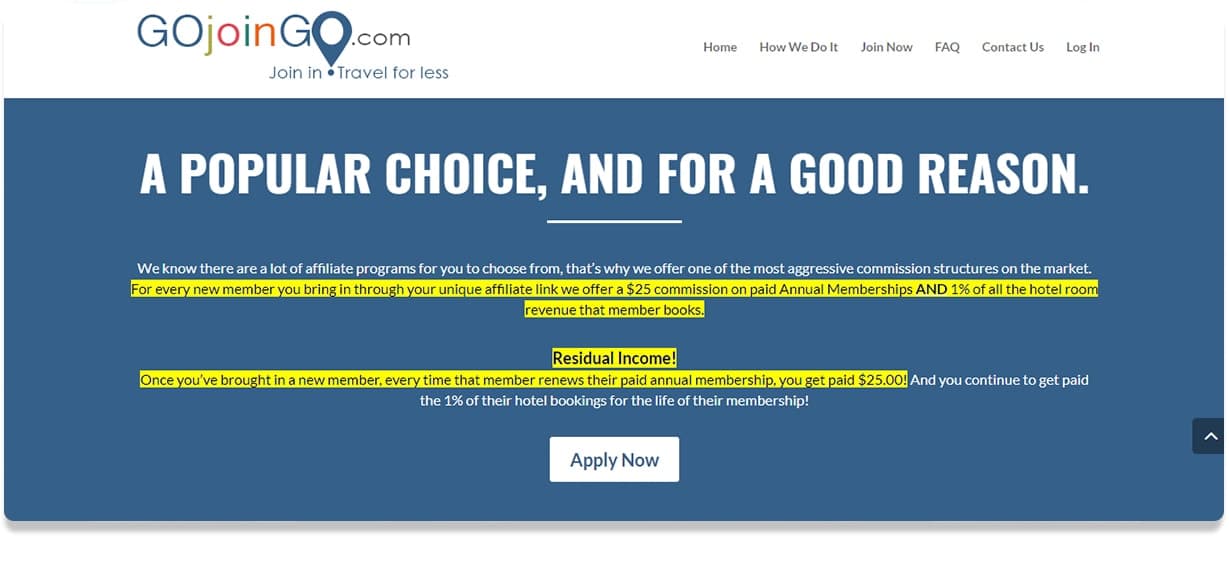 GoJoinGo is a unique program that offers its members heavily discounted prices on hotels, rental cars, and flights. This company offers wholesale rates to its members which means these prices are far lower than what you'll find on any normal travel site. Memberships only cost $99 per year, so it's an easy sale to make if your target audience loves to travel.
GoJoinGo affiliates earn $25 for every referral made. On top of that, affiliates also take home 1% of each hotel booking made through their affiliate link. The affiliate program offers a fairly decent cookie duration of 60-days. Not too shabby.
Sign up: GoJoinGo Affiliate Program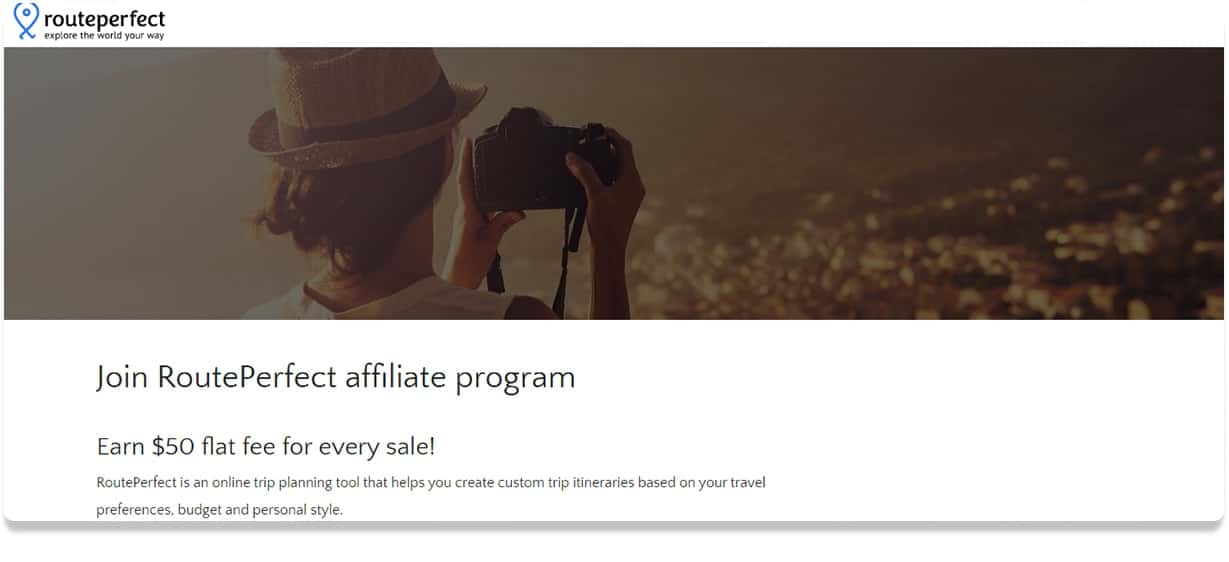 RoutePerfect is a travel company that offers over 3,000 pre-made travel itineraries for locations all over the world. They also offer their customers big discounts on travel accommodations made through the site. It's a great service to people looking for an easy way to plan a trip.
As for the affiliate program, RoutePerfect offers a pretty impressive payout. For each referral made, affiliates earn $50. With that kind of commission, you can really start to build your passive income.
The cookie duration is 30-days which gives you a fair amount of time to gain leads. As an affiliate, you can include their travel planner directly on your blog which makes conversions that much easier.
Sign up: RoutePerfect Affiliate Program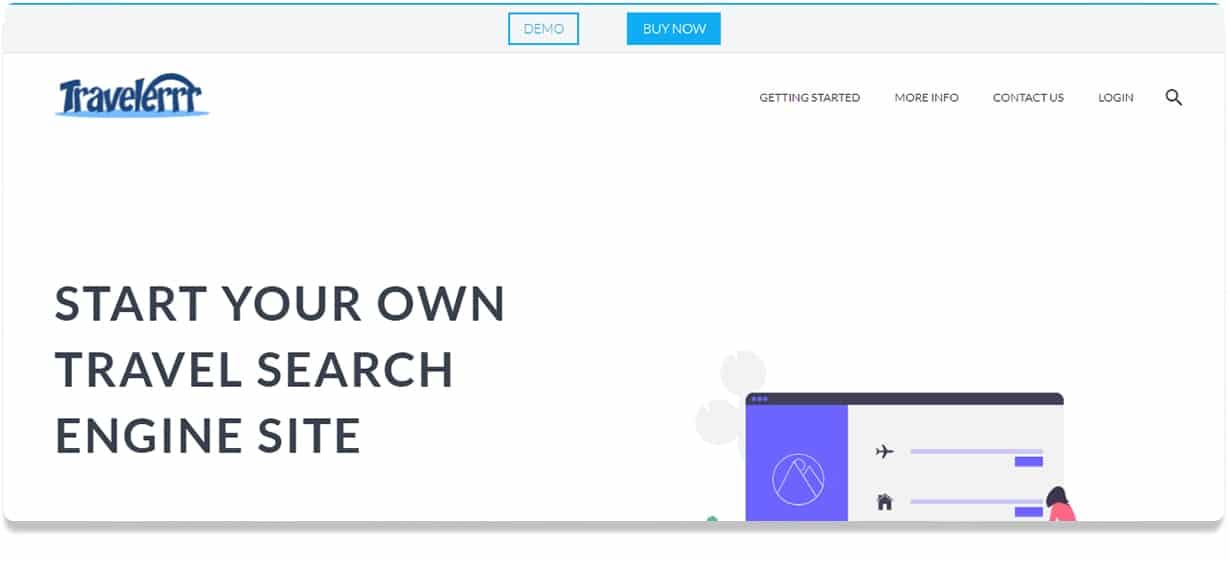 Travelerrr provides a useful tool for people in the travel blogging business. This company provides easy website templates geared specifically for travel booking sites. If you're already in travel blogging, creating a booking site can help you bring in a lot more money.
Once you build a booking site with Travelerrr, you'll have access to a huge selection of travel companies as an affiliate marketer. You can include these companies on your bookings website, and get paid each time someone books accommodations through your site. Affiliates make between 50%-70% off of each booking.
Sign up: Travelerrr Affiliate Program
Check out more Travel Affiliate Programs
💳 Credit Card Affiliate Programs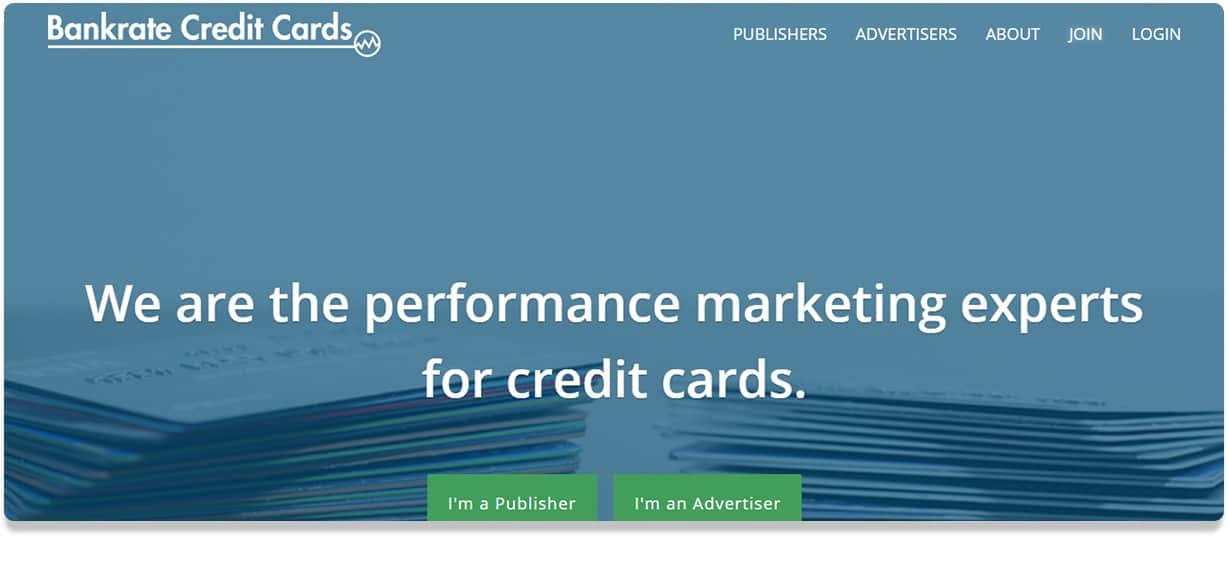 Bankrate is a comprehensive website that helps users find the right credit card for their needs. This is a great option for affiliate marketers because you can promote a variety of cards to your audience. That fact that just about everyone has or is looking for a credit card, makes it a good product for any affiliate marketer.
Because Bankrate offers a large selection of credit cards, the commission rates vary widely. Affiliates can take home anywhere from $20-$300 per sign up depending on the credit card. That being said, if you create a smart product strategy, you can bring in some real money with this program.
Sign up: Bankrate Affiliate Program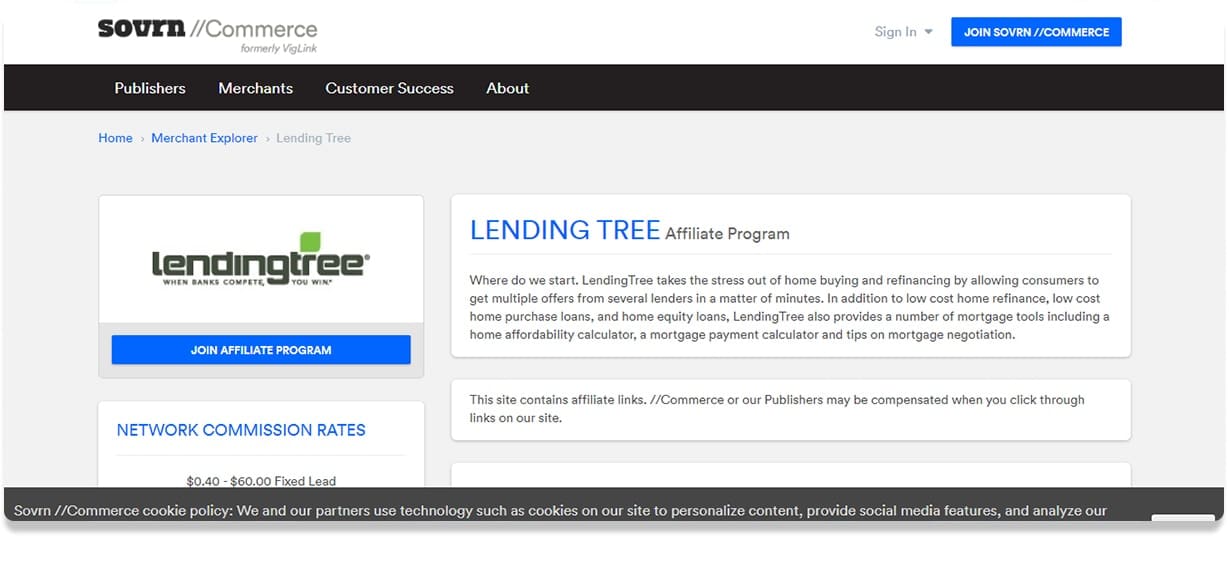 Experian is an industry-leading company that offers free credit scores, identity theft support,  loan, and credit card resources. Experian is a popular choice for finding a variety of credit cards with various offers and benefits. Experian has a worldwide audience, making it one of the best choices for those of you in the credit card niche.
Experian affiliate marketers take home a generous 20% commission on every sale. A percent-based commission works in your favor here. With such a wide variety of credit card offers, you have the potential to take home a chunk of a high-ticket sale.
Sign up: Experian Affiliate Program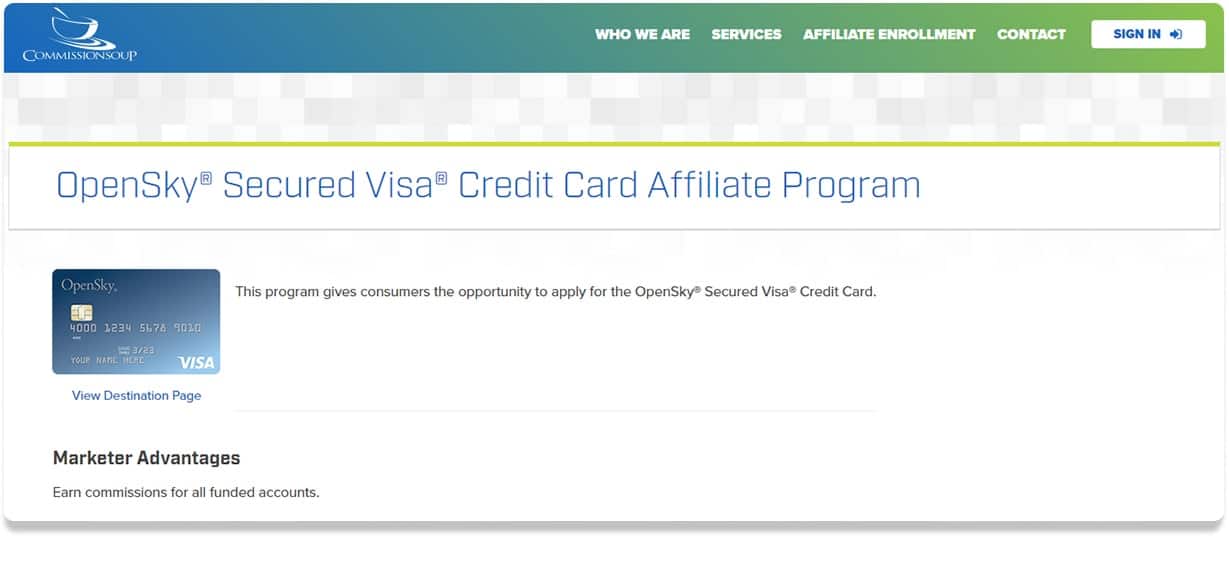 Last, in this category, I wanted to give you an option for a specific credit card. OpenSky is a credit card offered by Capital Bank. This is a great credit card to promote because customers don't need to have a credit history to qualify. It's a smart choice for anyone who is trying to build or repair their credit score.
OpenSky affiliates earn $25 for every sign-up. I recommend this credit card affiliate program to anyone with an audience of college students or young adults who are in need of an accessible credit card.
Sign up: OpenSky Affiliate Program 
Check out more Credit Card Affiliate Programs 
📶 Best affiliate Networks
The following programs are large affiliate networks that offer a vast array of products to choose from. Unlike the programs we just went over that offer limited products, these networks often encompass thousands of companies and products that you can promote.
If you join an affiliate network, you'll find it a practice in constraint. Yes, there are hundreds of products to choose from, but you should still focus on the ones that best fit your niche.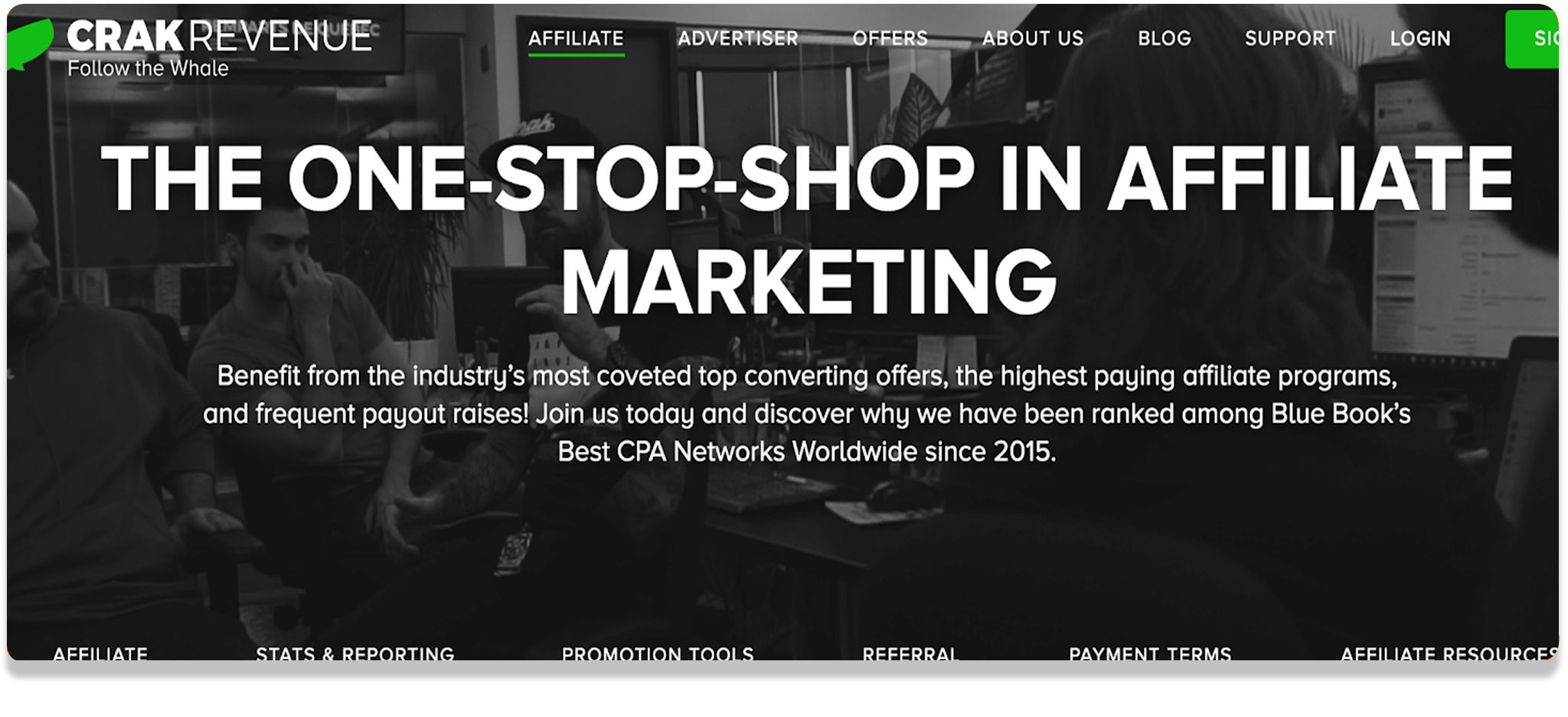 CrakRevenue is a niche affiliate network that focuses on online dating and cam affiliate programs. If this is your industry, CrakRevenue is the place to be. They offer over 700 programs and 13,000 products and services related to online dating.
CrakRevenue offers a set of great features for its affiliates. One of the most useful features is the dedicated affiliate manager. This feature is available to VIP and Elite affiliates.
The dedicated affiliate manager is there to give you customized tools, promotional material, and exclusive offers.
The CrakRevenue has a fairly unique set-up. They give affiliates rewards and bonuses when they do well.
Here's a break-down of the rewards you can earn with CrakRevenue:
When you start out as an active affiliate, you'll get access to a huge selection of offers with top-brands as well as user support. As you make more sales and get the hang of affiliate marketing, you can earn tons of extra perks.
You might notice the "Lifetime Referral Program" listed on this table. That means if you refer a new affiliate to the program, you'll earn a 5% commission on all of their sales, forever.
Check out this screenshot from my commissions on CrakRevenue: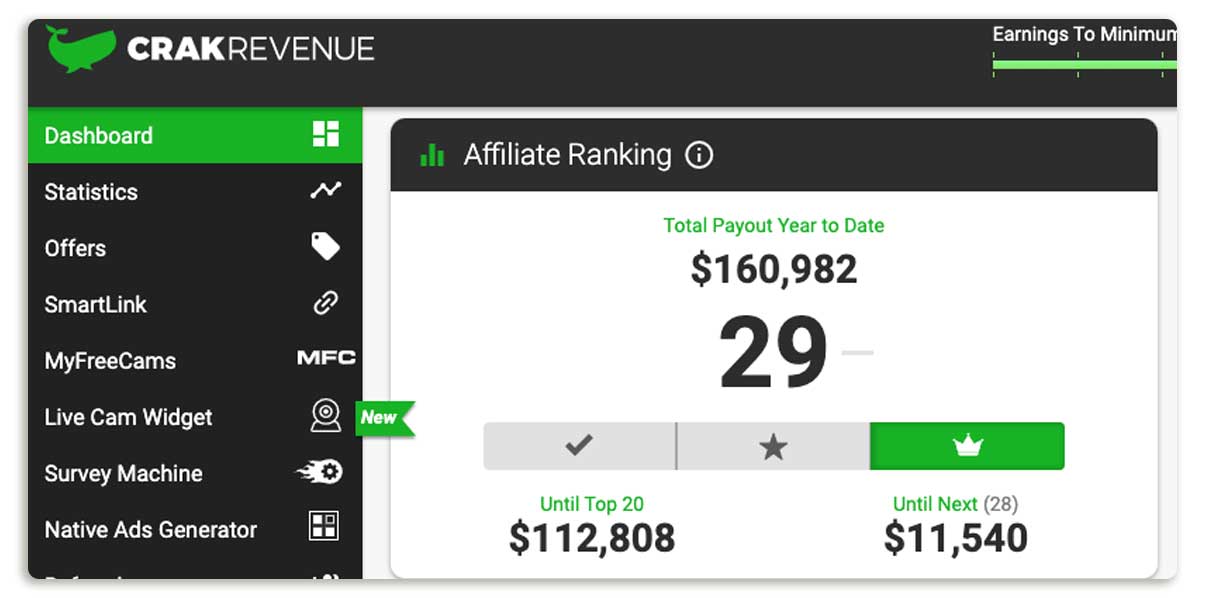 Overall, CrakRevenue is a good option for anyone in this niche market looking for a large variety of affiliate programs to work with.  
Join CrackRevenue affiliate network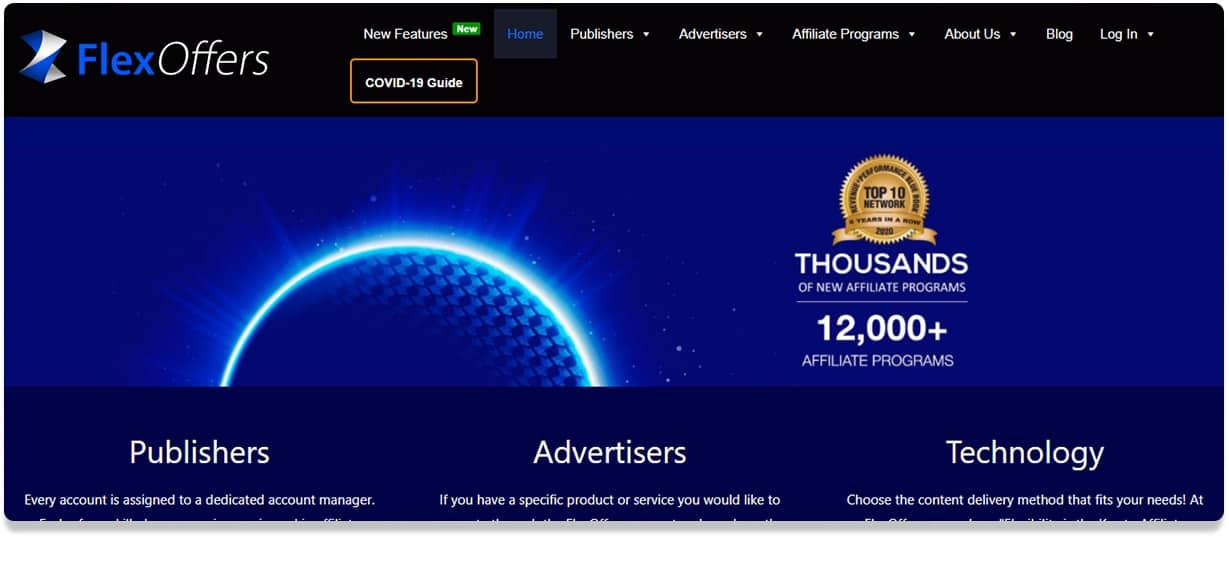 Flex Offers is a massive affiliate network with categories ranging from automotive to education to sports. Name a niche and you can find it on Flex Offers. They work with all well-known companies such as Khols, AT&T, and Best Western. Flex Offers provides it's affiliate marketers with a huge range of benefits.
This network has over 12,000 advertisers and adds up to 50 new advertisers every single day, so you'll never be at a loss for new products to add to your portfolio. Signup for Flex Offers is fairly simple. You'll have to provide your sources of traffic in order to apply. Once you complete the free application, you'll be notified via email if you've been accepted.
Sign up: Flex Offers Affiliate Network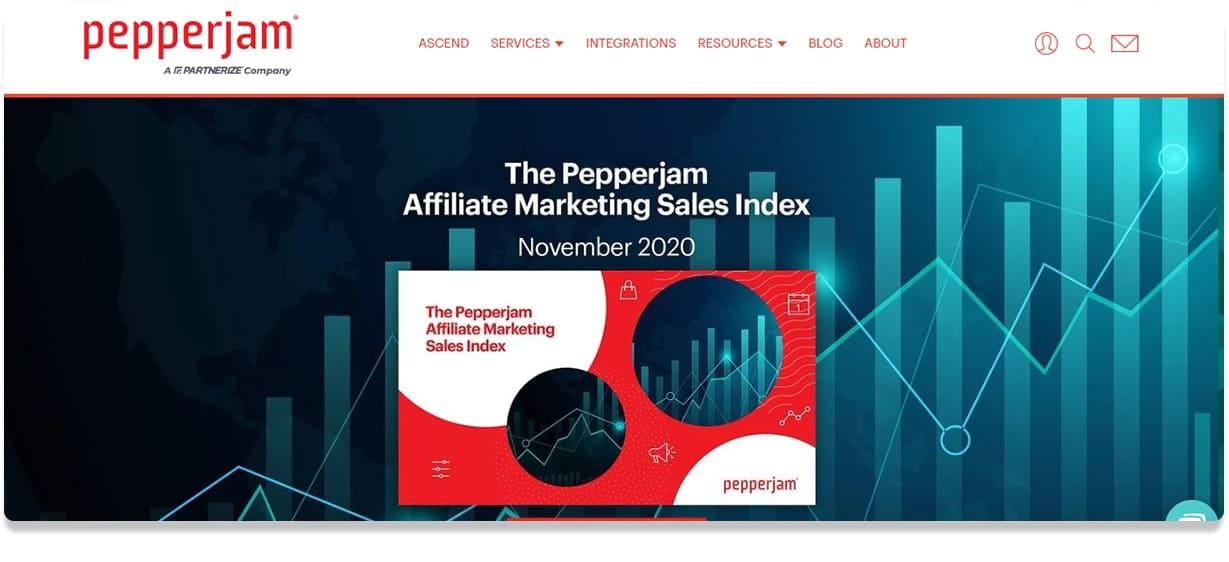 PepperJam has been in the affiliate network game for the past 20 years. This company has developed highly effective technology that matches advertisers with qualified affiliate marketers. I will say, this affiliate network is for those of you who are experienced affiliate marketers looking for a way to step up your strategy.
PepperJam gives affiliates the tools to streamline their commission strategy, minimize losses, and complete access to all performance data. In other words, working with PepperJam really helps you boost your overall performance as an affiliate marketer.
That being said, if you're new to the business, this option might be overwhelming at first. Luckily, PepperJam has a pretty great user support team to help you out if you run into trouble.
Sign up: PepperJam Affiliate Network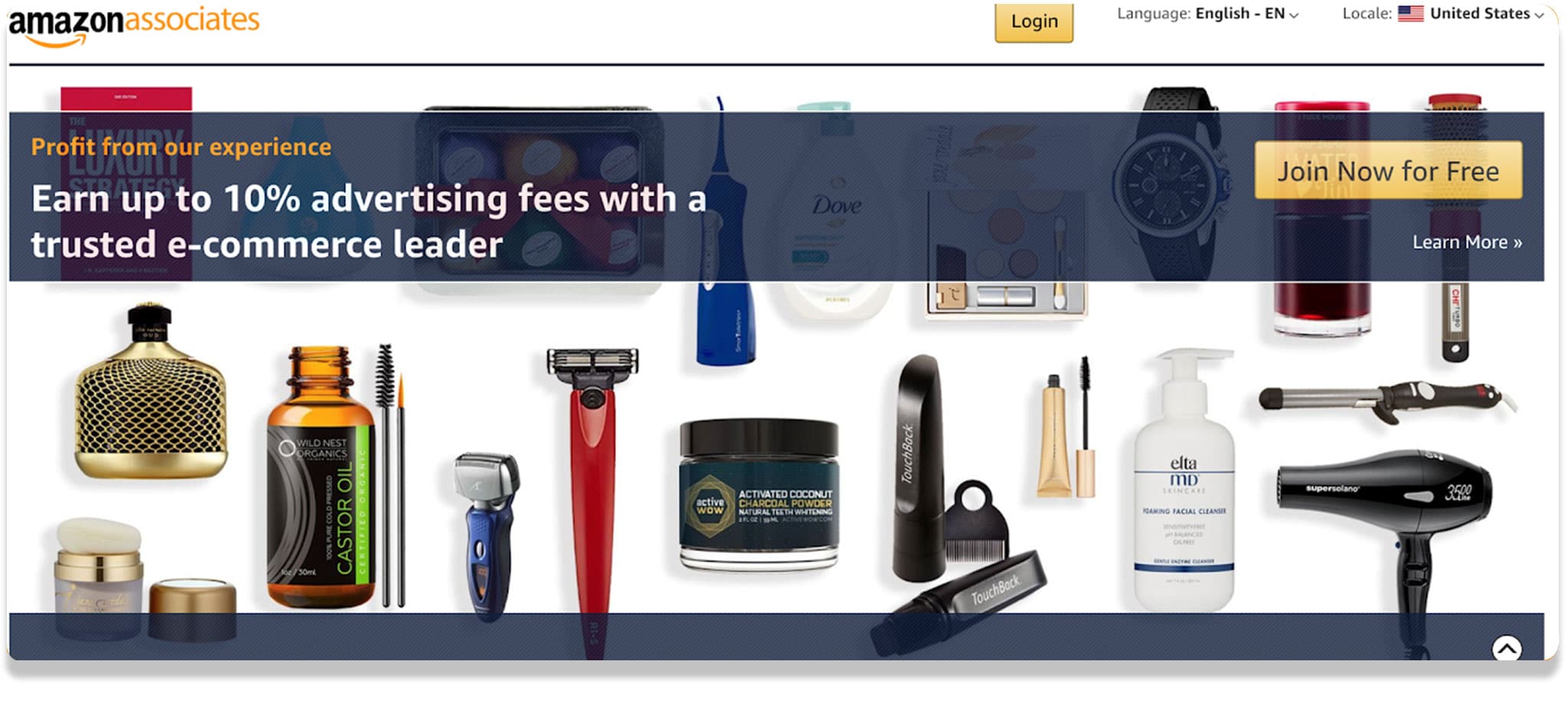 If you're a beginner and you're not sure where to start, the Amazon Associates program is a solid choice. This is one of the largest affiliate programs in the world, boasting millions of products available for you to promote.
As an affiliate for Amazon, you have the option to promote both affordable and high-ticket products. The ability to diversify your products gives you an opportunity to make some real money.
Keep in mind, in order to be accepted into the Amazon Associates program, you need to have an active blog, website, YouTube channel or social media app.
While there are rumors circulating that the commission rates will change at the end of April 2020, here's a look at the current rates, according to category:
1.0% for video games and game consoles
2.0% for televisions and digital download games
2.5% for computers, computer components, DVD and Blue-Ray
3.0% for toys
4.0% for Amazon tablets and Kindle devices
4.5 for paper books, healthcare, personal care, sports, kitchen, car, and baby products
5.0% for digital music and video downloads, groceries, handmade items, and musical instruments

6.0% for headphones, beauty products, musical instruments, business, and industrial supplies. 

 

7.0% for clothes, accessories, Amazon TV's, Amazon Echo, jewelry

 

8.0% for furniture, garden, home improvement, pantry and pet products

 

10.0% for Amazon fashion and luxury beauty

 

4.0% for all other categories

 
Okay, right off the bat, it's clear that some of these commission rates are not that great. 2.0% of a sale, even a fairly large sale just isn't going to bring in that much. 
The good news is, you only need to reach $10 in sales before you can get paid.  
Now, looking at this list, you probably want to be making 5.0% and above in commission. Luckily, there are thousands of products that fall into these categories.
The major downside to this program is the cookies. Associates are only given 24-hour cookies for their links, meaning your referral only lasts for one day.
Despite the lower commission fees and short cookies, Amazon Associates is easy to join if you are new to associate marketing. It offers an insane selection of products and is a trusted and established program.
Join Amazin Associates affiliate network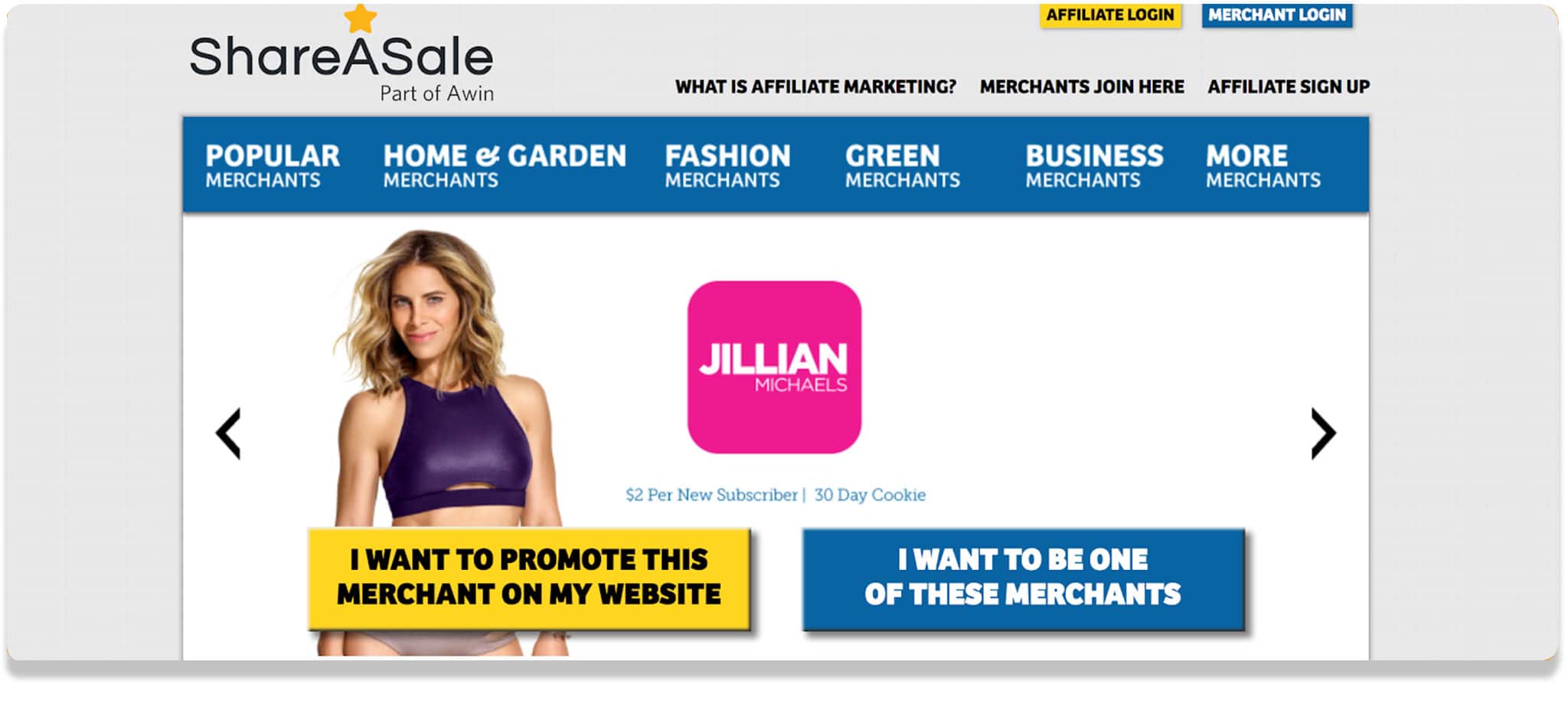 This name probably sounds familiar because several of the companies above are a part of the ShareASale network.  
ShareASale has established itself in this competitive field, putting itself right up there with big names like Amazon. ShareASale has been helping affiliate marketers make money for the past two decades. 
ShareASale is a true affiliate network, so it works a little differently than the other programs on this list.
With this network, creating a membership gives you access to a collection of separate affiliate programs. You have to apply to each program separately to receive links for products.
Since this network has been around for so long, they've figured out a thing or two. For one, they offer great resources to their affiliates. Some of the tools they provide are:
A welcome kit containing a four-week training guide.
Complimentary program diagnostics
Monthly training webinars
PDFs about best practices
Like Amazon, ShareASale has a huge selection of products. This network comprises nearly 4,000 different affiliate programs.
These programs offer products including accessories, clothing, classifieds, business products, web hosting, art supplies, musical instruments, and clothing.
Now, commissions can get a little confusing on this site. That's because each merchant sets their own commission rate and cookies. You'll have to spend some time browsing through the programs to find the right fit.  
Join the ShareASale affiliate network
Conclusion
As you've probably gathered, there's a lot to consider when it comes to affiliate programs. The best thing you can do is to understand the commission rates, how long the cookies last, and the payment schedule.  
Make sure to select brands that you respect and that fit your niche. Last but not least, choose products that are both subscription-based and high-ticket for the best results. Once you get the hang of affiliate marketing, you're on your way to earning a passive income.  
FAQ  
How to find affiliate programs
Check to see if your favorite brands have affiliate programs. Sign up for an affiliate network for access to hundreds of affiliate programs. 
How do affiliate programs work?
Affiliate programs are platforms through which companies work with affiliate marketers. These companies pay affiliate marketers a commission for successfully referring a customer to their product. 
How to get approved for affiliate programs
Each affiliate program has different requirements. Review the program requirements and complete the application process.