What is EPC in Affiliate Marketing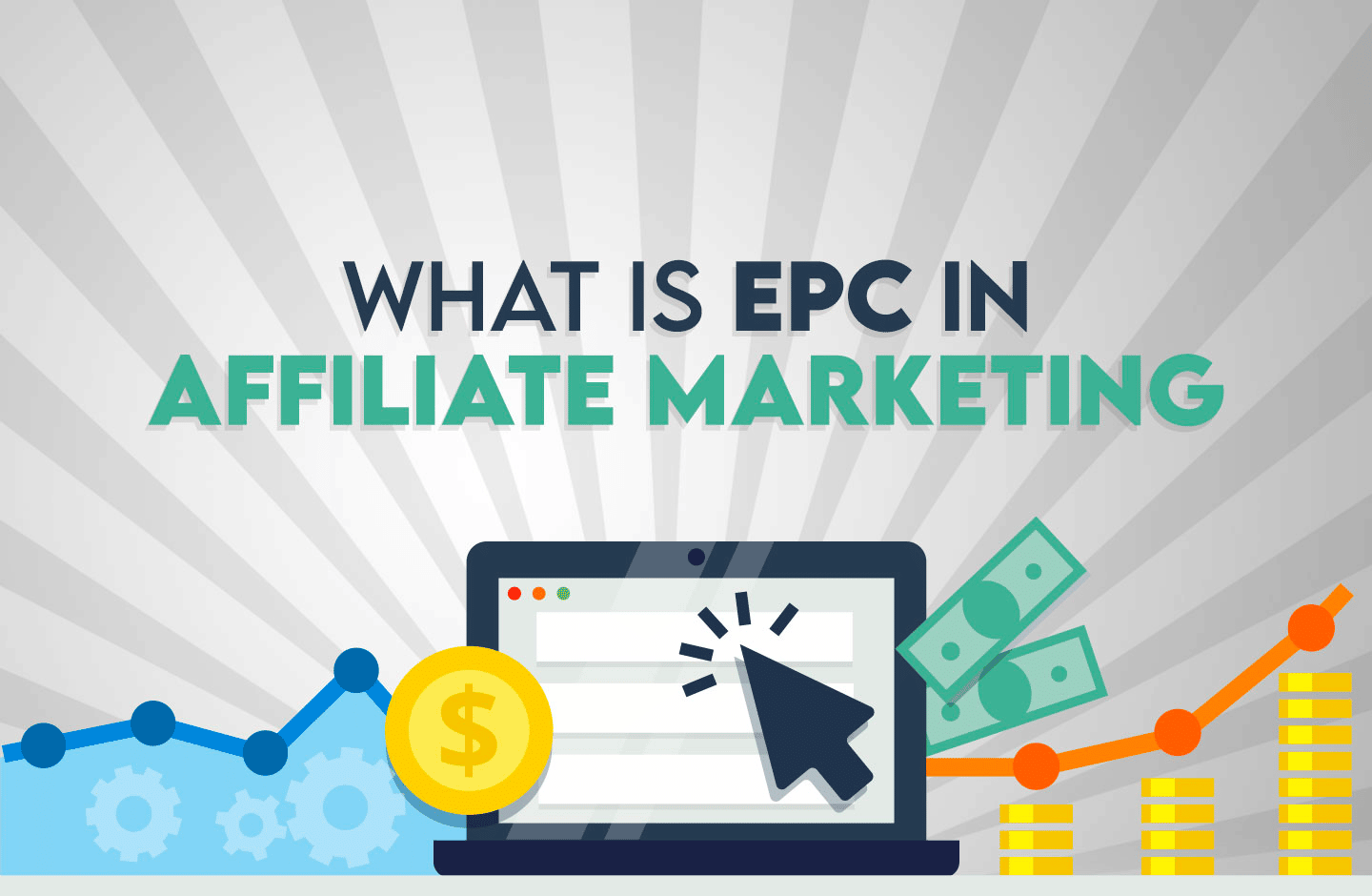 Affiliate marketing is one of the practices that I love and write about often because it's a win-win scenario for everyone involved. The merchant website that creates the affiliate program gets access to new potential clients. The affiliate marketer gets affiliate earnings. The consumer finds great new affiliate products that they may have not known about.
If you're new to the practice of affiliate marketing, check out other articles that I've written about affiliate partners and affiliate marketing networks. If you already know what affiliate marketing is, the article below will dive into one of the most important aspects of earning affiliate marketing revenue: What is Earnings Per Click (EPC) in affiliate marketing?
What Does EPC Mean in Affiliate Marketing?
An acronym often used in affiliate marketing, EPC stands for Earnings Per Click. I will explain how to calculate EPC for you below. EPC is a way to know both how much you can expect in earnings from affiliate products and the average amount of revenue that you are earning from clicks.
It should be pointed out that EPC and an affiliate commission are two very different things. EPC is a way to measure how effective your strategy is at driving conversions to an affiliate partner. An affiliate commission is only generated when you win a conversion (sale or signup).
At a high level, an affiliate commission comes from one click that results in a conversion. You calculate EPC based on how many conversions you gain for an affiliate product or service out of every 100 link clicks.
I highly recommend that you read all of my posts explaining the many affiliate marketing sites, programs, and strategies. This will teach you how to find the right affiliate partner to develop your own profitable affiliate marketing strategy.
Why Is EPC an Important Metric in Affiliate Marketing?
In short, EPC is a formula that can quickly allow you to determine two crucial factors in your affiliate marketing campaigns:
How much revenue you can expect from a particular affiliate program

Whether paid advertising through your social media marketing campaigns is profitable based on those EPC versus how much you Pay Per Click
There are many ways to gain and grow your affiliate marketing earnings. Some choose to use Facebook advertising and other social media marketing. Others use forms of digital marketing like Google SEM combined with a landing page directed by those PPC ads.
The above marketing strategy requires paid advertising. Others choose to send affiliate links directly through email marketing efforts. They may also create SEO-driven blogs in hopes of gaining multiple clicks without resorting to paid ads.
When you calculate EPC, it allows you to quickly determine if your paid ads are profitable. You can also determine how much you can potentially earn from a specific affiliate program.
But how do you calculate your EPC? Let's get into that now! It's very simple and won't require an abacus or slide ruler!
How is EPC Calculated?
It is extremely easy to calculate EPC. Since it's computing the average value of a click to your campaigns, you just have to find the average revenue that you are bringing in per click. To put it plainly, the EPC formula is:
Total commissions you've earned / by the number of clicks to your affiliate links = Earnings per click (EPC)
The total commissions you've earned are the total affiliate marketing revenue that you've brought in for the period that you are calculating. The number of clicks in the denominator is the number of clicks on the affiliate links.
For example, let's say that you've earned $10,000 in affiliate revenue this month, which came from 5,000 total clicks. When you use the EPC formula, you find that your average earnings are $2 per click.
What Is a Good EPC?
Good is a relative term, and what is good to one person may not be for another. I'm a professional affiliate marketer, so my expectations are higher for affiliate revenue than they may be for someone else. You may like to get yourself into the same boat as me and turn affiliate sales into a profession instead of a side hustle. Here, I have plenty of posts that can introduce you to the best affiliate schemes to get you there.
EPC uses an average because it's providing a macro-view of your overall affiliate marketing strategy. This can be one of your most important metrics because it gives a quick glance at how your strategy is performing. This is better than having to dig through thousands of lines on a spreadsheet.
For instance, an affiliate partner may pay different commissions for various actions. Let's say they pay one rate for a site visit, another for a client who fills out an email capture form, and a larger commission for a sale. Rather than going through each individual line item, your EPC for that affiliate link can give you a quick view of how the campaign is performing overall.
Keeping tabs on your EPC can also let you know when something has gone wrong. Perhaps something caused invalid or broken links on your website or paid advertising. If you are running ads as part of your strategy, knowing your EPC can also let you know when those PPC ads are ceasing to be profitable (or profitable enough for your efforts).
An EPC will also begin to drop when an offer generates more sales volume since EPC is an average. If you find an affiliate program that has a conspicuously high EPC for the type of product or industry, it may be an indication of lagging sales.
A good EPC is relative. What is your time worth? Is this a side hustle or are you a professional affiliate marketer? What is the conversion rate for this particular affiliate program? Is there a competitor for this affiliate product that may be leading to a loss in conversions?
The 8 Best Steps To Increase Your EPC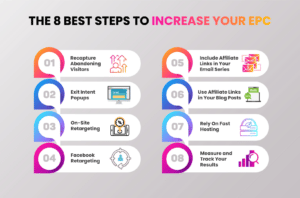 If you decide that you want to gain more affiliate sales and a higher EPC, there are a variety of steps that you can take to increase them. Many of these steps can be automated with affiliate marketing software, but every affiliate marketer should know how to do these on their own.
Let's go through those eight best steps to increase your EPC now:
Recapture Abandoning Visitors
You succeeded in the first vital step for affiliate marketers and someone clicked on your affiliate link. Now, they are trying to leave before a conversion. Is there a way to salvage the sale? Here are a few tips that affiliate marketers can use to recapture abandoning visitors.
Exit Intent Popups
An exit intent popup is a type of website overlay that can be used to convince a visitor not to leave before a conversion. The purpose of these overlays can either be to convince them not to leave (perhaps they have items in their cart already) or at a minimum to fill out an email capture form before they do.
These popups can be customized based on where the customer is in their journey, and work by tracking their mouse location. If a user is attempting to leave a sales page with a full shopping cart, the exit intent popup can offer a discount code if they complete their sale. If they are trying to leave a landing page, an opt-in form can ask for their contact info in exchange for future discounts (which can be sent via email marketing efforts).
This may not sound like much to you, but affiliate marketing software OptinMonster has shown that their Exit-Intent Technology has a 17.31% click-through rate on exit intent popups, which boosts affiliate sales by 30%.
On-Site Retargeting
Another personalized and effective type of affiliate marketing software is on-site retargeting. These programs are focused on the behavior of visitors to your affiliate websites and track their actions to determine if and when they need some sort of re-engagement.
If someone's mouse has been sitting in the same place for 30 seconds, on-site retargeting may send a chatbot popup to ask if they have a question. If their mouse begins moving towards the exit or page close button, an exit intent popup may deliver a deal or content to keep them engaged. If they've reached the bottom of one of your affiliate landing pages, an in-line campaign popup can deliver more content to drive them further into your sales funnel.
Facebook Retargeting
If you are a savvy marketer who has created a landing page for your affiliate link, Facebook advertising has off-site retargeting that will allow you to reach those visitors who abandoned your page. This requires the implementation of a pixel beacon on your landing page, but can prove an effective way to retarget those abandoned visitors and bring them back into your sales funnel.
Optimize Your Floating Bar
"Popup fatigue" can cause your visitors to stop paying attention. This is especially true if they are served the same popups over and over. If you do utilize popups in your strategy to drive potential customers to a merchant website, it may be a good idea to create an optimized floating bar.
These are "sticky" bars that can be designed to appear and stay at the top, bottom, or even side of a page, remaining in place even as the visitor scrolls. If you are concerned that popups may reduce the user experience (UX) of your page, floating bars are a great way to keep things fresh. They've even been shown to be more effective at converting sales than popups!
Perform A/B Testing
Effective marketing is a constant evolution and the top affiliate marketers are always searching for the best strategies. If you are looking for a way to make more money through your affiliate links, A/B testing can help you find the best formula.
Often used in Pay-Per-Click paid advertising, A/B testing is used when running ads, creating landing pages, or even when trying to find the best target audience. This is a process in which the affiliate marketer creates different versions of whatever content they are serving, or to who they serve it.
A/B testing consists of creating various paid ads or pages with different wording, creatives (pictures, videos, etc), or even a different target audience to see which performs better. After a set amount of time, the effectiveness of each option is measured. From there, the most effective at gaining affiliate earnings is continued with the entire campaign budget.
Include Affiliate Links in Your Email Series
The best affiliate marketers know the power of email, and how to create conversions via their email service provider. Whether through popups or opt-ins, gathering emails can open up a new world of opportunities to grow your affiliate marketing earnings.
When done properly, studies have found that email marketing can provide as much as $42 in earnings for every $1 spent. In terms of ROI, that's a pretty good average amount! Starting an effective email marketing strategy can certainly help to increase your Earnings Per Click.
Use Affiliate Links in Your Blog Posts
If you want to increase your EPC without having to use Pay Per Click ads, an SEO-driven and optimized blog may be just the thing that you need.
Search engines are constantly updating their algorithms and SEO ranking requirements, so it is crucial that you stay up to date with the current best practices. Adding affiliate links to your blog posts can vastly increase your Earnings Per Click and can also keep your campaign costs down if you know what you're doing.
If you don't mind writing a blog and want to increase your Earnings Per Click, read my post on How I Made $560,000 in One Year with a Blog to learn from my own experience.
Rely On Fast Hosting
In the world of affiliate marketing and Pay Per Click income, slow hosting and page response can be just as bad for your affiliate sales as invalid or broken links. People have become spoiled and impatient with technology, meaning they aren't going to sit around waiting for your page to load.
In fact, if you take my advice above and decide to add affiliate links to your blog posts, a slow page response time will even reduce your rankings in Google and other search engines! It will take a little spending on your part, but if you are serious about making affiliate networks more than just a side hustle, you need to make sure that you have the fastest hosting that you determine profitable for your strategy.
Use Historical Data to Inform Future Decisions
I already mentioned above how A/B testing can lead to increased Earnings Per Click, but all affiliate marketers need to take this advice to heart. Measurement is the key to making more money from affiliate marketing networks and CPC affiliate programs.
The affiliate payment model pays you based on certain actions that people take after clicking your link. This means that to continuously increase your Earnings Per Click, you need to know what works, what doesn't, and if anything ever stops working (or is slowly becoming unprofitable).
To increase your affiliate EPC, keep copious amounts of data on your campaigns so that you know what works and if you need to change things up. You should also compile the data on your network EPC to know if you could be making more money as a different affiliate program's partner, or if one of your campaigns isn't working.
There are many affiliate program sites out there, and you can use proven campaigns as a different affiliate program's partner if you find other programs that may prove more profitable.
Measure and Track Your Results
If you haven't gotten the hint yet, let me repeat it again. Measurement is the key to success in the affiliate payment model! Tracking the results of all of your affiliate campaigns is extremely important if you want to garner more affiliate sales.
Keep records of your social media campaigns, your results with search engines, which affiliate products perform the best with which audience, and where you find the best network EPC. The affiliate marketing term should be synonymous in your mind with data because the best affiliate marketers keep copious records to know how to make the affiliate payment model work for them.
Conclusion
Whether you are a proficient marketer or someone who is just getting started, affiliate networks provide a great way to bring in some serious revenue with the right affiliate partners. There is a lot of data that affiliate marketers need to become familiar with. However, the EPC in affiliate marketing is perhaps the most important.
EPC can help you determine which affiliate offers may be the best and most profitable for you to use. You can also use the Earnings Per Click formula to determine how well your affiliate campaigns are working.
Affiliate marketing often utilizes Pay-Per-Click ads to drive leads to merchant websites, a landing page created by affiliate marketers, or a funnel that ends at a sales page (and hopefully a conversion). If you choose to use these paid tactics, it's paramount to know your Earnings Per Click to ensure your strategy remains profitable.
Check out some of my expert affiliate marketing tips for more info. 
Paid ads are not the only way to run a successful affiliate marketing strategy. Some choose to send an affiliate link directly through email, and others may use blogs to place various affiliate network links in conjunction with a good SEO strategy.
Whether you are a pro at making money through the plentiful affiliate schemes or are just getting started, here are the highlights on how to increase the Earnings Per Click for your affiliate marketing:
Use affiliate marketing software to recapture abandoning visitors who haven't converted.

Optimize your floating bar so visitors don't get popup fatigue.

Perform A/B testing to ensure you are using the most effective tactics.

Utilize your email service provider to send your affiliate link via email.

Use an SEO-driven blog with links from your affiliate partners.

Utilize the fastest hosting that you can afford.

Use historical data to inform your future decisions.

Measure and track your results.
Finally, stay up to date with my posts about affiliate marketing. This will help you ensure that you are always working with affiliate partners that will help you gain the most profitable Earnings Per Click possible!