14+ Free Traffic Sources to Grow Your Site (2022)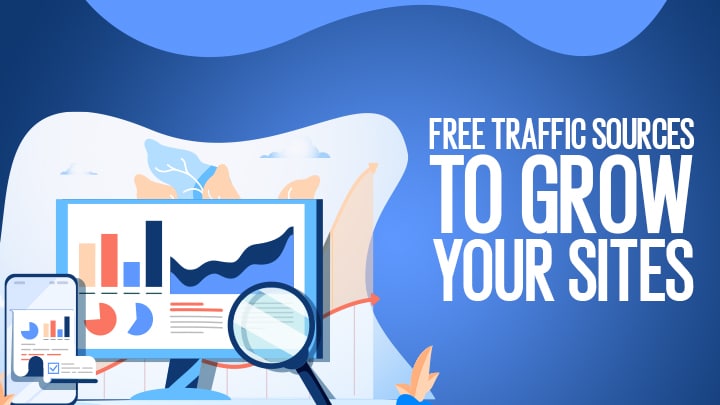 One of the biggest challenges of starting a website is growing your audience. While many people jump straight to paid promotions, such as Facebook Ads, it's very possible to get visitors for free. 
Done right, you can strengthen your online presence, gain more traffic and boost your conversion rate without spending a dime. There are a ton of options out there for finding free website traffic. 
Now, before you jump into this article for traffic sources, you'll want to make sure you know the basics for increasing search engine traffic.
In this article, I've put together a comprehensive list of the best website traffic sources out there. 
From Google to online forums, each of the traffic sources on this list is totally free, so you can start seeing results, even on a strict budget.
Free Traffic Sources for Your Website
---

When it comes to free traffic sources, Google reigns supreme. And it's no small mystery why– Google is by far the most popular search engine out there. 

Google's job is to provide its users with the absolute best answer for their questions. In order to do this, Google uses several ranking factors to decide which sources contain the most valuable information. 

Now, if you really want to gain free traffic to your site using search engines, you'll want your site to be on the first page of a search results page (SERP). 

Of course, accomplishing this is no small feat– it takes significant time, energy, and knowledge. Luckily for you, I've got a few tricks up my sleeve to share with you. 

How Can You Use Google to Gain Traffic?

So, the big question is, how can you use search engines to rank high in search results, and get free traffic to your website? 

The answer lies with search engine optimization or SEO. 

SEO means that your site is optimized according to Google's ranking factors so that it shows up in a Google search. If you're new to SEO, I highly recommend using a tool like SurferSEO to help you easily optimize your content. 

In order to fully grasp the idea of SEO, you'll need to do some serious research. That being said, I'll lay out some SEO pointers to get you going in the right direction.

Here Are Some Quick Tips for SEO:

Start a blog for your website if you haven't already.

Learn keyword research and incorporate the right keywords into your content.

Choose a micro-niche within a popular category. This helps you gain topical authority on a specific subject, which puts you at better odds of ranking on Google.

Make sure you're providing quality content that accurately answers a question

Incorporate internal links and authoritative external links.

Use compelling images to break up your article

Pros

Lots of SEO tools are available

Plenty of free information out there to get started

If you do the work correctly, you will get results

Cons

SEO rules constantly change

Can be a learning curve

Competition can be overwhelming for startups
---

Reddit has earned a spot as one of the most popular social media sites on the internet. This massive site hosts thousands of niche communities, also known as subreddits. 

Each subreddit is dedicated to a specific topic. If you can think of it, it's probably on Reddit. Of course, this bodes well for websites in just about any niche. 

For example, if you run a blog dedicated to home cooking you can find several relevant communities to this niche. Reddit is totally free to use, making it one of the best and most underrated free traffic sources out there.

How Can You Use Reddit to Gain Traffic?

Using Reddit to gain website traffic is a very simple process. Using the home "VPN" example, you can take your most recent blog post and create a linked post on Reddit. A subreddit such as r/VPNTorrents would be a good place to start. 

People check communities regularly to stay updated on new posts and content, and they even ask Reddit for recommendations when looking for the best product to buy.

In addition to that, Reddit.com is such a powerful domain that posts can get indexed and rank on Google, which can amount to a lot of free traffic for your site.

Key Benefits

One of the benefits of using Reddit is that you don't necessarily need an image to accompany your post. Reddit is largely based on written posts, so you can still get considerable attention on a post without an image. 
Now, when you start using Reddit to promote your site, you'll need to pay attention to the rules on individual subreddits. Some subreddits have very strict rules regarding self-promotion. 
If that's the case, you'll want to avoid that subreddit as a potential traffic source. Besides that, Reddit is generally a simple and free way to increase your website traffic.

Pros

A post going viral can potentially do more good than anything else on this list

There are plenty of different channels to post your content

Great way to start building a community

Cons

It can potentially never work

Not all channels allow you to post links

You can get kicked from a channel for promoting your stuff too much
---

Pinterest is one of the best visual search engines around and it's also one of the most valuable free traffic sources. Pinterest is great because it's got a lot of similar features to that of a social media app, but it gives you the ability to rank on Google much like Reddit. 

If you've created a Pin that a lot of people find useful, it may appear on a Google search result. Of course, this option works best if your content lends itself to images. 

Some popular niches found on this social media site are cooking, gardening, fashion, home décor, and DIY. If you fall into one of these niches or something similar, this may be a good way to send traffic to your site.

How Can You Use Pinterest to Gain Traffic?

The first step to using Pinterest as a tool to get free traffic is to create a Pinterest account. If you have a website that sells products, you may want to consider creating a Pinterest shop as well. 

The trick to using Pinterest to increase your website traffic is to link your new blog posts to your Pins. Doing this is incredibly simple. 

When you're creating a new Pin, you can include a link directly in the post. Then, when a person clicks on that Pin, they'll have the option to click on an outbound link that takes them to your website.

As an alternative, you can also use this method to link directly to a product on your website. 

Pros

Your posts can get in front of thousands of people

Great way to build and join communities

Plenty of free ways to make eye-catching pins

Cons

Can be time consuming

Results can be inconsistent

Pinterest is not as popular as other free traffic sources
---

I'm sure you're well aware of the popular social media website, YouTube. This video platform is one of the most powerful ways to direct traffic to your website and increase your chance of ranking in an organic search. 

On top of that, video content is an excellent way to boost audience interaction and gain quality leads. 

Starting a YouTube channel can be pretty intimidating, but you can start off with very simple equipment. In fact, you can even get started with just an iPhone camera and an affordable tripod.

How Can You Use YouTube to Gain Traffic?

Using YouTube as a tool to drive traffic to your website is effective, but it does take some time. There are a few technical things you'll have to get in order before you start. 

Great lighting and some basic photo editing skills are a must. That being said, there are a ton of simple content ideas to get you going in the right direction. 

Once you get your YouTube channel up and running, it's easy to place links to your website or blog directly in the video. 

Here are some popular video ideas that you can use to create content for YouTube:

Single product reviews

X vs Y product comparisons

Tutorials and How-To's

Unboxing videos

Expert advice

Now, when it comes to YouTube, you can get as creative as you want to be. However, you can use these ideas to get some solid ideas for your video content.

Pros

You can build a community quickly

There are plenty of resources out there that will teach you how to make great videos

You can potentially be seen by millions of people

Cons

Creating videos is time-consuming

Creating videos can be expensive

You can do this for years and not get any decent results
---

Guest blogging is a great way to gain traffic from the right audience. When you write a guest post for a blog in a similar niche, you're speaking to an audience that is likely interested in your content. 

Now, guest posts are the most effective when you place a link to your website somewhere in that post. Ideally, that backlink is placed as high up in the article as possible. 

You'll also want to be sure that the link that you choose is highly relevant to the topic of the guest post. The more relevant that link is to the guest post, the more likely it is that the reader will click on that link. 

Done correctly, backlinks from guest posts can bring quality referral traffic directly to your website.

How Can You Use Guest Blogging to Gain Traffic?

If you've never tried guest posting before, you might be wondering how to get started. The truth is, there is no magic trick for landing a guest post. The best way to do it is with simple manual outreach. 

Now, before you reach out to any blog, you should have a solid idea of what that blog is all about. Take a look at how often they feature guest writers and if those posts include backlinks back to the writer's website. 

Some sites even have a form that is specifically for people who are interested in guest posts. It's also smart to write for sites that prioritize high-quality content. 

If all of that looks good, you can send them an outreach email to get the ball rolling. In general, it's a good idea to keep your outreach email short and simple. Let them know that you'd like to write a post for them, and why you're qualified to do so.

Pros

You can potentially be seen by thousands of people

You can form a partnership with a blog and regularly write for them

Linking to your site is a great SEO trick as well

Cons

Learning how to write well is a learning curve

Some SEO knowledge is usually required as well

Being able to guest blog on a site with lots of followers can be difficult
---

Instagram has grown into a valuable marketing platform unto itself, but it's also a valuable source of traffic.

Instagram gives account holders the option to turn their page into a business account. This allows you to track analytics, see your target audience and get an idea of what works. 

You can place a link to your website directly in your user bio for your followers to check out. Like Pinterest, Instagram is a visual platform. That means your content has to translate to compelling pictures and videos for this option to work.

How Can You Use Instagram to Gain Traffic?

When it comes to social media, especially Instagram, the learning curve can feel pretty steep. A basic understanding of content marketing is going to come in very handy. Keep in mind, you'll need to create high-quality content, post on a regular schedule, and interact with your followers. 

You'll need to explore different techniques to grow your Instagram account and gain engaged followers. Take advantage of tools like hashtags to help you get your content out to a wider audience. 

The key to using Instagram to get free traffic is to create posts that correspond to your website. If you're a blogger, make a post that is relevant to your latest blog post. If you run an online store, use Instagram to show off your newest products.

Pros

Creating posts can be much quicker and cheaper than other methods

Plenty of tools to help you make better posts

Going live is a great way to interact with fans and users

Cons

Gargantuan competition

Lots of bot followers

Instagram algorithm can keep users from seeing your posts
---

Utilizing email marketing is one of the most underrated ways to gain organic traffic and boost your audience retention rate. This digital marketing strategy involves building an email list that you use to promote your newest content. 

As a side note, audience retention is an extremely important factor in organic traffic, so don't forget to focus on your existing visitors. In that same vein, email marketing is a highly effective marketing tool for cultivating a loyal audience.

How Can You Use Email Marketing to Gain Traffic?

Lucky for all of us, using email marketing as a traffic source is fairly simple. All you need to do is create an opt-in form on your website that prompts the readers to add their email address to your list. 

Now, you may already have an email list opt-in form, but you're not having much success. If that's the case, there are a few tricks to encourage the visitor to sign up. 

Using a lead magnet is one of the best ways to build your email list. A lead magnet is a marketing term for a free item or service that the visitor gets in exchange for signing up.

You can make use of these popular lead magnets to build your email list:

Mini eBook

Analytics report

Discount code

Pre-made templates

Comprehensive guide

Pre-recorded webinar

Pros

Consistently one of the best ways to get people to respond to you

Great way to send lots of information at once

Great way to target people who are very interested in your product

Cons

You can wind up in the spam folder

You can be blocked by annoyed users

Spamming can hurt your reputation
---

TikTok is one of the newer social media apps out there, but it's quickly gained popularity. TikTok is strictly a video app, so you'll have to have a handle on visual content. 

Unlike YouTube, TikTok videos are incredibly short. In fact, the cap on a TikTok video is just 60 seconds. 

The secret to successful content marketing on TikTok is getting the audience to watch the entire video. Of course, that means creating highly engaging, informing, and entertaining content. 

The great thing about TikTok is that it's often easier to gain a following than on other social media sites. If you have a knack for video making, this could be the tool for you.

How Can You Use TikTok to Gain Traffic?

The first thing you need to ask yourself is if your target audience is actually on TikTok. This social media site is mainly used by teenagers and younger adults. 

So, if you know your audience is between the ages of 17-34, you've got a much better chance at success on TikTok. 

The first thing you should know is that TikTok is all about trends and challenges. These trends change extremely quickly, so it can be tricky to stay on top of things. 

That being said, joining a TikTok challenge can be a smart way to gain followers quickly. Once you've built a following, you can start directing them to your website.

Pros

Great way to meet people from all around the world

Great way to reach a younger audience

Great way to gain a large following and a community

Cons

Creating engaging posts can be expensive

Creating engaging posts can be time consuming

Tons of competition
---

Medium is a really cool platform for bloggers who are trying to reach a wider audience and show up in an organic search. 

This online publication is highly respected and features renowned experts in an array of fields. 

Believe it or not, anyone can write for Medium– including you. And with a built-in audience of 170 million readers, it's not a bad place to make a name for yourself.

How Can You Use Medium to Gain Followers?

As I mentioned, anyone can write on Medium, all you need is an account. The best part is, it's totally free. 

All that being said, Medium has some pretty strict guidelines regarding blatant attempts to direct traffic to another site. 

To get around this rule, make sure any external links you share are highly relevant to what you're writing about. Your links should be genuinely useful to the reader. 

Keeping that in mind, you can share links to your blog or even YouTube videos to gain more traffic.

Pros

Links leading to your site are great for SEO

Great way to be part of a community

Great way to meet others in your field

Cons

Learning to write well can be a learning curve

You may also need to learn SEO

May need to build a reputation before popular channels will allow you to post
---

In today's day and age, most companies have started looking to influencers to expand their reach. 

Influencers are accounts on social media platforms that have a significant number of followers, and high-follower interaction. 

Companies often work with influencers to get products or services shown to a relevant audience. 

This technique is great for growing your audience and gaining more traffic on your website.

How Can You Use Influencers to Gain Traffic?

While larger companies may pay influencers to promote their products, it's possible to do it for free. 

If you're a new company, you can offer a discount code to the influencer, or send them a free product or service in exchange for promotion. 

You can also give them a discount code to share with their followers to encourage more people to check out your products. 

Make sure to choose influencers who cater to an audience that will appreciate your products.

Pros

Long-term partnerships can be great for your brand

As your collaborator grows in popularity, so can your brand

You can get your work in front of millions of people

Cons

If a collaborator does something nefarious, it can hurt your reputation

It can be difficult to connect with an affluent influencer

Some influencers may want compensation
---

Back in the day, directories were one of the best tools out there for link building. 

Since then, the Google algorithm has changed significantly– directory links are no longer the SEO powerhouse that they once were. 

That said, directories can still play an important role in the growth of your website. Web directories are one of the best ways to build credibility and drive traffic to your site.

How Can You Use Directories to Gain Traffic?

Before listing your site on a web directory, it's important to assess the directory at hand. 

Is it a trustworthy site? Is your audience likely to use a web directory? 

If the answer to those questions is no, then a directory probably isn't your best traffic source. 

If you answered yes, then a web directory has a lot of potential for boosting the traffic on your site. 

Most directories get tens of thousands of visitors every month, so it's a great tool to have in your back pocket. 

Pros

You can list yourself on multiple directories

Links leading to your site are great for SEO

Thousands of people can see this

Cons

Getting to the top or near the top of a directory is very difficult

Lots of competition

Your ranking in the directory can change on a dime
---

When people think of free traffic sources, they usually don't think of press releases. 

Surprisingly, press releases can be a highly-effective way to increase brand awareness, build credibility and gain more traffic on your website. 

A press release can be particularly helpful for reaching out to a local audience. Press releases are also more likely to get social media shares and media coverage on a wider scale.

How Can You Use Press Releases to Gain Traffic?

In order to write a press release, you'll have to know how to write in a journalistic fashion. That means perfect grammar, crediting sources, and of course, relaying a compelling story. 

You'll also want to have a very strong sense of who your audience is. This will help guide you in choosing which publications to pitch to. 

Once your press release is written, you'll need to write an email pitch to send to relevant journalists. 

Make sure your email pitch is personalized and create a concise pitch that summarizes what your press release is all about.

Pros

Can be highly effective when paired with email marketing

Press releases can be picked up by multiple outlets

Great way to create tailored content to reach a specific audience

Cons

You need notable outlets to release your press release

You need to do the groundwork for creating the press release, which means you need to be a decent writer

Can be time-consuming
---

The expert roundup is a specific type of blog post that you can use to gain free traffic. 

The expert round-up is exactly what it sounds like. Essentially, you can reach out to experts in your niche to get their opinion or advice on a certain topic. 

You can take these quotes and put them together to create a super useful piece of content for your readers. 

Once the article is posted to your site, you can share it with the experts that were featured. In most cases, the experts will share your content with their readers, which drives traffic to your site.

How Can You Use Expert Roundups to Gain Traffic?

So, you have the general gist of the expert roundup, now it's time to talk about finding the experts. 

Much like the guest blog, finding experts boils down to manual outreach. 

Unless you are already part of a thriving network of professionals, you'll have to send out a few outreach emails. 

Here's How You Can Reach Out to Experts:

Compile a list of potential experts to feature. They should all be relevant to the topic at hand.
Write two to three questions that the experts can choose from to provide an answer.
Compose your outreach email. Keep it simple, and include the questions for them to answer.
Be patient. It may take several weeks to hear back from the experts.

Pros

Great way to reach out to your primary audience

Builds trust in your brand

Great way to build a community

Cons

You need the ability to create engaging content

You also need to learn SEO

Finding an outlet can be difficult and time-consuming
---

Quora is a question-and-answer-style social media website with hundreds of millions of monthly active users. This platform is one of the most underrated free traffic sources out there. 

The best part is, Quora is totally free to use. Much like Reddit, Quora has a huge number of categories to choose from, so it's great for just about any niche.

How Can You Use Quora to Gain Traffic?

Think of Quora as a platform to show off your expertise. 

People go to this website to find expert answers to their questions. 

You can go to a category that relates to your niche, and browse through the questions. Once you find one that you can answer, write an informative response. 

Include a link back to a relevant article on your website that provides further detail on the topic. 

Remember, self-promotion is only allowed if it is actually helpful for answering the question.

Pros

You can potentially share your site with thousands of people

Great way to engage with people directly in your field

Links leading to your site helps with SEO

Cons

Responses need to "go viral" in order to get noticed

Linking to your site repeatedly will get you flagged as a spammer

Highly reliant on your ability to write and be engaging
Final Advice on Free Traffic Sources
Getting your website out there doesn't have to cost you a fortune. From this article, you can see that it's possible to improve your site's chances of being discovered in an organic search, without an overhead cost. 
These website traffic sources can seriously boost your traffic, and get you started in the right direction. 
Now, as with most methods that actually work, these tools require real effort on your part. 
There is no secret recipe for overnight success. That being said, if you're consistent in your strategy, you will see real results. 
I hope you found this article helpful. For more advice on this topic, be sure to check out more ways to promote your blog.