How to Make Money With Pinterest Affiliate Marketing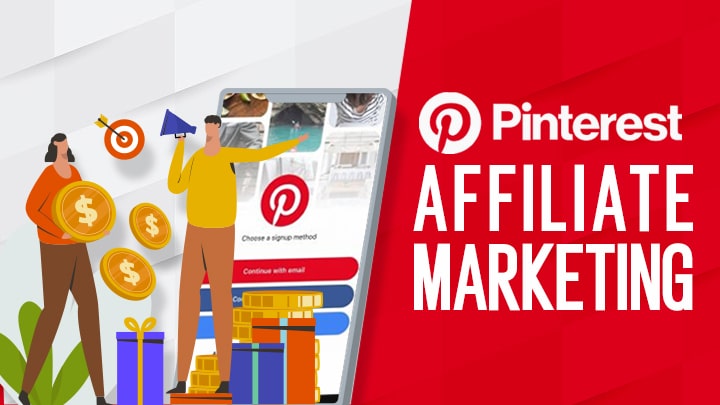 When most people think of affiliate marketing they think of platforms like Instagram, Youtube, and blogs. 
What most people don't realize is that Pinterest is a gold mine for the affiliate marketer. 
When I talk about making a passive income with affiliate marketing, Pinterest may be the most underrated platform out there. 
Pinterest has all of the tools to succeed as an affiliate marketer built right into its website. You can harness the power of Pinterest to make money on autopilot.  
Here's what you should know about Pinterest before deciding if it's the right platform for you:
Pinterest has a massive user base of 70 million monthly active pinners 
 335 million people use Pinterest every month

Women make the vast majority of purchases on Pinterest

Millennials make up the majority of users

American dads make up the second-biggest demographic

Nearly a third of marketers say they use Pinterest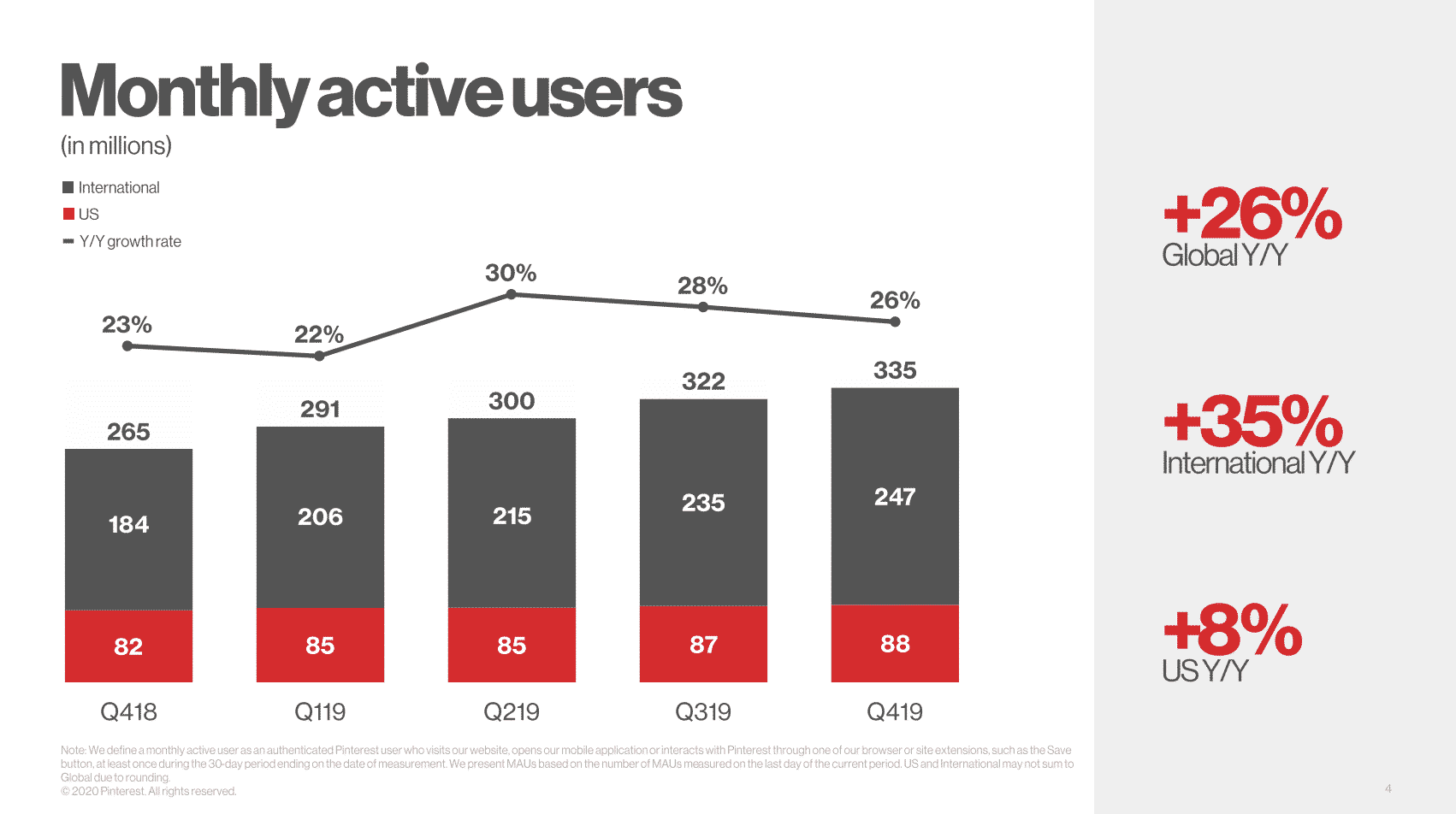 Looking at these stats should fill you in on a few very important points. 
First, Pinterest is best for those of you who market to millennial women. This demographic makes up the vast majority of Pinterest users. And with over 3335 million active users every month, you can really take advantage of the built-in audience. 
The next most populous demographic is, surprisingly, dads, so keep that in mind as you move forward. 
Lastly, you're not the only one using Pinterest to your advantage. Marketers are starting to catch on to the trend. So, let's go over what Pinterest affiliate marketing really is and how you can get started. 
What is Pinterest Affiliate Marketing?
Affiliate marketing on Pinterest is similar to other platforms, but with a few unique qualities that make it great for beginners and experts alike. Let me break this down for you a little bit. 
When we talk about affiliate marketing, we typically look at blogging as our primary platform. 
Secondary to blogging is social media platforms like Instagram and Youtube. Blogs and social media each have their own benefits and downfalls. 
Now, when it comes to Pinterest, you get a little bit of both worlds. Just like blogging, it's easy to place affiliate links seamlessly into your content. You can place affiliate links for each post you make on Pinterest.  
Aside from this, you can include links to your blog or website to gain a quality, targeted audience.  
This is a big step up from a platform like Instagram that doesn't allow active links directly in the post. 
On the flip side, building a following and getting high audience engagement on Instagram is a much faster process than ranking on Google with a blog. 
 Similarly, as a social media site, Pinterest makes it easy to build a following, gain leads, and make conversions. 
Speaking of ranking on Google, while it is a challenge, it's one of the best ways to make a real passive income. Just like blogging, Pinterest gives you the opportunity to rank on Google.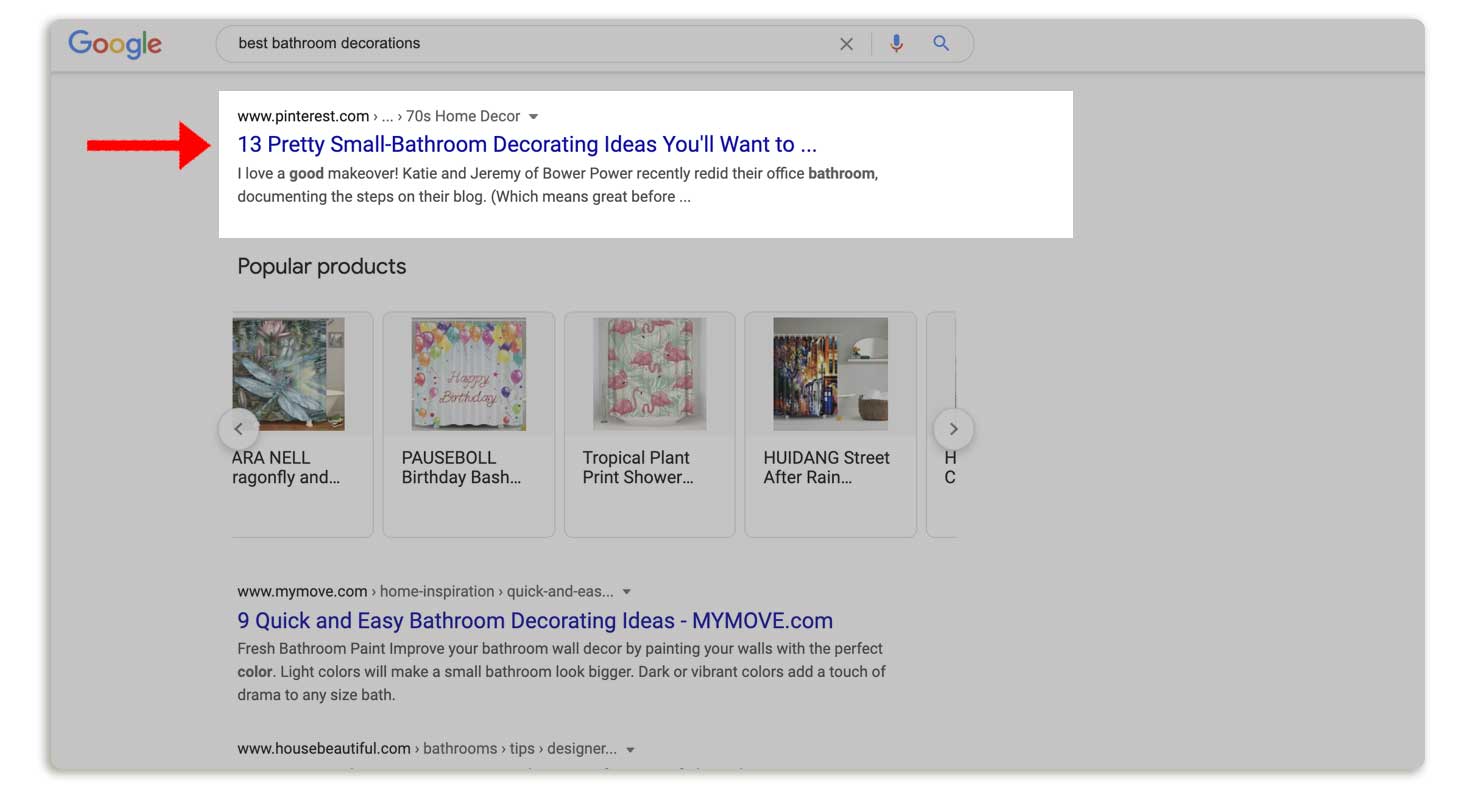 If your Pinterest post gains popularity, it may rank on Google SERP's and Google Images, which increases the visibility of your affiliate link.  
In order to be successful on Pinterest as an affiliate marketer, it's important to follow the guidelines closely.  
First and foremost, Pinterest makes it abundantly clear that every post must prioritize community safety. 
That means no antagonizing, misleading, or explicit content is allowed. In that same vein, posting private information such as phone numbers, addresses, and private photos is prohibited. 
Pinterest takes its community guidelines pretty seriously, so it's in your favor to follow them to a tee.  
If you're interested in learning the basics of affiliate marketing, I highly recommend reading my free guide on affiliate marketing. 
Why is Pinterest great for affiliate marketing?
1. Easy Purchases: Pinterest has set up its website so that purchases and redirects are incredibly easy. 
The simple, yet brilliant, ability to place live links directly in your Pinterest post is a tool that will come in incredibly handy. 
The best part is the person who clicks that link is interested in the product and far more likely to complete a purchase.
2. Get indexed on Google: Over that past few years, you may have noticed a lot more Pinterest posts popping up in your Google searches. 
That's because increased organic traffic on Pinterest posts actually drives more Pinterest posts to relevant Google search results. 
When people search for the right keywords, your Pinterest post may show up in the SERP. 
3. It's free to use: Last, but certainly not least, Pinterest is free! You can create an account and begin building an audience with minimal experience or overhead. 
Find a Great Niche for Pinterest 
The number one thing to remember when it comes to Pinterest affiliate marketing is this: people use it as a search engine. 
When people are in search of images and visual inspiration, they often turn to Pinterest, rather than Google Images. 
Pinterest easily rivals Google Images as the number one place to find compelling and beautiful visual information. 
On top of that, Pinterest uses visual recognition technology to find images that are similar to the one the user has shown interest in.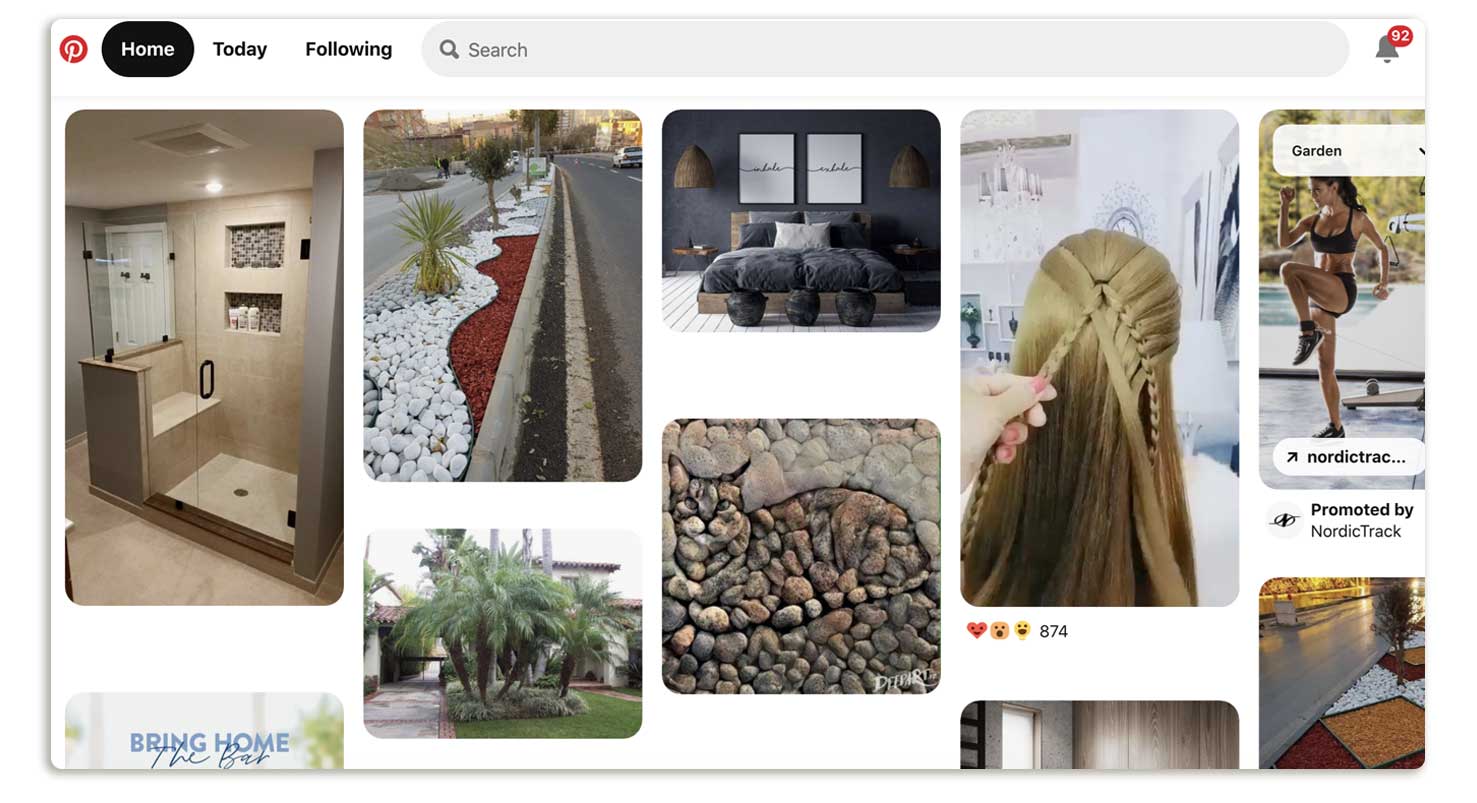 The fact that it's available as an app makes it that much more convenient for users to access. 
Now, I say all of this to help you get a better understanding of what Pinterest is used for. 
As with any successful affiliate marketing endeavor, you need to choose a great niche. 
Choosing a profitable niche will help you build topical authority which is necessary for any algorithm. 
Understanding your niche, who is searching for this type of content, and what type of images are best for your niche, is all crucial to succeeding on Pinterest as an affiliate marketer. 
To get you started in the right direction, here are some of the best niches for Pinterest affiliate marketing: 
Fashion 

Home Decor 

DIY and Crafts 

Travel 

Photography 

Food 
One thing that these niches all have in common is that they lend themselves to visual content. 
At the end of the day, Pinterest is a visual search engine. That means, whichever niche you choose, make sure you can find and produce relevant images.  
After all, the image is what draws people to the post so that they can click the redirect link.
Getting Started with Pinterest Affiliate Marketing
1. Embed affiliate link on Pinterest posts
Much like Youtube videos, Pinterest boards get indexed on Google based on keywords. This makes it easier for people to find specific pins. 
Pinterest has its own engineers who study Pinterest posts to see which posts are getting the most engagement, who is re-pinning which posts, and where they are pinning them. 
All of this informs how your pin ranks on Pinterest. From here, Google takes the most successful pins and ranks them in search results. 
If you're just starting out in the world of affiliate marketing, Pinterest is a great option for those of you without a website. 
If you choose a specific niche and use the right keywords, you can direct the right audience straight to the affiliate site. 
As always, remember to include an affiliate disclosure if you're embedding your affiliate link into your Pinterest post. 
You can follow these steps to imbed a website or affiliate link to your Pinterest post:
Click on the big "plus sign" in the bottom right-hand corner.

Choose an image to upload. 

Add a title for your post.

Write a short description using keywords.

Embed your affiliate link or blog post.
2. Use Pinterest pins to drive traffic to your affiliate site
Now, when it comes to which links to embed into your Pinterest posts, I actually don't recommend placing affiliate links directly on your posts.  
Instead, my advice is to build a website and direct your Pinterest audience to your site. 
In other words, you can think of Pinterest as a funnel, with Pinterest at the top, your site in the middle, and the affiliate site at the bottom. 
Although it is super easy to just place your affiliate link directly to your Pinterest post, there are a few reasons why I prefer to direct my audience to my website. 
 First, building and maintaining a website gives me more control. I can strengthen my topical authority and make a much stronger online presence. 
Building a site also helps you build a long-term brand. If you rely on Pinterest as your sole platform, you don't really own your work. 
A website gives you a centralized place to display your hard work and in the end, you own your content. 
And speaking of owning a site, you can also sell your site if you wish to.  
At the end of the day, it's best not to put all of your eggs in one basket. Combining multiple platforms is the smartest way to go.  
I know many of you may be intimidated by the idea of starting a blog. The truth is, there are several user-friendly site builders out there that make building a blog easier than ever before.  
For example, I've personally built several professional websites using site builders without having to spend a ton of time. 
If you want to learn more about building a site, check out my article on how to start your own blog. 
Here are some great examples of Pinterest boards that direct their audience back to their blog:
Desert Domicile Pinterest Board 
This is an example of a home decor blog that uses Pinterest to gain a bigger and more targeted audience. Whenever they write a blog post, they make a matching Pinterest post. Each Pinterest post links back to their website. 
This Pinterest board is in the lifestyle niche focusing on nutrition, style, and home decor. Much like the previous example, this page makes Pinterest posts to direct the audience back to their lifestyle blog. 
3. Use Pinterest to create a niche email list
Regardless of what platform you're using, email marketing is a powerful way to retarget users.  
Email marketing is one of the best tools for the affiliate marketer, and Pinterest can help you grow an email list. 
Of course, if you want to build an email list, you'll need to have a website or a landing page at the very least. 
You can embed an opt-in form on your site where readers can sign up for your email updates. Remember, the goal here is to provide genuinely useful information to the target audience. 
You can offer an ebook, a short online course, and exclusive articles to encourage people to sign up. 
Once you have an email list, you can begin emailing updates to your contacts.  
In your emails, you can include affiliate links to increase your chances of making conversions. 
You can include the URL to your opt-in page in the description of relevant Pinterest boards and in your own user biography. 
You can also create pins to highlight the exclusive content you're offering. 
For example, if you have a free e-book on fitness, you can make a pin that tells readers to click the link for access to the e-book. Then, link that pin to your opt-in page and you're good to go.
Take a look at this Pinterest board, Ageless Beauty.  
This is a great example of using Pinterest to build an email list.  
They've embedded a link in their posts that takes users to their opt-in form:
How to grow your Pinterest and gain a following (Tips)
Use titles and descriptions: 

This is where your keywords come in. Use titles and descriptions strategically. The right title and keywords can make the difference between someone clicking the images, or scrolling right past it.
Use catchy images: 

This is an image search engine! In order to get any engagement at all, you absolutely need to use compelling images. Photography, artwork, and infographics are all good places to start.
Stick to a posting schedule:

Just like with a blog or a social media site, it works in your favor to post on a schedule. Not only does it create a sense of reliability for your audience, but it's also good for the algorithm.
Don't post outside of your niche:

This is a common mistake that I see a lot. It's easy to get carried away and post stuff that's not exactly relevant to your niche. This does you no favors and might even drive your target audience away. 
Pinterest Affiliate Marketing Tools
To really boost your success as a Pinterest affiliate marketer, I recommend you take advantage of a few tools. I've given you a few of my favorite tools below. Check out my guide on graphic design software for more options. 
Tailwind App: Tailwind app is a great option for automating your Pinterest posts. This app makes it easy to build and carry out a Pinterest affiliate marketing strategy. You'll get in-depth analysis, hashtag suggestions, and automated scheduling to help you grow your Pinterest following. Tailwind costs $9.99 per month.
Canva: This is an excellent service that allows users to build beautiful posters and infographics. This is great for directing your audience to an opt-in form. Canva has a free version that can get you started. Prices start at $9.95 per month.
Adobe Photoshop: Adobe Photoshop has long been an industry leader in visual editing. I will say, this option does take a willingness to learn, but it gives you the opportunity to create state-of-the-art visuals. Adobe Photoshop is $20 per month. 
Unsplash: Unsplash gives users a huge database of free images to access. This is great for finding free images for both Pinterest and your blog posts. You don't need to pay or register to use images from Unsplash.
Where To find Pinterest Affiliate Links
The first step to any affiliate marketing strategy is finding your affiliate programs. After finding your niche, you can start applying to relevant programs. Here a few places to start:
Amazon Associates: Amazon carries just about any product. For that reason, it's a great place to start for any niche. You can promote products that are relevant to your specific genre. Commission rates vary significantly according to which category your items fall into.
Shareasale: Rather than searching for individual affiliate programs on Google, I suggest applying to an affiliate network like Shareasale. This affiliate network encompasses thousands of affiliate programs across multiple genres. 
Awin: Awin is another option for those of you who are interested in affiliate networks. This network is particularly great for fashion, beauty, health, and lifestyle brands. 
Read my comprehensive list of affiliate networks and programs to get you started in the right direction. 
Final thoughts 
Pinterest affiliate marketing is an oven overlooked tool that can funnel your target audience towards your affiliate products. 
My advice is to build a website and use your Pinterest account to build a targeted audience to direct towards your blog.  
 That being said, if you don't yet have a website, Pinterest is a great way to test the waters of affiliate marketing and start learning strategy. 
 If you're looking for more unique platforms for affiliate marketing, check out my article on affiliate marketing without a blog.