25 Affiliate Marketing Statistics and Trends in 2022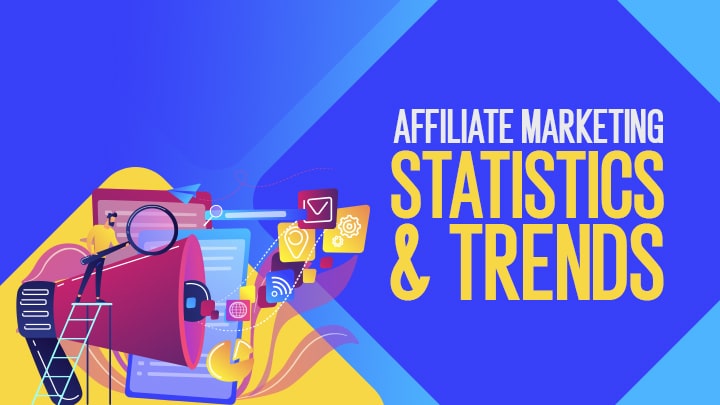 If you've been in affiliate marketing for any time at all, you know it requires constant research to stay updated. 
Learning SEO, understanding your target audience, and creating quality content are just a few of the crucial factors to successful affiliate marketing. 
Luckily, we know that all of this hard work is worth it. Affiliate marketing is now a multi-billion dollar industry, with no signs of stopping. 
If you'd like to learn more about the current state of affiliate marketing, take a look at the statistics we've put together in this article. Spoiler alert– affiliate marketing is still profitable. 
Let's take a look. 
Affiliate Marketing Trends You Should Know
1. Affiliate marketing is on a steady upward trend in terms of spending, and it shows no signs of slowing down. In fact, affiliate marketing spending is due to reach $8.2 billion by the year 2022. If that projection holds true, it will be a near $3 billion increase from 2017. 
Source: Statista
2. Due in part to the upwards trend in affiliate spending, general interest in affiliate marketing is also on the rise. The key phrase "affiliate marketing" has been consistently growing for the past 5 years. This indicates an increased interest in affiliate marketing from publishers and advertisers. 
Source: Google Trends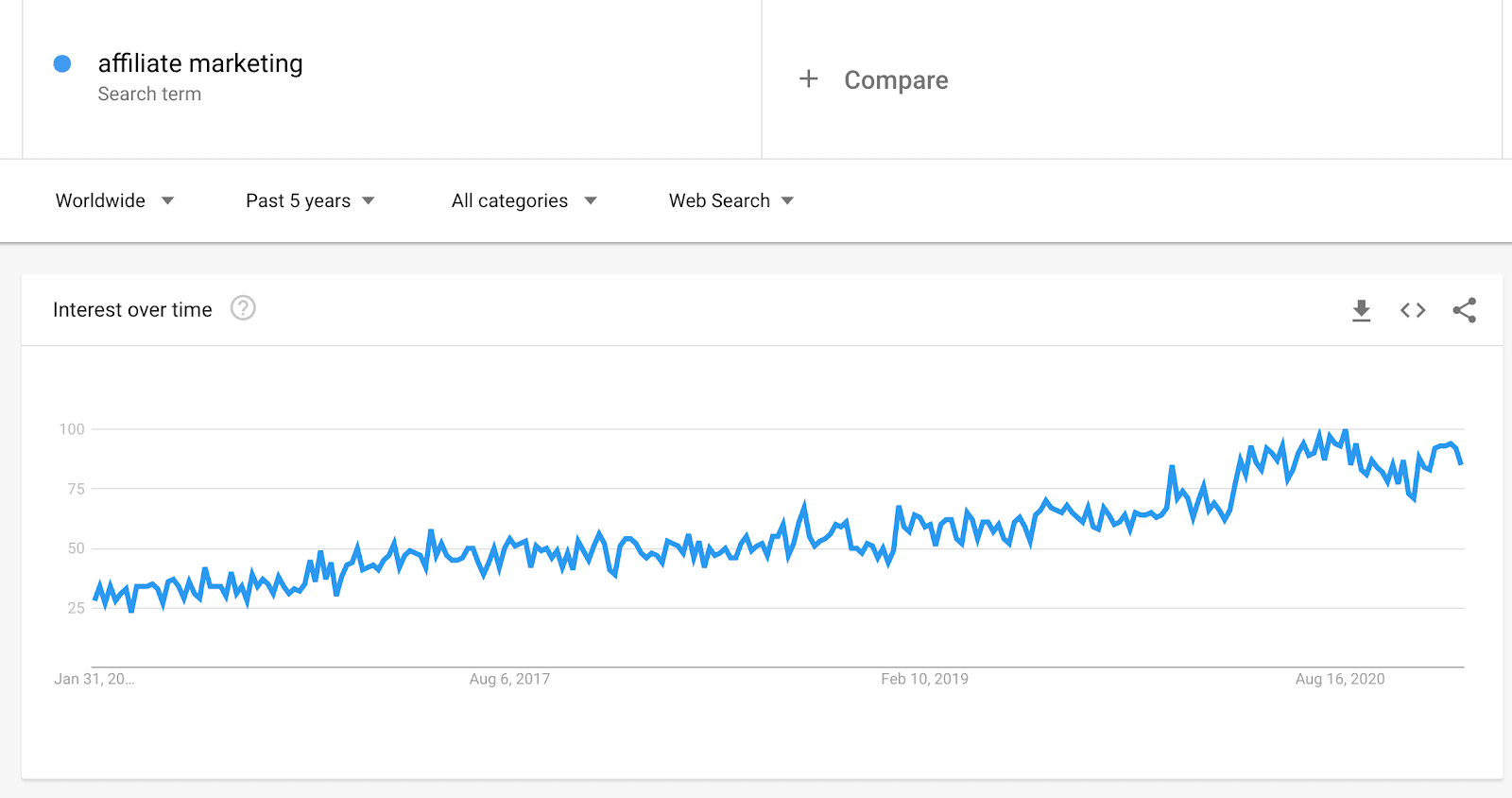 3. Affiliate marketing is a significant part of most marketing budgets. Over 80% of advertisers dedicated 10% of their marketing budget to affiliate marketing. When it comes to publishers, affiliate marketing is even more prolific. Up to 84% of publishers reported using affiliate marketing as a source of revenue. 
Source: Rakuten
4. Affiliate marketing is one of the top sources of revenue for publishers. In 2017, affiliate marketing was the second only to Google Adsense as the most profitable revenue generator. More interestingly, small publishers with fewer than 5,000 unique monthly visits found affiliate marketing to be their number one revenue generator. 
Source: VigLink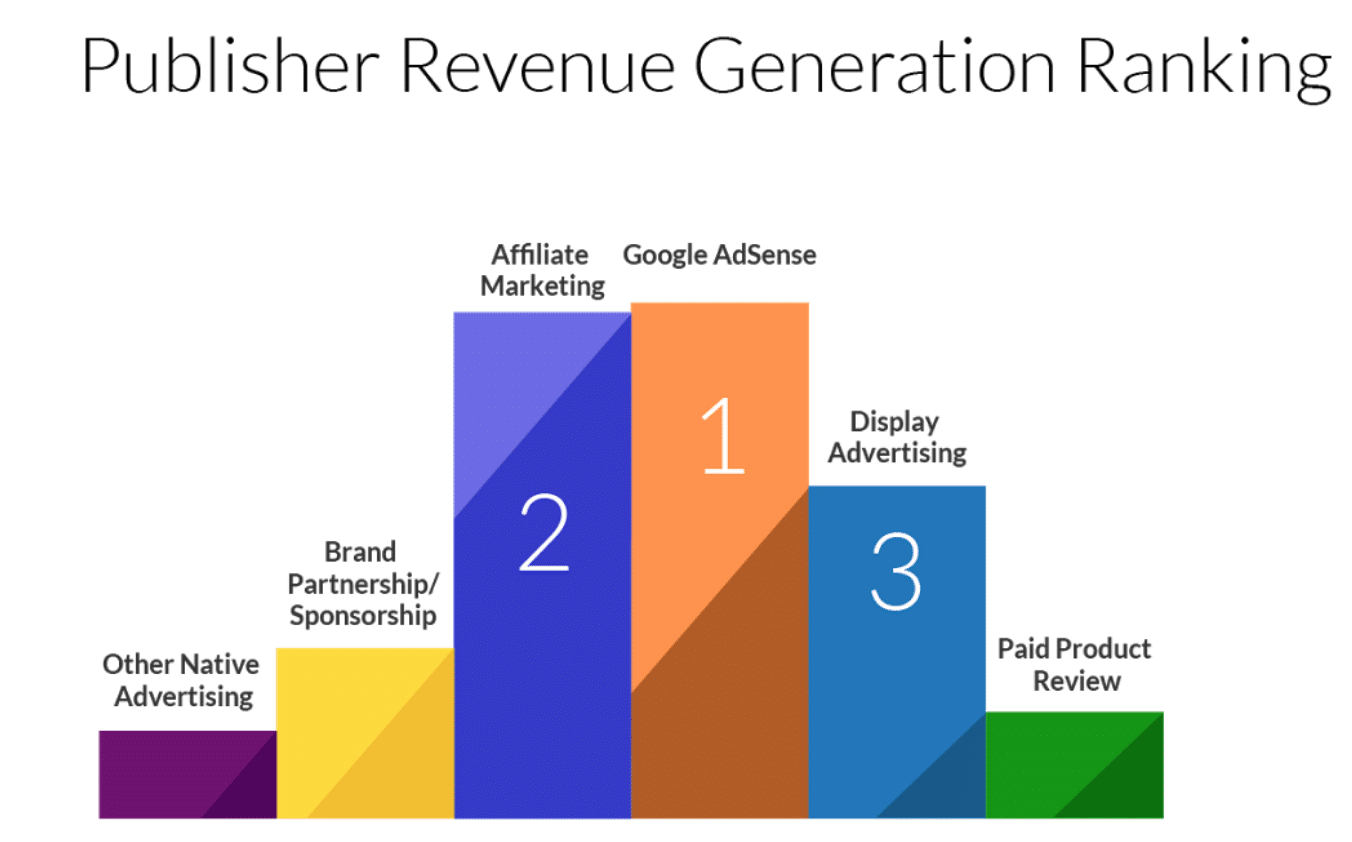 5. The majority of affiliate marketers employed affiliate links at all levels of the sales funnel. Out of all stages of the customer journey, 83% of affiliate marketers targeted customers in the discovery and awareness phase. At 79%, a large portion of affiliate marketers also targeted customers in the conversion phase and for customer retention.  
Source: Rakuten
6. Blogging is one of the most important tools for affiliate marketers. Up to 64% of affiliate marketers reported blogging as a way to generate traffic for their affiliate marketing business. This statistic just goes to show how important it is to master those SEO techniques to bring traffic to your blog. 
Source: AffStat
7. Optimizing your blog or brand website for mobile devices is more important than ever. A significant portion of people who click affiliate links are browsing on their mobile phones. In fact, over 50% of affiliate referral traffic is coming from mobile browsing. Needless to say, it's important to make sure your website runs just as smoothly for mobile devices. 
Source: SaasScout
8. Affiliate marketing remains one of the most valuable revenue generators for advertisers. One report found that up to 30% of advertiser sales come directly from affiliate marketing. This bodes well for the future of affiliate marketers.
Source: SaasScout 
9. Affiliate networks are a key player in connecting advertisers to publishers. Clearly, affiliate networks are a great way for affiliates to find brands, but they are also a crucial tool for recruiting new affiliates. Up to 83% of advertisers used an affiliate network to find qualified publishers for their affiliate program. 
Source: Forrester
10. One-third of affiliate marketers reported that their affiliate marketing revenue expectations were met. While this number may seem low, it speaks to the importance of having realistic expectations — especially if you're new to the game. On the flip side, 73% of advertisers said their affiliate marketing revenue expectations were met. 
Source: VigLink
11. Speaking of revenue expectations, just 9% of affiliate marketers who reported back to this survey made more than $50,000. As I always say, successful affiliate marketing is a marathon, not a sprint. It's very possible to make money, but it takes time and effort. 
Source: VigLink
12. We know that affiliate networks play an important role in the success of both publishers and advertisers. In that same vein, most affiliates are members of multiple affiliate networks. At 39%, the majority of affiliates are a part of 3 affiliate networks, with 20% using 5 or more affiliate networks.
Source: Forrester
13. Product reviews were revealed to be an important tool for affiliate marketers. Up to 67% of affiliate markers reported that product reviews were the single most effective type of content in terms of conversions. For more information on this, check out my detailed guide to writing an effective product review.
Source: Statista
14. Search engine optimization is at the top of the list when it comes to marketing priorities. The majority of marketers reported SEO and search engine marketing as the main focus in their marketing strategy. As an affiliate marketer, understanding SEO should be at the forefront of your focus as well. 
Source: Statista
15. One emerging trend for digital and affiliate marketing is the importance of voice optimization. Voice-controlled software like Siri and Alexa are growing in popularity. As such, a significant portion of online search is done with voice search. That means optimizing your website or blog for voice search is now an important factor for ranking in a Google search. 
Source: Entrepreneur
16. Fashion ranks at the top of the list when it comes to the best affiliate programs. Following fashion is sports and outdoors, then health and wellness. Surprisingly, electronics was lower down at number six on the list. 
Source: AMNavigator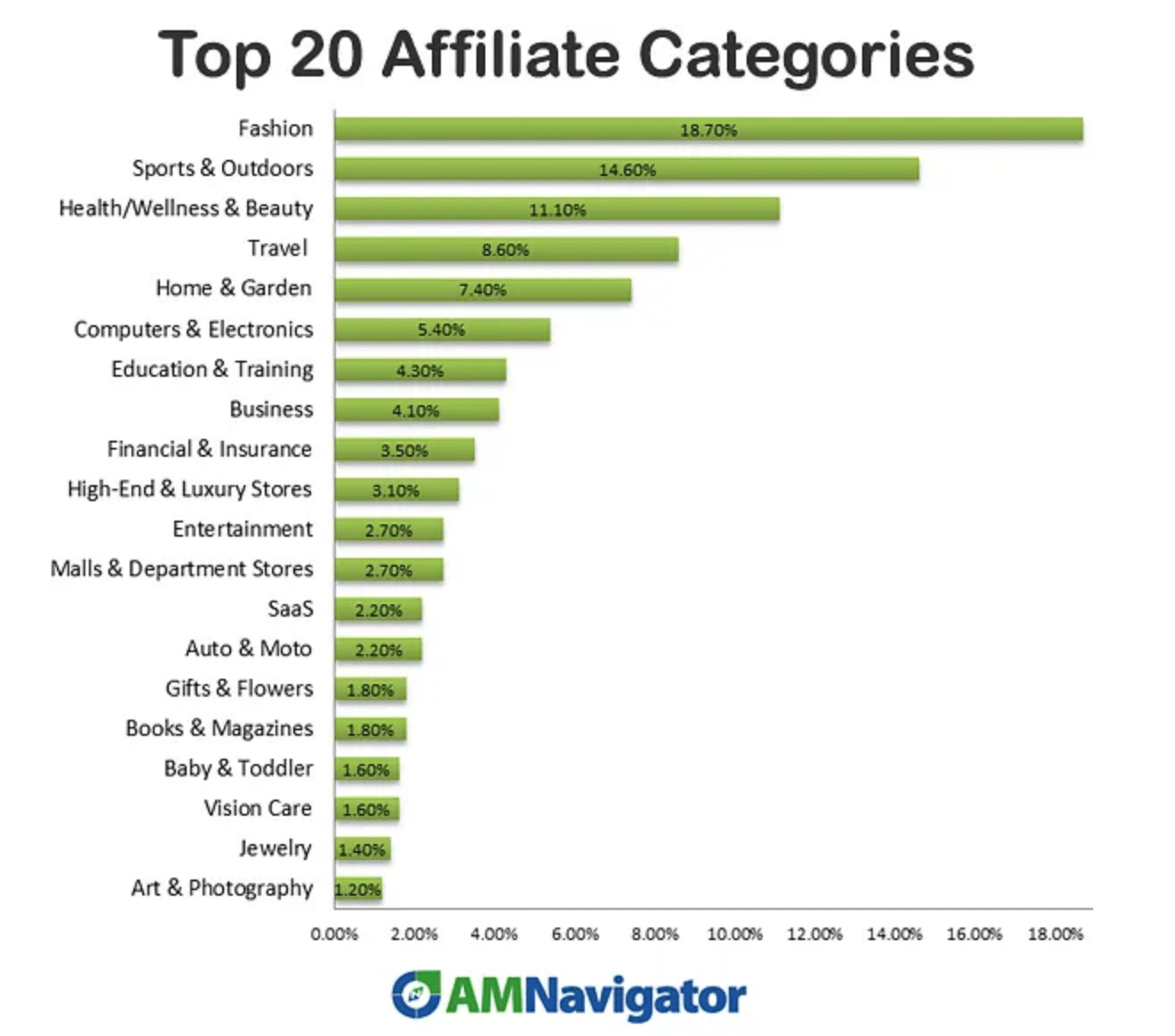 17. Content marketing is a driving factor in the success of brands and publishers. It should come as no surprise that up to 90% of advertisers relied on content marketing and spent up to 25% of their marketing budget on content marketing. This should tell you just how important it is to take advantage of diverse content strategies such as Youtube affiliate marketing.
Source: DemandMetric
18. When it comes to choosing a product as an affiliate, relevance is the number one driving factor. This should come as no surprise– in order to successfully promote a product to your target audience, the product should fall into your niche. After relevance, the credibility of the brand was the most important deciding factor. 
Source: Affiliate Summit 
19. Affiliate marketing accounts for up to 15% of the digital marketing industry's revenue. That may seem like a small number, but when you consider the fact that organic search is behind 21% of online purchases, it's actually a significant number. 
Source: Business Insider
20. When it comes to choosing affiliates to work with, advertisers ranked vertical expertise as their number one factor. That means the publisher has to show expertise in a given niche. As we know, gaining topical authority is an important Google ranking factor, and it comes into play as an affiliate as well. 
Source: Forrester
21. Optimizing your blog or website is crucial for conversions and customer retention. One of the most important factors in site optimization is page loading times. In one study, the chance of a visitor immediately leaving your site increases to 32% when your load times go from 1 to 3 seconds. As an affiliate marketer, having a lightning-fast website is key to your success. 
Source: Think With Google
22. If you use blogging as your main platform for affiliate marketing, make sure quality is your number one goal. A report from 2019 found that the quality of the content was considered the most important factor in a blogger's success.
Source: Growth Badger
23. Speaking of quality content, bloggers who earned at least $50,000 per year reported that their most successful blog posts were quite long. In fact, the most popular posts were on average, over 2,000 words. That number is 83% higher than blogs with lower incomes. 
Source: Growth Badger
24. Youtube is a great platform for affiliate marketers. The average conversion rate for the affiliate market on youtube is 1%. That means for every 100 views, the average affiliate makes one conversion. Now, this seems like a pretty low rate, but it's not hard to build up several hundred views on a simple video.
Source: Voluum
25. Amazon Associates is the number one affiliate network according to one study. Coming in second and third place are Rakuten and CJ Affiliate. 
Source: Datanyze
Affiliate Marketing Trends – Kay Takeaway
As you can see, affiliate marketing is here to stay. 
Advertisers continue to dedicate significant portions of their budget to affiliate marketing and gain much of their revenue from this strategy. 
As an affiliate marketer, you should be focusing on honing your expertise and providing quality content. 
Keep your income expectations realistic. Remember, success comes with time and effort. 
If you found this article helpful, make sure to check out these traffic sources to grow your blog.