Guide To Writing A Product Review That Converts (With Product Review Template & Examples)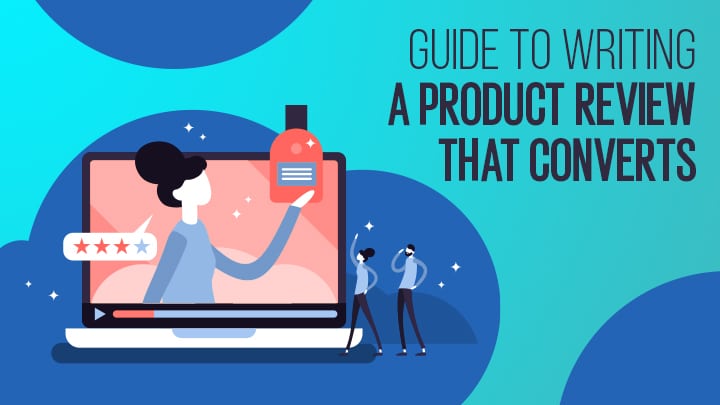 No doubt you've come across a product review that reads like a sales page for the product.
You start reading the review, hoping to learn more information about the product, but you leave dissatisfied.
With a product review template you can ensure that every product review you write will first help your visitors, and second, encourage your visitors to buy the product.
As an affilaite marketer, we want to write product reviews that convert and don't come across like a sales letter.
It is possible to use a product review template to write a review your readers will enjoy.
Take a look at this SurferSEO review on my own website.
In this post, you'll learn how to write a product review that converts step by step. You'll also get a free product review template that you can use for all your future reviews.
Elements of a High-Converting Product Review Template
Before we move forward you must try the product first, even a free trial. A lot of people who write affiliate marketing reviews don't even try the product.
So, by taking the time to try the product you'll know things that other reviewers are missing and you'll be able to provide better information to your customers.
Here are some of the most important components of a quality product review template:
1. Align With Your Reader's Needs and Goals
A lot of product reviews read like a re-write of the product sales page.
Your potential customers want to learn about the real-world experience of the product. What was it like to use? Did it live up to the promises? Did it solve your problems? How did you feel using the product? Your readers will have these same questions running through their heads.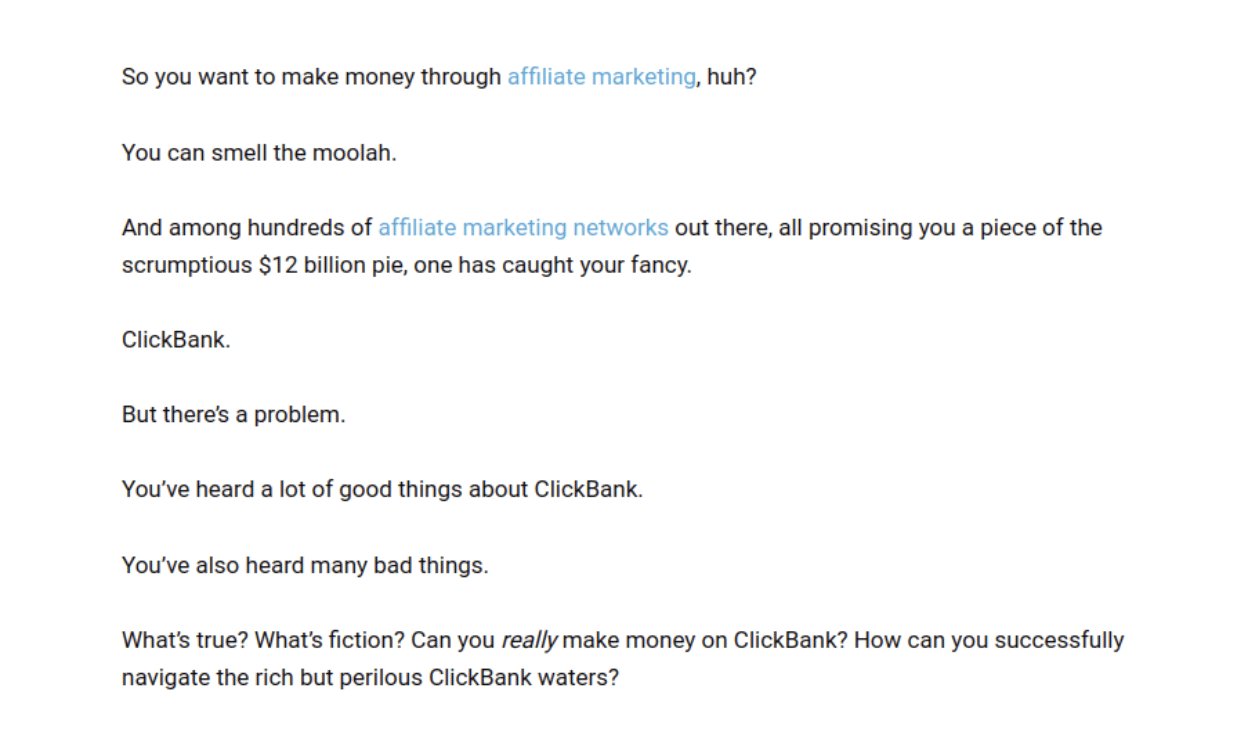 You need to empathize with your visitors and figure out why they're searching for product reviews in the first place. The reason they look for product reviews is that they still have lingering questions about the product.
You can even introduce questions you're going to answer in the beginning of your product review. This will ensure your reader will read your review and leave more informed and hopefully ready to buy the product.
Here are a few tips:
Always use a first-person perspective when writing
Tell a story about the problems you had before trying the product
Ask questions to illuminate any pain points
2. Create a Compelling Summary Box
A summary box is exactly what it sounds like. A summary of the pros and cons of the product and its key features. It's usually as close to the top of the product review as possible.
One goal of the summary box is to get motivated buyers to act as fast as possible, and to give readers a quick overview of what's going to come in the review.
A great summary box will include the following:
The full name of the product
Unique features that make this product stand out
Pros and cons of the product
An affiliate marketing link
3. Spell Out Exactly Who the Product is For
People who buy products aren't looking for a product that's the best for everyone, instead, they're looking for a specific product that'll solve their one unique problem.
You need to identify exactly who this product is going to be best for.
This will help your reader out in two ways:
It'll let them know if they're the right person to be reading this review
It'll build trust since you're immediately disqualifying certain people from your review
Ideally, you'll already have this person in mind as you write your product review. It's always helpful to write for one specific person. So, your language and word choice will match up with the needs of the reader.
Also, it's important to include a section that specifically outlines who this product is best suited for.
4. Link the Features to Specific Benefits
A lot of reviews will simply list out the features of the product the same way they're listed on the product page or sales page. This isn't doing anyone any favors.
Instead, you'll want to link the features of the product to tangible real-world benefits. Your goal is to help your readers visualize using the product themselves, make them feel what it would be like.
If you can, share some tangible results this product was able to provide for you.
Here are a few tips:
Determine which features of the product are most important for the core user that you defined above
Show these features in action with screenshots or videos
Explain the value of these features and how they're unique to the product
The goal with your affiliate marketing reviews is never to hard sell the product, but instead to provide value to your readers, so they can decide if the product is going to be right for them.
5. Add Social Proof Throughout Your Review
One of the most persuasive tools you have at your disposal is social proof.
Your product review should build trust both with you and the product. By including social proof from other third-party users and past customers you'll make it that much more likely your product review will convert.
Best of all, if the product is high-quality, then social proof won't be hard to find.
For example, here are a few places you can find existing social proof to use in your product review:
Add reviews, quotes, and testimonials. You can find these in places like Amazon, ClickBank, or on the product's website. You might get lucky and find a usable quote in the Reddit comments section
Look for niche "celebrities". What you're looking for here is a recognizable figure (maybe your visitors follow them too) in the space who's reviewed the product themselves. Maybe they've posted about it on Instagram, wrote up a review on their blog, or have a quote on the product sales page.
Whatever you can find online that'll boost the claims that you're making in the review, you'll want to use. This can build trust with your readers.

Also, make sure you encourage people to leave comments on your product review and offer feedback about their experience. This can help to boost credibility further and you can use any feedback from the comments to further improve your review.
6. Include Related Products (if It's Not a Good Fit)
The product you're reviewing won't be right for everyone out there. But, you can still provide value to these visitors by offering alternative related products.
By adding alternatives you can help to increase the sales of other related products, and it helps to show readers that you're not being biased in your review.
One common method is to include a "vs" section towards the bottom of your product review.
For example, "HostGator vs GoDaddy", "HostGator vs Dreamhost", "HostGator vs Bluehost", etc. Plus, you can add your affiliate links for these products as well to further increase revenue.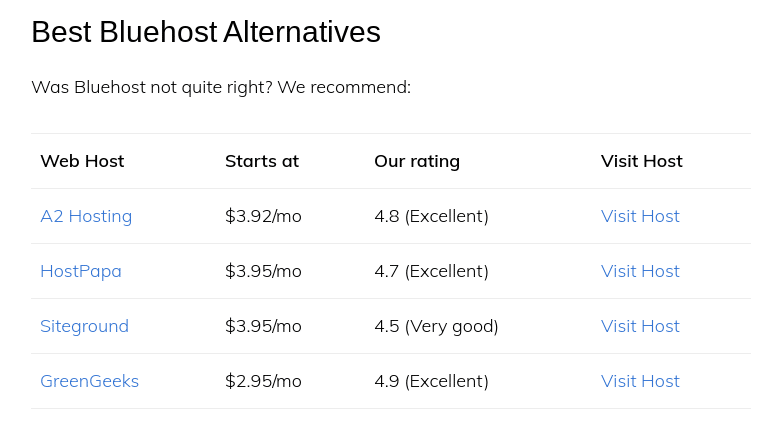 You can also link to your related posts if you have in-depth reviews of the products you're comparing it to.
7. Format Your Review Properly AKA Make it Easy to Read
If you include everything else above you'll have all the elements of a high-converting product review.
Here are a few tips to keep in mind to create a good product review that's easy to digest and will get new visitors to become buyers:
Use short paragraphs, headings, and bullets to break up your text
Use plenty of screenshots, videos, and images that show you using the product
If possible use icons, star ratings, and symbols to break up your content. If your theme doesn't support this, that's fine, but it can make your review shine.
If you're comparing multiple products, then include a table that breaks down the feature set of each product, so readers can quickly disqualify a product that doesn't have a specific feature
Make sure to link out to related posts on your site to help give context to certain parts of your review.
Overall, formatting a high-converting product review is equal parts following the guidelines of a good online article and adding additional review-specific visual content.
High-Converting Product Review Template
Now that you know what goes into a good product review it's time to bring it together in a product review template. With a product review template, you'll be able to quickly write a quality review.
By using a product review template you can ensure your reviews hit the mark every time.
Here's a simple product review template you can use:
Product name review
Summary box including pros, cons, and affiliate lin
Story-based intro illuminating pain points and asking question
Show how the product was able to solve these problem
Tie unique product features to benefits you attain
Sprinkle in social proof throughout
Compare product alternative
Add a compelling CTA to buy the product
When you include the price you might be able to get a discount price for your website visitors. Some companies may offer special affiliate discounts.
Get Started Using a Product Review Template Today!
As you can see writing a product review can take a bit of time and effort to get right. But, if your goal is affiliate commissions, then you'll really want to put serious energy into your product review posts.
By now you're well suited towards writing a review that converts new website visitors into buyers. Now it's time to get busy and start writing an epic product review using the product review template.