How to Start a Blog: A Step by Step Guide for Entrepreneurs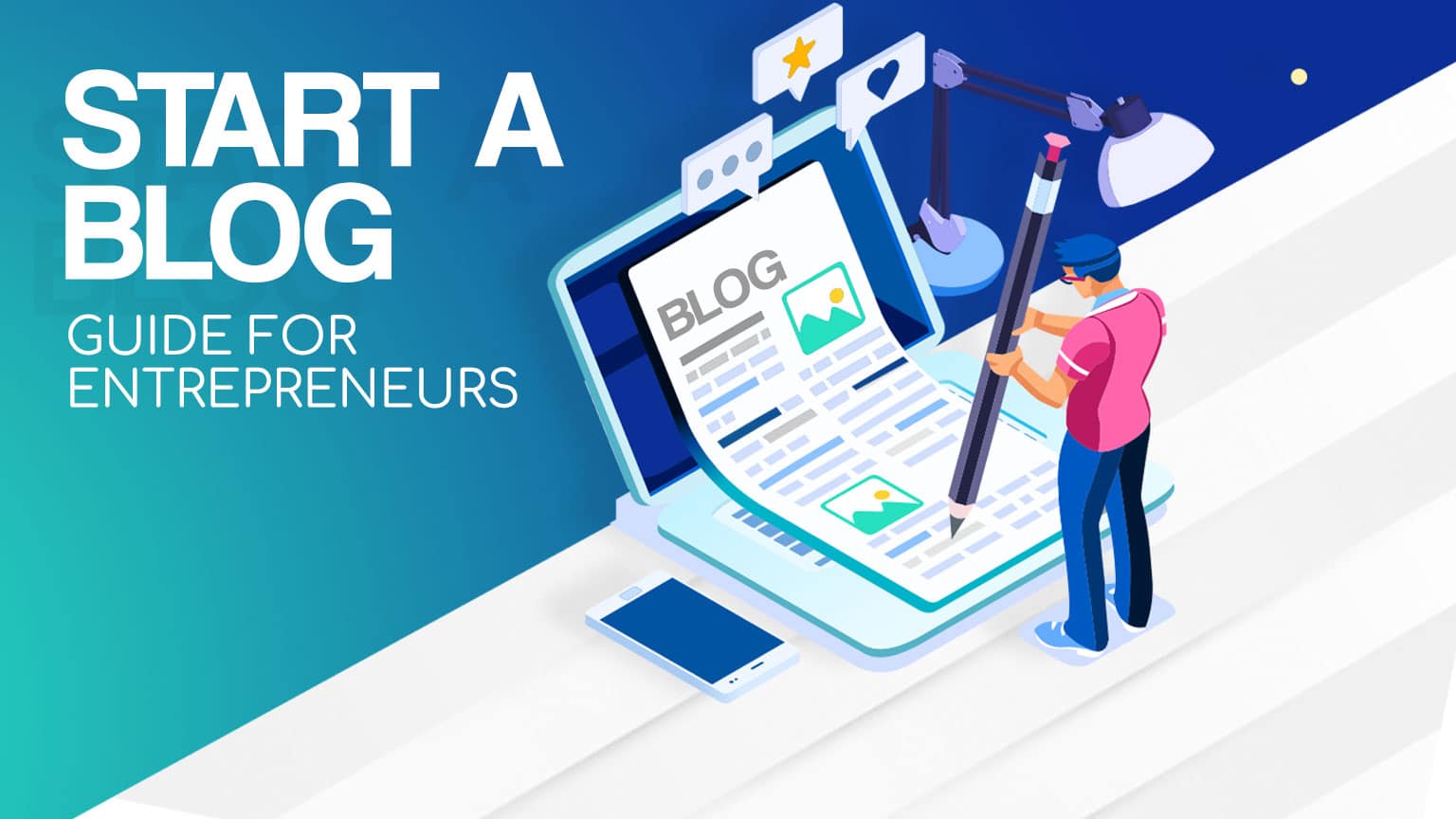 Disclosure: jontorres.com may receive a small portion of the sales of products or services listed on this page. For more information please visit our advertiser disclosure page. 
So you want to set up a blog and you don't know where to start? Well, you have come to the right place.
In this article, I will show you how to start a blog step-by-step, and how you can make money blogging.
Starting a blog is not as complicated as it once was– I'll simplify the entire journey and show you what you need to and how to start a blog so you can make money blogging.
"You don't need a Ph.D. in Computer Science to make money online."
Choose a niche
Before you start your blog you should consider choosing a niche.
For new bloggers, the easiest way to understand a niche is to ignore all the big terminologies experts use to describe it. In its simplest term, a niche is a subcategory from a wide category of interests.
For instance "fashion" is a category or niche with millions of interested people searching these blogs on a daily basis.
But "fashion" is a broad subject.
A much narrower niche would me men's polos.
Try to narrow down your niche as much as you can.
When I first started, I made the mistake of going after extremely broad competitive niches, which made it almost impossible for me to build authority.
How to pick a niche

Before you make your blog you've got to select a  niche you feel comfortable blogging about, something you are already familiar with.
You can start a new blog in practically any subject Just follow these simple steps and get started on your blogging journey:
Step 1. Identify your interests and passions
If you want to make money blogging you need to create great content, so make sure you create a blog about a topic you enjoy.
Your passions and interests show what you're naturally inclined to do with ease. If you are a diehard lover of football, it will be pretty easier for you to build and develop a blog than for someone who has zero interest in it.
You can start by making a list of your top ten interests or passions. Many people jump into certain niches because they heard those niches are viable.
Picking a niche just because you think it will be lucrative can be a huge mistake, especially if you don't know anything about the industry.
Choosing a niche you are not very intersted in, or one you don't know anything about a good way to fail.
Here is how to start a WordPress blog:
Follow these steps and start blogging in no time.
1. Choose a domain name for your blog
The first thing you have to do is pick a name for your blog
Ideally, you want to choose a domain name that defines what your blog is about. This will make it pretty easy for your potential visitors to easily identify what your site is all about.
For example, if your website is about dogs, you could buy a domain such as (TheCanineWorld.com). Your name could be anything, your own name, business name, or a fun combination of words. 
If you are buying a domain for your business you can buy somthing like (

yourbusinessname.com)

If you are building a personal brand (

yourname.com)
You can use any extensions such as .com, .org, or .net.
You can buy a .com domain for $5 to $15. Most people go with a .com domain because it is well-known, but you can certainly by any other extension such as .net or .org.
2. Select a WordPress web hosting plan
Thi In order to make your website available to the public you need a "hosting" account. This of your host as the home where your website lives. This is where all your files will be stored. When someone enters your blog name in the URL, the host will pull up those files and show the website to the user.
There are a lot of hosting companies you can choose from. I recommend SiteGround because it's easy to use, it is built for WordPress sites, and it has great customer service.

I have been using SiteGround for a few years and counting, and I have no reason to let go of the brand. They also give you an SSL certificate for your blog.
Choose your plan
When you select the "WordPress" you will need to choose a plan that best fits your needs. If you are just starting out I recomend using going with the StartUp plan.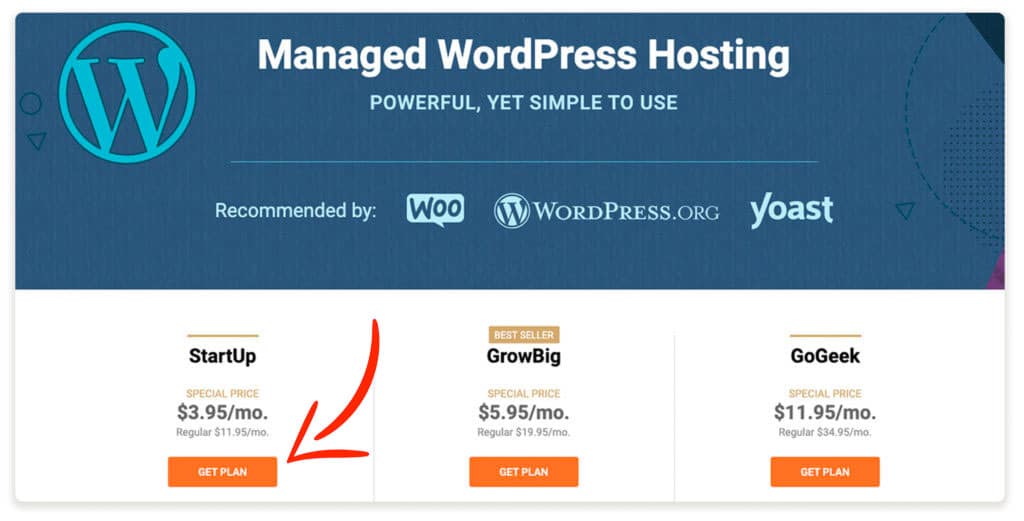 Once you select the Startup plan, follow the directions until you get to step 2. You can buy a domain directly from SiteGround, but if you already bought a domain somewhere else don't worry, we will get to that later. Just enter the domain in the field below and proceed to the next step.

Another popular option is BlueHost, and while it is a slightly cheaper option it is not my favorite. If you want to learn more you can read my full review of SiteGround vs Bluehost and decide for yourself.
3. Lanch a free WordPress blog (From your web host)
Once you have created your account with your SiteGround you will need to install a WordPress CMS (Content Management System).
I always recommend using WordPress because it's really easy to use and there is plenty of content online to help you with your journey in case you get stuck.
More so, WordPress has tons of plugins that can aid your blog building process. No other CMS has it any better. There is always a plugin for virtually any and everything you want to do.
1) Here is how you install WordPress
Login to your SiteGround account and select "websites"
Select the option that says "cPanel"

This will take you to your control panel (cPanel) where you will be able to launch your site.
4. Select the icon that says WordPress as shown in the red circle bellow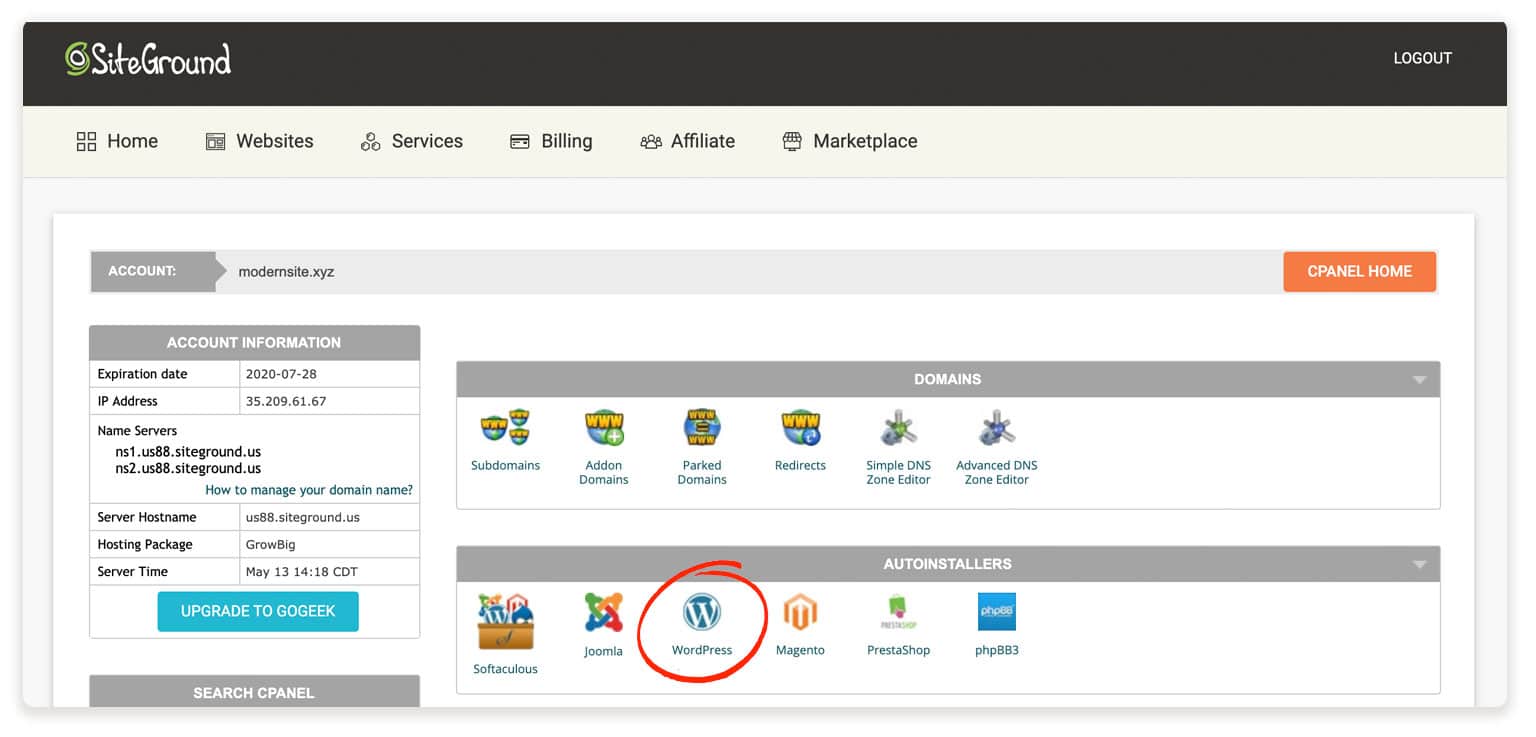 5. On the next page select "Install Now"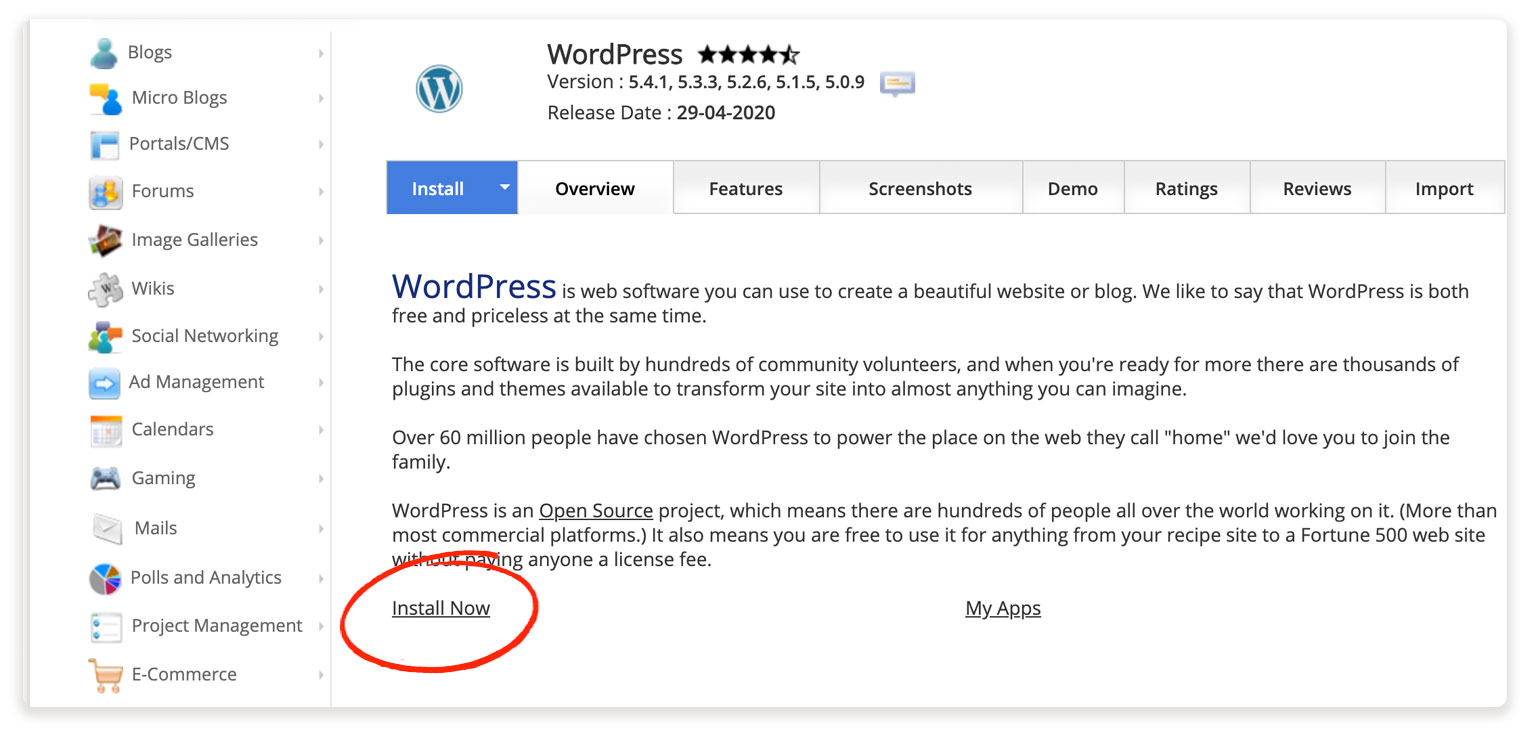 6. Provide some basic information such as site name, username, password. Yout doesn't need to add a directory name. Remember to store and password in a safe place.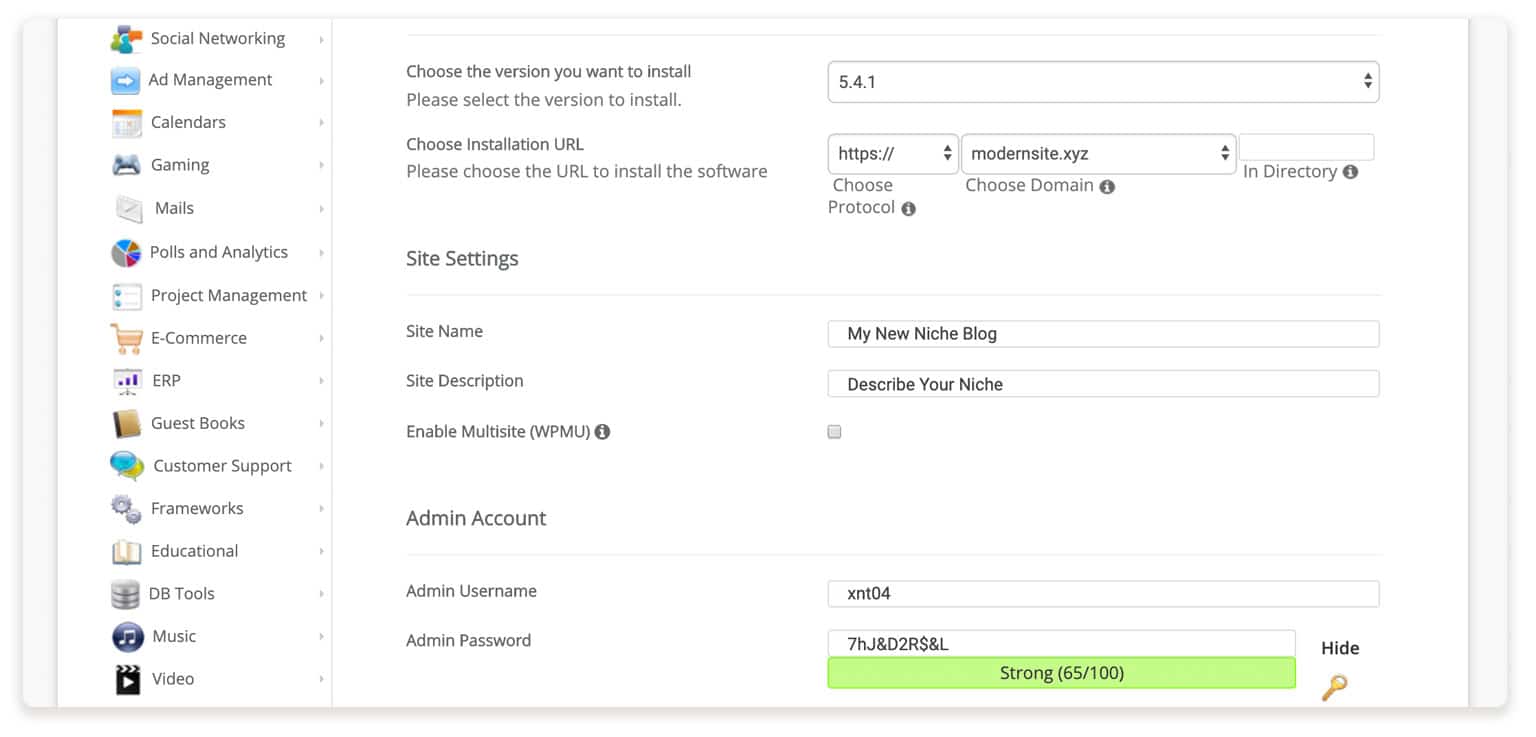 8. Finally, select "Install" to launch your new WordPress blog.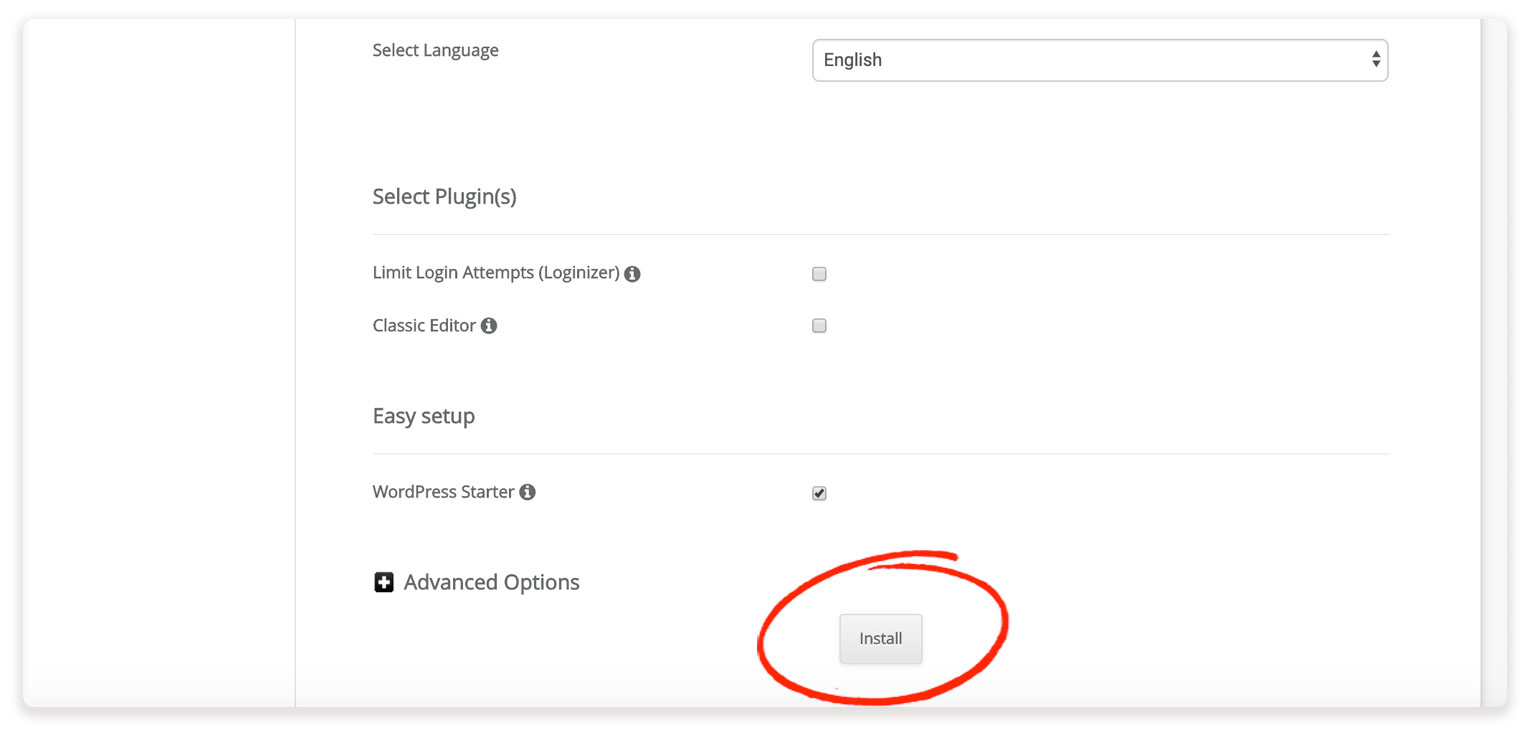 Woohoo! you took one of the biggest steps and launched a blog.
You should feel proud of yourself  😊.
Now that you have a WordPress site lets go over some basic features you should know:
Dashboard: Think of this as your home base where you will access everything on your blog.
Post:  Posts (Blog articles), this is where you add, edit, and write your content.
Media: Any media such as videos and images are stored and managed here.
Pages: This is where you add and manage new pages for your blog.
Comments: Here you can approve and manage comments people leave on your posts.
Plugins: This is where you add and manage all your plugins.
Appearance: This area includes global features that allow you to edit your theme sitewide.
Settings: Manage basic settings such as permalinks and URL Structure.
Users: Here you will be able to add new users and manage user roles.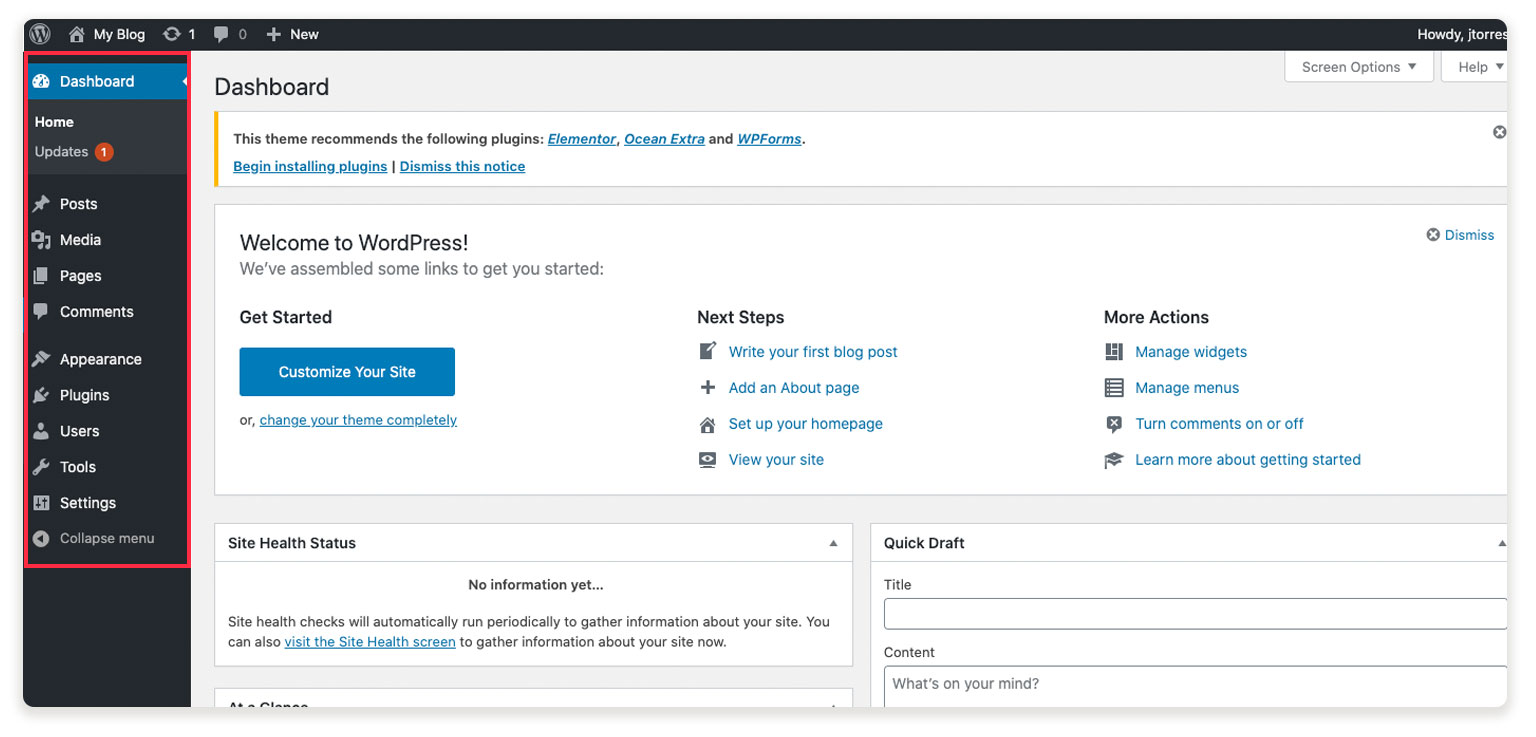 All these features will become second-nature as you build and update your blog design. I know it seems like a lot right now, but trust me when I say it will all make sense as you move forward with your blog.
4. Select a theme or blog design
Now that we got the hard part out of the way we can focus on your website design.
This is the part I enjoy the most, but for some, it can be frustrating and somewhat difficult. But I assure you that you can do this. you don't need any design or technical knowlege to create a good looking blog. 
Choosing the right (free) WordPress theme
If you are first starting out I don't recommend buying a WordPress theme for your blog, you can use the many free theme options it comes with. 
To select a theme, navigate to Dashboard > Themes > Add New Theme > Popular
I recommend going with OceanWP because it's really clean and easy to customize using Beaver Builder.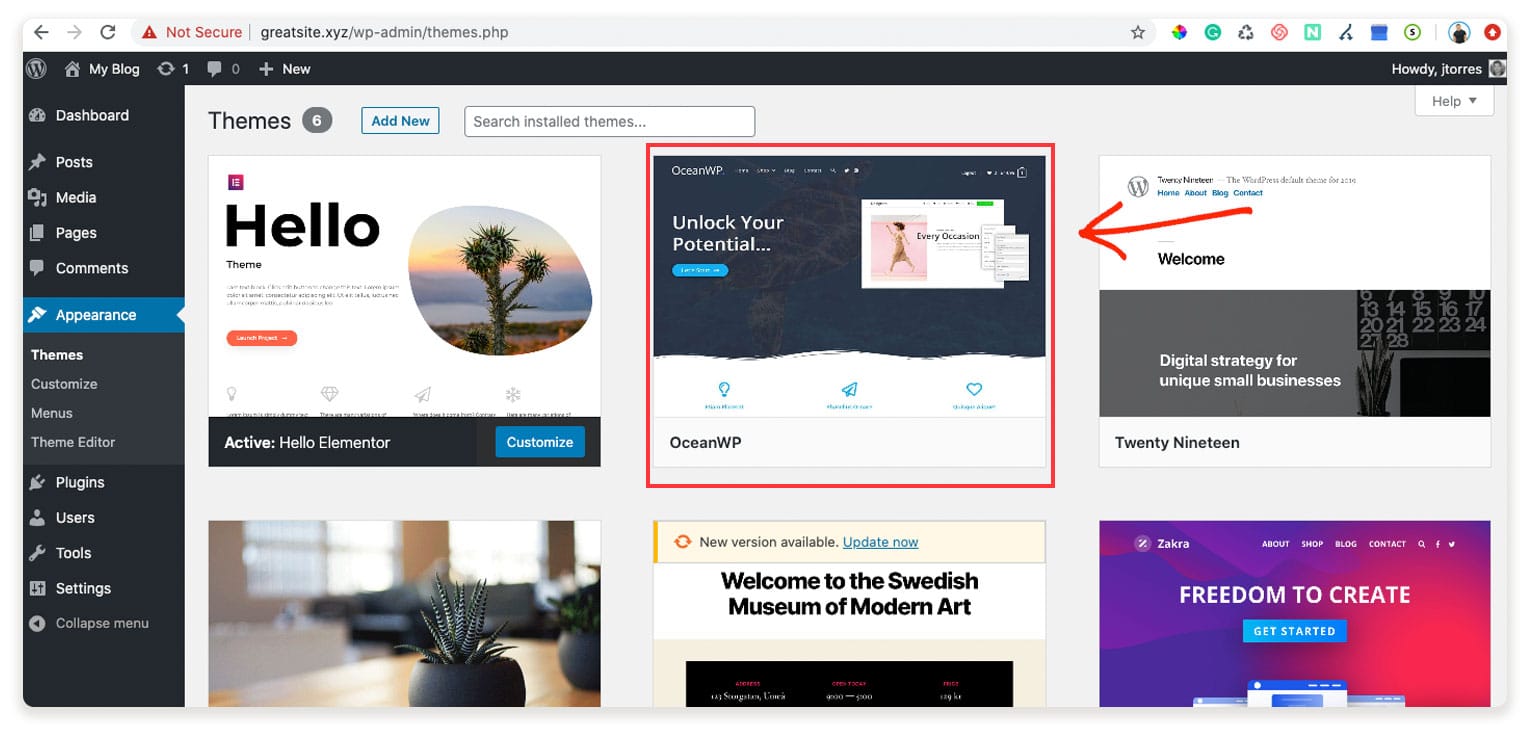 Baver Builder is a drag-and-drop tool that allows you to build and customize your blog and pages in a matter of minutes. In fact, I built this website using Beaver Builder.
I like using Buiver Builder because it's easy to use and it is compatible with most WordPress themes.
To download the plugin navigate to Dashboard > Plugins > Add New >
Builder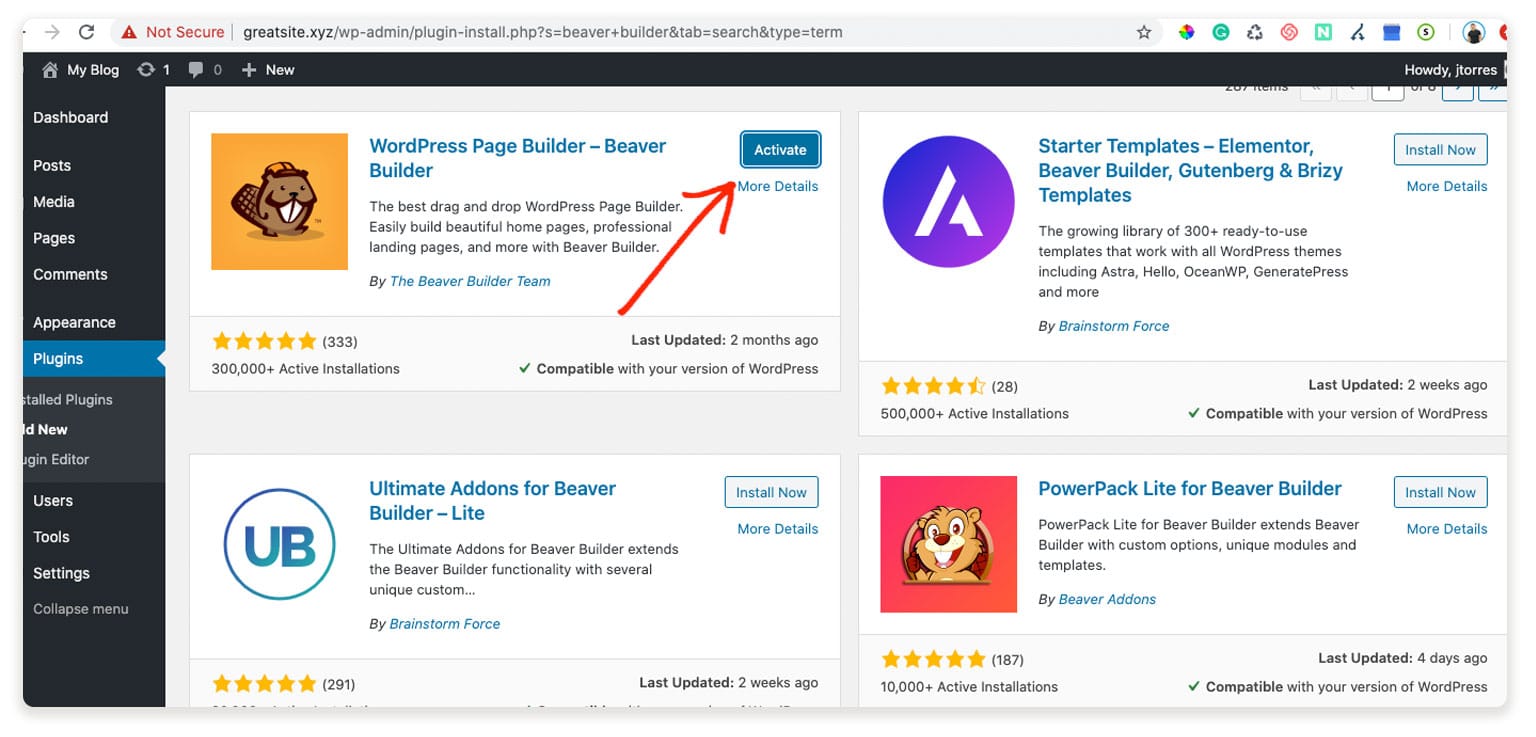 Once you activate the plugin you can use the lite version to build basic pages, and you can upgrade later if you want advanced layouts and pre-built templates.