I Used Beaver Builder to Start a Digital Agency (My Honest Review)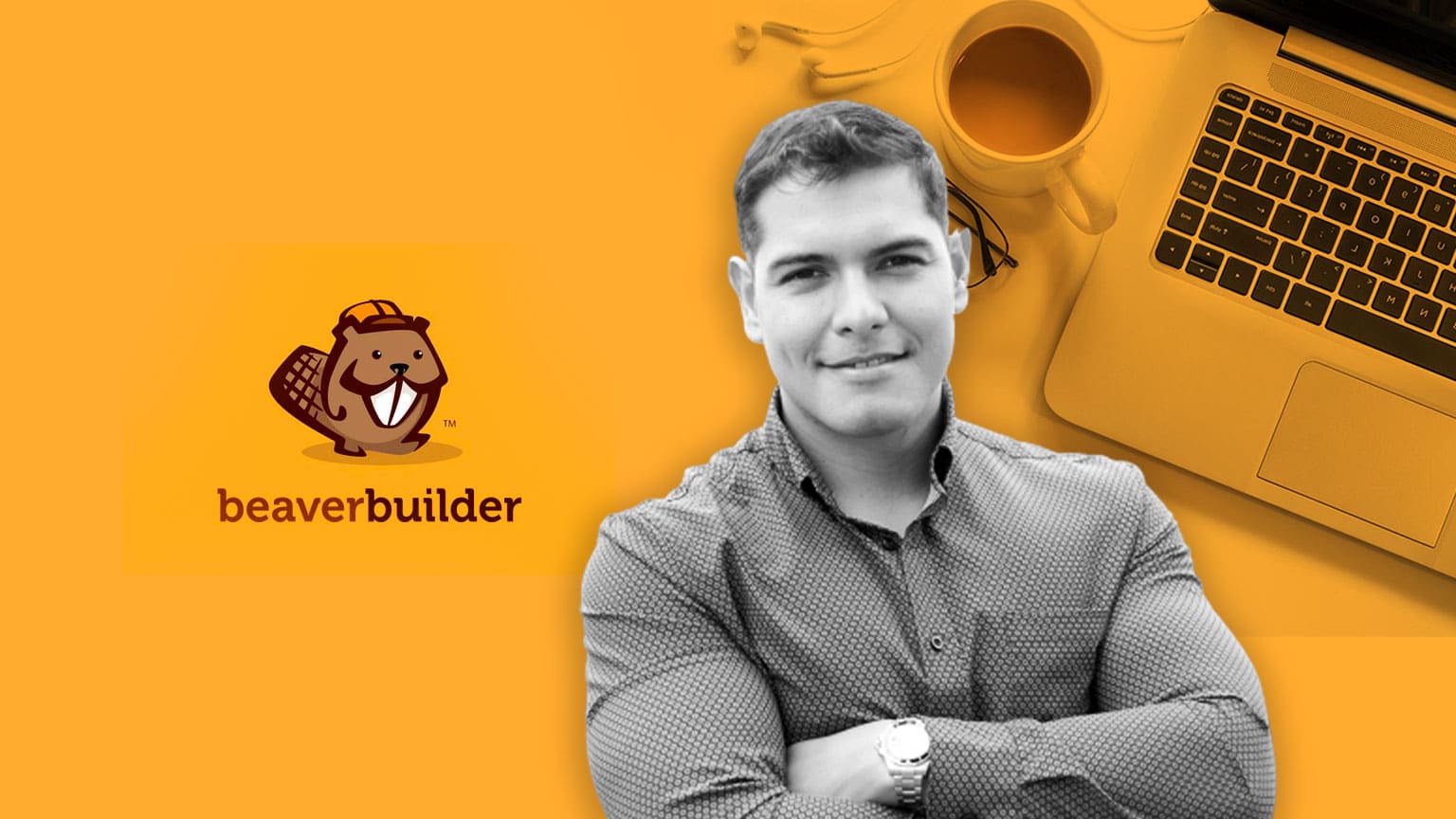 With so many people starting online businesses, there are a huge number of easy website builders popping up. Website builders provide a set of tools that allow you to easily build your own website. They typically provide some pre-made templates so that you can quickly build a site.  
You can find a large selection of both paid and free site builders that all offer stylish templates, comprehensive tools, and great user support. Amidst all of these options, Beaver Builder has remained a favorite choice for both beginners and experts alike.  
Beaver Builder is a website builder with both free and paid versions that offers a high level of customization and an easy-to-use format.  
I've used Beaver Builder extensively to build several websites for different purposes. First, I used it to grow and scale a digital marketing agency and then to build a six-figure affiliate marketing business from my home. I was able to do all of this without a developer and for an affordable price.  
In fact, I built the blog you are currently reading using Beaver Builder.
After using this plugin extensively, I wanted to give you an honest review of my experience with Beaver Builder. I'll talk about the major pros and cons and then we will go over the hallmarks of this website builder including:   
Key Features

 

Pricing

 

Ease of Use

 

User Support

 

Who Should Use 

It

 
Before we jump into the review, I'll give a quick overview of what Beaver Builder is and how it works.  
What is Beaver Builder?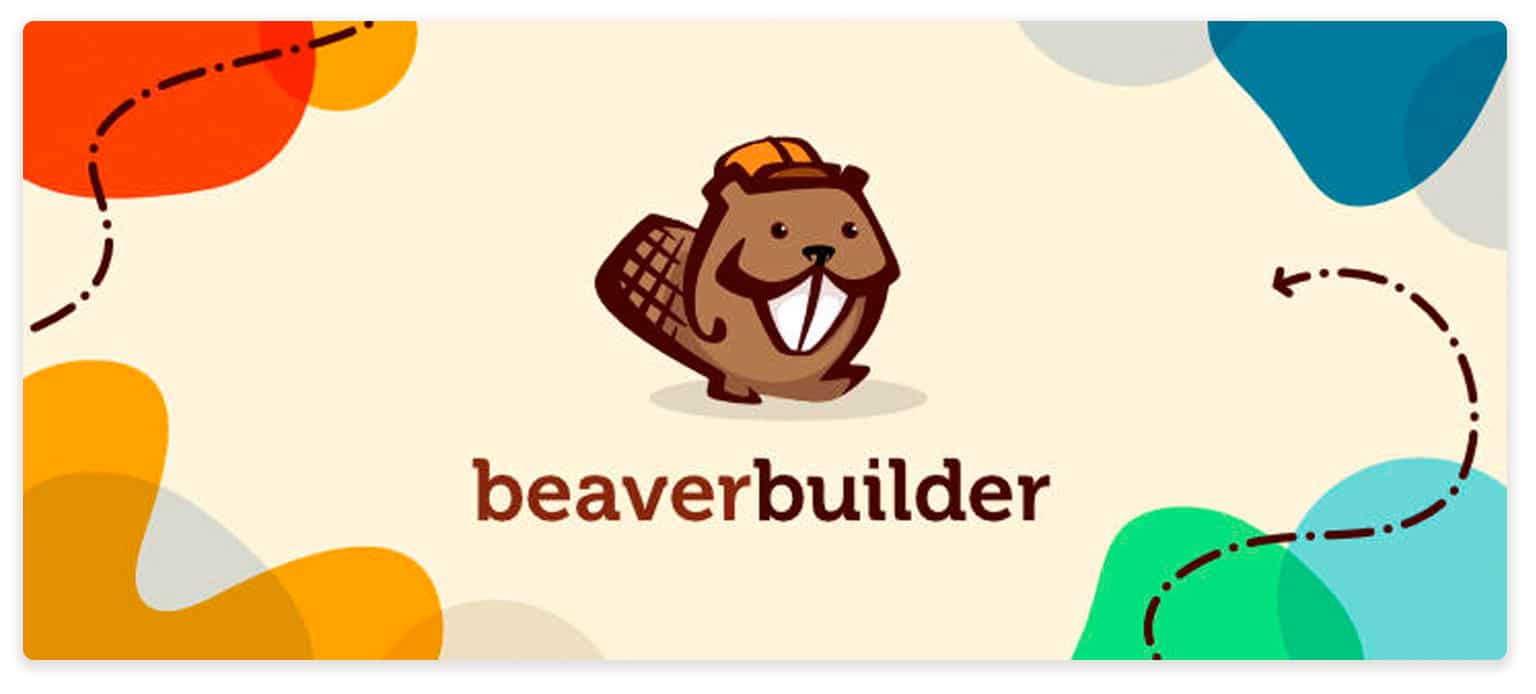 To put it simply, Beaver Builder is a drag-and-drop website builder for WordPress. Beaver Builder has become a super popular option for beginners and experts alike because it works on the front end of your website.  
That means you don't need to understand coding or HTML to build your site. When you build a website with this plugin, you'll be editing the website as it appears to the visitor.  
Now, Beaver Builder is a bit more complex than your standard WordPress plugin. It's a complete toolkit that allows you to build a variety of professional WordPress websites with powerful, beginner-friendly features directly on the end of your site.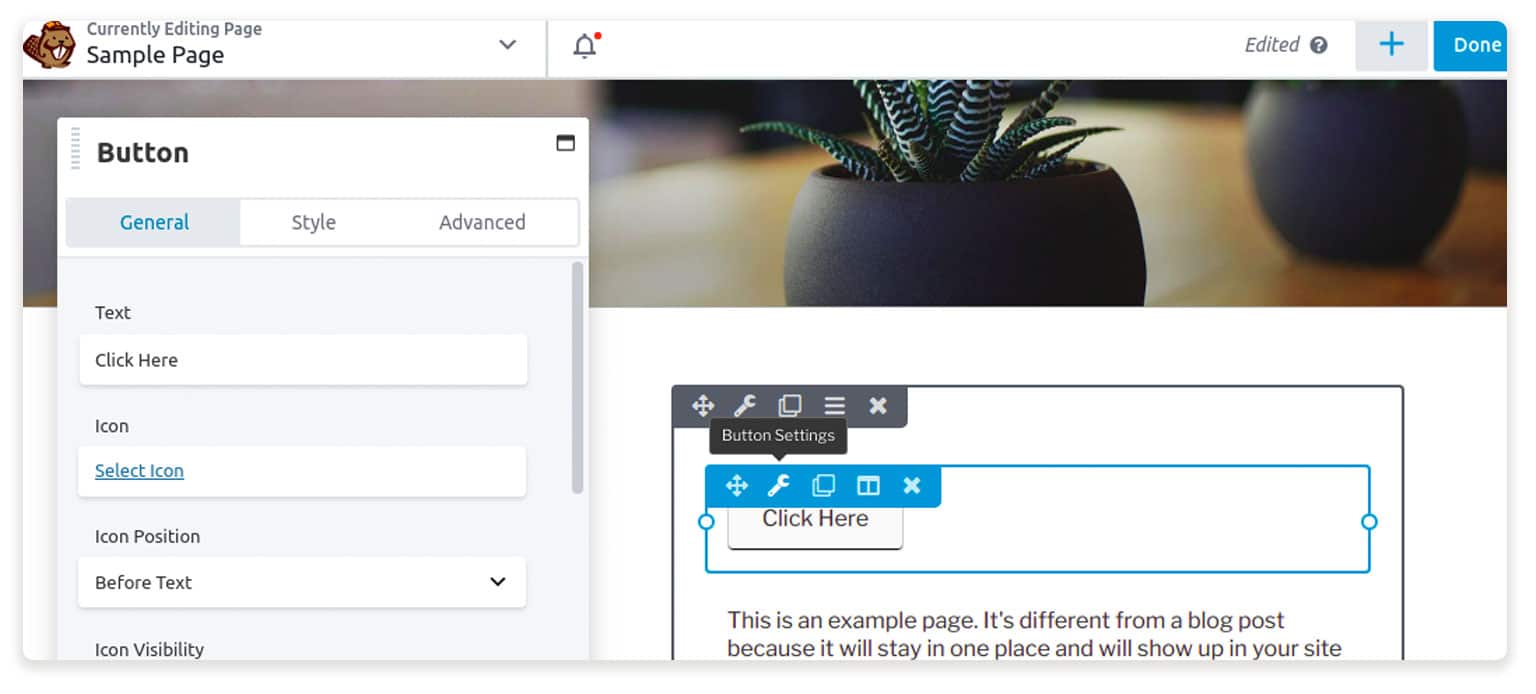 With 175,000 websites built using Beaver Builder, it's a solid choice for anyone looking for a comprehensive, easy to use website or landing page builder. Beaver Builder has gained an excellent reputation, used by a number of successful companies such as WP Engine, Crowd Favorite, and even Hi-Chew Candy.  
By providing an intuitive site builder, Beaver Builder has become one of the most reputable website builders on the market. Let's take a look at some of the pros and cons of this is a popular option. 
Pros of Beaver Builder
Affordable basic pricing: The basic plan is a pretty reasonable price. For $99/year you'll have access to premium templates, great users support, and unlimited websites. This breaks down to about $8 a month, which is about what you pay for your Netflix subscription. Sure, it's not free but you will receive high-quality tools that allow you to build an excellent website.
Responsive Editing: As with any website builder, you want it to be compatible with mobile browsers. A large percentage of your visitors will be browsing on their phones and tablets, so it's crucial to have a smooth mobile site. Beaver Builder is totally mobile responsive as long as you choose a responsive theme.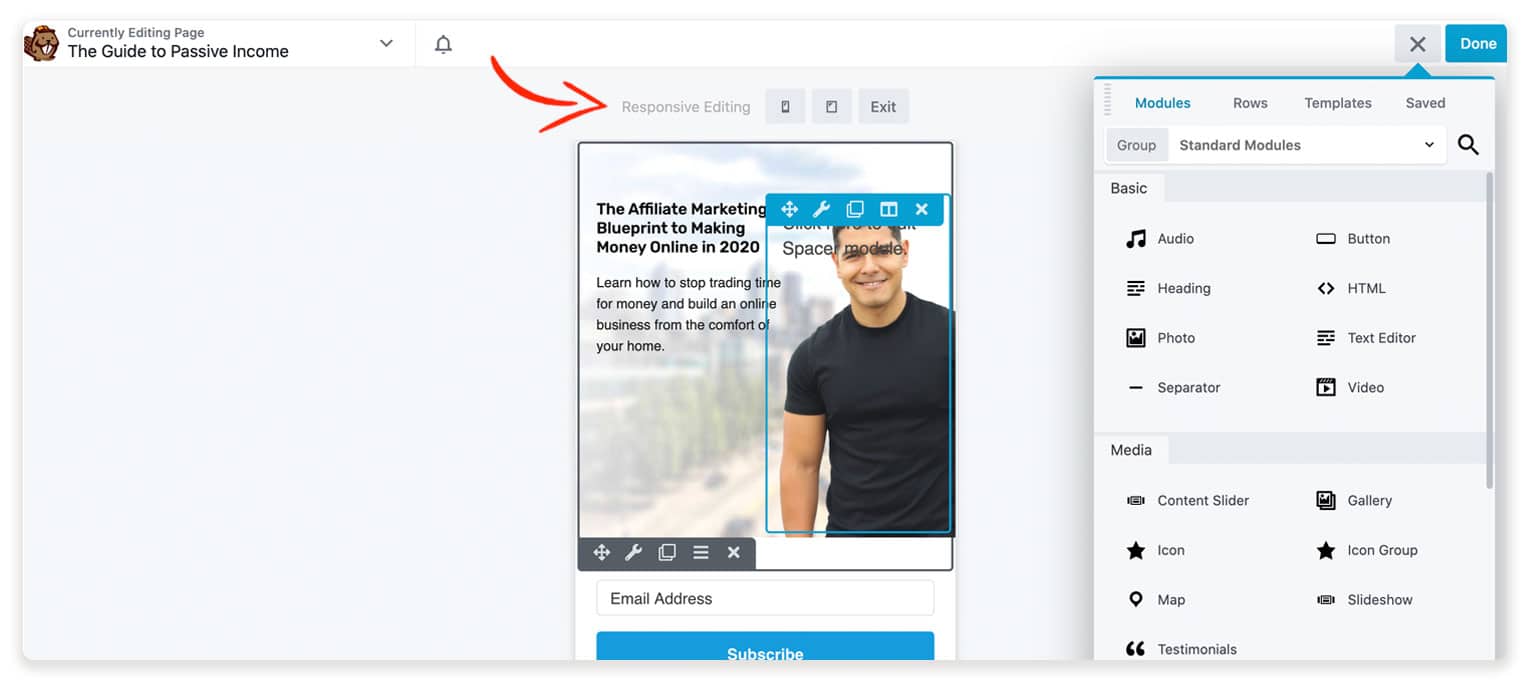 No coding: Again, with Beaver Builder, you never have to worry about complicated coding. Everything is in a ready-to-go, drag-and-drop format which makes website building easy for any skill level.  
Good for developers: A lot of people think website builders are just for newbies, but that's actually a misconception. Beaver Builder is a great option for developers because you get unlimited sites to use for clients and you can develop custom modules. You can also extend the existing modules to fit a client's needs. 
You can import and export: You can export your layouts for other uses to use, or import layouts from other users. You can also use this feature to move your site.  
Works with any theme: You can use Beaver Builder for virtually any theme. Now, some themes are more compatible with this plugin than others. Some themes that work well with Beaver Builder are Astra theme, Hestia Pro, Potenza, and Sydney Pro. I like to use the Beaver Builder Chid theme. 
Great user support: This is one of the best benefits of Beaver Builder. Their team is dedicated to helping you with any problems you may encounter along the way.   
WooCommerce support: You can easily build a storefront with WooCommerce using Beaver Builder. 
Cons of Beaver Builder: 
No "Undo" feature: 

This might sound petty but it's actually pretty annoying. In order to undo an 

action,

 you'll have to go to the "History" tab and revise from there. Other site builders have a dedicated undo/redo button for convenience.

 

It relies on theme limitations: 

If the theme you choose has certain limitations, such as width limitations, Beaver Builder will be limited as well. These types of customizations will have to be done outside of Beaver Builder. 

 

Slow load times: 

There is some delay when you add modules to the template.

 
How Does it Work?
It's pretty simple– if you can drag files on a computer then you can use Beaver Builder. These elements include text, buttons, images, icons, and videos. The interface is simple and clean, allowing you to build your page with little distraction.
To start, you'll have to choose a theme. Keep in mind, the theme you choose may have restrictions such as width limitations. Once you choose your theme, you'll have a blank canvas to work with. As an alternative, you can also create a completely custom template. Once you've got a template, you can start to drag modules onto the screen.  
When you choose a module, you'll see a pop-up box showcasing the features of the module where you can alter it. The pop-up box is easily moved around the screen so that it's never in your way.  
In the upper left-hand corner, you'll see a small wrench icon. This is where you can access your toolbox. I'll go over some of these tools in depth later in this article.  
Beaver Builder has totally gotten rid of any need to code.
The editing takes place on the front-end which means you get to see what the site looks like to visit as you edit. If you're a beginner, you won't have any trouble learning how to navigate this website builder.  
This tutorial by Jose Fremaint shows you exactly how easy it is to use this website builder.
Overall, I find the building and editing process extremely intuitive. I appreciate the ability to create fully customizable templates. As you'll see further in the review, you can create custom modules for your site as well.  
Key Features (Pro):
Templates: Beaver Builder has tons of pre-made templates for both landing pages and content pages. Now, I'll be honest here– you may not be as impressed with these templates as you are with other website builders.  
These should be used as a starting point that you further customize to fit your brand. Now, if you're interested in creating your own templates, this is where Beaver Builder shines. The ability to create and save custom templates is one of my favorite features.  
This feature is super easy to use if you're a beginner. Here's how to create your own template: 
Click on

 Beaver Builde

r and go to 

Templates

 

Click 

Add New

 

Create a title and choose 

Add Saved Template

 

Click 

Launch Beaver Builder

 

Start constructing your layout

 

Save your custom template

 
Import/Export: After going through the effort of creating a perfectly tailored template you may want to use it for your other websites. Beaver Builder lets you export your saved templates for this very reason. You can also share templates with other people. I appreciate this feature because it allows me to create a unique, cohesive feel for my websites.   
Beaver Themer: If you're really into customization, this is a plugin that allows you to majorly customize your site with Beaver Builder. This is a great option for those of you who are using Beaver Builder to develop sites for clients, or if you want to build a truly unique website. Beaver Themer helps you create customized layouts for archives, post types, 404 pages, and WooCommerce products. You can also create layouts for smaller parts of a page such as a header and a footer.  Lastly, you'll have total control over how grids and lists are displayed.  
User Access: If you're working with a team, this feature will be your best friend. This tool is extremely helpful if you're working with content writers or web developers. Essentially, you can allow or restrict access to certain areas of the site builder. For instance, if you're working with a writer, you can allow them to access blog posts to create and edit a post for your website. You can also allow access to rows, columns, and modules so team members can edit these aspects of the website.  
Mobile Editing: Beaver Builders mobile editing used to be subpar, but they've really stepped their game up. Their response to user complaints is one of the reasons Beaver Builder has such a loyal user base. The mobile editing allows you to accurately see what the website looks like on a phone or tablet. 
Custom Modules: This is another feature that will come in handy for developers or those of you creating a custom site, as I did. Modules are simply the different elements on your page such as images, text, and buttons. This tool lets you create a website with a specific look and feel that fits your own or your client's website. Because website builders are becoming so popular, you'll find that a lot of new websites have the same look. Beaver Builder has fixed this problem by implementing custom modules. 
Ultimate Add-ons for Beaver Builder 
If you're using Beaver Builder to build an agency, the Ultimate Add-on package is extremely useful. This package includes a series of pre-made row sections that make it super easy to build a website.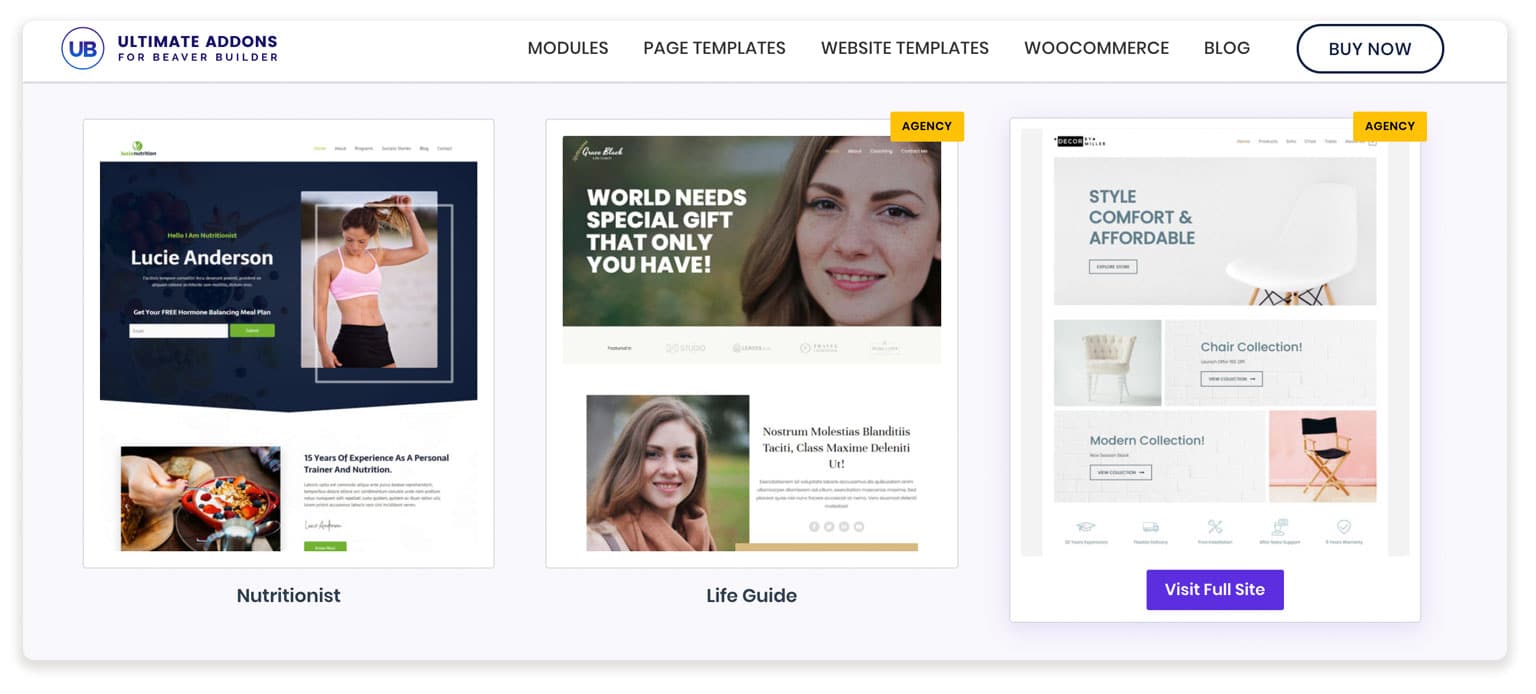 There is a huge selection of Beaver Builder addons out there but I find this one to be the most useful. In addition to the pages and rows, you'll get access to 100+ templates and 45 modules.
This add on also gives you the ability to have white label branding which can come in especially handy if you're building a site for a client. With this add on you don't have to worry about making sure everything is compatible. The developer has consistently kept up to date and in sync with Beaver Builder updates.  
 The Ultimate Add-ons package starts at $48 and includes: 
60+ Custom Modules

 

200+ Row Templates

 

100+ Page Templates

 

WooCommerce Modules

 

Template Cloud

 

White Label Branding

 

One-to-One Support

 

Extensive Training

 

Unlimited Website Usage

 
Beaver Builder Pricing:
Let's talk about pricing. As I mentioned before, the starting package is reasonably priced and you receive a killer feature set. Now, as you start to upgrade, it can get a little pricey. Let's take a look at each package and what they offer.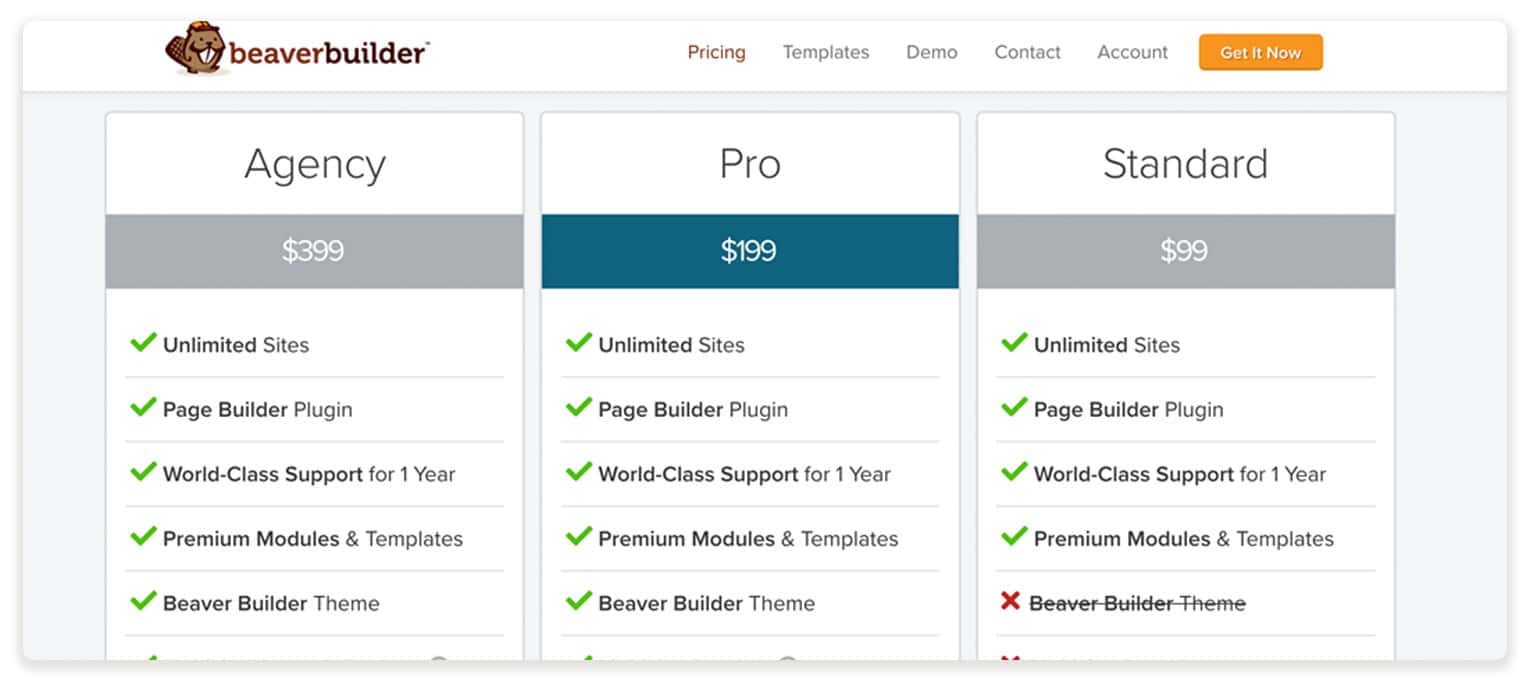 Standard Package $99 
Unlimited Sites

 

Page Builder Plugin

 

World-Class Support for 1 Year

 

Premium Modules and Templates

 
Pro Package $199 
Unlimited Sites

 

Page Builder Plugin

 

World-Class Support for 1 Year

 

Premium Modules and Templates

 

Beaver Builder Theme

 

Multisite Capable

 
Agency Package $399 
Unlimited Sites

 

Page Builder Plugin

 

World-Class Support for 1 Year

 

Premium Modules and Templates

 

Beaver Builder Theme

 

Multisite Capable

 

White Labeling

 
So, as you can see the price jumps significantly after the basic package. The Pro package is an additional $100 and the Agency package is a whopping $300 more than the standard package. I would say this is one of the biggest downsides of working with Beaver Builder.  
I would suggest purchasing the basic package and adding the Ultimate Add-on package. This keeps you in a reasonable price range while still giving you access to a nice selection of additional modules and templates.  
Beaver Builder Free vs Paid
Here's the big question: do you choose the free or the paid version of Beaver Builder? With the free version you'll have access to the following features:  
Drag and drop page builder

 

Mobile friendly and responsive editor

 

Preview changes in real-time

 

Gutenberg support

 

User access settings

 

Custom post types

 

Custom modules

 

Basic modules

 
Now let's compare that to the basic paid plan. This plan comes with everything in the free plan plus: 
Advanced modules

 

40+ premade templates

 

100 prebuild rows

 

Save export and reuse layouts

 

Custom icons

 

Domain manager for licenses

 

Beaver Themer support

 

Priority support

 
So, clearly the paid plan offers quite a bit more, however, if you want to try out Beaver Builder before committing, the free plan is great. It offers enough so that you can see if this website builder is a good fit for what you're looking for.  
If you end up liking it, I highly recommend updating to the basic package. You'll have access to better support, more templates and modules, and a more robust toolkit  
Ease of Use
One of the most important features of a site builder is its ease-of-use. When I say ease-of-use I'm referring to the editing platform and the user interface. Because Beaver Builder uses a front-end editing style, most users will find it fairly intuitive.  
As you edit, you get to see what your website will look like from the visitor's perspective. The simple fact that coding isn't necessary, makes this website builder easy to use for most users.   
On top of that, the user interface is clean and uncluttered so that you can focus on building your site without a bunch of sidebars and menus in the way.  
The drag and drop feature make it really easy to position your content exactly where you want it. In my opinion, Beaver Builder is one of the easiest website builders to use for beginners.  
Customer Support
When you purchase any Beaver Builder package, you'll get what's called World Class Support. With a title like that you can expect user support that is above and beyond. Luckily the support team really does live up to the expectation.  
They are trained and dedicated to providing fast solutions to user issues. The only downside here is that they don't offer 24/7 support or live chat. Issues are submitted via email ticket and the team is available on weekdays during typical business hours.  
When you submit a question, you can expect a reply within a few hours, although in a few cases it may take a day or so to hear back.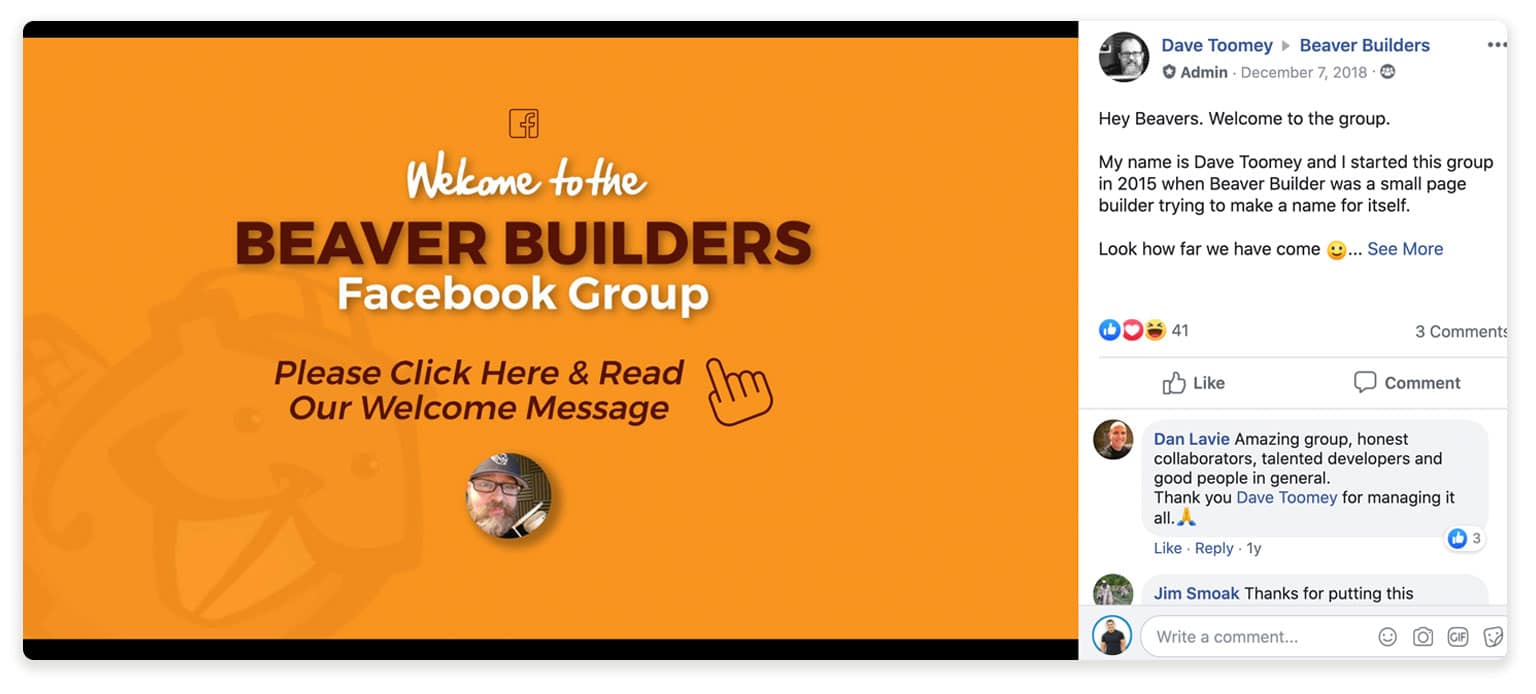 Luckily you can access the beaver builder Facebook group where a community of awesome people will help with any question that comes up.
Who should use Beaver Builder?
If you already use WordPress you may be wondering why it's necessary to upgrade to Beaver Builder. The truth is, the standard WordPress site builder just doesn't offer the same scope as a site builder like Beaver Builder.  
With that in mind, there are certain users who will benefit the most from using Beaver Builder: people looking to build and manage their own site and site developers.  
For those of you who would like to start a website with a blog and even a storefront, Beaver Builder has all the tools you need. You can build a professional site with little to no experience without having to hire a developer. Again, if you're a beginner, this is a great tool to use.  
Now, if you're a designer yourself, Beaver Builder is also a great option. Even with the basic package, the ability to create custom modules is incredibly useful for creating custom sites for clients.  
Upgrading to one of the higher-level packages or getting the Ultimate Add on can really help you step your game up. For anyone on a budget, the basic package is fairly affordable and there's also the free version to check out.    
Final Opinion
I've gone over the major features of Beaver Builder, the pros and cons, and the most important characteristics of this site builder. This site builder has basically everything that you need if you want to build and manage your own website. You have the ability to build a variety of sites including eCommerce storefronts.  
Ease-of-use is really at the forefront of Beaver Builder. The drag and drop format, front end editing and clean interface are a big part of why this site builder is so intuitive for users.  
In my own experience, I can say Beaver Builder has provided me with all of the tools I need to build several websites with the ability to grow.  
Overall, I think Beaver Builder is a great choice for beginners and developers looking for a comprehensive site builder at a reasonable price.