Best Landing Page Builders That Save You Time 2022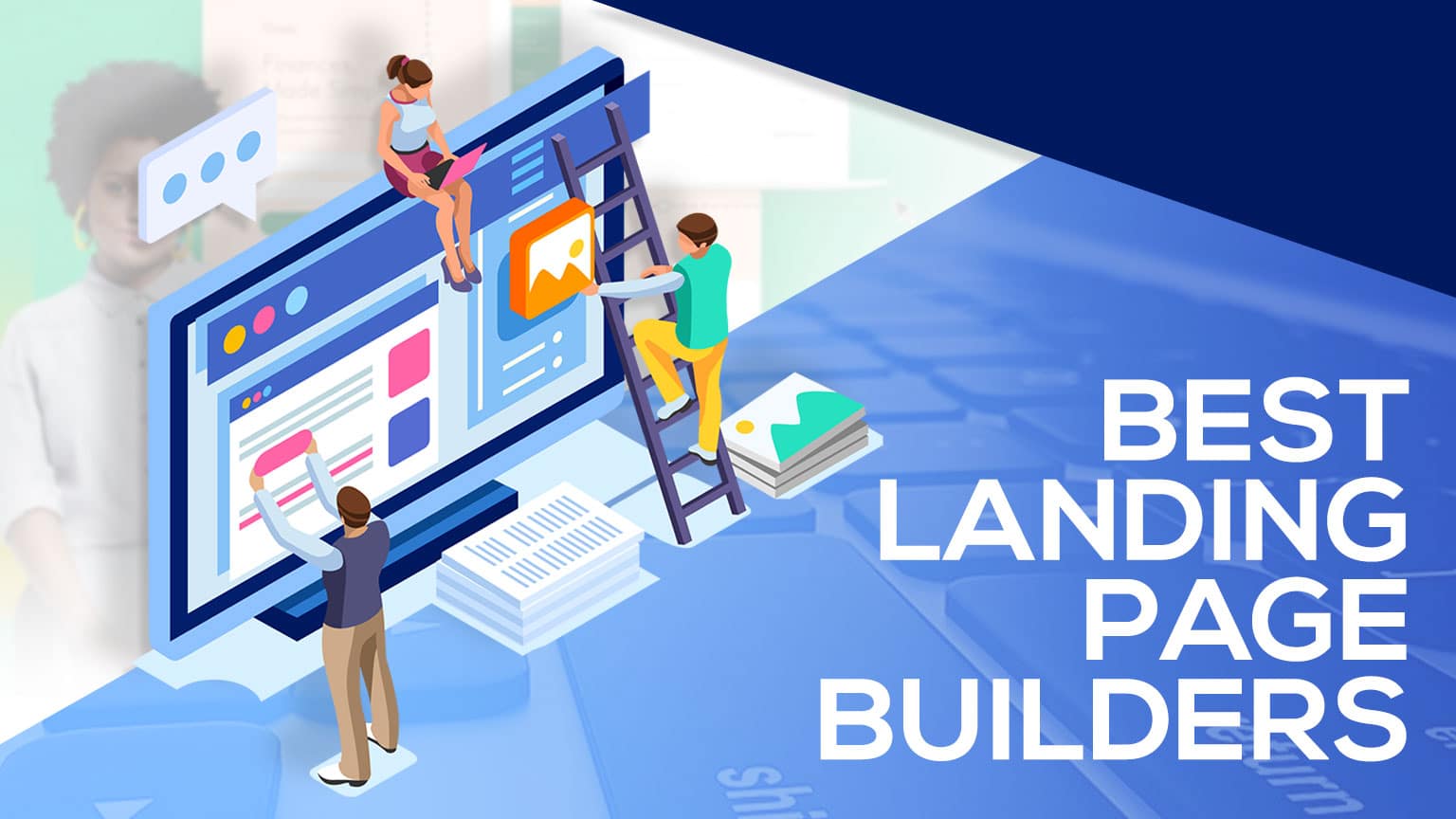 If you're interested in marketing in any form, I'm sure you're well aware of the power of the landing page. You might be in the process of building a blog and you want to collect leads.  Now, if you're reading this post, I assume you already know what a landing page is, but just in case there's any confusion, here's a quick definition from our friend, Wikipedia: 
"In online marketing, a landing page, sometimes known as a "lead page", "static page", or a "destination page", is a single web page that appears in response to clicking on a search engine optimized search result, marketing promotion, marketing email, or an online advertisement." 
So there, you have it– a landing page is that handy webpage that captures all of your leads and hopefully turns them into conversions. Obviously, a good landing page is important for any online business. Luckily, you no longer have to hire a developer to make a killer landing page. 
I've created this list of the best landing page builders with options ranging from free to premium. Read through to find the best landing page builder for you and your business. 
Here the 14 best landing page builders for business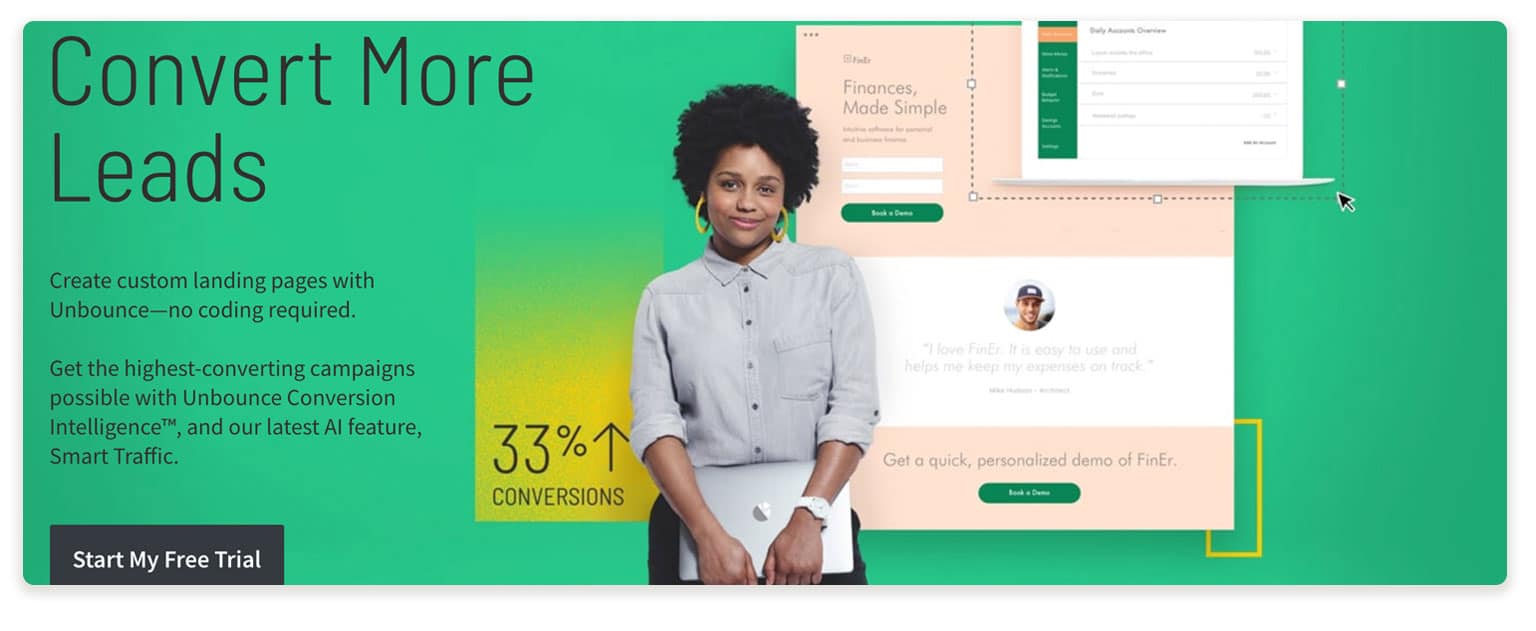 Description: Swinging to the other side of the spectrum we have Unbounce. Unlike Google Sites, this landing page builder is far from free. I would definitely categorize this as a premium option, and you'll get the tool kit to show it. Unbounce specializes in high-converting landing pages, sticky bars, and pop-ups. 
This product also utilizes the ever-popular drag-and-drop design that we see with most landing page builders. They offer a great selection of templates that are customizable. 
Unbounce gives you a lot of freedom in the template design. You can create modules free of restrictions from grids or boxes. If you have a very specific design in mind, you can probably achieve it with this landing page builder. 
You'll also get one of the best selections of images using Unbounce. This landing page builder includes over 800,000 images to choose from for your landing page.  You'll also get full access to all Google fonts. 
As with any proper landing page, your main concern is conversions. Unbounce puts conversions at the forefront with lead generation form builders, opt-in forms, custom thank you emails,  custom form redirects, and gated content. 
Features: 
Drag-and-drop page design

 

100+ templates

 

Clone and edit previous pages

 

Mobile responsiveness

 

Publish to WordPress

 

Fully customizable

 

Conversion tools

 

A/B testing

 
Pricing: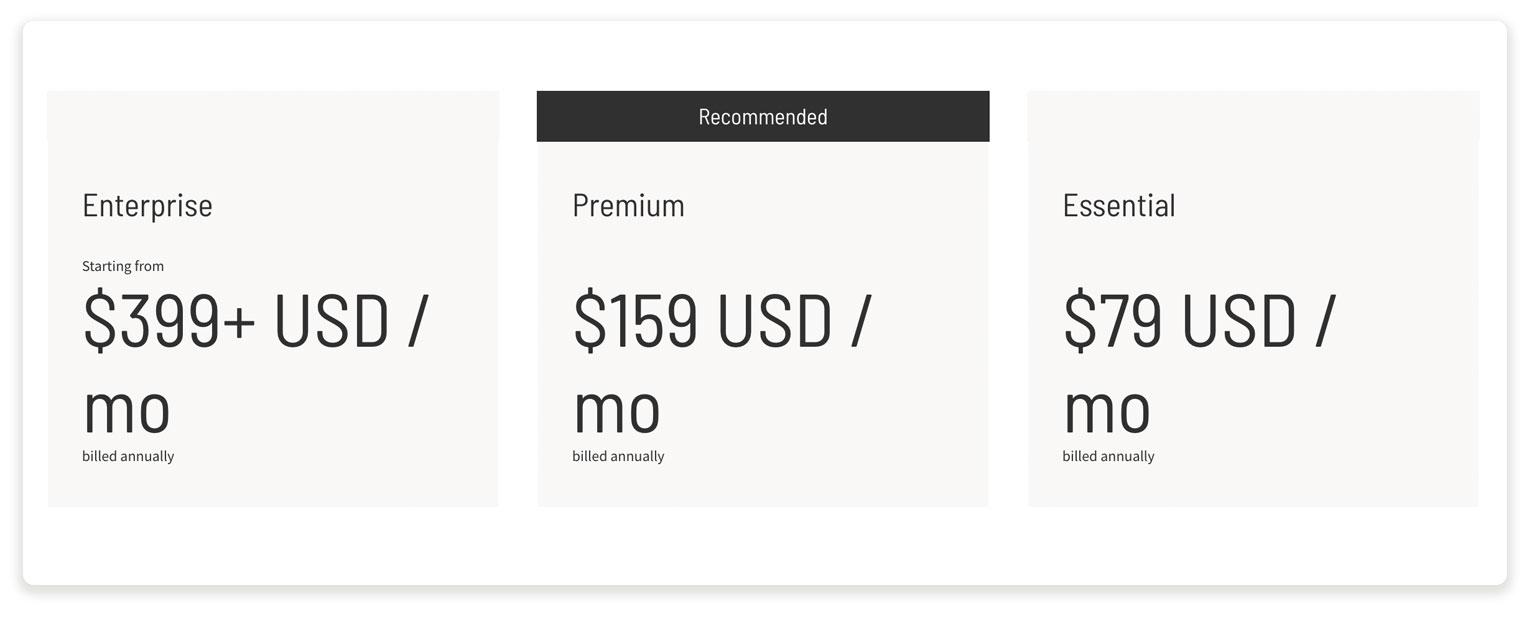 The price point is certainly high when you choose Unbounce, but you'll get everything you need for a fully customized, high converting landing page.  
I would recommend this option to medium to large businesses that require multiple landing pages and a comprehensive feature set.  
The starting pack is $79 per month and it ranges all the way up to $399 per month. For the basic plan, you get up to 75 landing pages so you are getting what you pay for in this case.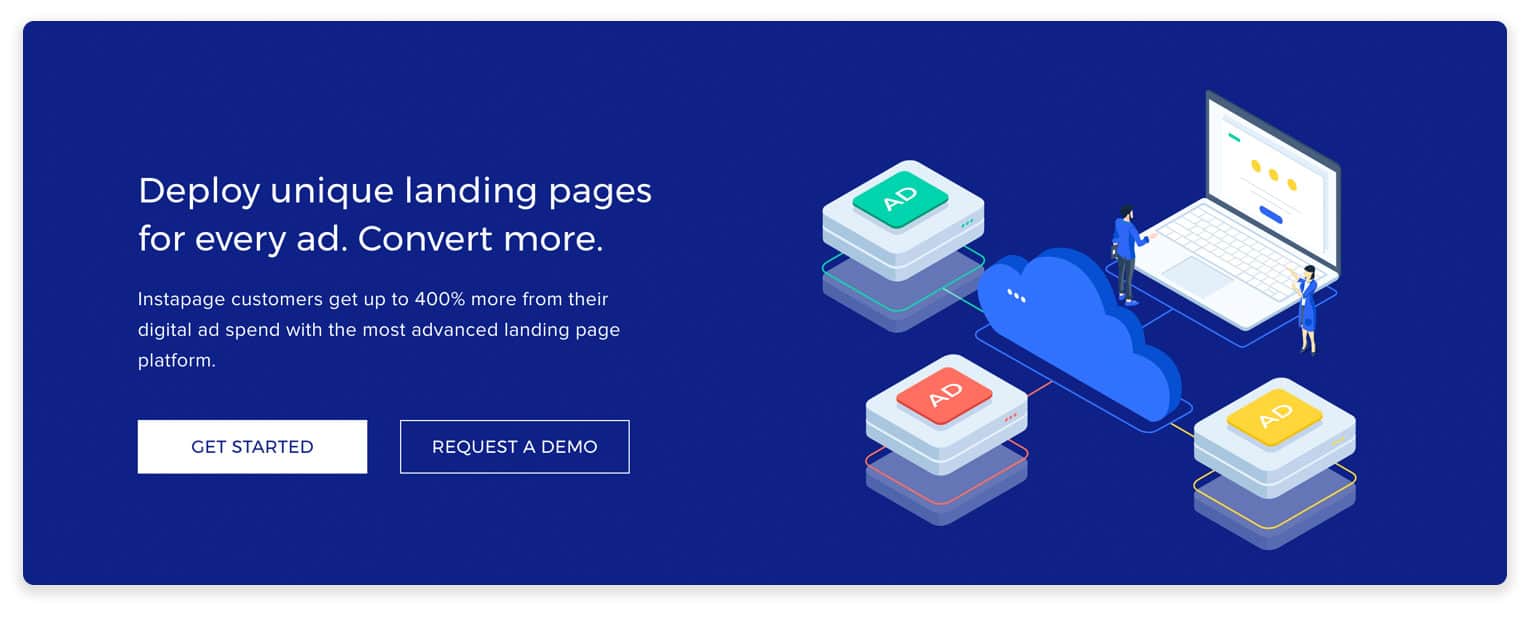 Description: Instapage is another great option for those of you who are searching for a dedicated landing page product. Instapage allows large and small businesses to create a unique landing page for each ad. In their own words: 
"Instapage customers get up to 400% more from their digital ad spend with the most advanced landing page platform." 
This is a pretty bold claim, but it's not far-fetched to imagine this product greatly boosts your conversions. The product gives you the ability to create highly relevant landing pages that are mobile-responsive and personalized to visitors. 
Instapage offers A/B testing, heatmaps, and analytics so you can pinpoint the areas that are doing well and the areas that need improvement. 
Features 
200+ pre-made templates

 

33 million images

 

Image manager

 

Customizable page blocks

 
Pricing: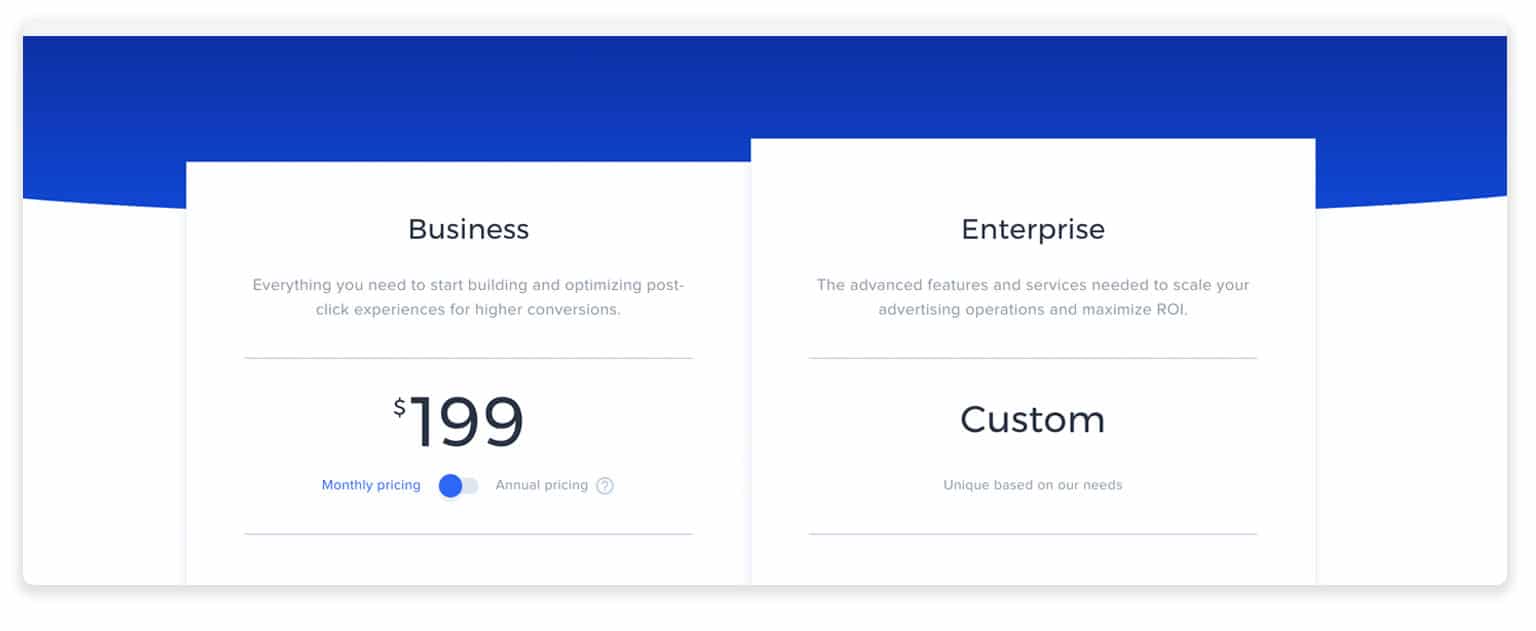 Instapage is one of the pricier options on this list. They offer one plan for small to medium businesses. This plan comes at a single price of $149 per month.  
This is definitely on the higher end of price points, especially considering it doesn't include other products. Despite this, there is some merit to a product that is totally dedicated to landing pages and conversions.  
I would recommend this option to established businesses that have a dedicated landing page budget. They offer custom plans for large enterprises.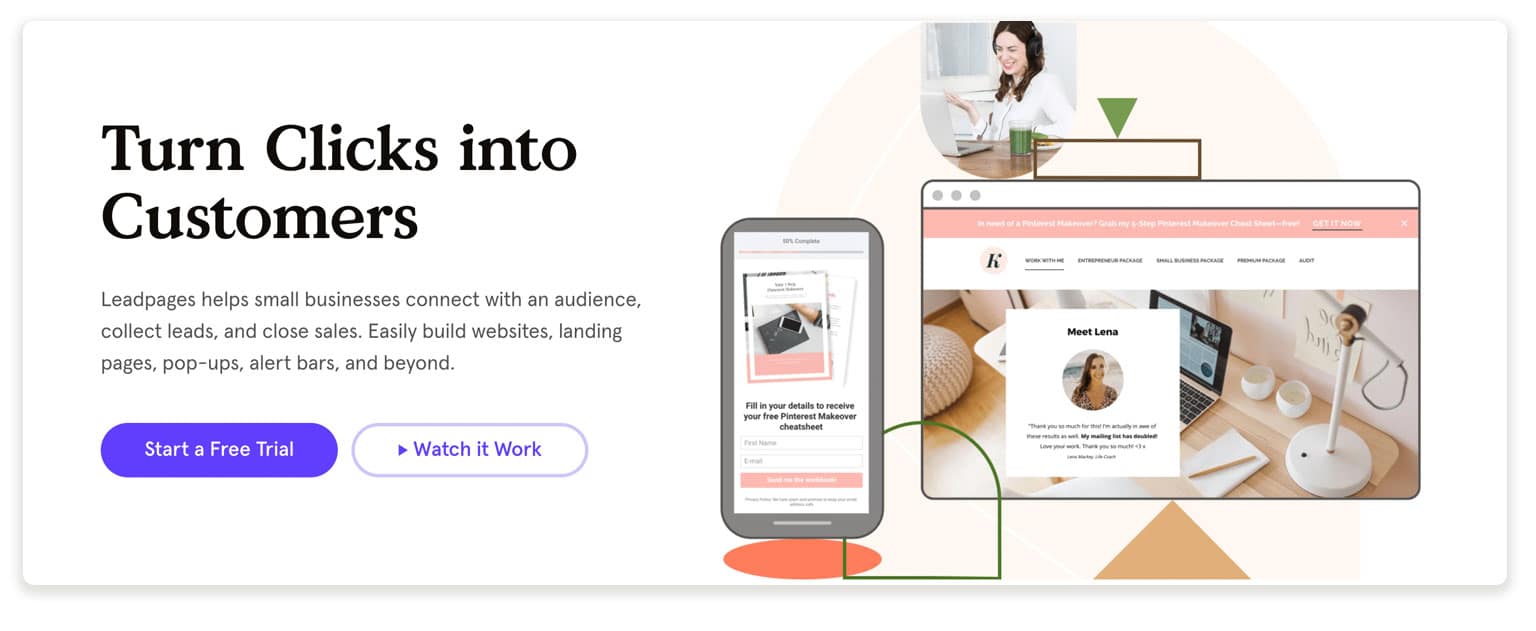 Description: While I recommend Unbounce for larger businesses, Leadpages was made specifically for small businesses. The pricing is doable for new or small businesses and you received a decent set of landing page tools.  
This product was created with people who are not tech-savvy in mind. That means no coding, drag-and-drop editing, and tons of pre-made templates. 
One of the most compelling features of Leadpages is the free consultation landing page tool. This feature helps you gain quality leads with A/B testing and analytics. You can also include payment portals right on the landing page. 
Leadpages has a pretty impressive resume, serving over 40,000 small businesses. I recommend this option to anyone who wants lots of template options and beginner-friendly features.  If you're more advanced and need more customization options, you may be limited by this product. They offer a 14-day free trial for new customers. 
Features: 
Built-in conversion tools

 

Unlimited lead collection

 

Unlimited page publishing

 

High page load times

 

Drag-and-drop page design

 

Mobile responsive

 

A/B tests

 
Pricing: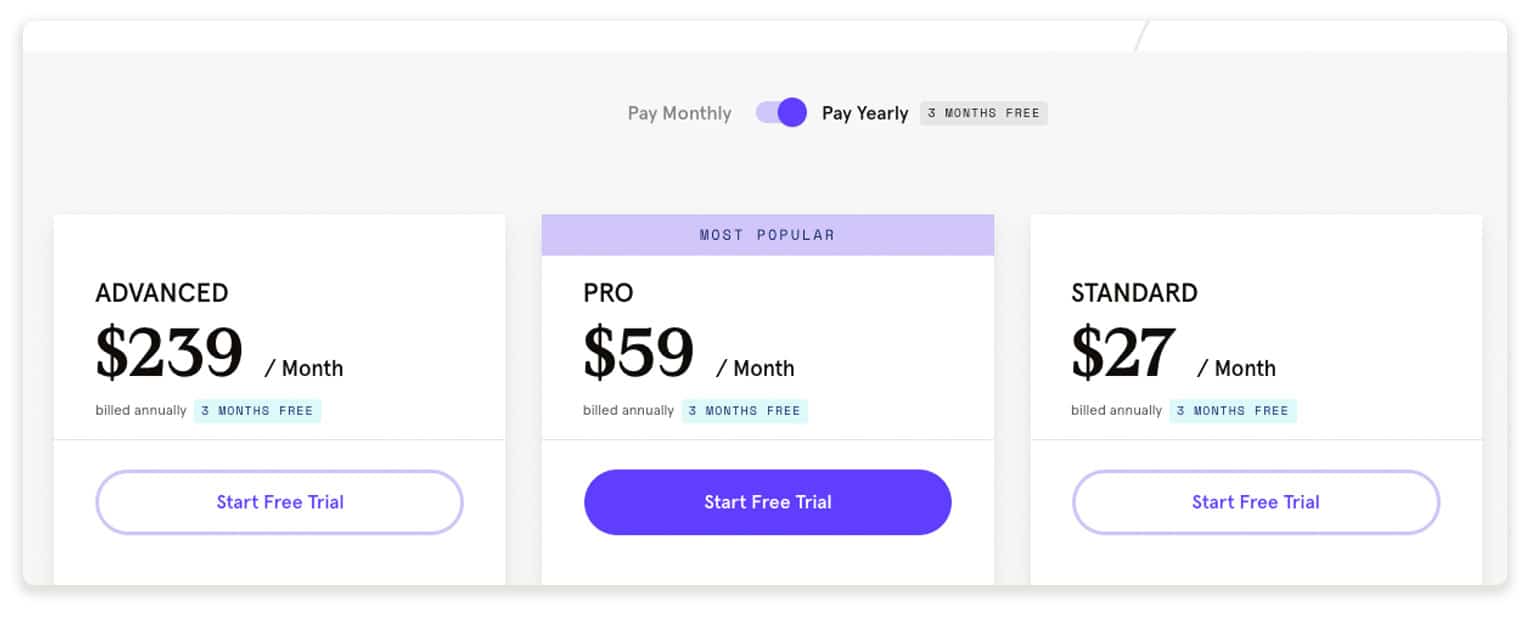 Leadpages has several packages that land right in the middle of the pack in terms of pricing. The starter pack is fairly affordable, at $25 per month for unlimited landing pages.  
The features set is also pretty comprehensive with free hosting and tech support. For larger businesses, it's a little pricier– $199 per month for the top-tier plan.  
Because this product was made specifically for small businesses, I would steer in a different direction if you are a large business with high traffic.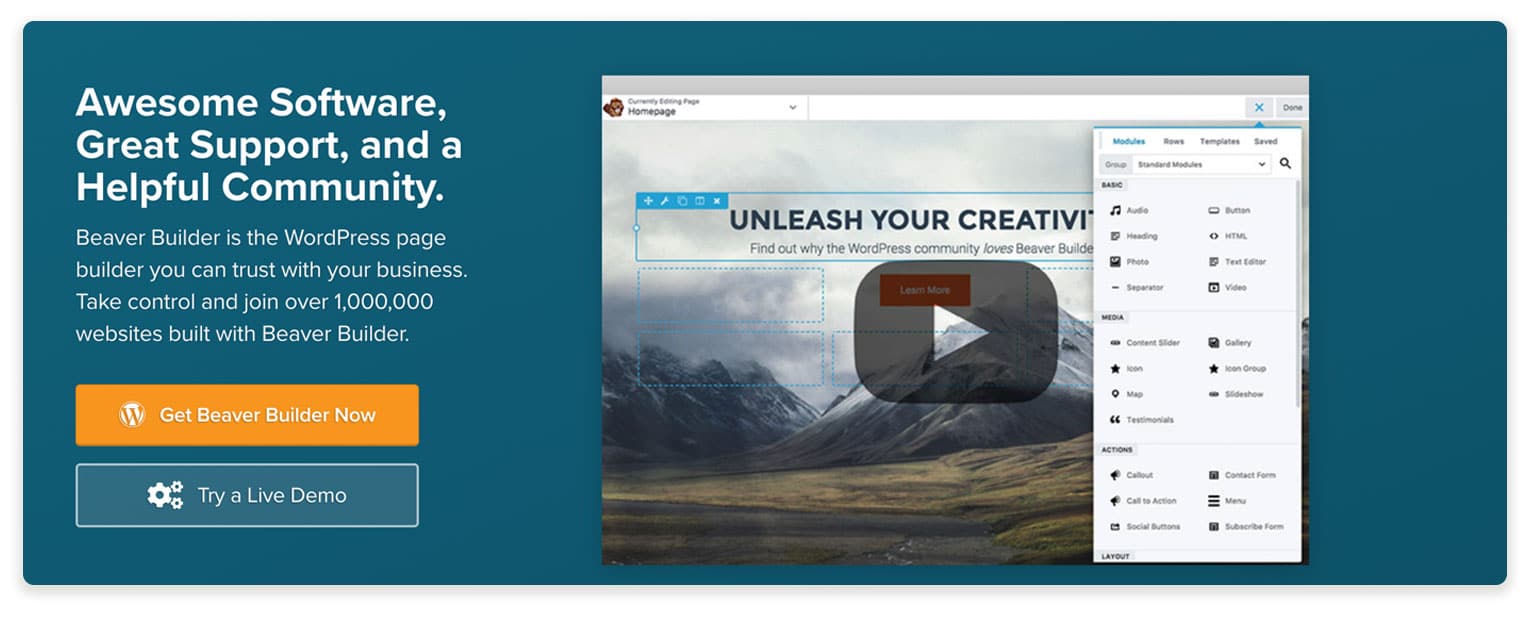 Description: Beaver Builder is an excellent website builder and one of my personal favorites. Beaver Builder offers an awesome feature set including the ability to create custom templates and modules. These features make Beaver Builder not only great for beginners but also for web developers creating sites for clients. 
Beaver Builder has gained a loyal user base by providing an easy to use, drag and drop style website builder. It's offered as a convenient WordPress plugin. 
In regards to building landing pages, Beaver Builder has you covered. They have several pre-made templates to suit any style of business including options specifically for fitness, fashion, law firm, photography, music, and a variety of small businesses. 
Beaver Builder also provides several dedicated articles about building high-converting landing pages. This is a nice touch that shows they really put time and effort into meeting user needs. 
Features: 
Front end editing

 

Mobile responsiveness

 

Ability to translate

 

WooCommerce support

 

Excellent user support

 

Custom post types, modules, and templates

 

Editor mode

 

Developer friendly

 

Shortcode support

 
Pricing: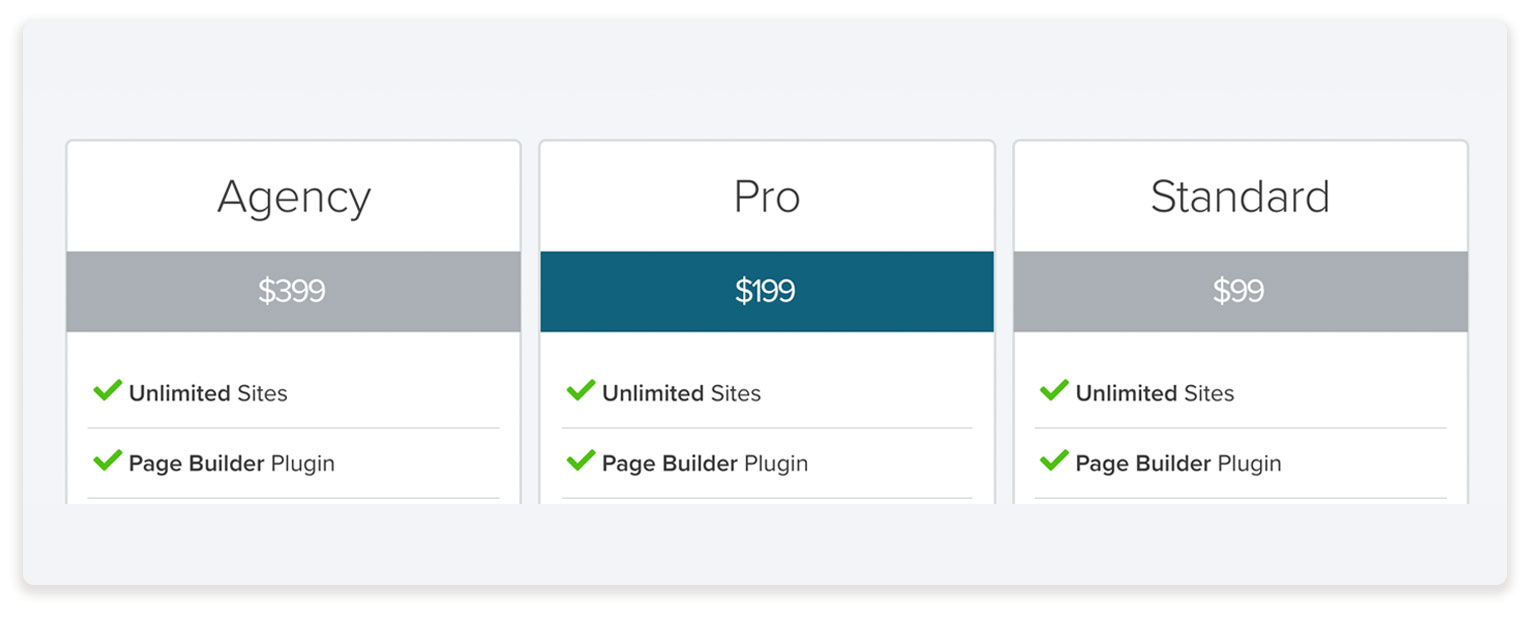 You can find Beaver Builder packages for $99 to $399 per year depending on what you're looking for. Small businesses should be covered by the starter pack, which includes unlimited sites and user support for a full year.  
The top-tier pack is $399 which may sound like a lot but that actually breaks down to about $34 per month. Because Beaver Builder is such a quality product, this a great value for large businesses looking for a landing page builder.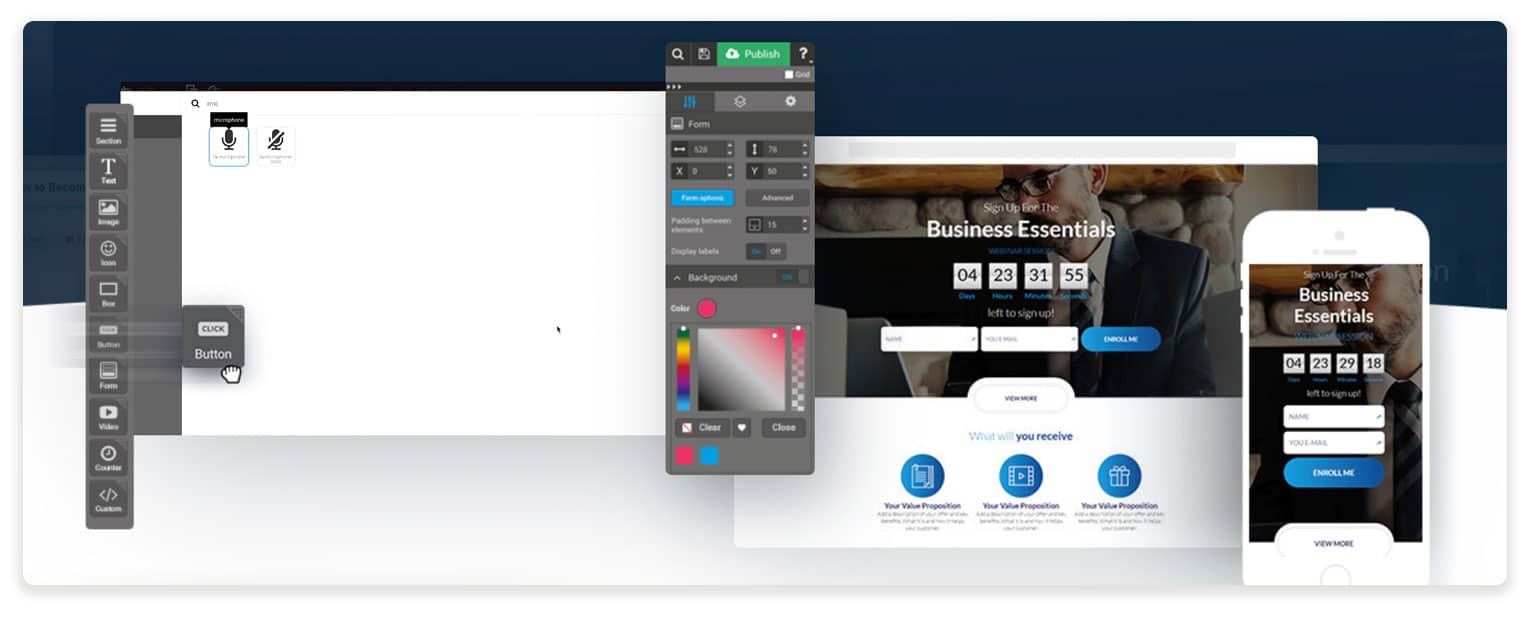 Description: Unlike the two previous products, Landingi is a company that is totally devoted to landing pages. This product is specifically classified as a landing page builder for non-programmers, making it an excellent choice for beginners. 
Because Landingi is totally dedicated to landing pages, they have a pretty good grasp on what it takes to make a high converting landing page.  They provide over 200 templates to users which is an impressive selection. In addition to that, these templates utilize a squeeze page format that encourages visitors to sign up for the email list. 
Now, the starting package starts at $29 per month, which is a relatively good deal.  You'll be reviewing a robust feature set that is exclusively for landing pages. 
Many companies tie in landing pages into their overall package, but with Landingi, it's all about the landing page. That means you'll get a lot more features to help you build an effective landing page. New uses receive a 14-day trial.  
Features: 
Drag and drop editor

 

200+ pre-made templates

 

Page preview

 

Image library

 

Icon library

 

Extensive font selection

 

User collaboration

 

Thank you pages

 
Pricing: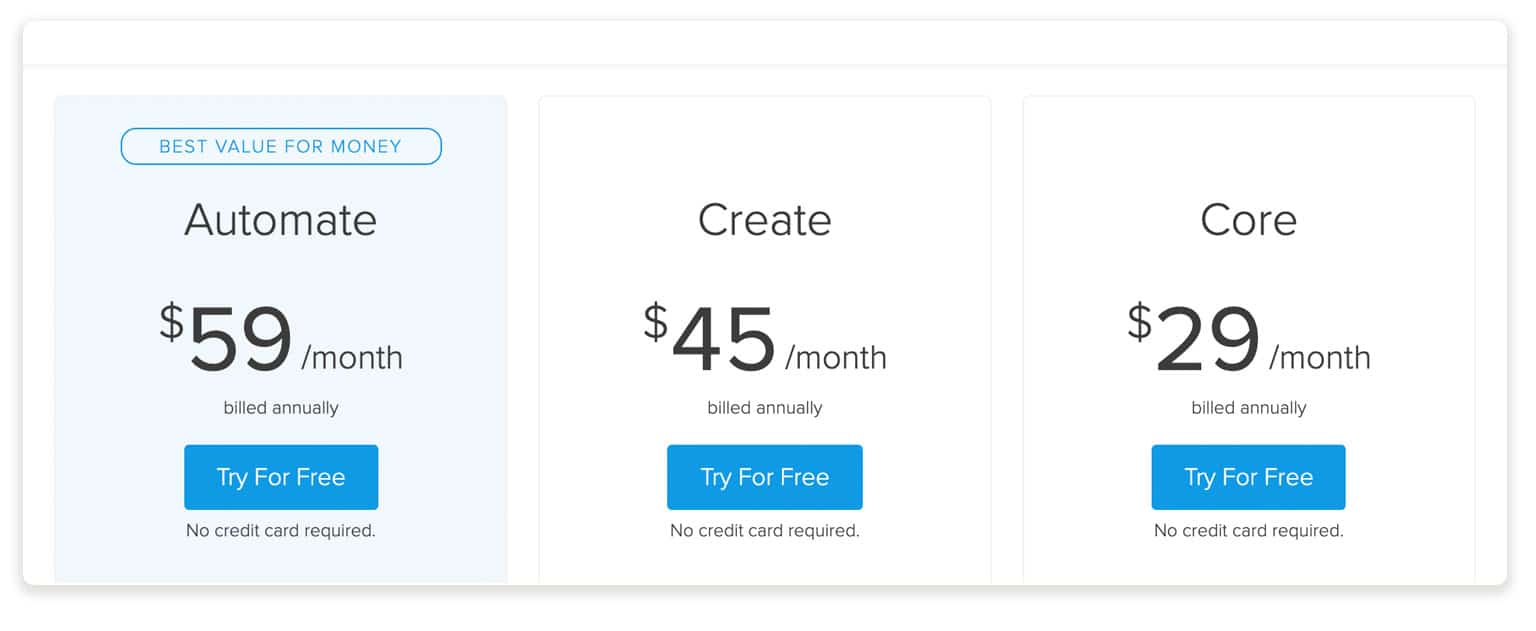 Landingi offers several packages starting at $29 per month. The starting pack is actually a great deal since it supports up to 100,000 visitors per month.  
Traffic is something that every business should consider when choosing a landing page builder. What may seem like a good deal at first, may end up being very expensive as your traffic grows.  
In relation to other products that get increasingly expensive as your visitors grow, Landingi is a good option for quickly growing sites.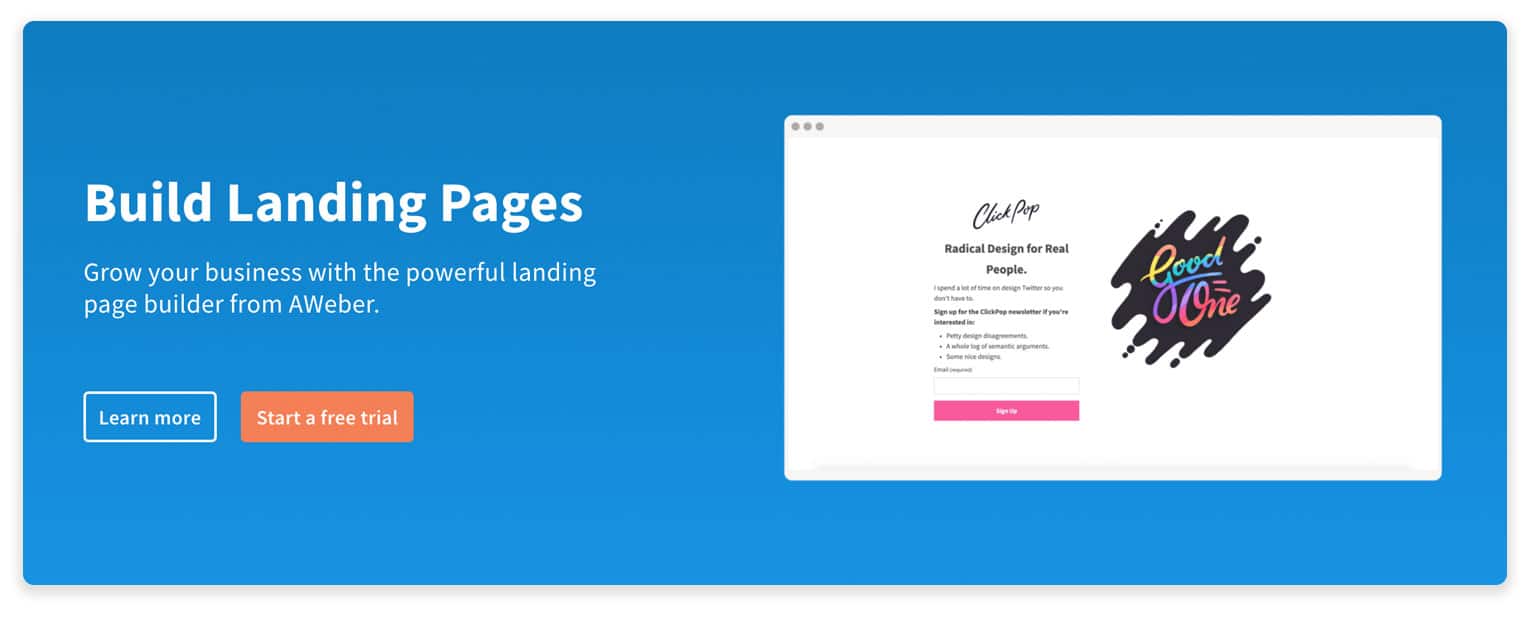 Description: Aweber is mainly known for its popular email marketing services, but they offer a great landing page builder as well. If you're already using Aweber products, it may be a smart idea to utilize their landing page builder. The website builder was created so that users have no need for coding or outside developers. 
The Aweber landing page builder was really designed to work hand in hand with their email marketing services. Users who already use the email marketing software will be able to store images in the Awebergallery.  
This is super handy for those of you who need to use the same image on both the landing page and your email campaigns. 
The landing page is integrated into your email campaign so that anyone who completes the landing page is automatically added to your Aweber email list. 
Anyone who uses the Aweber email marketing services will have free access to the page builder. They offer a free trial for new users. 
Features 
Integrated sign up forms

 

Pre-stocked image library

 

Video support

 

Automated tagging

 

Tracks traffic using Google analytics

 
Pricing: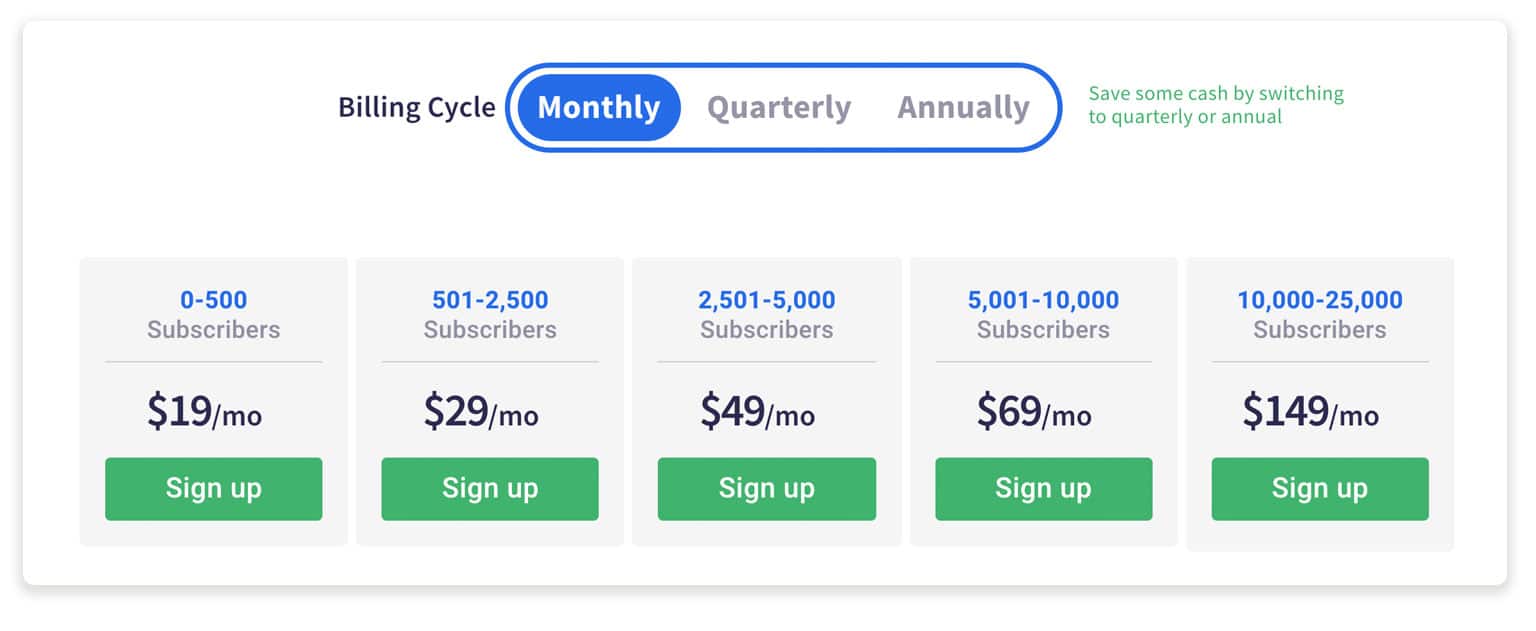 Packages for Aweber range from $19 per month for 500 subscribers to $149 per month for up to 25,000 subscribers. This option is great for both small to large businesses with reasonably priced packages across the board.  
If you're just starting out, this is a great choice because you can purchase an affordable package that includes both email marketing and a landing page builder.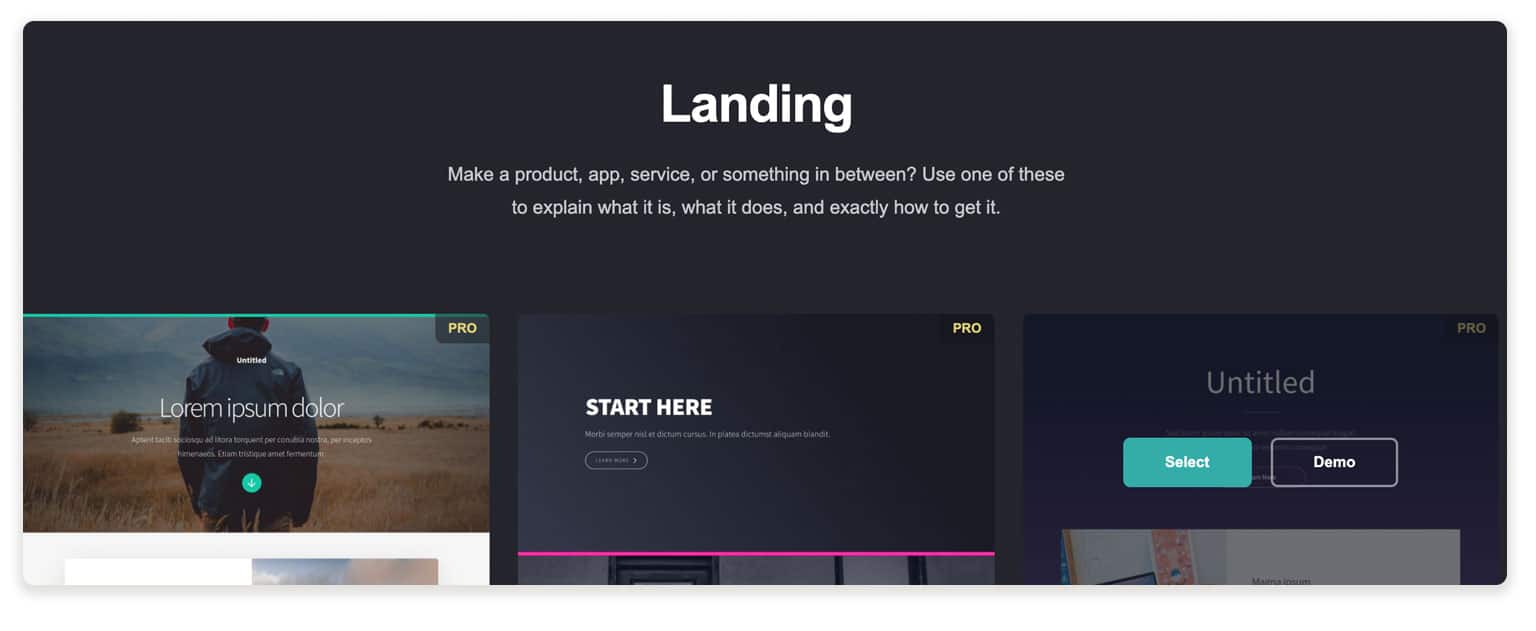 Description: If you're on a strict budget, this is the option for you. Carrd is a single-page builder that is totally free. You can use this product to build single-page websites ranging from landing pages to profiles. A landing page created using Carrd will be fully responsive which means your site will look great on any screen size. 
One of the features that make Carrd stand out is the modern, pre-made templates. Too often, site builders offer a huge selection of templates but fail to provide sleek, beautiful options. Carrd offers a small selection of templates, just a few dozen, but it's focused on excellent designs. 
Now, because it's a free product, you might find it to be limited in some areas. For example, Carrd does not offer eCommerce integration. If your goal is to create a storefront, this is not a good option. However, if you just want to create a quick, free, and beautiful landing page, Carrd has a lot to offer. 
Carrd does have a paid option if you're looking to upgrade your feature set. The paid plan is extremely affordable so it's still great for a tight budget. 
Features: 
(Free) 
Dozens of templates

 

Fully responsive

 

Build up to three sites

 
(Paid) 
Custom domains

 

Contact forms

 

Google Analytics

 

Additional sites

 
Pricing: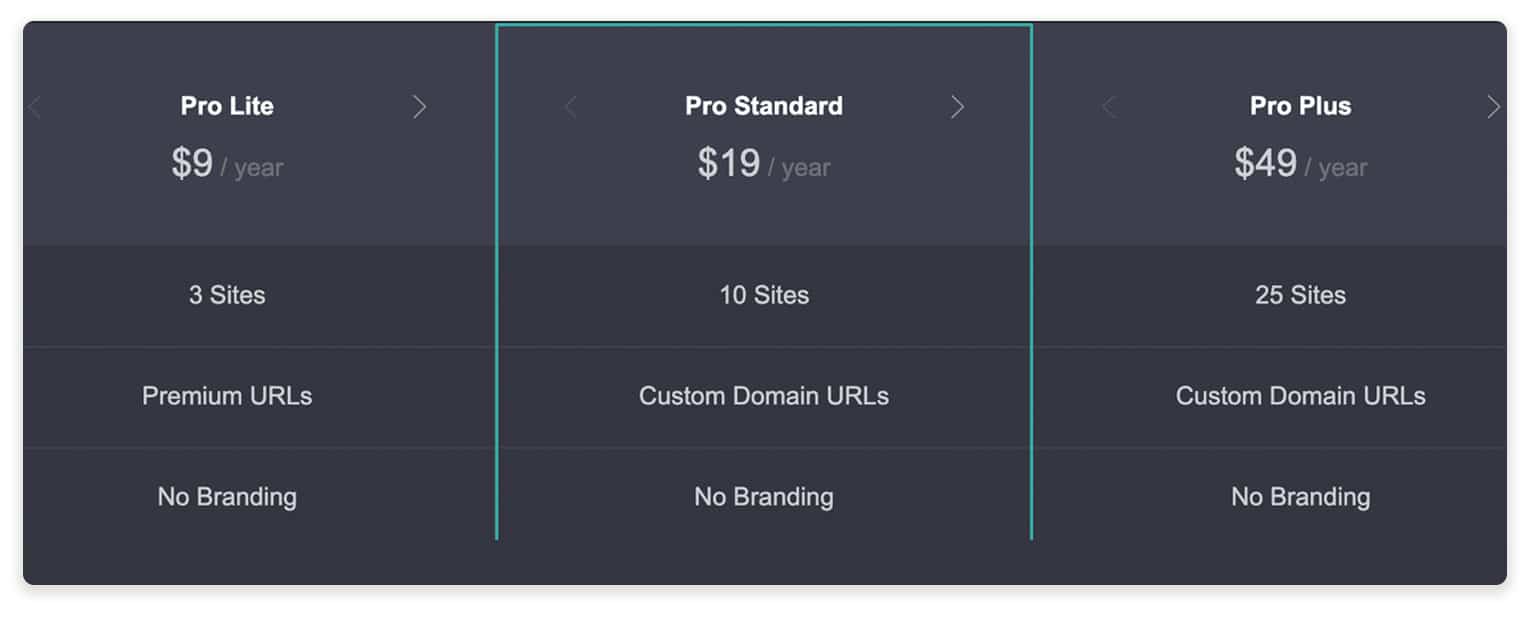 Go-Pro Plan starts at $19 per year and includes a 7-day free trial. Carrd is a good starting point for new businesses that have limited resources.  
You can access lots of quality templates for free. If you compare this product to other free options like Google Sites, you may find that the templates are sleeker and more modern.  
If you absolutely love the product, you can upgrade to a paid plan and receive premium tools.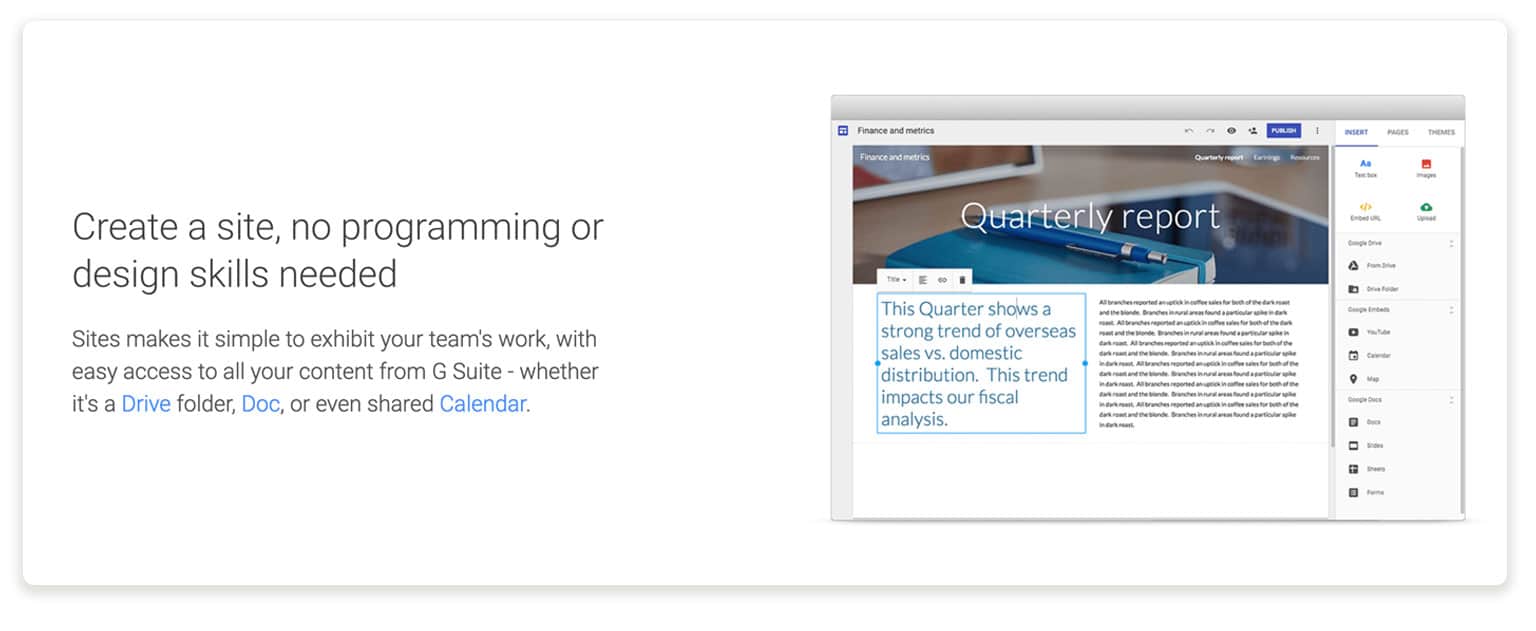 Description: Google Sites is an extremely simple, free single-page site builder. Just like Google Docs, and Google Sheets, you can use Google Sites with your Google account. Similar to Carrd, Google Sites is a good option for building a free, single-page site. Unlike the other options on this list, the pre-made templates are extremely limited. 
Google Sites offers many of the same features that you'll see on any standard site builder. You can add text, images, videos to each template. You can also change the color of the background and add sections.  
You can choose from a small selection of premade templates or create a page from scratch. Google Sites is also a drag-and-drop builder.  
One cool feature of Google Sites is that you can include elements from Google Maps, Sheets, Forms, Charts, Calendar, and Docs. If you use Google for all of your organizational needs, this seamless integration is super convenient. 
Overall, Google Sites may be the most limited option on this list, but its simplicity and convenience make it worth checking out. 
Features: 
Drag-and-drop page design

 

Integration with all Google tools

 

Add gadgets such as Paypal button

 

Pre-made layouts

 

Pre-made templates

 

Google image search

 
Pricing: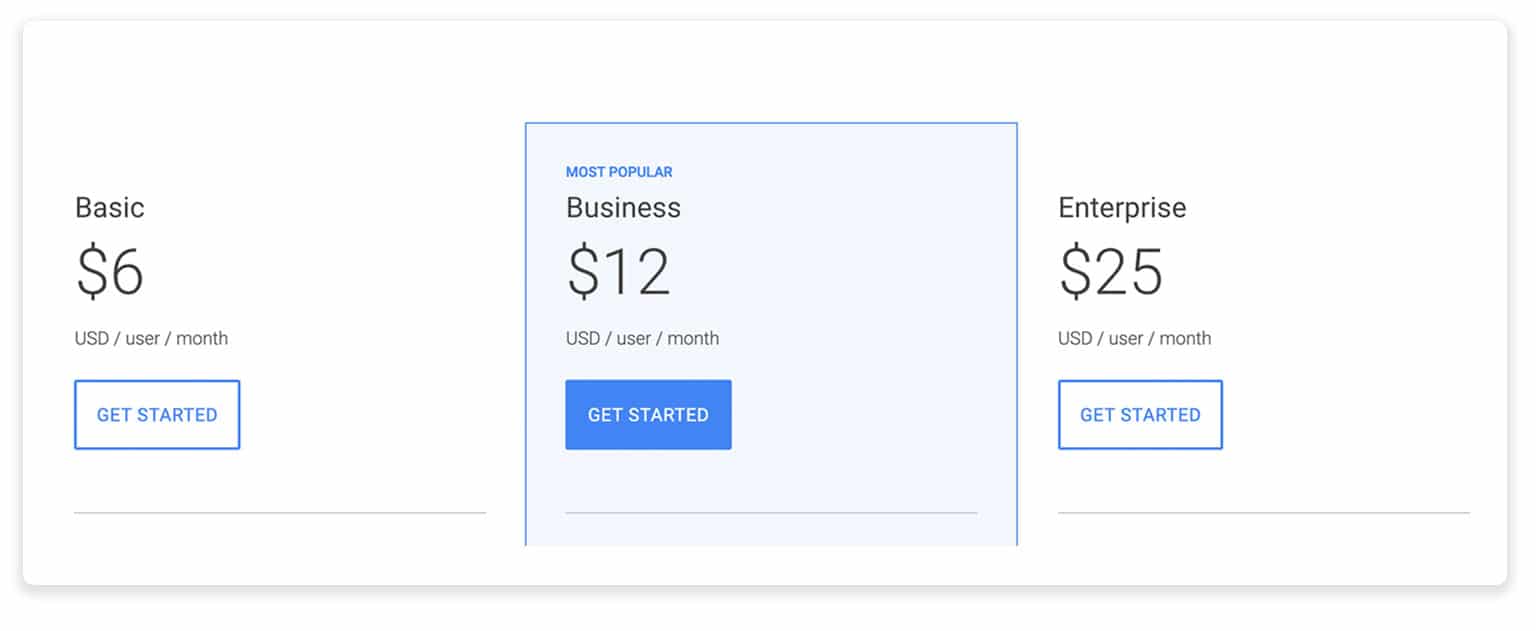 Google Sites is free but there is an option to purchase G-Suites which includes an upgraded version of Google Sites. You can try the paid version using the 14-day free trial for new users.  
Paid plans range from $6 to $25 per month which is an incredible value. This is a good option for large enterprises that don't want to spend a fortune on landing pages.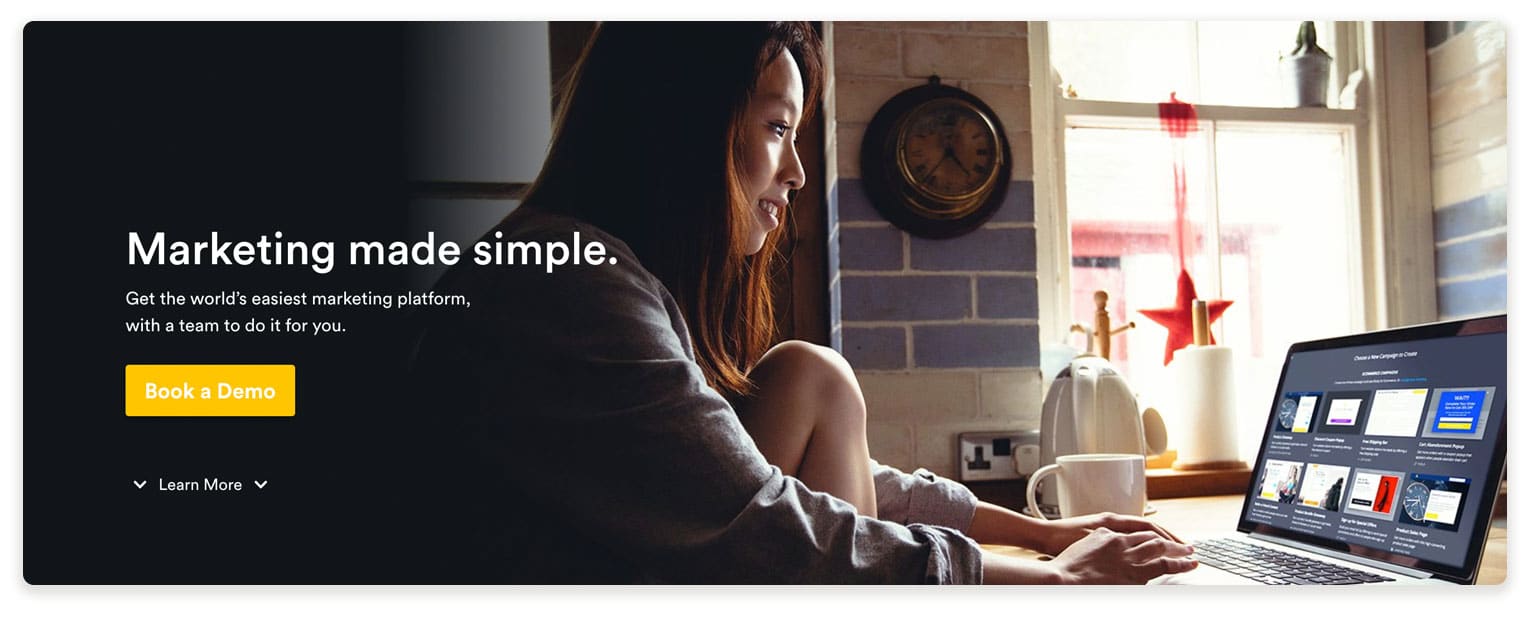 Description: Wishpond offers an all-inclusive suite of products including a landing page builder, pop-ups, email campaigns, and marketing automation. Rather than just providing customers with a landing page builder, you'll get everything you need to build your landing page, and create a successful marketing strategy. 
Wishpond takes it a step further by giving you a landing page tool that allows you to accurately follow up with leads. You can earn valuable customer information by requiring an email address, name, and interests whenever somebody signs up. 
Wishpond sticks to the drag-and-drop editing style which eliminates the need for a web developer. You can publish your landing page on WordPress and Facebook as well as your own website. 
You can also utilize the pop-up tools to create a better converting landing page. The pop-up land page tool gives you the option to include welcome pop-ups, slide-in pop-ups, and opt-in bars. The A/B test feature helps to further optimize your page according to user needs. 
Features: 
Drag-and-drop editor

 

Landing page templates

 

Add photos/videos

 
Mobile-responsive

 

Custom fonts

 

Add custom HTML

 

Custom CSS/JavaScript

 

Custom CSS classes

 
Pricing: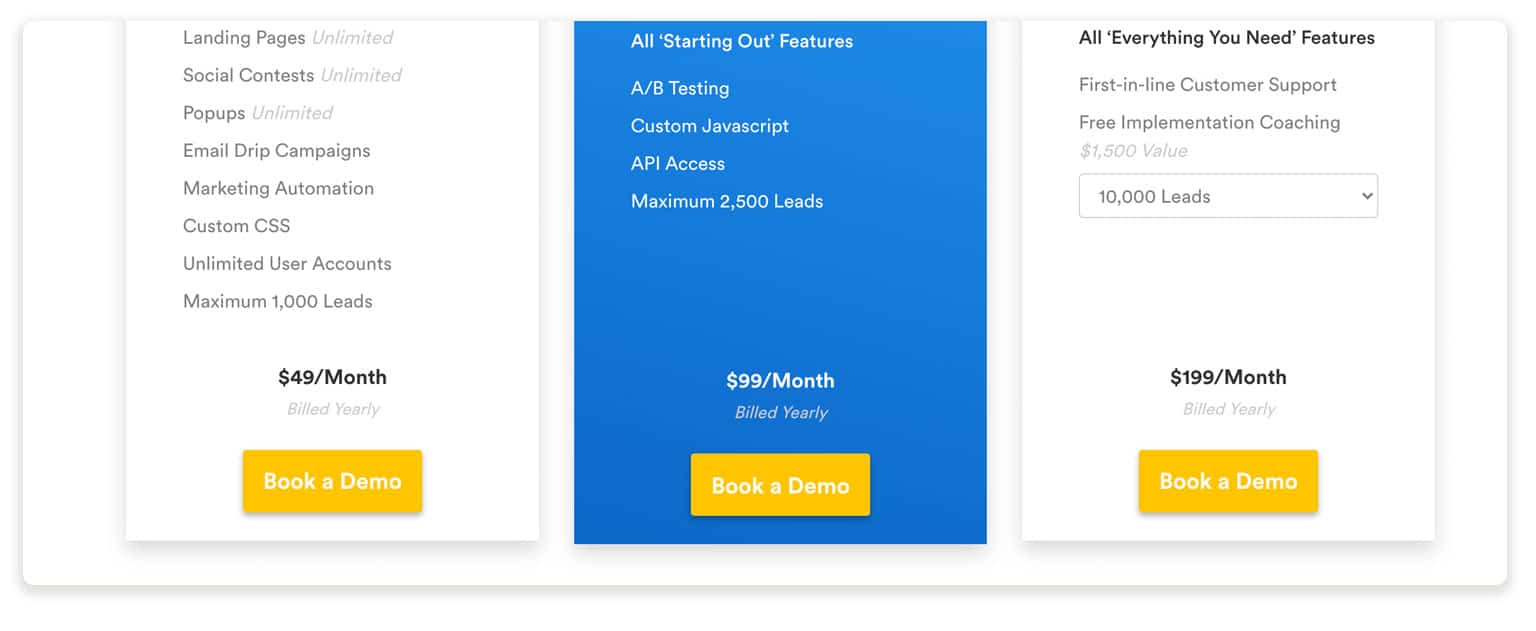 Wishpond is certainly not as pricey as an option like Unbounce, but it's still at a relatively high price point. It's a good middle ground for those of you who need extensive options for your landing page.  
The starting plan is $49 a month and you get unlimited landing pages. So, it's not super cheap, but it's not outrageously expensive.  
You also receive email drip campaigns and marketing automation in this package. After that, the packages climb to $99 and $199 per month, respectively.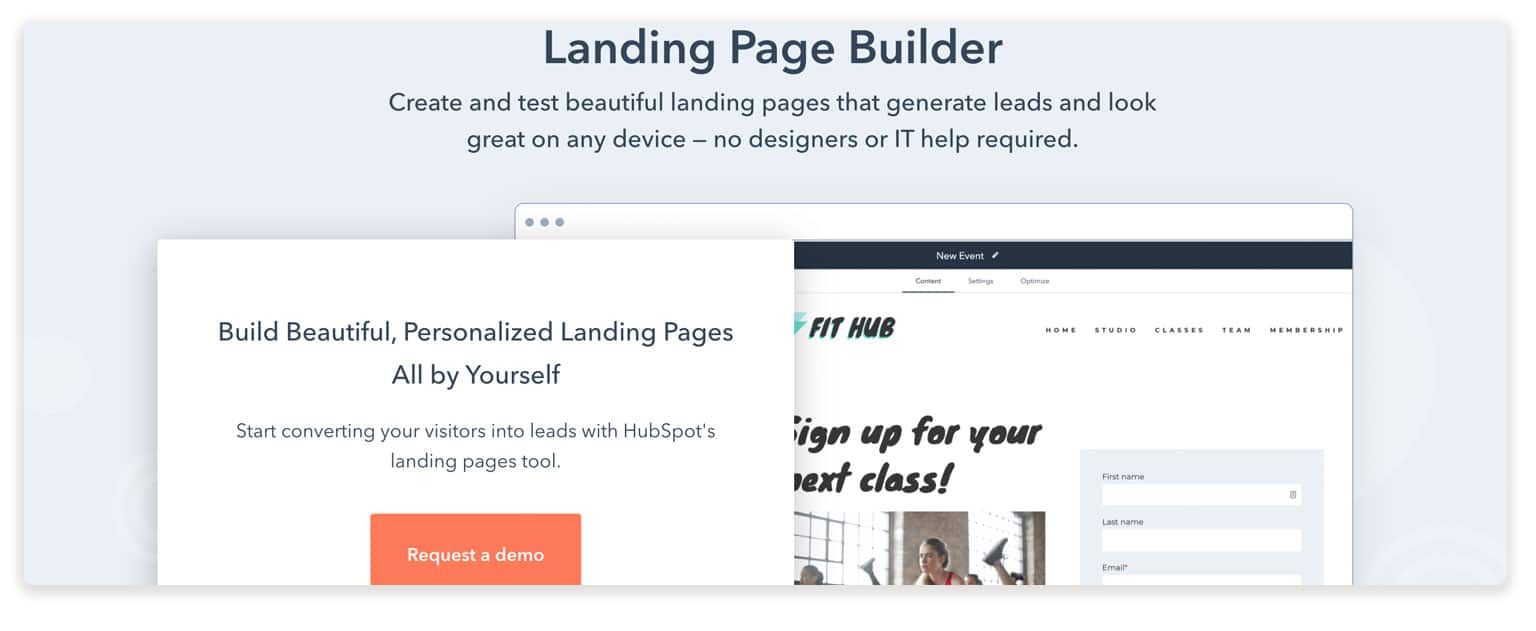 Description:  Hubspot is a company that provides several products dedicated to inbound marketing and business. Their extensive background in inbound marketing campaigns translates nicely to the landing page builder. They've implemented several tools to help capture leads and make conversions. 
One of the best features you'll find with this landing page builder is the ability to personalize for each visitor. This is achieved by taking into account visitor location, lifecycle stage, device, and any information they may have provided. 
The centralized Hubspot dashboard will provide valuable information about the success of your landing pages. You can use A/B testing to test up to five variations of your landing page to find the most efficient version. You can test every component of the page including images, headlines, and forms. 
Overall, Hubspot provides an easy to use, landing page tool. I will note, that this is by far the most expensive option on this list. I would recommend this option to more established businesses that have experience with landing pages and landing page builders.  
Features: 
Mobile optimized landing page templates

 

Drag-and-Drop landing page editor

 

Custom templates and modules

 
Personalized content

 

Landing page analytics

 
Pricing: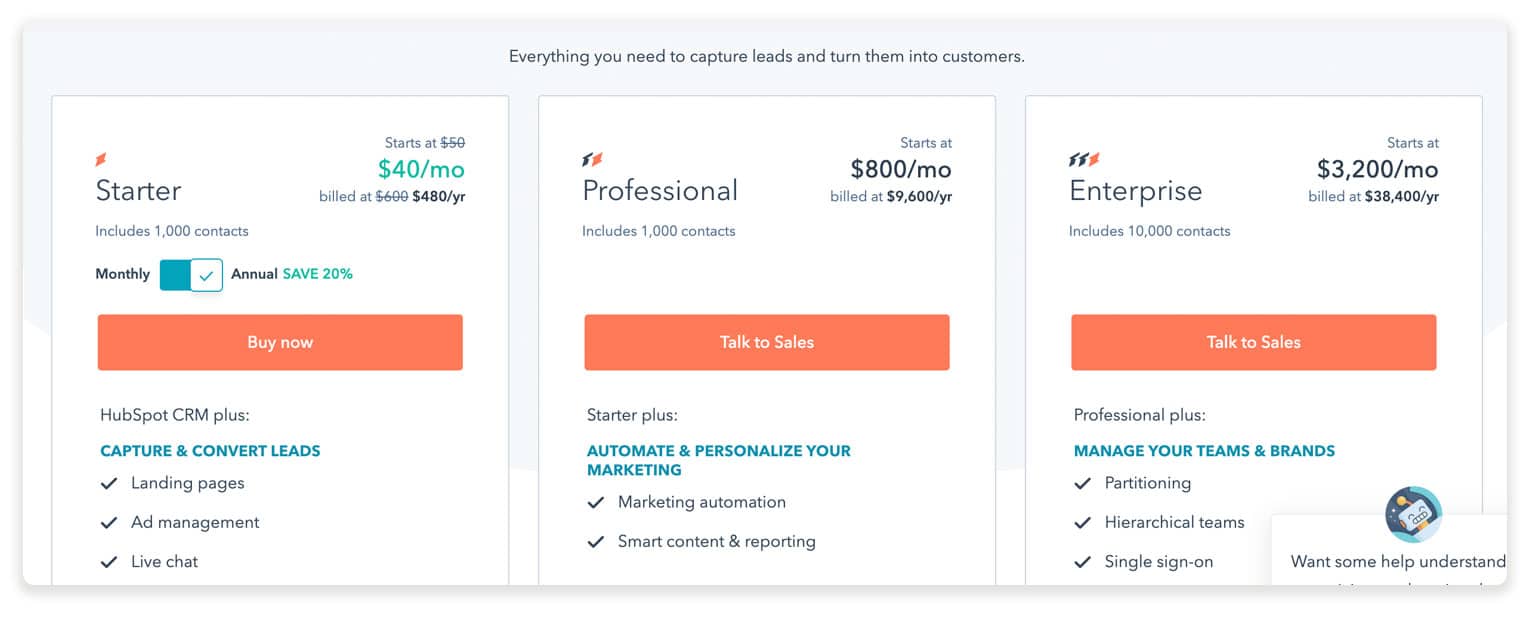 Okay, when it comes to Hubspot there's no avoiding it– this is one expensive product. The starter pack at a decent price point, just $40 per month, but after that, the price really skyrockets. 
The reason for this is that you're not just purchasing a landing page product. The second-tier package is a whopping $800 per month and contains several products including marketing automation, SEO tools, and analytics.  
If you're strictly looking for a landing page-builder I would stick to the starter pack. If you're a large business, get ready to take hit to your wallet. At $3200 per month, this is the definition of a premium product.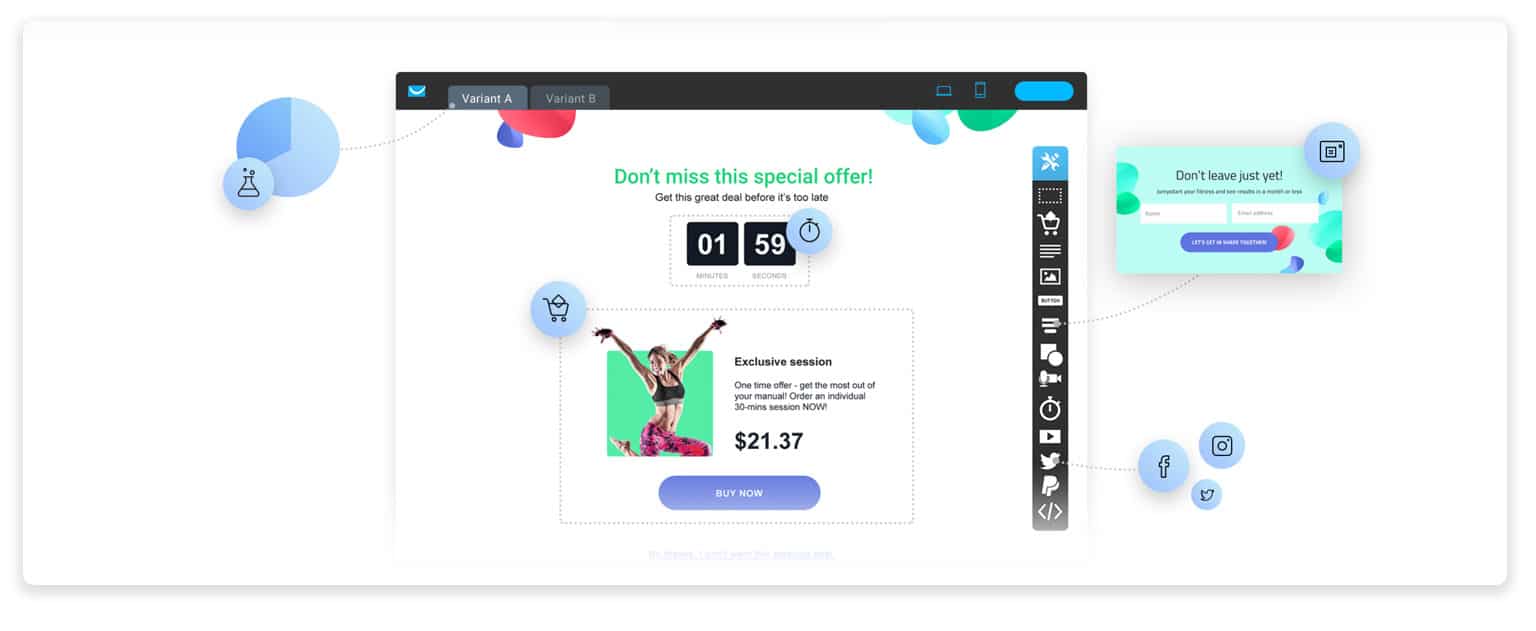 Description: Getresponse is going to be one of the best landing page builders for those of you on a budget. The basic starter pack is extremely affordable and includes unlimited landing pages. You'll get a selection of useful tools to create marketing campaigns making this the best-valued package on the list. 
The landing page creator uses drag and drop design, mobile-responsive templates, a comprehensive image library, and A/B testing. Getresponse also gives you the option to incorporate e-commerce right on your landing page. 
This landing page builder offers several tools to help you capture leads. The countdown timer feature is a bold but surprisingly effective tool that can increase your conversions. There's also a pop-up tool as well as forms to further target the audience and increase conversions. 
Features: 
E-commerce integration

 

Promote webinars

 

Drag-and-drop builder

 

Mobile responsive templates

 

A/B testing

 
Pop-ups and forms

 

Countdown timer

 
Pricing: 
After some very expensive options, Getresponse is a breath of fresh air. At just $15 per month for the basic plan, you get unlimited landing pages, sales funnels and email marketing.  
For small businesses, this is probably the option that gets the most bang for your buck. It's also great for medium and large businesses with plans for $49 and $99 per month both containing extensive features.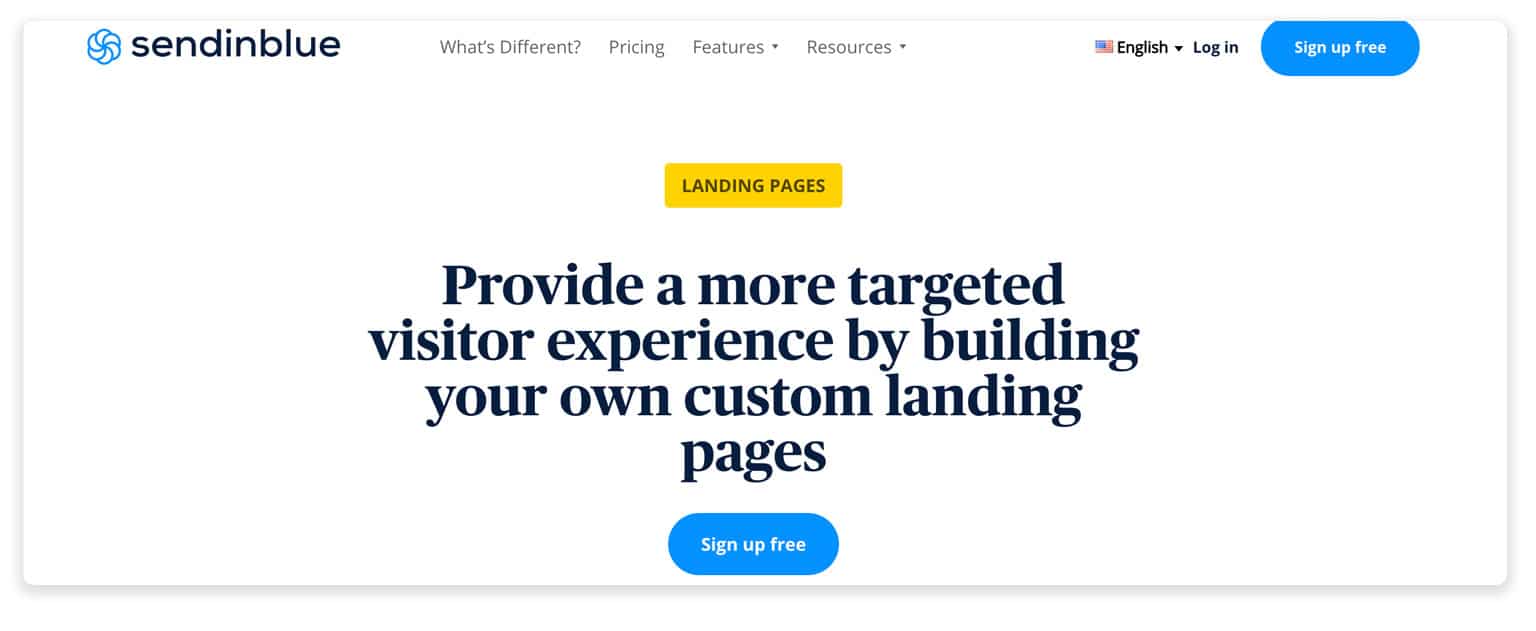 Description: SendinBlue is a full marketing solution that includes a landing page builder.  While they do offer a free plan that's great for email marketing, you'll have to upgrade to get the landing page feature. 
The SendinBlue landing page builder uses drag and drop editing so that you can create custom landing pages to fit your brand. You can also choose from a selection of premade templates. 
What's really cool about this product is that you can create follow up pages for smooth customer experience. Rather than just crafting a landing page, you can create thank you and confirmation pages for a more polished site. 
They do offer a free trial for new uses. I highly suggest that you take advantage of the free trial to see if it's the right fit for your business. 
Features 
Premade and custom templates

 

Drag and drop design

 

Linked to SendinBlue account

 

Follow up pages

 
Pricing: 
Since SendinBlue is primarily an email marketing product, you'll have to purchase the premium plan to access the landing page product.  
The great news is that you also get a whole host of marketing products included in this package all for the price of $66 per month.  
If you want a high-quality marketing product in addition to a landing page builder, check out this popular product.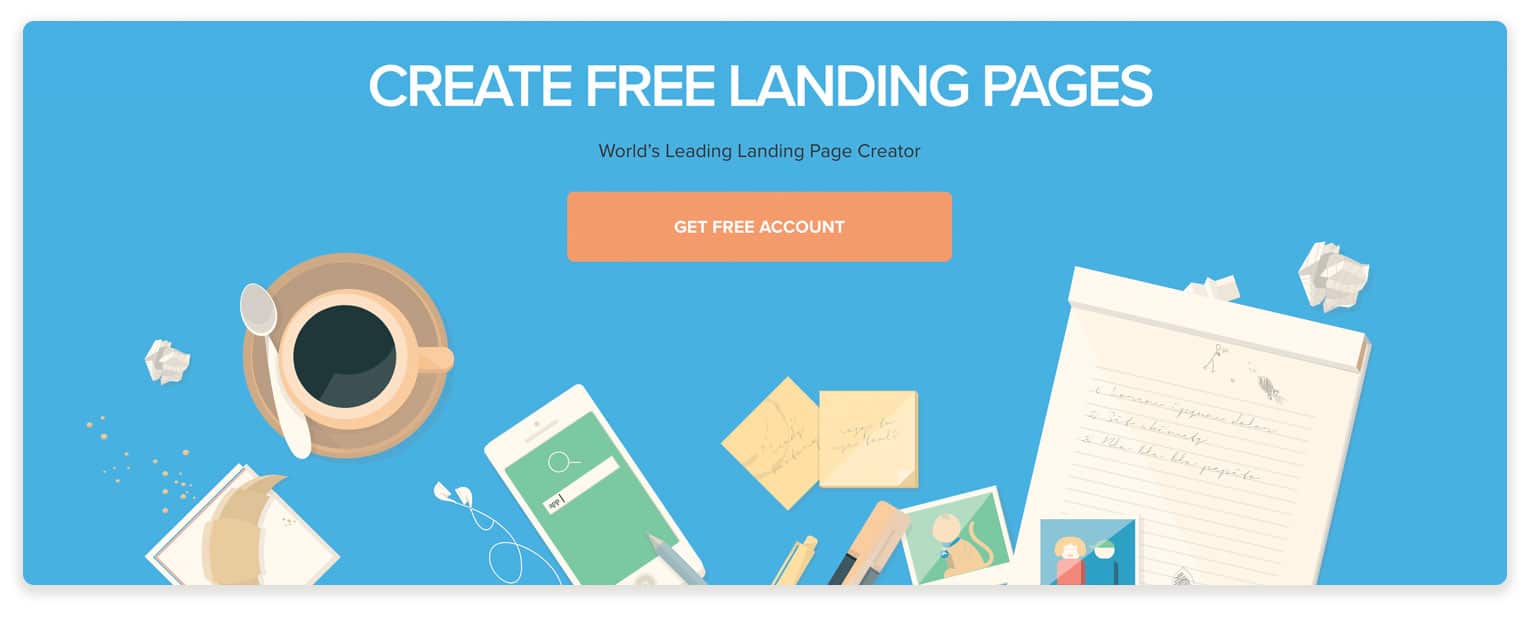 Description: Lander is a comprehensive landing page builder with an excellent feature set. Lander is also a great option for users who are on a tight budget. 
I will say, however, that this product is a bit trickier to use if you're a beginner. Don't let that discourage you though. If you put in some time to learn the in's and out's of the product, you'll be just fine. 
If you're concerned with this aspect, I recommend trying the free trial that they offer to new users. 
The landing page builder is super easy to use and uses the drag and drop style that has been universally adopted. You'll also get A/B testing, dynamic text, Facebook integration, and beautiful templates. 
I would say this is the best landing page builder for users with some prior experience or anyone looking for an affordable option. 
Features: 
Analytics tracking

 

Welcome emails

 

Unlimited landing pages

 

Follow up pages

 
Premade templates

 

Google fonts

 

Countdown timer

 

Paypal integration

 
Pricing: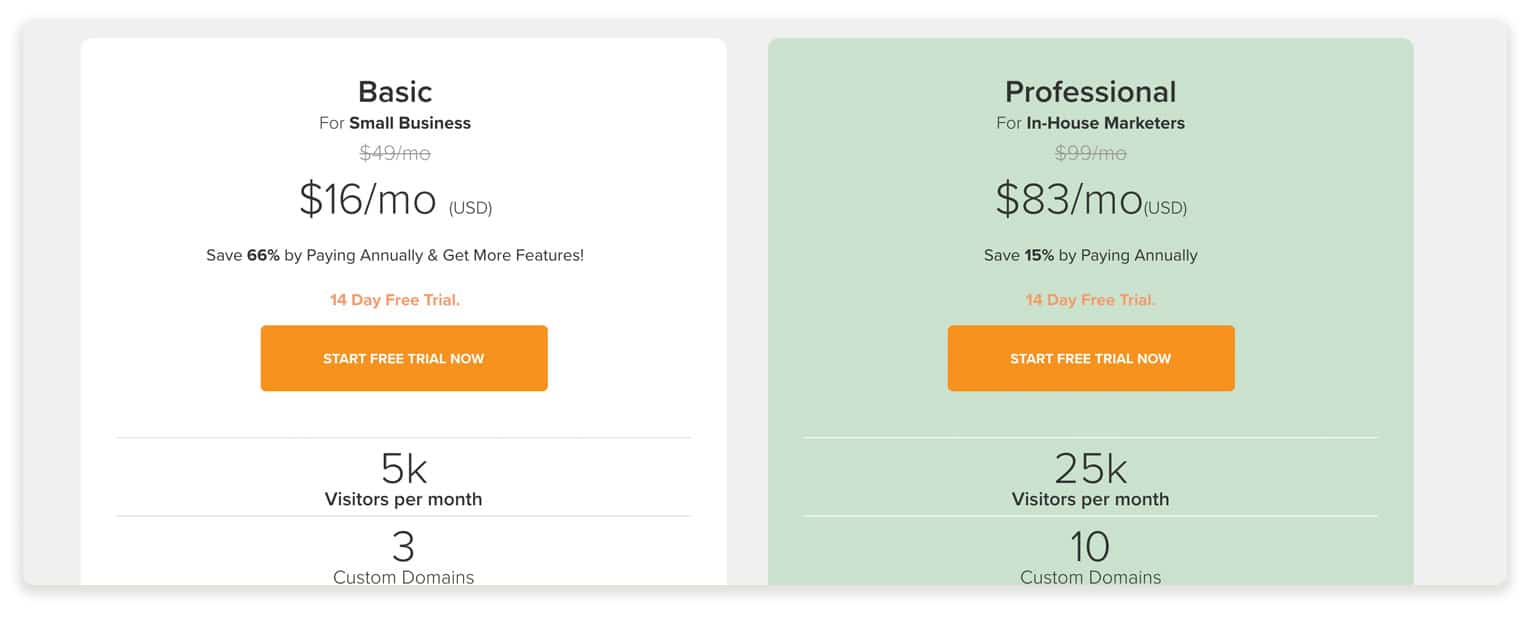 Lander offers two plans for landing page builders ranging from $16 to $83 per month. Now, keep in mind that the starter pack only supports up to 5,000 visitors per month.  
If you expect to grow quickly, I would go with another product. If you are just starting out and expect low traffic levels, this is a good, affordable option.  
The top-level plan is $83 per month and supports up to 25,000 visitors per month.  
Because there are more affordable options out there that support more visitors, I wouldn't recommend this to large businesses.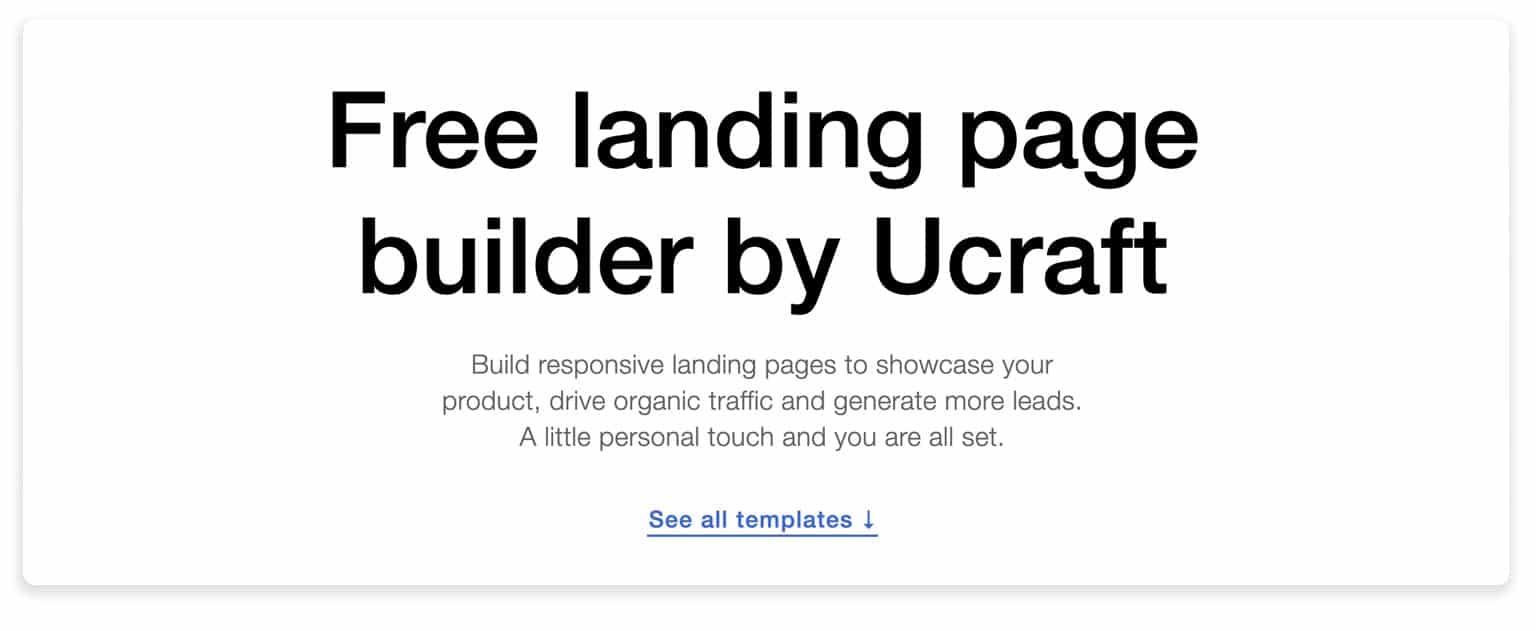 Description: I want to include Ucraft on this list because they offer a totally free landing page builder along with several affordable premium plans. Ucraft has tons of attractive premade templates for businesses in a variety of fields. 
For being a free landing page builder, you'll find a pretty awesome selection of features. The free plan comes with 24/7 user support, Google analytics, and 15 landing pages. This option is a step up from Google sites simply because the template options are far more dynamic. 
Of course, with any free option, there will be some limitations. In particular, the inability to edit photos can be a bit of a pain. Positioning modules can also be tricky at times.  
That being said, it's a great intro to landing pages if you're looking to get started with low overhead. 
Features: 
Large selection of free templates

 

24/7 customer support

 

Free hosting

 

Google analytics

 

Form/subscription elements

 
Pricing: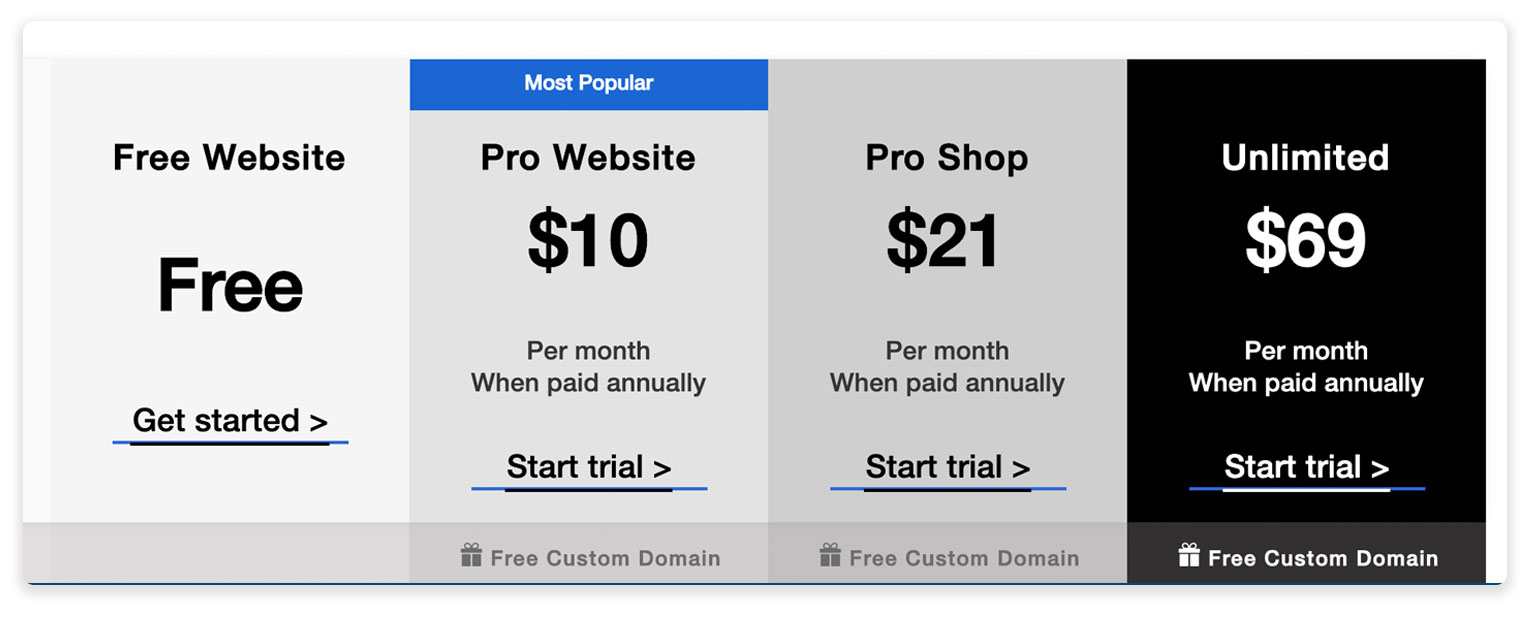 Like I've already mentioned, Ucraft offers a pretty great free option with a decent feature set. I highly recommend this option to anyone who is new to landing page builders, starting a new business or has a tight budget.  
The paid plans range from $10 to $21 which is still super affordable if you want to upgrade to premium features.  
You'll get everything you need to start a landing page and track your success. Google analytics, 24/7 customer support and free hosting are all part of this affordable option.  
Final Thoughts
Whether you're a large enterprise or a small business, there are tons of great options out there.  
If you want to get your feet wet, I would recommend trying one of the free plans that I've outlined above. Google Sites and Ucraft both offer free plans with great features.  
If you're ready to purchase a paid plan, GetResponse offers very affordable plans with extensive tools. Lastly, if you're willing to dedicate a larger budget towards your landing page, an option like Unbouncewill get you top-of-the-line landing page tools.  
As always, make sure to take advantage of the free trials offered by almost all of these options.