Siteground vs WPengine: Which One is Actually Better?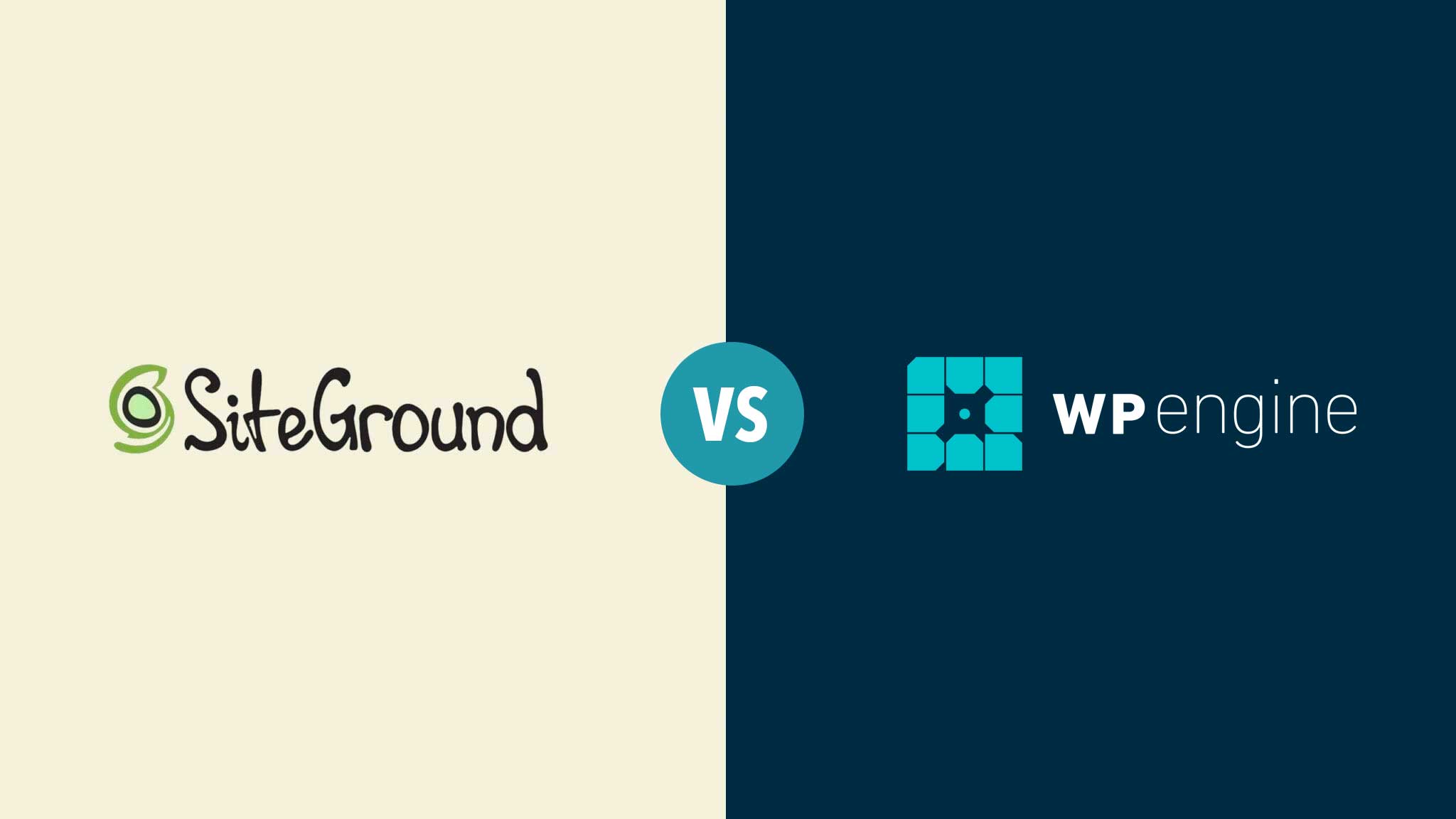 With the number of people starting online businesses and learning how to make money online, a good web hosting service has never been more important. Whether you're starting an online store, a blog or a site for your business, web hosting should be a top priority for you as your business grows. 
If you've heard the term web host thrown around but you're still not sure what it means, let's clear that up right now. A web hosting service essentially gives you the ability to publish your website to the public. Well, there's a little more to than that, I will admit. When it comes to a great web host, there are a variety of factors to consider. 
For starters, your web host should make sure your site is up and running just about 24/7.  It should protect your site from hackers and malware, as well as provide lightning-fast page speed.  On top of all that, it needs to be easy to use and hopefully, not break the bank. 
So, it turns out there's actually quite a bit that goes into a great web host provider. Not to worry, I've done the work and looked into each aspect of two popular web hosts to find out which service is actually better. 
Siteground is a tried and true option that typically dominates the competition with incredible customer service and affordability. WP Engine is another powerhouse with a killer reputation for delivering speed and performance. 
The question is, which web host is better. We're going to take a deep dive into each factor and determine which web host comes out on top. Let's take a look at Siteground vs WPengine and see which one wins this competition. 
What is 
SiteGround
?

Siteground was founded 16 years ago and started off as a small business between college friends. Over the years, Siteground has provided excellent service and has a loyal user base to prove it. This company provides web hosting for over two million domains around the world with four offices located in the US and Europe. They pride themselves on offering fast, personalized service to each and every user. 
Siteground is known for standing out from the competition for several reasons. One of the biggest reasons, in my opinion, is that they create in house solutions to provide top of the line security and extremely fast service. They offer just about any kind of web hosting out there including WordPress, WooCommerce, Cloud, and shared and reseller hosting. 
Although Siteground has gained considerable popularity, it's relatively small compared to other major web hosts. For example, in comparison to a host like GoDaddy with 70 million domains to its name, Siteground is still fairly small. This tends to work in your favor since the company has more resources to provide personalized service to its customers. 
Siteground is a great option for small businesses and entrepreneurs. That's why I consistently recommend this option to my readers who are learning the ins and outs of making money online. As you'll soon find out, Siteground offers fairly affordable packages that are great value for what you receive. 
What is WP Engine?

WPEngine is a highly reputable web hosting company that's known for its impeccable service. This company is on a mission to help people succeed with their online endeavors. It's not all talk either– this company has a whole slew of awards that prove just how great their service is. 
First things first, let's talk about what types of solutions WP Engine provides. WP Engine is primarily a WordPress specific web hosting service. That means the services they provide are exclusive to the WordPress platform. This may not jive with those of you who don't use WordPress. On the other hand, this kind of specialization is absolutely stellar for those of you loyal to the WordPress platform. 
WP Engine has made quite a name for itself in the web hosting world. They host over 500,000 websites making it a truly boutique service in comparison to other popular web hosts. I'll give you fair warning now– WP Engine is good, and they know it. They charge a pretty penny for their web hosting services. 
Generally, I would recommend this option to those of you who are looking for a premium option and expect fast growth. 
Both Siteground and WP Engine are highly capable web hosts. The question is, which one is right for your business. Before we get into the head to head comparisons, let's talk about the types of web hosting services available to you. 
What type of web hosting is best for you?
Before we get too deep into this article, I want to talk about the type of service each web host offers. This will help you to better understand what each company provides and which option is best for you. 
Siteground Web Hosting
Shared Web Hosting: Siteground offers shared hosting which basically means you'll share a server with other sites. That means you're sharing web hosting resources amongst a group of websites. This is typically the most affordable option and is best for small businesses with light to moderate traffic. 
WordPress Hosting: If you're a WordPress fan, this is the option for you. Siteground offers web hosting services that are specifically formatted for your WordPress site. They've got all kinds of convenient features such as the ability to seamlessly transfer your WordPress site to their service. 
WooCommerce Hosting: This option is for those of you who have or would like to start an online storefront. WooCommerce hosting gives you the ability to create a professional e-commerce business with all the convenience of Siteground hosting. 
Cloud Hosting: This is essentially Siteground's version of dedicated hosting. In other words, this option is for the pros and those of you with massive amounts of traffic. You'll get top of the line features and a price tag to match. Cloud hosting is the most expensive option and it's best for large enterprises. 
WP Engine Web Hosting
At its core, WP Engine is a WordPress web hosting service. They are prepared to work with businesses of any size from single entrepreneurs to large enterprises. WP Engine decided to stick to one type of hosting and do it well. So, what is WordPress hosting exactly? We touched on it briefly above, but let's take a deeper look. 
WP Engine allows you to build a site with the convenience of WordPress, access all WordPress plugins, and use a suite of WordPress optimized tools. All the while, WP Engine takes care of all major WordPress updates to ensure your sites are running smoothly. 
WP Engine's WordPress web hosting services come with several options. You can choose a plan according to business size and goals. They have options for both marketers and developers depending on your needs.  
The main plans that they offer are basically shared hosting options. They offer custom plans for larger businesses with heavy traffic. The main takeaway is this– if you're a diehard WordPress user, this type of web hosting is definitely worth considering. If not, there's not a lot for you here. 
Siteground
 vs WP Engine: Let's Compare
Okay, we've gotten the formalities out the way. You know exactly what each type of web hosting service entails and what these companies are all about. It's time to take a detailed look at some of the most important features of a web hosting business. I'll go over the following factors and see how well Siteground and WP Engine stack up in a head to head comparison. Let's get into it. 
Reliability

 

Ease-of-Use

 

Speed

 

Cost

 

Customer Support

 

Security

 
1. Which one is more reliable?
When it comes down to reliability in the world of web hosting, we're really talking about uptime. What is uptime, you ask? Well, uptime is the factor that we look at to see how often your site is up and running. More importantly, it tells us how often your site is not up and running. 
If you're wondering why this matters so much, consider this: just one minute of unplanned downtime can cost you serious money. In fact, a report from the Ponemon Institute found that one minute of unplanned downtime can cost at a minimum, $926. At the far end of the chart, they saw losses of over $17 thousand in just one minute. 
I think this clearly demonstrates the importance of uptime, so the question is, what are web hosts doing about it? Well, when choosing a web host, you're going to want to look for one thing: the uptime guarantee. 
The uptime guarantee will tell you exactly the amount of time your website is guaranteed to be up and running. If they break the guarantee, it's expected that there is some form of compensation. Let's see how Siteground vs WP Engine stack up WP Engine in this arena. 
Siteground vs WP Engine
Siteground is very clear on its uptime guarantee. They offer a 99.99% uptime guarantee per year. That means your website should only be down 0.01% of the time, which is exactly what you should be looking for. Much more than that can result in a surprising amount of downtime for your site. 
In terms of the uptime guarantee, Siteground also offers fair compensation if they don't meet that promise. If your site is down between 99.00%-99.9% you will receive a month of free web services. For every 1% below 99.0%, you get an additional month of free service. Not only is this a great deal, but it also shows just how confident Siteground is their reliability. 
Let's take a look at WP Engine. This web host offers an uptime guarantee of 99.95% of the time, except for excused downtime such as scheduled maintenance. 
Right off the bat, you can see this uptime guarantee isn't quite as strong as Siteground. As for compensation, they offer a 5% credit per hour of downtime exceeding the guarantee. That means, if you have two hours of downtime, you'll get a 10% credit. It's not specified, but I assume the credit may be applied to other WP Engine services. 
Who is the winner? 🥇
👉 Siteground 
Not only does Siteground have a stronger uptime guarantee, but they also offer a far more robust form of compensation should they fail to meet the guarantee. WP Engine offers a decent uptime guarantee, but it doesn't compare to Sitegrounds offer. 
2. Which one is easier to use?
In order to determine ease of use, I'm going to look at the dashboard for each option. Most web hosts use the ever-popular cPanel and for good reason. It's beginner-friendly, intuitive, and familiar. 
Although cPanel is what you'll commonly see, many web hosting companies are moving away from it with more customized options. So, let's see what Siteground and WPEngine are doing in this area. 
WPEngine vs Siteground
In 2019 Siteground rolled out a fully customized control panel. This panel was made specifically with user suggestions in mind so it's extremely easy to use and great for beginners. You'll see all of the classic dashboard buttons including home-page, billing, referrals, websites, services, and marketplace. 
WP Engine is giving some tough competition here. Their user portal and dashboard area are organized, clean, and intuitive. From the user portal, you can manage all of your WordPress sites, users, billing, and access all of your tools. It's a great dashboard, no doubt about it. 
Who is the winner? 🥇
This one is a tie. Both Siteground and WP Engine are extremely easy to use. You can't go wrong one way or the other in this case.
3. Which one is faster?
Speed is a crucial element of any good web hosting provider. When I say speed, what I mean is page speed. Have you ever gone to visit a site and the slow load time forced you to leave? Well, that's exactly what you want to avoid. You may be surprised at how a lag of just a few seconds can affect the success of your site. 
It's not at all uncommon for visitors to leave your page after waiting just 4 or 5 seconds for it to load. What you want from your web host is page speeds of 3 seconds or less. It's a tall order, but you shouldn't expect any less. 
Siteground vs WP Engine
Siteground is incredibly transparent when it comes to page speed. According to its own website,  
"SiteGround's servers are built with speed in mind, and hardware is handpicked by our head system administrators. We employ all the industry's latest hardware and software means to boost a website's performance." 
In other words, they know how important this factor is and they work hard to come through with fast times. This translates into consistently fast page speed in speed tests across the web. It's not uncommon to see Siteground page speeds of less than half a second. 
WPengine is a tough one to beat as well. Most WPengine speed tests show the host holding its own against Siteground with lightning-fast speeds. Again, we have two web hosts with stellar results. 
Who is the winner?
Well folks, we have another tie. The fact is, both hosts are dedicated to providing super-fast page speeds. They are also both consistent about providing the details on what they're doing to keep your load times fast. 
4. Which one is a better value?
As with all things having to do with business, cost plays a big factor. If you're a new business or just getting into online entrepreneurial endeavors, this is especially true. The bottom line is, the cost is often the make or break factor when it comes to which service you choose. 
Siteground vs WP Engine
For this comparison, I want to look at Sitegrounds shared hosting options as well as it's WordPress options. Right off the bat, Siteground clearly has extremely affordable plans. 
For shared hosting, the basic plan starts at just $6.99 per month. That includes 1 site and 10,000 monthly visits. At the high end of the shared hosting plans, we have the GoGeek plan. That includes $14.99 per month for unlimited sites and 100,000 monthly visits.  
Honestly, it doesn't get much better than that for the value of each package. Take a look at Sitegrounds WordPress hosting and you'll see the prices are identical to the shared hosting options. Overall, extremely affordable. 
Onto WP Engine. We have WordPress hosting plans exclusively, so let's take a look. The basic package starts off at $25 per month. This plan is for 1 site and 25,000 monthly visits. The next package, at $95 per month, gets you 10 sites and 100,000 monthly visits. Last on the list is the Scale Plan that 400,000 visits and 30 sites for $241 a month. 
Who is the winner? 🥇
👉 Siteground 
I'll just be frank here. If you're a small business, which is who these plans were crafted for, Siteground offers a way better value. If you compare the basic packages from both web hosts, we have Siteground for $6.99 and WP Engine for $25 per month. 
Now, WP Engines' basic package supports up to 25,000 visits as opposed to Sitegrounds 10,000 visits per month. 
Still, you can upgrade to Siteground's most expensive package, just $14.99 per month, and get unlimited sites and 100,000 visits for less money than WP Engines cheapest plan. 
In my opinion, there's no competition here. Siteground takes the win. 
5. Which one has better support?

User support is one of those things you don't think about until you need it. I'm here to tell you that this factor should be at the top of your priority list. Encountering a problem isn't a matter of "if" it's a matter of "when." So, with that being said, I went ahead and tested WP Engine and Siteground to see how fast I got a response from customer service. 
Siteground vs WP Engine
Siteground offers 24/7 user support via phone, email, and live chat. This company is generally known for providing super-fast, personalized help for its users. I decided to test out the live chat support feature to see how quickly I get a response.  
During this test, I put in my request to speak to a support specialist and was promptly placed in a virtual waiting room. After waiting for 1 minute and 20 seconds, I was connected with a live customer support representative. Overall, the process was fairly painless. 
WP Engine also offers 24/7/365 user support by way of live chat, phone, and email. They also offer extensive articles meant to guide users through potential issues. I tried out the live chat feature to see how quickly they responded. In about 60 seconds I was speaking to a user support specialist. Pretty impressive! 
Who is the winner?🥇
👉 WP Engine
There's no doubt about it, WP Engine has stellar customer support. I'm particularly impressed by the extensive user guides they provide for free on the website. Aside from that, the live chat feature was super-fast and convenient. 
6. Which one has better security features?

As a growing online business, the last thing you want is to worry about hackers and bots threatening the safety of your site. This is one of the most important responsibilities of a web host. It's an online entrepreneur's worst nightmare to end up on the wrong side of a security breach. Let's take a look at WP Engine vs Siteground to address this important issue. 
Siteground vs WP Engine
WP Engine is pretty straight forward when it comes to security measures. They clearly demonstrate exactly what they do to ensure your site is safe. First on the list is disk write protection. According to the website, 
"Malicious code can embed itself into a website by writing to the file-system. This occurs when a vulnerability is present in a theme or plugin that leaves the door open for malicious injection. The WP Engine environment limits the processes that can write to disk. So even if you're using a theme or a plugin with a vulnerability, it is harder for them to be exploited." 
In addition to this, they also offer disk write limitations, user enumeration, disallowed plugins, and proprietary firewall software that filters out the good from the bad. You'll also get automated SSL certificates. 
Siteground is also transparent when it comes to the security measures it takes. Siteground has developed an in-house AI Bot Prevention program that blocks 500,000 to 2 million brute force attempts on your site every hour.  
The program also detects failed login attempts, known vulnerabilities, different request types, and a dynamic list of bad agents. That's serious security if you ask me. On top of that Siteground offers free Let's Encrypt SSL to all users. 
Who is the winner?
I hate to say it, but we have yet another tie. 
Security is clearly a high priority when it comes down to a comparison between Siteground vs WPEngine. Both hosting plans will ensure you have the utmost security with powerful security solutions. 
Who is the Overall Winner?
Let's take a quick tally: 
Reliability Winner: Siteground.

 

Ease-of-Use Winner: Tie.

 

Speed: Tie.

 

Cost: Siteground.

 

Customer Support: WP Engine

 

Security: Tie.

 
👉 Siteground wins 🥇

As you can see, this was an extremely narrow competition. Both sites provided stellar results, tying in 3 out of 6 of the categories.  
WP Engine took the competition when it came to customer support with extremely fast response times. Siteground won in reliability with an unbeatable uptime guarantee.  
The real tie-breaker here came down to cost. Siteground's hosting plans are significantly more affordable for both shared and WordPress hosting. For new businesses, the cost is an incredibly important factor, and Siteground won with the best value.  
I will admit this was a tough competition, but at the end of the day, Siteground takes the win.