Namecheap vs HostGator in 2023: Which One to Choose?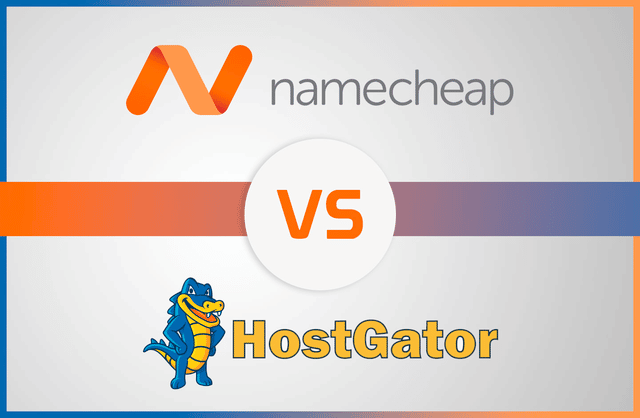 As two of the most prominent services in the web hosting industry today, Namecheap and HostGator deserve a head-to-head comparison that highlights the benefits and drawbacks of each.
The following article will provide you with a brief overview of each hosting service, unique features that set each apart from the other, and an all-around performance comparison to give you the facts needed to make a decision on which service to use. 
For a quick glance at each of these hosting services, please refer to the chart below before diving deeper into the details:
| | | |
| --- | --- | --- |
| | Namecheap | HostGator |
| Rating | 4 out of 5 stars  | 4.5 out of 5 stars  |
| Pricing | Starts at $2.18/month | Starts at $2.75/month |
| Free Domain | Yes | Yes |
| Hosting Types | Shared, WordPress, VPS, reseller, and dedicated hosting | Shared, WordPress, VPS, cloud, and dedicated hosting |
| Website | www.namecheap.com | www.hostgator.com |
---

Founded in 2002, HostGator is one of the most popular web hosting providers in business today. The platform is built on the message that they provide users with the tools needed to grow a web presence, rather than just helping to create that presence.
With over two million websites currently hosted on HostGator, this web host is undoubtedly one of the top providers that a potential user can choose from. There are a wide variety of services offered by HostGator that help to ensure a user can find whatever they need to get up in running. This includes: 
Shared Web Hosting

Reseller Hosting

WordPress Hosting Tools

Cloud Hosting

VPS Hosting

Dedicated Hosting
In addition to the above services, HostGator also offers free SSL certificates, free domain registration for the first year, a strong 99% uptime guarantee, free website migration, a website builder, one-click installs, and unmetered bandwidth.
Should users ever need assistance, they can take solace in knowing that HostGator also offers a 24/7/365 tech support service.
On top of all of this, one aspect of HostGator that can be particularly beneficial for some users is its Learning Center. This is where web host professionals discuss topics related to the ins and outs of shared hosting, WordPress hosting, reseller hosting, and other important topics.
As a whole, there are a slew of offerings provided by HostGator that can potentially be of use to individuals or groups looking to get set up on the Internet.
---

On the other side of things, Namecheap is actually slightly older than HostGator and was founded in 2000. This company also currently offers its services to over two million customers, which makes them a major competitor of HostGator. But, Namecheap places an emphasis on its inexpensive hosting plans that provide vast services to users.
This platform offers many of the same services as HostGator, including:
Shared Hosting

WordPress Hosting

VPS hosting

Reseller Hosting

Dedicated Hosting
The only service that's provided by HostGator, but not Namecheap, is cloud hosting.
Some of the standout features provided by Namecheap include unmetered bandwidth, a free website builder, a domain registrar, privacy protection, free automatic SSL installation, migration assistance for those who already have a website, and more. 
Namecheap vs HostGator: Pricing 
As you can see, Namecheap and HostGator offer extremely similar services, which can make choosing between these web hosting platforms challenging. Deciding between the two sites requires diving deeper into pricing. 
Both Namecheap and HostGator offer similar, low-price points that they are known for, but they have slight differences in pricing. 
To start, here are the HostGator Hosting Plans and their respective prices that you can expect: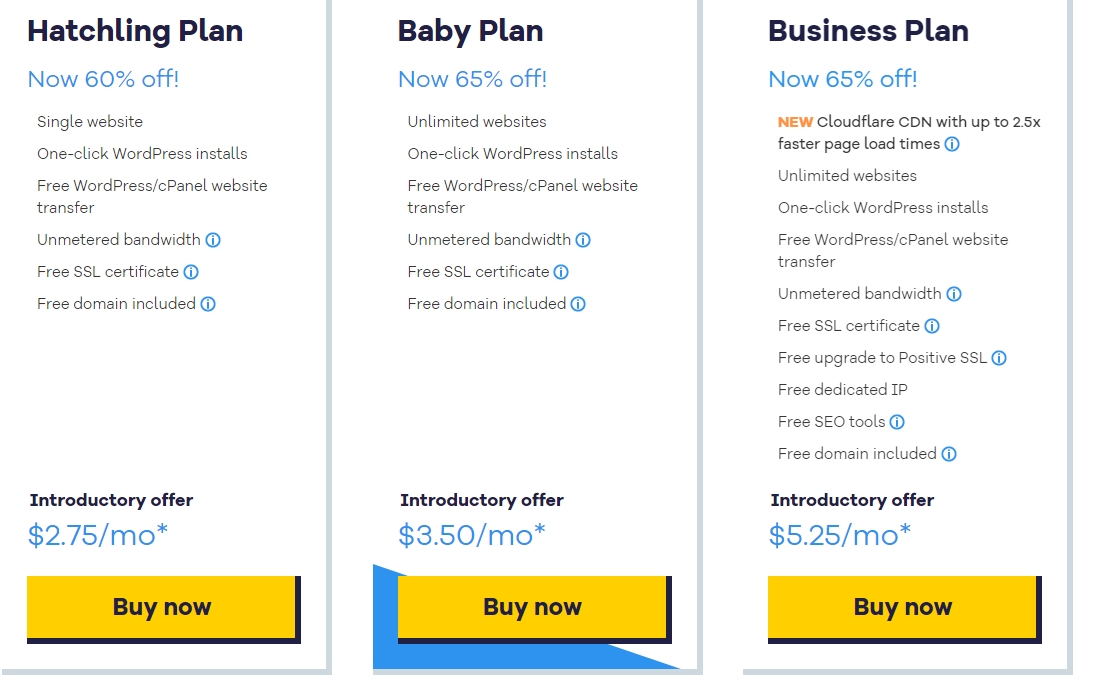 While the above prices are certainly enticing, the following Namecheap Hosting Plans closely challenge the low prices offered by HostGator. View the details of Namecheap's web hosting plans below: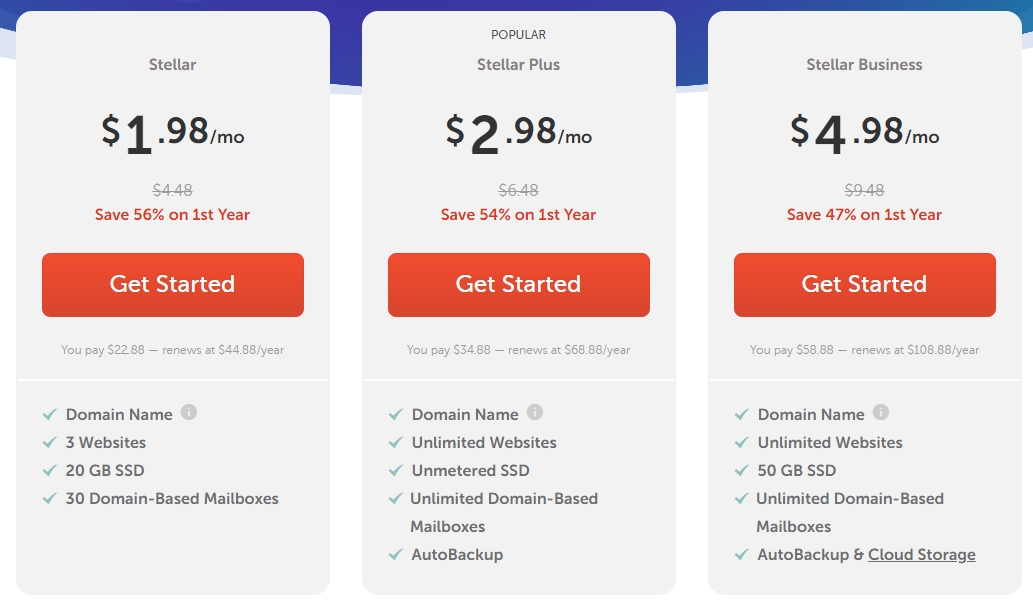 While the above comparison can make your decision appear more difficult on the surface, it's important to consider what services you need. Namecheap offers marginally lower prices than HostGator, but the services provided for the cost are fewer. Consider all of the services you need before making your decision. 
Namecheap vs HostGator: Ease of Use
Managing web hosting is a difficult task for any average user who does not have previous experience. Therefore, one of the most important aspects to consider when choosing a web hosting service is the ease of use offered.
To start, the sign-up process for both Namecheap and HostGator is smooth and simple, and the promised services are quickly available. 
HostGator stands out from Namecheap, however, due to the number of additional services and features that enable users to use the platform to grow their web presence. These features include, but aren't limited to:
Search Engine Optimization (SEO) tools for Google and other major search engines

MOJO Marketplace partnership for access to premium graphics, themes, templates, plugins, and extensions.

A variety of one-click installations, easy-to-use managed WordPress hosting tools, and several SEO instructional services that train users on how to construct their website to maximize web traffic.
On the other hand, Namecheap does have an easy-to-use platform as well, though more users have complained about some drawbacks that make it more challenging to use. The user interface itself is quite clean and appealing to the eye, but as a whole, Namecheap offers less advice and support for actually using the platform. This can make getting your site set up slightly more challenging compared to using HostGator. 
Namecheap vs HostGator: Security 
Namecheap places a large emphasis on security for its web hosting services. With two backups performed per week, this alone sets Namecheap apart from other competitors who don't offer backups at all. Plus, the platform's highest-tiered package will allow users access to daily backups, but this added security feature is not necessary for all. 
Regardless of the Namecheap hosting plan that a user chooses, a free SSL certificate is always provided, which offers a minimum level of security for all. On top of this, for free of charge, there are two-factor authentication services and WhoisGuard privacy protection that can be used to secure your site. Namecheap also has protection against brute-force website attacks, in which a user overloads a site with login information to take it down. After two to three failed login attempts, a user is required to fill out a ReCaptcha to verify that they are a real person.
While HostGator does offer equally protective security, the major drawback comes in the fact that most of these safety features need to be purchased. For $2 per month, HostGator users can gain access to daily backups of up to 1 GB. Sitelock security can also be purchased for an additional $2 per month as well, which actively scans the website for malware or malicious users. 
While the majority of the security features offered by Namecheap/HostGator provide similar protection, Namecheap slightly wins in this category due to the fact that the majority of their security protection is free of charge. 
Namecheap vs HostGator: Performance 
As one may expect, performance is the crutch of any web hosting platform. There are three main categories to consider when looking at these types of sites: speed, uptime, and storage.
Speed refers to how fast your site loads when a user visits it initially, as well as how quickly a user can navigate through the different pages. On the other hand, uptime refers to the amount of time your website is active or down, and storage refers to the amount of data and information that can be stored on the site.
Let's break down these three categories for both Namecheap and HostGator: 
Speed 
In terms of site speed, both web hosting platforms are actually considered to be around average. Namecheap has been tested as having a speed in the low 700ms, whereas HostGator tends to test closer to 800ms.
Depending on where you are located and your relation to the virtual private server for either platform, this speed can be bolstered or hindered. In most cases, though, the promised uptime and storage for these sites make up for the average speed. HostGator still beats Namecheap in this category. 
Uptime 
Both Namecheap and HostGator promise over a 99% uptime rate, with HostGator performing just slightly better at an average 99.9% uptime rate. In fact, this is a guaranteed rate by HostGator, which will provide users with a one-month credit in the event that your site is down more than this guaranteed amount.
Namecheap also offers an impressive 99.4% uptime rate on average, but this falls beneath their promised 99.9% uptime rate. For every hour that your site is down, Namecheap will provide you with one free day of shared web hosting. When looking at these two percentages and offers back-to-back, HostGator beats Namecheap out. 
Storage
Both Namecheap and HostGator offer strong storage options for each of their packages, but there is a clear winner in this category. The Basic Stellar plan for Namecheap provides users with a 20 GB SSD, whereas the Stellar Business plan provides users with 50 GB SSD. Namecheap also strives to shine in its Stellar Plus plans, which provide unmetered bandwidth.
HostGator, however, offers unlimited bandwidth for all of its offerings. Due to the fact that all users enjoy unlimited storage, HostGator easily stands out as the provider with better storage options. 
When broken down into all three categories, HostGator beats Namecheap in all categories. This isn't to say that Namecheap isn't a good platform with solid features, but HostGator undoubtedly wins across the board for speed, uptime, and storage.
Namecheap vs HostGator: Customer Support
As mentioned earlier, HostGator offers a 24/7/365 customer support system that allows users to gain access to solutions at any point in the day and any time of the year. There are three options you can choose from when attempting to contact HostGator customer support: live chat, phone, and email. Live chat is the self-proclaimed fastest way to contact a customer service representative – no matter the time of day. But, phone support services are only available from 11 am-9 pm ET.   
On the other hand, Namecheap customer support is only able to be contacted by submitting a ticket to their site, which is being monitored by customer service representatives 24/7. Another major drawback of the customer service for Namecheap is the fact that there is no phone support available, which can make having questions answered a challenge for more complex topics/issues. 
FAQ: HostGator & Namecheap 
Which Provider to Choose for WordPress Websites?
HostGator is the champion in regard to WordPress sites and integration due to the larger number of features offered by the web hosting service. Additionally, HostGator is touted as having an intuitive user interface that makes setting up WordPress hosting a breeze.  
What Are Namecheap and HostGator's Money-Back Guarantee Policies? 
For general Namecheap hosting services, the site offers a money-back guarantee on new purchases for shared hosting, reseller hosting, VPS hosting, and dedicated servers. In some cases, renewals of hosting services may be refundable if canceled less than 48 hours after the renewal. But, reseller, VPS, and shared hosting services are all open to a full refund within 30 days from the time of purchase. It's important to keep in mind that only first-time hosting accounts are eligible for this 30-day money-back guarantee.  
HostGator offers the same 30-day money-back guarantee on shared, reseller, or VPS hosting services. Restrictions for this 30-day guarantee with HostGator include:
Refunds are only available on orders over $0.1. Anything lower is not eligible for the money-back guarantee.

Only eligible for new purchases made within 30-days.

Not eligible for dedicated hosting, administrative fees, installation fees for custom software, domain name purchases, etc.

Packages paid for with checks, money transfers, or wires are not eligible for a refund.
Where Are Namecheap and HostGator Servers Located? 
HostGator servers are all located in the United States. Namecheap has servers located in both the United States and the United Kingdom, but the servers are targeted at different groups. For example, Namecheap web host servers in the United States are built only for shared hosting services, VPS servers, and dedicated servers, whereas those in the United Kingdom are designed for shared and reseller hosting. 
Can I Use HostGator in the UK? 
Yes, HostGator is able to be used in the United Kingdom, but it may not be the best choice for users who are located there. This is due to the fact that the totality of HostGator's servers sits in the United States. Website speed has a direct correlation to the proximity to the server that your website uses. Considering all the servers are overseas for UK users, website speed may not be at the level you would expect. 
Which is Better, HostGator or Namecheap? 
The answer to the Namecheap/HostGator comparison question is mostly a user-to-user preference, but HostGator typically wins in a head-to-head comparison. While the price points for these two web hosting services are similar and the features offered by each are in line with the other, HostGator tends to set itself apart from Namecheap due to its higher level of performance. With that said, if you are not located in an area where those performance benefits can't be used or if HostGator comes with too many unnecessary bells and whistles, Namecheap is still a very close second.  
Namecheap vs HostGator: The Bottom Line 
Choosing between web hosting platforms can be a challenge. In general, the right choice is on a case-by-case basis and depends on what you are looking for. With that in mind, HostGator just slightly beats out Namecheap due to the reported higher level of performance, increased level of customer support, and easy-to-use interface. 
Still, both web hosting platforms are undoubtedly useful for any user attempting to get their site set up quickly. Namecheap may be better for some who are located overseas in the United Kingdom, but HostGator takes the cake for this head-to-head comparison. Despite this opinion, be sure to review all the unique features and price points for each website and take some time to consider the specific services you need, before making a decision on which site to choose.