Squarespace vs WordPress: Which One Is Better in 2023?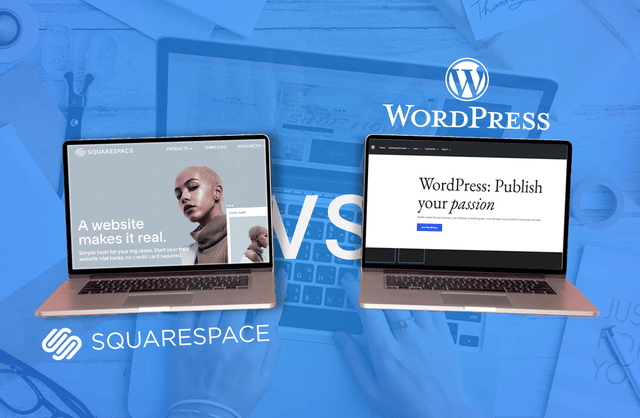 As you begin to create your brand-new website, you're likely looking for the most effective website builders available for use.
Squarespace and WordPress are two of the most common and highest-rated web builders in the industry. While these two sites seem similar on the surface, there are crucial differences between both that can make one better than the other depending on what you need.
Let's dive into an in-depth Squarespace and WordPress comparison so that you can learn which website builder is right for you: a Squarespace site or a WordPress site.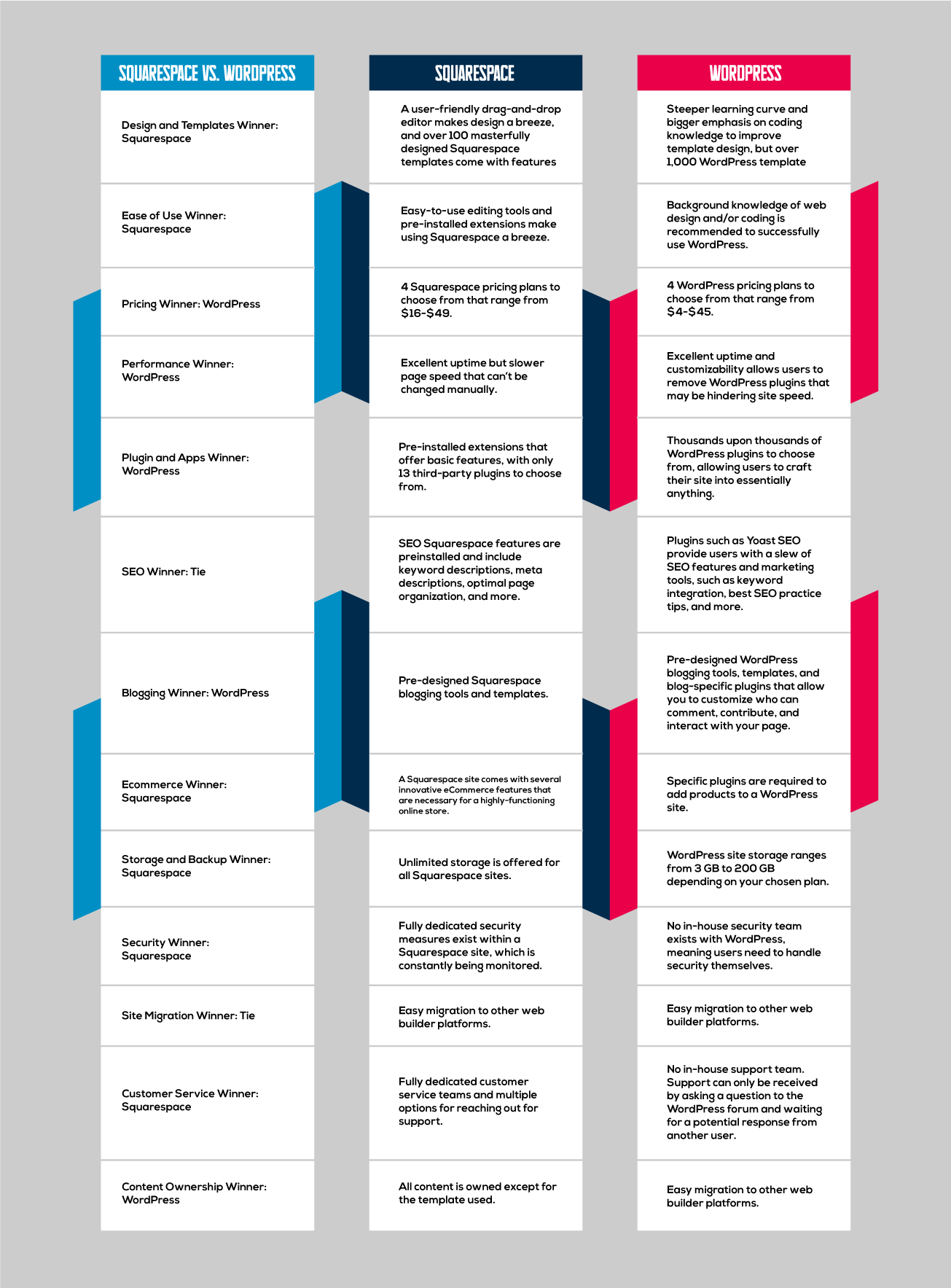 ---

WordPress is without a doubt one of the most well-known website builders, but there is an important distinction to draw. There are two different types of WordPress that a person can use: WordPress Host and WordPress.com. Starting with the more common version, WordPress.com, which serves as a hosted website builder.
After choosing a plan and paying a recurring fee, a user can build their WordPress website through this page. As part of this plan, you gain access to a high-quality content management system, packed with many WordPress plugins, built-in blogging tools, and other marketing features that can help you build and maintain a website. It even comes with pre-built templates and different WordPress themes that can help guide the design process for beginners. 
On the other side of things, WordPress as a hosting provider is a downloadable software that you install on your own personal web server. This open-source software comes with editable code that can allow greater design flexibility and customizability. While you can download this software for free, things like web hosting fees, custom domain name registrations, and other associated costs can begin to add up.
Depending on the version of WordPress that you opt to use, the software is geared toward specific audiences. For example, WordPress.com is geared towards people who have no web development skills and need assistance in creating a website, as well as having it hosted. 
Self-hosted WordPress is better geared towards those who already have a content management system (CMS) and are simply seeking a hosting service to host their site on the Internet. Given the amount of hands-on configuration needed with self-hosted WordPress, the software is more suited for people who have experience with coding.
---

Founded in 2004, Squarespace is a newer website-building page that aims to simplify the process so that anybody can create a dynamic website regardless of experience. Over 3 million websites are currently powered by the platform, which goes to show how widespread it has become in just a short period of time. 
Designed as a software-as-a-service (SaaS) website builder, the primary idea behind Squarespace was to create a website builder that required no coding whatsoever on behalf of the user. This platform caters to online business owners, many of whom need advanced eCommerce features to sell products and/or services to targeted audiences.
Squarespace's eCommerce capabilities are extensive, helping you build a website, portfolio, blogging platform, or online store with ease. There are also many marketing and blogging features available for your Squarespace website, including a drag-and-drop style editor to create different pages directly from intuitive templates.
Overall, Squarespace is best for those seeking a hassle-free way to set up a website quickly and who do not seek a high level of customizability. Those who aren't tech-savvy and have no wish to be will certainly enjoy the convenience and ease of the Squarespace interface.
Squarespace vs WordPress: Design and Templates
Squarespace is known for its intuitive templates that are designed for the modern age. By walking you through a series of guided questions, Squarespace helps a user get to the bottom of what type of design they are looking for. There are over 113 different templates to choose from, each of which can have pages added and colors changed, which allows for a personal touch to be added. 
WordPress, on the other hand, has thousands of templates but no guiding factor that helps you choose one. Not all of these templates are expertly designed either, meaning you may need to customize the WordPress theme to make it your own.
In regards to editing, Squarespace allows you to use a drag-and-drop editor that can quickly adjust any template, whereas WordPress requires some coding skills to seriously alter templates. 
Squarespace vs WordPress: Ease of Use
Ease of use is the category where Squarespace and WordPress truly differ. While both are effective for building a website, actually using the tools and features is more complicated on one site as opposed to the other. Before rendering a verdict, however, let's look at how each user interface works.
Starting with WordPress, ease of use is the biggest downside to this web builder. While self-hosting your WordPress website requires heavy coding knowledge, even learning to use standard-hosted WordPress has a steep learning curve. WordPress also comes with many integrations, plugins, and SEO tools that require installation on your site. 
If you are unaware of the type of site you want to build, searching through countless WordPress themes (and WordPress's plugin library), could prove difficult. Even with an idea of how you want your website to look, getting the different plugins to work together can be difficult.
With that in mind, the WordPress dashboard is intuitive and provides quick access to options such as:
Creating posts and pages

Navigating different menus 

Customizing website design and previewing what changes would look like before going live
Overall, WordPress is not impossible to learn how to use, but targeting and optimizing certain aspects of web design, like search engine optimization (SEO), can be more difficult with this site.
Squarespace, on the other hand, is built with ease of use in mind. When looking at Squarespace vs. WordPress, there is no doubt that Squarespace features more benefits for users with no prior experience.
Squarespace starts by guiding users through a series of questions that are meant to gauge the type of site you wish to create. After answering all of these questions, Squarespace presents you with templates that are within the niche it believes you are seeking.
Upon selecting a template, you will gain access to a drag-and-drop editor that allows you to change various aspects of the template. In terms of ease of use, Squarespace operates closer to a web design platform rather than a web building platform.
When comparing Squarespace vs. WordPress, Squarespace's ease of use is superior to that of WordPress. 
Squarespace vs WordPress: Pricing 
One necessary aspect to examine when comparing two website builders is the monthly and annual pricing. There are four primary WordPress pricing plans geared towards various users of the platform, each offering different features.
These four packages are:
Personal Plan (Best for Personal Use):

Starts at $4/month, billed yearly

Premium Plan (Best for Freelancers):

Starts at $8/month, billed yearly

Business Plan (Best for Small Businesses):

Starts at $25/month, billed yearly

eCommerce Plan (Best for Online Stores):

Starts at $45/month, billed yearly 
As in-line with WordPress, Squarespace also offers four primary pricing plans. A user can save 30% on each of these plans if they choose to purchase them annually, as opposed to monthly.
These four Squarespace pricing plans are:
Personal Plan:

Starts at $23/month or $16/month billed annually

Business Plan:

Starts at $33/month or $23/month billed annually

Basic Plan (eCommerce):

Starts at $36/month or $27/month billed annually

Advanced Plan (eCommerce):

Starts at $65/month or $49/month billed annually 
As you can see, any Squarespace plan is significantly more expensive than WordPress, even with the most basic plan. This makes WordPress the more cost-effective option of the two.
However, the reasoning for this is derived from the fact that Squarespace offers SEO tools, templates, and other features already built in, whereas gaining access to these same features on WordPress will require installing plugins. 
Squarespace vs WordPress: Performance 
Squarespace and WordPress both offer excellent performance, but there are slight differences that make one better than the other.
First, let's start with search engine optimization (SEO) and ranking high across major search engines. This requires your website speed to be operating at its peak capability.
As for actual website speed, WordPress has the advantage due to the fact that different web hosts can be used with WordPress. This means that you can choose a better web host and improve your overall website speed and performance.
Even though many Squarespace sites can expect to receive around 99.98% uptime, most web builders will provide the same exact level of uptime.
Additionally, due to the customization offered by WordPress, you can tweak the various templates to remove plugins or other features that may be slowing down your page speed.
Due to these factors, WordPress wins in terms of site performance. 
Squarespace vs WordPress: Plugins and Apps
Plugins and apps are where things differ greatly between Squarespace vs. WordPress. The plugins and apps offered on Squarespace are all already integrated into the site, whereas WordPress has none preinstalled.
WordPress offers far more plugins than Squarespace, resulting in a higher level of customizability, but you must know which plugins you need and how to use them. WordPress currently offers over 55,000 plugins that allow you to do everything from creating comment sections, focusing on search engine optimization, setting up a platform to sell products, and much more. 
However, anybody can create a WordPress plugin, which can result in major variability in the quality of these plugins. Always read the reviews of a WordPress plugin to be sure you know what you are downloading and what its ideal use is.
Squarespace apps and extensions are all built by the in-house team, which means you can be sure you are installing high-quality add-ons to your Squarespace website. Many of the tools that are already pre-installed onto your site are focused on search engine optimization, tracking website traffic, image displays, and more. If you wish to install more, there are additional third-party apps you can choose from. 
In terms of plugins and apps, WordPress wins the category due to the large number available. 
Squarespace vs WordPress: SEO
Both Squarespace and WordPress offer numerous tools for SEO. To be completely honest, neither beats out the other in this category due to just how similar these features are.
For perspective, here are some examples of SEO tools that Squarespace has to offer: 
Ability to add alt text to an image to describe what that image shows

Custom URLs that can be made search engine friendly

Recommended meta titles and meta descriptions

The ability to hide a page

Control over which images are shown where

 
All of the above factors can help boost the overall SEO of your site. WordPress offers all of the above, but in a different way.
While Squarespace integrates the above features into your website automatically, countless WordPress SEO plugins will offer the same perks. 
One such popular plugin is called Yoast SEO. With well over 25,000 reviews and millions of active installations, this plugin provides users with anything and everything related to SEO. While it will require you to learn a little bit about best SEO practices for a WordPress site or web hosting in general, the benefits will speak for themselves. 
Squarespace vs WordPress: Blogging
Without a doubt, WordPress is the superior platform for those who hope to start up a dynamic blogging site. While both WordPress and Squarespace offer SEO tools that can help with blogging, WordPress offers more benefits that help a user scale their blog.
To put this into perspective, Squarespace can provide a new blogger with many unique templates that allow a user to pick from many modern website interfaces, ranging from magazine style to interactive posting. Some of these templates even allow multiple users to make posts on the website, which can help you build out a blogging community.
WordPress, on the other hand, offers all of the above and so much more as well. A variety of plugins can help a potential blogger integrate other sites far more effectively than Squarespace.
Additionally, WordPress already has a renowned blogging community that allows any user with a WordPress account to comment on another WordPress blog. 
Squarespace vs WordPress: eCommerce 
In today's day and age, eCommerce has taken the world by storm and is a primary method by which goods and services are now sold. The primary difference when looking at Squarespace vs. WordPress is that Squarespace allows you to create an all-in-one store, whereas WordPress lacks eCommerce functionality and requires you to download specific plugins to integrate products on your site.
Opting for a Squarespace pricing plan that is geared toward eCommerce enables your website to come stacked with pre-populated sales tools, infographics, shipping and tax functionalities, and much more.
Some of the following features are what make Squarespace shine in the eCommerce category:
The ability to print labels

0% transaction fees

Integration with social media advertising

Google Analytics and other key insights

Cart recovery
Keep in mind the fact that you don't need to go searching for any of these features as they will automatically be included on your website. 
Selling goods on WordPress is a little more complicated than it is on Squarespace. While there is an eCommerce-specific plan for WordPress that will give you the foundation needed to launch a store, you will still need to download many plugins to get it up and running. 
One such popular plugin, WooCommerce, was built specifically for WordPress and allows users to gain access to:
Hundreds of themes geared toward selling

Inventory management assistance

Payment and shipping options

Access to selling both digital and physical products 
The only drawback to the above plugin is that you need to know what you are looking for and how to use the plugin itself.
Due to all of the above, Squarespace is the clear victor when comparing eCommerce capabilities. 
Squarespace vs WordPress: Storage and Backup
Squarespace offers users unlimited storage capacity, which can be particularly helpful for anybody who is thinking of starting a data-heavy site, such as an eCommerce store.
Data through WordPress, however, is paid for. Depending on the plan you have, you can receive anywhere from 3 GB to 200 GB of storage.
WordPress has the option to utilize automatic website backups through plugins, but users of Squarespace sites will be required to back up their data manually.
While this can be frustrating for users, Squarespace still wins the category due to offering unlimited storage. 
Squarespace vs WordPress: Security 
Squarespace is the more secure hosting provider when comparing security for Squarespace vs. WordPress.
As mentioned before, WordPress is open-source and customizable, with no in-house WordPress support to help you. With WordPress, you are responsible for doing everything yourself, including setting up security.
This means that you will need to secure an SSL certificate on your own, regularly update your WordPress site to improve security, and more. You may even accidentally install malware onto your own site using third-party plugins that you thought were something else. Those types of security issues will also need to be addressed yourself.
On the flip side, Squarespace has a dedicated support team that can help resolve security issues on your behalf. Squarespace protects your data and site using three methods:
SSL Certificate:

All Squarespace traffic is encrypted with SSL which helps to keep you and your visitors' data safe. This makes it far more difficult for hackers to impersonate or steal things from your site, which also adds an extra layer of comfort when a user visits your website. 

Cookies:

Squarespace automatically utilizes cookies to ensure your site runs more efficiently.

GDPR: If you are selling to EU countries, this security benefit offered by Squarespace helps to regulate how customer data is stored and allows you to edit privacy policies on your own site. 
Due to the fact that Squarespace has enhanced security and WordPress takes on a DIY approach to security, Squarespace users can have better protection than WordPress users. 
Squarespace vs WordPress: Site Migration
Both Squarespace and WordPress are similar in that they allow you to migrate your site to a new platform relatively easily. Whether you want to move your site from WordPress to Squarespace or the other way around, it is doable.
As a whole, the Squarespace migration process is simpler than that of WordPress. Squarespace actually has a built-in import process that walks you through moving your site and picking a Squarespace design. Items that will be imported include blog pages and posts, comments, tags, images, attachments, and site pages.
WordPress, however, has a slightly more complicated migration system. You will need to export all your content prior to the migration and you can only move regular pages, one blog page and its posts, gallery pages, image blocks, text blocks, and comments. Once this has been exported, you can move the data over to WordPress. 
While both Squarespace and WordPress have different methods for migrating your site, the process is close enough that this category is a tie. 
Squarespace vs WordPress: Customer Service
Squarespace is the clear winner in regard to customer service.
WordPress is open-source which means there isn't actually an in-house team available to help answer any questions you may have regarding eCommerce plugins, free WordPress plugins, third-party plugins, or anything else. Considering the learning curve WordPress already has, this is a major downside.
However, there is an active WordPress forum where users can post questions that other users can answer, which provides some support.
Serving as a stark difference, Squarespace offers numerous forms of customer support including:
Live chat Monday through Friday

Email all day, every day

Free online webinar sessions
With an established support team in place, Squarespace is the clear winner in terms of customer support. 
Squarespace vs WordPress: Content Ownership
Content ownership is an extremely important aspect of having a website. Both Squarespace and WordPress provide you with excellent content ownership, but the actual specifics differ slightly. 
With Squarespace, everything you upload remains your content and you have the ability to take it with you if you ever leave the site in the future. Squarespace does have the right to use your content to advertise your website, but they do not own it. The only thing you don't own on Squarespace is the actual template you choose to use, as this is licensed to you during your time on Squarespace. 
WordPress has an advantage in that it's an open-source management system, meaning the source code is available and can be changed at will. Due to this, all content on WordPress belongs to you unless it is something that you downloaded and only have a license for. 
FAQs
Is WordPress Better Than Squarespace?
WordPress and Squarespace are two leading website builder platforms. Saying one is better than the other is nearly impossible because they operate differently. 
Squarespace aims to take the pressure off when building your website by providing you with a pre-designed website template that has all the extensions you could need. WordPress requires you to do everything by yourself and seek out plugins that you believe your website needs to thrive.
For those who need customizability with their website and a more complex environment to work in, WordPress is superior. However, those seeking a no-hassle website setup will likely prefer Squarespace. 
Is WordPress Less Expensive Than Squarespace? 
Yes, on a plan-by-plan basis WordPress is the cheaper option to Squarespace.
However, if you choose to purchase additional plugins, apps, or other features later on with WordPress, your total cost could exceed what you would be paying with Squarespace. 
Which Website Builder Is Easier to Use, Squarespace or WordPress?
Squarespace is, without a doubt, the easier website builder to use. The unique drag-and-drop editor allows a user to input their own personal design into Squarespace templates.
WordPress has a steep learning curve and requires you to know exactly which plugins you need to accomplish the goal of your website. 
Is Squarespace or WordPress Best for Blogging? 
When it comes to blogging, WordPress has a larger community of bloggers due to having more hosted sites on the Internet, which makes it superior to Squarespace in this category.
Additionally, WordPress offers a number of plugins and features that are geared specifically toward helping bloggers get their page set up. 
Squarespace vs WordPress: The Bottom Line 
The answer to which website builder I recommend depends entirely on how tech-savvy you are and what you plan to do with your website. For simple websites that don't require much customization, I would recommend Squarespace. You can get your site up and running extremely fast, with little to no knowledge of web design.
However, if you are aiming to develop a more complex site and add numerous plugins that drastically increase the features and services provided by the site, choose WordPress. Remember that WordPress takes a do-it-yourself approach to all things related to web building. This means that security, backups, data protection, and more all fall on your shoulders. 
When looking at Squarespace vs. WordPress and trying to decide which is better for you, you must evaluate what you need from a web hosting platform or website builder. Both platforms offer countless benefits and, truthfully, you can't go wrong with either. 
By narrowing down the purpose of your site and the features you need, you can use the above guide to determine which platform is more suitable for you: Squarespace or WordPress.