6 Best Privacy Policy Generators Reviewed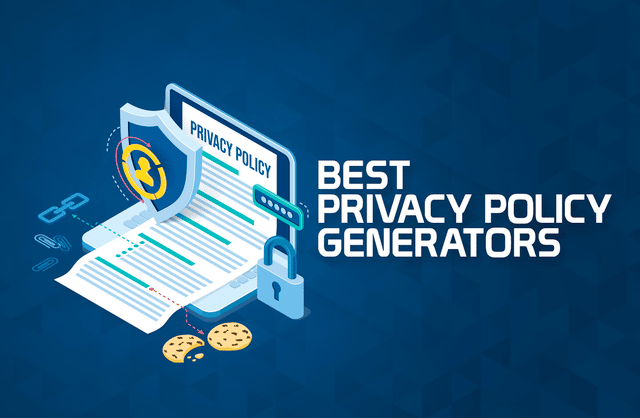 Data makes the world go round these days and privacy laws are finally starting to catch up to that fact. If you keep any data from customers or website visitors online, you need to start working on your website's privacy policy (or mobile app privacy policy).
Since most of us aren't lawyers or well-versed in legal compliance, technology has given us a simple solution: privacy policy generator tools. Because these policies apply to website owners around the world and each needs a personalized website privacy policy, the market has become pretty saturated with online privacy policy generators for both websites and mobile apps.
I've gone through the best privacy policy generators on the market and reviewed which types of business they are best for. Read my post below to find a simple-to-use and often free privacy policy generator to ensure that you have the best privacy policy possible to meet all the required details and legal compliance.
Best Privacy Policy Generator Websites
If you collect an email address for login, a physical address or billing address for shipping, phone numbers, use google analytics, or collect any other type of personal data, you need to ensure that you are in compliance.
Below you will find the best privacy policy generators on the market:
What is a Privacy Policy Generator?
Since privacy policies are pretty standard and most websites or apps only have a few variations that need to be added, the best privacy policy generators aim to automate the process.
Rather than hiring a team of lawyers for every legal document, the privacy policy generator starts with a standard template but most allow you to customize based on your specific needs.
How To Choose the Best Privacy Policy Generator for Your Needs
The best privacy policy for you and your company can differ based on a wide number of variables.
Are you a startup still trying to find your customers, or an established company with various apps, websites, SaaS, and/or thousands of website visits a day? What country are you in, and what languages do you need supported? Perhaps most importantly, do you need a free privacy policy template, or can you afford to buy a premium package?
Here are some of the points that you should consider before deciding on which privacy policy generator is right for you:
Ease of use

Can you use a template, or do you need a customized privacy policy?

Do you have specific clauses that need to be added?

What legal compliances do you need? The major ones are:

Are there any additional services that you need beyond a privacy policy?

Can you afford to buy a premium policy?
Which Features Should Be Included in a Privacy Policy
There is certain information that privacy policies need to include, or else you may find yourself in legal hot water.
Even if you are using one of the best privacy policy generators listed above, you should always verify that the following information is included:
The reason you are collecting the data

User rights

Is your website age restricted? Do you need a policy for children?

Statement regarding your information security measures

What type of data is collected

How is that data collected

How do you use the personal data that you collect

The reason you are collecting the data

Include a marketing disclaimer. If you don't know what that is, I've

explained it in my previous post here

.

Your data sharing with third-party services (Who has access to the information, and what are their information security procedures?)
FAQs
Do Users Have To Accept the Privacy Policy?
Users don't have to accept the privacy policy, but you should not allow them to use your website, apps, or other services unless they do.
Do You Need Terms and Conditions on a Landing Page?
Yes, your website or landing page is required by law to include your privacy policy, cookie statement, terms of use, or other policies.
Can You Copy and Paste the Privacy Policy?
You could, but that's not a good idea unless your company is relatively new and doesn't expect many visitors. Overall, it is not wise to just copy someone else's privacy policy, because you don't know their data policies and theirs may not cover your own website's actions.
What Happens if You Don't Have a Privacy Policy?
If your company has an official website used for commerce or collects any user information and you don't have a privacy policy, you are breaking the law. Additionally, you are leaving yourself open to lawsuits for violations of data and privacy laws.
The Bottom Line
A privacy policy is often the last thing that you want to focus on unless you're a lawyer getting paid to do so. They're full of legal jargon that you have a hard time understanding, and we all know that most people breeze through them just to check the "I agree" box and get into the website or app.
Still, privacy policies are legally required to be listed on every website if you collect any type of data from your visitors or customers. Remember, this can be something as simple as an email address for login, data for remarketing on your website, or pixel beacons for your social media marketing.
As an affiliate and marketing expert, I'm constantly amazed by the new tips and tricks that we marketers have at our disposal through technology and data, but I also understand the responsibility that comes with it. We have all heard about the massive data breaches occurring all across the world, and those are part of the reason these privacy laws exist.
So play it safe by having a privacy policy, and play it efficiently by using one of the best privacy policy generators listed above. I personally feel that TermsFeed is the best all-around privacy policy generator, but after reading my reviews above you may be drawn to another.
Whichever one you use, take heed of the pros and cons listed above for each, and choose wisely. You want to ensure that any data that you collect is perfectly legal, or you may find yourself on the wrong end of a massive fine.