Siteground vs Bluehost: Which One Is Actually Better?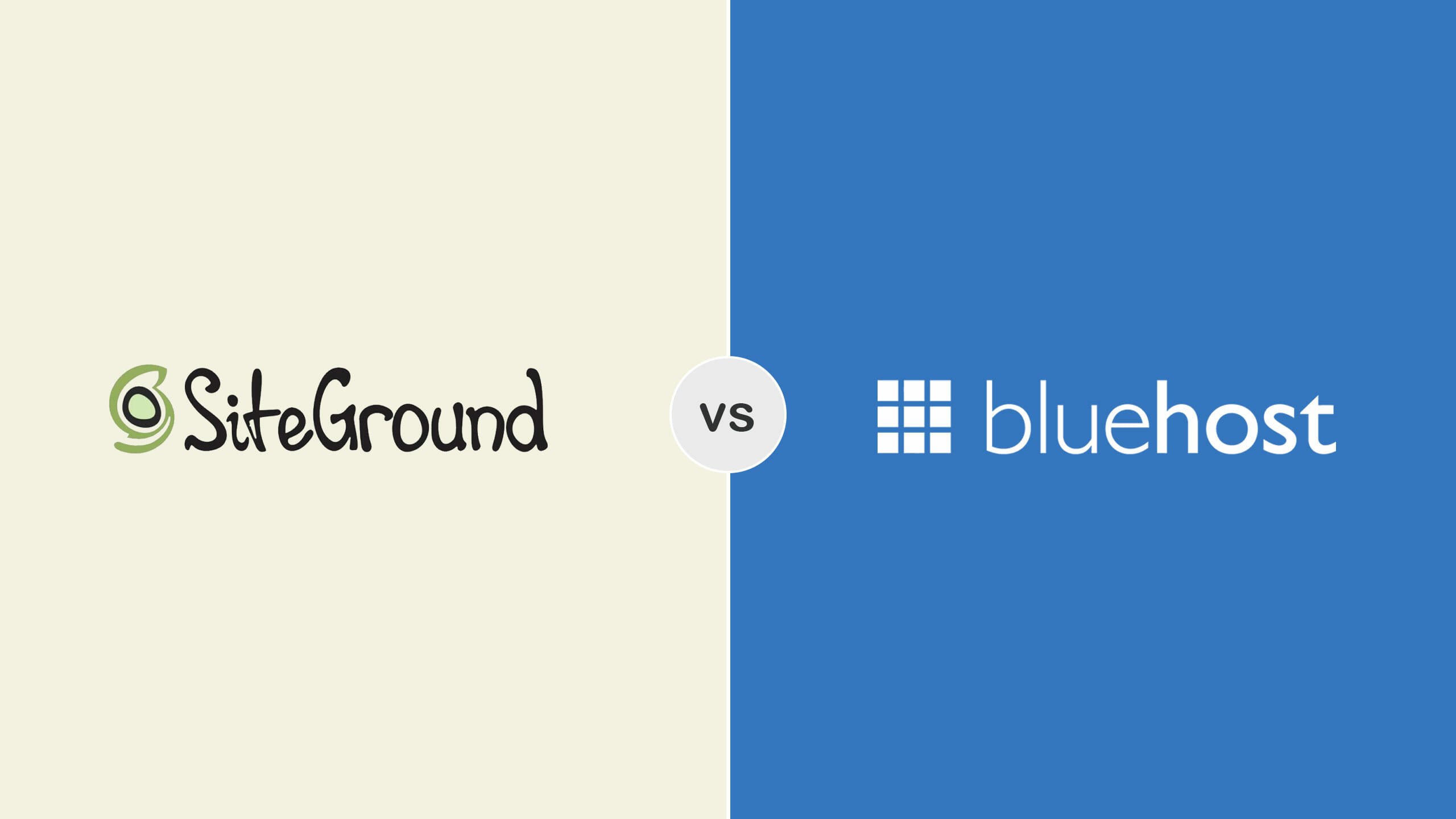 Building your own website can be a daunting task.  If you find yourself trying to grow an online presence, you already know how important a good web hosting service is. Web hosting services essentially allow you to present your website to the public with peace of mind.
A good web hosting service should ensure that your website is up and running for the vast majority of the time. It should also make sure your page loads at lightning speeds, an essential factor for keeping the customer on the page.
Page speed and uptime are just the tip of the iceberg when it comes to web hosting services. Top-notch security will play an important role for you as you scale your site and see more visitors. A web hosting service should provide you with everything you need to keep your website safe and secure.
Believe it or not, there are even more reasons to use a web hosting service. If you're new to running a website, or if you find your business growing quickly, you're going to need help from the experts. Web hosting sites should be able to provide you with fast, quality support whenever you run into an issue.
So, you're probably already convinced that a web hosting service is essential, but which service should you choose? Siteground and Bluehost are both top-of-the-line choices when it comes to web hosting. They both offer a variety of plans to choose from with diverse feature sets, but which one is better? In this article, we'll take a look at 6 factors and compare these two stellar services. Keep reading to see which comes out on top.
What is SiteGround?

SiteGround was founded back in 2004 by a group of college friends. Since then it's grown to service more than  2,000,000 domains across the globe. They have several data centers around the world and have four offices located in the US, Spain, Bulgaria, and the UK. While they can boast big numbers and success, they remain under private ownership, providing personalized service to their customers.
SiteGround focuses on providing tools and features to create a seamless site-building experience and in-house solutions for fast, reliable service. They offer several hosting services including web hosting, WordPress hosting, WooCommerce hosting,  Cloud hosting, reseller hosting, and enterprise hosting.
SiteGround stands out for providing affordable services that are easily customizable to your needs. They offer several in-house software solutions created by their own staff.  This includes cutting edge security to protect your website from hackers and viruses.
Siteground is great for both large and small businesses. If you're starting small and expect to grow, there are affordable plans that give you the flexibility to manage several websites for a reasonable price. Overall, Siteground is a great choice offering value, lots of features and reliable services.
What is Bluehost?

Bluehost is an established web hosting service that was founded in 2003. Bluehost is one of the world's largest web hosts along with hosting companies like GoDaddy and Hostgator. Bluehost operates with in-house servers located in Utah, USA. Bluehost is owned by Endurance International Group and hosts over 2 million domains worldwide.
Bluehost's top priorities are customer support, speed, and flexibility. They strive to provide customers with plans that allow them to scale up and down with ease. Customers can choose from WordPress hosting, shared hosting, VPS hosting, or dedicated hosting. Each plan comes fully serviced with features to support your business's needs.
Bluehost offers some special features to help you perfect your website skills. They offer marketing credits to first-time users to help you get started on website promotion. Bluehost also offers an easy-to-use dashboard that makes for a pleasant user experience.
Bluehost offers plans capable of hosting everything from very large businesses to small blogs. Whether you expect to get high traffic on your site or just a few visitors, Bluehost has several options to choose from.
What type of service should you choose?
Before we jump into the features of Bluehost and Siteground, it's important to understand which type of service is best for your needs. Both Bluehost and Siteground offer a wide selection of plans for a variety of businesses. Here's a quick break down of what hosting companies can offer:
For small businesses and individuals: if you're new to the scene, have a small business or run a blog, a shared hosting plan is probably the best fit for you.  Shared hosting essentially means you'll be sharing a server with a group of other websites. That means each website is responsible for using only their allotted data.
The feature set is usually a bit more limited than other hosting services but you still get the support and protection that's crucial for a website.  This is the most affordable type of plan.
For mid-sized businesses with moderate traffic: if this description fits you, then a higher tier shared hosting plan can still work well. If you're looking for the next level, you can consider VPS hosting plans. VPS hosting will give you better performance and is capable of handling heavier traffic than a shared platform. Expect more features and a higher price tag.
For large businesses with heavy traffic: if you expect a very high volume of traffic, dedicated hosting may be your best bet. Dedicated servers come through with powerful capabilities for complex and popular websites. This plan dedicates a server to your website so you won't be sharing it with anyone else. You'll get top of the line customer support and security. This plan will cost the most out of the bunch.
Other options: one unique option is reseller hosting. If you've come across this term, you may be wondering exactly what it means. Reseller plans are offered to businesses that want to purchase host services at wholesale rates and resell them to other businesses. This option is often considered by design firms and web developers.
Siteground vs Bluehost:
Now to get on with the Siteground Bluehost comparisons. As we go through this list, we will compare the most important features of a good web hosting service. The key features we will be using to evaluate Siteground and Bluehost are:
Reliability
Ease-of-Use
Speed
Cost
Customer Support
Security
So, which service is better? Let's take a look at these key features of Siteground and Bluehost.
1. Which one is more reliable?
Uptime is an incredibly important factor when it comes to the reliability of your web host. If you're unsure of what this buzzword means, it's pretty simple. Uptime refers to the amount of time your host keeps your website up and running for your visitors. Most hosting companies will boast a 99.9% uptime guarantee.
What can affect uptime? It's important to know that no web host has a perfect uptime record. Common factors that can negatively affect uptime are:
Scheduled maintenance
Security threats
Power outages
Despite this, you want a web host that comes close to perfect when it comes to uptime. At the very least, a company should offer some form of compensation if they don't live up to their uptime guarantee.
Why uptime affects your business: So why is this such an important factor? To put it simply, too much downtime can have a seriously negative effect on your success. Even 1% of downtime per month can take you out for 7 hours each month! That can make for a lot of missed opportunities and disgruntled visitors. Think of it this way: the more uptime your site has, the more reliable your business appears to your visitors.
Siteground vs Bluehost:
So which company wins this round? Remember, no company is perfect, so let's take a look at how Siteground and Bluehost stack up with uptime guarantees:
A closer look reveals that Siteground guarantees 99.99% uptime on an annual basis. If you experience downtime due to network, software, hardware or equipment failure, Siteground will make sure you receive fair compensation.
If you experience uptime rates between 99.00%-99.9% you will receive a month of free web services. For every 1% below 99.0%, you will receive an additional month of free service when you use Siteground.
Bluehost does not have an uptime guarantee in their terms of service. That means, while they may have good uptime averages, they do not guarantee this time to their customers.
Bluehost states on its website that downtime occurs due to the "complexity and nature of shared web hosting." Bluehost makes it clear that they offer no form of compensation for experienced downtime.
Who's the winner?  🥇
It's pretty clear here that Siteground wins with reliability. Although both Bluehost and Siteground come through with high uptime averages, Siteground puts the money where their mouth is with a guarantee. You can feel secure knowing that if you do lose uptime, you'll be fairly compensated for the loss.
2. Which one is easier to use?
There are a few factors that come into play when it comes to the ease-of-use with Bluehost and Siteground. The dashboard is an important feature. We'll also take a look at how intuitive each product is for beginners.
Traditionally, most web hosts utilize cPanel which is a web hosting panel software. While cPanel hosting is very popular, many people seek other options which is why some web hosts have developed their own custom dashboards.
What does the dashboard do? The dashboard or control panel is where you can manage all aspects of your website. You can manage your domain name,  billing, and payments, files, SSL certificates, and pretty much anything else you can think of. This is a crucial element when it comes to choosing a web host.
Siteground vs Bluehost: Which company has the better dashboard? Well, as of 2019 both companies have integrated custom dashboards. Bluehost has an incredibly streamlined dashboard called the Bluehost Control Panel. This control panel is an enhanced version of cPanel making it easy to understand.
Bluehost takes a simplistic approach, making it a great option for beginners. Bluehost utilizes a single-sign-in function that allows you to log in to your control panel and access everything without logging into multiple areas.  The biggest downfall for the Bluehost Control Panel is the heavy upsell and promotions that make the panel feel cluttered.
Siteground offers a customized control panel as of September 2019. When you log in to this dashboard you'll see quick links to the home-page, websites, services, billing, referrals, and the marketplace. The 'website' tab is especially useful, providing quick links to the Managed WordPress kit and site tools.
The Siteground team made it a goal to increase mobile capabilities when designing the new dashboard. That means you can manage your website and hosting on any device and on-the-go.
They paid special attention to creating a simple dashboard with easy-to-find tools. Overall, the new and improved control panel brings a pleasant and intuitive experience to the user.
Which host is more beginner-friendly?
Both Bluehost and Siteground have fairly easy to use dashboards, but which one offers more resources for beginners? Siteground has dedicated an entire section of its website to ebooks and tutorials for its customers. They offer an extensive selection of free downloadable resources to help educate their users.
Bluehost doesn't offer nearly as many resources for beginners, but hey do have a comprehensive WordPress guide for users. Bluehost also has an extensive FAQ section that offers helpful support.
Who's the winner?  🥇
Both Siteground and Bluehost have great dashboards, but Siteground has put serious time and effort into developing a truly custom control panel. The increased mobility of the control panel and the ability to access on any device is a huge plus. The icing on the cake is the dedication to customer education with free guides and ebooks.
3. Which one is Faster?
When it comes to choosing a web host, page speed should be at the top of your priority list. If there's one thing your host should deliver, it should be incredibly fast loading times.
What is page speed? Essentially, page speed is the average amount of time it takes to load your website. To be clear, we're talking about mere seconds. So how fast should your web page load? Ideally, it should load in under 3 seconds. That might seem like a tall order, but delays in loading times can seriously impact the success of your website.
Why is it important? Page speed directly influences the risk of customer bounce. Customer bounce refers to customers who visit a page only to quickly leave without spending significant time. According to research from Think With Google, "the probability of bounce increases by 32% as page load time goes from 1 second to 3 seconds." The margins are pretty slim, as you can see. Let's see what the Bluehost Siteground competition looks like in this area.
Siteground vs Bluehost:
Now, this is an incredibly important test, so let's see which host comes in with faster speeds. In several tests, Siteground blasts through with consistently fast page speed. Siteground manages to provide seriously fast speeds, often coming in at 0.5 seconds or less.
How are they able to do this? Siteground knows how important page speed is and they dedicate a lot of energy towards providing above-average speed. Siteground stands out for providing fast speed times around the globe.
Siteground has also focused on making WordPress sites faster than ever before. Their latest update as of 2022, includes a new feature that stops render-blocking JavaScripts from slowing down your WordPress site. This allows visitors to see your WordPress site fully loaded despite JavaScripts in the header.
Bluehost also boasts impressive speed. They can provide load times in well under half a second. This is a huge improvement over Bluehost speeds from 2017 which came in at over 2 seconds on average. However, there have been some customer complaints about Bluehost speeds even in 2021. Despite this, Pingdom stats report super fast speed time averages for Bluehost.
Who's the winner?  🥇
Both sites have super-fast page speed averages, but across the web, independent testing consistently ranks Siteground as the faster host in direct comparison to Bluehost. They are clearly dedicated to providing cutting edge technology to their customers. They regularly post updates to communicate exactly what they are doing to keep their speeds fast. Siteground's clear communication and transparency put them ahead of Bluehost once again.
4. Which one has a cheaper pricing plan?
For the sake of this test, we will compare shared and dedicated plans from Bluehost and Siteground to determine which service is more affordable. Keep in mind that both Bluehost and Siteground offer WordPress hosting options.
Siteground offers the following plans: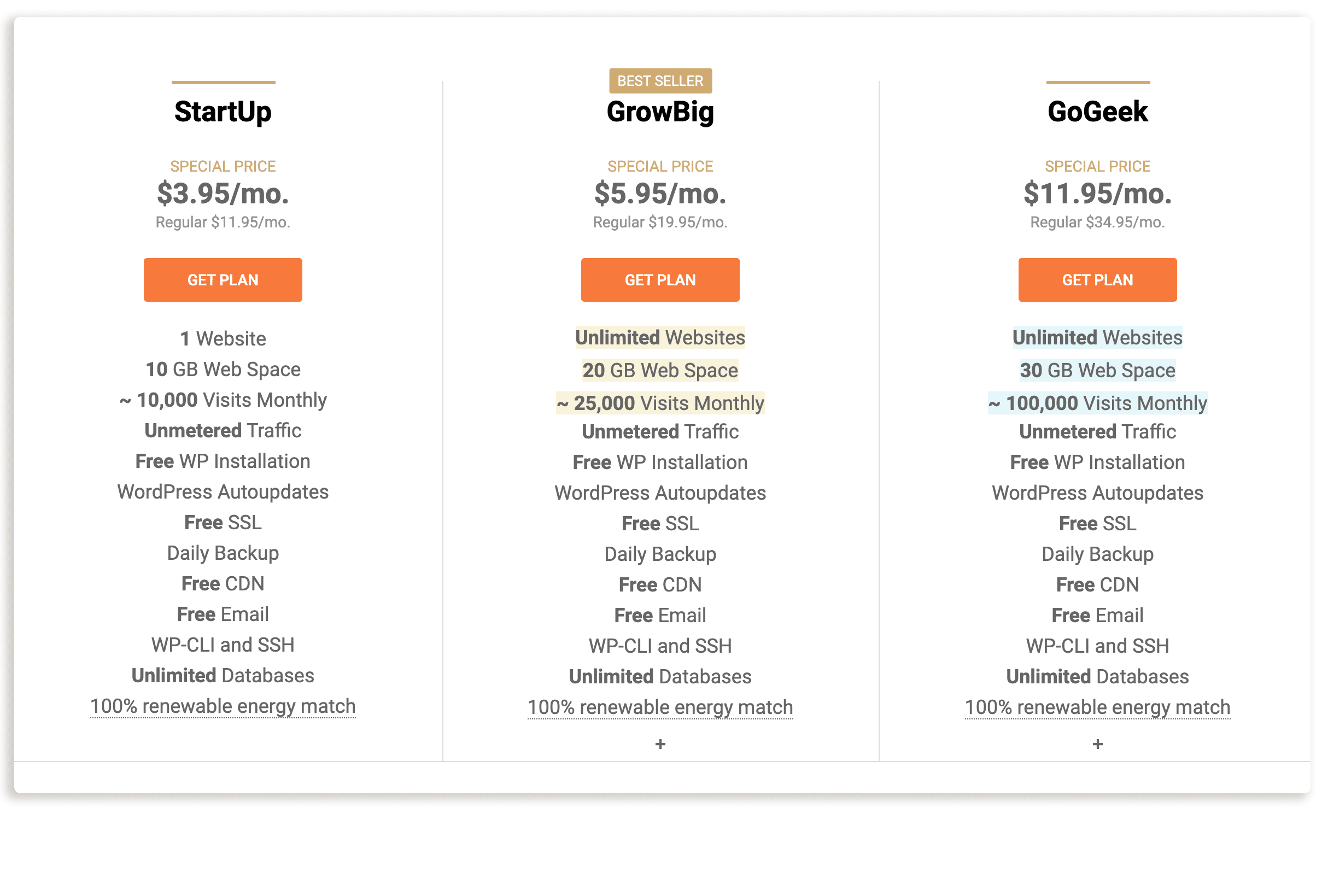 Shared Hosting Plans
Start-Up Plan $3.95/mo:
1 Website
10 GB Web Space
~ 10,000 Visits Monthly
Unmetered Traffic
Free WP Installation
WordPress Auto updates
SSL
Daily Backup
Free CDN
Free Amail Accounts
WP-CLI and SSH
Unlimited Databases
100% renewable energy match
Grow Big Plan $5.95/mo
Unlimited Free Website
20 GB Web Space
~ 25,000 Visits Monthly
Unmetered Traffic
Free WP Installation
WordPress Auto-updates
Free SSL
Daily Backup
Free CDN
Free Email Accounts
WP-CLI and SSH
Unlimited Databases
100% renewable energy match
Dynamic Caching
On-demand Backup Copies
Free Professional Site Transfer
Staging
Add Collaborators
Go Geek Plan $11.95/mo
Unlimited Websites
30 GB Web Space
~ 100,000 Visits Monthly
Unmetered Traffic
Free WP Installation
WordPress Auto-updates
Free SSL
Daily Backup
Free CDN
Free Email Accounts
WP-CLI and SSH
Unlimited Databases
100% renewable energy match
Dynamic Caching
On-demand Backup Copies
Free Professional Site Transfer
Staging + Git
Add Collaborators
White-label Clients
Highest Tier of Resources
Priority Support
Cloud Hosting Plan (Dedicated)
Entry Level Plan $80/mo
2 CPU Cores
4 GB Memory
40 GB SSD Space
5 TB Data Transfer
Business Plan $120.00/mo.
3 CPU Cores
6 GB Memory
60 GB SSD Space
5 TB Data Transfer
Business Plus Plan $160/mo
4 CPU Cores
8 GB Memory
80 GB SSD Space
5 TB Data Transfer
Bluehost offers the following plans: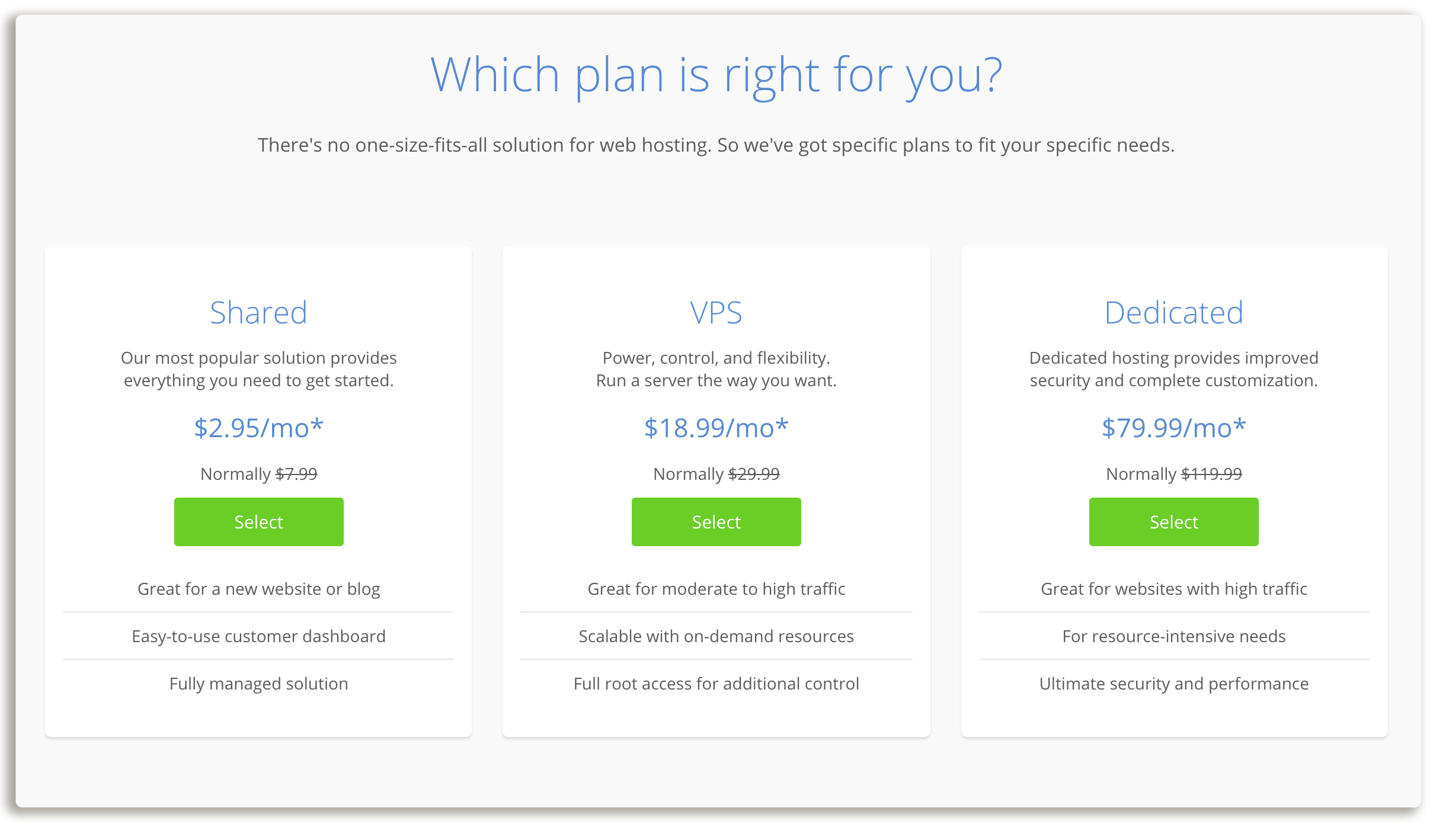 Shared Hosting Plans:
Basic Plan $2.95/mo
1 Website
50 GB SSD Storage
Unmetered Bandwidth
Free SSL Certificate
Standard Performance
1 Included Free Domain Name
5 Parked Domains
25 Sub Domains
Easy Website Transfer
Plus Plan $5.45/mo
 Unlimited Websites
Unlimited SSD Storage
Unmetered Bandwidth
Free SSL Certificate
Standard Performance
Unlimited Free Domain Name
Unlimited Parked Domains
Unlimited Sub Domains
Spam Experts
Email Accounts Office 365 Mailbox – Free 30 Days
Choice Plus Plan
Unlimited Websites
Unlimited SSD Storage
Unmetered Bandwidth
Free SSL Certificate
Standard Performance
Unlimited Free Domain Name
Unlimited Parked Domains
Unlimited Sub Domains
Spam Experts
Domain Privacy + Protection
Site Backup – CodeGuard Basic
1 Office 365 Mailbox – Free 30 Days
Pro Plan $13.95/mo
Unlimited Websites
Unlimited SSD Storage
Unmetered Bandwidth
Free SSL Certificate
High Performance
Unlimited Free Domain Name
Unlimited Parked Domains
Unlimited Sub Domains
2 Spam Experts
Domain Privacy + Protection
Site Backup – CodeGuard Basic
Dedicated IP
1 Office 365 Mailbox -1 Month Free
Dedicated Hosting Plans:
Standard Plan $79.99/mo
4 cores @ 2.3 GHz
500GB (Mirrored) Storage
4 GB RAM
5 TB Bandwidth
3 IP Addresses
Enhanced Plan $99.99/mo
4 cores @ 2.5 GHz
1TB (Mirrored) Storage
8 GB RAM
10 TB Bandwidth
4 IP Addresses
Premium Plan $119.99
4 cores @ 3.3 GHz
1TB (Mirrored) Storage
16 GB RAM
15 TB Bandwidth
5 IP Addresses
Who's the winner?  🥇
👉  Bluehost
When it comes to Siteground vs Bluehost, Bluehost is the clear winner when it comes to affordability. You'll get lots of unlimited features and a free domain name in every plan that Bluehost offers. Across all plans, both shared and dedicated, Bluehost provides cheaper services.
5. Which one has better customer service and support?
Customer support is an underrated feature that people often overlook when comparing Bluehost vs Siteground. This feature should be one of your top priorities. You will rely heavily on your web host to make sure your site is running smoothly. When you do run into questions or problems, you want to have faith that your web host will give you personalized and efficient support. So does Bluehost or Siteground have better support? We look at features like live chat and efficiency to find out.
Bluehost vs Siteground
Siteground is very well known for its customer service and it's one of the reasons they're well regarded. You can expect to receive immediate support in under 30 seconds during any time of the day or night. Siteground trains a team of people in top-of-the-line client support. Working with Siteground will give you an automatic heads up because you don't have to wait around to get help. You can get support with Siteground via live chat, over the phone or by submitting a support ticket.
In contrast, Bluehost outsources client support which results in longer wait times and less competent support staff. You'll likely be waiting for a few minutes before you connect to the live chat support. Also, because the staff is not highly trained like the support at Siteground, they often transfer customers from live support to a specialist. This process can see wait times of 48 hours.
Who's the winner?  🥇
In a head to head competition between Siteground vs Bluehost, Siteground takes this one hands down. They've invested much more into their support and it shows. On top of that, they give many free resources to help their customers improve their skills. Siteground is hard to beat.
6. Which has better security?
As your website grows, you'll start to realize just how important security is. Many factors can be devastating to a website including malware and hackers. When you consider Bluehost vs Siteground, you have to understand what each company is doing to protect its clients.  Siteground and Bluehost have taken different approaches to this task.
Bluehost vs Siteground
Bluehost uses Cloudflare to ensure the websites they host are safe and secure. Bluehost also provides several tips on how to make sure you have WordPress security for those on the WordPress hosting plans. The features of Bluehost security include password protection, spam protection, and the ability to blacklist IPs. Bluehost also has hotlink protection to prevent people from stealing your images. They use two-factor authentication during set up to add an extra layer of protection.
Siteground developed its own security system in the form of an AI-based bot prevention program. This cutting edge program can block between 500 000 and 2 million brute-force attempts across all servers, every hour. That is some seriously powerful security. According to the Siteground website, AI can detect:
Failed login attempts in the majority of popular web applications – WordPress, Drupal, Joomla, Magento, etc.
Number of simultaneous connections to different URLs
Different request types and known DDoS vulnerabilities in applications
Dynamic list of bad user agents that's constantly being updated
Who's the winner? 🥇
Once again, Siteground comes out on top. You just can't beat that AI technology. Bluehost has decent security as well, but they haven't shown the same level of expertise. Again, Siteground is dedicated to providing total transparency with its customers, providing detailed information on exactly what they do to improve security.
Which one is the overall winner? 🙌
Let's do a quick review:
Reliability Winner: Siteground
Ease-of-Use Winner: Siteground
Speed Winner: Siteground
Cost Winner: Bluehost
Support Winner: Siteground
Security Winner: Siteground

Siteground is the overall winner here, coming out ahead in 5 out of 6 categories. The Siteground vs Bluehost discussion is valid since they both offer great services like WordPress hosting, dedicated and cloud hosting, and lots of unlimited features. Despite this, Siteground just can't be beaten. They offer some of the best support out there, cutting edge security and a state-of-the-art control panel. Siteground consistently brings transparency to the table, updating their clients on every move they make. In the competition between Siteground and Bluehost, Siteground is the clear winner.