9 Bluehost alternatives for hosting (Tested + Compared)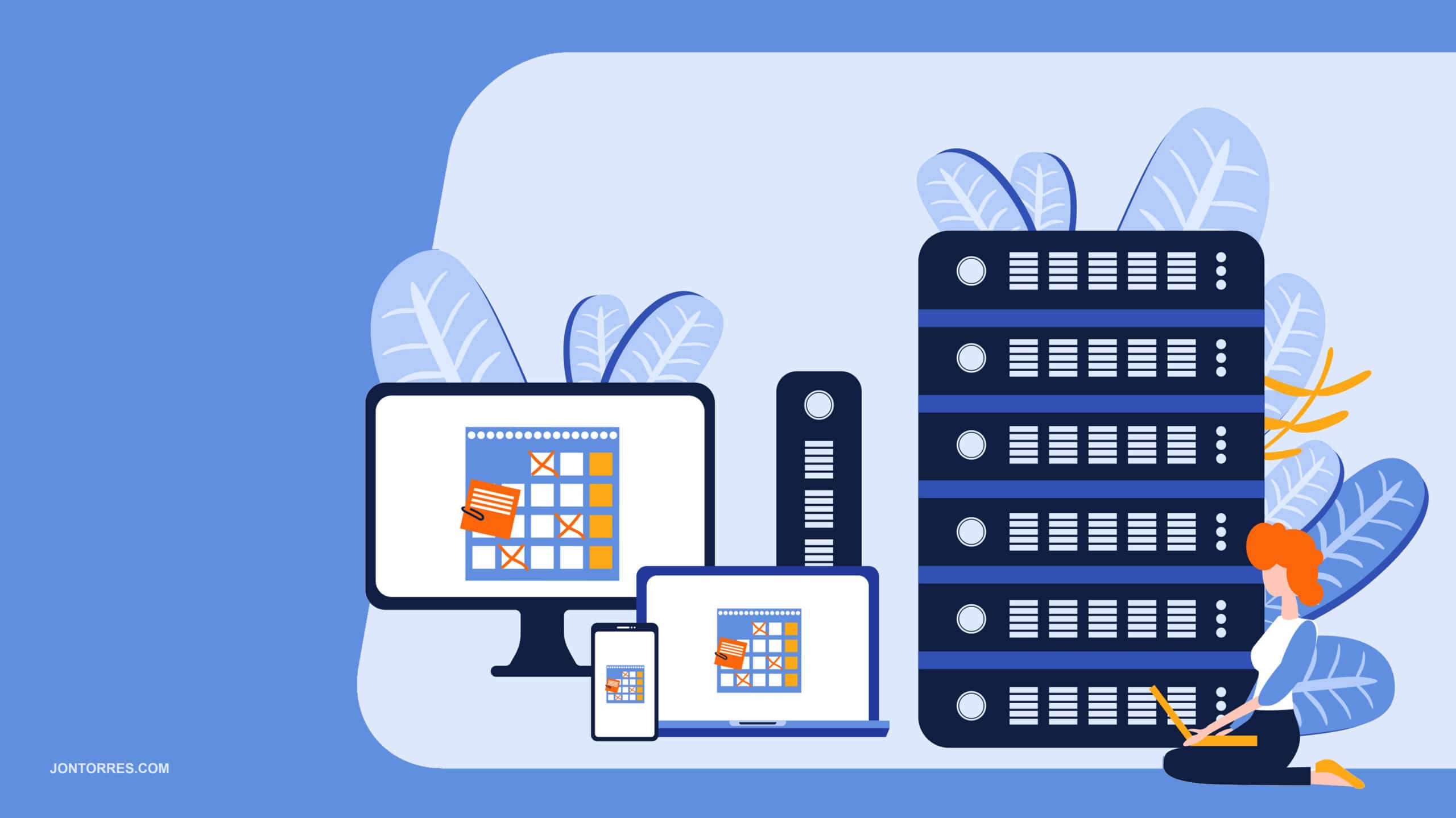 No matter what field you may be in, having a web presence is more important than ever before. It may seem obvious, but in order for that to happen, you'll need to have a website. If you find yourself entering the world of websites, you've probably heard of the concept of web hosting services. 
Finding the right web hosting service is a crucial part of getting your website out there so you can increase your online presence. If you're still unclear on exactly how this works, let's break it down a little bit. Web hosting is a service that helps make your website available to the public. This service is accompanied by varying feature sets to help manage your website. 
Bluehost is one of the leading hosting services available today, but you should consider the alternatives to ensure you're making the right choice for your needs. We've compiled a list of the best hosting alternatives so that you can find a service that is highly efficient, trustworthy and gives you the best value for your money.
Things to consider before getting started:
Before you choose your web hosting service, make sure to take a look at the following factors:
Load time:

 Load time simply means the amount of time it takes to load your webpage. Many hosting services boast a 1 second load time, and that is exactly what you should be looking for. Anything slower than this can affect your SEO ranking and increase the number of people who quickly leave your page. 
Uptime:

Uptime is the amount of time your website is up and running for customers to visit. As you can imagine, having a high downtime can dramatically affect your business. Ideally, your web host should have less than 1% of downtime. 
Cost: 

It's great to have free and affordable services, however, with web hosting the price correlates to the features you receive. If you need a seriously capable service, you're likely going to pay more. One more thing to be aware of: most web hosts will advertise a cheaper rate only to hike it up after a trial period. Always check out the total cost before signing up.
Customer Service:

Last but not least, customer support will be one of the most valuable features for you. Some web hosts only offer phone support, while others offer a range of support options. Choose one that will give you the level of help you need.
Choosing the right service:
The last thing to consider before choosing a web hosting service is the type of service you'll require for your website. The following are three common types of web host services:
1. Shared: Shared hosting simply means your website will be on a shared server with several other sites. This means each website is allotted a data allowance and there are limited performance and bandwidth capabilities. This option is best for smaller operations and is usually the most affordable.
2. VPS: A virtual private server or VPS will give you higher performance capability and more features. This option often includes better security, greater bandwidth, and more control overall. This option is good if you expect to scale quickly.
 3. Dedicated: Dedicated servers are necessary for anyone who has a highly complex website and needs a host who can handle a huge number of visitors to the site. With this option, you're not sharing the server with anyone and will receive fast, powerful performance.
Summary
9 Bluehost Alternatives:
Without further ado, here are 9 Bluehost alternatives to help you get your website up and running: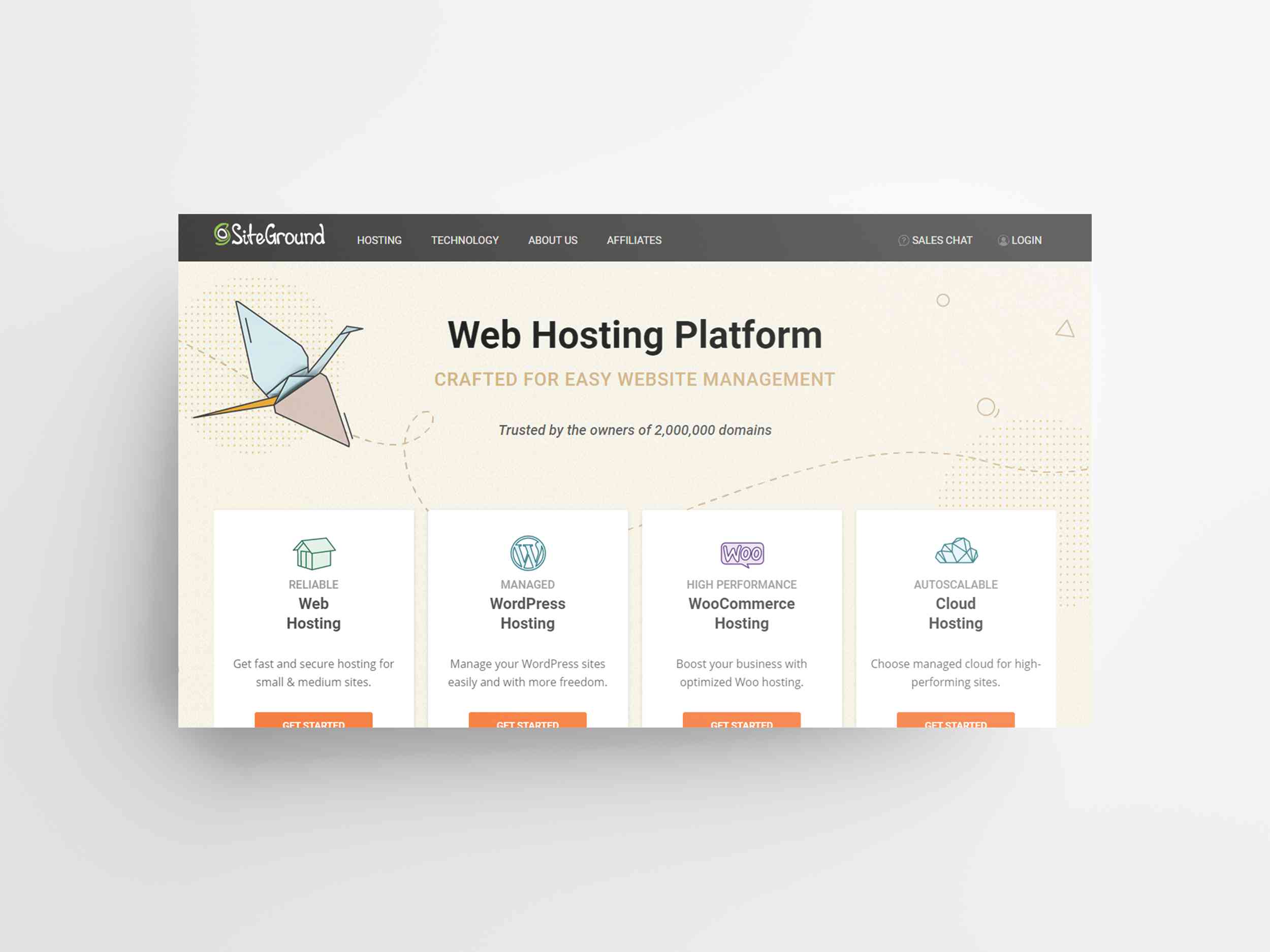 Siteground is a WordPress hosting service that offers a comprehensive feature set to help you manage your website. Siteground has a solid uptime average of 99.98% which means you don't have to worry about customer accessibility. Siteground also offers website building with WordPress and Weebly making it one of the most convenient services on this list. 
Pros  👍
Free email

Unlimited databases

24/7 customer support
Cons 👎
The signup price will go up after the promotional period. 

 Short trial period. 
Features 📈
Free WordPress transfer: if you used WordPress to build your website, you can transfer your site to Siteground for free. If you don't have a WordPress website, they make website transfers quick and easy with the help of experts. 
Great security: Siteground offers security to both websites and applications. They offer free encryption services to keep your information safe and secure.
Pricing 💰
Start-Up Plan for $3.95/month

Grow Big Plan for $5.95/month

Go Geek Plan for $11.95/month
RELATED: Check out this Siteground vs Bluehost comparison
Hostinger is one of the most affordable web hosts available. With the basic plan starting at just $0.99 a month, there's really no beating the value they offer. They offer a 99.99% uptime guarantee which is pretty impressive considering the incredibly low cost. If your main concern is cost, this is a great option for you. 
Pros  👍
Super cheap web hosting options.

Fast uptime and load time for the value. 
Cons 👎
No daily backup.

No SSL certificate with the basic plan.
Features 📈
Free website builder: Once you sign up for a plan, you'll have access to their free website builder. 
Unlimited features: With the premium and business plans, you'll receive access to unlimited hosting features. 
Pricing 💰
Single Shared Hosting for $0.99/month

Premium Shared Hosting for $2.89/month

Business Shared Hosting for $3.99/month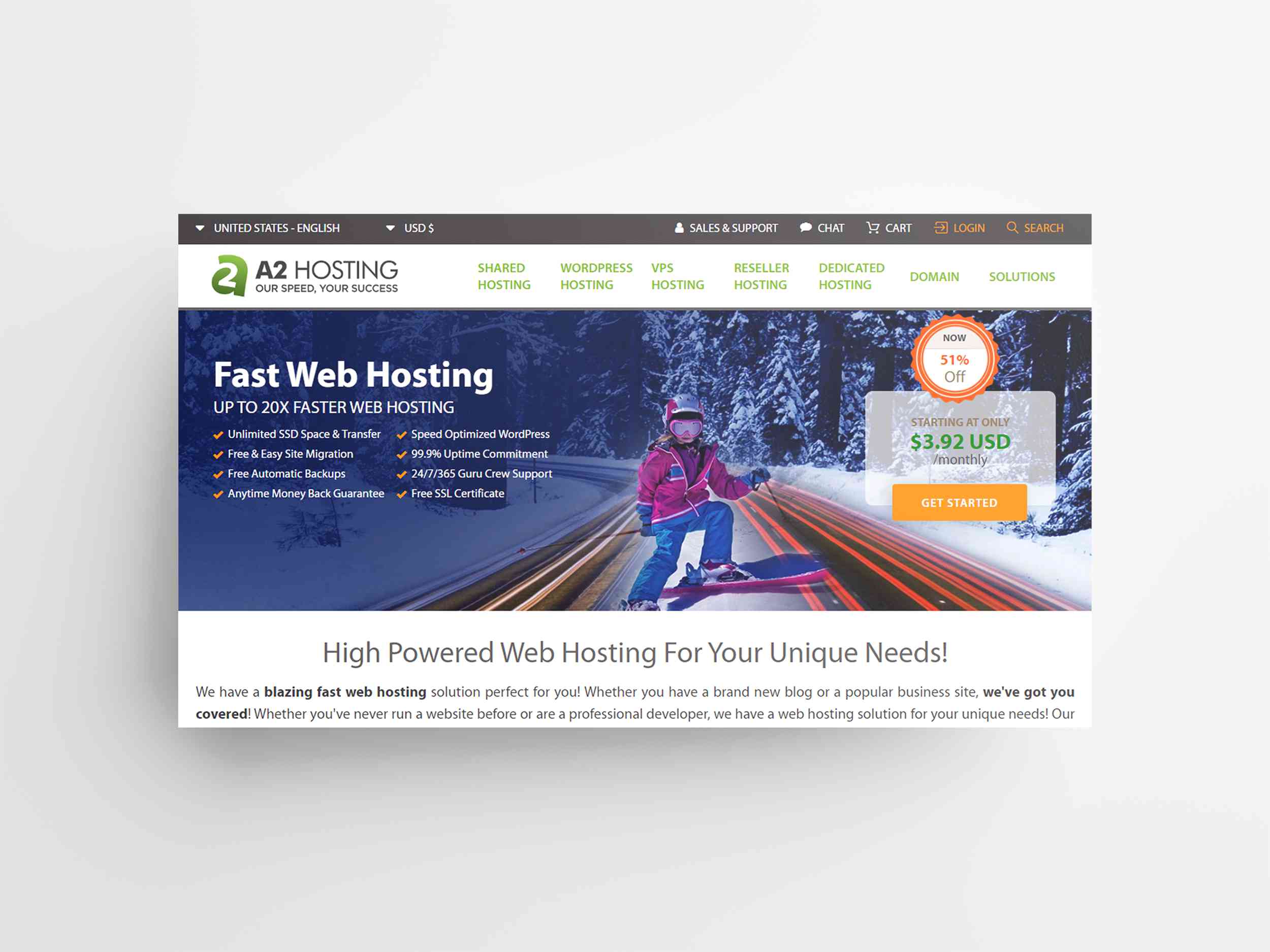 A2 Hosting is known for incredibly fast site speed. Even their basic, shared plan includes their "turbo" speed which puts this host at the front of the pack. The pricing lands right in the middle of the bunch with a comprehensive list of features and 99.99% uptime commitment. A2 Hosting offers plans for shared hosting, VPS hosting as well as dedicated servers.
Pros  👍
Superfast loading time.

Reasonably priced plans.

Free SSL certificate.
Cons 👎
Add-ons are heavily pushed.

On-demand backups are an extra charge. 
Features 📈
Security: A2 Hosting will protect your website from brute force attacks and regularly check for viruses. Any compromised files will be set aside and quarantined.
Global Servers: You can host your site closer to where your website traffic is located.
Pricing 💰
Shared Hosting for $3.92/month

VPS Hosting for $5.00/month

Reseller Hosting for $9.80/month

Dedicated Hosting for $99.59/month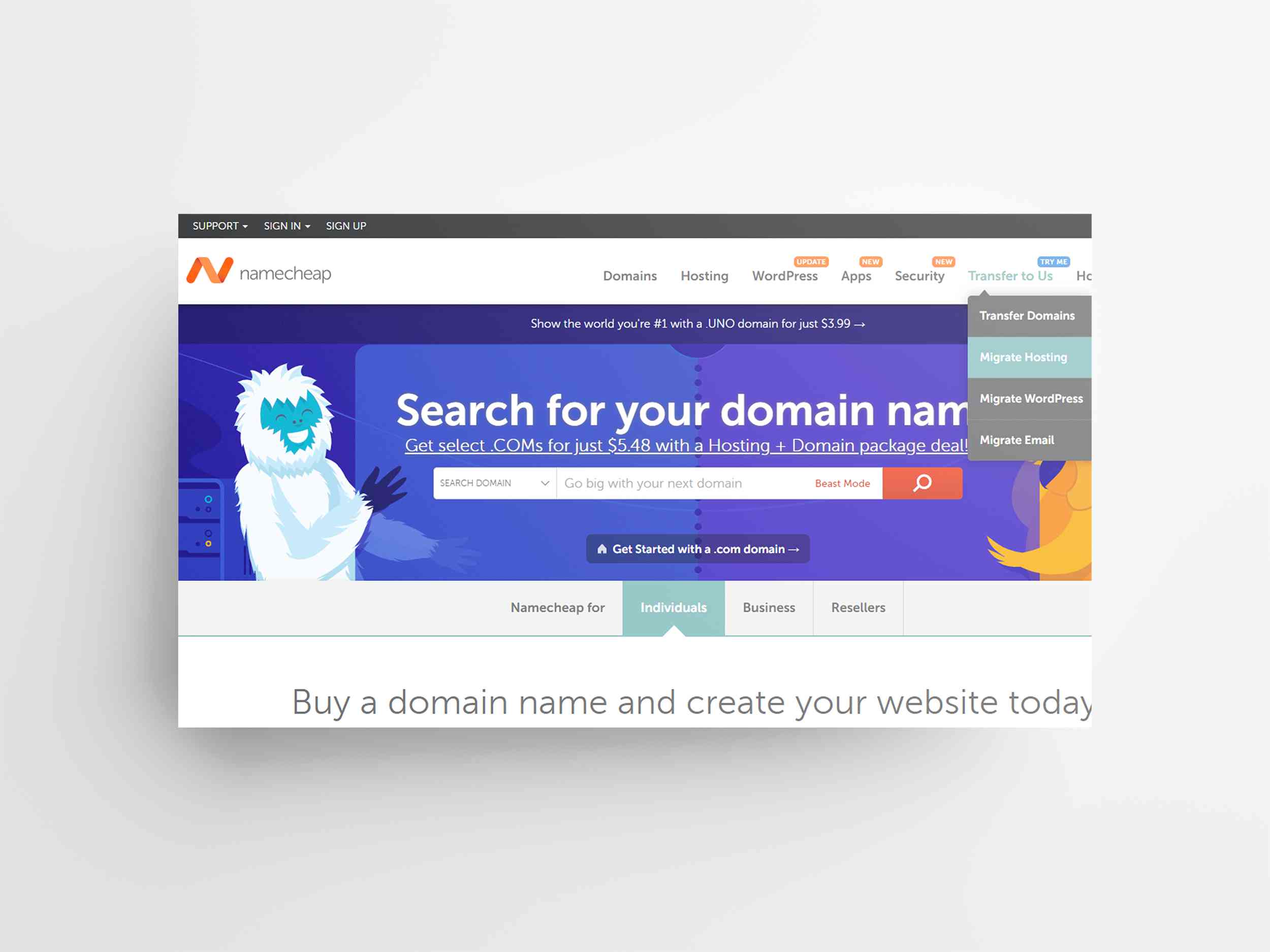 NameCheap lives up to its namesake with very affordable hosting plans. Although they do offer plans for larger businesses, NameCheap caterers to beginners and small businesses. Though not quite as cheap as Hostinger, NameCheap comes in as a close second. Their lowest tier plan for shared hosting comes in at just $1.44/month. They even offer an email hosting plan with two-months of free service. Of course, with such cheap rates, you can expect some limitations in comparison to other hosting services. 
Pros  👍
Beginner-friendly

24/7 customer support.

50 free SSL certificates for the year.
Cons 👎
Basic plans are fairly limited. 

Not great for hosting several websites.
Features 📈
Auto Backup: premium plans will receive auto-backup as a part of the plan. This ensures the backup of your website, databases, files and more. 
Fast website transfers: NameCheap can help you transfer your website in under 24 hours.
Pricing 💰
Shared Stellar Plan for $1.44/month

Shared Stellar Plus Plan for $2.44/month

Shared Stellar Business for $4.44/month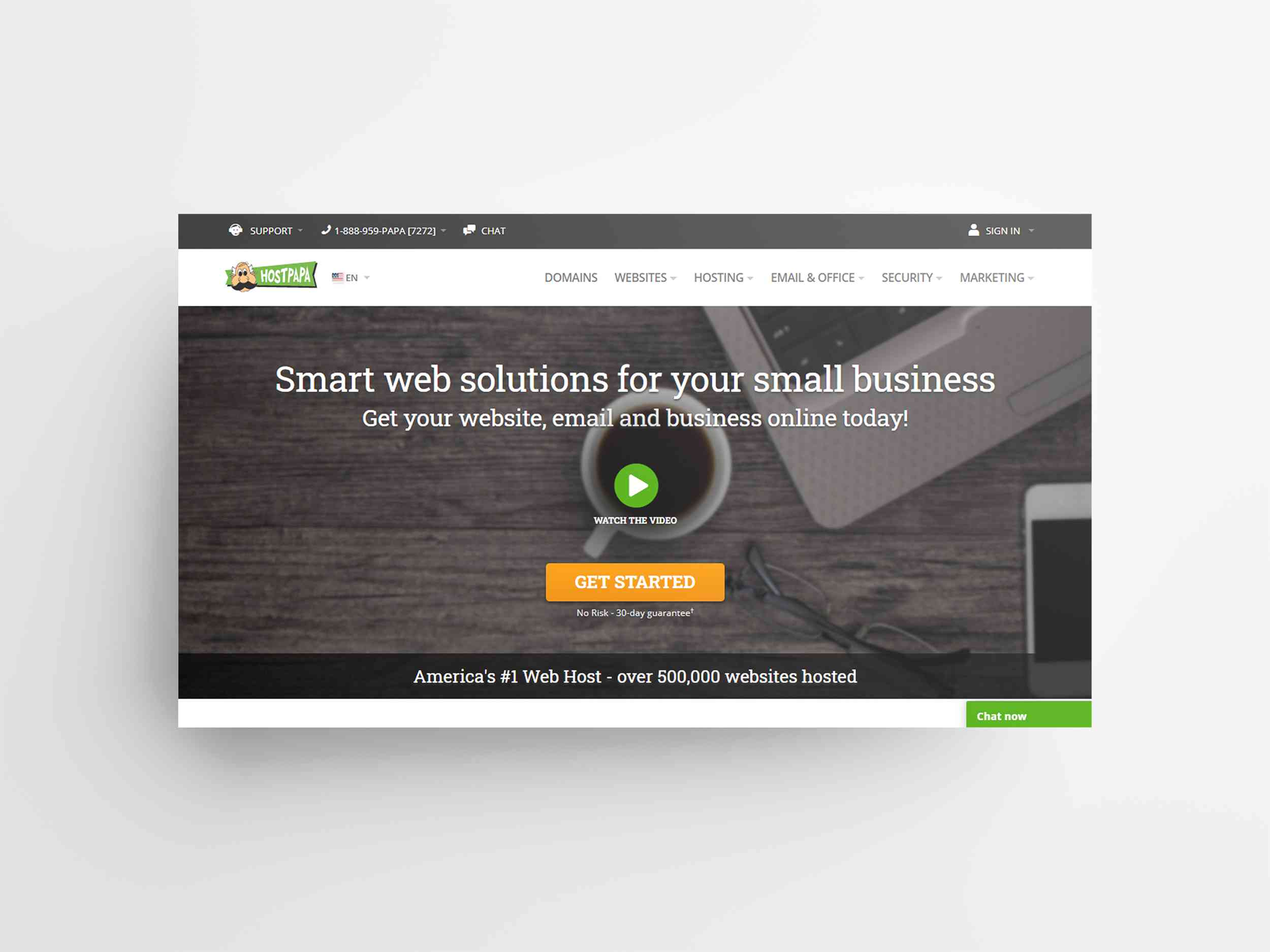 HostPapa caters exclusively to small business and beginners. HostPapa offers an impressive selection of tools along with excellent customer service to help small business owners grow an online presence.
HostPapa uses low-density, high-performance servers to ensure your load times are lightning-fast. The best part about HostPapa is that it's easy for beginners to understand. The HostPapa dashboard is intuitive so that newbies can get their site up in no time. 
Pros  👍
User guides and tutorials. 

Live chat support.

Weekly webinars and one-on-one training.
Cons 👎
The advertised price only applies to a 36-month contract. 

A small window for money-back guarantee.
Features 📈
Protection power: HostPapa scans your website automatically on a daily basis to check for malware and attacks from hackers. 
Intuitive dashboard design: you can easily see everything at a glance with the dashboard system. 
Pricing 💰
Starter Plan for $3.95/month

Business Plan for $3.95/month

Business Pro Plan for $12.95/month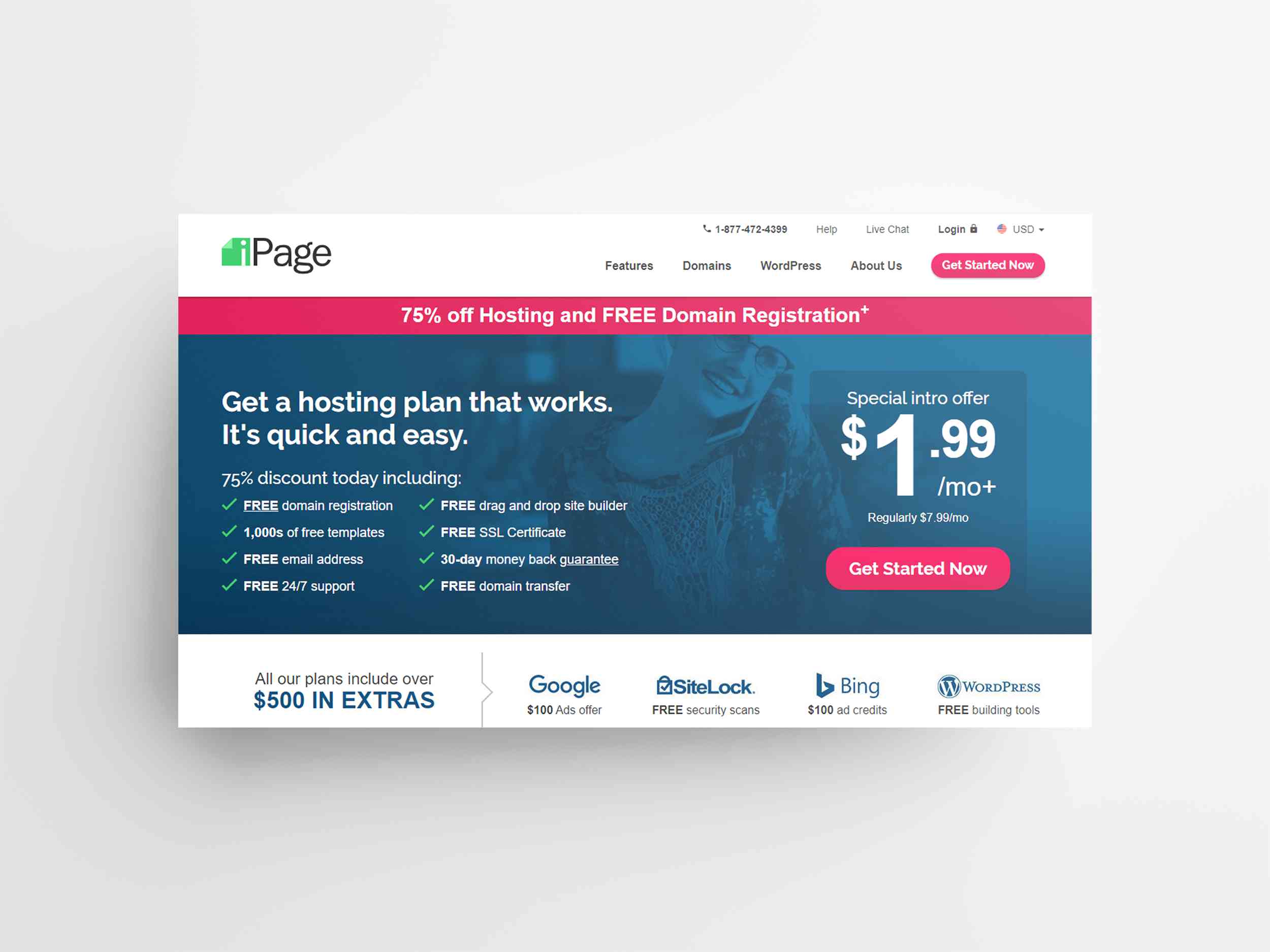 iPage is another great option for small businesses and individuals seeking to create an online presence. iPage is a smart choice if you're intimidated by the technical aspect of web hosting. This web hosting service has been around since 1998, so it's safe to say they know what they're doing. The basic plan includes a free domain name registration, unlimited email accounts, and unmetered bandwidth and disc space.
Pros  👍
Live chat support at any time of day or night. 

Trusted and reliable. 

Good for beginners. 
Cons 👎
You're limited to U.S. data centers. 

Site transfers are not free.
Features 📈
Scalable bandwidth: There's no set limit for bandwidth so you have room to grow. iPage guarantees that their bandwidth capabilities will be suitable for 95% of their customers. 
Customized email address: You can create an email specifically for your business. 
Pricing 💰
12-month plan: $2.99/month

24-month plan: $2.49/month

36-month plan: $1.99/month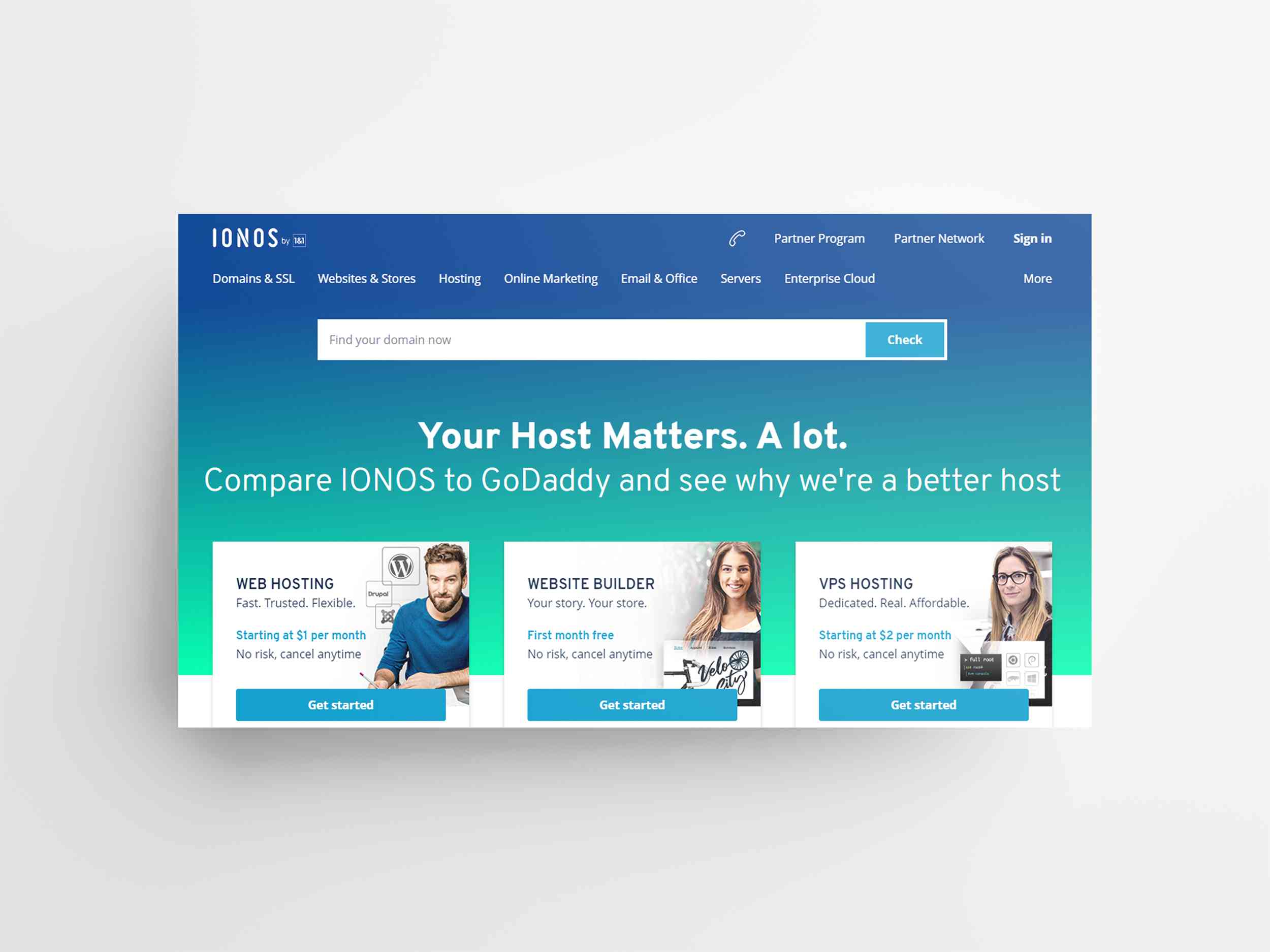 If you're looking for a web host that you can easily scale with, IONOS 1&1 can support you. They have a diverse selection of features that make it possible to purchase additional performance levels for just $2 more each month. You can also scale back down with ease. Plans with IONOS 1&1 come with an array of hosting applications that can be installed as plugins. 
This hosting service boasts super fast speeds and quality customer support. IONOS 1&1 is a great option for both large and small businesses. They offer plans for shared hosting, VPS hosting, dedicated hosting, and cloud hosting. 
Pros  👍
Large selection of hosting plans.

Quality customer support. 

Intuitive website tools.
Cons 👎
No options for reseller hosting.

Prices go up after 6 months.
Features 📈
Customized support: Specialists can help you create a great layout, work on content creation and improve SEO.
Pricing 💰
Essential Plan for $4.00/month

Business Plan for $8.00/month

Expert Plan for $14/month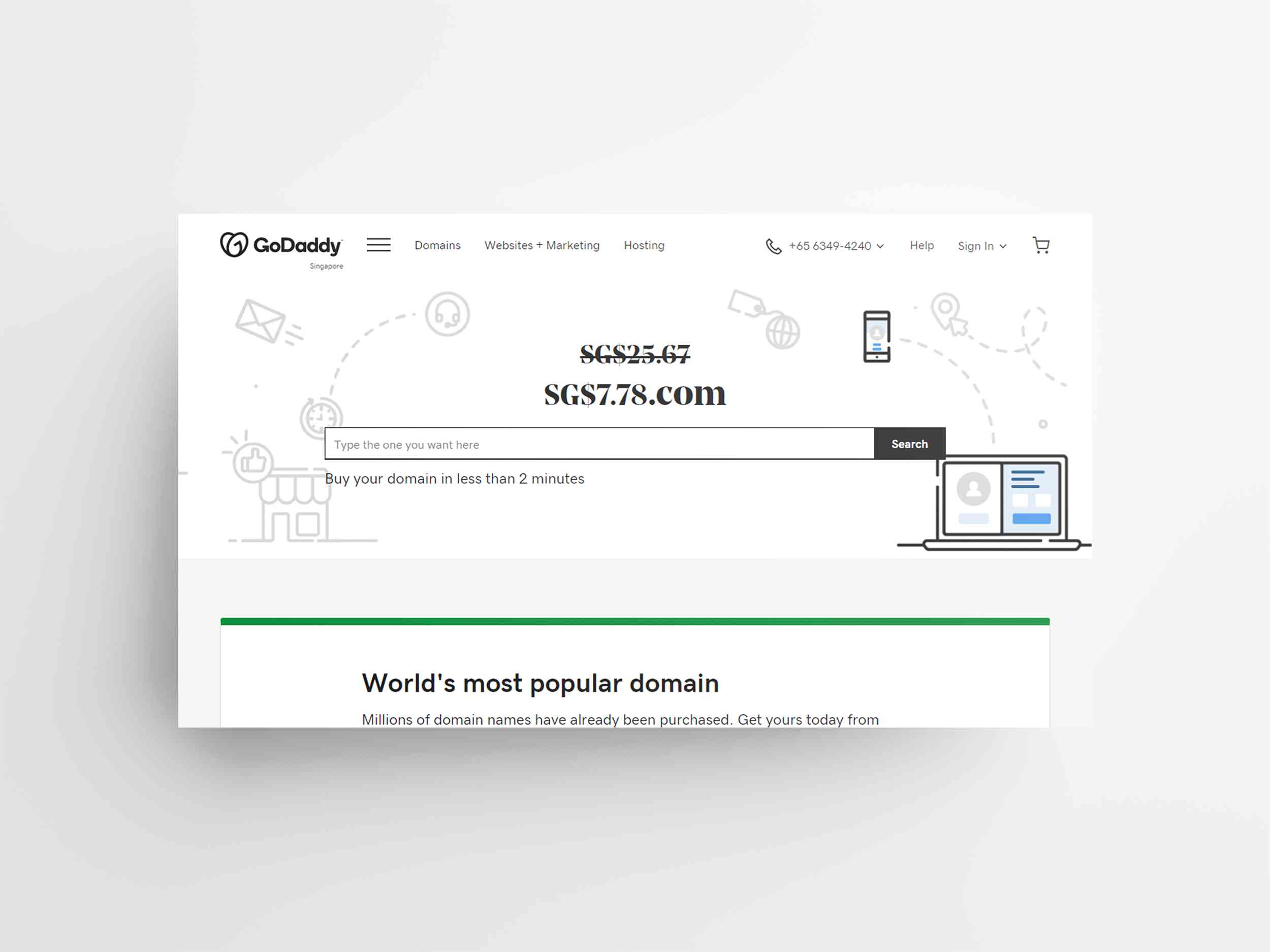 Godaddy is undoubtedly the most well-known web host on the list. Godaddy has millions of customers worldwide and is a trusted web hosting service. Godaddy often offers incredibly low promotions so it's a good choice if you want to try the service out.
All of the plans on Godaddy include unique and useful features. They provide a comprehensive dashboard so that you can view all of your stats at a glance. They offer Windows and Linux based hosting plans as well as WordPress hosting, VPS hosting and dedicated hosting. 
Pros  👍
Free domain name. 

Excellent security features. 

Automatic website backups.
Cons 👎
Customer support can be slow. 

Some plans are based on 36-month commitments. 
Features 📈
1-click app installs: You can quickly install over 100 apps for free. 
Free Office 365 email: The basic plan includes one year of free Office 365 email with 5GB of storage.
Pricing 💰
Economy Plan for $5.99/month

Delux Plan for $7.99/month

Ultimate Plan for $12.99/month

Maximum Plan for $19.99/month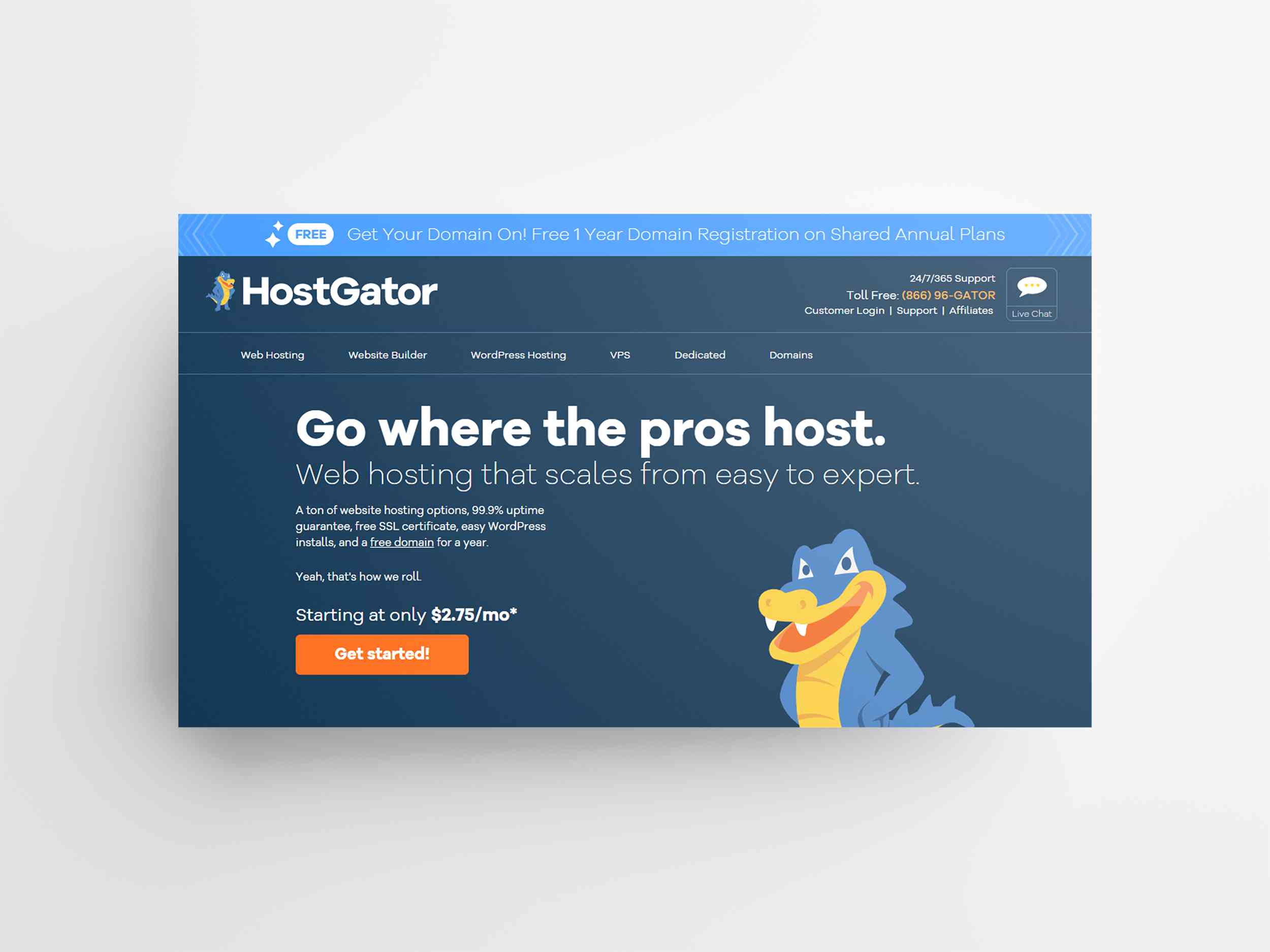 After Godaddy, HostGator is one of the most popular options for web hosting services. HostGator is a great choice because the basic plan offers quite a few features at a low price. Upon signing up, you'll get $100 of Google Adwords and $100 of Bing Ads Credit. For the low price, you'll receive much more than competing basic plans.
Pros  👍
Immediate customer support 24/7

Unlimited bandwidth and disc space. 

45-day money-back guarantee.
Cons 👎
Features 📈
Free domain registration: when you purchase a plan, you'll receive a free domain for the first year. 
Unlimited everything: tons of unlimited features including unlimited bandwidth, FTP accounts, and email accounts. 
Pricing 💰
Hatchling Plan for $2.75/month

Baby Plan for $3.95/month

Business Plan for $5.95/month
Final Thoughts
There is a huge selection of capable, reliable and affordable plans out there. Whether you're a small business or a quickly growing business, there are plans out there to fit your unique needs. Remember to read the fine print on all pricing so there are no surprises. With these excellent options available you can start increasing your online presence with ease.