7 Best WordPress Page Builders for SEO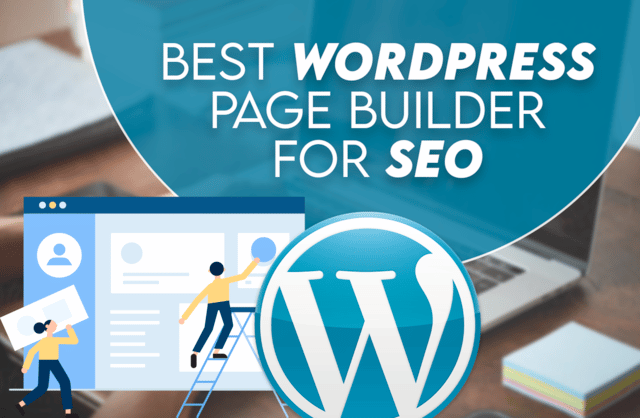 In our current technology-fueled world, any business needs a web page no matter how big or small. Many small and midsize businesses, especially those just getting started, can't afford to hire a team of web developers and page builders to build those business websites, so they turn to WordPress page builders.
These simple drag-and-drop interface WordPress page builders allow pros and novices alike to develop their business websites quickly and easily. Still, there is another crucial function of websites that is incredibly important for finding customers: search engine optimization (SEO).
As a marketing and affiliate expert, I'm going to use this post to help you find the right WordPress page builder to drive your site's SEO strategy and boost organic traffic.
Here are the best WordPress Page Builders for SEO delivery that I will cover:
I'll also cover these SEO Plugins for your WordPress website:
Yoast SEO

: Best for Staying Ahead of SEO Best Practices

Rank Math

: Best for Customization and Page Display
Top 7 WordPress Page Builders for SEO
Some WordPress page builders offer a free version (with plenty of paid upgrades), while others provide only a premium version. Below I will cover the top 7 WordPress page builders for SEO in terms of their main features and pricing (both free and paid features).
Are WordPress Page Builders Compatible with SEO Plugins?
As a marketing and affiliate expert, SEO is a vital aspect of any web page that I build, manage, or consult with my clients about. There really isn't anything better than free organic traffic being delivered to your web page after you took the time to structure the format and copy correctly. While a good web page builder will help build your web pages with the design aspects that you like, a good SEO plugin can help you ensure that you are getting all of the traffic that you deserve (and need for a thriving business or side hustle).
Most WordPress page builders are compatible with SEO plugins, and there are several great, free SEO plugin options that you can download directly from WordPress to implement with your page builder.
Now that you know which SEO plugins are compatible with the best WordPress page builders listed above, I should explain exactly what these plugins do to help increase your SEO and traffic
Why Should You Use a WordPress Page Builder?
WordPress page builders are an excellent tool for novices and professional web developers alike. If you're a newbie with no coding skills, these tools can allow you to drag and drop WordPress pages by simply choosing what you want them to look like. The other method of writing lines of code for every single aspect of your WordPress theme or page can be extremely time-consuming (or expensive if you hire someone to do it).
For agencies and professional web developers, many WordPress page builders still provide the ability to further customize themes or pages using HTML and CSS. Since these page builders do much of the heavy lifting in the areas where predesigned elements of the theme fit the branding requirements and needs of the website, they can drive massive efficiencies when used.
The main benefits of using a WordPress page builder are:
No coding expertise is needed

Templates offer great-looking designs that can be implemented with a click

Auto-updates and plugins mean there is low maintenance for the site

Customer support and developer communities can help whenever you run into an issue
How to Choose the Best WordPress Page Builder?
You may be tempted to choose a WordPress page builder based on a review or specific theme that is used to highlight the tool, but there are a lot of factors that bear serious consideration before you make that choice.
Ease of Use
Most of the WordPress page builders listed above are renowned for how user-friendly they are, especially Beaver Builder and Gutenberg by Kadence Blocks. Others, like Generate Press, are more for people who know their way around WordPress websites and don't need the simple drag-and-drop page builders. There are a lot of great bells and whistles on some of these WordPress page builders, but if this is your first website you should learn on easy mode!
Features
There is a big difference between building a one-page blog hosted on WordPress and an extremely intricate website that needs dozens of pages and a detailed site map. You should stick to a WordPress page builder that has the features you need, but not much more unless you know what you are doing.
If you don't know how to code on your own, the ability to customize using HTML and CSS shouldn't affect your decision on which to choose. Go with what you know, and start with the features that you need, not those that you think you may need in five years.
Templates
Beauty is in the eye of the beholder, and templates can help to start your WordPress website off with a look and organizational style that appeals to you (and your potential traffic). Take your time looking through the templates offered by the WordPress page builders listed above to find one that truly appeals to you. Templates are great because you can change them when it's time to upgrade or switch things up, but you may be surprised to find exactly what you were imagining the site should look like.
Customizability
Some of the best WordPress page builders listed above offer a wide range of customization options, while others require you to stick with many of the default settings. Customization can be great if you know what you are doing, but can also get you into trouble if you don't!
If you have the coding skills to customize your website, some of the page builders above make the sky the limit and allow you to make your site exactly what you want. Just be careful – templates are popular for a reason, as too many choices may lead to utter confusion and decision deadlock!
How Do WordPress Page Builders Affect SEO?
One of the major factors in SERPs is the page loading and page response time, meaning how long it takes your actual website or elements on it to load. Because WordPress page builder plugins add additional code to your website, some run the risk of slowing that process down. Others convert your site into a shortcode that only works with that page builder, and can make quite a mess if you ever decide to change.
The list above includes many WordPress page builders that were created with SEO in mind and others that are well-liked because they are lightning fast. In effect, a good WordPress page builder can help to supercharge your SEO, while a bad one may slow your site down and decrease your SEO.
Frequently Asked Questions (FAQs)
Which is the Fastest WordPress Page Builder?
Several of the WordPress page builders listed above are renowned for being very fast, but Generate Press is the fastest of them all.
Can You Switch From One Page Builder to Another?
Yes, you can change from one-page builder to another. But be careful: WordPress page builder plugins use shortcodes in building your website, and may leave unneeded code when you switch. Many like Beaver Builder or Elementor guarantee they won't leave shortcodes behind if you ever switch, so they are a great option if you think that you may change in the future.
Which is the Easiest WordPress Page Builder?
Beaver Builder is considered by many to be the easiest and most user-friendly WordPress page builder on the market.
Bottom Line
Like many things in life, saying which WordPress page builder plugin is the "best" is a relative term. Your idea of the best of these tools can depend on your level of coding skills, the preferred design of your website, needed functionality, how many elements you want to include, how much you can afford to spend on a pro version, or how much time you can spend working on your site.
If you are a beginner, drag-and-drop page builders like Beaver Builder or Gutenberg by Kadence Blocks may be your best choice.
If you are creating an authority page that you need to load quickly, Elementor or Generate Press is probably your best option.
Thankfully, if your main focus is SEO, nearly every one of these best WordPress page builders listed above is compatible with the SEO plugins Yoast and Rank Math.
Some WordPress page builders provide a wide assortment of customization options, but those aren't something that you need if you don't know how to or can't afford the coding required to do it. If you are just getting started in the world of WordPress themes and websites, choose a page builder from the list above that matches what you need and start there. If you change your mind in the future, save this post and pick another from the list!