Hostinger vs SiteGround 2023: Which One Should You Choose?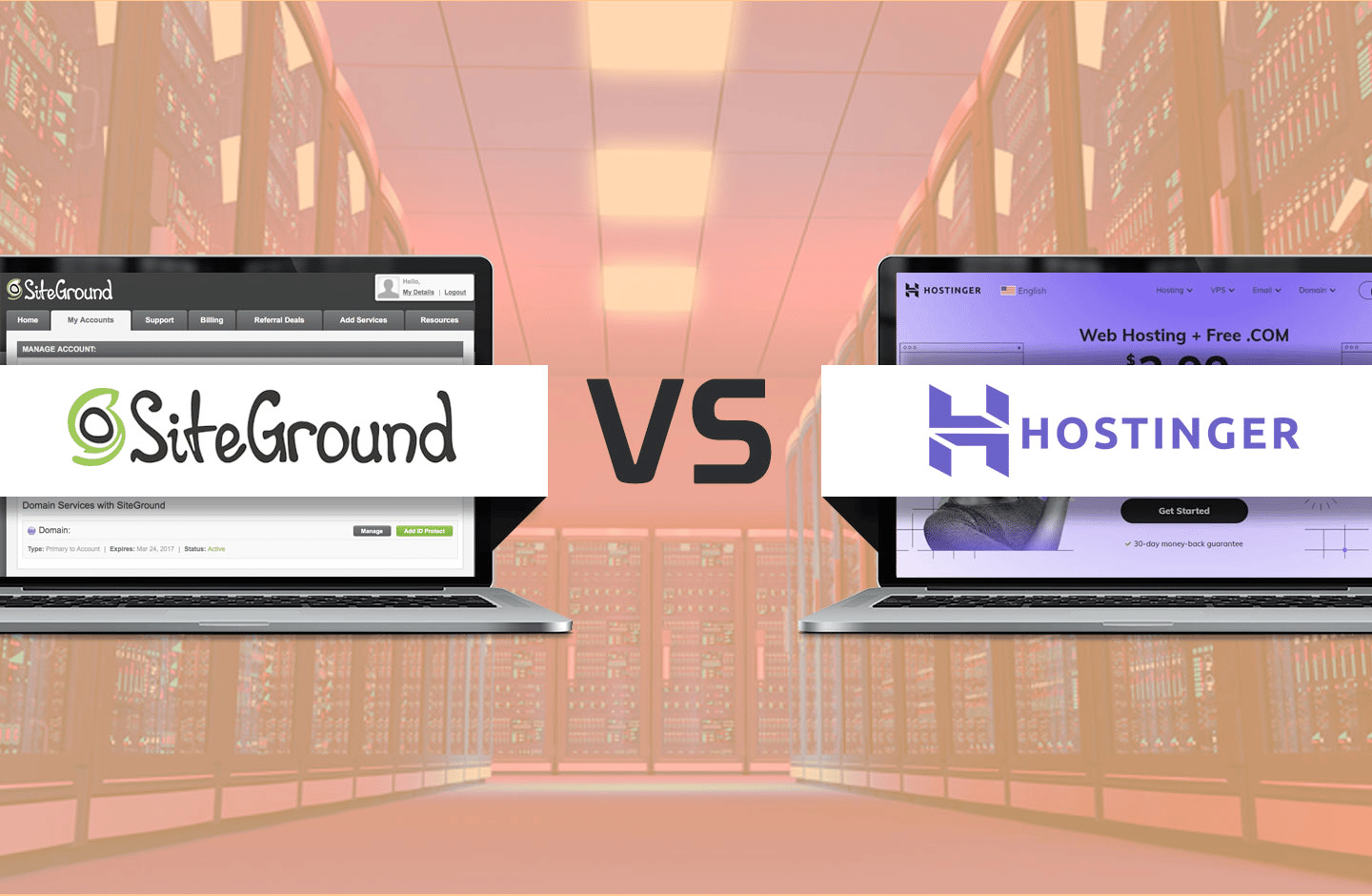 Website building and website performance can be an extremely important part of your business.
When dealing with web hosting providers and web hosting services, it is tempting for most new website owners to look for the cheaper web hosting service, rather than determining which are the most reliable web hosting providers. Some web hosting plans even provide additional services and features that are often important in terms of site performance.
In this post, I will cover two popular and affordable web hosting providers: Hostinger vs SiteGround. Let's begin with a quick summary table of the most important features of each and the core differences between these two leading web hosting providers.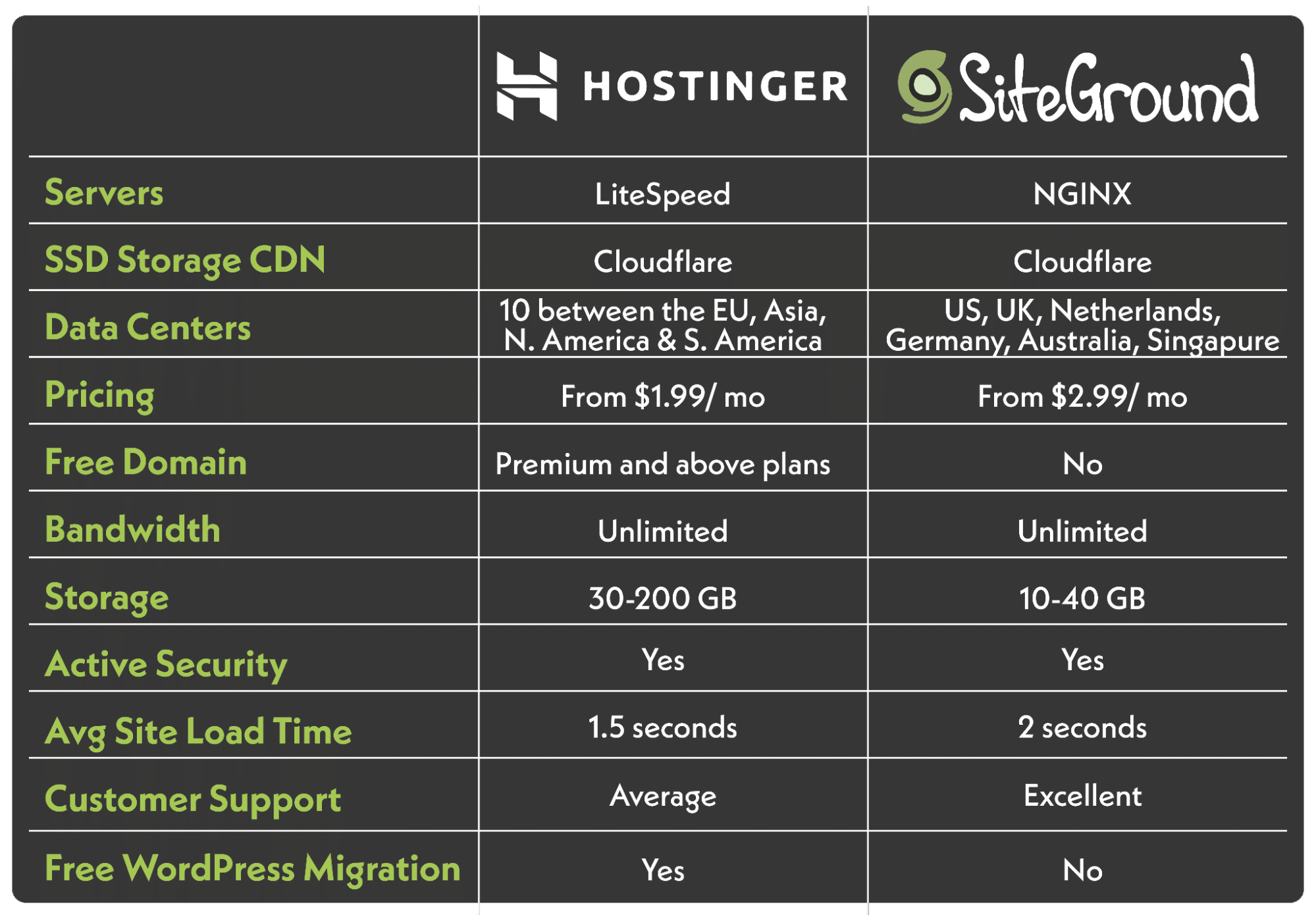 Hostinger vs SiteGround: Pricing
The pricing difference between Hostinger and SiteGround is pretty stark. Take a look:
Hostinger Pricing
There are quite a few options for web hosting services with Hostinger, and each has its own pricing.
Shared Web Hosting Plans

Single: $1.99/mo

Premium: $2.49/mo

Business hosting: $3.99/mo

Cloud Hosting Plans

Startup: $9.99/mo

Professional: $14.99/mo

Enterprise hosting: $29.99/mo

VPS Hosting Plans

VPS 1: $3.49/mo

VPS 2: $4.99/mo

VPS 3: $7.99/mo

VPS 4: $9.99/mo

VPS 5: $23.95/mo

VPS 6: $38.99/mo

VPS 7: $57.99/mo

VPS 8: $77.99/mo

Email Hosting Plans

Business email: $0.99/mo

Enterprise email: $2.49/mo
SiteGround Pricing
SiteGround offers several plans as well, depending on what type of hosting services you need. For standard web hosting, their WordPress, WooCommerce, and web hosting services are all the same prices. However, the cloud hosting and reseller hosting prices are different.
Web Hosting Plans

Startup: $2.99/mo

GrowBig: $4.99/mo

GoGeek: $7.99/mo

Cloud Hosting Plans

Jump Start: $100/mo

Business hosting: $200/mo

Business Plus: $300/mo

Super Power: $400/mo

Reseller Hosting Services

GrowBig: $4.99/mo

GoGeek: $7.99/mo

Cloud: from $100/mo
Hosting vs SiteGround Pricing Comparison Table
Because there are so many plans between both Hostinger and SiteGround, it can be difficult to do a side-by-side comparison.
Since each hosting service offers three tiers of basic web hosting and almost the same in cloud hosting, I will provide a table to make it easy to compare those prices.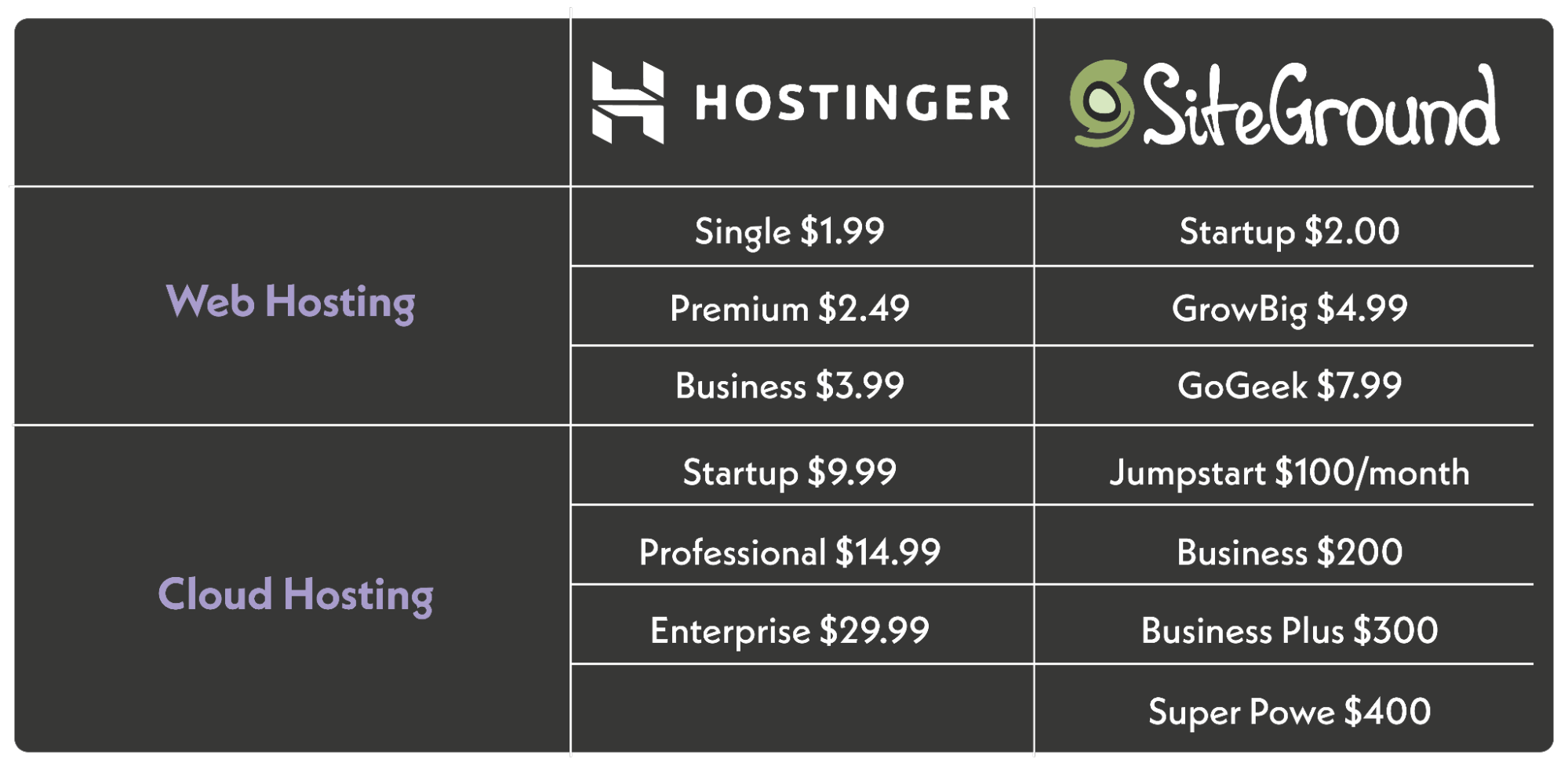 While there is a minor price difference between the shared hosting plans for Hostinger and SiteGround, Hostinger's cloud plans are substantially more affordable. It should also be noted that there are reports online stating that SiteGround has a particular inode limit when using a CPU, rather than the cloud for hosting.
Even though both services claim unlimited bandwidth, it is reported that SiteGround has a tendency to tell users they have reached the inode limit, which results in their websites being shut down until either the CPU resets (which can be days, weeks, or even a month) or they upgrade to the (far more expensive) cloud hosting package.
This has not happened to me, nor to anyone I know, but buyers should still watch out for this. If your plan is to use the SiteGround cloud hosting service anyway, it doesn't seem to matter much. But if you are using their web hosting service because it's cheap but suddenly are told that you need to upgrade for 20x the cost or else your website is down for weeks – that could be unpleasant.
Hostinger vs SiteGround: Ease of Use
Each hosting company has moved away from cPanel and built its own version of a control panel (SiteGround calls it site tools and Hostinger calls it the hPanel). Both are regarded as being pretty easy to use, but Hostinger's hPanel is far faster and simpler.
Each hosting company also has its own managed WordPress services, which include specialized WordPress support. But only Hostinger has the free website migration, meaning they will move your site from your old hosting service to theirs for free.
Each hosting company also has a simple interface site builder that allows you to use the click & drop method of website building. This doesn't require any coding knowledge, and despite being simple, they come with free SSL certificates and WordPress security plugin availability.
Both Hostinger and SiteGround are regarded as being easy to use, but in the battle of Hostinger vs SiteGround, Hostinger takes the cake in terms of being the easiest to use of the pair.
Hostinger vs SiteGround: Security Features
In the days of cyberattacks and identity theft, security features are an important thing to consider when choosing a web hosting provider. Shared hosting means that you must think about protecting your data from the other users of these server resources.
From the physical security at their data centers to their web application firewall or the free SSL certificate that each offers, each hosting service offers significant security features, although different.
Each provider utilizes Linux containers to protect your account. This helps to keep your server resources isolated, so a DDoS attack on a site using the same server shouldn't affect your website.
Hostinger's web hosting security features include Monarx anti-malware software and Wanguard anti-DDoS traffic analyzer to protect users from all types of cyber threats. It should be noted that Hostinger did have a security breach in 2019 that affected 14 million customers, which is something to keep in the back of your mind when making your decision.
SiteGround offers great security measures itself, although different. SiteGround offers firewalls to protect your website and server resources, server monitoring 24/7 (which Hostinger also provides), and an AI-based anti-bot that blocks brute force attacks.
Hostinger vs SiteGround: Performance
If performance is what you are looking for, this is the one area where Hostinger is the hands-down winner.
Both web hosting providers promise near-perfect uptime of 99.9% (which I verified to actually be 99.97%). This is extremely important as you want your website to be online anytime a potential customer or just a first-time visitor clicks one of your links.
Across all speed and performance metrics (I used both GTmetrix and Sucuri Load Time Tester), Hostinger provides far faster page load and response times, as well as a higher connection speed across multiple tests.
For GTmetrix, Hostinger averaged a 1.5-second page load time, which is decent, but SiteGround averaged 2 seconds, which is the speed at which the Google search algorithm begins to downgrade your website for SERPs (Google Search Results listings).
Sucuri had the same results, with Hostinger offering blazingly-fast page loads through that testing platform (0.499s average), but SiteGround still averaged out at more than a second to load in those tests.
It may not seem like much, but Google ranks pages in milliseconds of response time. If you use your site builder skills as your main form of income, being one of those first five results on Google can mean the difference between profitability and bankruptcy for some. The fact that Hostinger provides such a better performance at such a lower price is something that you don't see very often.
Hostinger vs SiteGround Speed Performance
GMetrix
Hostinger: 1.5s avg

SiteGround: 2s avg
Sucuri
Hostinger: 0.499s avg

SiteGround: +1s avg
Hostinger vs SiteGound Uptime Performance
Both offer the same level of uptime at 99.97%
Hostinger vs SiteGound Storage Space
Storage is another place where Hostinger is the clear winner. The storage allotted for the various shared hosting plans is as follows:
Hostinger
Single Plan: 30 GB SSD storage, 100 GB bandwidth

Premium Plan: 100 GB SSD storage, unlimited bandwidth

Business Plan: 200 GB SSD storage, unlimited bandwidth
SiteGround
Startup: 10 GB storage, unlimited bandwidth

GrowBig: 20 GB storage, unlimited bandwidth

GoGeek: 40 GB storage, unlimited bandwidth
Hostinger vs SiteGround: Customer Support
Each web hosting provider promises extremely fast customer support, but this is one place where SiteGround offers a better option than Hostinger. SiteGround works through a HelpDesk ticketing system, which is kind of like the digital version of taking a number at the DMV.
While SiteGound offers customer support through phone support, live online chat, and email, Hostinger does not have any options for phone support.
Each provider claims that your issue will be responded to within a minute on average, but some complain in online forums that both took nearly an hour to even get a response.
Alternatives to Hostinger and SiteGround
What happens if you've read my review of Hostinger vs SiteGround and neither web hosting service sounds like the right option for you?
Well, thankfully, there are plenty of other options for web hosting providers. Let's go through a few of the alternatives now.
FAQs
Which Provider To Choose for WordPress Websites?
Based on my research, reviews, and personal experience, I would suggest Hostinger for a normal website. The performance is amazing. I would look at SiteGround only if I was building an eCommerce store and was willing to pay for a premium cloud package.
What Are the Hostinger and SiteGround Money-Back Policy?
Both web hosts provide a money-back guarantee if you cancel within 30 days of your order.
Which Is Better, SiteGround or Hostinger?
I would usually put a side-by-side comparison for this question but between the lower prices, far better performance, and more user-friendly tools, I would say that Hostinger is clearly the better web hosting provider.
Hostinger vs SiteGround: The Bottom Line
It really is rare to find a competition where the lower-cost option is also far superior in terms of quality, usability, or performance, but Hostinger takes the cake in all of the above.
Unless you are working on an eCommerce store or have another reason to choose SiteGround, I would personally suggest, in my expert opinion, that Hostinger wins the matchup of Hostinger vs SiteGround.