Best Ways to Promote Your Website In 2022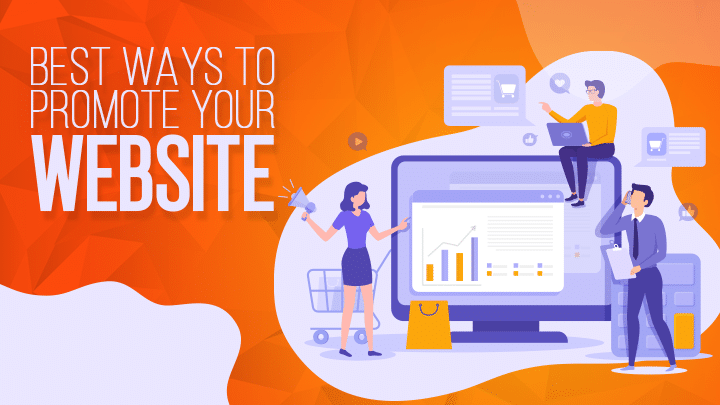 Building and launching your website is just the beginning of your online journey. Once you launch your website you'll need to learn how to promote it in order to get the word out and start getting traffic.
However, website promotion can be a confusing process and even costly, especially once you get into paid advertising and social media. 
Luckily, the process of learning how to promote your website can be simplified. Below you'll learn 10 different website promotion strategies that work. You'll notice that most of the promotional methods in this post are entirely free to implement, the only cost is your time. 
Top Ways to Promote Your Website
No matter what kind of site you run, you're looking for ways to promote your website to your ideal visitors. 
If you're running an online store, or have a local business, then your goal should be to get your site in front of as many potential customers as possible.
If you're running a blog, then you'll want to attract readers and targeted traffic back to your site. 
While, if you're running a service-based business, then your goal should be to get your website in front of potential clients.
Below you'll find 10 different methods you can apply to get traffic to your website. Note that you don't have to apply every single strategy below, but instead choose the strategies that are most in alignment with your goals.
1. Guest Blogging
Guest blogging is one of the most powerful methods to grow your audience, build your brand awareness, and establish yourself as an authority in your space.
It takes a lot of work, but it's one of the few marketing methods that can establish you as an authority, while improving your search engine results, and sending you targeted traffic. However, it's only effective when it's done the right way.
When you do it the right way you can generate a high-quality link to your site. This will help your website rank higher in the search engines (this is covered in depth below).
To get started with guest blogging you'll need to send out quality pitches to relevant and authoritative blogs in your niche. There's no point in guest blogging for sites that aren't related to your niche or aren't authoritative enough to move the needle.
Here are some requirements of sites you should pitch:
Is the site authoritative and well-known in your space?

If it's not well-known does it have a high domain authority (DA)?

Does the site accept guest posts?

Does the site allow for an author bio and external links?
Once you have a list of sites it's time to pitch those sites your guest blog ideas. Most sites will have "guest writer guidelines" that will specify the types of content they're looking for, along with what you should send over in your pitch.
In general, you'll want to spend time researching the blog to come up with a post topic that'll perform well and that they'll gladly accept.
Ideally, you'll submit a short pitch that includes a few different potential guest blog ideas, with headlines and short summaries.
Once approved all that's left is to write your post and include relevant backlinks that point back to your website. 
2. Search Engine Optimization (SEO)
SEO is the process of ranking your website high in search engines like Google. Search engine optimization isn't a short-term strategy, but instead a long-term approach towards building a profitable website or business.
When your site builds authority in the search engines and starts to rank for keywords, you'll have a consistent source of organic search traffic for your site.
Here's a quick process you can follow for getting started with search engine optimization:
1. Do Keyword Research
With keyword research, your goal is to uncover keywords that you can target with your content and rank in the search engines. You want to target keywords that your potential visitors are typing into Google that aren't too competitive. 
Here's a quick overview of the process you can follow to research keywords:
Get to know your competitor sites, the types of topics they cover, and the keyword they target.

Determine seed keywords based on competitors and understanding of your market.

Plug these seed keywords into a tool like

SEMRush

or ahrefs and find keywords that are low competition and have a decent volume of traffic.

Pull in keywords that are related to your main target keywords and group them into buckets for your blog posts.
The overall keyword research process is much more in-depth than the steps above. But use the above steps to help you get started. 
2. Write Articles That Can Rank in the Search Engines
Once you have your list of keywords it's time to start creating content around those keywords. 
If you're a local business you might create pages that target specific local keywords like "plumber Dallas tx", while if your website is solely online and in the winter recreation space you'd have keywords like, best winter skis, how to ski backcountry, lift ticket deals, and more.
Your keywords will form the foundation of what you're writing across your website.
3. Optimize your content
Onsite optimization involves optimizing your site around search engine best practices that communicate to the search engines what your website is about.
This includes things like:
Including your target keyword in your H1 tag.

Using your target keyword in the first paragraph of the body copy.

Linking your content together with internal links.

Including external links to high-quality sites.

Making your content readable with subheadings, images, bullets, and short paragraphs.
If you're running a WordPress blog, then you can use a plugin like Yoast SEO, which will help you optimize all of your blog posts and pages for your target keyword. 
3. Build Backlinks
With your content optimized and published, it's time to start promoting it. 
There are a lot of offsite SEO factors that'll influence how high your content ranks, but one of the most important is obtaining backlinks that are relevant to your business. 
There are all types of strategies for building backlinks, but some of the most common include:
Use HARO

to become a source for articles.

Reach out to bloggers and site owners to link to one of your previous posts.

Find broken links and get in touch with the site owner to replace them with your link.
If you want to explore link building even further, make sure you check out this in-depth link-building guide.
3. Answer Questions on Quora
Quora is a question and answer site that's exploded in popularity in recent years. All of the content on the site is user-generated. People ask questions and users answer them.
This makes it an incredible place to build authority in your niche and even send traffic back to your website.
Answering questions on Quora can be very time-consuming, but it's a truly great way to build your authority and promote a website, especially if you're starting from scratch.
Here's a process you can follow to get the most out of using Quora.
Choose the right questions.

Pick questions that are popular, active, and relevant to your niche.

Write a detailed response.

Make sure your response stands out, offers a tangible solution, and includes formatting and images to keep your reader's attention.  

Link to your content in your answer.

Include a link to a relevant blog post towards the end of your answer.
4. Blogger Outreach
Outreach is the process of getting your content in front of influential people in your industry and encouraging them to share on social media or even link to your content.
This can be part of a backlink-building campaign or be used as a way to get buzz surrounding your content. 
There are a few different strategies you can use here:
Outreach for Shares
One common way to promote your content is to link out, quote, and source quality websites throughout your content. Then, once you publish your article reach out to people you've linked to and let them know. 
The chances are high they'll share the post, or at the very least you'll get on their radar. 
Outreach for Link Building
Outreach for link building was touched on above as well. Another useful outreach strategy is reaching out to website owners who've already linked to a similar piece of content. If your article is better than what they're currently linking to, there's a good chance they'll replace the link.
Most existing SEO tools let you look up what backlinks are pointing towards specific pages. 
In your email mention the post they're currently linking to and how you've created a more in-depth resource they might enjoy. 
5. Use Email Marketing
Building your email list is something you should start doing from day one. Even when you're getting barely any traffic you should have strategic opt-in forms on your site to capture these initial visitors. 
As your email list starts to grow you have a built-in promotion channel for everything you publish. Plus, an email list can also be an incredible asset for your business. Email marketing is one of the most effective marketing methods and has an incredibly high ROI of $44 for every $1 spent on email. 
To build a list and send emails you'll be using an email marketing tool like Mailchimp, Constant Contact, Drip, Aweber, and more.
To capture visitor email addresses you'll want to add opt-ins forms to different areas of your site including:
Sidebar opt-in

Opt-in box on your homepage

Pop-ups or slide-in opt-ins
Here are a few email marketing tips for creating engaging emails that your readers will open, read, and click to visit your website.
Create engaging subject lines that tap into your reader's curiosity and tie into the content of your email.

Keep your email copy short and encourage users to click the link in your email.

If possible, only include a single link with a CTA in each email you send.
6. Use Giveaways
Giveaways can be a great way to create buzz around your brand. With a giveaway, you can partner with different brands in your niche, or giveaway a collection of products in exchange for an email address.
Usually, users can gain more entries into the giveaway by promoting your brand in a certain for example. Tweeting about the giveaway will give 10 more entries, emailing to a friend will get 5, etc.
There are even examples of successful brands that have been built from giveaways alone. For example, the company (Instagram thing) built up its entire company via car giveaways on Instagram.
The overarching goal of a giveaway is to get the attention of your target audience. So, even though it might be tempting to give away a new iPad or Kindle, the best approach is going to be giving away products that are related to what you sell. 
There are a variety of tools and plugins you can use to host your giveaway like KingSumo. Noah Kagan was able to grow his list by over 50,000 subscribers using giveaways like the one below.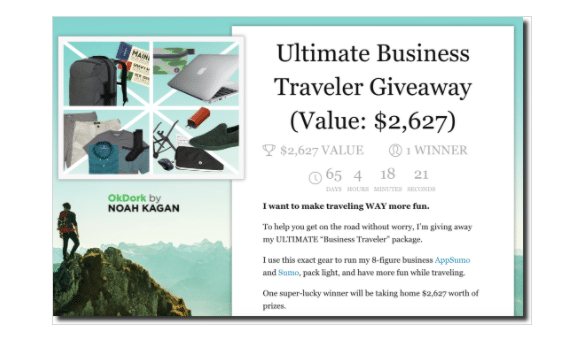 Once the giveaway is over make sure you promote your winner and follow up with your new leads via email. If your giveaway was successful in generating a lot of buzz you now have an email list that you can use to direct people back to your website. 
Keep in mind that you may have a big drop-off in engagement with your giveaway list, but that's completely normal. Expect unsubscribes, but also a ton of new subscribers who will become fans of your site. 
7. Create a Free Resource/Tool
Creating a free resource or tool is very time intensive and might require too large of a budget for some people. However, this can be a great way to get backlinks and build authority in your space.
For example, you could create an in-depth printable PDF guide that gives a breakdown of your industry or even create an online tool as Neil Patel did with UberSuggest.
The goal is to create a compelling resource that's entirely free and will get passed around your space. 
Low-quality content won't gain any traction or help generate traffic to your website. Instead, think about a product or tool you could create and charge for and give it away entirely for free. 
For another example, take a look at the rankings list on Detailed. You'll find a detailed breakdown of the top sites across 20 different niches.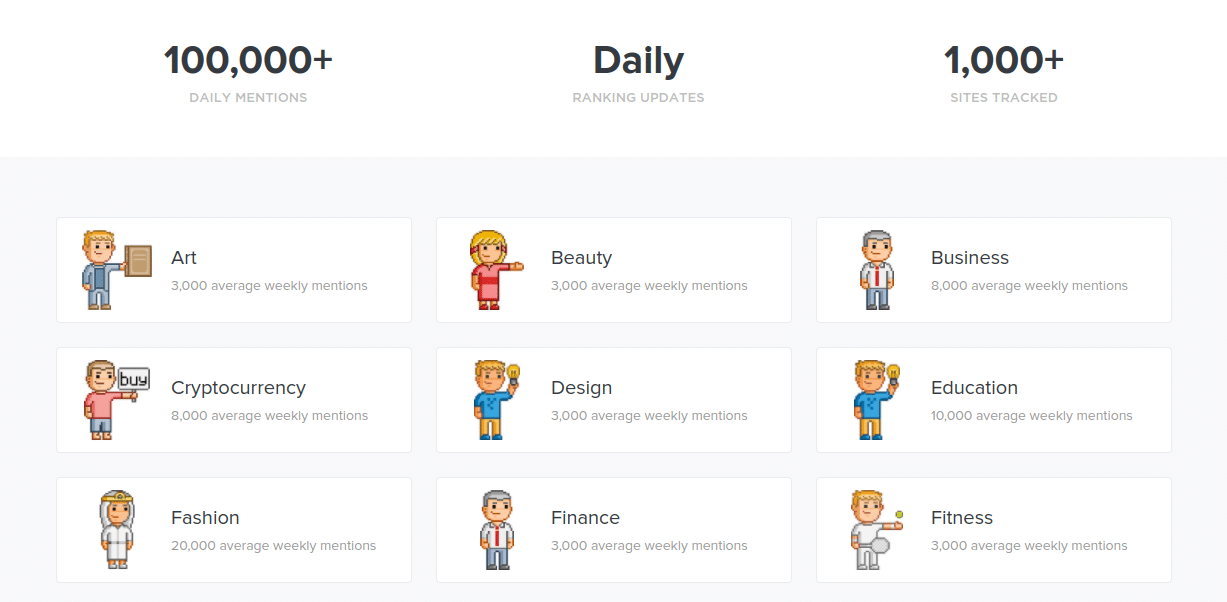 Content and other useful resources like this establish you as an authority in your space and will help to attract more backlinks.
8. Social Media Promotion
Building up a social media presence for your website can take a lot of time. But, you can make social media promotion simple and use it as a traffic generation mechanism for your site.
There are two routes to going about social media promotion: organic and through paid advertising. The organic approach involves community building and marketing and will take much longer, while the paid approach can be quick to set up and get traffic to your website quickly.
Succeeding with pay-per-click (PPC) advertising can be difficult when you're just starting out. However, there are a handful of free methods you can use to promote your website on social media.
1. Join Relevant Facebook Groups
There are dozens of Facebook groups you can join and contribute to the community. Niche groups are some of the most active areas of Facebook. Once you become known as someone who offers great comments and posts, you can promote new content that further adds value to the group.
2. Contribute to Reddit Discussions
Reddit can be a difficult community to break into since self-promotion is looked down upon. However,  you can spend time in relevant subreddits, adding comments, and value wherever you can. If you do include links to your site it should be done in a "this is what I learned" perspective, instead of self-promotion. 
3. Post to Instagram
Instagram is owned by Facebook, but the content shared across the platform is much different. For example, posts have a visual focus. You can share things like quotes from blog posts, images, memes, and even short videos.
In Closing: Which Website Promotion Method is Right for You?
By now you've learned how to promote your website via a handful of different approaches. There is no one-size-fits-all strategy that'll take your website from obscurity into the mainstream. Instead, it's what strategy your audience is going to be the most receptive to.
For example, some markets might respond incredibly well to Quora, while in others a giveaway will be the best course of action to get traffic to your website. In some spaces, social media will work best and you'll see results from posting in niche Facebook groups.
You can also execute multiple strategies above at the same time. For example, creating an SEO strategy and guest blogging at the same time will help to elevate the success of the other.
In the online world, your website doesn't operate in a vacuum. Any of the website promotion strategies you execute from the list above will help elevate your efforts in other areas.