10 Biggest Mistakes in Affiliate Marketing to Avoid in 2023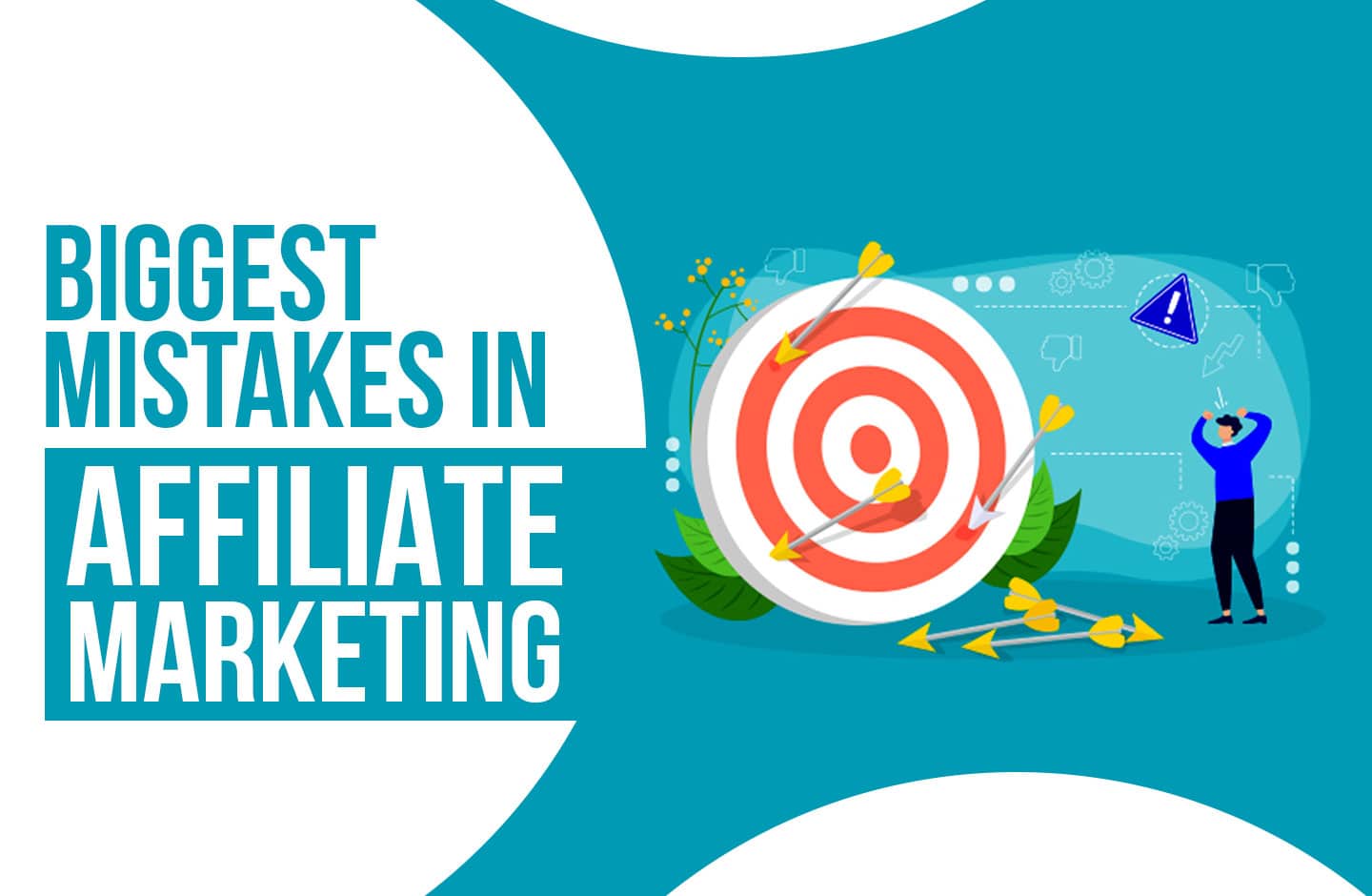 Whether you are just starting with affiliate marketing or have been in the field for years, it's important that you learn to avoid the common mistakes people make. That way you can bolster your successes and strengthen your ability as an expert in the field.
I've worked on compiling a comprehensive list of the 10 most common affiliate marketing mistakes to avoid in 2023.
Most Common Affiliate Marketing Mistakes
Learn more about the common affiliate marketing mistakes that even the most successful affiliate marketers make:
Let's now dive into the common places most affiliate marketers make these mistakes. This requires breaking affiliate marketing down to its most basic components.
What Are the Four Components of Affiliate Marketing?
While affiliate marketing is a broad subject, many mistakes are specific to certain components of the field. Here is a brief breakdown of the four parts of affiliate marketing:
The Affiliate
The first, and most important, component of affiliate marketing is yourself: the affiliate. Whether you are an individual or a company, as the affiliate you are rewarded for your own marketing efforts. By promoting the product or service of a merchant, your success will be directly related to the effort you put in.
With that said, you as the affiliate are responsible for a large number of decisions in how you conduct your business and the affiliate program – from choosing who to work with, what marketing strategies to deploy, and how to delegate work if you have marketers under you. It is very possible to stumble into common mistakes.
The Merchant
The merchant is the seller side of affiliate marketing. Their role, as you may well know, is creating the product or service that you are marketing on their behalf in return for a commission.
Merchants can vary from single sellers, content creators, businesses, and more, which opens the door to a number of potential affiliate marketing mistakes.
Anybody can be a merchant. Their level of involvement with your work in the affiliate marketing program can vary. This is another area where I have often seen a successful affiliate marketer run into conflict through simple mistakes.
The Network
Depending on how you have structured your affiliate marketing business, you may rely on an affiliate network for leads.
Acting as the middleman between merchants and affiliates, the network you choose can either provide you with ample potential clients or very few.
These networks will often provide account management, but to what degree? As an affiliate marketer, you must choose how involved you need a network to be within your affiliate program.
The Customer
The customer makes up the last component of affiliate marketing. They are the intended audience in search of a product or service that meets their specific needs.
As an affiliate marketer, you need to understand your merchants and understand where that customer base will be.
After all, partnering with the wrong web publishers may well result in a complete lack of sales, which means a complete lack of commission.
As I've outlined above, there are multiple facets to affiliate marketing. Each one of these different arms comes with different decisions that you, the affiliate marketer, need to make. However, these areas are where you can make an affiliate marketing mistake.
10 Affiliate Marketing Mistakes To Avoid
1. Promoting Too Many Affiliate Products
As an affiliate marketer, it can be exciting when you've discovered a niche that you are extremely passionate about. Every product within that niche may excite you in new ways, tempting you to start advertising several affiliate marketing campaigns.
However, promoting hundreds of products is a quick way to spread yourself too thin. This will lower the quality of your promotions. In turn, your reviews, endorsements, and more will be damaged.
Promoting an extremely wide range of products also may wrongly indicate to potential customers that you don't have first-hand knowledge of those products and their quality.
Choose quality over quantity by selecting a handful of strong products that you can personally vouch for. As a result, you will be able to run a successful affiliate marketing program.
2. Choosing the Wrong Product
While it may seem like an obvious mistake, choosing the wrong product certainly deserves a place on this list. Put yourself in the shoes of a customer within your niche. If the product you are promoting doesn't stir anything inside of you that makes you wish to purchase it, you may have chosen the wrong product to promote.
In many cases, I've seen this issue go all the way back up to the merchant. An affiliate marketer simply thought the merchant's product line fit well within their niche, or they were initially enticed by it, but as time went on, they realized they made the wrong choice.
Only partner with merchants within the affiliate marketing industry that you align with.
3. Ignoring SEO on Web Publisher Sites
Successfully reaching a customer base is the most important part of being an affiliate marketer. Many times, I have seen affiliate marketers sign up with web-based publishers who have no understanding of SEO (search engine optimization) or even website readability.
Without proper optimization, whether you advertise the products you promote yourself or through a website, sales and commission will suffer. Additionally, make sure that the websites you partner with, if any, have fast site speeds that don't leave visitors impatient.
Focus on creating backlinks to previous review posts you created and aim to naturally integrate top-scoring keywords related to that product.
4. Working in an Uninteresting Niche or Choosing the Wrong Niche
This mistake has two sides to it. Firstly, you should always aim to choose a niche that creates a passion in your heart for the products you promote. At the same time, you need to balance this with understanding the interests of customer bases.
Those of you who have very specific niches may find it extremely daunting to locate where customers are at. If this is the case, it may serve you well to look at other niches that interest you, but that are also more commonly researched by consumers.
5. Consistently Choosing Quantity Over Quality
As an affiliate marketer, there has to be some level of quantity with the products you promote if you are to make money. However, variable quantity is one of the biggest mistakes in affiliate marketing I often see. As outlined earlier, promoting too many products across different merchants, websites, and more can quickly leave you spread too thin.
Rather than focusing on variable quantities where you promote countless different products, focus on selecting a few product lines from a few reputable merchants. This will allow you to balance both quantity and quality with the items you're promoting. For ensuring the latter, however, read on to the next common mistake.
6. Failing to Understand the Products You're Selling
Passion will take you far in affiliate marketing, but passion without a proper understanding of the product you promote is a recipe for disaster. Without understanding the product, you can't hope to understand the customer base. As an affiliate marketer, you are responsible for protecting consumers from scams, faulty products, and other dangers that they may not be aware of.
Before ever putting your name on the promotion of a product, you should task yourself with handling some due diligence. Read verifiable reviews on the products from consumers who describe what their experience was like.
Identify commonalities with the reviews (such as any common defects with the product, common uses, etc.) that allow you to gain more knowledge on that product.
Above all, be honest with your consumers and let them know about the defects or imperfections of a product that you have noticed. In my experience, it will only serve to increase your integrity and credibility in their eyes.
7. Not Focusing on Evergreen Content
A standalone SEO strategy that all affiliate marketers need to focus on is Evergreen content. Far too often I see affiliate marketers promoting products that will be off the shelf and never thought about again inside of six months.
Evergreen content is continually relevant SEO content and content that stays fresh for years to come. It helps ensure that Internet traffic will be driven to a source, long after that source was published.
Focus on products that are built to last and merchants with reputable names who will be around for years to come. This can help you ensure that product reviews or general promotions you undertake will be relevant for years to come.
8. Unrealistic Income Goals at the Start
I often see new affiliate marketers setting lofty goals for themselves in terms of income expectations. One of the biggest mistakes in affiliate marketing is setting an unrealistic monetary goal at the start of your journey.
Affiliate marketing can be wildly profitable, but this doesn't happen overnight. New affiliate marketers often become dissuaded when they realize this and quit before they even had a chance to get up and running.
Understand that starting as an affiliate marketer is a journey that requires hard effort, but if you dedicate yourself to a niche that strikes a passion in you and others, you can be successful in time.
9. Becoming Comfortable With Your Reach
Interestingly, one of the biggest mistakes in affiliate marketing that I see is when affiliate marketers become too comfortable with their reach. After having some great success in the field using social media, web publishers, or some other source, these affiliate marketers simply stop growing their reach.
Never settle for one method of marketing.
Once you master social media marketing, focus on email marketing by building an email list. If you have an email list, focus on building out your own website if you do not have one already. Constantly look to improve your outreach strategies so that you may reach more potential customers. 
10. Focusing On Selling a Product, Rather Than Helping Your Community
It's only natural to think that the mindset of selling a product is most beneficial. Unfortunately, this mindset can quickly lead to the loss of a personal touch that an affiliate marketer can provide.
Focus instead on providing products to consumers that can help them meet their needs. When starting your affiliate marketing business, first focus on how you can provide value to consumers, rather than focusing on the monetary side of things right off the bat. 
The above mistakes are just a few that I see in affiliate marketers, both old and new. At the end of the day, affiliate marketers need to choose a niche that interests them, as well as consumers, while also being sure to bring subject matter expertise to every product they promote.
FAQs About Affiliate Marketing Mistakes
What are the risks of affiliate marketing?
Some common risks associated with affiliate marketing are getting lots of ad impressions, but no clicks or earnings, hit-and-miss sales, potential unethical merchants, and more. Affiliate marketing takes hard work and effort, as with anything else, and success can be had over time. Don't give up immediately just because you haven't seen sky-high earnings at the start.
Always vet the merchants you partner with and always research the products they offer to see reviews and consumer thoughts.
What is the biggest problem in affiliate marketing?
Perhaps the biggest problem in affiliate marketing is finding the right merchant partners, and web publishing partners. Identifying a niche that interests you is one thing but finding successful and reputable merchants within that niche can sometimes pose a challenge. Additionally, you can have a merchant with the best product in the world but choosing the wrong marketing medium won't get that product in front of the right consumers.
What are the dos and don'ts of affiliate marketing?
There are countless do's and don'ts of affiliate marketing, but some of the standpoints are:
Do adequate research on merchants and products you promote

Do develop an effective marketing strategy utilizing different mediums such as social media, email lists, etc.

Do promote a product that you know and understand

Do organize your campaign prior to starting

Don't partner with unverifiable merchants

Don't promote a million products in one place

Don't clickbait your potential audience

Don't set unrealistic income or general goals at the beginning of your journey
Bolster Your Affiliate Marketing Success Today
There's no one path to success when tackling affiliate marketing. By avoiding the common pitfalls of affiliate marketing that even the most renowned experts can fall into, you can gain a leg up on the competition. This is only half the battle.
After identifying the mistakes you may make, or rectifying those you already have, your next step should be to focus on building out your affiliate marketing strategy. These five successful affiliate marketing websites are excellent examples of what can be possible if you dedicate yourself to this field.
Identify your mistakes, fix your mistakes, and build an effective affiliate marketing strategy for the future.