Best Graphic Design Software for 2022 (Free and Paid Options)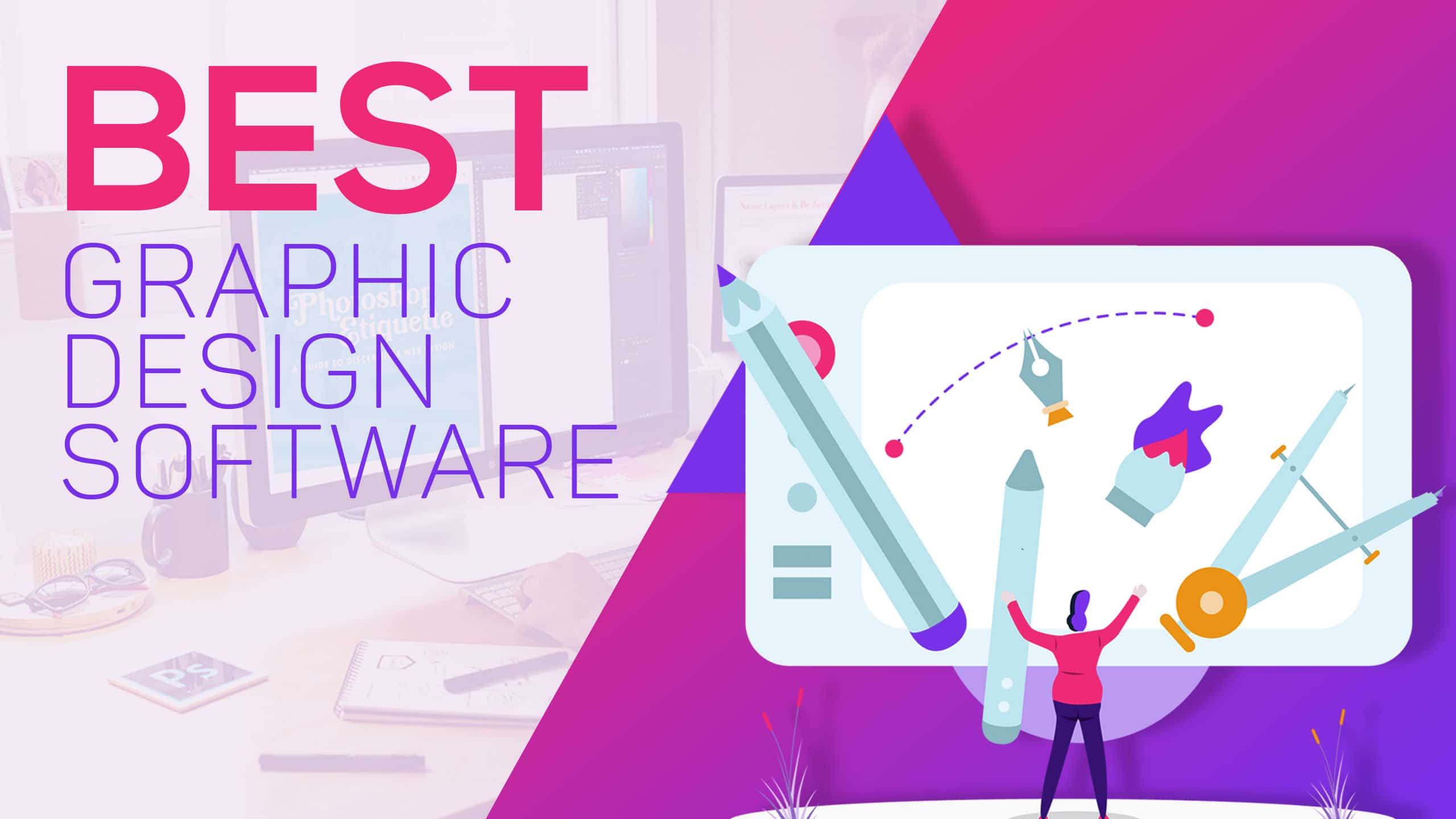 Whether creating standalone artwork or several digital assets, using well-built graphic design software is essential. An intuitive program with powerful design tools can help you create stunning visuals across print, web, and apps.
So, which graphic design software is ideal for professionals and amateur creatives? In this roundup of the best graphic design software, we evaluate both long-standing programs and newer applications. These selections consider a variety of factors: user interface, advanced features, performance, and price.
Here is the list of best graphic design software:
---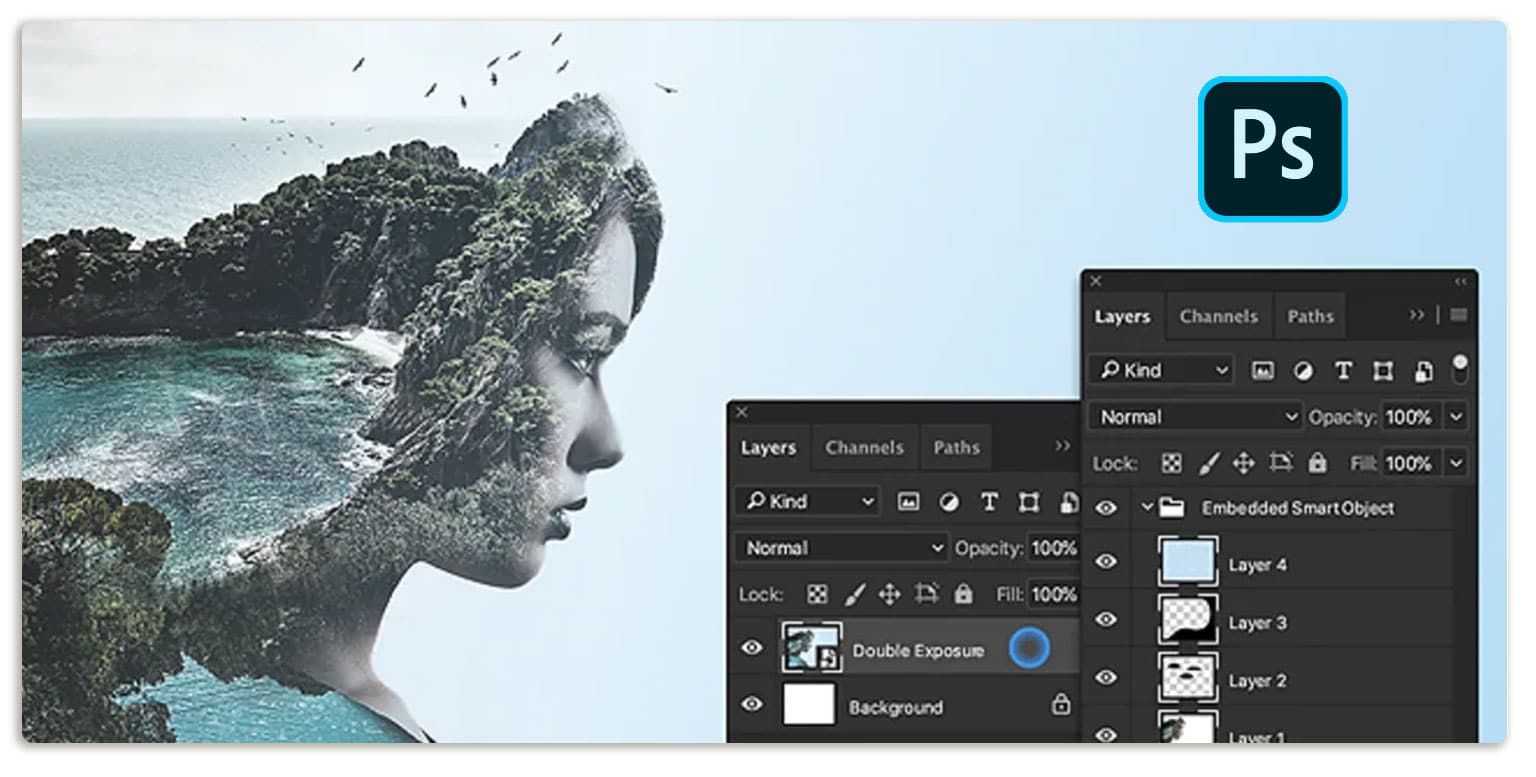 Description:
Adobe Photoshop was developed over 30 years ago and continues to be one of the best image editing software money can buy. From social media posts to print ads and posters, you can create an entire collection of eye-catching graphics with this program.
Adobe Photoshop leads the industry with its professional software and design capabilities. The powerful digital manipulation program supports advanced tools, such as layered photo editing, drawing, typography, and a wide range of visual effects. New AI-powered features, like Landscape Mixer and Color Transfer, are constantly being updated and implemented as well.
Additionally, the company recently released a limited web-based version of Photoshop and Creative Cloud Express, a template-based tool for graphic designers making social media content. All designs are shareable on the web, desktop, and iPad.
Key Features
Adobe Sensei AI Technology: Adobe Photoshop is equipped with automated photo editing tools that can add animated overlays, turn photos into gifs, adjust facial features, colorize photos, and more.

60 Guided Edits: Step-by-step guidance to adjust color and lighting, extend photo backgrounds, erase unwanted objects, move and scale objects, add creative patterns, and more.

CSS From Layers: The new CSS From Layers feature enables web designers to generate CSS code for specific design elements. The code can even be copied and pasted into Dreamweaver and Muse.

3D Scene Panel: Easily switch between 2D and 3D workflows with high-quality live previews, glow effects, scene illumination, and texture lighting.

Camera Shake Reduction: If you have shaky shots, this feature uses intelligent design tools to analyze object trajectories and restore sharpness.

Color Import From Multiple File Formats: You can import color swatches directly from HTML, CSS, or SVG files to find and match an existing scheme.

Intelligent Upsampling: Genuine Fractals and other custom plugins can upsample low-res images without any loss of quality.
Pricing
There are several Adobe Photoshop subscriptions to choose from. You can purchase Adobe Photoshop as a single application subscription for $20.99 per month or billed upfront for $239.88 per year.
You can also access the All Apps Plan on Adobe Creative for $54.99 per month. Adobe's suite includes other graphic design software tools (e.g., Adobe Illustrator, Adobe Indesign, Adobe Fonts, and more).
Both plans provide access to the latest Photoshop features and updates, 100 GB of cloud storage, desktop and iPad compatibility, Adobe Express for web and mobile, and Adobe Fresco for drawing and painting.
How to Set up Adobe Photoshop
The process of downloading and installing Photoshop is simple. You can download the app from the Creative Cloud site and install it on your device.
If you're using Windows, you may be required to save the downloaded file. If you're using macOS, you may be prompted to approve the download and allow it to take place.
Once the file has been downloaded, double-click the folder to begin the installation. Then, follow the onscreen instructions to successfully complete the installation.
Pros
Ever-evolving design software and user interface

Extensive range of editing tools

Custom plugins available
Cons
Steep learning curve for inexperienced graphic designers

Expensive software considering the full cost of creative cloud

Difficult to create vector graphics
---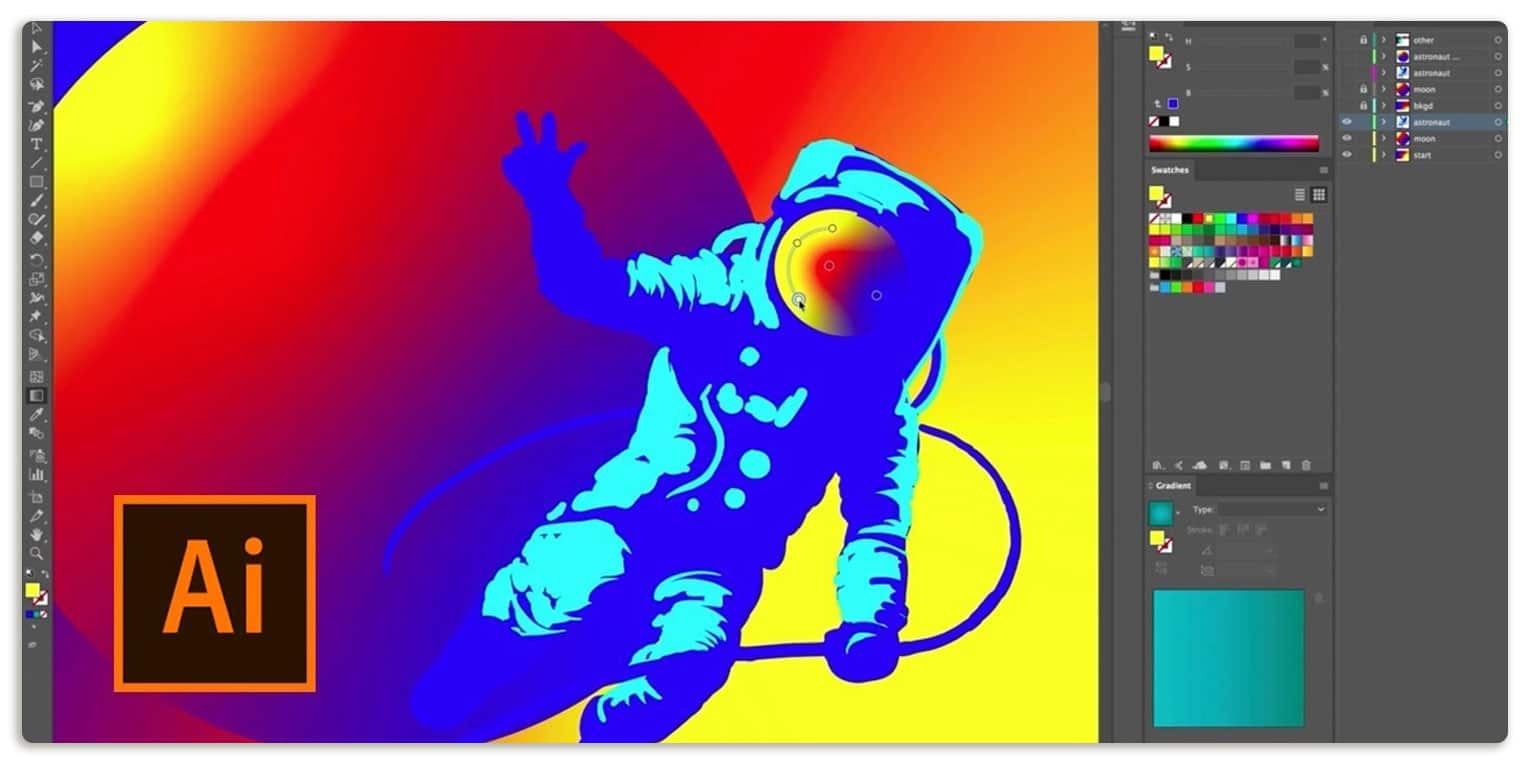 Description:
Adobe Illustrator is the best graphic design software for vector images. This premier vector editing software was released in 1987 and quickly completed Adobe's industry-leading collection of illustration tools and graphic design software, alongside InDesign and Photoshop. The platform is now widely used by graphic designers, web designers, visual artists, and professional illustrators across the world.
You can easily create professional vector illustrations for any medium using Adobe Illustrator. This includes a variety of digital and printed images, like cartoons, charts, diagrams, graphs, logos, and more. Illustrator is also used to design web pages and create icons used within the website or app.
Key Features
Shape Builder and Pen Tools: You can create custom brushes and manipulate unique vector graphics for personalized, flexible designs.

Clear Graphics: All freehand, shape, and font designs can be scaled and optimized for print, web, social, and mobile.

Adobe Substance 3D Panel: The Rotate, Lighting, and Shadows tools within the panel give vector graphics realistic effects and 3D looks.

AI Enhancements with Adobe Sensei: Adobe has developed and implemented artificial intelligence into the Illustrator app. The technology is more robust than intuitive in-panel graphic design tools. For example, advanced features within Adobe Sensei can automatically extract certain shapes from one image and drop them into another photo.

Creative Cloud Sharing: Similar to other Adobe tools, Illustrator streamlines collaboration with cloud sharing capabilities. You can store draft and finalized documents in the cloud, share them with colleagues, and work jointly on all projects.

Automatic Font Activation: If you open a file that includes fonts you don't already have, Illustrator can detect, download, and automatically apply them from Adobe Fonts.
Pricing
Adobe Illustrator is only available with a subscription. Plans start at $20.99 per month and include tutorial videos, free fonts, and design templates, access to Creative Cloud Express Premium, and more.
There is a free 30-day trial that lets you test the graphic design software with no credit or debit card information required.
How to Set up Adobe Illustrator
If you're installing Illustrator for the first time or on a new device, head to the Adobe website and begin downloading the graphic design software on your desktop. You will be prompted to sign in before the installation starts.
If this is your first time installing a Creative Cloud graphic design app, the Creative Cloud desktop app must be installed as well.
Pros
Highly customizable, flexible graphic design software

Impressive AI innovation for an intuitive, streamlined user experience

The program is compatible with various operating systems (e.g., desktops, tablets, and smartphones)
Cons
The program requires a lot of bandwidth, which causes occasional slow loading times

Steep learning curve, similar to other software within Adobe Creative Cloud

More expensive than other vector illustration software options
---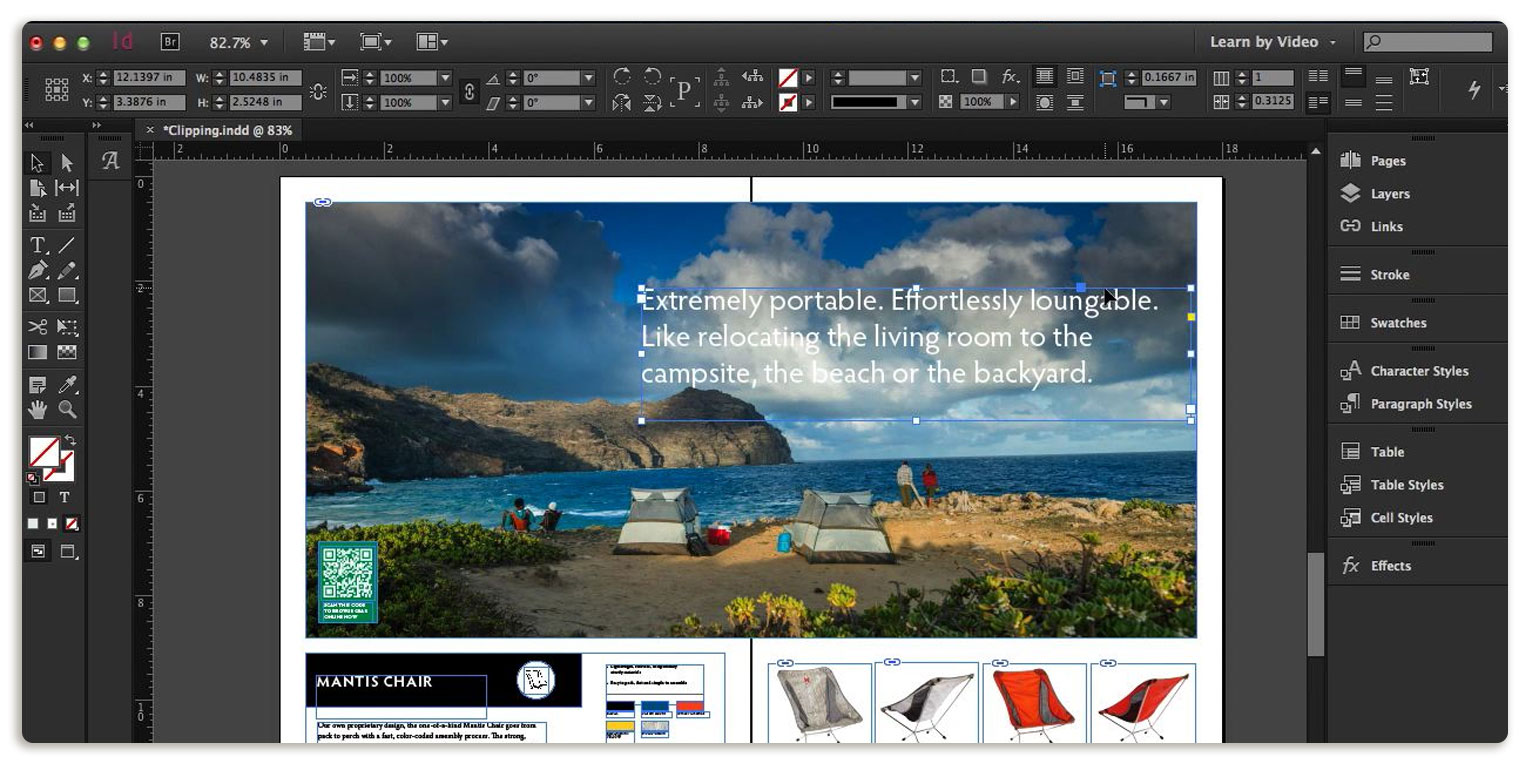 Description: 
Adobe InDesign is a desktop publishing and layout graphic design software application that launched in 1999. It can be used to create both digital assets and print-based publications like posters, brochures, magazines, newspapers, books, and e-books. Adobe InDesign is largely used by graphic designers, marketing professionals, and publishers.
This graphic design software integrates key features from Photoshop and Illustrator so users can quickly and efficiently design and preview content. These powerful tools and technologies help to transform the document from a static layout to a seamless user experience.
Key Features
Adobe Capture Extension: Identifies color themes, shapes, and fonts from pre-existing images and allows you to save them for later.

HTML support: Adobe InDesign supports HTML exporting for developers. You can easily share code during the web design and development process. This built-in function is automatically integrated into the app and it even assists with deleting DIV tags that are not necessary for the code.

Automatic Clipping Paths: Transparent backgrounds around images can now be done directly in InDesign. The software defines the edges of a graphic and creates a clipping path along the apparent edges.

Drawing and Graphic Design Tools: InDesign offers a variety of freeform tools to create lines and graphics. For example, the pen tool, eraser tool, and corner effect tool allow you to sketch figures and shapes.

Multi-Line Composer: This feature examines multiple lines of text for inadequate line spacing. It then determines the best place to break for spacing and hyphenation.

Pleasing Properties Panel: This new context-smart panel helps to optimize user workflows. It gathers and displays your most-often-used controls, which automatically appear based on what you are doing.
Pricing
Adobe InDesign is only available as a subscription. You can either get the single app for $20.99 per month or purchase the entire Adobe Creative Cloud design suite for $52.99 per month.
How to Set up Adobe InDesign
Downloading InDesign involves the same steps as Adobe Photoshop and Adobe Illustrator. You must first download InDesign through the Adobe website. Follow onscreen instructions to sign in and install the app to your computer, tablet, or mobile device. For first-time Creative Cloud users, you will need to download the Creative Cloud desktop app first.
Pros
Adobe InDesign is more straightforward than other applications in Adobe Creative Cloud

Extensive export capabilities, including the images, anchor text frames, tables, fonts, etc. compiled into a single folder

Live outlines and grids for accurate measurements and spacings
Cons
The features cater to publications and not much more

Expensive graphic design product

Confusing PDF comment integration
---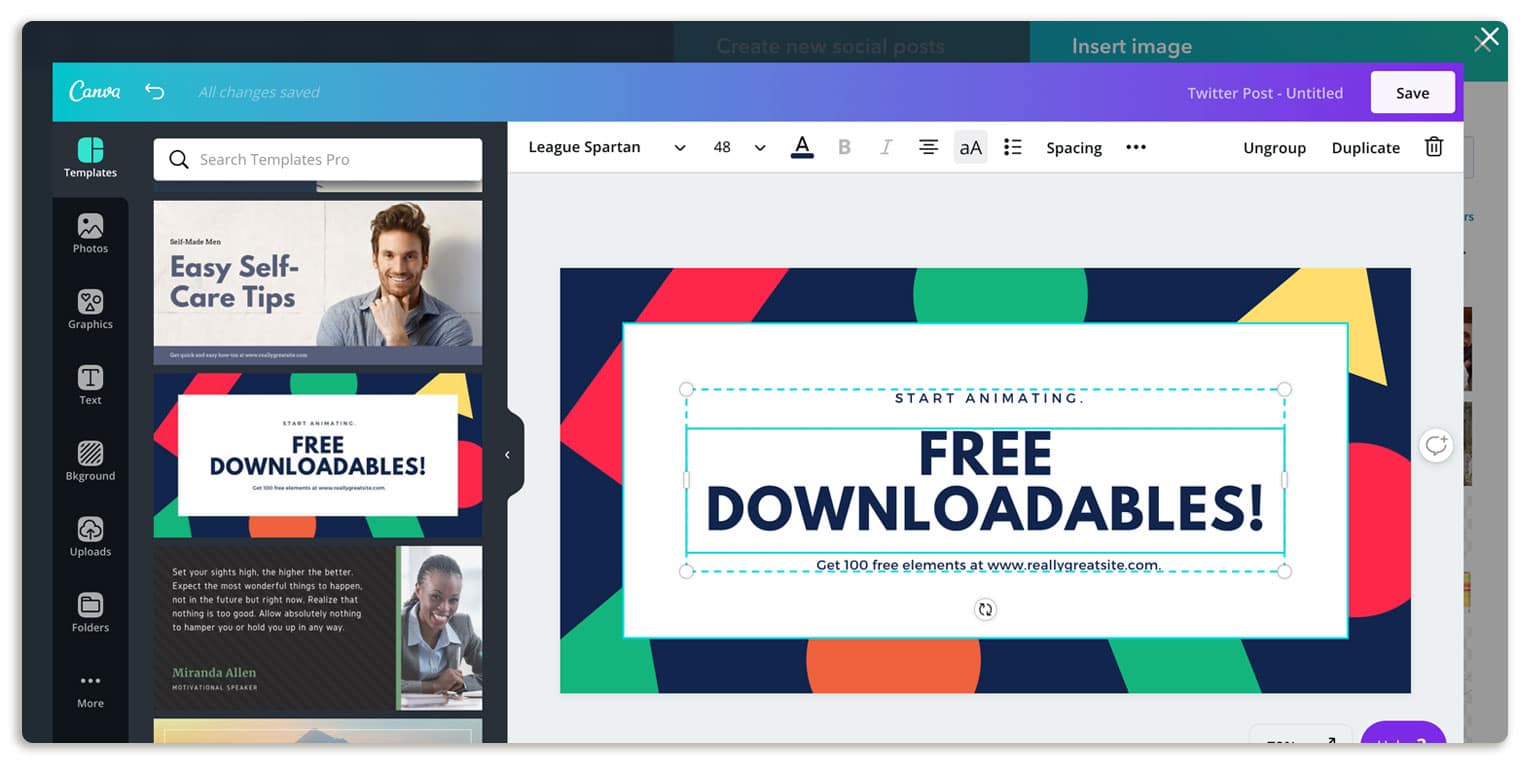 Description:
Canva is the best graphic design software for DIY content. This all-in-one solution enables small businesses to design, manage, and share professional-looking content, regardless of graphic design skills. Essentially, Canva is ideal for those who don't have the resources to hire a professional designer.
You can easily create your own ads, presentations, brochures, social media posts, and other branded assets. Canva offers a wide selection of templates, stock images, and free workshops to learn best practices for your creations.
Key Features
Video Editor: You can create engaging video content such as slideshows, montages, ads, and short films with Canva's online video editor. The tool can merge videos, create transitions, crop frames, and trim and resize clips.

Canva Live: You can run live presentations and audience members can join the conversation, and send reactions, comments, and questions throughout the presentation.

PDF Editor: You can import and edit PDF files directly in Canva for free. The PDF is then broken down into editable elements so you can easily customize the document. Finished work can be downloaded as SVG, PPT, or print-ready PDF files.

Text Animations: You can apply unique movements to words using dynamic text animations in your designs. For example, text can pop, slide, and tumble onto the screen.

Canva Teams: You can create a team within Canva and collaborate with other team members. Admins choose access permissions and teams can start work together on presentations, social media posts, and more.
Pricing
Canva has multiple plans, including free and paid options. The free plan provides up to 15 designs per month, which includes around 8,000 free templates. The Pro version supports up to five people and provides premium templates and resources for $12.99 per month. The Enterprise plan costs $25 per month and supports up to 25 people.
There are two additional plans specifically for teachers and nonprofit organizations. Both plans are free, but you must submit an application first.
How to Set up Canva?
Canva can be accessed as an app or through the Canva website. You can sign up using your email address (work or personal) or with another service like Apple, Google, and Facebook.
Once you've signed up for a Canva account, you can start designing! Hover over the "Templates" menu to view popular options for social media, personal, business, and marketing work.
Pros
Free plan available with limited visual assets

Thousands of pre-built template layouts with drag and drop tools

Versatile software for both print and web graphics
Cons
Limited drawing tools and advanced design elements, even with paid plans

Browser-based applications with slow loading times

No screen sharing capabilities
---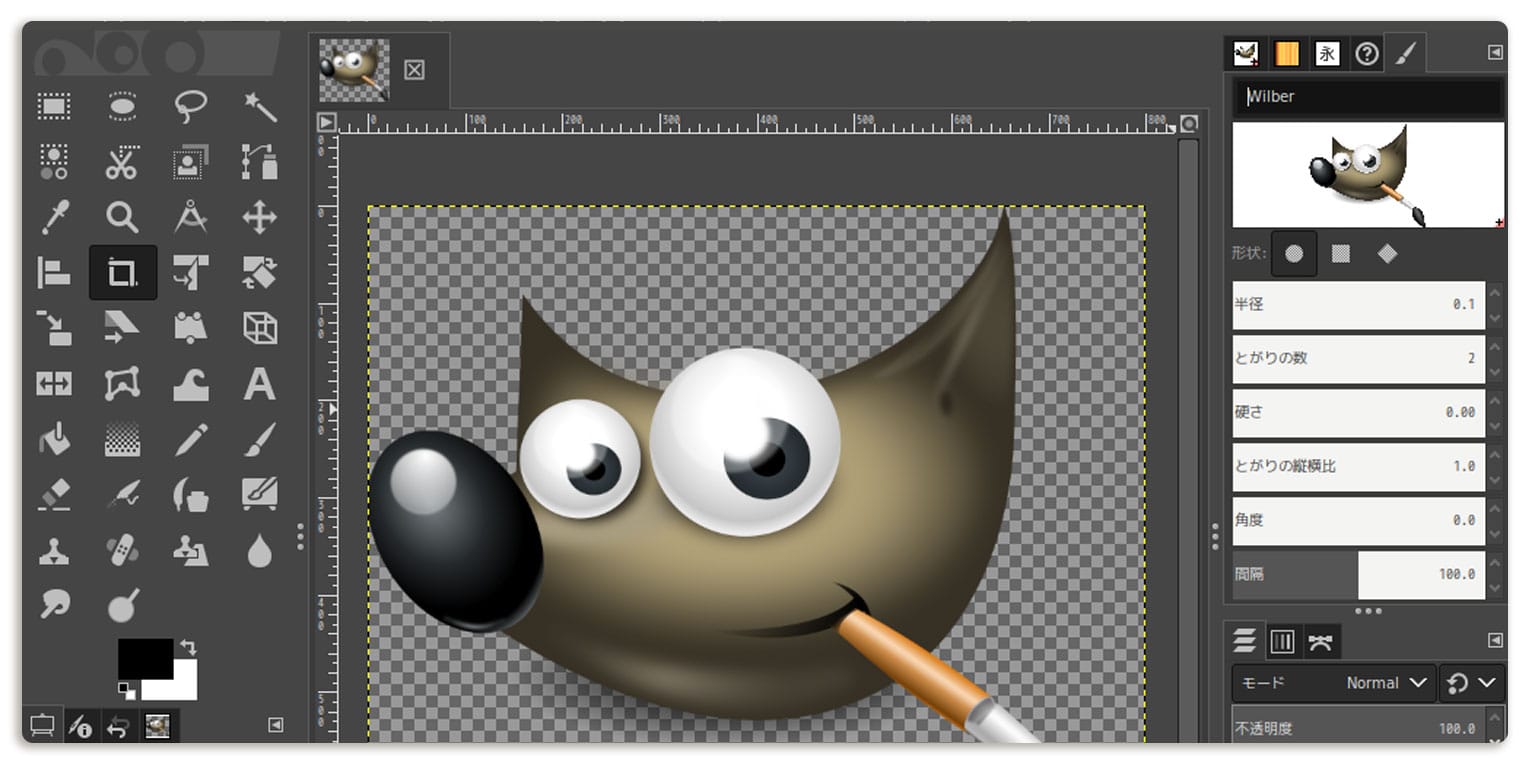 Description:
GIMP—short for GNU Image Manipulation Program— is one of the best free graphic design software available and a great alternative to Photoshop. This open-source image editor launched back in 1996 and continues to be under active development to this day.
GIMP provides users with several free features, including editing tools, automatic adjustment tools, and various learning materials. You can even expand GIMP and give it additional functions with third-party software and plug-in integrations. GIMP is open-source software, which means that you can download source code and access a massive library of free plugins to customize the user interface.
Features: 
Essential Editing Tools: From the healing brush to the clone tool, all of GIMP's brush-based features are high-quality, even when manipulating high-resolution images. GIMP also has a powerful gradient editor and blend tool.

Advanced Manipulation: Image editing capabilities include layers and channels, transformation tools for rotation, scale, shear, and flip, a selection tool, an extraction tool, along with an advanced path tool with transformable paths and selections.

Massive Plug-in Database: Extensive procedural database for expanding GIMP functions with external programs, like Script-fu, Scheme, Python, Perl, and other plug-ins that allow for various file formats and new effect filters.

File Handling: GIMP supports multiple file formats, including BMP, gif, jpeg, png, PCX, pdf, png, ps, PSD, SVG, tiff, tga, xpm, and more. Users can easily load, display, convert and save these files.
Pricing: 
GIMP is not only available for free but offers some of the best free graphic design tools in the industry.
How to Set up GIMP
Installing GIMP is very similar to installing other, similar programs. Start by downloading the GIMP installer from gimp.org/downloads. Click the "Download GIMP" link to begin the process.
Next, you will have to run the GIMP installer. It's typically found in the Downloads/My Downloads folder on your computer. Finally, follow the prompts and finish the installation. Most users choose to keep the default settings and file formats.
Pros
Customizable and intuitive interface that's easy to use

A robust community of developers providing regular updates

Open image processing free tool
Cons
Steep learning curve

Does not support CMYK for printing purposes

Difficult to select multiple layers
---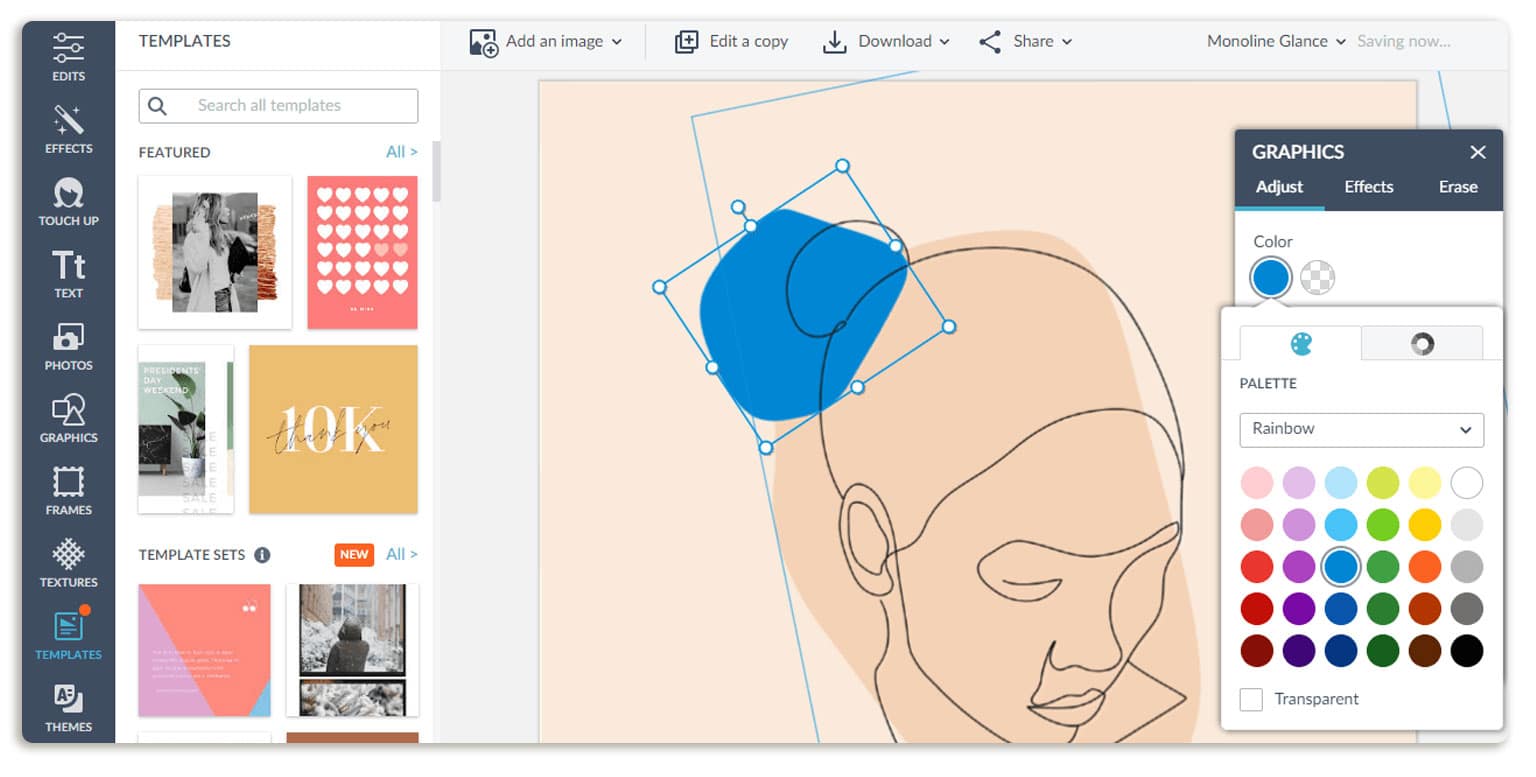 Description:
PicMonkey is one of the best graphic design software options for creatives of all graphic design levels.
You can retouch photos and add filters, graphics, effects, and text to create professional designs and enhance image edits.
PicMonkey also offers various pre-made design templates across different categories that can be easily incorporated into your designs.
Features:  
Photo Editing: PicMonkey has three main editing options – Canvas Edits (for basic editing functions, such as cropping and resizing), Basic Edits (for retouching photos using exposure, sharpen, and color options), and the Advanced edits section (for color-correcting, duplicating/deleting selected objects, and removing backgrounds).
Design Assets and Templates: PicMonkey photo editor has an extensive selection of design options and templates created by professional graphic artists (e.g., business cards, social media posts, logos, posters, banners, and invitations).
Collages, Videos, and GIFs: Collage function available to add effects and textures to individual images in a collage, along with an animated GIF and video effects library.
Hub Built-in Storage: Users can enjoy the design software's built-in storage feature, called Hub. All designs, sketches, and photos are stored here, so you don't lose your design progress and can easily access your edits.
Teams: You can create teams and collaborate on stored designs and projects with other users in real-time. Team members can add comments, share design ideas, and request feedback on projects.
Mobile App: PicMonkey has a mobile app for the graphic design software available for both iPhone and Android devices. The mobile version includes many of the same features as its web counterpart.
Pricing:
PicMonkey offers three main plans. The Basic Plan costs $72 per year and includes 1GB of storage, JPG/PNG download options, video support, an expansive library of fonts, templates, touch-up tools, and real-time collaboration.
The Pro Plan costs $120 per year and includes everything in the Basic Plan, plus PDF download options, animation options, one-click background remover, iStock by Getty Photos, and unlimited cloud storage.
The Business Plan costs $228 per year and includes everything in the Pro Plan, plus team seats and permission management. 
PicMonkey also offers a 7-day free trial for the desktop version and the mobile app is always free.
How to Set up PicMonkey?
You can sign up with PicMonkey directly on their website. There are options to create an account using your email address, Google account, or Facebook login.
After signing up for an account with PicMonkey, you can get started and choose a template to work with. PicMonkey offers templates for social media, print, small business marketing materials, events, invitations, cards, etc.
Pros
Comprehensive photo editing capabilities

Large selection of templates, effects, and filters

Tutorial blog and built-in storage included
Pros
Limited basic plan that lacks features

Does not accommodate printing

Only supports video content in mp4 format
---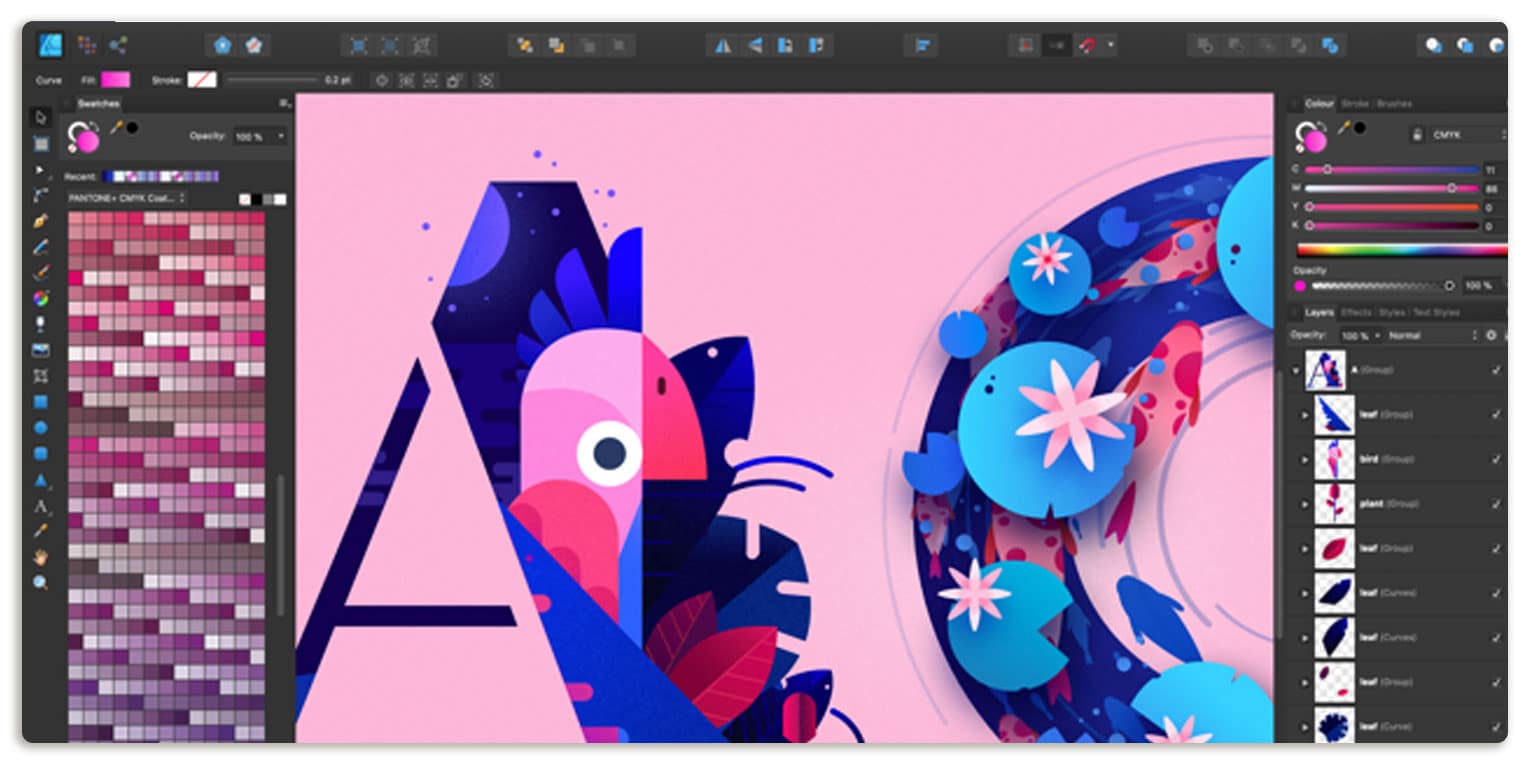 Description: 
Affinity Designer is a professional software for creating logos, icons, concept art, print projects, UI designs, mock-ups, and more. The platform combines both vector and raster design tools. Plus, all photo editing, page layout, graphic design, and illustration capabilities are available for Mac, Windows, and iPad.
The company also offers Affinity Photo, a robust image editing software, for retouching and creating multi-layered compositions. Additionally, Affinity Publisher is available for book, magazine, and marketing material development.
Features: 
Full-Featured Vector and Raster Workspaces: Users can easily switch between art environments with a single click. For example, there are options to add raster brush texture, mask grain to crisp vectors, edit single pixels on icons, and clip pixel layers.

Color Control: Pantone support and complete CMYK and ICC color management are built-in standards. Users can also choose to operate in RGB or LAB color spaces, up to 32-bits per channel.

Vector Tools: Full set of vector tools such as pen and node tool, contour tool, pencil and brush stabilization, and non-destructive Boolean operations.

Advanced Grids and Guides: Both standard grid patterns and full isometric with multiple planes available. There are also various auto-alignment tools and pixel snapping functions.

Unlimited Artboards: You can create artboards of any size and format. All screens, pages, and other items can be stored in a single project across any number of artboards.

Live Pixel Preview: View vectors in both standard and retina resolution for live views of every element in the design before exporting.

OpenType Support: Sophisticated typography and styling capabilities for custom text, characters, and paragraph flows.

Advanced File Support: Affinity Designer has extensive back-end technology that supports multiple file formats, including DF/X4, EPS, SVG, and PSD support.
Pricing
Affinity does not have a subscription-based pricing model. For a single price, you will own the current version of the graphic design software and you'll receive free updates as they are released.
Affinity Designer costs $54.99. There is also a free trial available for Mac and Windows users.
How to Set up Affinity Designer?
Installing Affinity Designer on macOS and Windows involves two different processes.
For macOS users, select your Product key from your generated Affinity order invoice and copy it to your clipboard. Then, select the download button to download the app. Navigate to your Downloads folder and double-click the .dmg file. Launch your Affinity app from your Applications folder and select I have a product key. Enter your email and Product Key from your order invoice.
For Windows users, select your Product key, copy it to your clipboard, and click the download button. Double-click the downloaded app on the bottom of your browser page. Then, launch the Affinity app from the Start menu. Enter your email address and paste the Product key on your invoice.
Pros
A budget-friendly alternative to Adobe Illustrator

Compatible with iOS, Windows, and other operating systems

Various pixel vector art environments are available
Pros
Some exporting limitations on files

No AI enhancements like those integrated into Illustrator

No plug-ins, scripting, or image tracing options
---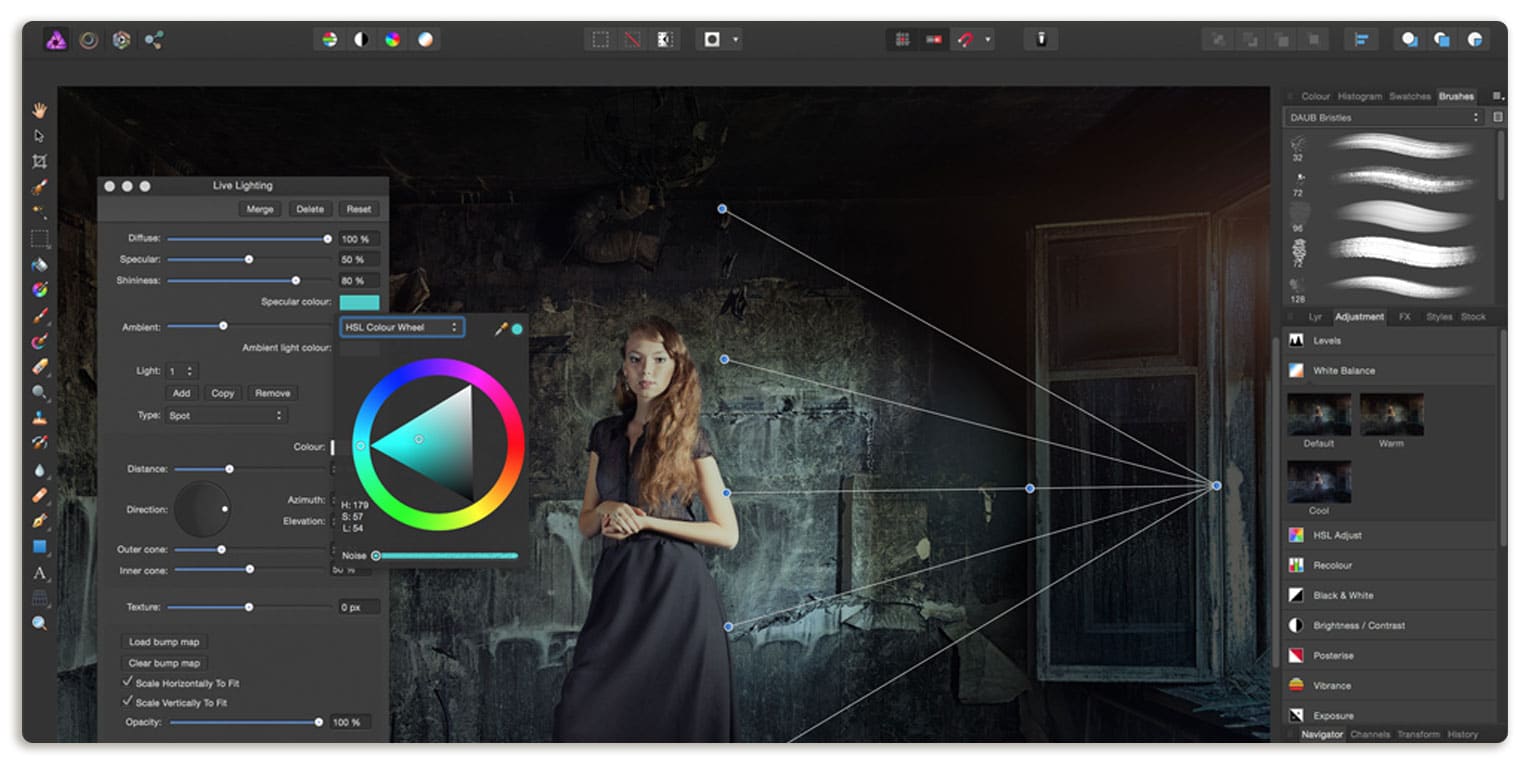 Affinity Photo, the professional image editing software, is another application offered within Affinity's full creative suite. It's an excellent alternative to Adobe Photoshop. Affinity Photo is commonly used by photographers, graphic designers, and other creative professionals.
The software combines powerful computer technology and complex creative graphics to provide a fully-loaded photo editor. Whether you need to perform quick corrections or sink into a complex project with hundreds of layers, Affinity Photo has a huge toolset for any workflow. This graphic design software is even integrated across macOS, Windows, and iOS.
Key Features
Live Filter Layers: Non-destructive live filter layers are available for single layers, whole layer stacks, and live liquify layers.

Extensive Retouching Tools: There is a complete set of retouching tools (e.g., frequency separation, blemish removal tools, sculpting features, magical inpainting brush, and divide blend mode

Full RAW Development: Professional lens corrections, noise reduction, and hot pixel removal.

Customizable Brush Engine: Create custom brushes with advanced dynamics or select from a large library of brushes.

Photo Stitching: Advanced stitching algorithm that includes full perspective corrections and automatic image alignment.

Refinement Algorithms: Advanced selection refinement algorithms and tools (e.g., magic wand, selection brush, marquee and lasso tools, paint-to-select tool, and pen tool).

Focus Merge: Merge several images taken at different focal distances for detailed macro photography projects. Affinity Photo uses AI technology and advanced algorithms to determine ideal alignments.

Path Text: Range of typographical designs available when adding text along a path. Line and shape tools can create a path from any shape, curve, or line.

Pattern Layers: Add pattern layers across the entire document. These fixed-size layers can be created and manipulated with filters.
Pricing
Affinity Photo costs $54.99 for Mac and Windows. For iPad users, it only costs $21.99.
The pricing structure is the same as Affinity Designer. This is a one-time fee that affords you long-term use of the graphic design software, along with any updates available.
There is also a free trial available for Mac and Windows purchases.
How to Set up Affinity Photo?
The installation instructions for Affinity Photo are the same as Affinity Designer.
Simply copy the Product key on your Affinity order invoice, download the app onto your device, provide your email address, and paste the Product Key into the dedicated space.
Pros
Top-notch PSD Import/Export abilities

Subscription free software that's more affordable than Adobe Photoshop

100% file format compatibility across all operating systems
Pros
Dull user interface

Limited photo management tools

No design templates included
---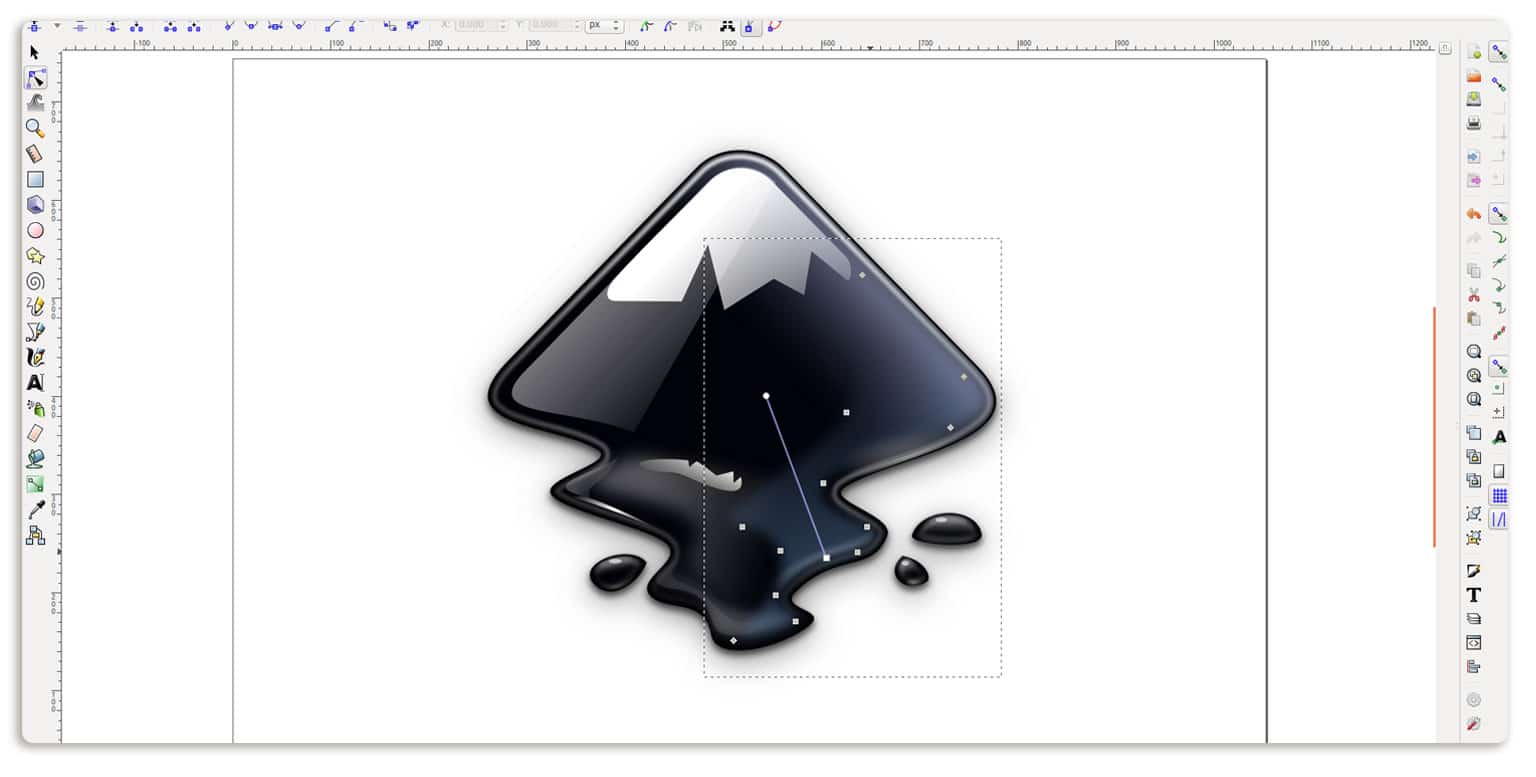 Description: 
Inkscape is the best free graphic design software for open-source vector graphics editing. If you're a Windows and Mac illustrator unable to invest in an expensive graphic design app, then Inkscape might be the right graphic design software for you.
Inkscape helps designers, illustrators, web designers, and digital creatives build vector-based imagery. The platform offers powerful drawing tools – including flexible text tools, extensive file format compatibility, and bezier and spiro curves.
The program runs on Linux, Mac OS X, and Windows desktop computers and is primarily in Scalable Vector Graphics format. Inkscape has an open-source software, which means that the authors released the source code and users can collaborate on the program's development. This has led to additional extensions and add-ons, along with debugging glitch fixes.
Key Features
Object Creation Tools: Basic text-handling and object creation features (freehand pencil tool, pen tool, calligraphy tool, shape tools, multi-line text tool, embedded bitmaps, and clone tool)

Object Manipulation Tools: Interactive transformations, z-order operations, grouping objects, layers, and alignment and distribution commands

Color Selector Tool: Fill and stroke available for RGB, HSL, CMYK, color wheel, and CMS

Operations on Paths: Convert text objects or shapes to a path, including converting stroke to path

Filters and Plug-Ins: Several extensions from 18 preinstalled categories are available to boost control of InkScape's user interface. With plug-ins, you can convert text to braille, create barcodes, generate different types of grids, and more.

Rendering: Fully anti-aliased display and alpha transparency support for PNG export
Pricing
Unlike most graphic design software, Inkscape provides vector graphics creation and editing tools entirely for free. It's fairly straightforward when downloading and installing directly from Inkscape.
How to Set up Inkscape
Installing Inkscape on Windows, a Mac, and GNU/Linux involves different steps. Here is a summary of each:
Installing Inkscape on Microsoft Windows
Inkscape is available for Windows operating systems starting from XP and up to Windows 10. There are two basic methods for installing Inkscape on Windows-based systems. One method is downloading and installing directly from Inkscape.
The other option is to install it from the Microsoft App store. If you have the Windows 10 Education version, downloading it via Microsoft is the only way you can install Inkscape.
Installing Inkscape on macOS
Only the latest version of Inkscape can be installed on devices with macOS versions 10.11 or newer. If you are on macOS 10.7 – 10.10, you need to install the older version of Inkscape from 2017. Inkscape is also available for Mac users who want to work in Homebrew or MacPorts environments.
The best way for Mac users to install Inkscape is by downloading it on a web browser. Simply navigate to the Inkscape downloads page to access the disk image (DMG) file.
Installing Inkscape on GNU/Linux
There are several different ways to download Inkscape on GNU/Linux operating systems. On many Linux distributions, Inkscape is already preinstalled. You just need to select it on the "Graphics" section of your app menu. Other Linux distributions come with an app store, where Inkscape is easily searchable.
Pros
Full-featured, free graphic design software

Intuitive interface with a robust extension ecosystem

Low learning curve to creating artwork
Pros
Limited text formatting tools

Some issues reported with Mac users

Dashboard lacks engaging visuals
---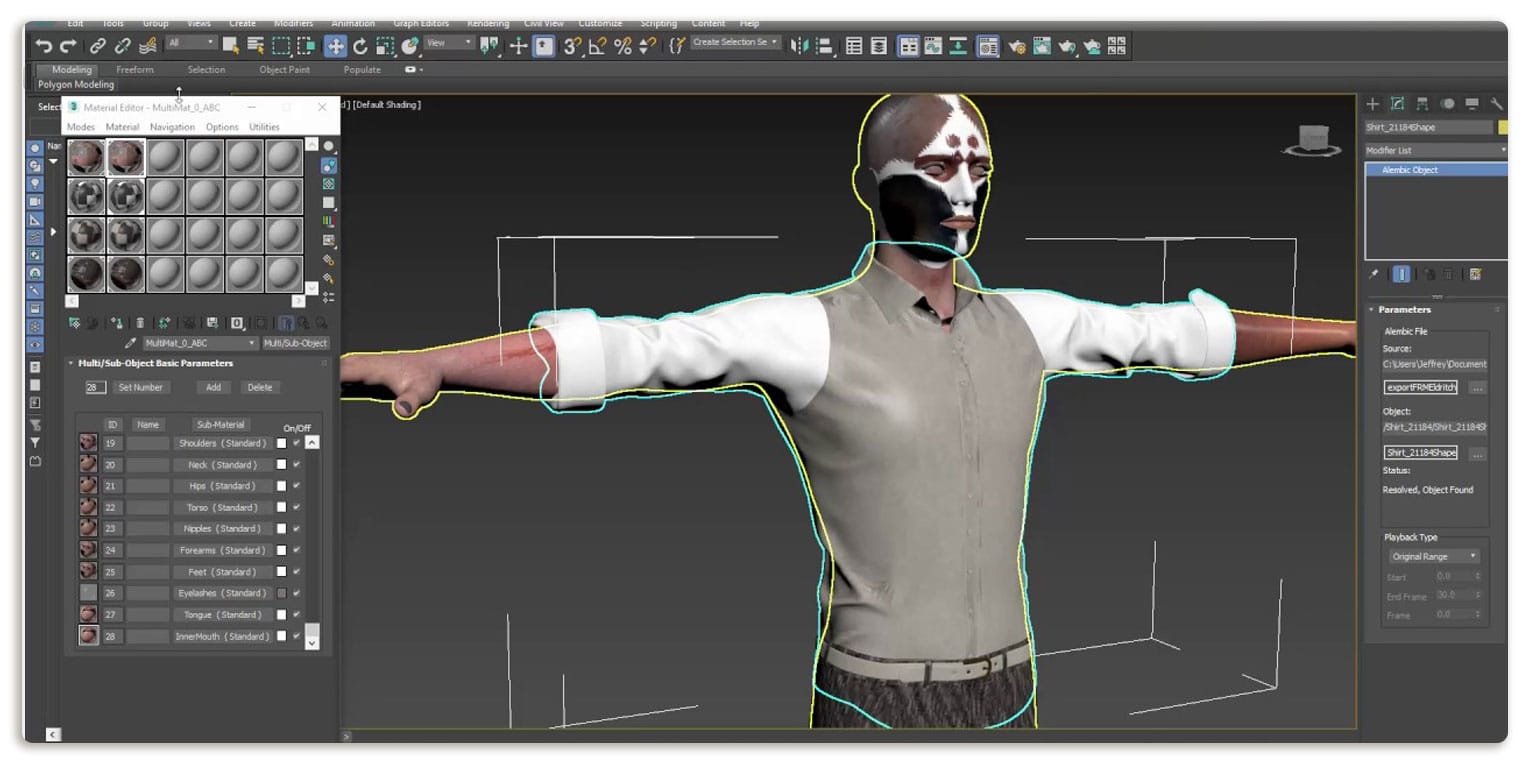 Description: 
Daz 3D is the best graphic design software for 3D content. It combines software solutions, platforms, and add-ons that enable 3D digital illustrations, animations, and environments.
The feature-rich suite of applications and extensive toolset allows you to customize and enhance characters/scenes to make them more realistic. There is even a character engine and figure platform to create extremely detailed human models. Furthermore, Daz 3D includes straightforward modeling software that helps to animate and render 3D content.
Key Features
Daz Studio and Hexagon: 3D creation software that creates and optimizes 3D content, animation, and art. Additionally, it can be used for developing models for 3D printing.

HD Morph Technology: This tool helps you design your own character and change specific attributes, like eyes, cheekbones, and other elements. It includes a library of HD morphs with a wide selection of 3D human figures, including realistic facial expressions, movements, and body parts.

Filament Viewport and Render Engine: High-quality renders that show scenes in real-time for higher realism and faster workflows. The software calculates complex interactions between 3D assets with light scattering and atmospheric visual properties to optimize the time of the render engine.

Daz Bridges: Once your character or scene is finished, Daz Bridge quickly imports work from 3D software. Transfer animations are available from Maya, Blender, 3ds Max, Cinema 4D, Unreal, and Unity.

DazCentral: Content management solution to sort and organize assets on one, seamless user interface. You can manage 3D content, get updates, and open assets directly from Daz Studio.
Pricing
Daz 3D has a quote-based pricing plan, where users are required to contact customer support to get a quote. New customers are offered a free trial to test the online graphic design software.
How to Set up Daz 3D?
To download the DAZ 3D installer, go to www.daz3d.com, and click "Get Started Here." You will first need to create a username and password and then DAZ 3D will send a confirmation email to the email address you provided. Go to your email and click the link to confirm it. The link will then return you to the DAZ 3D website and automatically begin to download the installer.
Once downloaded, open the .zip file and launch the DAZ Install Manager. Follow the instructions provided by the DAZ Install Manager. You will need to open the installer and install the content. It's especially important to install the Genesis starter kit for additional resources and support.
Pros
Morphing capabilities for realistic human figures

GPU accelerated real-time rendering

In-app interactive tutorials
Pros
Secretive pricing model

Confusing user interface

A high level of expertise is needed to use the animation system
Frequently Asked Questions
What Is Graphic Design Software?
Graphic design software is a program or collection of programs used for image editing, digital artwork development, technical illustration, and multimedia creation. Most allow for depth and flexibility throughout the graphic design process.
Using graphic design software is more efficient than relying on traditional media. Programs automatically render images and offer various editing and effects tools depending on the intuitiveness of the interface. This can help to enhance creativity, along with design skills and capabilities.
How Much Does Graphic Design Software Cost?
Both costs and pricing structures vary depending on the paid graphic design software. Some options require you to pay a recurring monthly or annual subscription, while others only offer a one-time fee option.
For instance, Adobe graphic design software products require a subscription, with different prices depending on which graphic design apps you need. The full Creative Cloud package, which includes 20+ apps, costs around $52.99 per month. Another leading graphic design software, Affinity Designer, sells its products for a one-time charge of $54.99.
There are free graphic design software options available as well, including Inkscape and the Canvas Free Plan. Free software typically has limited graphic design elements and a less intuitive user interface. These options are best for beginners working on simple graphic design projects.
What Are Raster and Vector Graphics?
In digital design and photography, there are two main types of graphics: raster graphics and vector graphics.
Raster images also referred to as bitmaps, are two-dimensional images composed of pixels, or tiny dots, to create an image. The number of pixels within the image determines the quality. Raster graphics always lose their quality when scaled and appear blurry.
Vector graphics are created with mathematical equations and contain paths or line art. Shapes and colors are based on algorithms, rather than pixels. Vector files can be stretched to any size and remain high quality in every resolution.
What Are the Top Features of Graphic Design Software?
Not all graphic design apps are certainly not equal, but most share some general characteristics. To narrow down your search, the best graphic design software should offer the following key features.
Customizable Templates: An ample selection of pre-built templates can accelerate the creation process. High-quality graphic design software will also provide functionality and flexibility for customization within the prefabricated template.

Image Database or Stock Library: You may need industry-specific illustrations or photos. A library of stock images should be provided within the app. Further integrations with additional image libraries would be a bonus.

Collaboration Tools and Sharing Options: Most of the best graphic design programs offer various collaboration tools and file-sharing methods. This typically includes options to edit in real-time, markup documents, make comments, and restrict/allow access for specific users. These tools can help you standardize and optimize workflows at every level.

Intuitive Interface: Even with myriad features and tools, the interface should provide a seamless user experience. Consider an interface that is both easy to use and formatted in a way that makes logical sense to users. Additionally, all tools and menus should have customizable arrangements and flexible positions. This will help to make all functions faster, processes more efficient, and teams more productive.
What Are the Best Graphic Design Software Options for Beginners?
If you're new to graphic design and not sure where to start, it's best to experiment with free graphic design software and lower-cost options. GIMP is one of the most popular free alternatives to Photoshop. It provides helpful tools for photo editing and retouching.
Inkscape is another free graphic design software and a solid alternative to Adobe Illustrator. This vector editing platform is ideal for object creation and manipulation, fill and stroke, text formatting, and path functions.
What Is the Best Graphic Design Software for an Experienced Graphic Designer?
Adobe's Creative Suite, including Adobe Illustrator, Adobe Photoshop, and Adobe InDesign, is undoubtedly the best graphic design software for experienced professionals.
Adobe Illustrator is great for vector design and creating logos, icons, sketches, or any other type of visual design. Adobe Photoshop is the best graphic design software for photo editing and manipulation. Adobe InDesign is best suited for the publishing industry (i.e., designing magazines, books, posters, brochures, and more).
If you're looking for a more affordable solution, Affinity designer is an excellent alternative.
What's the Best Free Version of Adobe Photoshop?
The best free graphic design software for photo editing and Photoshop alternatives include Affinity Photo, Gimp, and Canva. These free software options have a wide selection of powerful tools and advanced features that are similar to the Adobe image editing software.
What Is the Best T-Shirt Design Software?
The best graphic design software for t-shirts is Adobe Photoshop, Adobe Illustrator, GIMP, and Inkscape. These options provide advanced features and tools to create a design for screen, embroidery, and DTG printing.
What Is the Best Graphic Design Software for Logos?
If you want to start your own business with low-effort branding options, finding the best graphic design software for logo design is essential. We recommend using vector-based software like Adobe Illustrator, or alternatively, the free graphic design software Canva.
Conclusion
The best graphic design software makes it easier to create artwork and other designs for both digital use and print distribution. Ideally, you'll want to use software that caters to your specific needs as a creative.
When deciding which graphic design software to download and use, consider the intricacy of your designs and the features/tools required to create them. If you only need to make simple designs, go with one of the free, easy-to-use programs. However, if you plan to develop complex graphics, it's better to use professional software with a higher range and comprehensive tools.