High Ticket Affiliate Marketing Programs: Top Paying Programs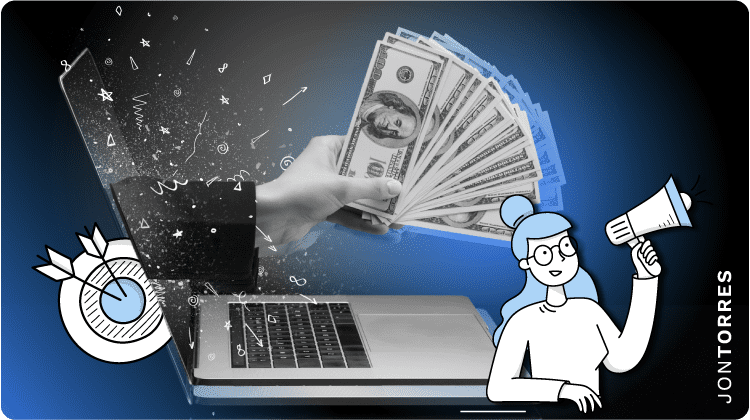 Anyone familiar with affiliate marketing understands it's a way for individuals to get paid for promoting and selling the products and services on behalf of vendors. Not all affiliate programs are created equally. Some are easier to promote but have tiny payouts, while others are a little tougher to sell, but once you do, the payouts are huge.
Sorting through thousands of niches and affiliate programs can take forever, so we've gone ahead and narrowed it down to the top affiliate programs that will get you paid.
First, we'll define the primary parties in the affiliate marketing relationship:
The Merchant:

 The retailer or person(s) selling a product or service.

The Affiliate:

 A third-party marketing agent that links product or service reviews, blogs, endorsements, etc. to the merchant's website.

The Consumer:

 Customers, who visit the affiliate's site, click the affiliate's links and are ultimately compelled to purchase the retailer's product or service.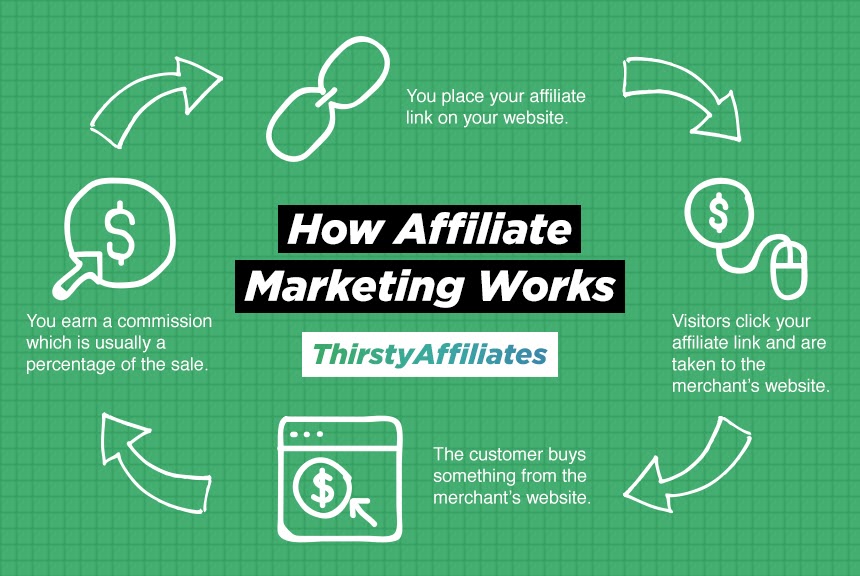 Moving on, let's now briefly discuss various affiliate program structures and contrast them against today's focus: high-ticket affiliate programs.
Affiliate Marketing Program Structures
Physical Product Commissions: 

Affiliates are paid a commission rate for the sale of a single product or set of products. While there are exceptions, these programs generally yield modest commission points per sale of said product(s). This structure is common amongst most major online retailers, think Amazon Affiliates.
Click-Per-Action (CPA):

 Affiliates earn commissions for specific actions taken by referred customers. This program structure is vital for advertisers and businesses in bolstering their email marketing databases but mainly offers affiliates modest commissions.
Monthly Recurring Commissions:

 In this program structure, affiliates continue to earn a monthly commission for a specified timeframe or for as long as a subscriber continues to pay service or membership dues. The right sale or accumulation of referred sales can translate to months or even years of passive income.
High-Ticket Commissions:

This program structure gives higher commission rates and/or payouts to affiliates who can sell more expensive "high-ticket" items or subscription services. One of the primary features of these programs can be commission rates greater than even 50%, and savvy marketers can capitalize on high commission payouts of $2000 or more. A marketer can expect these types of offers to be harder to convert but the payouts to make it worthwhile. 
Anyone looking to make money online can identify the latter structures as the most efficient program offers to get paid as affiliate marketers. Recurring monthly commissions combined with high-ticket affiliate products can translate to profitable, sustained income for months or years. High-paying programs require only a few annual conversions to be profitable.
Sales Funnel Power
Competing for and maximizing the profitability of the best high ticket affiliate programs requires an understanding of the sales funnel.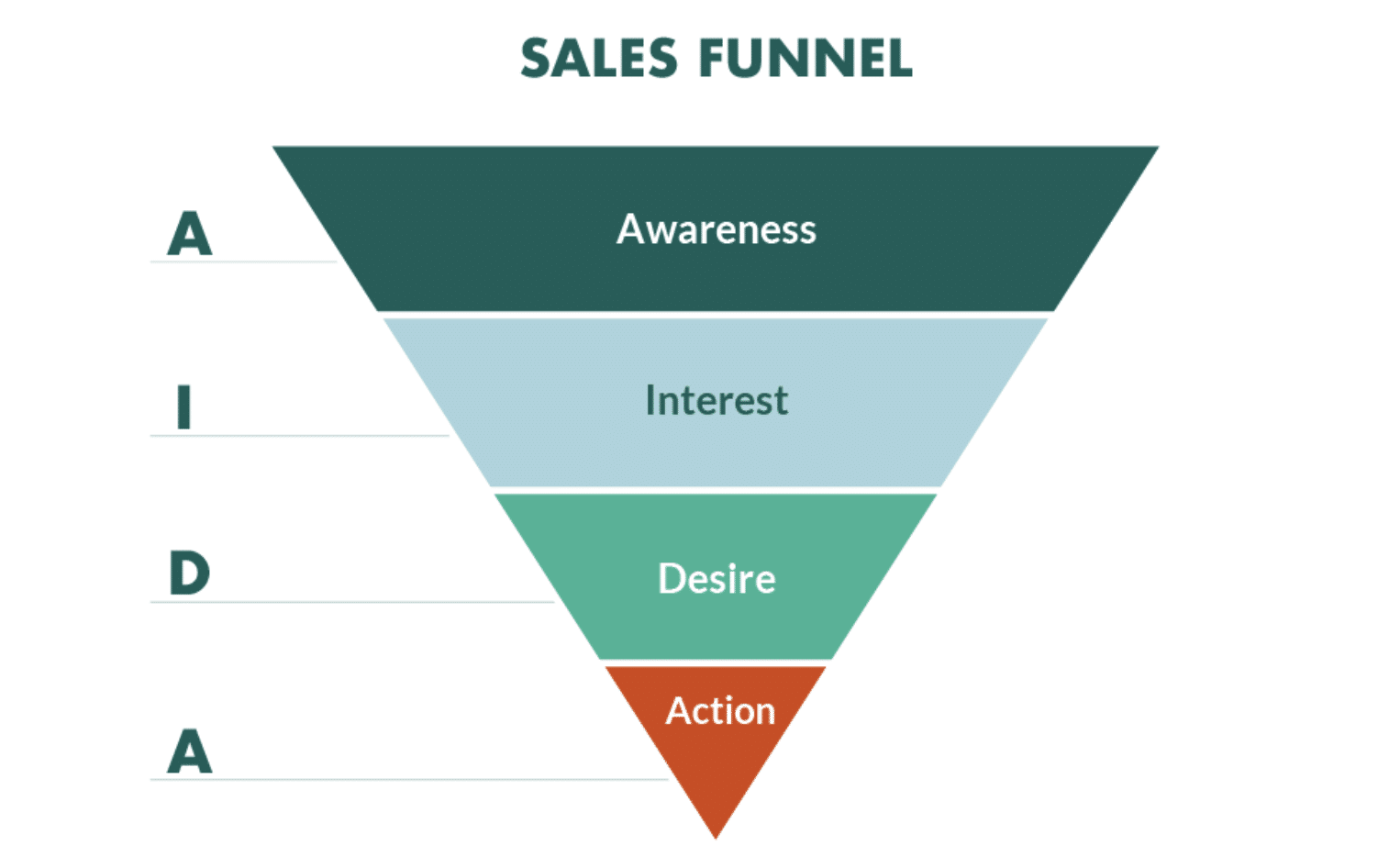 The sales funnel is a general template reflecting a prospective buyer's process in purchasing a product, especially so for more expensive items and services. While it isn't one-size-fits-all, the process typically works as such:
Awareness: 

Buyers are made aware of a product or service in this first stage. As an affiliate marketer, you can start promoting your offers from the start or the sales funnel.
Affiliate Tip: Drive awareness by targeting people that might be interested but have not heard of your offer yet. You can do this through YouTube Ads, as the targeting in YouTube Ads lets you create audiences around interest groups. Simply select interest groups that fit the product you are trying to promote, put a little spend behind it and begin to drive awareness for your product.
Interest:

 In the second stage of the funnel, desire sets in for a buyer. The product may resonate as filling a need, desire, or, in the case the buyer was well-targeted, appeal to the buyer as something they'd enjoy.

 
Affiliate Tip: You can drum up interest by continuing to reengage with the audience you have been marketing to. Instead of just driving traffic to your product drive traffic to an email registration page and then to the product. This will help you create an email list you can continue to reengage interest with by sending out emails about the product.
Decision:

 The third stage brings action stemming from the buyer's interest in the product. Once a buyer is satisfied in their research, they will make their decision to buy.
Affiliate Tip: High ticket affiliate items are going to take a lot more work for a buyer to reach this phase. As a marketer, you need to outline exactly why they need this item or service. Make sure the content you are putting out is well researched (you have topical authority) and is informative to help your audience reach a decision. 
Action

: In the final stage, the buyer takes action in the purchasing of the product.

 
Affiliate Tip: There is no worse feeling than doing all the work to set up someone to finally convert and not getting the sale. How does this happen? Well if you don't place your affiliate link into the content you put out or into all your marketing efforts you might not cookie the browser of a potential sale. You need to check and double-check every link you send out because you never know which link could be the one they convert on.
In most instances, the more expensive the purchase, the more buyer adherence to each step of the sales funnel template. Big money purchases are approached with caution; buyers are seeking reassurance through vetted information, professional product ambassadorship, and trustworthy influencer endorsements to justify their product purchase.
Identify & Promote The Best Affiliate Products
The thresholds for identifying the best products to promote aren't difficult to meet. As it relates to the efficiency of time and effort for an affiliate, products should easily be qualified as having all three of the following identifiers:
Simply put: affiliates should identify products and services that they are confident are selling to someone. That isn't to say that more difficult product niches can't be fruitful, but it should be noted that in some cases, the highest paying affiliate programs pay well because the product is incredibly difficult to move. After all, what good is a high commission rate if a product has no market to sell to? 
I like to work with companies that do a lot of media buying on Google and social media because If the offer has a long cookie duration you can get the sale commission even if the user buys from one of their paid ads down the line.
When you're beginning your affiliate marketing journey you will want to identify your niche from the start.
Affiliates' reputations are intertwined with their marketing choices. If you choose not to research the quality and viability of products you're promoting, you also risk sowing doubt amongst your audience. Affiliates should be as discerning in their product endorsements as they might expect potential customers to be in choosing to purchase said products.
In some cases, programs that have high affiliate marketing commissions require marketers to adhere to rigid laws. Such legal hindrances are not ideal for novice affiliate website marketers. Focusing on the fine-tuning process rather than observing legal hurdles helps fast track you toward profitability. 
Some niches that have high legal burdens include stock market products and services or crypto services. You will need to check the guidelines of every channel you market in to ensure you are compliant.
High-Ticket Affiliate Programs
Now that we have dissected the baselines for prime high-ticket affiliate programs, let us explore a handful of programs you can join, ranging from business and marketing to self-care and even boutique travel.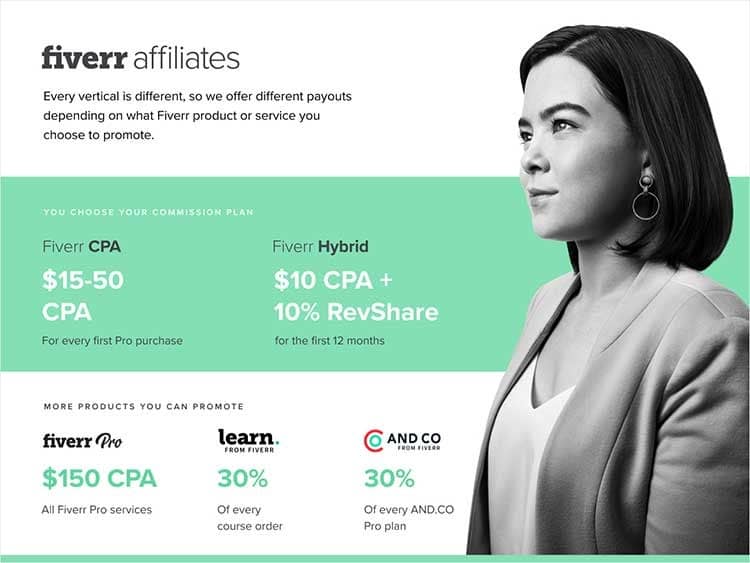 Fiverr is a two-sided online marketplace that allows individuals and companies to buy and sell various digital services typically offered by freelancers. Freelancers offer digital services ranging from WordPress design, writing services, logo design, voiceover work, and transcriptions and allow small and large businesses to streamline their hiring and firing practices by dealing directly with freelancers, absent HR departments.
As of 2021, the company claims to have serviced over 11 million companies. Given the wide range of service offerings and huge dual market exposure between buyers and sellers, the company's affiliate program would seem to be ripe for the picking.
Commissions: 
Fiverr pays commissions based on the types of services that first-time buyers (FTB) purchase. The original Fiverr marketplace offers $15-50 CPA commissions, whereas services sold on the FiverrPro tier extend affiliates a flat $150 CPA commission payout. The Fiverr Learn and And.Co categories pay 30% commissions per each plan sold. Fiverr also offers a hybrid commission program that affords affiliates $10 CPA + 10%, with service prices approaching the $10,000 threshold. The company extends its affiliates a 12-month cookie duration for all first-time buyer referrals. While Fiverr caps commission payouts per action at $150, it does not restrict its marketing partners from utilizing social media, while affording many affiliates a diverse marketplace in which to quickly craft $3,000 monthly commission payouts.
Access The Fiverr Affilaite Program Here
Liquid Web is a premium cloud-based web hosting service. Their focus is on performance, customer service, and providing businesses with everything required to run fast, responsive websites.
As web hosting requirements scale according to a company's size and needs, so do the commission payouts Liquid Web offers its affiliates. 

Commissions: 
Liquid Web offers a whopping 150% commission rate on the monthly hosting cost of referred customers with a $150 minimum payout and 90-day cookie duration on affiliate links. To put that into tangible terms, a single dedicated-hosting referred customer could pay a maximum one-time payout of $7000 by way of a unique affiliate link. Even better, the company adds a 50% bonus for pre-paid plans.
As if the competitive commissions Liquid Web pays out weren't incentive enough, they further incentivize their program with dedicated affiliate managers ready to assist their marketing partners at a moment's notice. Liquid Web has one of the best high ticket affiliate programs on the market.
Access the LiquidWeb Affiliate Program Here.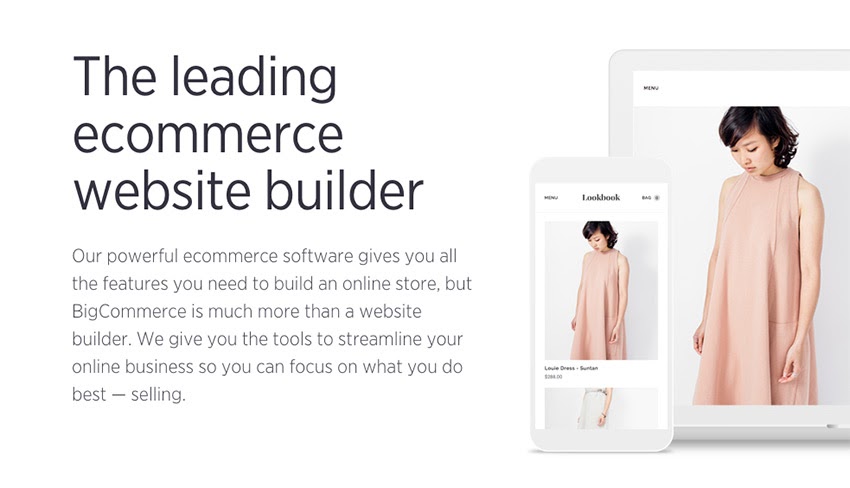 Big Commerce offers managed hosting e-commerce solutions allowing businesses to set up online stores and sell their products on the web.
BigCommerce is yet another business that features aggressive one-time commission payouts per new customer sale. 
Commissions: 
Affiliates earn 200% commission bounties per referral, $1500 per Enterprise referral, and aren't restricted by commission caps, obligations, or minimum commitments.
The program allows affiliates to promote on social media or wherever they so choose with their referral link and provides a dashboard to track clicks, trials, sales, and, most importantly, commissions.
Access the Big Commerce Affiliate Program Here.
INeedMotivation is an online self-improvement platform, also called an executive coaching store. Their website offers over 500 hypnosis & subliminal downloads and CDs for customers worldwide.
With so many different programs you can easily find a self-help guide to promote to your audience regardless of your niche. 
Commissions:
INeedMotivation's affiliate program attractiveness starts with its 45% recurring commission rate baseline. The program allows affiliates to maximize their commission rate up to 50% per every 20 accumulated sales. Factoring in the company's claim that repeat purchasing accounts for greater than 40% of its business and the 50-year cookie duration for affiliate marketers, you can see the opportunity to grow a substantial recurring commission income base with INeedMotivation.

Access The INeedMotivation Affiliate Program Here.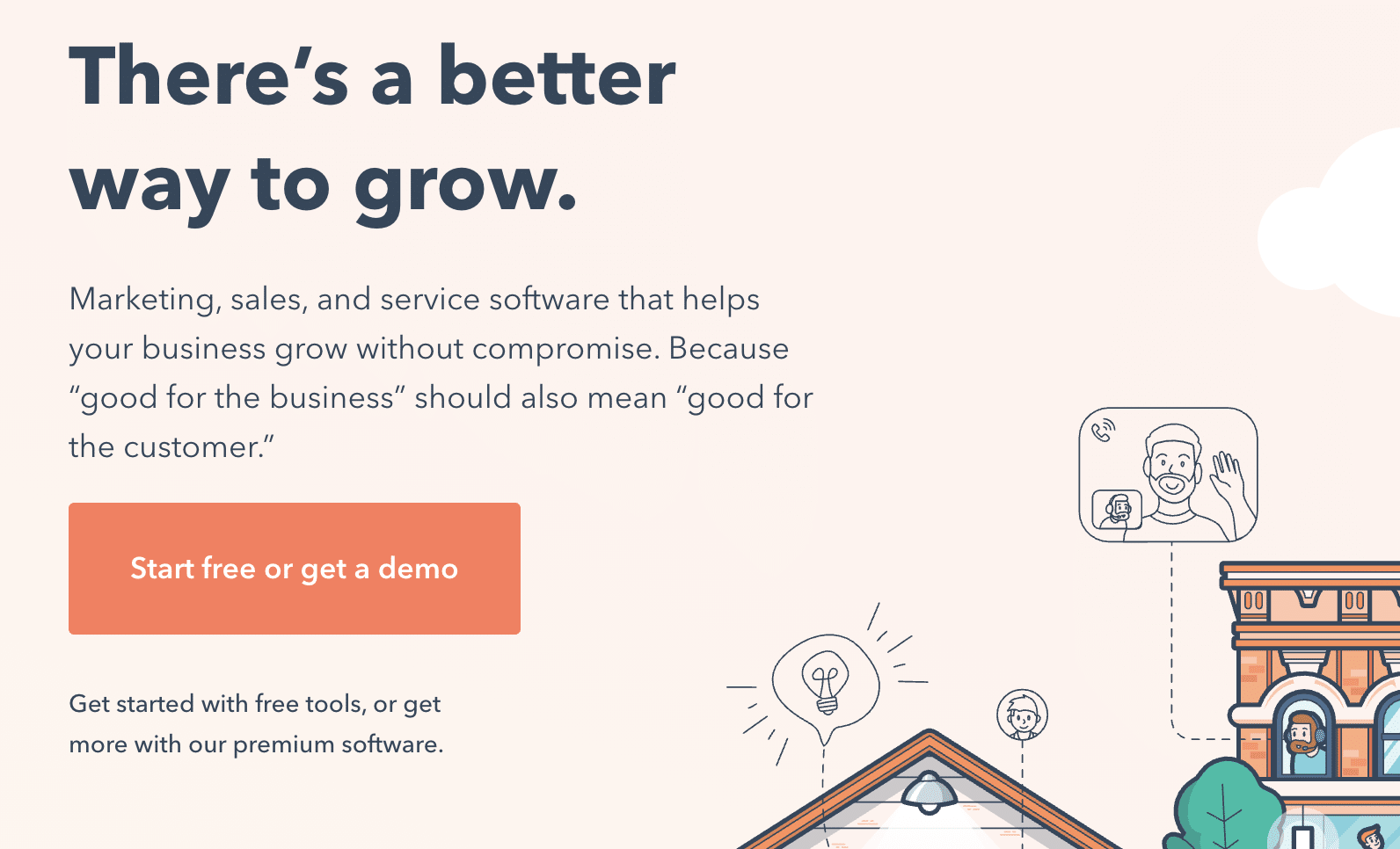 HubSpot offers fully-stacked, "all-in-one" marketing software to efficiently grow companies through blogging, SEO, social media, email, landing pages, web analytics, and marketing automation.
Commissions:
What does Hub Spot's model mean for you, a prospective affiliate marketer? With three tiers of package pricing offerings, affiliates can earn:
Starter/Basic Package

 = $250 commission per/sale

Professional/CMS Package

 = $500 commission per/sale

Enterprise Package

 = $1,000 commission per/sale
HubSpot does not impose sales minimums or caps on its affiliate partners. The company's cookie duration window is 90 days for affiliates.
Access the HubSpot Affiliate Marketing Program Here.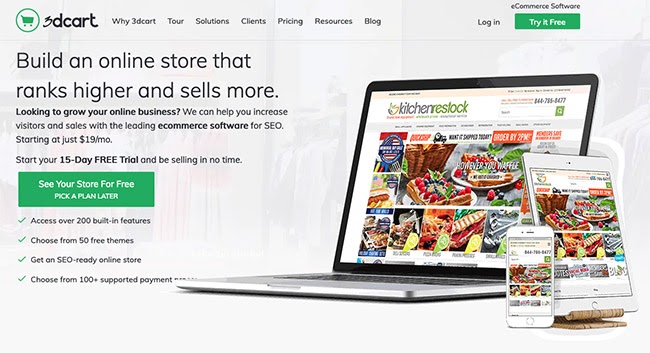 3dcart is an award-winning shopping cart software designed for businesses of all sizes. The company's E-commerce platform allows business owners to build, manage and scale their online stores with wide-ranging tools and over 200 leading business service providers.
Commissions: 
The company pays a 300% commission rate for paid conversions with a 120-day cookie duration.
Access The 3dcart Affiliate Program Here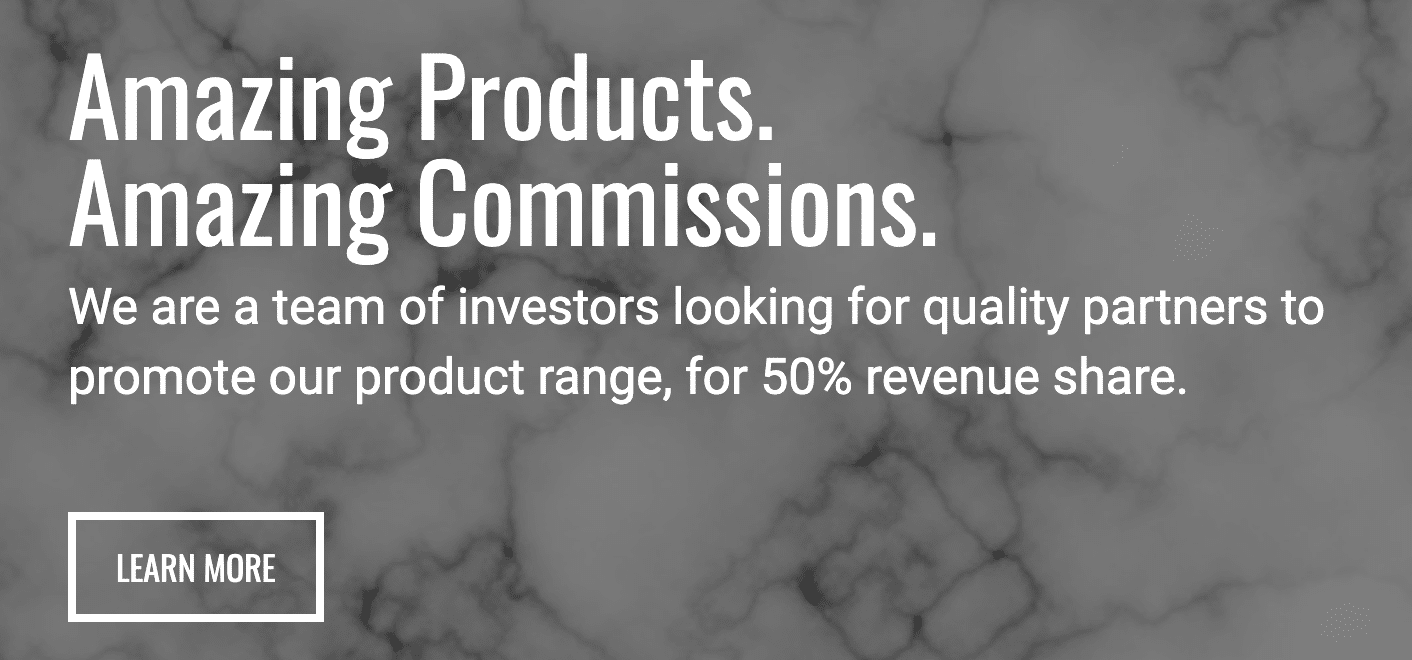 Capitalist Exploits is an investment advisory company boasting over 3,500 partners. The company's strategy is to analyze trends rather than individual investments. Boasting subscribers in 53 countries, Capital Exploits offers a vast pool of potential subscriber market share for an affiliate to capitalize upon. 
A relatively new company started in 2016, Capital Exploits has maintained a 9.4/10 Trustpilot rating, illustrating the company's unparalleled customer trust and satisfaction in the financial publishing sector.
Commissions: 
Capitalist Exploits' high ticket affiliate program extends a 50% commission rate to its marketing partners, paying out once monthly. With two product offerings at $1,575 and $3,500, that guarantees participating affiliates a minimum $787.50 payout and as much as $1,750 for referred customer sales. Factoring in a lengthy 12-month cookie duration and incredibly lucrative commissions, there's more than ample incentive for affiliates promoting Capital Exploits' high ticket products.
Access the Capitalist Exploits Affiliate Program Here.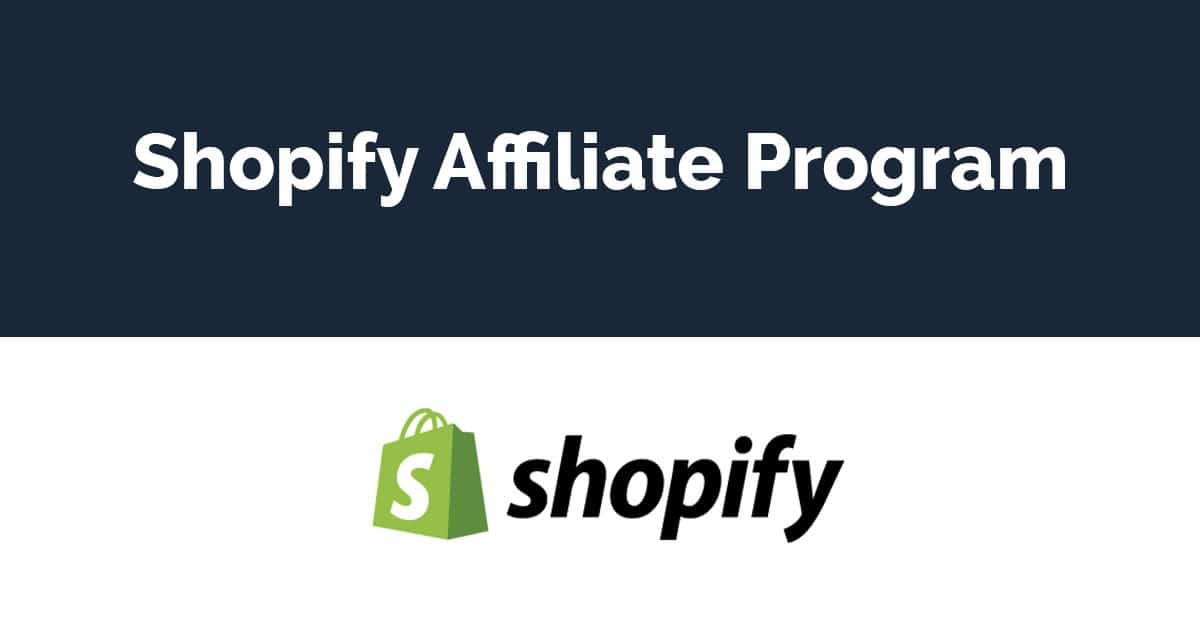 Shopify is the world's most popular e-commerce hosting platform. Boasting north of 400,000 vendors, the company provides customers with a variety of tools to help set up and run their websites. Shopify's industry name recognition also translates to consistent conversion rates for affiliates.
Commissions: 
Affiliates can earn 200% commissions on paid stores, up to $2,400 per customer. Shopify will pay affiliates an additional $2,000 for new Shopify Plus customer referrals. The company extends a standard 30-day cookie duration on affiliate links.
Access the Shopify Affiliate Program Here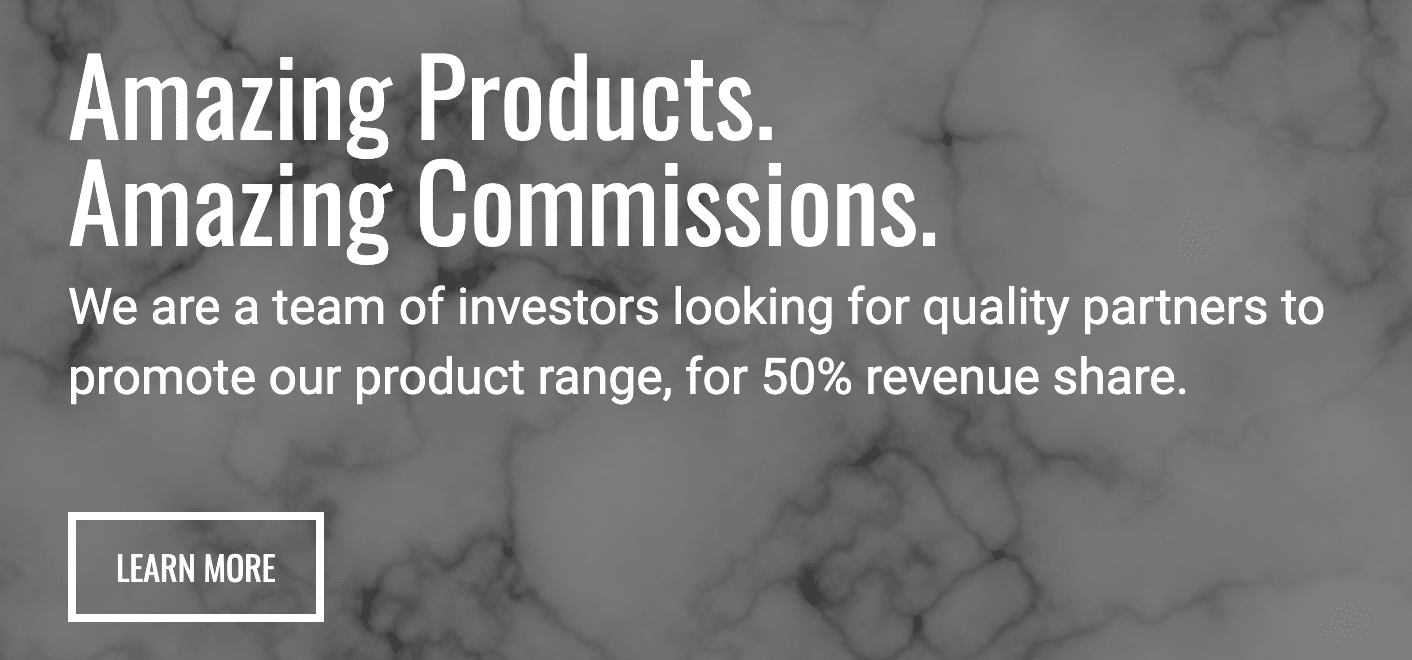 A London-based company, VilliersJets is a luxury private jet charter. With over 10,000 private aircraft available globally, they offer the largest network of private aircraft service and direct operator pricing. Offering a one-stop platform for its charters, the company has partnerships with agents in over 30 countries. A 24-hour service website, VilliersJets also touts that customers can be in the air within two hours of booking their flights.
Commissions:
VilliersJets offers affiliate marketers a generous 30% commission rate for each referred customer booking and extends a cookie duration of 365 days on the affiliate link. While in a niche luxury market segment, Villiers Jets' model presents as one of the most attractive options to make money amongst the high ticket affiliate programs on the market.
Access The Villiers Jets Affiliate Program Here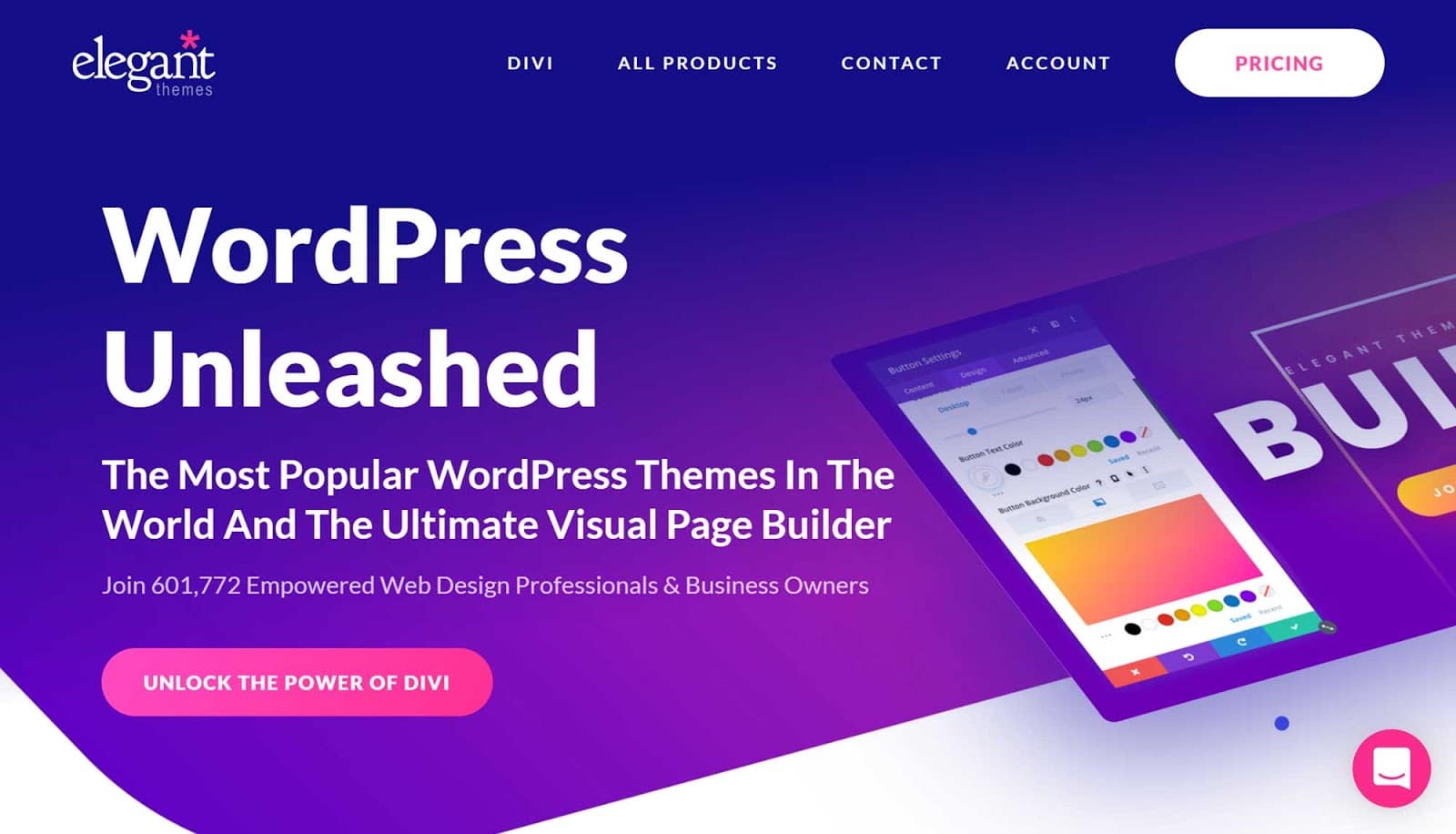 ElegantThemes is a popular WordPress theme library with a bevy of user-friendly themes and nearly 550,000 customers. Elegant Themes operates on the tenets of contributions of its users and extending themes and plugins at hyper-competitive industry pricing. The ElegantThemes community is encouraged to create and share their themes.
Commissions:
Elegant Themes now offers customers two price-point options at either $89 annually or an attractive one-time $ 249-lifetime fee. Elegant Themes extends any participating affiliate high-ticket 50% recurring commissions with a 180-day cookie duration.
Access The ElegantThemse Affiliate Program Here.
Click Funnels helps businesses automate their sales process through sales funnels, the purchase processing template we discussed earlier. Click Funnels allows even the most novice website owners to build opt-in pages, landing pages, webinars, and sales funnels with customizable templates and designs.
An all-in-one marketing solution, Click Funnels empowers entrepreneurs to sell and market products and services while also affording participating affiliates robust commissions on referred customers' monthly or annual subscription dues.
The company's meteoric growth and glowing reputation in six years since its inception should be reason enough for those seeking to build income as an affiliate marketer for Click Funnels. 
Commissions: 
Following an available 14-day free trial period, Click Funnels' pricing tiers range from $97 a month to $2,497 monthly. As an affiliate, you'll receive a 40% recurring commission rate on any new customer referral, with a 45-day cookie duration on your affiliate link. Click Funnels intuitive dashboard makes managing links and commissions a snap.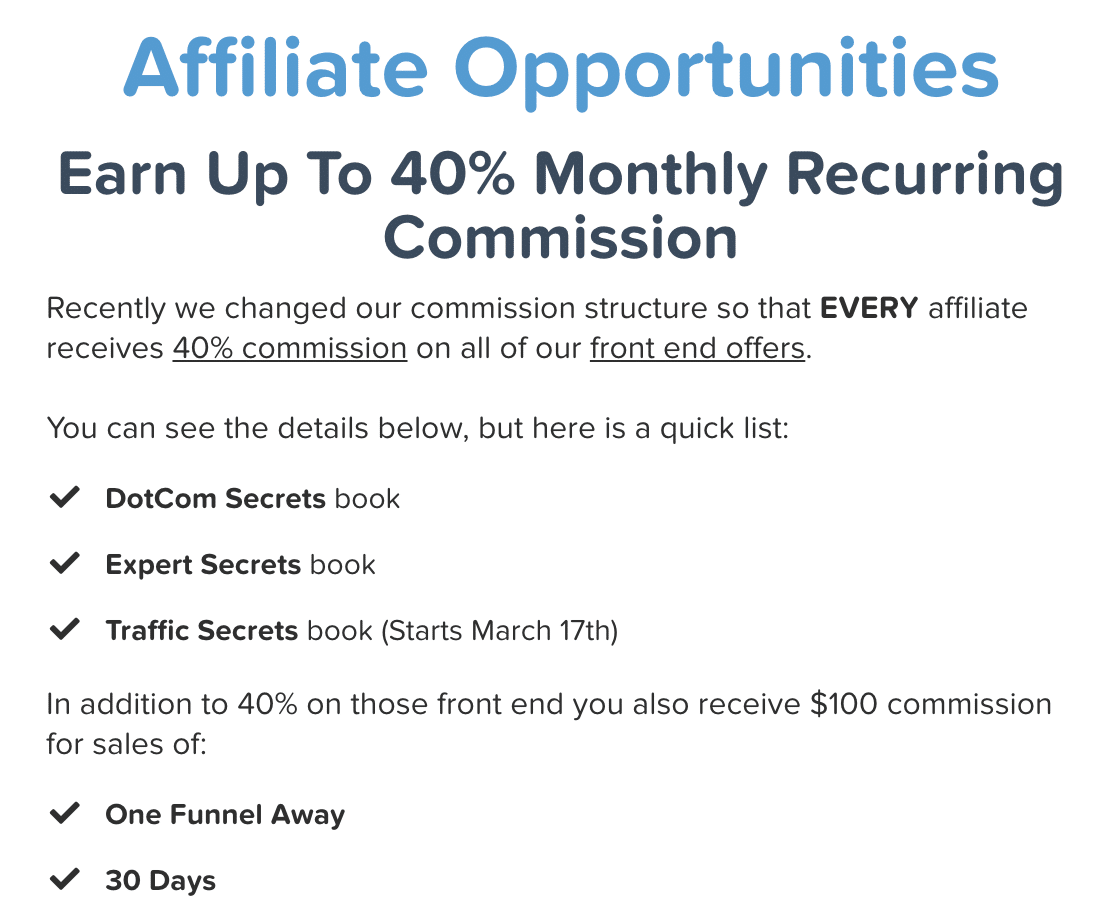 Access The Click Funnels Affiliate Program Here.
Founded in 2012, Draft Kings is an industry leader in a still-emerging daily fantasy sports contest and online sports betting service realm. In combining technology with the frenzied popularity of sports wagering.
 Draft Kings has assumed the mantle of the country's largest fantasy sports service and managed to go public in 2020, trading under the ticker symbol DKNG. You want to promote legitimate companies and going public is a great sign of that. 
Commissions: 
As a participating Draft King affiliate, you can capitalize on a 40% commission rate of a referral's net gaming revenue for the customer's first 30-days on the company's gaming platform. A recurring 25% commission rate is paid out thereafter, making Draft Kings' tiered high ticket affiliate program quite an appealing play.
Access The DraftKings Affiliate Program Here
What Are The Requirements To Join Affiliate Programs?
The requirements for joining affiliate programs as a third-party marketing partner are basic. Beyond signing up through the vendor's affiliate marketing application, you'll need a website and a means to receive money. Whether it be PayPal or a bank account, you will need an established conduit through which to receive your affiliate commissions.
Secondarily, while high-end influencers can share their affiliate links with their network through numerous social media platforms, it is always the best bet to have a dedicated website to maximize unique marketing efficiency. While you can promote affiliate offers without a site there are a ton of benefits to creating one. Through a site, you can also collect email addresses to grow a list to remarket to.
A well-designed, SSL-certified site with a domain-connected email address and linked PayPal account will serve as a necessary and basic start point for your success in affiliate marketing.
Should You Be Paying To Join A High Ticket Affiliate Program?
If you'll notice one common thread about the high-ticket affiliate marketing programs we have discussed above, it is that they are all free to join. The merchant-affiliate relationship is symbiotic or, mutually beneficial, there should be no good reason for an affiliate to pay to promote a company's product.
Any company worth its salt crafts their affiliate program terms to effect a net positive in their ledger, as it relates to the affiliate commissions they payout versus the revenue their affiliates create for them. In the instance you find yourself paying to promote a product, you have become as much the targeted consumer as you believe yourself an affiliate. All this is to say: steer clear if a merchant is looking to double-dip at the expense of the affiliate.
The 3 Most Important Things To Look For In A High Ticket Affiliate Marketing Program:
Commission Rate:

 This is the percentage of a referred sale, paid by the merchant to the participating affiliate. Aiming for the highest percentages (in some cases as we've seen above, over 50-60%) may seem obvious, but remember to contextualize the commission rate to the market of said product or service to determine its true value.
Average Order Value: 

This is the average dollar amount spent for each completed customer order. Calculating the average order value (AOV) simply requires dividing total revenue by the number of total orders.
Cookie Duration:

 Cookies are used in helping merchants identify and track affiliate sales. Industry-standard cookie duration is 30-days, meaning that if a user clicks an affiliate link and within 30 days makes a purchase, that affiliate receives a commission.
Combining high ticket product knowledge and the general idea of seeking higher commission rates, higher AOV, and longer cookie durations will help you identify the best high-paying programs to join as an affiliate.
Compound your earning sustainability against high-ticket items with programs offering recurring commissions.
Lastly, remember that any high-ticket affiliate marketing program worth considering should be 100% free to join.