6 Reasons Why Digital Marketing Can Make Or Break Any Business in 2022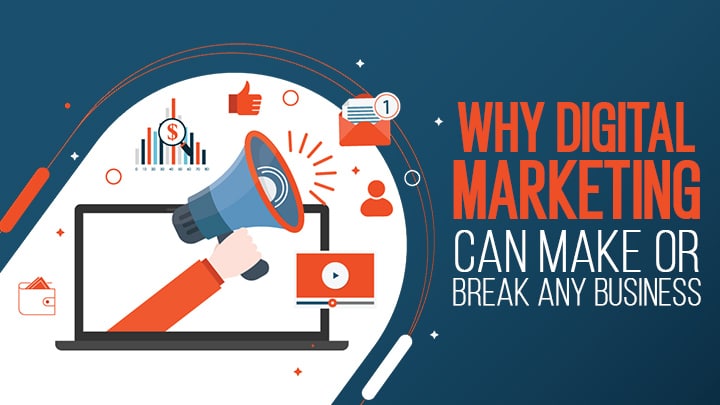 In this day and age, online visibility is key. If a business doesn't have a strong web presence, it simply doesn't exist, at least to its potential clients. 
You may sell the most quality products on earth at the most competitive prices or provide unique services no one else offers, but if you can't bring them right to the fingertips of your target audience, all your effort is destined to fail. 
The great thing is you always have a choice: to continue stubbornly moving the old way or follow the example of other companies within your industry who are obviously doing somewhat (or much more) better than you. 
Despite what you may think, those "lucky bastards" 'success has nothing in common with luck, being based solely on a well-thought-out, hence a sustainable strategy for promoting their website online. 
Just think of it this way – the number of purchases made on the internet has grown dramatically over recent years, and the trend continues. 
Today, people not only shop online but also consult their doctors, work out with a personal trainer, study, have fun, and do a heck of a lot of other things. 
Also, they see the world wide web as the first and most reliable source of information, so even when people are looking for a certain service in the neighborhood, they do not go outside to check out the area and they do not ask locals for a tip, not anymore.
Quite simply, they just turn to Google, Bing, or another search engine to instantly the info they are looking for to complete an offline purchase. 
Here we come to the main point in the whole story – what will the users see? Which websites will be ranked at the top of search engines, and which ones will be listed after the fifth page with faint chances to be noticed?
As you have probably already guessed, it is the aforementioned web advertising strategy that makes the difference. Here you have it: 6 reasons why digital marketing can make or break any business.
Reason #1: Coverage
The aim of every marketing campaign is to reach as extensive coverage as possible. Thanks to a broad range of available channels combined with a high-targeted approach, digital marketing is unrivaled when it comes to entering the homes of your potential customers through their desktop and mobile devices. 
It's no secret that smartphones are our life, and today, small screens are in charge of most traffic, taking the concept of pay-per-click ads to the next level literally. 
You could spend a fortune on traditional, outdated options, including TV, radio, or print ads. Still, it would never deliver you so impressive coverage as PPC ads smartly placed throughout a bunch of social media platforms and most used search engines.
Reason #2: Profitability
Regardless of the business structure and its industry, being an entrepreneur in the US is not an easy task. With plenty of various expenses and a wide variety of taxes needed to be paid, growing your business can be pretty challenging, especially if you continuously suffer from a shortage of money to launch a decent marketing campaign.
It's true, even if you live in Wyoming, taxes can eat a big piece of your revenues, not to mention our beloved Golden State, where taxes are among the highest in the country. 
Naturally, many people take advantage of obtaining an LLC here in California to minimize their contribution to state revenue and make space for investments, but by and large, the majority of them are reluctant to give money for advertising because they are not sure it will pay off. 
Well, with digital marketing, there is no uncertainty as you know exactly how much you will get in return for every $1 spent on marketing.
By the way, the ROI (return of investment) is usually pretty impressive, being at least $5 for every $1 paid – a great ratio, isn't it? So, digital advertising is a champion in terms of profitability, and there is no offline channel that can yield you so great results.  
Reason #3: Offline Sales
Just a quick fact – according to multiple marketing studies, between 85% and 92% of all commercial searches performed by US users result in offline purchases. That's why even businesses that do not have direct online sales can reap the full benefits of digital marketing. 
As already mentioned, people go online to make a purchase and figure out where they can buy something offline. Give a try to so-called display ads designed to introduce a company or its products outside of search engines and you'll be surprised how many new clients they will bring you.
Reason #4: Target Audience
If you want to grow your business and boost revenues, you obviously need more sales, and while huge coverage is great, it can't help you reach your goals without a high-targeted approach. Again, digital marketing has a lot to offer because it allows every business to create an advertising campaign tailored to its specific demands. 
When you pay for expensive TV ads, you never know how many of the viewers are your would-be customers, which means you actually pay too much for every real sale. On the bright side, your web strategy optimized for leads, conversions, and ROI will let you reach potential customers (read sales) quicker, easier, and, what's most important, cheaper.
Reason #5: Brand Awareness
Another significant factor in the whole plot is brand awareness. People always give preference to a company or name they have already heard about, which makes perfect sense as it seems natural to trust something familiar. 
Social media platforms are an excellent place to spread the word about your business or what you do. While this way, you won't generate direct sales, you will certainly boost your brand awareness, which later will bring you more new customers and more sales. 
Reason #6: Effectiveness
Customers are an indecisive breed. When shopping offline, some people can look at a sought-after item for hours, ask a hundred questions, and finally leave "to think it all over" again. Needless to say, in the great bulk of cases, they never return to your shop. 
Digital marketing has a tool to solve this problem – it's called a remarketing ads campaign and serves to bring clients back to your website to complete the purchase. It works superbly both for short and long sales cycles and simply gives a little nudge or a kind reminder if you want to those users who for some reason, left your site without a purchase.
Nothing compares to digital marketing in terms of cost-efficiency, productivity, and impressiveness of the final result. 
Whatever your business goals, you won't be able to reach them without web advertising simply because today, it is the only viable option to find the way to your customers. 
More than that, your competitors already do it, meaning you just can't afford to miss the opportunity to make for the gap. 
By taking full advantage of online marketing, every business, regardless of its size and industry, can grow smoothly and cost-efficiently, hence do not miss your chance to make the most of your effort and investments.