What are the best LLC Services to start your busines?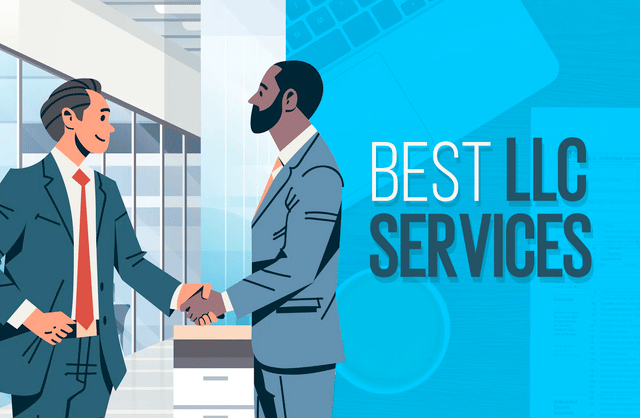 Looking to start a business and don't know where to start? Read the following guide on the best LLC services to use this year.
Learning how to set up an LLC can be extremely challenging by yourself, let alone learning about all the necessary documents that need to be compiled and submitted. Luckily, there are many LLC services available online that can help you get an LLC setup while saving time and money.
The best LLC service providers specialize in the state-specific laws required for LLC formation, ensuring your LLC filing is approved.
At a glance, here are the six best LLC services that we will cover in this guide:
Before diving into specific LLC services each of the providers above offers and how they may help you, it's important to outline some of the basics regarding LLC formation.
What is LLC?
A limited liability company (LLC) is a specific business structure allowed by state statute. An LLC can have one or more owners, where each owner typically participates equally in the management of the business. The key term in the naming is "limited liability", meaning that the owners of an LLC are protected from personal liability for any business debts or claims.
For example, if somebody takes it upon themselves to sue an organization that is an LLC and they succeed, the LLC owner's personal possessions cannot be legally obtained by the person who sued them. Therefore, an LLC owner only stands to lose what they have put into the business, rather than all of their personal assets as well.
As far as tax purposes go, an LLC is not separate from the owners of the organization. Profits are "passed through" the business and reported by the owner(s) on their individual tax return.
Why Do You Need an LLC Service?
From pass-through taxation, legal services, ownership flexibility, and more, there is a myriad of reasons why new business owners may consider forming an LLC.
Compiling the legal documents needed to be filed with the secretary of state's office can seem relatively simple on the surface, but the nuances that exist within state requirements can make it difficult.
This is where LLC services can really shine. They can help to streamline the business formation process and provide you with all the legal documents required for a limited liability company. This may include an operating agreement, annual report filing, employer identification number, articles of organization, and more.
How Do Online LLC Services Work?
Online LLC services specialize in LLC formation and are knowledgeable on individual state laws, along with the necessary documents and other items required for a successful filing.
The best LLC formation services will guide you through all of the information you are required to provide, fill out all the paperwork using the information you provide, and ensure that everything is in order prior to filing.
There are many benefits to using company formation services, but the primary benefits are two-fold: you don't have to waste time researching LLC formation laws in your state and you reduce the risk of your filing being rejected. These providers are experts in online legal services and the business services industry at large.
With these benefits in mind, I've compiled a list including some of the best LLC formation services available to you today.
Best LLC Services for 2023
When choosing from the best LLC services available online, you need to balance the perks offered in conjunction with the price point that you're looking at.
Here are six of the best LLC services to consider today:
How to Choose the Best LLC Filing Service
Now that I've outlined some of the most prominent LLC formation service providers you can choose from, it's important to go further in-depth on how to choose a registered agent service. Use some of the following tips I've compiled to get this process started:
Identify Your Budget
Everybody has a budget and that's perfectly all right. The easiest first step in choosing the best LLC service provider is to figure out how much you are willing to invest. Choosing a cheaper alternative doesn't necessarily mean that you will get your filing rejected, but cheaper LLC formation services may not provide as many perks.
Figure Out What Features You Need
It's possible that you may already have strong knowledge of certain aspects of LLC formation. If this is the case, you may not need all the bells and whistles that some LLC formation services provide. Identify what value LLC formation companies can bring to you and guide your search using this answer.
By following the guidelines above, you can better guide your search for the best LLC service.
LLC Filing Services FAQs
How much does it cost to set up an LLC?
The base filing cost for LLC formation varies by state. On the low and high end, it's not abnormal to see $50 and $500, respectively, so you can expect the initial fee to be in this range. Annual maintenance fees typically cost $100 and can include items such as state business taxes, annual reports, and more. Using LLC services to file and form your LLC can potentially save you money due to the lower charges they offer, depending on the provider.
Where is it cheapest to form an LLC?
Filing by yourself, Kentucky typically stays the cheapest state for forming an LLC with the initial cost only being $40. After this is Arkansas with a fee of $45, followed by a large number of states who charge a $50 average. Depending on the state you reside, this fee can grow as large as $500 for the initial filing of your LLC.
What is better for a small business: LLC or S Corporation?
The structures of an LLC and S Corporation are different and choosing the right option for your business is extremely important. Some key differences between these two types are that LLC owners must pay self-employment tax for all income and can have unlimited members, whereas an S Corp pays corporate taxes and is limited to 100 shareholders.
Beyond this, LLCs are typically more for sole proprietorships or small partnerships, whereas an S Corp is typically larger, having a board of directors and a CEO in many cases. S Corps also aren't allowed to have non-U.S. citizens as shareholders. While LLCs cannot issue stock, S Corps are allowed this feature. Choosing between these two for your business is about picking the option that is best for your current management structure.
What company is best for LLC filing services?
While all of the above companies are some of the best LLC service providers available today, ZenBusiness is a winner. Offering flexible plans, available in all 50 states, and a 100% accuracy guarantee, this LLC filing service can get the job done for you quickly while offering long-term support with annual document submission and more.
LLC Formation Services: Key Takeaways
An LLC formation service may not be something you need in your life but depending on your situation it can be extremely beneficial. Consider your price point and the features you need to receive to make the best LLC service worth it for your business. 
By saving you both time and money, you can focus on growing your business while leaning on the support of online LLC services. Not only will this make the filing and formation process easier, but the long-term support offered by many online LLC formation service companies will make your life easier for years.