How to make $300/day With CrakRevenue Affiliate Network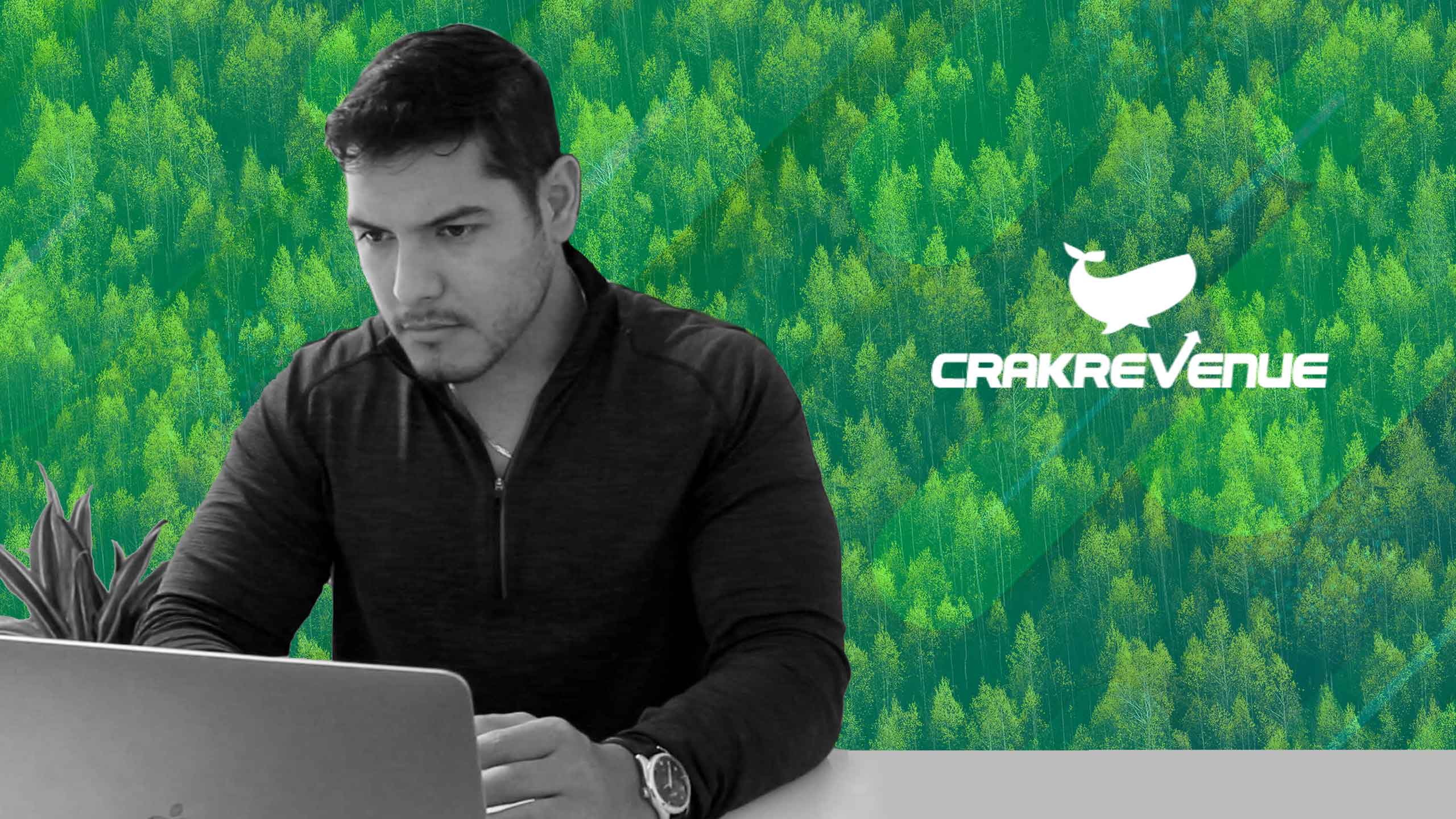 One of the great things about affiliate marketing is that you can make money in almost every vertical.   
And while there are hundreds of affiliate networks out there, one of them has to be the best.   
In my opinion, CrakRevenue takes this one, hands down. 
I would be lying if I said that I didn't make a significant amount of money using CrakRevenue.  
In this post, I will show you how I made over $198,000 in just a few months with CrakRevenue.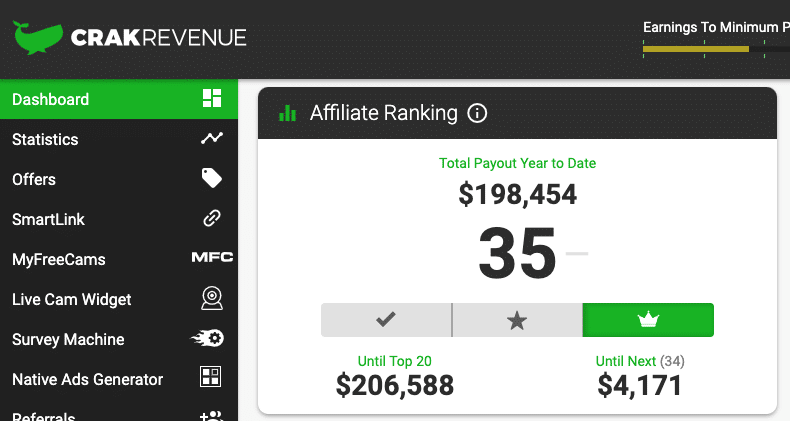 Continue reading to find out how I did it.   
What is CrakRevenue?
CrakRevenue is a Canadian CPA affiliate network that has over 1,000 offers in the adult niche.  
They have won over 8 international awards and are among the top 5 CPA networks in the world.   
Some of the verticals you will find in the network include:   
Live Cams 

 

Dating  

E.D 

 

Adult Gaming 




 

 
Can you really make money with CrakRevenue?
Yes, you can make a lot of money on CrakRevenue as an affiliate marketer and some of the top affiliates make upwards of $5,000 per day with CrakRevenue.   
Of course, if you want to become a top affiliate you have to learn the ins and outs of online marketing.   
Most importantly, you're going to have to learn the fundamentals of affiliate marketing before you jump in.  
How can you make $300 a day?
Let me just say that $300 a day is very possible, even as a beginner.   
Now, this is not an overnight goal, and there is a systematic approach that will help you get there.   
Here is an example of some of my daily earnings, and this is on autopilot.
You can see on this screenshot I'm clearing over $1,000 dollars daily on CrakRevenue, and this is just one affilaite network.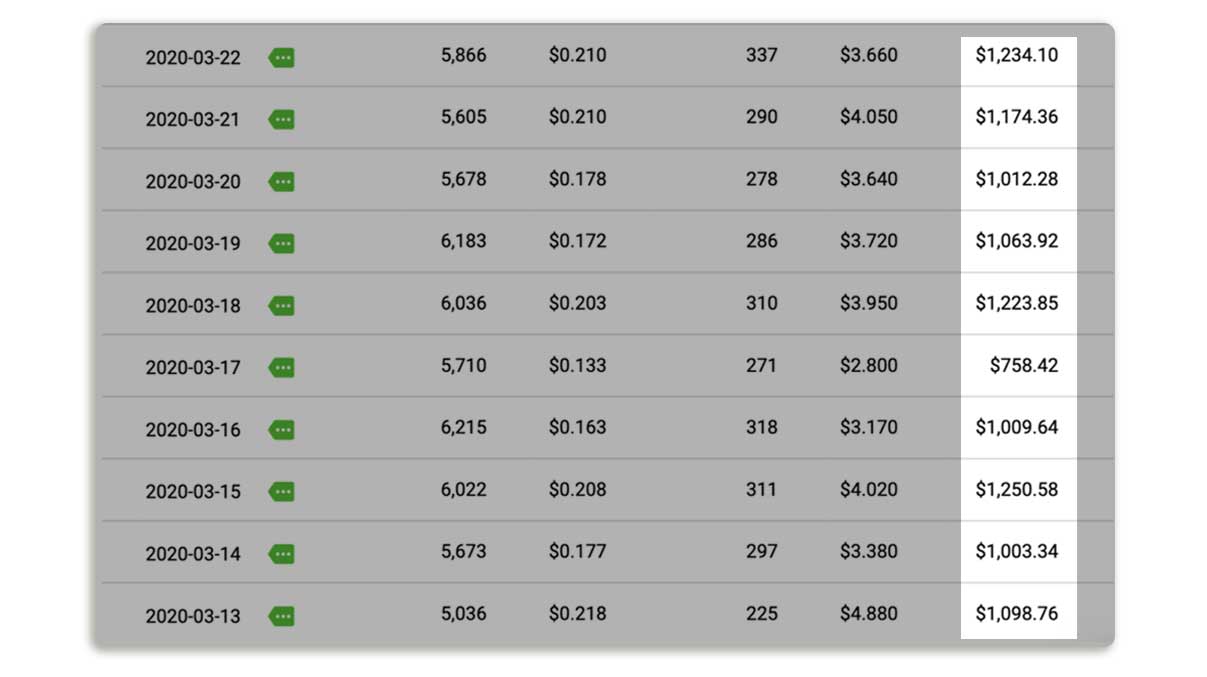 In the beginning, your biggest limitation will be a lack of knowledge.  
That being said, once you learn how to reach your affiliate income goals you can continue to scale.   
Here's my advice on where to start: build a niche blog in a specific category.   
Let's say you want to start a blog in the dating niche.  
Well, that's great, but you have one major problem– the niche is way too big.  
The reality is if you want to increase your chances of being successful you need to narrow it down further.   
While it's absolutely essential to identify a profitable niche, it's equally important to carve out a micro-niche under the umbrella of a given category.  
Let's take a look at some examples of micro-niches in the dating space:   
Sugar babies 

 

Latin dating 

 

Black/Latin dating

 

BDSM/Fetish dating 

 

LGBTQ dating 

 

Introvert dating 

 

Senior dating 

 
Looking at these examples, you can see exactly what I'm talking about.  
These examples are all extremely specific niches that all fall under the "dating" category.  
Rather than focusing on a largely general topic, it's in your favor to narrow down into something truly niche.  
The reason why this is so important is that it gives you a better chance of attracting a quality audience.  
If your site is all about senior dating and you're promoting relevant affiliate products, chances are the people who visit your site will be interested in those products. 
Pretty simple, right?  
The second reason for choosing a micro-niche comes down to topical authority and relevance.  
At the end of the day, Google is going to rank sites that appear to be experts on a topic.  
That means a site dedicated specifically to senior dating is far more likely to rank in a search for "dating over 60" than a site that is generally about dating.  
Okay, so you've found your micro-niche.  
Now, let's say you find an offer on CrakRevenue that pays you $80 per sale.   
If you make a blog that dominates one of these micro-niches all you need is 3-4 sales a day to hit your income levels.   
If you are ready to start your niche affiliate blog you can check out my full guide here.   
What makes CrakRevenue different?
CrakRevenue is not your traditional affiliate network.  
Here are just a few things that make it stand out from other networks:  
Dedicated Affiliate Manager: When you sign up as an affiliate you will get a dedicated affiliate manager. This person is in charge of making sure you are successful. They can help with support, ideas, strategies, and even some one-on-one personal coaching (I recommend Raphaël Morency Trudel).
On-time payments: Several affiliate networks fail to provide payments on time. Whether it's because they don't have the funds, the system in place to deliver timely payments, or just straight up don't want to pay, I've found this to be a common problem. WithCrakRevenue you are guaranteed to have payments on time and you can rest assured, that you will have your money when you need it.  
Exclusive Offers: CrakRevenue partnered up with some of the biggest advertisers out there. This means that you get exclusive access to offers you can't find anywhere else. They have internal offers that are owned by the network as well.  
Promotional Tools: One of the great things about using CrakRevenue is that you get tools to help you make more sales. Some of the tools include:   
Live cam widget  

 

Smart affiliate link 

 

Custom landing pages 

 

Survey machine 

 

WordPress plugin 

 
Advanced Tracking: Of course, you can't run a successful affiliate marketing business without understanding your data. CrakRevnue has a really clean dashboard that allows you to track how your offers are performing. 
Of course, nothing is perfect. Let's talk about some of the cons of CrakRevenue: 
You pay a fee: Just like anything else in life, you get what you pay for. The way affiliate networks make money is by acting as a middleman between you and the advertiser. This means that when you promote products with CrakRevenue they receive a small percentage of each sale.   
Too many offers: When you first access the affiliate dashboard you'll see a plethora of products you can promote. And while some of these could be good options, it makes the experience a little confusing. I made most of my money by focusing on one or two offers.  
What are the CrakRevenue Payment Methods?
To get paid, you must meet the minimum payment of $100. If you prefer to be paid by wire, the minimum payment is $500. One of the great things about this network is that you can choose from multiple payment types, including:   
ACH,  

 

Check 

 

PayPal 

 

Paxum  

 

Wire 

 
  There are two different payment periods in which you get paid.   
from the 1st – 15th 

 

from the 16th – last day of the month 




 

 
What are the sign-up requirements for CrakRevenue?
Signing up is fairly simple. You just enter your name, email, and the name of your company and the affiliate managers will follow up to approve your application.   
Keep in mind that if your account goes unused for a few months it will get deleted from the network.  
How to be successful on CrakRevenue?
Pick two or three products to promote: I understand it's tempting to promote as many products as possible when you are first starting. You will get much better results if you focus on just a few high performing offers within one vertical such as dating, or cams.  
Talk to your affiliate manager and ask what the best performing offer is in your region.   
Test your offers: Once you find the best performing offers, test them to see which ones give you the highest EPC (Earnings Per Click).  
EPC can be calculated by dividing your earnings by the total number of clicks:   
 Earnings ÷ Clicks = EPC  
Let's say, on any given week you get 1,000 clicks on an offer, and out of that, you get $150 in affiliate commissions. You would have an EPC of $0.15 at the end of the week for that offer.  
Use your affiliate manager: Affiliate managers are there to help you and to serve as a resource to help you succeed. They usually get paid a percentage of your sales, so if you do well, they make more money. This is a great incentive to help increase your profits. 
Affiliate managers have access to all internal company data, and they usually know what's working and what's not working for other affiliates.   
This is a hugely valuable resource to you as an affiliate marketer. Don't be afraid to use them as a resource for information.   
Use back offers: A back offer is a new offer that is shown to the user when they click the "back button". CrakRevnue will automatically show the best converting offer for that user and device. This will not hurt your website in any way and can be a simple way to boost conversions.  
Set realistic goals: You can't get to a destination if you don't know where you are going. When I first started, I set daily milestones to help me achieve my goals. Even aiming for $20 per day earnings is a great start. Once you hit your goal, set a new goal, and continue to grow.   
Keep on learning: Remember, you haven't failed until you've quit. So, if you continue to try new things and learn new skills your chances of success are higher.  
Last Advice
If you're just starting out, I know I know it can be overwhelming to craft an effective strategy.  
The good news is that it's actually very possible to bring in a passive income with CrakRevenue. 
If there's one thing you should take away from this, it's to take advantage of the tools offered to you through this network. They are there to help you succeed.  
And if you're willing to put in the effort to bolster your affiliate marketing knowledge, you're on track to making real money.