Wix vs Squarespace: Which One Is Best for Building Sites?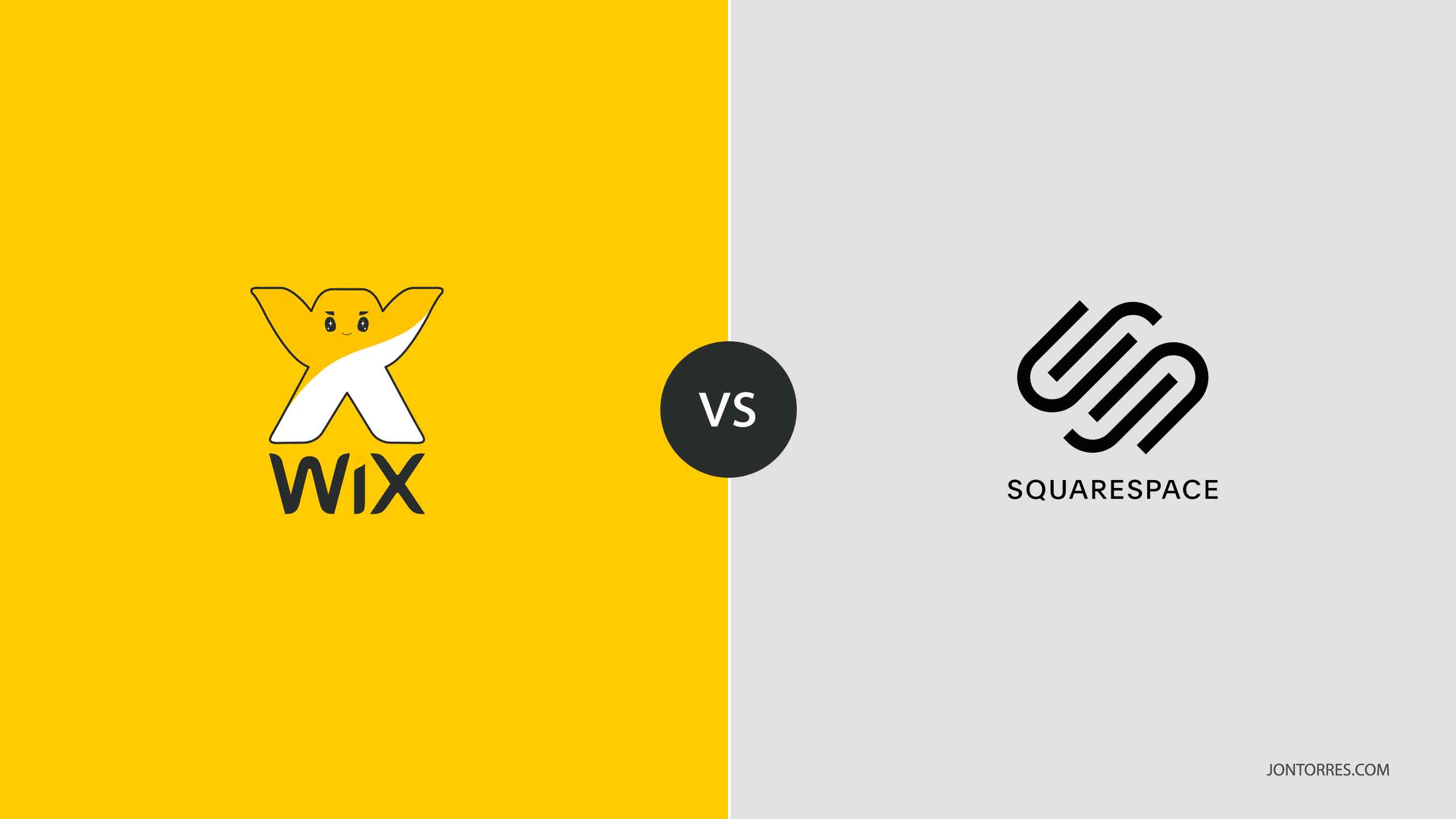 Whether you are building an online business or simply looking for creative ways to make money online, the quest for an easy and out of the box web design and development increases. Among the numerous content management sites, Wix and Squarespace are some of the more popular solutions for do-it-yourself website development.
But the question a lot of people are yet to find an answer to is, which of these two should I use? or should I go with WordPress? The answer is not as simple as it may seem, in order to determine the right answer we must dive deeper into specific key factors about your business goals. 
This article is dedicated to answers to all your questions as regards the relationships and differences between Wix and Squarespace.
What Is Wix?

Wix is one of the most popular website building platforms that offer do-it-yourself (DIY) features. It literally allows you to create HTML5 websites even if you've got no prior knowledge of HTML or any web designing programs.
All you need to do is to leverage its drag and drop features, and you can design a fully functional website or blog within minutes. Since its introduction to the internet market, Wix has successfully hosted over 150 million websites. This accounts for about 1.3% of the total websites on the internet.
As opposed to what a lot of people think, Wix is not an American company, even though it's listed on NASDAQ. It's an Israeli company and has been around since 2006. The brand has experienced tremendous growth and is consistently working on positioning itself as one of the leading website building platforms.
What Is Squarespace?

Squarespace is a content management system (CMS), or what you would call a website building platform. It basically does the same thing as Wix and except that it's got some key differentiating features. 
It allows you to build great websites with little or no tech knowledge. All you have to do is pick a theme you like then use their drag and drop builder to customize to your business needs. 
Unlike Wix, SquareSpace is a private company. So there is limited information about it and how many sites they host. However, according to a 2017 report by Bloomberg, about two million websites are currently running on Squarespace.
Who Should Use Wix and Squarespace?
Content Management Systems (CMS) like Wix and Squarespace give a simple out-of-the-box website building experience for users. But beyond that, I recommend Wix and Squarespace for those who:
1. Who want to do it themselves
Some folks like the idea of getting things done themselves. It thrills them and helps them perfect their skills in one area of life or the other. Wix and Squarespace are a good fit for such people. What's cool is that you can literally add any of these platforms to your list of skills after you've successfully set up your website.
2. Who don't have much time to spare
Wix and Squarespace are time-saving platforms. On average, it takes days or weeks to build a fully functional website. It's fair to say that it's not everyone that's got the luxury of time to wait that long. Some people want to conceive the idea now and get their website live in a couple of hours, if not minutes. For such people, CMS is the best shot. Wix and SquareSpace are easy to set up and offers great UI/UX experience when the job is done.
3. Who have little or no knowledge of traditional website development?
Gone are the days when everyone wants to learn how to build a website from scratch using languages and programs like HTML, CSS, Javascript, and PHP. As popular and relevant as they are, trying to learn them can be great pain.
Wix and Squarespace have integrated these programming languages and tools, and so much more into their platforms. Thus, making it easy to use these languages without having to know how they work.
You just drag and drop boxes and shapes, and they are immediately processed to give you the output you desire.
4. Who wants to keep maintenance cost low
One of the problems with building websites from scratch using PHP, Python, Javascript, etc. is the cost of maintenance. Unless you have web development experience, you will likely have to contact people to make changes and push updates on your site. 
But it's not really so with Wix and Squarespace. They make it pretty easy for you to maintain your website yourself with little or no technical skills.
Besides, they have a lot of free resources and guides online to direct you on how to do the most basic things on the platforms effortlessly.
What is WordPress?
It's almost impossible to talk about Wix and Squarespace without discussing WordPress. WordPress is undoubtedly the number one CMS on the market. It hosts and 35% of the top websites in the world, and has been around since 2003.
WordPress is a free open-source platform that allows anyone to build WordPress plugins and extensions, allowing you to build a truly unique experience for your visitors.
There are many reasons that make WordPress very popular solutions for site-building, but one of the main reasons is because of its use of "Plugins" and "Themes.", which are templates and tools for every function you would want to carry out online.
But WordPress has some of its own limitations and challenges that I will talk about in a different article.
Are Wix and Squarespace better than WordPress?
WordPress is one of the oldest players in self-managed content platforms, but it will be wrong to consider it better than Wix and Squarespace solely on the basis of popularity. So to determine which is better, we'll have to dive deeper into other factors:
Ease of Use: WordPress is not really the beginner's platform that everyone can use without stress. As a matter of fact, Wix and Squarespace are pretty easier to set up and use even if you've got no prior programming knowledge.
SEO: Going by SEO, WordPress is the top choice. It's got advanced SEO architecture and plugins like Yoast, that will make your site rank faster on Google and other search engines
Blogging: WordPress is primarily designed for bloggers. This means Wix and Squarespace don't have a competing power here. From the editor interface to amazing features, you'll easily fall in love with WordPress. It allows you to add tags, categories, RSS, and other features like related posts. 
Additional Apps: Wix has 500+ apps on their store. Squarespace has almost a hundred, while WordPress has thousands. Based on relevance, WordPress apps, which are called plugins, are more resourceful. They will certainly meet you at the point of your needs.
Support: WordPress.org doesn't provide any official support. If you're stuck somewhere, you'd have to rely on forums and available documents on the internet to find your way out. But Wix and Squarespace will never leave you stranded. They've got excellent support to guide you all the way through.
Pricing: WordPress is free, but you'll pay for hosting plans and some themes and plugins. Wix and Squarespace have paid plans with no extra cost on templates. Generally, all three platforms are relatively affordable.
Winner:  WordPress is simply the best option for those planning to scale their business. It is a much better option than both Wix and Squarespace for projects that require more robust development, freedom, and flexibility. 
Wix vs. Squarespace pricing differences?
If you want to build a website ASAP, these two platforms can give you something good. But before you dive in, you've got to know what it would cost you to achieve this. Finance is always an issue in most spheres. So let's discuss the different pricing models of Wix and Squarespace.
Wix pricing model
Wix is a free tool, but it's not entirely free. Every user gets a chance to create simple websites at zero cost. However, these websites have limited features, not to mention the incessant ads you'd grace your website.
To enjoy the best of Wix, you'd have to upgrade to any of its Premium Plans. There are two categories of premium plans available on Wix.
The first is the Website category. It is designed essentially for personal website owners, bloggers, entrepreneurs, and freelancers. This fits the categories of blogs and all other regular websites that wouldn't need many resources to run.
The second category is Business & e-Commerce. As the name suggests, this category is the best fit for businesses and organizations. It gives users a heightened level of control and features, including Online Payments.
More importantly, you can do amazing stuff that a regular Wix website can only dream of. In addition to this, there are more resources and storage at your disposal. Each of these categories has a couple of other pricing plans that we'd have to discuss.
Wix website pricing options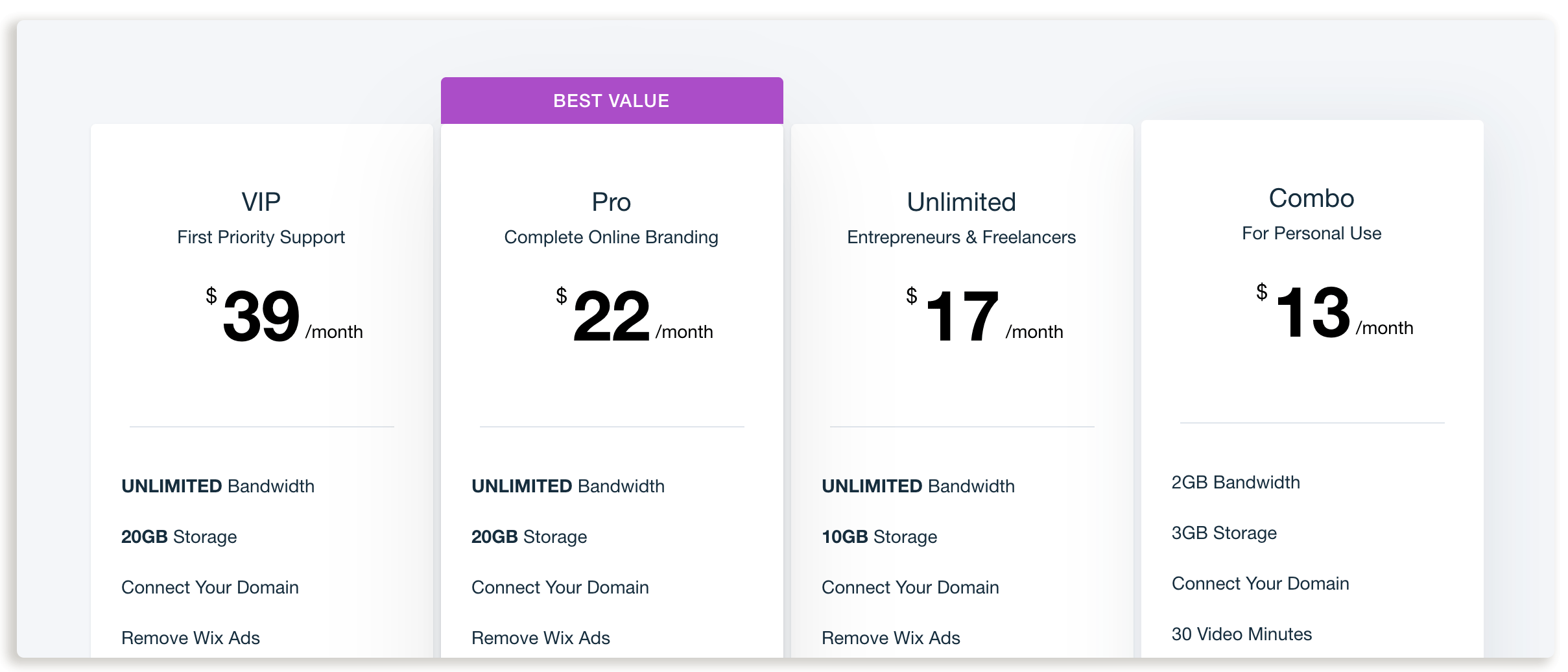 There are four plans in all under the Wix website category. We'll discuss their salient features briefly.
1. Connect domain
This is the most basic plan on the list and also the cheapest. It costs $4.50 per month. But its poor features make it quite unpopular among website owners. It offers only 1GB of Bandwidth and 500MB.
As the name suggests, it also allows you to link your domain to the site. Its limited resources and features make it unideal for hosting a major website. Another downside of this package is that it won't stop Wix from running ads on your website.
It's not wrong to say that Wix offers this package to amplify the beauty and relevance of their other packages.
2. Combo
As long as you don't intend to use more than 3GB of storage space every year, you may find this plan interesting. As an improvement on the Most Basic plan, Combo removes all Wix ads.
You also get a 2GB Bandwidth as well as linking your personal domain to the website. A lot of folks would have wanted a better package and more features. But the subscription fee of $8.50 per month can be quite limiting.
3. Unlimited
The Unlimited plan is designed especially for entrepreneurs and freelancers. It has a lot of features that make it easy for you to run your personal website without stress.
For $12.50 per month, you get to enjoy Unlimited Bandwidth, 10GB of storage space, and also a free domain for one year. You also get to upload videos of up to 1 hour in length on your site.
Besides this, Wix offers SEO features like Site Bolster App that will give your website good visibility on major search engines.
With the Visitor Analytics App, you can get insights on your visitors, their locations, and how you can target the right audience. But you need to know that these SEO tools, Site Bolster and Visitor Analytics, come at an extra cost of $60 each.
4. VIP
The ultimate package under the Wix Website Pricing Model is the VIP plan. It has all the features and tools of the Unlimited plan and so much more. First, it has a storage capacity of 20GB, and it allows you to upload videos of up to two hours.
This plan costs $24.50 per month. But with an additional fee of $50, you can use the Wix Logo Maker to design a professional logo. You will be provided with the logo in different sizes befitting for any of the numerous social media platforms.
Wix also offers what they call a "priority response" customer service for users of this plan. That means you'll get a faster response to your queries each time you contact the support team either through mail or phone calls.
Wix Business and e-Commerce pricing categories
This category has three different plans for professional business owners and corporate organizations.
2. Business Basic
Business Basic is the opening plan in this category, and it costs $17 per month. It offers unlimited bandwidth and 20GB of storage. As expected, you won't have any Wix ad running on your website if you subscribe to this plan.
You get to upload up to 5 hours of video. This is good for businesses with heavy video sessions, such as online classes and the likes.
Wix provides users with two different analytics tools: Google Analytics and Visitors Analytics. At an extra fee, you can also use the Site Bolster App to boost your site's SEO performance.
Apart from these features and a free domain for one year, the major difference between this package and all the other plans in the Website category is that this package offers a gateway that allows you to accept online payments.
3. Business Unlimited
This plan also allows you to accept online payments, and it has all the features of the Business Basic apart. But then, it's got a few more features and also improved on existing ones.
The Business Unlimited plan offers you heightened features like 35GB of storage space and 10 hours of video upload. You also get a professional logo that you can design using the Wix Logo Maker. This package costs $25 per month, and the professional logo fee of $50 remains unchanged.
4. Business VIP
The Business VIP suite is the hallmark of Wix's site-building service. Although it's not as popular as the Business Unlimited package, it remains the most sophisticated of all the packages in this category.
It offers all the features of the Business Unlimited plan with a storage space of 50GB and unlimited hours of video upload.
You also get to enjoy a VIP priority response each time you reach out to their support team via email or phone calls. All these come at a monthly fee of $35.
Squarespace pricing model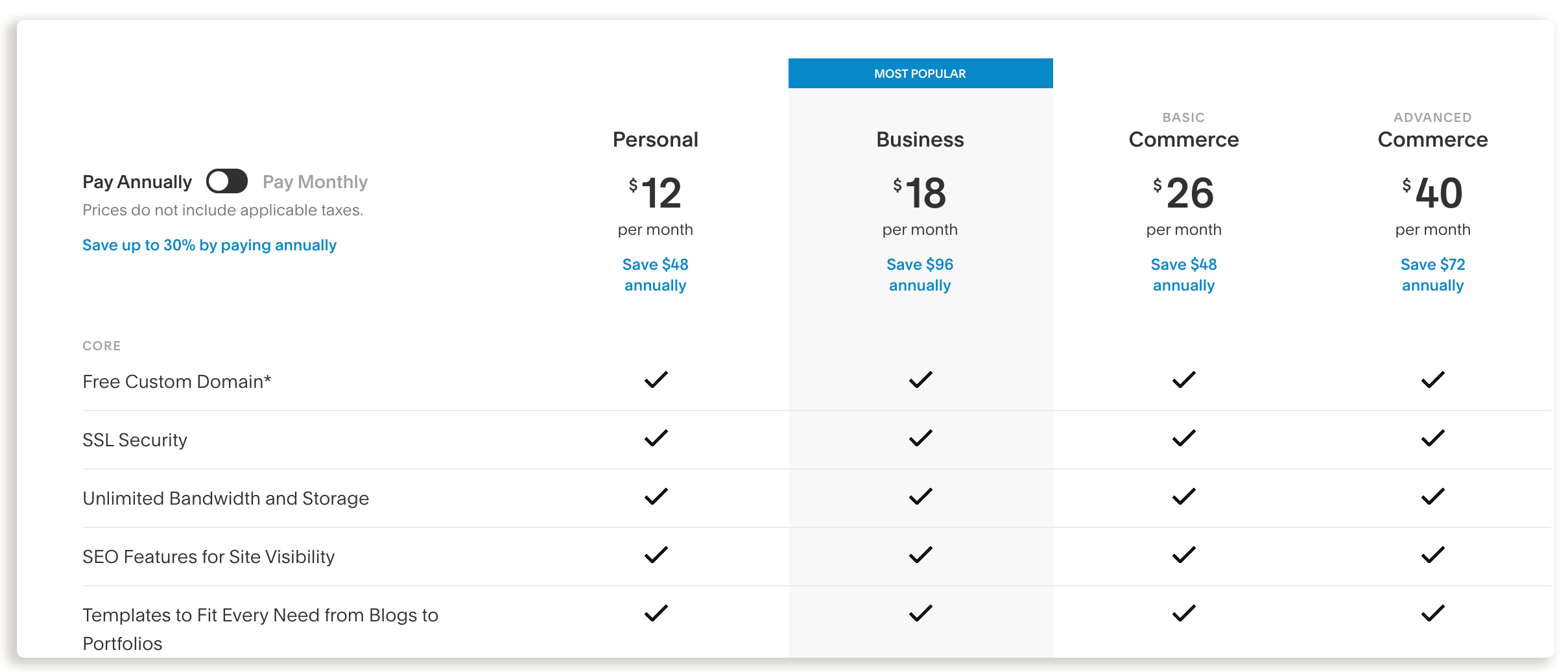 Squarespace has a pretty simple pricing system with cool features that distinguish them. If you want to create a website on this platform, you may choose to start with the 14-day free trial.
With it, you can explore the platform and the features it boasts of. If you're satisfied, you would have to upgrade your website to any of the four plans we'll discuss briefly.
1. Personal
As simple as the name sounds, so is the plan. Coming at a relatively fair price of $12 per month, this plan is totally ad-free. It offers you unlimited bandwidth and storage as opposed to what Wix offers at the same price.
This plan also has a number of SEO features that boost your site's visibility on Search Engine Result Pages (SERP). It also offers Basic Website Metrics that are similar to Wix's Visitor Analytics App.
The plan also comes with a free custom domain. There are tons of templates to choose from for blogs and personal portfolios, with each template being mobile-friendly. You can have up to two contributors who can post content on the website.
That means if you're running a blog, you can't use this package when requesting guest posts. In addition, you can leverage the numerous Squarespace Extensions that are available for all uses.
Their customer support service is also open all day long for your complaints and inquiries. Squarespace provides all your websites with SSL certificates, but you've got to know that Wix offers the same.
2. Business
If $18 per month isn't much of a problem, then this may be a good plan for you to try. In addition to all the features of the Personal plan, the Business plan offers you a professional email address from Google. It allows you to have unlimited contributors to your website.
You can also customize your website using premium integrations and blocks. This is opposed to the regular designs available on the Personal plan. More so, if you have web designing skills, you can bring it to the table here.
The Business plan allows you to pimp your website to your taste using CSS and JavaScript. The aim is to allow you to build something that is unique to you and your taste.
Squarespace also took more steps to ensure that this plan meets the demands of professional business websites. It provides advanced marketing and commerce tools.
You can display promotional ads on your website for your products and services. It features a fully integrated e-commerce system and advanced website analytics to track visitors' behavior and sales. As a head start, Squarespace offers users on this plan a $100 Google Adwords credits for running ads.
There is no limit to the number of products you can sell and the number of funds you can receive on this plan. But the downside is that the 3% transaction fee for every sale you make.
3. Basic Commerce
The basic commerce plan reduces the cost of doing business by removing transaction fees. It allows your customers to create accounts on your website to give them a better shopping experience.
The analytics tool on this plan is more robust and powerful that what the Personal and Business plan has to offer. It has a feature that allows you to link your website to Instagram for more visibility, reach, and product sales.
Besides these, this plan shares similar features with the Business plan, and it costs $26 per month.
4. Advanced commerce
This is the highest package on Squarespace. It costs $40 per month, which is $5 more expensive than Wix's best package, Business VIP.
To justify the extra cost, Squarespace added some features to the Basic Commerce plan. With this plan, you can offer gift cards to your customers and also sell subscriptions for your services.
You also get to user-customized commerce APIs and peg advanced discounts on your products.
Wix Vs. Squarespace: which is more cost-effective?
Judging by the different pricing models we analyzed, it is face to deduce that Squarespace is pretty cheaper to use. You can start by comparing packages from the two different brands with similar pricing.
The Wix Unlimited Plan for Entrepreneurs and Freelancer is a suitable match for the Squarespace Personal Plan. But Wix offers site analytics and SEO tools at an extra cost of $60 each as opposed to Squarespace that is giving it for free.
Also, Wix's Unlimited Plan is limited to 10GB of storage space, while Squarespace boasts of unlimited storage capacity.
However, Wix has the upper hand when it comes to video uploads. You can upload up to 10 hours of video, depending on your package. On the contrary, Squarespace does not allow users to upload videos on their website. The best you can do is upload it on streaming sites like YouTube, Vimeo, Wistia, and Animoto, then embed it on your website.
Winner: The price comparison continues for other related packages such as the Wix Business Unlimited Plan and Squarespace Basic Commerce plan. Taking a critical look at their features, we can conclude that Squarespace is cheaper to use than Wix.
Which one is better for SEO?
The truth remains that Wix and Squarespace have peculiar advantages that make them SEO-friendly. They both have built-in tools that will make your site rank high on SERP.
Wix SEO Wiz, for instance, offers a step-by-step guide that every SEO newbie can follow and achieve great results. Squarespace is also formidable. It's got an SEO checklist in its help center, which you can always use to measure your SEO journey this far.
But Squarespace SEO is not as friendly as Wix. For Wix, the goal is to ensure that as many sites as the host can compete with other sites on search engines.
To prove their superiority in the industry, Wix recently organized an SEO competition for its users. The competition which saw a lot of participants proved that Wix could be quite resourceful for serious SEO.
But then, SEO on Wix also comes at an extra fee. They made make their SEO tool, Site Booster App, a premium feature. They also added a fixed price tag of $60 before you can be able to list your site on Google and take advantage of the numerous benefits that come with SEO.
Also, you can't enjoy comprehensive site analytics on Wix unless you're willing to spare another $60 on their Visitor Analytics App. If you're rooted in SEO, you'd agree that without analytics, you can't tell how much results your efforts are yielding.
Winner: In spite of the high cost, Wix still remains the best here. It outweighs Squarespace on different fronts.
Which one is better For e-Commerce?
It's pretty tough to figure out which of them does it better here. In our opinion, it's a tie. Wix and Squarespace both have great e-commerce features.
Wix has three plans specially dedicated to eCommerce. Squarespace is not much different, as three of its plans are also meant for eCommerce. The downside about Wix plans is that the maximum storage is 50GB. This means that in all you do to generate traffic to your eCommerce store, don't upload files that will exceed this benchmark. Else, you'd have to subscribe again.
Squarespace is quite lenient on this one, giving you as much storage space as you need to promote your store. But generally, Wix and Squarespace have the following salient eCommerce features:
Acceptance of online payment

Sale of digital products

Sale of physical products

Selling via social media

Automatic tax deduction

Email lists

Creation of customers' account

Subscriptions
With these features, it's obvious that the two can do great for you. Most times, designing store pages can be a pain, especially using tools like WooCommerce. This is because there are often a limited number of layouts.
It's a different ball game on Wix and Squarespace. The two offers you a variety of layouts to choose from. The end result is that your store's aesthetics is guaranteed on either of them.
Although we called it a tie, Wix seems to have the upper hand over Squarespace when it comes to online payments. The two incorporate good online paying gateways like Paypal, Stripe, and Square.
But the Squarespace has an expensive transaction fee in one of its plans. In Squarespace's Business plan, the transaction fee is 3% while its other plans are 0%. You may find this quite inconveniencing honestly.
Winner: For Wix, there is no need paying a cent as transaction fees, as all its plans are pegged at 0% transaction fee. Beyond this, Wix and Squarespace are just good enough to sell anything. So let's call it a tie.
What are the integration capabilities and available apps?
Squarespace, by default, comes with a host of services that you can leverage on. It doesn't matter which plan you're on; you'll have various add-ons. They include map blocks, video, and audio embedding services, Instagram galleries, and Google AMP, among others.
Most of these integrations run in the background. Once you set them up, they go under the radar and do their jobs. The third-party services still look as if they've been part of Squarespace all along.
The integration is just smooth and awesome. Squarespace also has the best YouTube integration. It's just so seamless. The downside of Squarespace is that these integrations are not available on their Personal plan. It's only available on the Business plan and above.
Wix also has a way of giving you the same service but in a pretty different way. Instead of throwing all the add-ons to your face, Wix has an app store where you can access loads of third-party services.
Because Wix opened up its store for various developers, they have more apps than Squarespace integrations. But this comes at a little aesthetic cost.
The smooth fit of Squarespace integration is because Squarespace designed the add-ons itself. But in the case of Wix, you'd find some apps that don't integrate smoothly into your website.
This is because Wix isn't the developer of the apps. Had it been they developed the apps themselves. They would have gotten the perfect synchronization for the apps. However, there are still a bunch of great apps on the Wix app store which Wix developed themselves.
Winner: If you're looking at the quality of integrations, then Squarespace won the challenge. But if you're looking at the number of services you can use, then Wix is the outright winner.
Which one has better design templates?
Design templates are very necessary for the aesthetics of your website. You don't want to go around only to discover that your website looks exactly like that all the folks in your industry.
This is why you've got to pay rapt attention to how you can get the best design for your site. Wix deserves some thumbs up. They've got over 500 cool websites templates to choose from. For ease of access, they are classified into 17 different categories tailored to a range of businesses and personal websites.
With the use of Wix's editor, you can customize your website extensively. But you've got to know that these templates are not mobile-responsive naturally. That means you would have to get a mobile version of any template you choose and customize it differently on another editor.
The major downside you need to know before choosing a Wix template is that you can't change your template. Once you settle for a template, it's permanent. If, however, you choose to switch a template, then you should be ready to build your website from scratch.
Squarespace, on the other hand, also has some cool templates on their stable. Precisely, they have over 60 templates you can choose from. Although that's quite poor compared to Wix's 500+ templates, Squarespace has other features that gave them an edge.
Each template is responsive. That means you can design your website once, and it will adapt to your smartphone's view. One major way that Squarespace outshined Wix is in its template changing feature.
Unlike Wix that doesn't allow you to change your template, Squarespace is flexible enough to allow you to change yours as many times as you deem fit. More so, you can also import already designed themes into your Squarespace website.
Winner: We declare Squarespace the better platform as long as template functionality is concerned. But if you want one with a wide range of options, Wix is the go-to platform.
Which one is easier to use?
Wix is just too easy to use, that even a beginner can be a web designer after spending a couple of hours on Wix's interface. It's got a lot of cool features that make it stand out. More interesting, it's got an in-built app store where you can get enough resources to customize your site.
Squarespace, on the other hand, is the prince of flexibility. You get to do most of the stuff Wix offers and so much more. It's flexible in the following ways:
Codes. Squarespace allows you to make customizations to your website using CSS and Javascript.
Multiple Level Access. Squarespace allows you to create different authors with different permission levels. This is similar to what WordPress offers such as, administrator, editor, comment moderators, etc.
Import/Export. Squarespace also allows you to content from other CMS like WordPress, Tumblr, Joomla, etc.
In spite of these cool advantages, Squarespace may get a low score because it doesn't have an app store. The limitations this poses can be best understood when you imagine how WordPress would look without its plugin store.
Winner: Squarespace is more flexible than Wix, but Wix is easier to use; even a toddler can find his way around.
Wix vs Squarespace customer service and support?
Wix offers support and customer service via email, social media, and phone calls from 6 am to 5 pm PST. They also have a support center with lots of helpful articles and guides.
It's fair to say their customer service response is quite fast. They also provide priority response services for customers during any of their topmost plans.
Squarespace is just as efficient, providing round the clock support for its customers. You can also reach them via phone calls and emails. In addition, they provide a live chat feature that provides an extra ounce of customer service.
It works from 3 am to 8 pm, EST from Monday to Friday. It's interesting to know that Squarespace has a reputation for replying to emails within an hour.
Winner: Wix understands that it's possible for users to get stuck on the way while trying to set up their websites. So they provided on-page support that ensures you don't have to leave your editor to get the help you desire. This is a live saver, making them more prompt in support delivery.
Which one is better for blogging?
Irrespective of the one you choose, you'll certainly get a good blogging experience. Both Wix and Squarespace offer great blogging features such as categories, drafts, and scheduling of posts.
However, Wix's editor is designed in a manner that you won't be able to see a concise preview of your blog post. This is because the editor interface is quite different from the rest of the website.
Squarespace doesn't give you the level of freedom that Wix affords when it comes to designing your pages. But you can have a correct idea of how your blog post will look when you're done. Also, you've got to know that Squarespace gives you an unlimited number of contributors. It allows you to create administrators, comment moderators, editors, etc.
This makes the management and content creation on your blog easier. One more feature that made Squarespace a preferred choice is the availability of a search bar at the back end. With the search bar, you can easily pull up old posts you published weeks, months, or years ago. Unfortunately, Wix doesn't have it.
Winner: We'll be handing the cup over to Squarespace on this one. But if you're looking for a CMS that is primarily built for blogging, then you should consider WordPress.
What Are The Pros And Cons Of Wix?
After all the review we've done thus far, we can categorize the important details of Wix as follows:
Pros
Wix has 500+ templates to choose from over 17 categories. This means there are more than enough templates to make your website as unique as you need it to be.
Business plans allow you to accept payments online. Buying and selling are easy because you can receive payments online using PayPal, Stripe, and Square.
They have heightened speed and security. The websites are hosted on their servers except in a few cases where users migrated their website to Wix. This increases the speed of the websites without compromising on the satisfactory security they offer.
Easy to set up with reliable customer support. You'll scarcely meet a dead end while using Wix. They've got very resourceful customer service and support that ensure you benefit the most from the platform.
Cons
The first paid plan doesn't remove ads. Although it's cheap, it is not so cool that you'll still keep watching ads after paying upgrading to a paid plan.
Its major SEO tools and analytics tool comes at an extra cost of $60 each. That's apart from the normal fee of your plan.
Apps store that doesn't really install apps. Although Wix's app store has tons of apps, it doesn't always allow you to install the apps directly into your store. At times, what you get is an iFrame of the real app.
The SEO Is Not Advanced. The SEO tools and techniques are not really as advanced as what we have in some other platforms like WordPress. But it's great for beginners.
What are the pros and cons of Squarespace?
Squarespace has its fair share of pros and cons. Let's take a look.
Pros
Live Chat Support: This is one feature that is pretty off the hook. Squarespace is obviously not the first CMS to offer live chat support, but they are a step ahead of Wix on this.
Blogging: Squarespace provides users with a multi-contributor system. This ensures as many authors as possible can post content on the website. It also has AMP support and posts scheduling features.
Ease of Building Responsive Websites: A responsible site takes the shape of any device it's viewed on. You can make your website mobile-friendly without having to go through many hurdles.
Cons
Limited templates: Squarespace has a limited number of templates. It's 60+ precisely, which may mean that most Squarespace websites will look identical.
Poor Page Speed: According to a couple of tests run on Squarespace websites, some of their templates have low ratings on Google's Page Speed Tool.

Who is the overall winner?
WIn general I recommend using WordPress if you plan on scaling your business past a small landing page. Both Wix and Squarespace have evolved to be pretty good Content Management Systems that you can use to build any type of personal or small business website. They've got their respective features as we've seen. However, based on our review, one product stands out by a little margin. The overall winner of this review is Squarespace.