Is Upwork Legit? How to Make a Living Working as a Freelancer on Upwork (Guide)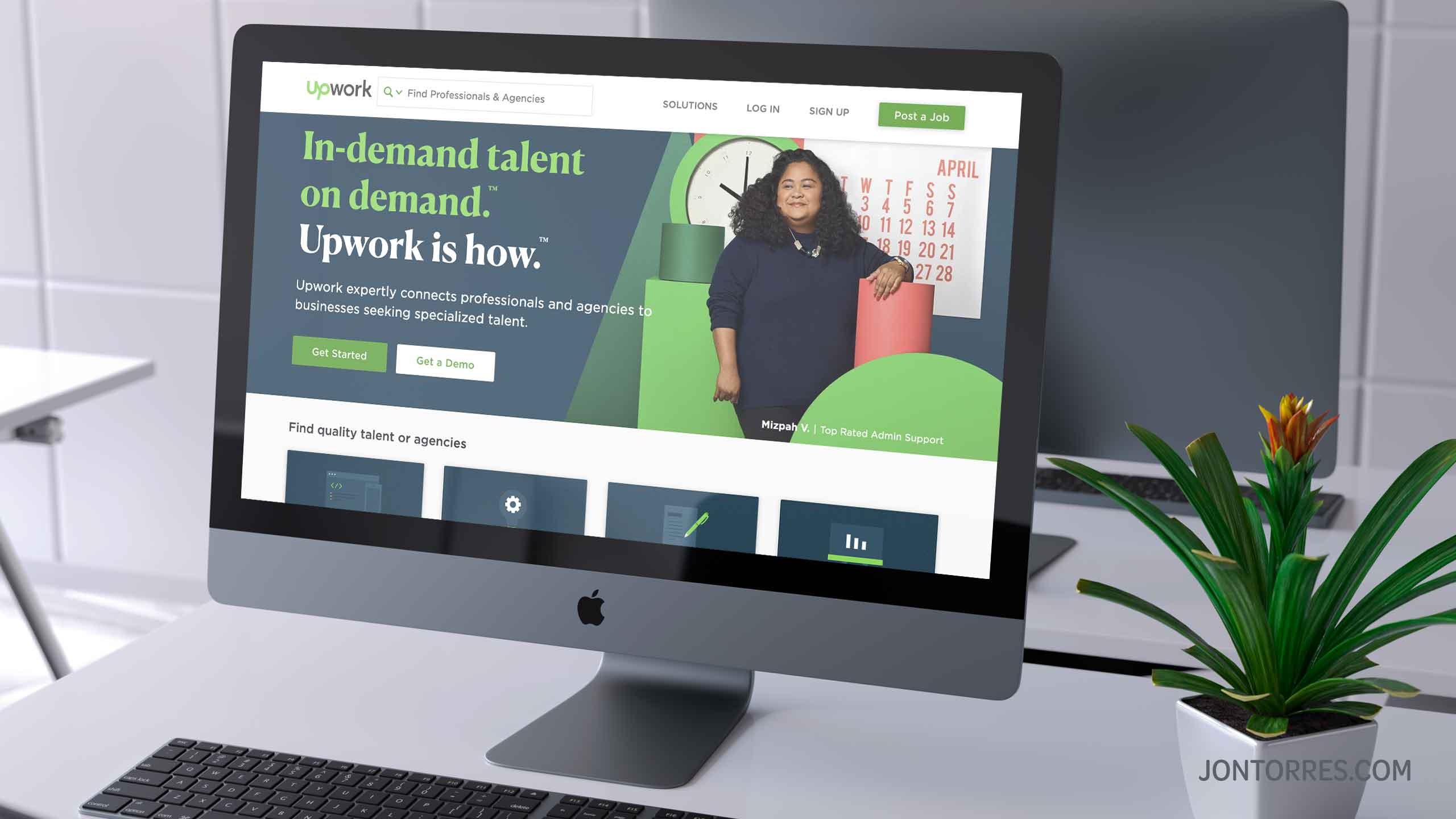 Is the 9 to 5 life just not for you? Have you always wanted to be your own boss? If you're ready to make the leap to being a full-time freelancer, you need to check out Upwork. But is it legit? And can you make a decent living?
Upwork is a global freelancing platform where businesses and professional freelancers connect and collaborate remotely.
Formerly known as Elance, Upwork offers a range of top freelancers and agencies, from developers and development agencies to designers and creative agencies, copywriters, campaign managers, marketing agencies and marketers, virtual assistants, customer support reps, and more.
RELATED: 11 Sites like Fiverr for Freelancers. 
Upwork is a legitimate freelance platform. It is possible to make a great living as a freelancer on Upwork. In this article, we'll give you a step-by-step guide to getting jobs, the skills you'll need, and how to become a top-rated freelancer on Upwork.
Who should become a freelancer?
First, let's discuss who should consider becoming a freelancer on Upwork. You can find work on the platform if you:
Have a remote skill

Have access to a computer and internet

Want freedom from a desk job or the 9 to 5 life

Dislike your current job

Can

verify your identity

with a government ID
Once you verify your identity and create a profile, you can search and apply for jobs. You need to essentially bid on jobs using "connects" – digital tokens that you use to submit proposals on jobs you're interested in. Upwork offers free and paid monthly plans.
RECOMMENDED: Not enough time in the day? Here are some time management tips you can use to become efficient. 
How to start on Upwork
Apply to Upwork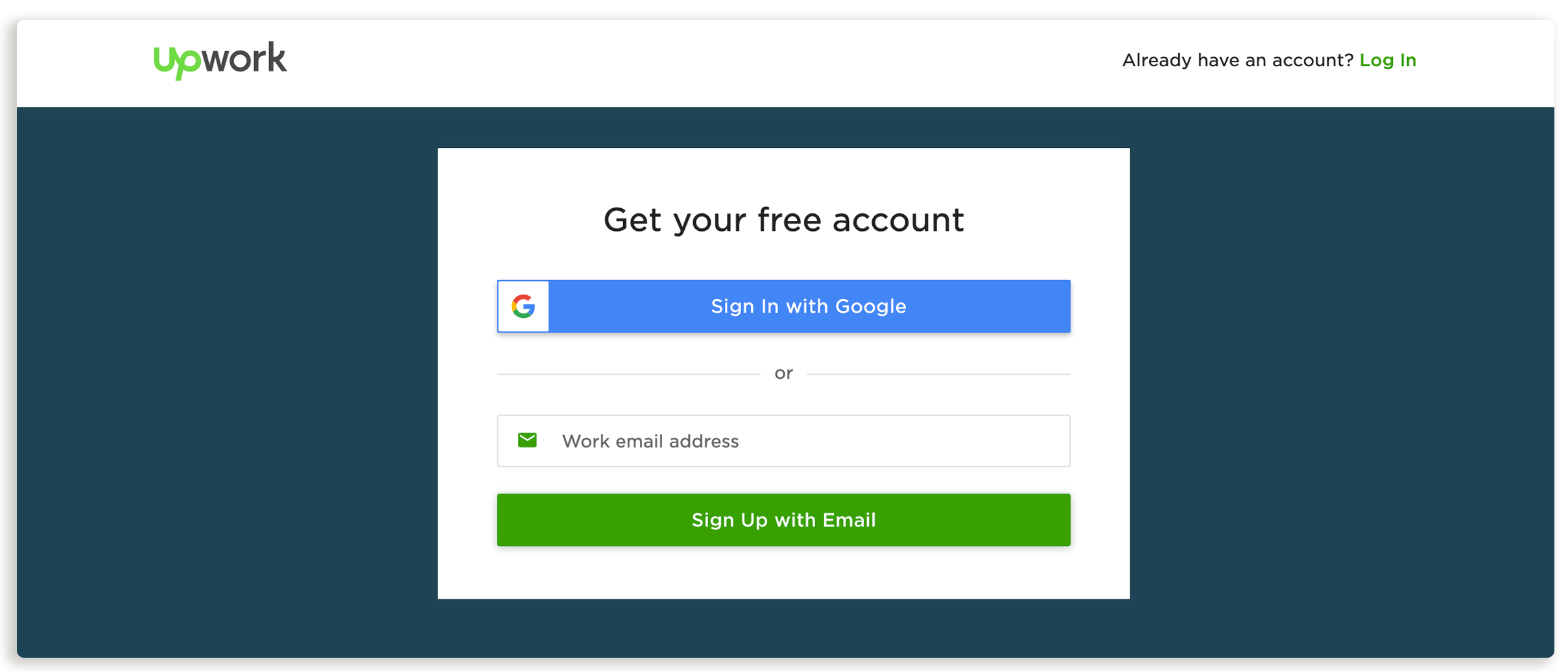 Sign up for Upwork and specify that you want to work as a freelancer. Keep in mind that your profile is reviewed by their team. Admission to work on Upwork is extremely competitive – the platform receives more than 10,000 freelancer registrations daily. As such, they can only accept a small percentage of freelancers who want to join.
Once you've submitted your application for Upwork, they typically take 24 hours to review your application. They will notify you via email if your application is approved or declined. If their review team finds that the marketplace doesn't have opportunities for you based on your combination of skills and experience, your application to join Upwork won't be accepted.
They invite you to update your profile and reapply if you feel that you have more relevant skills or experience to add that may have been left off your initial application.
Create a profile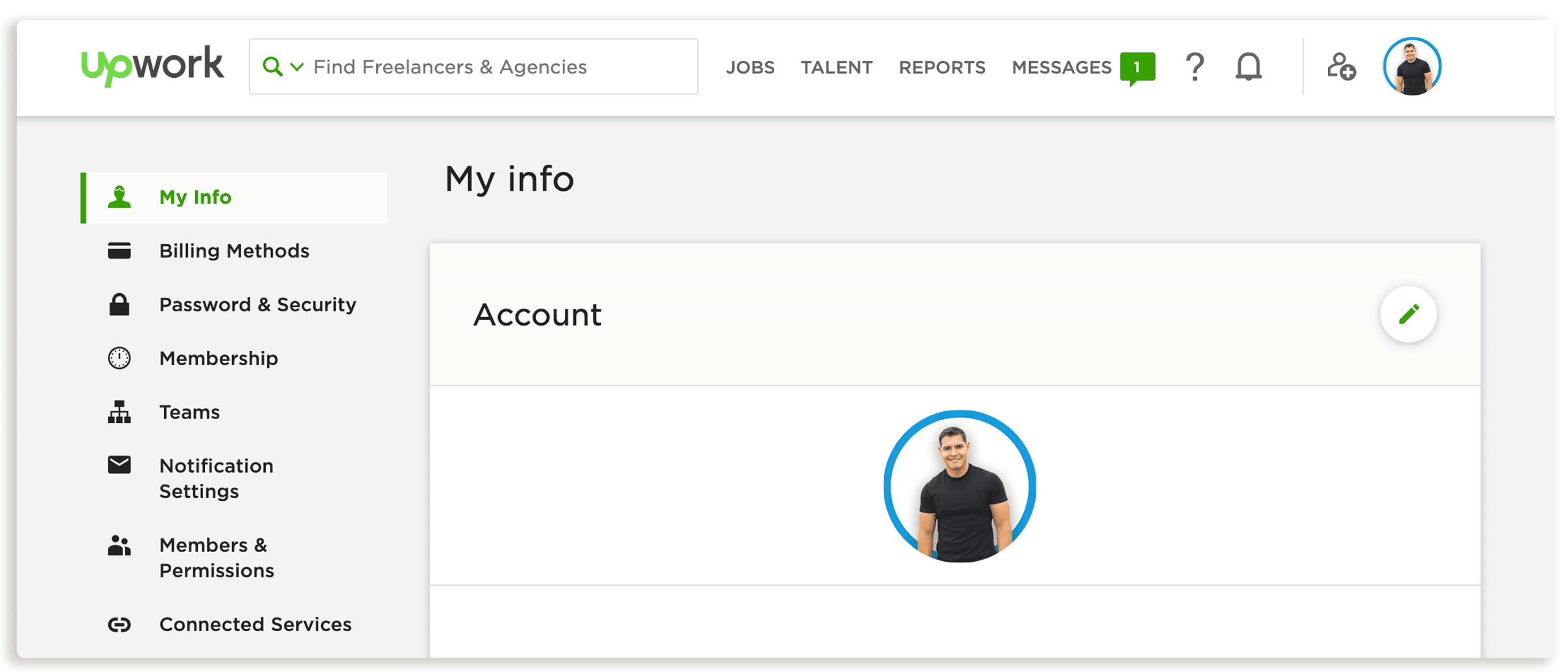 Once your application to join Upwork has been accepted, you can submit proposals to jobs right away, but you'll have a better chance at getting hired if you do a few things to help you get started. You will need to verify your profile by participating in a short video call and providing a valid ID.
You may ask, why do you need to verify your ID? Well, this feature stops scammers on the site. In the past, people used multiple profiles to essentially get free work from freelancers. Upwork needs to make sure that you are indeed a real person who is using the site legitimately.
Once you've verified your identity, you can create a freelancer profile. This includes your skills, certifications, and portfolio. Your profile is essentially your resume on Upwork, and your tool for getting hired.
At a minimum, your profile must have:
Profile photo

Profile title 

Profile overview

Employment history

At least

one skill tag
Successful freelancers have profiles that are complete, accurate, and paint a compelling picture of your services, skills, and accomplishments. It is also helpful if it features a professional, friendly-looking picture.
Your profile is an opportunity to advertise your freelance business to potential clients. A 100% complete profile is required if you'd like to achieve Rising Talent status, Top Rated status and access to Premium Services.
Check out more tips to help you create an Upwork profile that stands out.
Types of jobs you can find on Upwork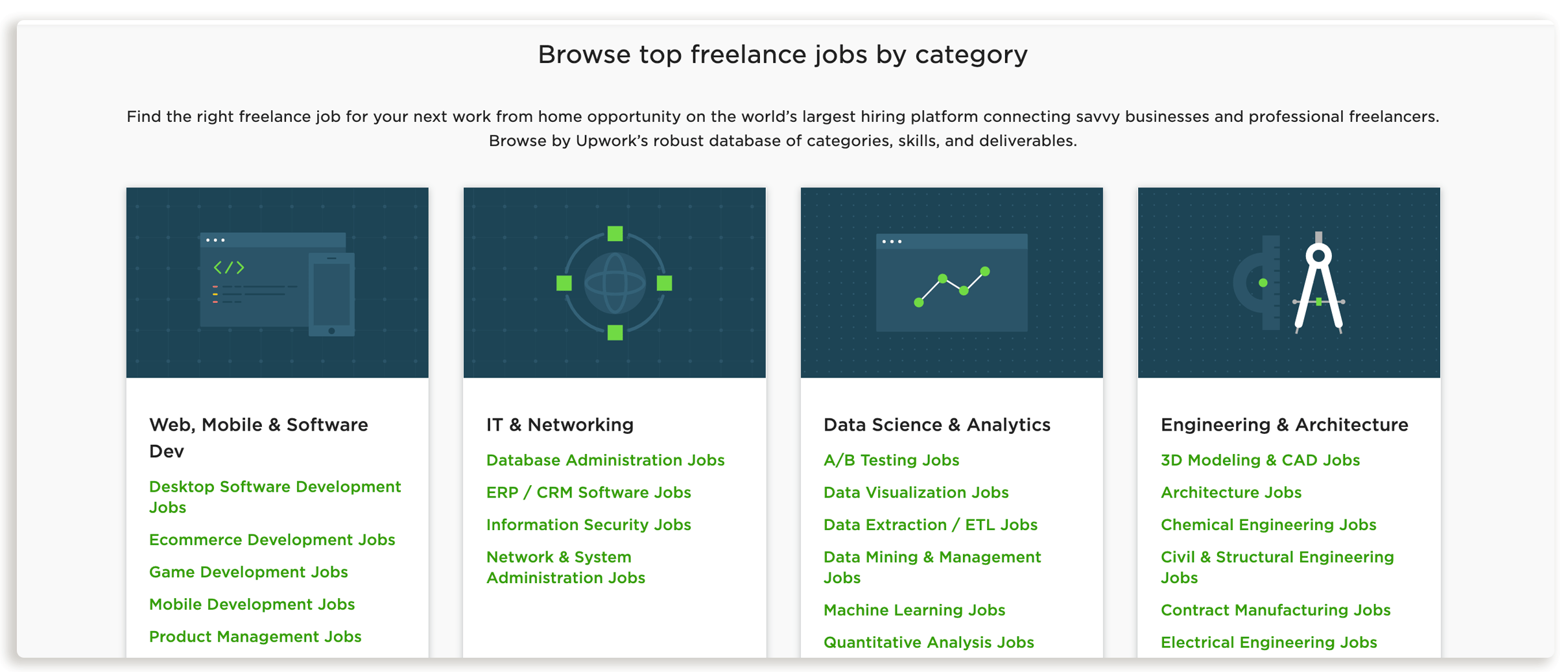 Clients seek a wide variety of available projects across multiple categories. You can browse by Upwork's robust database of categories, skills, and deliverables. Here are some of the categories and jobs available:
Web, Mobile & Software Dev:  Game development, product management, web design, mobile development, desktop software development
IT & Networking: Database administration, CRM software, information security, network & system administration
Data Science & Analytics: Data mining, quantitative analysis, data visualization, data extraction, A/B testing
Engineering & Architecture: Electrical engineering, product design, 3D modeling, architecture, chemical engineering, interior design, mechanical engineering
Design & Creative: Graphics, logo design, branding, motion graphics, animation, illustration, photography, video production, voice talent
Writing: Copywriting, blog writing, resumes, cover letters, technical writing, web content, article writing, editing, proofreading
Translation: Legal translation, technical translation, medical translation
Legal – Criminal law, intellectual property law, contract law, paralegal, property law
Administrative support: Virtual assistant, customer service, data entry, project management, transcription, web research
Sales & Marketing: Lead generation, social media marketing, telesales, public relations, market research, display advertising, telemarketing, SEO
How to get hired by clients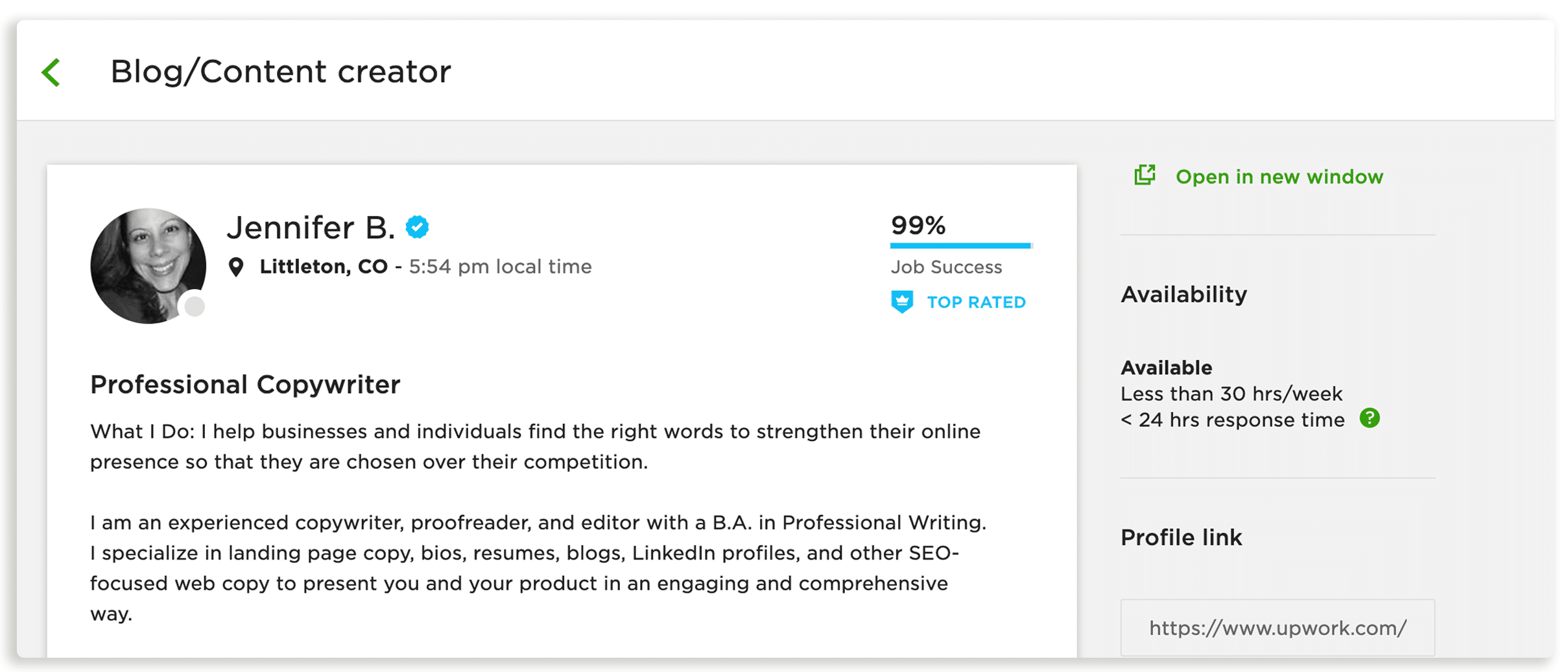 Making a great profile is the first step to getting hired. On Upwork, you bid on jobs. Your proposal is your chance to impress the client so you will stand out. Potential clients will then interview a select few freelancers and offer the project to their choice. Getting jobs is like searching for traditional jobs, except it's all remote.
Sending the client a compelling proposal is key. Your proposal should be well-written and free of errors. It should also showcase your skills and portfolio. Most importantly, avoid sending a generic proposal – write it tailored to the work you're trying to get.
Challenges of being a freelancer
Taxes: When you work a "regular" job, taxes are taken out of your paycheck. When you work on Upwork, taxes are your responsibility. In other words, your freelance income is not taxed. And you cannot simply wait until April 15th rolls around – if you do, you will owe the IRS quite a bit, including a self-employment tax.
When you freelance, you need to estimate your taxes for the following year. Then, you need to pay them every quarter.
Remember, pretending that taxes do not exist is the wrong way to go about the situation. 
Time management: Perhaps one of the biggest challenges that freelancers face is time management. Since you are your own boss, it is up to you to manage your projects and jobs. You must adhere to clients' deadlines and due dates, all while keeping up with everything else in your life.
I suggest writing down a time management plan every day before you start your work. Make a list of priorities that need to get done that day and cross them off as you get them done.
When you're planning out your schedule for the week, the key is to balance your tasks and stay on top of them. Working from home is wonderful for is flexibility, but having structure and routine is important for most of us.
Distractions: When you're a freelancer working from home, distractions are a part of life. It's essential to do everything you can to keep distractions at bay. If you have an office door, keep it closed if you need some quiet. Make sure family members know that you are working. Treat wherever you are working as if it's your own professional office.
Finding your own work: When you're a freelancer on Upwork, you need to find your own work. There is no boss to put files on your desk and give you tasks. Fortunately, searching for freelance jobs on the platform is easy. You can browse Upwork's robust database of categories, skills, and deliverables. Plus, you can filter your results. The upside to this is that you get to choose your own clients and projects.
Benefits of being a freelancer
You are your own boss:  On Upwork, you run your own business. Therefore, you are your own boss. You take on as much or as little work as you want. You are in control of your hours and pay.
You can work whenever you want: One of the best things about being a freelancer is the fact that you can work whenever you wish. Are you a night owl and prefer to work when everyone else is asleep? Or do you want to have a structured daytime schedule so that you can pick up the kids from school?
When you work on Upwork, you can work when it's convenient for you – as long as you meet your deadlines in a timely manner, of course!
You can work wherever you want:  The next best thing to working in any location you want is working whenever you want. On vacation in Hawaii but still want to earn some money?
Do you love to spend hours in your favorite coffee shop, working on projects? No problem! If you have internet service and a laptop, you can work on Upwork.
You're in charge of your earning potential:  When you're on Upwork, there are no earning limits. If you just want to earn money part-time and take care of your family full-time, you can do that. You also have the opportunity to earn a 6-figure income if you choose. It's all up to you.
Tips and tricks to get more work and visibility: The next thing I want to discuss is how to be successful using Upwork. This includes some tips and tricks, how to maximize your time, and some steps to get noticed.
Use tags in your Upwork profile:  It's ideal to use tags the right way. The more tags you use, the more chances you have of getting noticed. Here is how it works: When you make a Google search for Freelance Graphic Design – which gets about 8k searches per month –  you have an opportunity to come up with the Upwork "graphic designer" Google organic listing and paid advertising page for local results. So, when someone Googles that, your exposure is improved just by adding more tags.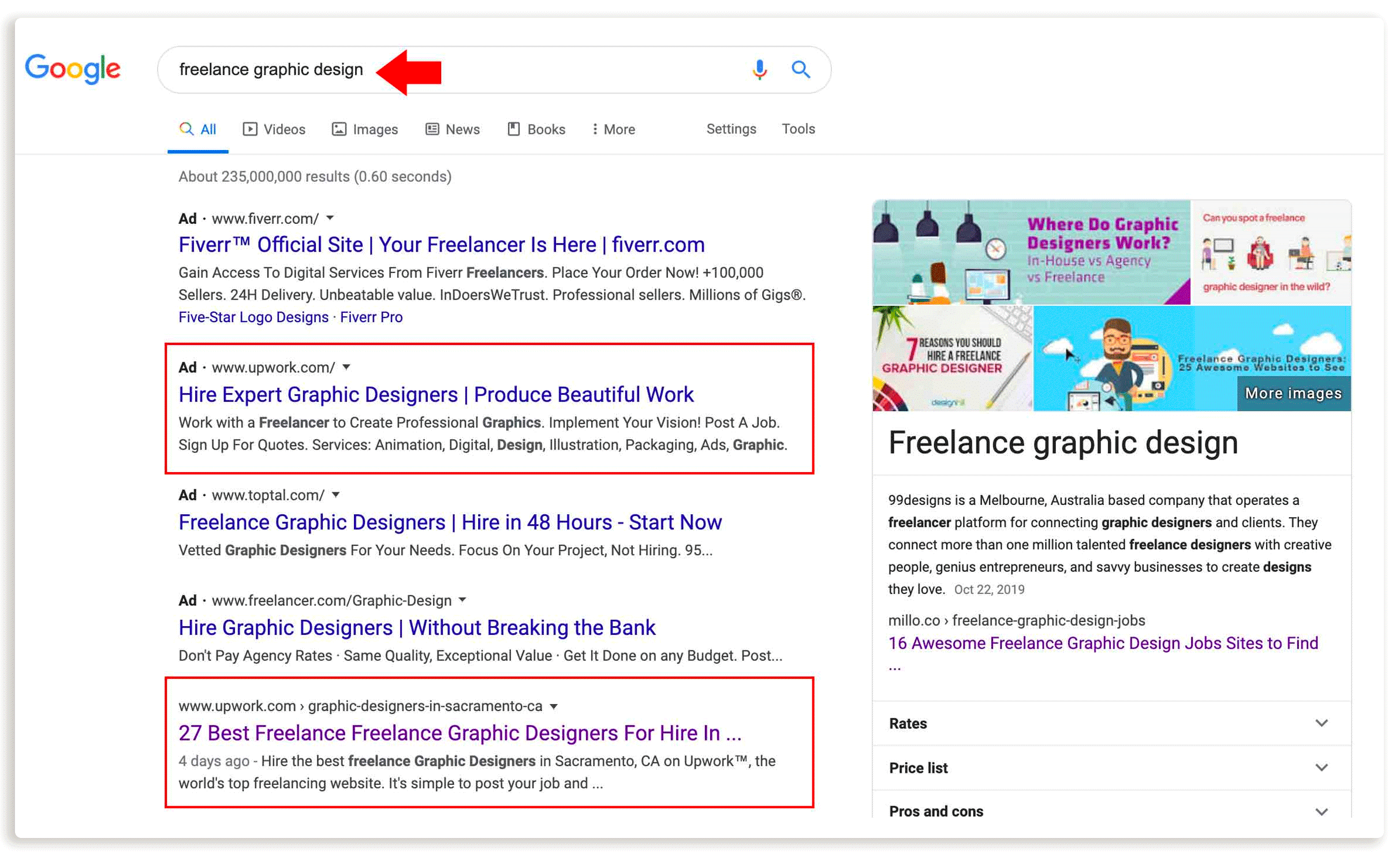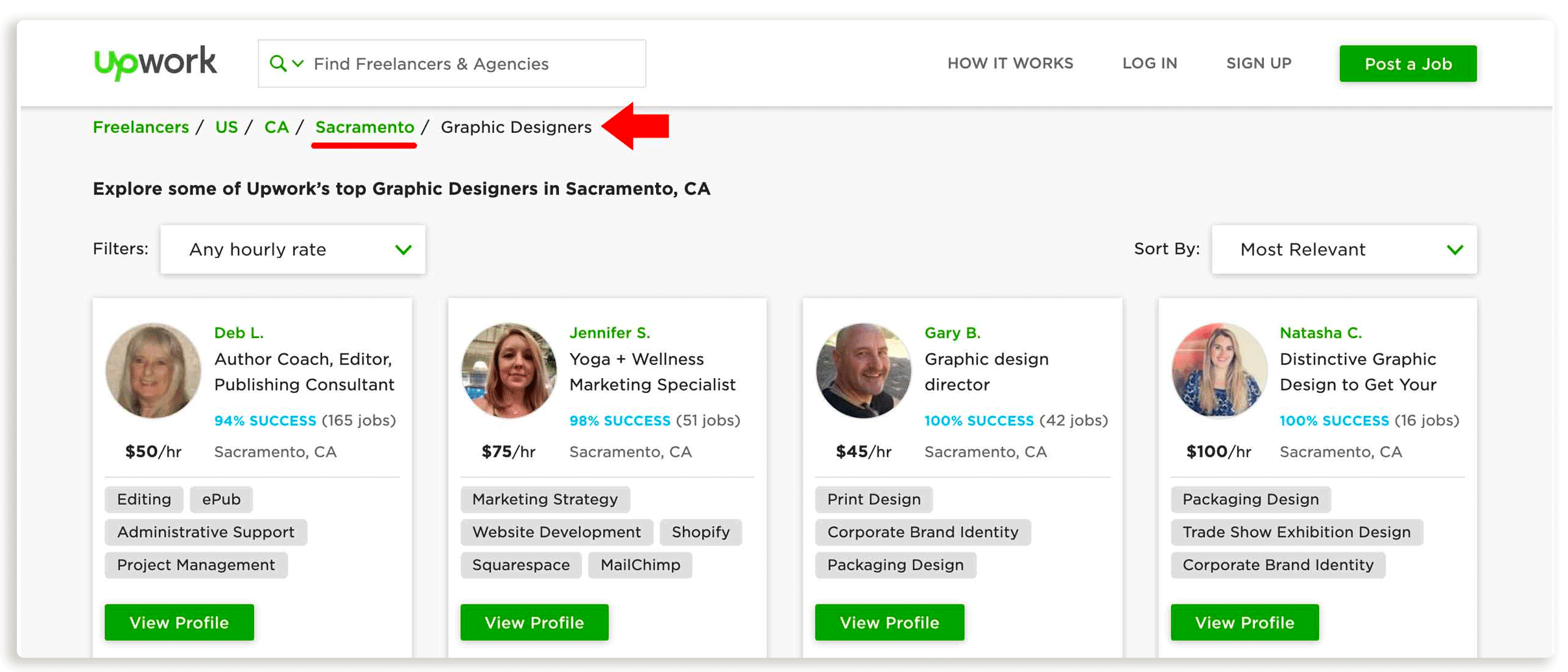 Here's an informative video that discusses how to pick your Upwork profile title and tags: 
Maximize your time: This aligns with time management, as discussed above.
Respond to invitations as quickly as you can: The competition between freelancers can be fierce. Quick responses get you noticed, especially if a client is looking to hire right away. Response time is also a metric that is used to compute your job score, and your average response time visible on your profile.
Aim for repeat clients: When a client likes your work, they can hire you again for repeat work. Active jobs may be kept open if both parties desire. Impressing clients during your first job with them can open the door to a lot more income for you.
Continuously work on your profile:  Tweak it every few weeks to stand out even more. Keep your profile interesting and fresh.
Have lots of solid samples: Pick out some of your best work samples for your profile so that clients can see your experience.
Establish a good rating:  Your Job Success Score (JSS) measures your client's satisfaction with your overall work history on Upwork's platform. It reflects your client's satisfaction as shown by relationships, feedback, and job outcomes over time. A high JSS score can help freelancers to stand out in the Upwork marketplace.
In conclusion
Remote jobs are gaining incredible popularity as technology advances. Upwork is the world's largest hiring platform and the company isn't slowing down anytime soon. Once your application is accepted, it's easy to find the right freelance job for your next work from home opportunity on Upwork.
The platform is the best way to connect savvy businesses and professional freelancers. Don't forget to check out the Online Course for New Freelancers once you get accepted. Good luck!