Personal Reputation Management Tips For 2022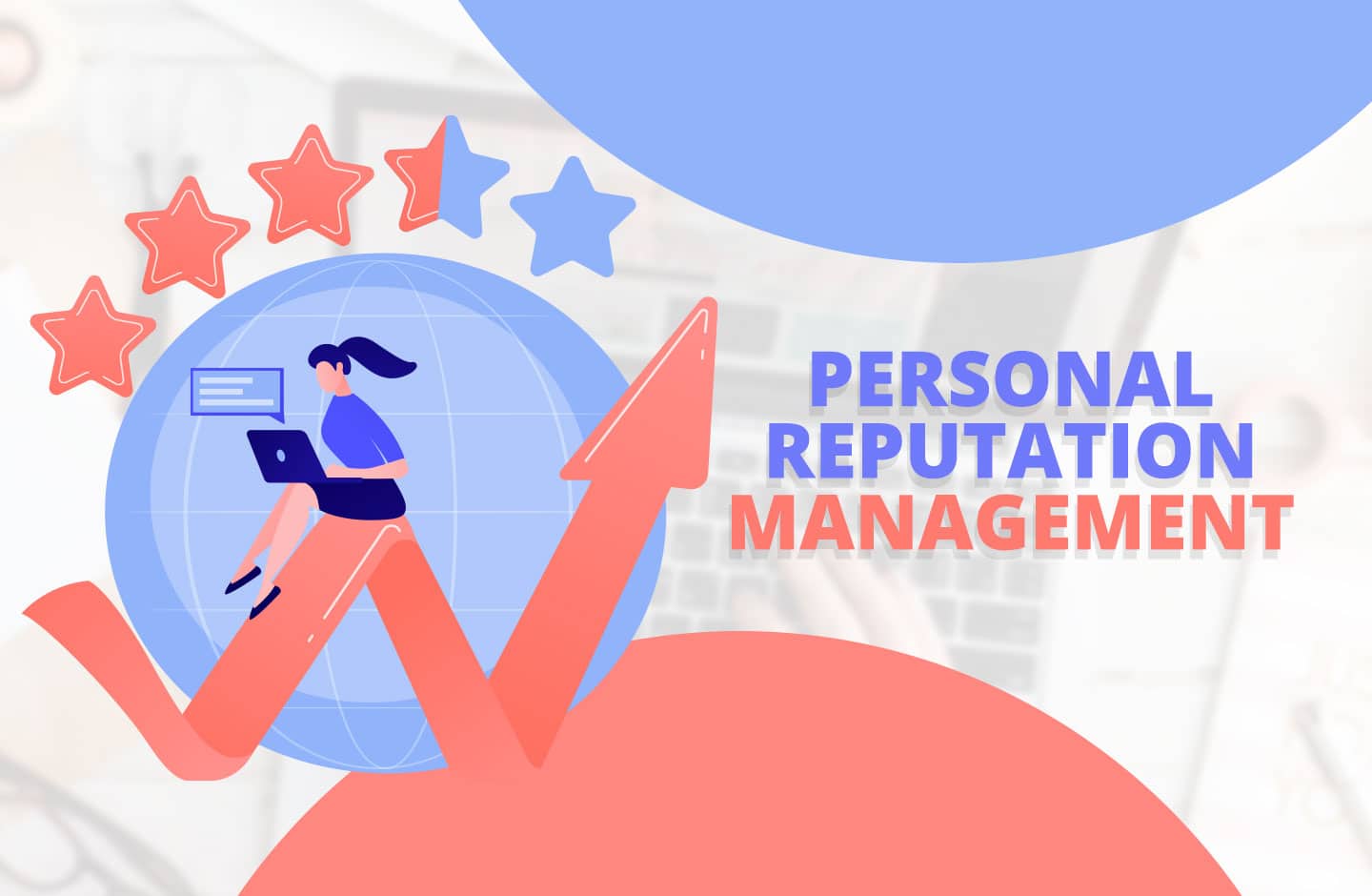 Have you ever Googled your name? This is one of the best ways to see how people perceive your online image. The first few pages might include links to your personal social media accounts or specific social media posts, or maybe even previous bylined articles.
Whatever the search results show, just remember that we're living in a time when all online interactions and thoughts are constantly being captured, recorded, and shared. That makes your digital footprint easily searchable by other internet users. With this in mind, it's extremely important to consider your online personal and professional life and make sure you have some form of reputation management working for you.
In this article, we touch on key personal reputation management practices and offer tips for how you can get started improving and protecting your online reputation. The result? You'll never have to cringe at your Google search results again!
What is Personal Online Reputation Management?
Everyone has a reputation built around the perception that people have in general or based on past behavior and/or actions. This concept goes hand-in-hand with your personal online reputation as well. Your online personal reputation is the opinion people have when they see or find you online.
Personal reputation management monitors and controls how your online reputation affects real-world actions and perceptions. It's about brand protection and influencing the many different ways people interpret you, your brand, or both.
Why is Personal Online Reputation Management so Important?
Your personal reputation is one of your most important assets. A positive online reputation can open up an array of exciting opportunities, like a new job, connection, or business opportunity.
According to Internet Live Stats, online users conduct an average of 40,000 searches on Google every second. That means someone, somewhere could be looking at your social media presence or browsing links that mention your name. You need to ensure you have a positive online image across all search engine results.
Thanks to the digital ecosystem, your personal and professional reputation are essentially one and the same. If someone is going to search for you online, they are most likely going to look on key authority sites: Facebook, LinkedIn, Twitter, Instagram, Google, etc. These sites provide valuable information about you and your past. Make sure they serve you well and that your image as seen by others is viewed in a positive light.
The Benefits of Personal Reputation Management
Having a positive online reputation helps to:
Improve credibility and trust
Attract better opportunities
Counter against negative content online
Reduce the risk of a personal reputation crisis
So, how can you build a strong personal reputation management strategy and take control of your personal brand? We're going to show you how…
How to Build and Manage Your Personal Reputation Online
Having a robust personal reputation management strategy in place will ensure a strong online reputation that comes off as positively as possible.
There are a few simple things you can do to improve your personal brand, optimize your online reputation, and avoid a PR crisis – if it comes to that (fingers crossed it doesn't). Let's get started!
Google your name or your brand name.
Inventory your digital assets and vulnerabilities.
Build a content machine of controllable assets.
Grow your online presence.
Continuously monitor comments and mentions.
Avoid controversial topics.
Have patience.
Google Your Name or Your Brand Name
The only way to fully grasp your own reputation is to Google your name. And don't simply click on a few links listed on the first page. Do a deep dive into as many search results and website links as you can. Oftentimes, there are hundreds, if not thousands, of search results on a single person.
If you find negative information that could quickly tarnish your reputation, you will need to act quickly to resolve this issue. You can't find a solution to this problem if you don't know where it's coming from or how big it is. Ask yourself the following questions:
Are the negative results all about one bad event?
Are customers consistently leaving negative reviews?
Is the negative content in or out of my control?

Inventory Your Digital Assets and Vulnerabilities
When diagnosing the overall health of your online reputation, it's important to consider both your strengths and weaknesses in order to properly map out your strategy. What controllable assets do you have? What are your biggest content gaps? Who are your allies and who are your detractors?
To get started, perform a risk assessment of your online reputation. Identify the baseline perception and track issues that could have a snowball effect down the road. You should know exactly what the public thinks about you and/or your brand.
Next, it's time to inventory existing digital assets and expand them. Owning a single domain is a good place to start, but having a wide-ranging web presence with multiple properties will help to expand your digital footprint and build authority on major platforms. This also prevents competitors from owning domain names that are similar to yours. Overall, having numerous web assets makes it harder for third parties, like industry news publications and media outlets, to misrepresent your narrative.
Build a Content machine of Controllable Assets
To keep the negative stuff out and positive stuff in, you must build a fortress around the assets you can control. Remember, the last thing you want is negative content surging onto the first page of Google.
You will need at least 10 owned assets to fill one page of search results, but ideally, you should aim for more than that. Google will automatically favor information that you own or control. Your content machine should include your website, blog, social media profiles, and any other platforms where you have a significant presence.
Your success hinges on search engine optimization. So, keep your content valuable and relevant. You'll also want your online persona to reflect your professional one. Any photos or posts that take away from your professional image, should be reconsidered.
HR professionals and business prospects don't need to see your recent trip to Vegas. If you're serious about personal reputation management, it's best if you delete things like that. You can also ask friends and family to do the same if you're tagged in something that they posted.
Grow Your Online Presence
After identifying and securing your primary assets, you can begin to think beyond the first page of Google and really expand your online presence. Build a reputation management strategy that extends to other prominent publications and websites. Furthermore, you can optimize your profiles on social media sites and amplify mentions more frequently and effectively.
The goal is to position yourself as a leading figure within the search landscape. In simpler terms, a strong online presence will make it easier for others to find you online. This is an important component for building your reputation and establishing authority.
To grow your online presence and expand your reach you must:
Master SEO
Create valuable content
Develop relationships and be active where your audience is
Have a social media presence
Interact with others in the marketplace
Continuously Monitor Comments and Mentions
There are approximately 130 trillion individual pages across the web and it's constantly growing. That means there may be hundreds (potentially thousands) of mentions about you or your brand every day. If you aren't on the lookout, you could very easily miss negative reviews, biased articles, inaccurate comments, or competitor attacks.
Whether you use reputation monitoring tools like Google Alerts, a 3rd-party tracking software, or simply search on Google regularly, you must know exactly when people mention your name and what they're saying.
But Google isn't the only platform you need to be watching. Don't forget about social media (Facebook, Twitter, LinkedIn, YouTube, etc.) and the major review sites (Yelp, Trustpilot, Amazon, TripAdvisor, Better Business Bureau, etc.). Customer reviews aren't just 1-5 star ratings anymore. Negative commentary on Yelp or a simple Facebook Post about a bad experience can trigger a public crisis if ignored or not handled correctly.
Avoid Controversial Topics
When it comes to your online reputation, visibility is vital on Google and social media. But, the good kind of attention, not the bad. Any controversial conversations or comments can trigger a major crisis at any point in time.
To avoid these problems, do not engage in arguments about hot-button topics on social media or anywhere else. This includes things like politics, religion, money, etc. If it gets to a point where you must take a position, make sure your dialogue is appropriate, accurate, and clear.
Most controversial conversations tend to happen on social media. It's best to just assume everyone is reading what you put out there, such as family members, friends, business partners, stakeholders, customers and clients, investors, etc. If it's something you wouldn't say to those people in real life, don't write it on social media.
Remember, the world has a wide spectrum of opinions. Whatever you say about a sensitive topic will not be taken well by at least one person.
Have Patience
Reputation management isn't something that happens overnight. It takes time, effort, and resources to develop an extensive strategy and implement those tactics every day.
If there's harmful content about you, it won't just disappear by itself. You have to work to reposition Google rankings the way you want. Plus, the longer unfavorable content remains on page one or two, the more people will engage with it, and the harder it is to bury.
Before you can push down negative results, you'll need to create as much positive content as you can. And this takes patience. Reputation management required publishing, distributing, and optimizing original blog posts, articles, images, videos, and more.
It also requires you to promote that content through linking building and other means. That way, Google will interpret those links, and hopefully clicks, as signals of popularity and value. Over time the positive content will be pushed higher and higher in search results. As a result, your personal reputation will benefit.
Frequently Asked Questions
What is Online Reputation Management?
Online reputation management (ORM) is a practice that uses different tactics to influence the search results of an individual or a company and adjust online perception.
How Does Personal Reputation Management Work?
Personal reputation management utilizes content marketing and search engine optimization to strategically reposition negative search results and replace them with positive content and owned assets that you control.
What Are the Consequences of a Bad Reputation Online?
A bad personal reputation online can affect an individual's career, impacting your ability to get a new job or promotion. As a business owner, it may affect your ability to hire talent, generate leads, convert customers, attract investors, and more.
How Do You Build a Good Online Reputation?
The best way to build and sustain a good reputation is to have an authoritative presence on Google and a positive presence across all major social media sites and review sites. To do this, you will need to claim and optimize your personal sites, social media accounts, blogs, and online reviews.
Your Personal Reputation Matters
In today's online world, building and maintaining a positive reputation is a must. Every move you make is monitored and recorded. Any negative comments posted online can damage your image immediately.
Personal reputation management helps you control that digital narrative and influence real-world perceptions about your brand. It ensures that your personal and professional reputation is not only accurate but positive.
Need Help? Use a Reputable Online Reputation Management Company
Personal reputation management is an important practice for any individual professional or company. Your online image generally speaks louder than anything else. So, you have to make sure the information people see about you online accurately reflects who you are.
You may want assistance from a professional personal reputation management company to ensure your brand image is projected in the best light possible. A reputation management company will streamline the process and start improving your own personal brand as quickly and efficiently as possible.