Best Reputation Management Services For 2023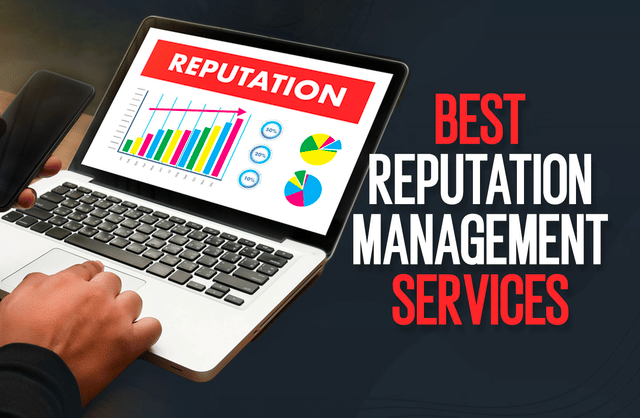 Whether we like to admit it or not, every company has a reputation. Some businesses prefer their reputations to evolve organically, while more successful businesses proactively monitor and manage it. This is typically done through online reputation management services.
Reputation management software allows companies to track what existing and potential customers are saying about their brand. The software searches social media, search engines, and review sites like Yelp. Furthermore, the best reputation management companies also provide solutions that help you look at and respond to time-sensitive online reviews.
If there's anything I've learned about brand building and scaling online businesses, it's that you need to take charge of your company's reputation with a comprehensive marketing strategy. It needs to be one that promotes positive content and aggressively handles negative content. Don't believe me? According to a consumer reviews marketing report by G2 and Heinz Marketing, 92.4% of customers are more likely to purchase a product or service after reading a trusted review. The data doesn't lie.
That's why I combed through dozens of online reputation management companies to find you powerful solutions with affordable pricing. To help you narrow down your options, I evaluated features, ease of use, and extra integrations/tools that assist with social media marketing, digital marketing, and other industry-specific services.
Best Overall Reputation Management Services For 2023
NetReputation – Best reputation management company overall

WebiMax – Best for building a positive online reputation

Birdeye – Best for large-scale organizations

Igniyte

– Best for combating negative reviews

Gadook – Best all-in-one solution

Reputation X

– Best for online reputation repair

Podium

– Best self-service tool
How to Choose a Reputation Management Service
When choosing a reputation management company, it's important to explore all the different options available to you in order to find the right software and tools.
At the end of the day, it's entirely up to you which reputation management service you ultimately decide to use. I only considered feature-rich, yet affordable solutions so there isn't necessarily a wrong answer here.
To help you along the decision-making process, I've shared a mix of different criteria to consider below.
Industry Experience
The first thing to look at when choosing a reputation management service is industry experience. It's important that the company has spent time and gained knowledge from working in the industry for several years. Do they have a proven track record of successful cases with strengthening brand reputation and resolving negative content online?
Online Reputation
Reputations matter, even for reputation management services. The best online reputation management companies have flawless business reputations. To verify this, read through online reviews and media articles. You can also check out the company's own social media accounts to see how they interact with customers. If the company itself has a positive reputation and satisfied users, you can be more confident trusting them with your company's online reputation.
Ethical Aspects
A good reputation management firm is transparent, responsible, and ethical. Building a quality online reputation and showcasing a business in a positive light takes time. Steer clear of quick fixes that claim instant results. Fundamental ethics also include compliance with all federal and state laws, as well as user privacy and protection when collecting data. Companies should proactively take a principled and transparent stand on how they handle data collection and utilization.
Functionality and Ease of Use
The best online reputation management services have an easy-to-use interface and intuitive operations to support that interface. First impressions are important here. If the interface isn't running smoothly right away, chances are it isn't an easy-to-use, easy-to-learn product. Look for software that enables fast implementation, a straightforward learning curve, great support, and insightful training materials to support both current and future needs.
Response Options
When it comes to a successful reputation management strategy, responding to customer/user feedback is non-negotiable. This can be difficult with the hundreds of general and niche review sites online. Review management software should be able to spot new feedback across all mediums and enable you to respond quickly and easily directly through their platform. That way, you'll never miss a chance to respond to customer feedback again.
Integrations With Third-Party Tools
An all-in-one reputation management company will offer various solutions that cover every single part of the brand building lifecycle – from attracting new customers and getting more reviews to monitoring, showcasing, and responding to existing reviews. This also extends to integrations with various social media marketing, content marketing, and digital marketing tools. Ultimately, you should be able to easily integrate your existing stack into the software.
When Do You Need a Reputation Management
It doesn't take much for negative content to go viral and cost you sales. Reputation management not only helps you build a positive image, but it also helps you keep it that way.
By enacting a reputation management strategy from the get-go, businesses can act swiftly and intentionally if a crisis strikes. Moreover, the company will already have loads of positive content helping to boost the brand's reputation and drown out the negative noise.
Reputation marketing is simply a piece of brand management. And the sooner you implement a thoughtful strategy to boost your brand's online reputation, the faster you can take advantage of the many sales-generating opportunities that come along with it.
Benefits of Using a Reputation Management Company
I'm not going to sugar-coat it – effective reputation management takes a lot of sustained and consistent effort. That's where online reputation management services come in.
They provide powerful tools that help you monitor, manage, and improve your online reputation. For example, most utilize software that can easily scan review sites and social media platforms for brand mentions. Once it finds new reviews, it should send you an alert either by email or text. Most solutions have a centralized dashboard where you can quickly view and respond to reviews directly on the platform.
Some online reputation management software enables you to monitor specific keywords or phrases that are relevant to your business. Furthermore, you may even be able to track top competitors and review consumer sentiment.
Overall, online reputation management services help to enhance brand recall, drive conversions, and stay ahead of the curve in terms of negative feedback.
FAQs:
What Causes A Bad Online Reputation?
A bad online reputation is caused by one or a combination of factors. These may include bad customer reviews, negative search results, poor social media brand mentions, or deliberate reputation attacks. While businesses cannot control what customers say or act upon, it's still important to monitor negative sentiment and respond accordingly.
How Much Does Online Reputation Management Cost?
Online reputation management services typically charge by the number of seats or users on the account. Most offer both monthly and yearly subscription plans that include varying tiers. The more expensive plans often provide additional features and more capacity. Average costs across providers vary from a few dollars per month for the most basic tools to several hundred dollars per month for comprehensive solutions.
What's the Difference Between Review Management vs. Reputation Management?
Review management is the process of tracking both positive and negative reviews across various sites. This is done so that you can resolve issues as they arise and get a better understanding of customer sentiment surrounding your service/product.
Reputation management is the wider-scope process of ensuring that your brand reputation is and stays positive. The main difference between the two is that reputation management includes monitoring review sites, in addition to social media and search results. Review management is simply a component of managing your online reputation.
Best Reputation Management Services: Key Takeaways
Whether you're an entrepreneur building your brand reputation from scratch or a long-standing company looking to repair a damaged brand image, online reputation management is a necessity.
Ultimately, I highly recommend NetReputation. This high-quality, well-trusted service will work to monitor, manage, and protect your online presence and reputation.