23 Best Fitness Affiliate Programs of 2022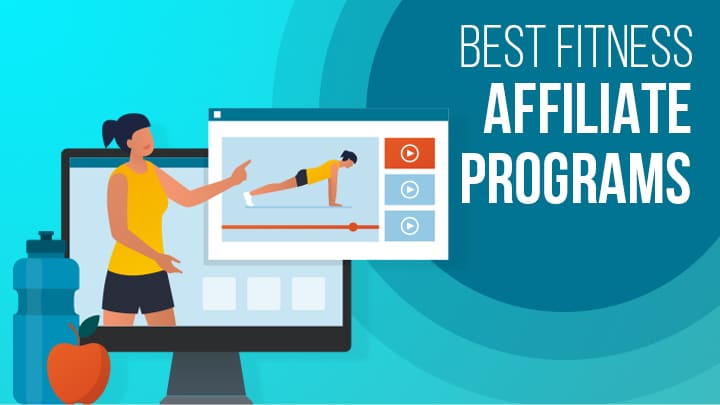 There's no doubt about it– fitness is a highly profitable niche with plenty of room to grow. 
In fact, according to the Global Wellness Institute, in 2017 alone the fitness and health industry was worth well over 4 billion dollars globally.  
When it comes to affiliate marketing, we know that no matter how profitable a niche may be, it's important to scale down to a micro-niche in order to gain that all-important topical authority.
I've put together this comprehensive list of fitness affiliate programs that covers several micro-niches within the fitness industry. 
I know it can be hard to find quality affiliate programs, so I've done the research for you.
Each affiliate program on this list has excellent commission rates, a cookie duration of at least 30 days, and trustworthy products and services.
Fitness blogs and websites have great potential to bring in a passive income. If you're still unsure of which affiliate platform is best for you, take a look at my article on how to make money online without a website.
For now, let's take a look at the best fitness affiliate programs available today. 
Fitness Equipment Affiliate Programs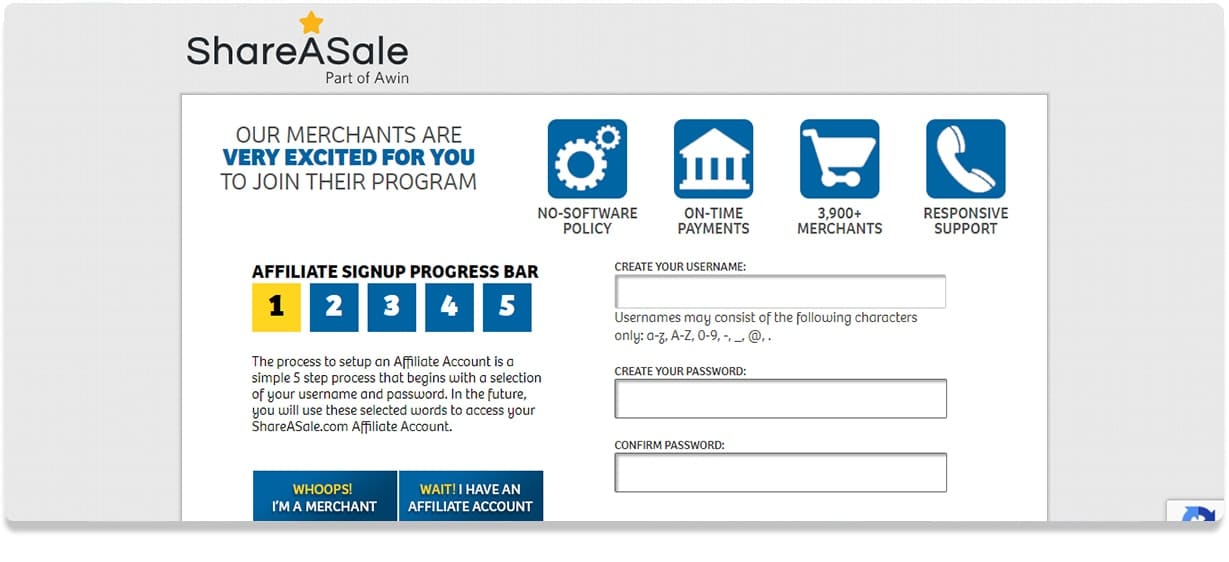 If you are in the fitness niche I'm sure you are well aware of the massively popular TRX workout system. Many gyms have started to incorporate TRX systems and people are starting to bring them into the home.
The only downside to TRX is the size of the system. Monkii has provided an excellent solution to this problem. 
Monkii has created several TRX-like systems that are compact and easy to use in the home or even while traveling.
Aside from a top-notch selection of workout devices, Monkii also offers a tactical collection. The tactical collection includes unique items such as mission-based video training courses and a 360-degree tactical system.
This fitness affiliate program is best for those of you who target an audience of serious fitness buffs. They make top-notch workout systems with a comprehensive selection of workout accessories to choose from.
You can make an 8% commission per sale that you make with a cookie duration of 30 days with this fitness affiliate program.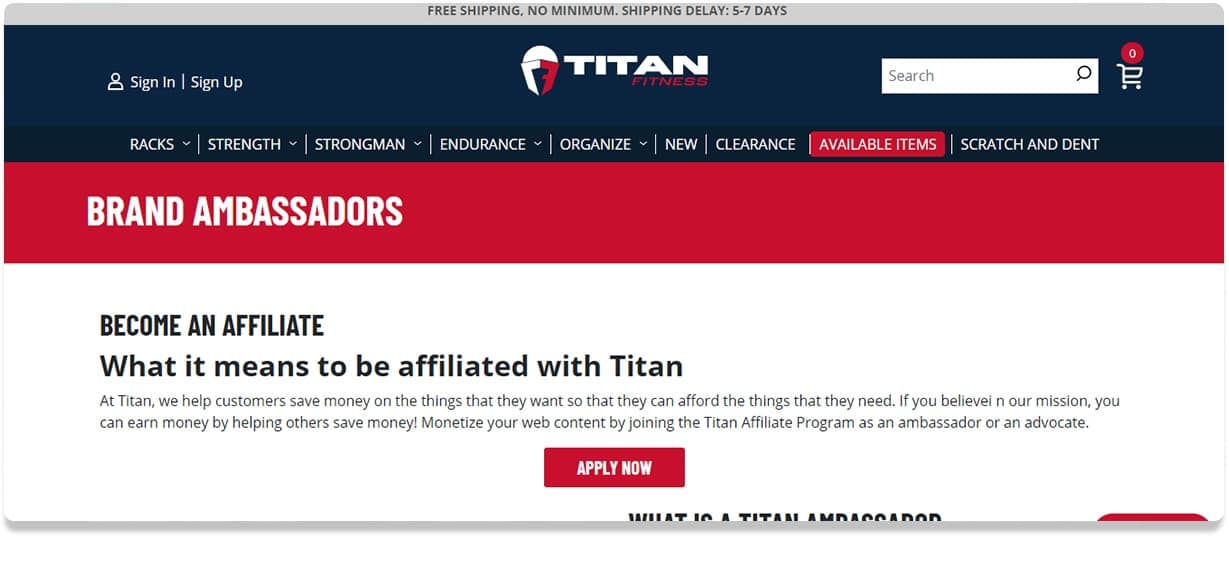 Titan Fitness offers a huge selection of serious workout equipment for the home gym. You can find a large selection of racks, weights, endurance equipment, and storage items.
The first thing you should know as an affiliate marketer is that these items are not cheap. If you're in the fitness niche and you're in search of a high ticket item, this is the program for you.
Most individual items cost around $200 so you'll see a lot of high order values. 
While it can be harder to make conversions on high priced items, you'll take home a larger check with the commission on an expensive product.
Affiliates for Titan Fitness make a 5% commission per sale and cookies for 30 days through its affiliate program.
Titan Fitness Affiliate Program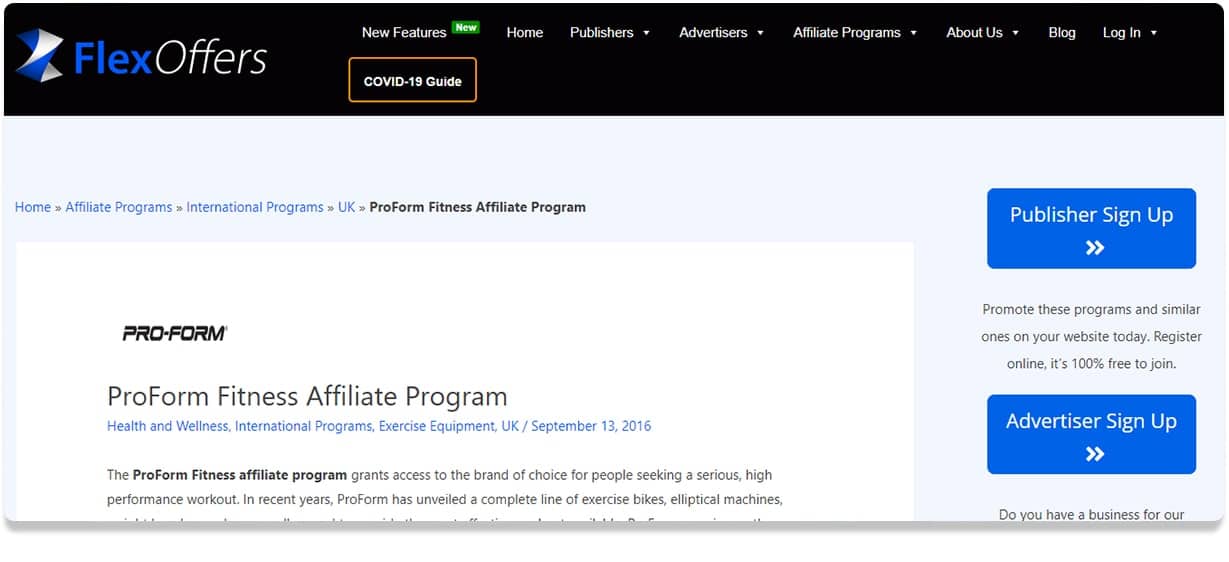 Proform makes high-performance workout gear, equipment, and training. This company specializes in home workout equipment such as treadmills, ellipticals, and exercise bikes.
On top of that, customers can also find hybrid training systems that combine popular equipment into one system. One of the most popular hybrid systems combines the elliptical and the exercise bike into one piece of equipment.
Again, this program is a great option if you're looking for high-ticket items. You can make a great paycheck with the Proform Fitness affiliate program with up to 11% commission every time you make a sale.
Another exciting feature from Proform is the subscription service. 
If you know me, you know that I always recommend a combination of high ticket products and subscription-based services. With Proform, you get the best of both worlds. 
Make a monthly commission on subscriptions and bring in a large commission on sales from high priced equipment. By far, one of the most promising programs on the list.
Proform Fitness Affiliate Program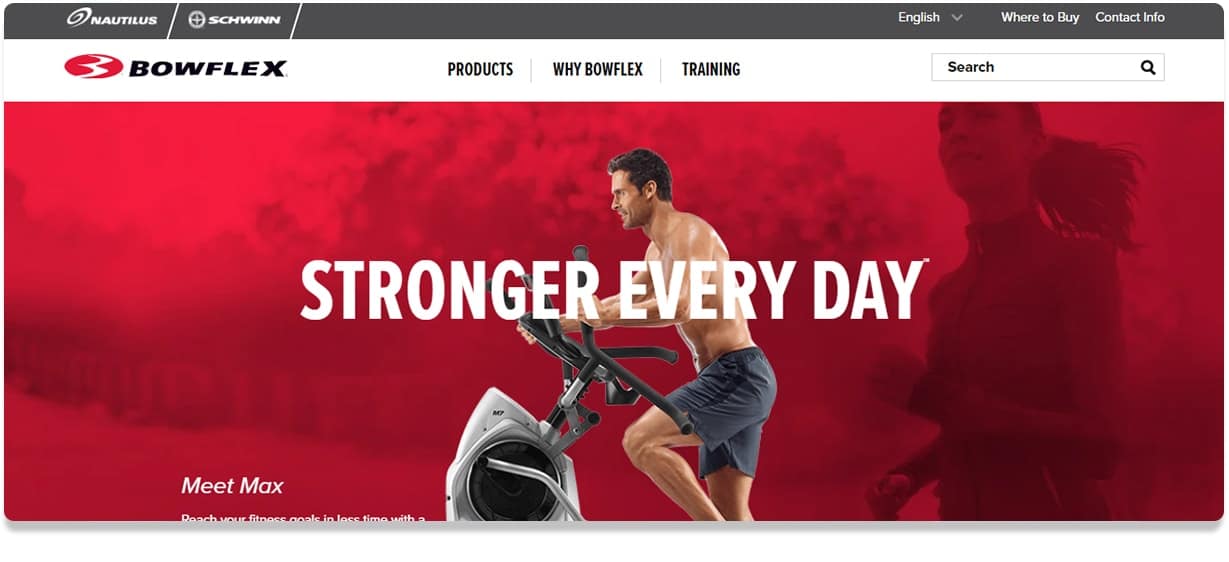 Bowflex has been in the health and fitness game for a very long time. This company provides complete at-home fitness systems including gym setups, free weights, treadmills, and exercise bikes.
Bowflex equipment is not cheap. A home gym system can cost up to $2,900. 
Luckily they offer payment plans for their customers. This also makes it easier for you to make conversions and still take home some real money.
This affiliate program is best if your target market has decent spending power and is fairly serious about their fitness goals.
Bowflex uses the Impact Radius affiliate platform. After you've been accepted by the affiliate network you can start as a Bowflex Affiliate. Bowflex offers each affiliate a 3% commission per sale.
Now, I know this is a low number but you have to remember that these are high priced items. A smaller commission doesn't necessarily mean a small check in this case. You'll also receive a cookie duration of 30 days.
Health and Nutrition Affiliate Programs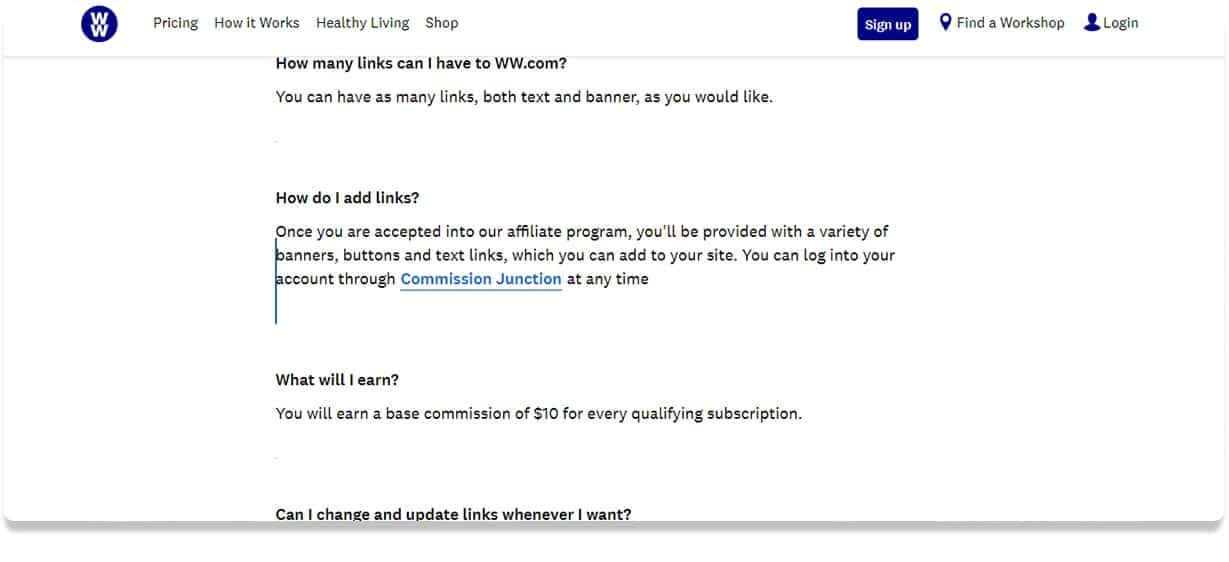 Weight loss has become a profitable health and wellness industry unto itself. The quintessential weight loss program is Weight Watchers. 
This company has been around for a staggering 60 years and they have a tried and true weight loss formula.
These days, Weight Watchers focuses on recipes for weight loss, crafting personalized meal plans, and simple workouts. 
Weight Watchers is a thriving community that helps people stay accountable for their fitness, nutrition, and health. 
Weight Watchers is available as an app with several subscription options. Customers will get access to over 8,000 recipes, equipment-free workouts, health trackers, and live coaching support.  
Plans range from $3.22 to $12.69 per week.
Affiliates for Weight Watchers earn $10 per sign up making it one of the best affiliate programs for those of you in the fitness and health niche.
Weight Watchers Affiliate Program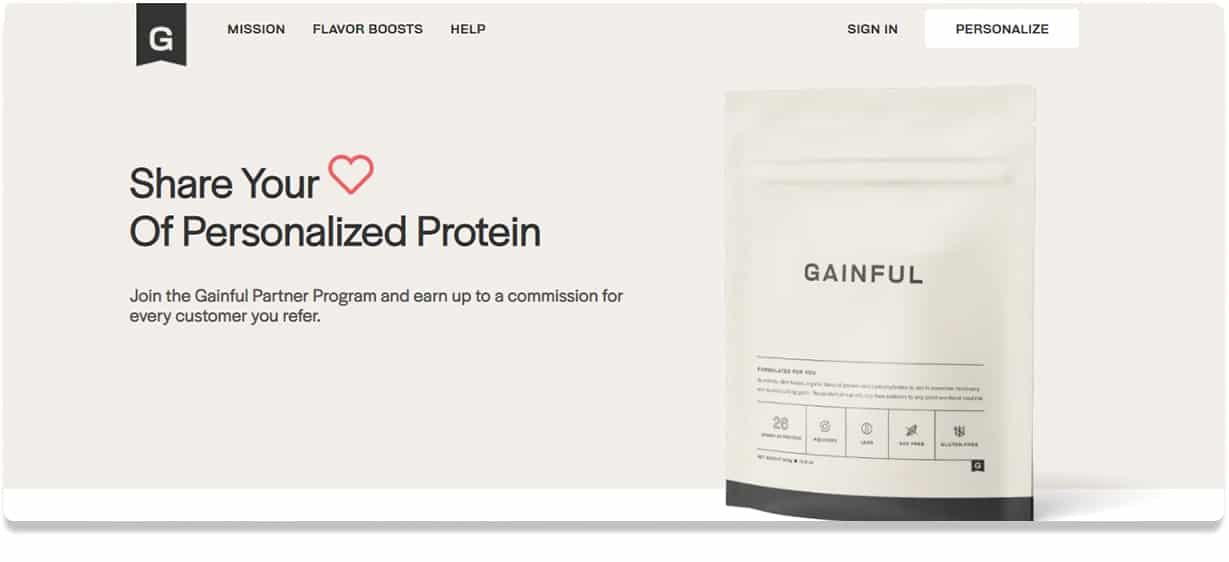 On the other end of the spectrum from Weight Watchers, we have Gainful. This company specializes in protein powders. 
As you might have guessed, many Gainful customers use the protein powders to bulk up and gain muscle.
That being said, this company is all about helping people reach their goals. Gainful creates customized protein powders for their customers to help them reach their individual goals.
Customers can choose from a variety of flavors, nutritional needs, and more. In fact, Gainful has a team of registered dietitians on deck to make sure everyone gets exactly what they need.
Gainful then sends customers a monthly package with their custom blend plus additional flavors to sample what's new. For around 28 servings, Gainful charges $49.
Gainful makes it super easy to boost your conversion rate because you can offer a half-off discount to your audience.
Affiliates can take home a decent chunk of change with each sale plus you get 50% off of your own purchases.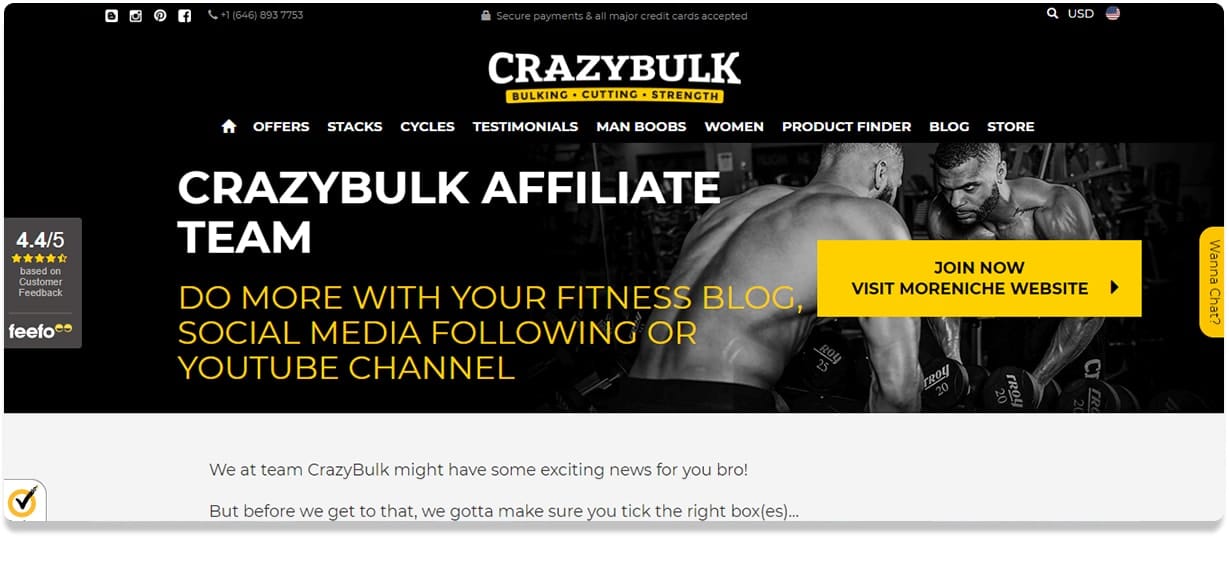 CrazyBulk comes through with one of the best fitness affiliate programs on the list. This company is all about bulking up and staying fit.
Now, CrazyBulk doesn't beat around the bush when it comes to what they do. They market their products as legal, steroid alternatives for bodybuilders, serious weight lifters, and fitness trainers.
CrazyBulk offers a series of supplements for bulking, cutting, and strength. 
Their products range from $50 to $180. Most of these products are taken in cycles so it's an easy way to get repeat customers. The target demographic is people aged 25-45 years old.
The best part is you'll get a lifetime cookie duration so you can really stack your earnings with this affiliate program. 
Affiliates take home a whopping 40% of every sale made with an average order of $78.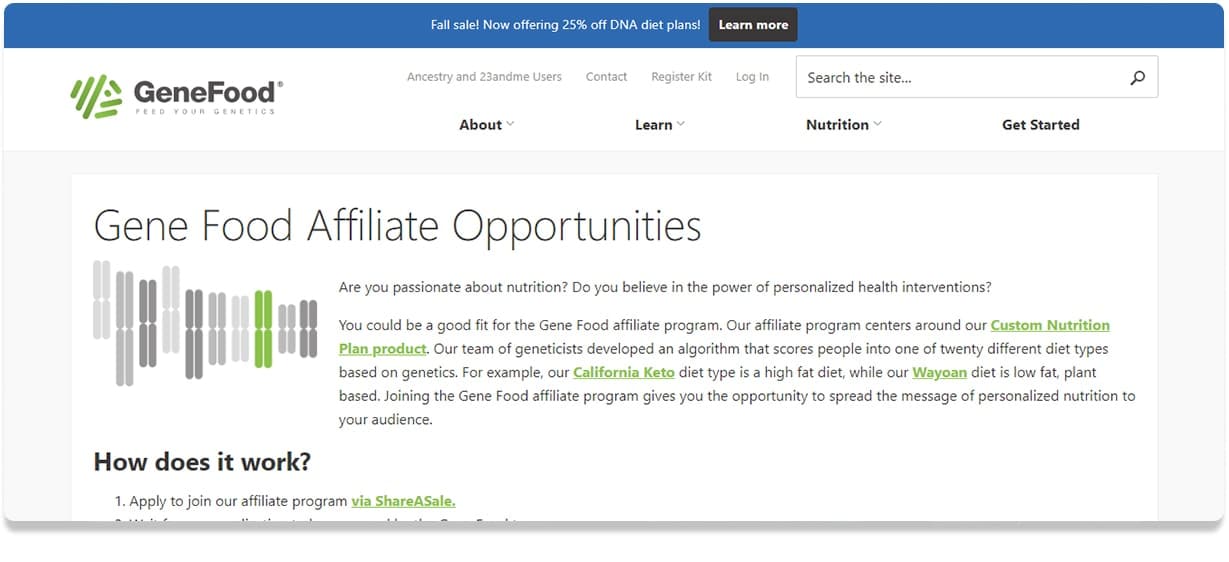 Gene Food is an innovative company in the fitness industry that personalizes your nutrition based on your DNA. Pretty high-tech stuff.
This company takes a look at your genetic code and creates a customized nutritional plan according to what fits your body the best.
Some of the plans you'll find are the Villager plan that focuses on farm to table nutrition and the Urban Grazer which allows everything but dairy products.
They provide comprehensive educational resources to help customers understand how nutrition affects their specific genotype. 
They've also partnered up with 23&Me to offer a discounted rate to customers who use the popular ancestry service.
This affiliate program is ideal for those of you with an audience interested in cutting edge nutrition for staying fit and healthy.
Affiliates for Gene Food can take home $15 to $20 per sale depending on your conversion rate. 
You'll get a 45-day cookie duration as well which is relatively long in comparison to other fitness affiliate programs.
Fitness Apparel Affiliate Programs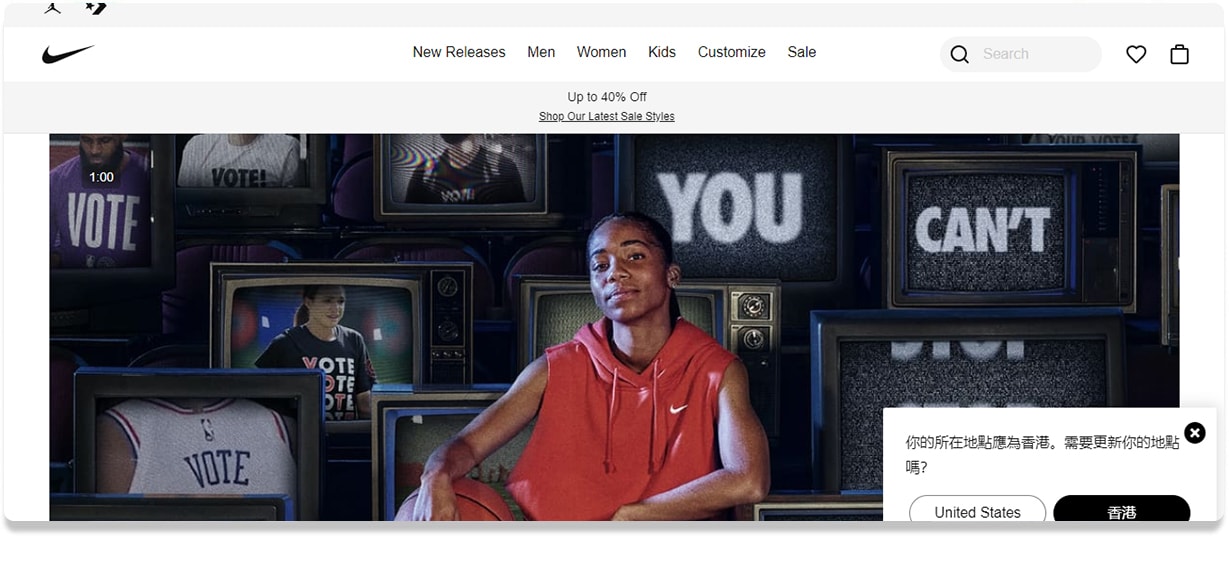 If you're looking to find the best affiliate programs in the fitness industry, you can't go wrong with Nike. This company has made a worldwide name for itself as one of the best fitness brands of all time.
Needless to say, it won't be hard to promote Nike to just about any audience who is interested in fitness, training, and working out. They have extensive options for men, women, and children and market to a diverse age range.
If you're in affiliate marketing, this is a smart program to add to your list. Nike is known for creating high-quality products with a wide range of sports apparel to choose from.
Because Nike works with a lot of big names, your fitness blog needs to be dialed in with decent traffic and conversion rates.
Before you can sign up for the Nike affiliate program, you'll have to submit an application to the Awin affiliate platform. Once you're approved you can start earning an 11% commission rate with a 30-day cookie duration.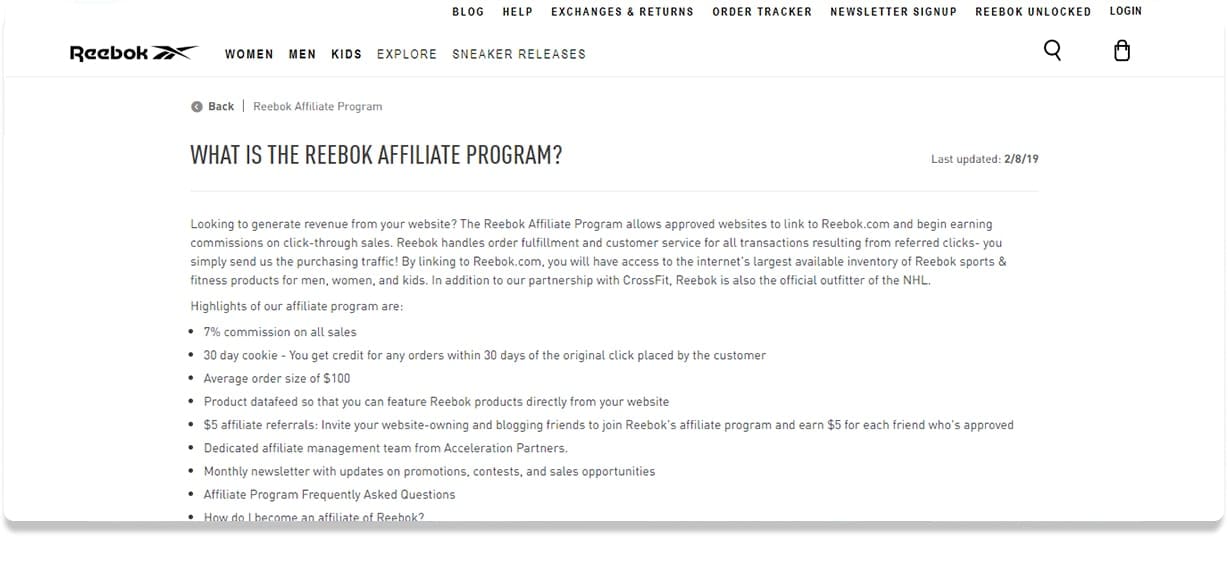 Reebok is one of the biggest names in the game. This fitness brand makes quality sportswear and fitness products. Its main target audience is women although they do have products for men and children as well.
Reebok has a comprehensive selection of sports shoes, apparel from their own brand as well as partnerships with other major fitness brands. They are currently partnered with Crossfit to provide apparel specifically for the sport. 
Whether your target audience is men, women, or children, there are products to choose from. 
On top of that, Reebok provides a great selection of apparel for different types of activities such as running, basketball, cross-training, and hiking.
The Reebok fitness affiliate program offers a 7% commission rate per sale and a 30-day cookie duration. 
The average order value is $80 so you have a chance to make a decent paycheck with this program.
Evolve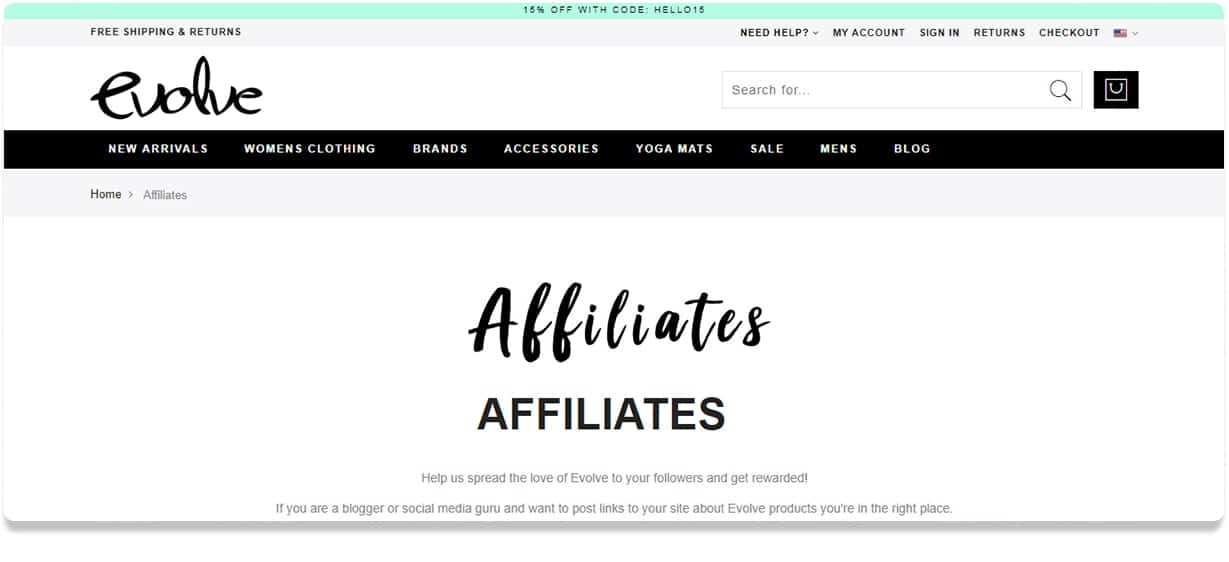 Evolve is a women's fitness apparel brand that puts comfort at the forefront. This brand focuses on providing stylish sportswear at a relatively affordable price. Evolve offers tops, leggings, shorts, sports bras, jackets, and yoga pants.
Evolve has several lines of clothing featuring organic cotton and American made clothing. These qualities are part of what makes Evolve such a great choice for anyone in the fitness niche.
If women are not your target market, they also have a select line of fitness apparel for men that includes shirts, shorts, yoga pants, and sweatshirts making this an easy affiliate program for a wide audience.
Evolve looks for fitness bloggers and influencers to join their fitness affiliate programs. 
They use the Shareasale affiliate network, so you will have to apply to the network before you can sign up. 
Evolve offers its affiliate marketers a 6% commission rate per sale.
Evolve Affiliate Program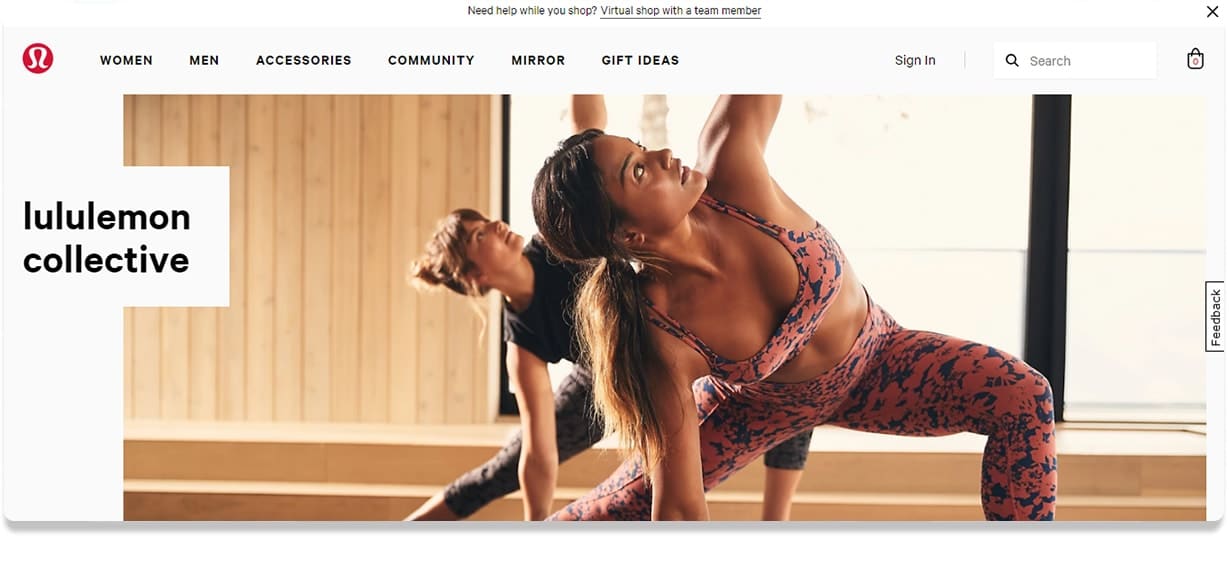 Lululemon is by far one of the most well-known fitness apparel companies in the world. The company focuses mainly on yoga apparel but they have expanded to loungewear, swimsuits, undergarments, and a robust men's section. 
Lululemon is best known for its quality products and their prices are on the high end. The most popular items are their leggings, which range from $88 to $118 per pair. 
Certainly not the most affordable option, but great for making a commission as an affiliate.
As you can imagine, the average order is relatively high so you can make a decent check from your sales commission.
The Lululemon affiliate program is perfect for those of you with a fitness blog, website, or social media account. In order to apply, you'll have to disclose your platform, your following or monthly traffic, and your main promotional method.
Lululemon offers a 7% commission per sale to its affiliate markets with a cookie duration of 30 days.
Fitness Tech Affiliate Programs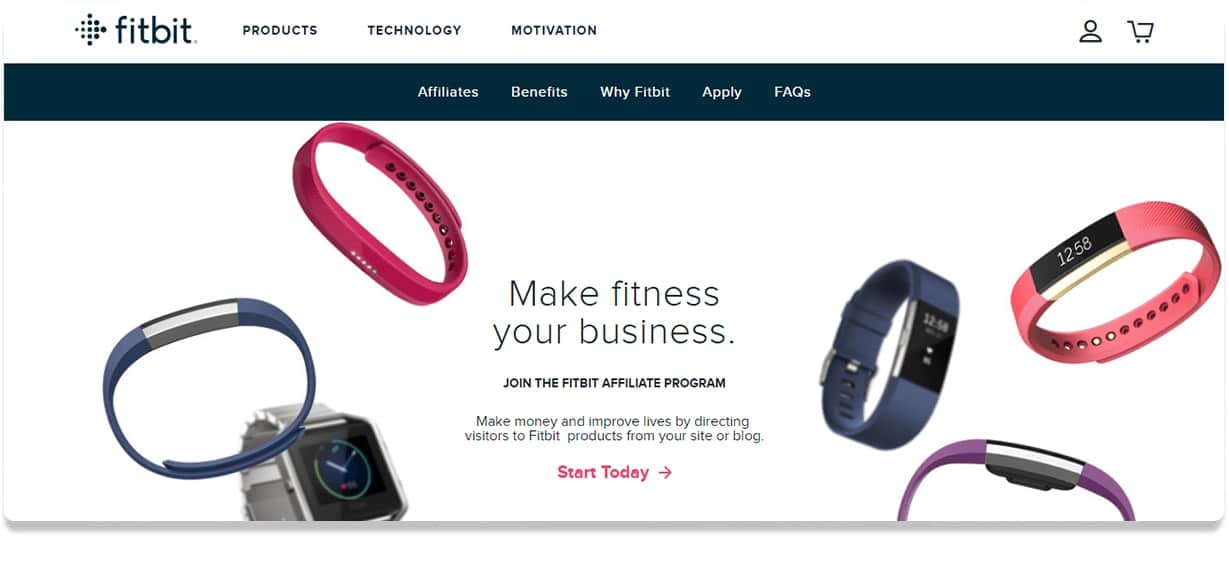 Fitbit has made quite a name for itself in the fitness world. Fitbit gained popularity as a simple device to track your steps and mileage as you run. 
Nowadays, the company offers several lines of unique products to help people succeed in their fitness journeys.
Smartwatches are the most popular product from Fitbit. These range in price from $69-$399. This range in price makes it easy for your audience to find a product that matches their budget.
Users can also sign up for a monthly membership that costs $9.99 per month.
The Fitbit affiliate program offers its affiliates a 3% commission per sale with an opportunity to grow.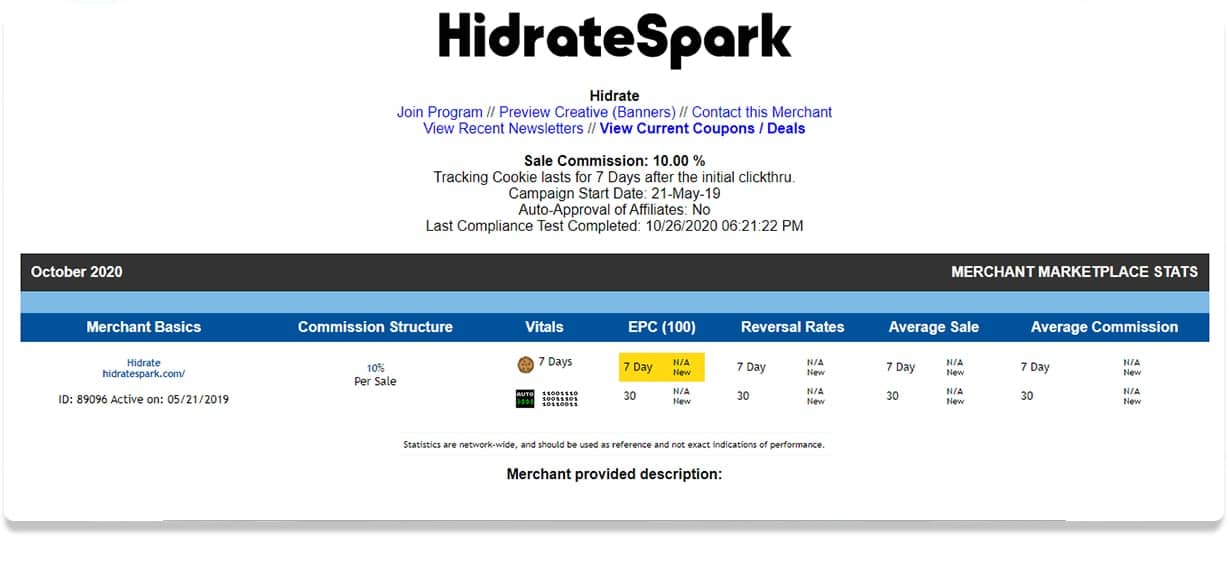 Hidrate Spark is an innovative company that has brought new technology to stay hydrated. This company has created a cool line of smart water bottles that remind people when it's time to drink water.
The concept is simple but effective. The water bottle senses how much water you drink and flashes to remind you to drink more water.
Hidrate Spark uses a matching app to help keep track of your daily water intake.
Because these aren't your everyday water bottles, you'll find a higher price tag than you might expect. The prices typically fall around $60-$70.
The Hidrate Spark affiliate program offers a fairly high commission rate of 10% per sale. The only downside here is the short cookie duration which is only 7 days.
Hidrate Spark Affiliate Program
Coach and Trainer Affiliate Programs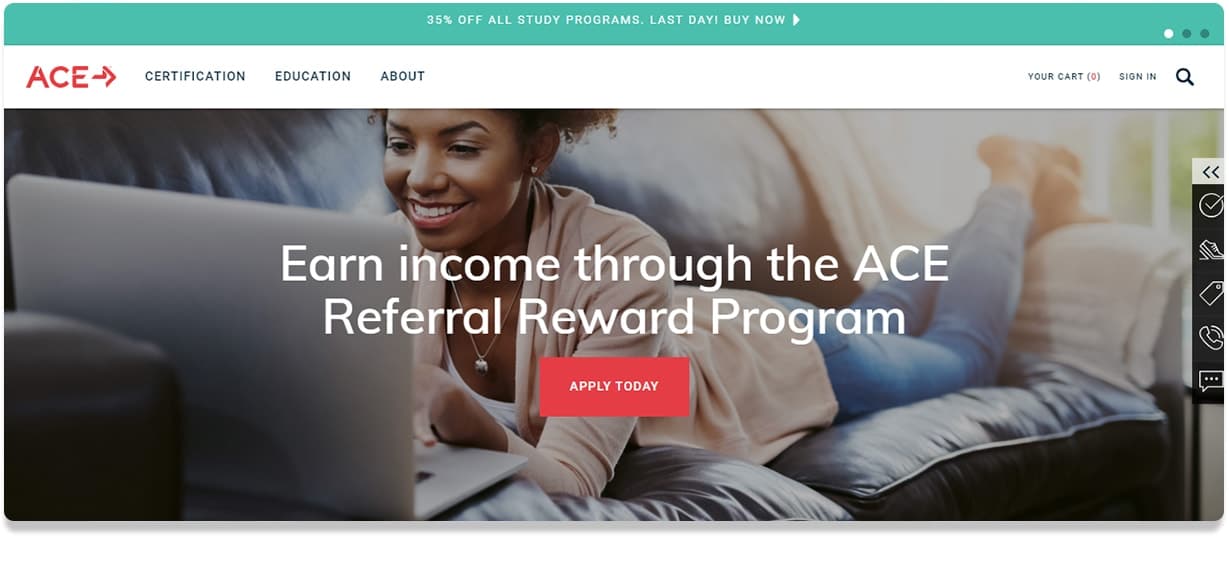 This company is a little bit different from the other options on this list. ACE Fitness is geared towards fitness professionals who are seeking a high-quality education and an opportunity to become certified.
ACE offers certifications and tests to trainers and health coaches looking to improve their resume and credentials.  
They offer a full range of study guides to ensure that each aspiring coach passes the certification. Each course is backed by current research so every student can stay up to date on current trends.
As for the affiliate program, this option works for those of you who cater to fitness and health professionals. 
Affiliates with ACE can expect an 8% commission and cookie duration of 30 days. You'll earn a commission on every course or certificate sale made with your affiliate link.
Siddhi Yoga Training provides state of the art training for people looking to become certified yoga instructors. 
This affiliate program is perfect for a target audience composed mainly of serious yogis and aspiring yoga professionals.
Siddhi Yoga has designed several courses including a 300-hour yoga teacher training that takes place in India. If you're looking for an authentic yoga training program to promote, it doesn't get much more authentic than this. 
Training like this starts at around $1500.
Siddhi Yoga has a pretty killer affiliate program. Rather than commission percentage, affiliates make a flat rate of $50 per sale and enjoy a solid 6-months of cookies. 
This is by far the best affiliate program out there for yoga training.
Venice Nutrition Health Professionals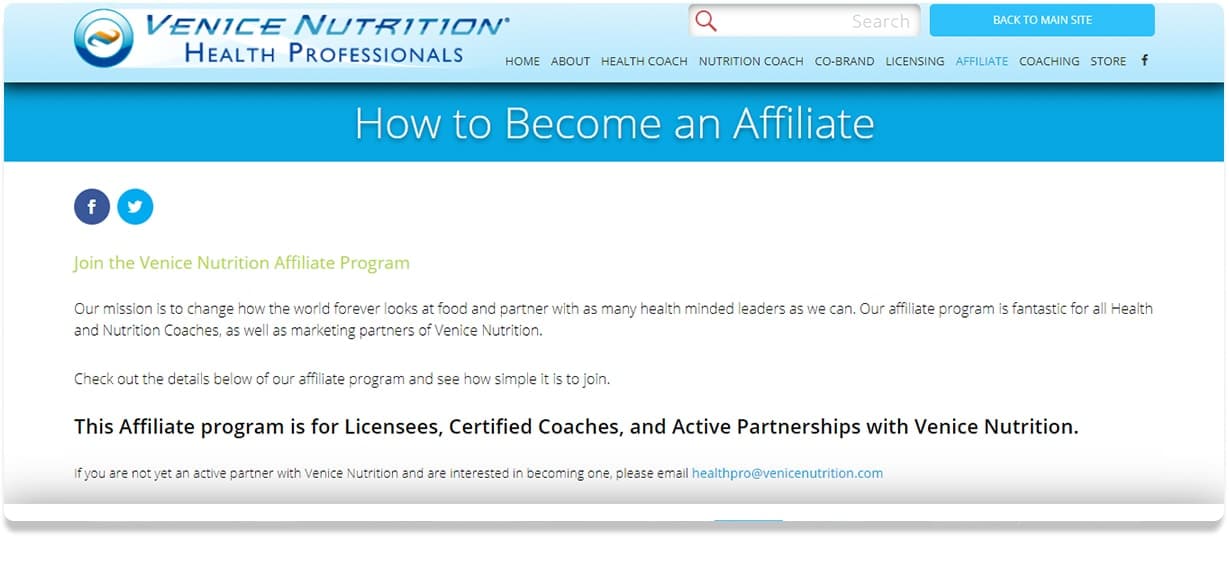 Venice Nutrition offers certifications and recertifications for health and nutrition coaches. 
This company provides training and education backed by medical professionals so you can rest assured you're getting the best training possible.
One thing to keep in mind here is that this fitness affiliate program is reserved for licensed health coaches. 
That being said, if you are a health or nutrition coach, this is a very cool affiliate program that is perfect for your micro-niche.
Venice Nutrition has a pretty impressive commission rate for its affiliates. You can expect to take home between a 20 and 40 commission per sale that you make.
That commission rate far exceeds what you'll find on most other fitness programs. Sign up is easy and can be done directly on the Venice Nutrition website.
Venice Nutrition Affiliate Program
Yoga Affiliate Programs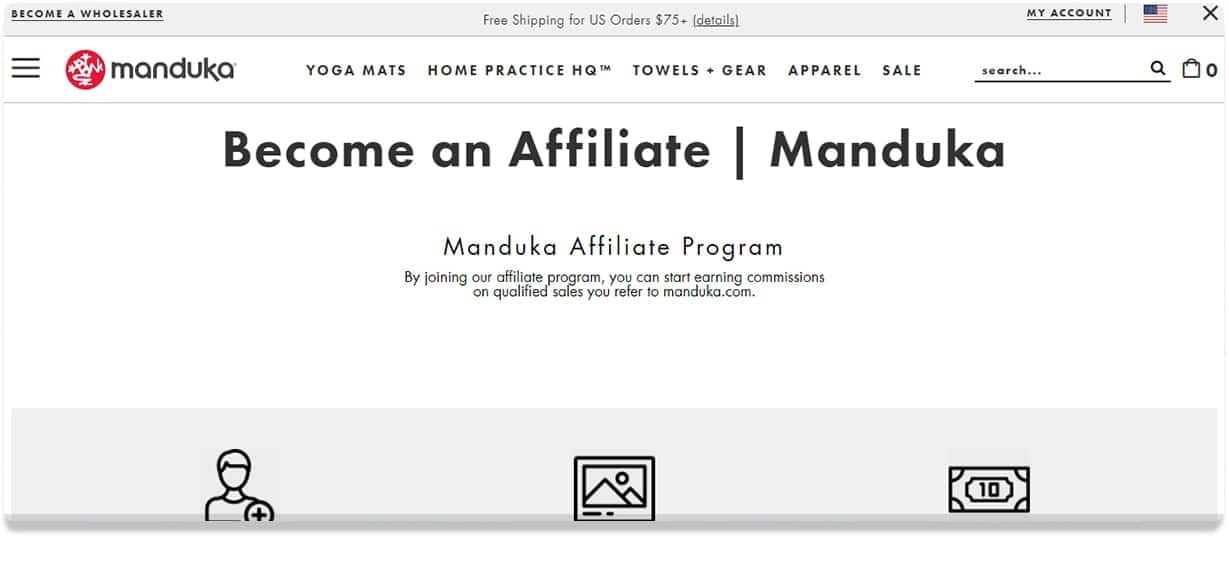 When it comes to yoga, Manduka is a big name. Manduka is well known for creating extremely high-quality yoga gear and specializing in yoga mats.
Manduka yoga mats are priced between $100-$150. As you can see, these are a premium yoga product for the serious yogi. 
If your target audience is yoga fanatics, this is a good affiliate program for you.
Aside from yoga mats, Manduka also offers apparel, yoga towels, accessories, gear, and classes. It's really a one-stop-shop for all things yoga.
In order to apply to the Manduka affiliate program, you'll need to submit an application to the Linkshare network.
Once you're signed up, you can look forward to an excellent commission rate. As a Manduka affiliate, you can bring in a 15% commission on every sale you make. 
There is no minimum threshold for payments and you'll get 30-day cookies.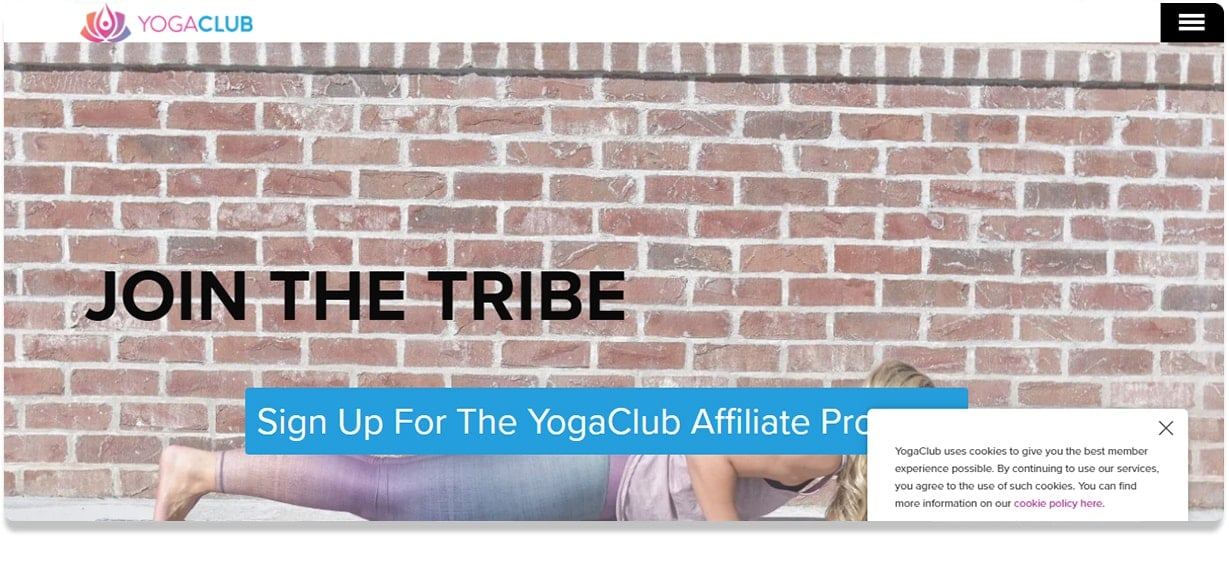 For those of you in need of a subscription-based commission, this is the program for you. 
Yoga Club is a monthly subscription box that offers quality yoga gear at a discounted rate.
If you've ever subscribed to a monthly box before, you know the deal. Subscribers get a three-piece yoga outfit each month for a much lower price than it would be without the subscription. Each box is hand curated to meet the preferences of the subscriber.
These boxes are priced from $45-$75 for each month that subscription lasts. Now, as an affiliate,e this should be music to your ears.
Subscription services mean you get paid for every month that subscription is active. Affiliates can make 15-20 percent of every sale made.
Wai Lana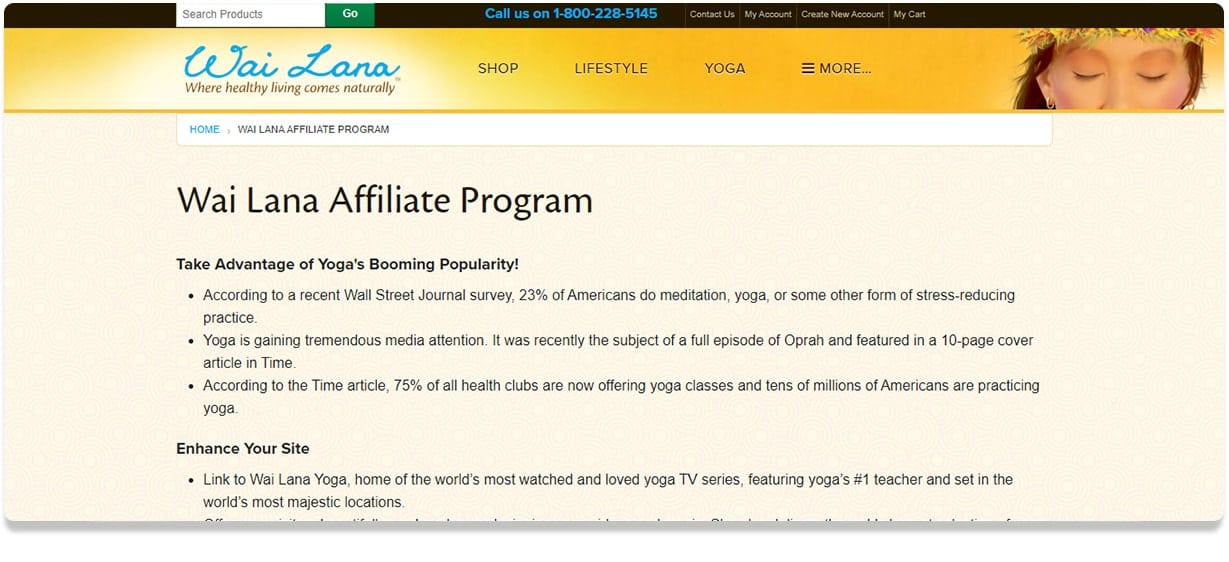 Wai Lana is a popular yoga instructor that has garnered a worldwide audience. Wai Lana focuses on yoga but the website is really an all-encompassing lifestyle brand.
Her website sells the full range of yoga mats and gear in addition to supplements and healthy snacks. Wai Lana also offers a robust selection of lifestyle videos, guided meditations, and tips for a healthy lifestyle.
I put this option on the list because the yoga gear is more affordable than other companies. 
Mats on Wai Lana are priced at around $20-$25 so it's perfect for beginners and aspiring yogis.
The affiliate program offers a generous commission rate of 15% on each sale. This affiliate program has one of the longest cookie durations on the list at 120 days.
Fitness Training Affiliate Programs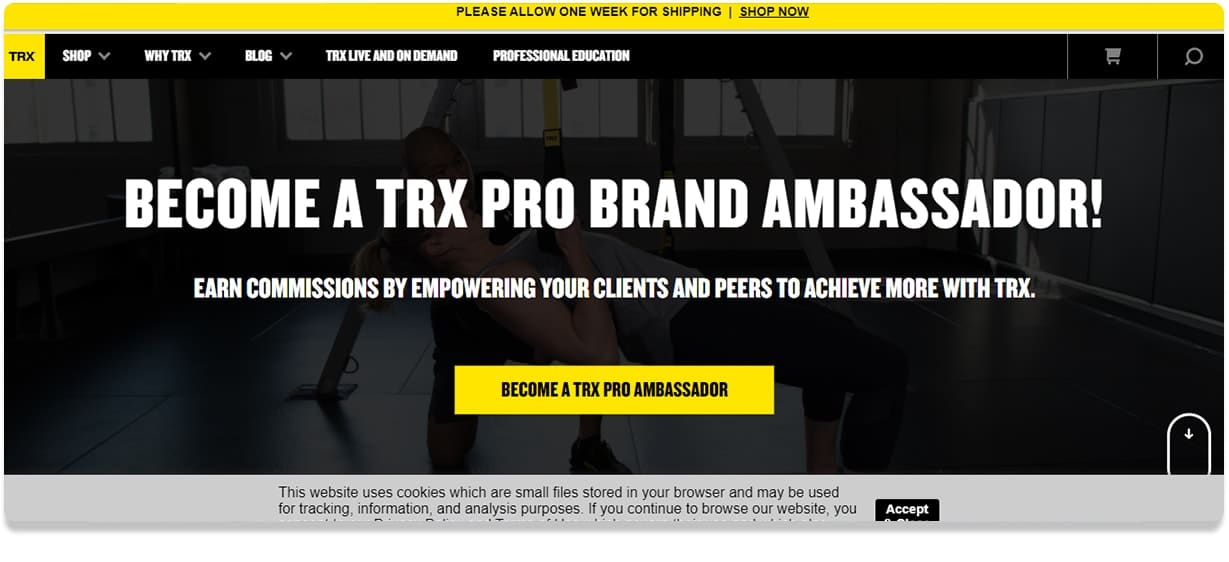 As a fitness blogger, I'm sure you are no stranger to TRX. 
This unique fitness system has popped up in home gyms and professional gyms alike. TRX has gained so much attention due to its unique suspension training system
TRX has a pretty loyal following so it shouldn't be too hard to promote this to a fitness-oriented audience. 
TRX offers an excellent selection of equipment including the massively popular TRX Home System. This at-home system prices out at around $199, which is an awesome deal for home fitness equipment.
Aside from the home system, customers can also find systems for personal trainers, tactical systems, and the TRX Pro. The highest-priced item on the site is $250, so it's not a bad choice for bulking up your fitness affiliate portfolio.
TRX has an excellent ambassador program where you can take home 10% of every sale. 
The best part is, you get to offer your audience a 10% off discount, which automatically gives you a better chance at making conversions.
Body Spartan is a full-service fitness brand that offers at-home workouts, fitness programs, accessories, guides, and supplements.
Now, this company is almost exclusively geared towards men and women who are serious lifters and bodybuilders. If that sounds like your target audience, then this program is the one for you.
The most popular products on Body Spartan are the workout guides. They offer several types of guides including the ultra-popular Big Arm Bible and the 28 Day Reboot.
Now, here's where things get interesting. 
The Body Spartan workouts are a subscription-based service. That means you get the opportunity to make monthly commissions. 
The workouts start at $19 per month. You can supplement this with single-purchase products like the Whey Protein powder that comes out at $55 dollars.
Affiliates make a 10% commission rate and a 45-day duration.
Body Spartan Affiliate Program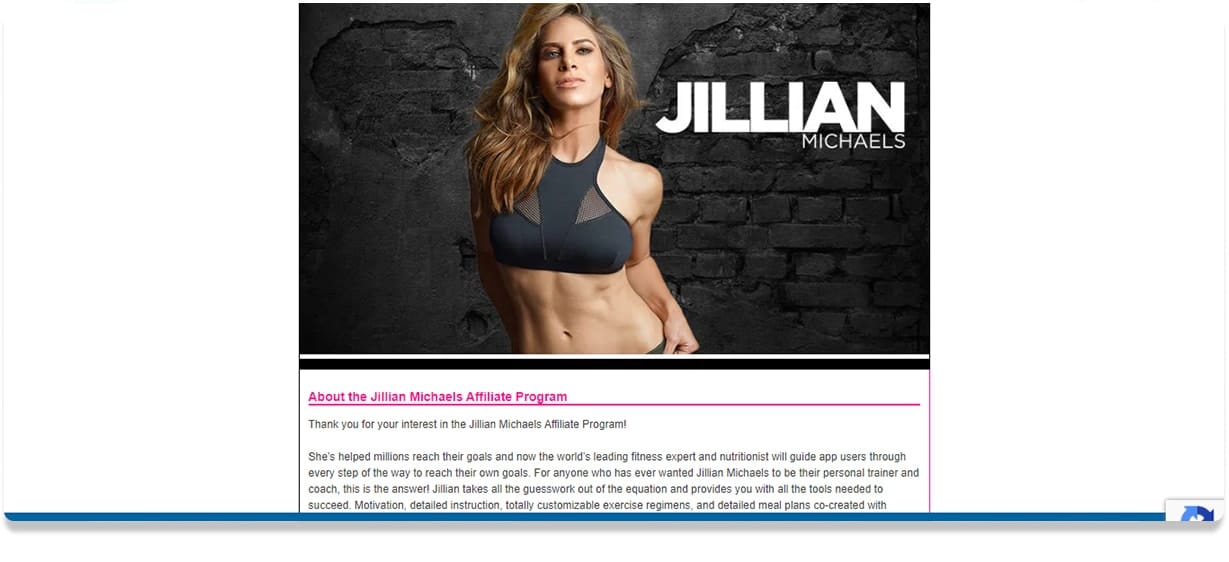 Jillian Michaels is a celebrity personal trainer that has made quite a name for herself. She's earned an absolutely massive following of both advanced and beginner fitness enthusiasts.
When it comes to fitness affiliate marketing, you won't find a better fit than this program. Jillian Micheals has an excellent selection of workout videos for any fitness level. Her target audience is mainly women aged 35 years and up.
Her workouts are priced at around $10 so it's an accessible price for just about anyone. 
Jillian Michales also has a mobile phone app that is a part of the affiliate marketing program.
This fitness affiliate program offers affiliates 20% for every new app subscriber. The cookie duration is 30 days which is the industry standard. 
This program boasts a leading conversion rate so it's a solid choice for anyone in the fitness niche.
Jillian Michaels Affiliate Program
Final Thoughts
Choosing the right affiliate program is one of the biggest challenges when it comes to affiliate marketing. 
You need to consider your target audience, which products are the best for them. You also want to take into account the commission rate, the price of the product, and if you can earn a repeating commission. 
 If you can do this, you're on the right track to bringing in a passive income as an affiliate marketer. 
 For more tips on how to become a successful affiliate marketer, check out my free guide to affiliate marketing.