Copy AI Review & Tutorial for 2023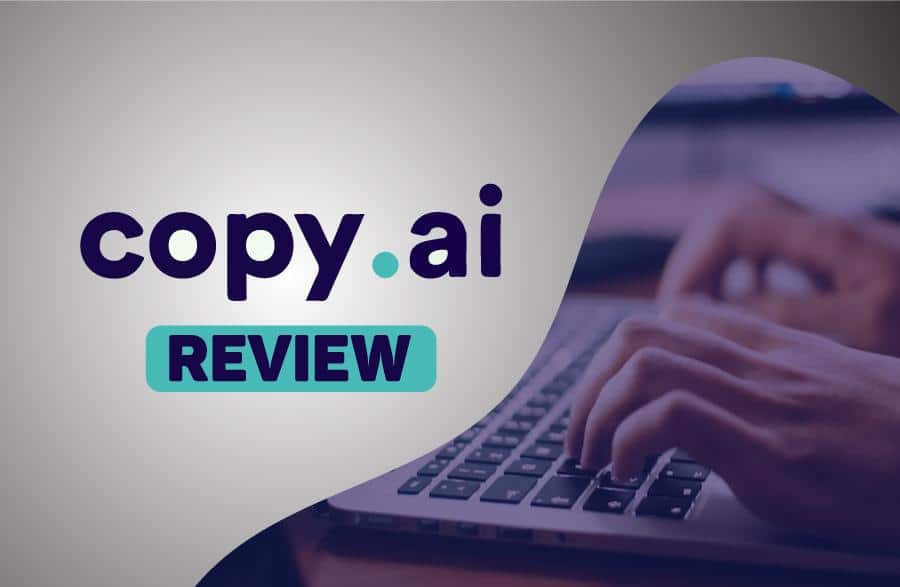 Most of us who are fans of science fiction books, movies, or tv shows had believed that by this point in 2023 we would live in a world like the futuristic cartoon family, The Jetsons. Dreams of AI-driven electronics that made our lives simple, efficient, and fun were quite common for the future and technology-minded over the past several decades. 
Reality has not quite kept up with those aspirations, however. Despite the many advances that have been made in robotics, AI, and machine learning, there have been technology limitations that have prevented advancement across many applications.
Luckily, different types of enterprises have been working diligently to incorporate these technologies into commercially viable products wherever possible. Copy.ai, the powerful and intuitive AI writing tool, is one of them.
In this article, I will be reviewing Copy.ai and helping you understand how this AI writing software can help you generate marketing copy and long-form content.
This Copy.ai review covers the following:
What it is and how it works

Copy.ai pricing

The pros & cons of using Copy.ai

Copy.ai main features

How to choose an AI writing software
---
Copy.ai is an AI-powered tool that helps people create quality content. This AI writing tool assists with various forms of content, including long-form blog posts, landing pages, meta descriptions, blog ideas, marketing content, and more.
If you are a digital marketing expert like me, you understand the value of being able to create content and marketing copy that is written directly with SEO in mind.
AI writing software like Copy.ai has the value proposition of taking the difficult part of this enterprise away by creating technology that can write content for you – as long as you provide the parameters of what the article, blog post, email, social media post, or web copy should be about.
Copy.ai has two levels of pricing, which makes this AI writing software pretty straightforward. I really like that one of these options is free, and to get access to a free account you don't even have to submit your credit card details.
You can take advantage of the company's free 7-day trial if you do decide to move to the paid version. The upgraded version gives you access to many more templates and unlimited credits to complete your work. It costs $49/month if you pay monthly or $36/month if you pay yearly.
The pro version gives you a much stronger ability and a wider variety of templates to choose from, so if you're ready to start your subscription, you can use this link to sign up.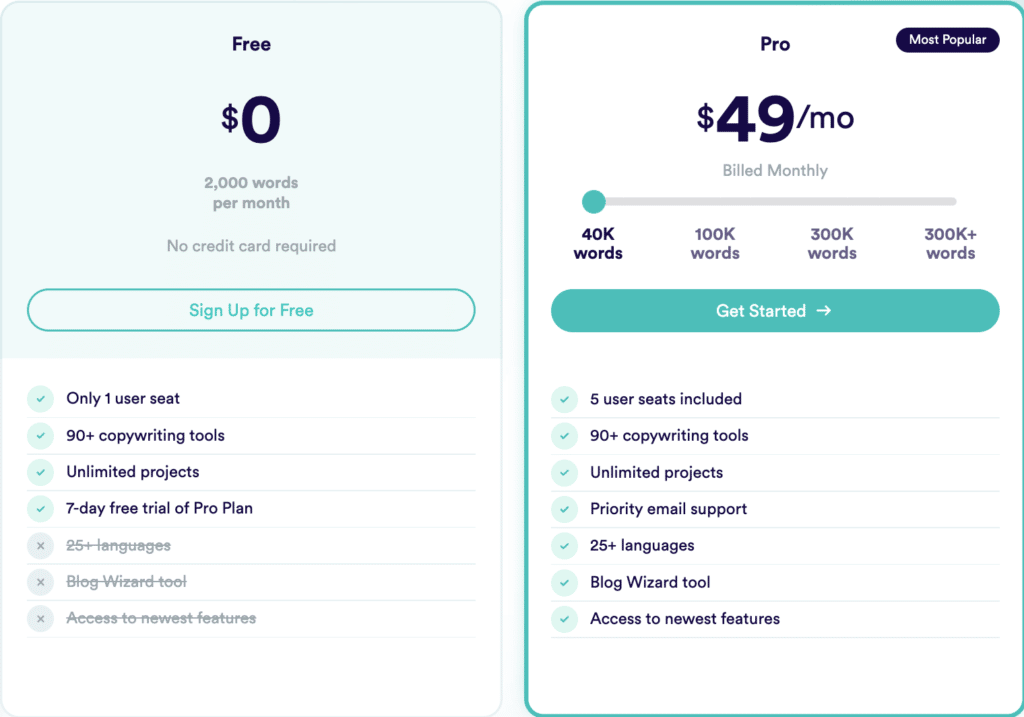 There isn't an AI writing software on the market that I feel could replace a human copywriter, but Copy.ai can go a long way to create copy faster and easier.
Here are some of the main features of this software.
Templates
One of the aspects that I really like about Copy.ai is that it has so many different forms of content that it can help you with.
Copy.ai isn't just blog posts or articles. With over 60 templates, these AI writing tools are great at creating content that fits what you are looking for.
You can generate AI content for social media captions, sales emails, digital ad copy, website copy, blog content, and more. This software offers all the templates and tools that a copywriter or digital marketer would need to create high-quality, consistent content.
Intuitive Dashboard
Once you sign up for Copy.ai (and it may be the easiest software to sign up for that I've ever encountered), you have to answer a few simple questions about who you are and why you're using the software to gain access to your dashboard.
Here's a basic view of what your initial dashboard looks like:
And the side panel that shows your tools (this is the non-expanded version – there are several dropdowns for each of the tools on the menu once you expand it):
Once in the dashboard, you see just how many different types of content this AI writing software can assist with. The dashboard is extremely intuitive and easy to navigate, showing all the AI writing tools at your disposal.
Advanced AI Content Tools
One of the great features of Copy.ai versus some other AI writing software is that it has all the tools that small business owners – not only marketers or copywriters – would need to build content.
From product descriptions to ad copy, sales copy, and even HR-based copy (hiring letters, job postings, rejection letters), Copy.ai has what you need to come up with the words and content for just about anything.
Pros
Intuitive AI copywriting tools

Helps with writer's block and the content creation process

Free plan option and affordable upgraded version

Ability to write long-form content (i.e., blog articles and website content) and short-form content (i.e., product descriptions, blog titles, blog intros, and bullet points)

Supports multiple languages
Copy.ai Cons
Copyai's automated creativity tools are lacking

Outdated learning process

May repeat the blog outline word-for-word on similar topics
How to Choose an AI Writing Software
Here are some of the variables that you can use to help determine which AI writing software may be the best fit for you.
Pricing
Many of the various types of AI writing software have different focuses, so of course, they also have different pricing and pricing models. Some are pretty economical (and it's hard to beat the Copy.ai totally free version), while others go up to $999 per month. 
The paid version of Copy.ai is even among the more affordable options, which is great given all of the different types of content that it can assist you with (and of course you get a free 7-day trial to try to software out and see if you like it).
All in all, I really do think that Copy.ai is an excellent option as far as the pricing is concerned, especially if this is your first time trying AI writing software.
Supported Languages
Copy.ai has 26 different supported languages, meaning that this AI writing software can be used for far more than just English.
This is pretty standard in the industry, which is great for those who have to create content in other languages.
Words Per Month
Most AI writing software options have limitations based on either how many words you can have generated, or how many "runs" of the AI writing software that you can do a month.
In terms of project limitations, Copy.ai may be one of the best options on the market if you are a high-volume content creator. The free version of Copy.ai gives you 10 free credits to create content, while the pro version gives you unlimited credits.
Most other AI writing software options have limitations for how many words or projects you can complete monthly, even in their paid versions, so Copy.ai really takes the cake here.
Types of Content 
Another variable that determines the best AI writing software is the platform's content creation ability.
While Copy.ai is an excellent all-in-one option for digital marketers and copywriters, it isn't exactly built for long-form content like e-books or technical articles.
If you are looking for an AI writing software that can help you with long-form content, have a look at Jasper, CloserCopy, or WriteSonic. 
If you are looking for an AI writing software to help with your short-form content for web or marketing projects, your best options would be Copy.ai, Jasper, CloserCopy, Copysmith, Outranking, WriteSonic, Wordtune, Anyword, or Frase IO.
Templates
Most AI writing software offers various templates, which are pre-set writing forms designed to assist with different content writing projects.
If you are only looking at AI writing software for one or two projects, the only thing that matters is that the platform provides templates for what you need. I work across many different types of content daily, so I like to have a lot of options at my fingertips.
In terms of variety and availability of templates, my favorites are Copy.ai and Jasper, because they have tools and templates for just about anything a content creator could need!
Integrations and Add-ons
Most marketers and copywriters love the integrations and add-ons that come with modern digital writing formats.
This is one place that Copy.ai could use some work, as it doesn't have any direct integrations or add-ons that can work seamlessly within the AI writing software.
It does have a browser extension available, but rather than working directly on the page like with Google Docs or Grammarly, it opens another window that requires you to copy and paste.
If you want an AI writer that integrates with multiple 3rd party applications, you may want to have a look at Copysmith or Wordtune.
Frequently Asked Questions
What is AI Writing Software?
AI writing software combines Artificial Intelligence (AI) and Natural Language Processing (NLP) with Machine Learning (ML) to create engaging and high-quality content based on the parameters that you set for your project.
Most AI writing software works through tools and templates, which allow you to choose the specific type of content you want to create, and then further adjust the content based on certain parameters (keywords, SEO, topics).
Is AI Writing Software Expensive?
Some of the AI writing software options are very affordable, and Copy.ai even has a free plan that offers many of its templates (with a 10 credit limit until you upgrade to the pro version).
Outside of that, different companies have wide-ranging pricing and plans, which can range from economical ($9 per month) to pretty expensive ($999 per month).
The type of content that you want to write, how much content you need to create every month, and how much variety you would like in terms of templates and tools will determine how much you need to spend on AI writing software.
Is AI Writing Software Good for all Types of Copywriting?
Most AI writing software is good for all types of copywriting and some are geared towards a specific type of content.
Because Google is starting to penalize AI-generated content in their search rankings, any AI writing software will still need a human touch and "supervision" to ensure that it fits the context in which you are writing.
But if you need to generate a lot of content on a daily or weekly basis, or need help getting ideas based on keywords or topics, AI writing software can help get your projects going, outlined, and even largely written for just about any type of copywriting.
Is Copy.ai Writing Software Worth the Money?
Copy.ai pricing is pretty good and the unlimited credits that the pro version of Copy.ai provides make it very economical for those of us who generate a lot of content.
Copy.ai Review: Key Takeaways
AI writing software still has a long way to go before it will be replacing human writers or digital marketers, but it is surprising how well products like Copy.ai can perform.
I like Copy.ai for a variety of reasons, mainly for the wide range of tools and templates available. The fact that one AI writing software can help not only with blog posts or articles, but also with social media content, ad copy, emails, HR copy, and so many different types of content makes it useful in a wide variety of different situations.
If you create a lot of content daily, it's only a matter of time before writer's block strikes or you find yourself unable to come up with ideas for content that you want to write for certain keywords or affiliate marketing programs. This is where AI writing software can truly be worth the money, and Copy.ai is a great option to help take your content creation to the next level!