Jasper AI Review: A Comprehensive Look in 2023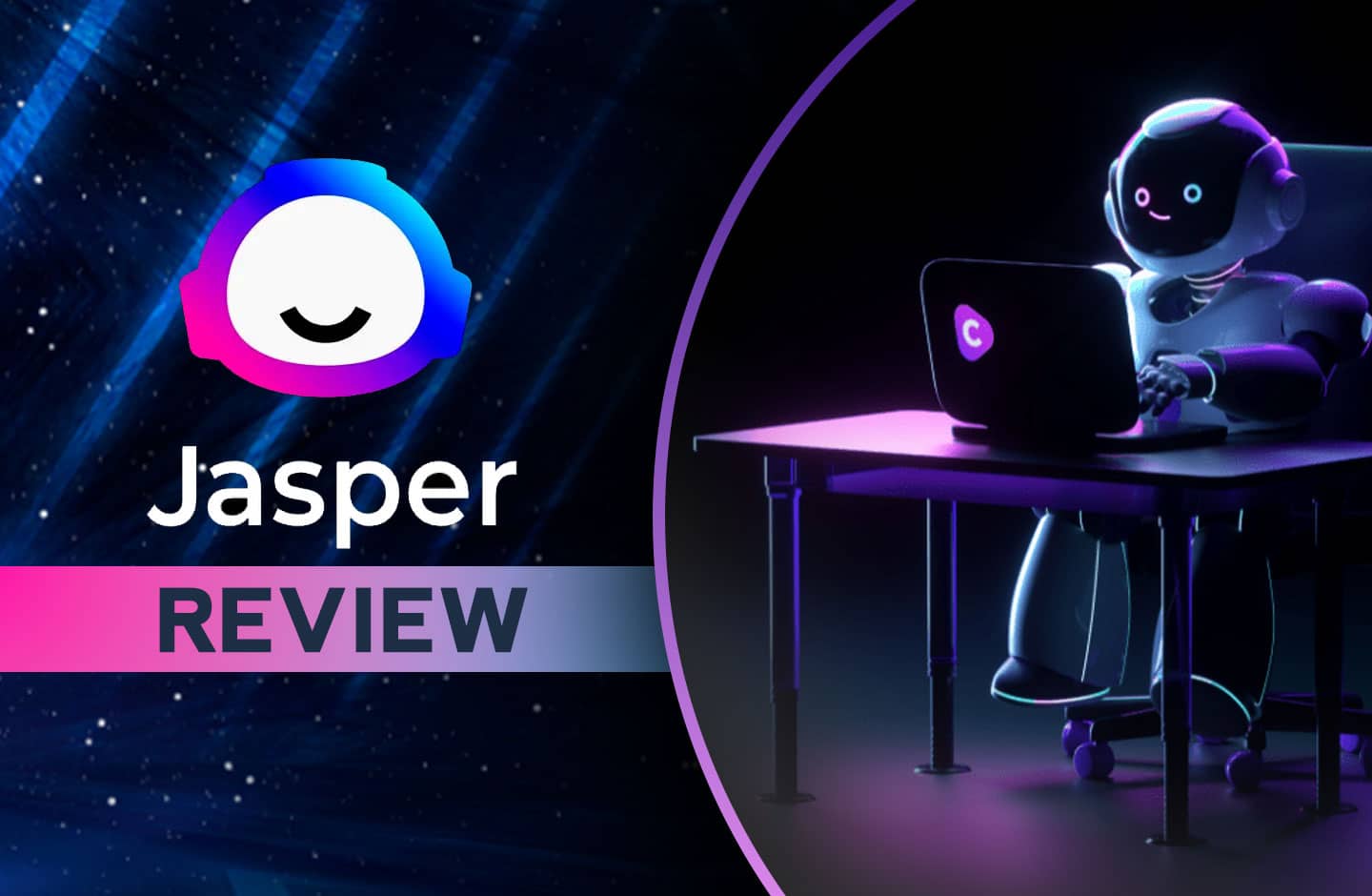 Artificial intelligence has entered a number of fields in recent years, with writing being one of the most recent. Jasper AI is a unique tool capitalizing on this trend.
The goal of every writer is to drive traffic and increase engagement in the content they release. By becoming experts in SEO, digital marketing, and producing outstanding work, writers have been able to accomplish these goals. 
However, new technology developed over recent years using artificial intelligence has changed this process. With minimal effort required from a content writer, artificial intelligence software promises to produce faster and better results. For example, Jasper AI has the ability to write blog posts, social media posts, and other forms of quality content.
So, what exactly is this software, and does it live up to everything it claims to be? Let's find out together throughout my comprehensive Jasper AI review. 
Jasper AI Alternatives
No Jasper AI review would be complete without looking at some of the alternatives available on the market.
While many alternatives industry-wide offer the same exact services as Jasper AI, prices are either similar to Jasper AI or far higher on a per-member basis.
Here are three of the primary competitors to Jasper AI:
How to Choose an AI Writing Software
With a large number of AI writing software available for purchase today, choosing which one is right for you after completing all the free trials can be a struggle.
First and foremost, determine your needs and the number of members within your organization. Certain AI writing software packages, such as Jasper AI, allow for multiple users on one account, which can make bulk ordering a breeze.
Additionally, it's crucial that you determine the needs of your business. Long-form blog posts will require more words which, when looking at the monthly sum total, may be too many for a Starter package on some AI writing software products. 
Determine the number of words you need, the type of content you need, and then the number of individuals who need access to the AI writing software.
From there, you can quickly build a package on each website to see what the total cost would be on a monthly or yearly basis.
Should all the options be similar in price, I would recommend choosing one that offers the most bang for your buck, even if it's slightly more expensive.  
The Future of Content Creation
As you all know, I've worked in digital marketing for years and have become an expert in SEO and digital marketing as a whole. This has allowed me to gain an excellent handle on what it takes to be successful in this space.
With the rise in AI-based writing software, such as Jasper AI, many people have begun to wonder what the future of content creation and digital marketing will look like.
In short, I don't believe this software will replace human-generated content completely for a number of years. 
Over the course of 2023, Google has actually released updates to its SEO algorithm that is meant to target computer-generated content. Placing an emphasis on the motto of "more content by people, for people in Search", they have begun cracking down on content that seems to be structured for SEO, rather than the actual content within. 
One specific area Google is targeting is the aggregation of information from other sites on one single site. This is, essentially, what some underdeveloped artificial intelligence tools do. Search engines want unique content that brings a new perspective to the table, rather than recycled information. 
This increased idea of avoiding creating content for search engines, as opposed to a people-first strategy, will undoubtedly directly affect artificial intelligence writing systems.
Some of the crucial points Google, specifically, is asking people to focus on are: 
Does your content clearly demonstrate first-hand expertise and a depth of knowledge?

Will someone reading your content leave feeling like they've had a satisfying experience?

Has someone learned enough from reading your topic that they can achieve their goal?
In short, for AI-based writing software to actually overtake human content creators they will need to perfect the gathering of information that exists and the complete rewrite of that information.
On top of this, artificial intelligence will need to be able to read, understand, and offer personal insights into that information as well. 
While Jasper AI and the top-of-the-line competitors are certainly on the upper end of artificial intelligence writing quality, a human review is still needed to get content across the finish line for SEO purposes. 
FAQs
Can I get Jasper AI for free?
While free trials are offered for Jasper AI, the cheapest option available is $29/month. This provides users with the basic features of Jasper AI along with over 50 templates. Consider using the free trial to determine if this software is right for your use before making the full purchase. 
Who is Jasper AI best for?
Jasper AI can be useful for anybody that wants to produce succinct content that is quickly written. It is also best for those who are seeking this type of software for a lower-than-average cost. It's worth noting that edits may be required even after the software provides you with content, so having an understanding of the content being created can be helpful. 
How fast does Jasper AI write?
The boasted writing time for Jasper AI software is 5x faster. Depending on the type of content you are attempting to create, Jasper AI can have it completed in just a few minutes. Longer form content may take longer to write. 
Jasper AI Review: Key Takeaways
We've covered a lot during this Jasper AI review, so let's wrap it up by summarizing what we've learned. Jasper AI is an effective and efficient artificial intelligence writing software that can generate content 5x faster than by using standard methods. Offering affordable pricing compared to alternatives and a number of beneficial services, it can be a useful tool for any writer to add to their arsenal.
However, there is still an occasional degree of inaccuracy with this technology, as well as other alternatives, that stems from the fact that this technology is still, in fact, developing. Perhaps in a few years, these inaccuracies will no longer exist, and human content creators can be replaced entirely. 
Considering the above, while I would advise that all content creators proof whatever Jasper AI spits out due to occasional inaccuracies, I can certainly recommend using the software. With a rating of 4.8 out of 5.0 stars across different platforms, over 50,000 verified reviews, and a low starting price point, Jasper AI is an excellent tool. Whether you use it in manual mode as an inspirational resource or in full research-writing mode, it can be helpful for transforming your writing like never before.