10 Tea Affiliate Programs for Health and Wellness Bloggers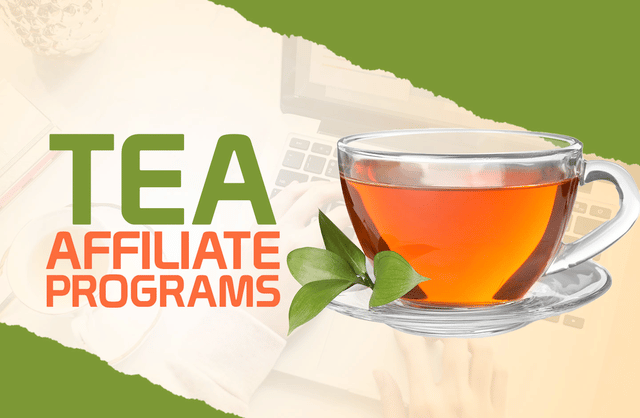 When it comes to affiliate marketing, there is no limit to the types of niches you can become an affiliate for.
Tea drinks are one example where an affiliate marketer may be able to find success, provided they utilize some of the best programs in the niche.
In this article, I discuss 10 of the best tea affiliate programs that you can consider participating in today. 
10 Best Tea Affiliate Programs: Overview 
Between green tea, single garden organic teas, empress teas, buddha teas, and other similar drink variants, there is no shortage of tea affiliate programs to consider.
Below are some of the best tea affiliate programs to help your audience access the highest quality teas and brew the perfect cup.
How to Choose the Best Tea Affiliate Program
Choosing between the various affiliate marketing programs outlined above, or others gathered from your own research, can be a difficult decision.
There are a few tips that can help you structure your affiliate marketing efforts so that they are more successful:
Build Your Testimonials:

A strong online reputation is the key to success when it comes to affiliate marketing. One way to do this is by having good testimonials from your audience.

Focus on High-Quality Products:

When building your brand, it is important to only recommend high-quality products. Don't settle for the cheaper alternatives that you think can garner more sales if they aren't tested, approved, and safe. 

Be Aware of Your Niche:

As an affiliate marketer, staying within your niche is crucial to building a successful brand. Whether that niche is all things tea or the food and beverage industry as a whole, recognizing and staying in your niche helps to build trust and loyalty within your community.

Look at the Programs Payment Policy:

As an affiliate, you want to make money on the things you're promoting. Aim to find a program that offers high commission rates, long cookie durations, and consistent payouts.
How to Successfully Promote Tea Affiliate Programs
Beyond choosing a good affiliate tea program, you also need to learn how to promote the products.
Follow the tips below to successfully promote tea affiliate programs:
Curate a website or social media platform centered around tea-related products.

Build trust with your online community by sharing helpful content and providing useful resources.

Separate yourself from the competition by creating a unique selling point.
How to Apply for A Tea Affiliate Program
Many tea affiliate programs have similar requirements when applying. While not universal, here are the most common pieces of information you will need to provide when applying for a tea affiliate program:
Your website name

Website traffic and content

The reasons you want to join

How you plan to promote the products
FAQs 
Can I Join Multiple Affiliate Programs?
Yes, there is no limit to the number of affiliate marketing programs you can join. But, some certain brands may not wish to partner with you if you work with a competitor. 
What Is the Highest Paying Tea Affiliate Program? 
The highest-paying tea affiliate program is Twin Flame Tea Co., offering 30-40% commission on approved sales. 
How Do I Track My Commissions? 
The majority of affiliate marketing programs let you track your commissions within your account. You can often see how many people click your link, where the majority of your traffic is coming from, what type of content resonates with your audience most, and much more. 
Bottom Line 
A tea affiliate program is an excellent niche for an affiliate marketer. Due to the size of the beverage market and the number of people who love tea, the prospective audience affiliate marketers can tap into is exponential.
To succeed in the tea niche, focus on developing your website traffic in an organic way and building connections with your audience. Once you've built your online community, it's time to find affiliate programs to join and decide on a platform or two.
Due to the high commission rates and well-recognized brand name, Twin Flame Tea Co. is a leader on this list, followed closely by Coffee.org.