SEO vs Google Ads: Which Is Right For Your Business?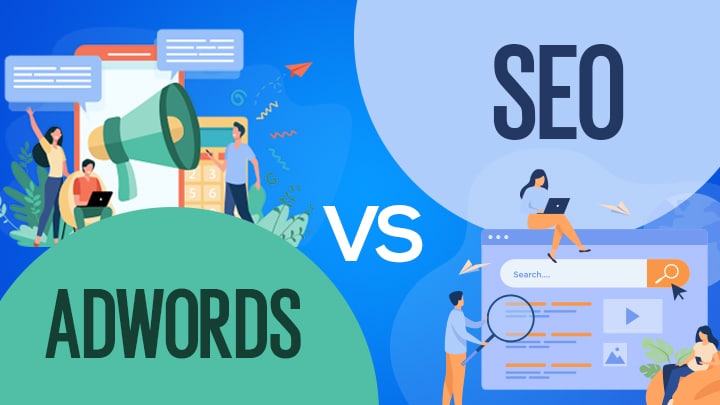 Marketers need traffic and leads for a successful business. First, they work on generating it, and then they want to maximize it.
The question here is how they should do it: SEO or Google Ad? 
Both SEO and Google Ads are the main components of Search Engine Marketing (SEM). They are the very tools that make digital marketing campaigns so successful.
It doesn't mean they are the same, though. Each strategy has its own set of pros and cons.
Even the stats are super confusing, which makes it even more tricky to choose between the two. You don't have to take my word for it — just take a look below:
57% of B2B marketers

 say that SEO generates more leads than any other marketing initiative. But there's also research that found that 

50% of users

 who click on ads are more likely to purchase a product or service.

70-80% of people

 ignore paid search results and choose to click on organic search results instead. That said, 

50% of users

 cannot tell the difference between a paid ad and an organic listing.

87% of smartphone users

 use Google search engines at least once a day. But 

90% of users

 have confessed that seeing ads does influence their purchase decisions.
Ugh, the never-ending confusion.
So how do you know which marketing tactic is better? 
Don't worry, I got you.
In this guide, I'll discuss both digital marketing strategies in more detail, highlighting their pros and cons, as well as overall suitability.
Excited? Great, let's get started.
What is Search Engine Optimization (SEO)?
Search engine optimization or SEO is a super effective strategy to score a higher rank in the SERPs (search engine result pages) through organic efforts. It involves optimizing a website, so it lands up in the first few — preferably the first page — of Google.
The idea here is to use optimization techniques like keyword integration, internal linking, and including good sections to appear on the first page of Google. You see, Google search engines match an individual's search query with relevant web pages, and when you apply SEO principles, it becomes more likely for that person to open up your website. 
Not only will this help you create more organic traffic for your site, but it can also increase your conversion and sales.
Let me explain this with the help of an example.
Suppose you Google the term 'best landing pages.' You'll find ten articles on the first page, and it's highly likely that you'll click on one of the top ten articles instead of going to the second page. 
After all, who has the time to scroll through every result — there are millions of search results as it is! This is also why you should put in the effort to get your content to rank higher in the SERPs.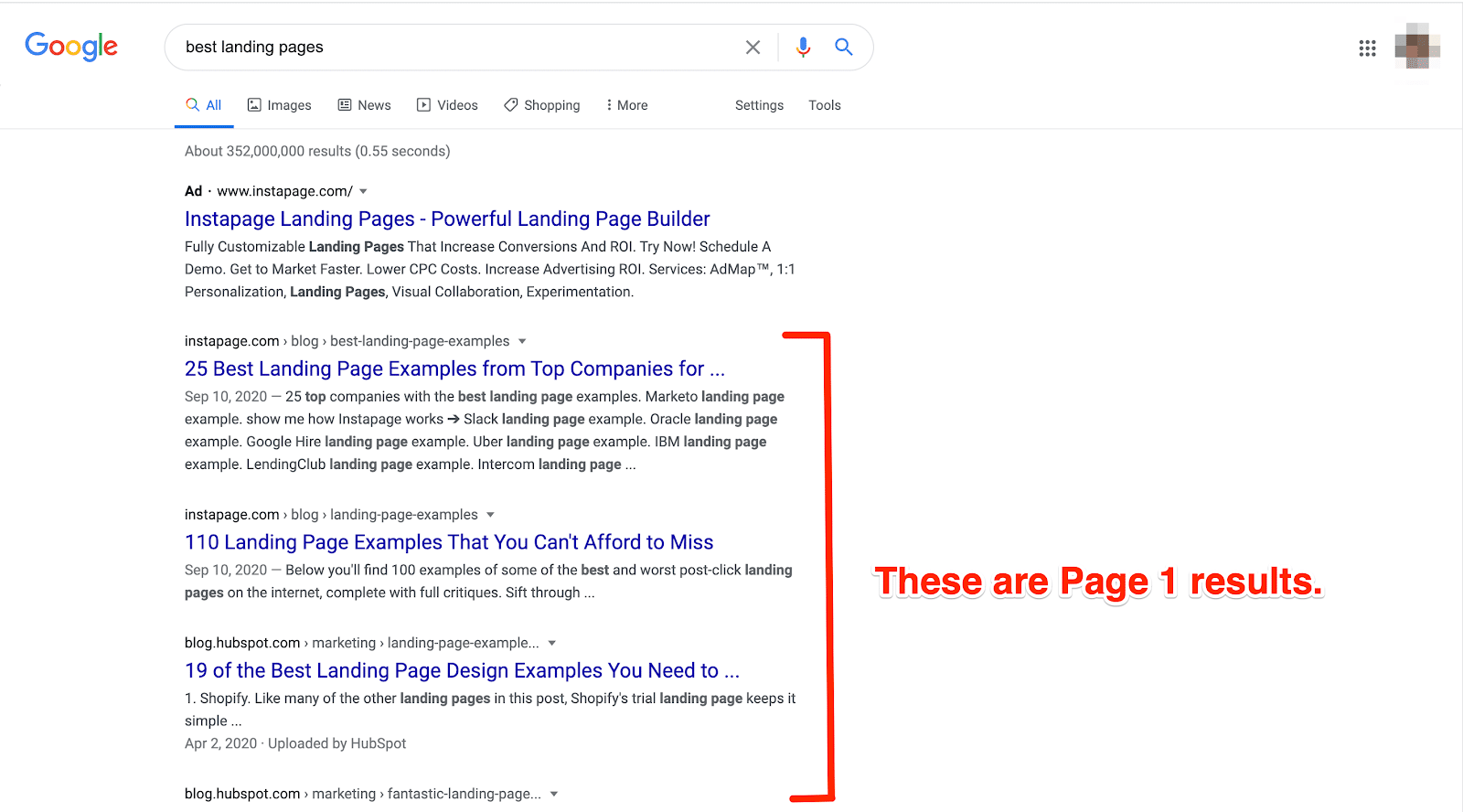 Although it may sound intimidating, it isn't impossible. You can achieve your goal of getting your content on the first page — or at least higher in the organic search results — by applying simple SEO principles.
Why Should You Consider Investing in SEO?
Think about it: If they can't find your company, how are they supposed to reach you?
Local businesses can get a higher organic ranking through SEO, which, in turn, will help them create more online brand awareness. If you offer fashion styling services in Los Angeles, for instance, you would want your site to appear on the first few pages after doing a generic search like "stylist Los Angeles. "
If it doesn't, that's definitely bad news. You should start working on developing an SEO strategy pronto.
That said, it isn't mandatory for you to rank for all keywords related to your field — it's just the important ones that count. 
Your aim should be to rank for as many crucial keywords as possible and establish your site as the authority online.
SEO Pros You Should Know
Below, I've made a list of the two advantages of SEO. Let's take a look.
One of the biggest selling points of SEO is its affordability. 
SEO can help you rank for many keywords and boost online traffic without having to spend much money in the long run. If you buy the same amount of traffic through PPC, you'll find yourself spending millions every year.
Yep, I said millions.
This is one factor you should definitely consider in the SEO vs PPC debate. 
When you have a higher ranking on Google for your desired keywords, you are assured of the consistent search traffic for your site. In fact, your entire marketing team could take a short break, and you'll still get organic traffic.
In contrast, paid search needs your constant attention. Your Google ads campaigns have to be active for traffic to flow. 
Think of the whole thing like a faucet — when the tap is on, you'll get traffic, but as soon as you turn it off (i.e you don't have money to continue), your traffic will stop. Precisely why advertisers value organic leads so much.
Just focus on having enough content that includes target keywords, and you'll have customers coming to you by themselves.
SEO Cons You Should Know
We should also consider the disadvantages of SEO now that we've discussed the advantages. Let's see.
SEO takes time. Ahrefs conducted a study that found only 5.7% of page rank in the top ten search results for a minimum of one keyword within a year of publishing. In other words, expecting instant and best results immediately isn't what you should do with SEO.
Therefore, if you want to improve your traffic and conversions in a shorter span of time, Google ads might be a better bet.
Subject Matter Expertise is a Must
Imagine you want to learn the recipe for Shepherd's Pie. Now, who would be your top choice for this, Gordon Ramsay or a beginner who you've never heard about?
Exactly. People have the same mentality online. 
Visitors want to read articles from subject matter experts as opposed to amateurs and beginners. It's exactly why you should have the expertise and credibility if you want your content to rank.
You can create the content yourself if you have the necessary expertise and experience. If not, it'll be better to hire or interview niche authorities to gain more (organic) momentum for your content. 
But then again, this can be time-consuming and expensive. More so, if you're a small business with limited resources.
What is Google Ads or Pay Per Click Ads?
Google Ads, also known as pay-per-click (PPC) advertising, is a platform run by Google.
Companies can use Google ads to advertise their websites in search results so that whenever their target users search for a specific keyword, they will land up at their site. Basically, it helps them reach out to interested leads more effectively and faster.
Continuing with the previous example, you'll also find an ad for a landing page builder when you Google "best landing pages, ". The word 'Ad' is written in bold before these headers. Here's how it looks: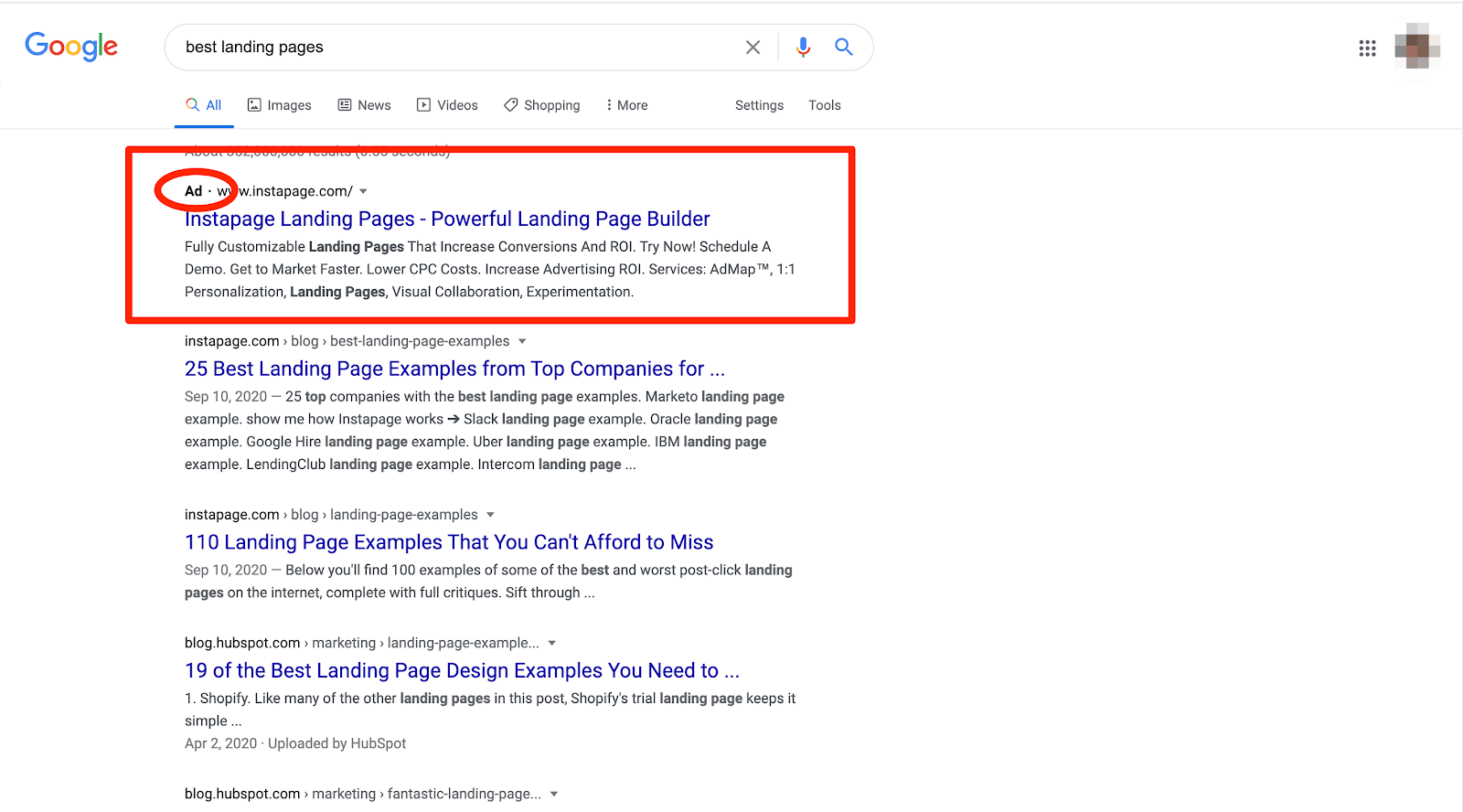 Why Should You Consider Investing in Google Ads?
If you fancy having more direct control over the total traffic on your site, Ads should be your go-to option.
You see, when you set up an Ads account and set a specific (and substantial) bid, you have a guarantee that your ad will show whenever a user searches for the specific search terms of your choice. 
It's also useful for getting the word out about any new services you've recently started or special offers and discounts.
Google Ads Pros You Should Know
Below, we've compiled a short list of the two most significant advantages of launching an Ads campaign.
Super Fast Results
SEO might take months or even years to work, whereas a PPC ad will get you traffic right away. You only need to sign up with Google Ads, and you can then launch your campaign right away.
Ads also assure you faster feedback. You can run A/B tests and monitor results to know what is working and what isn't with your target audience once you setup your account. 
In short, quick experimentation isn't a luxury that you can enjoy when using SEO. It's slower, which makes it difficult for you to get instant feedback.
Allows You to Get Granular
Whether you want to target customers of a specific geographical location or age group Ads has you covered.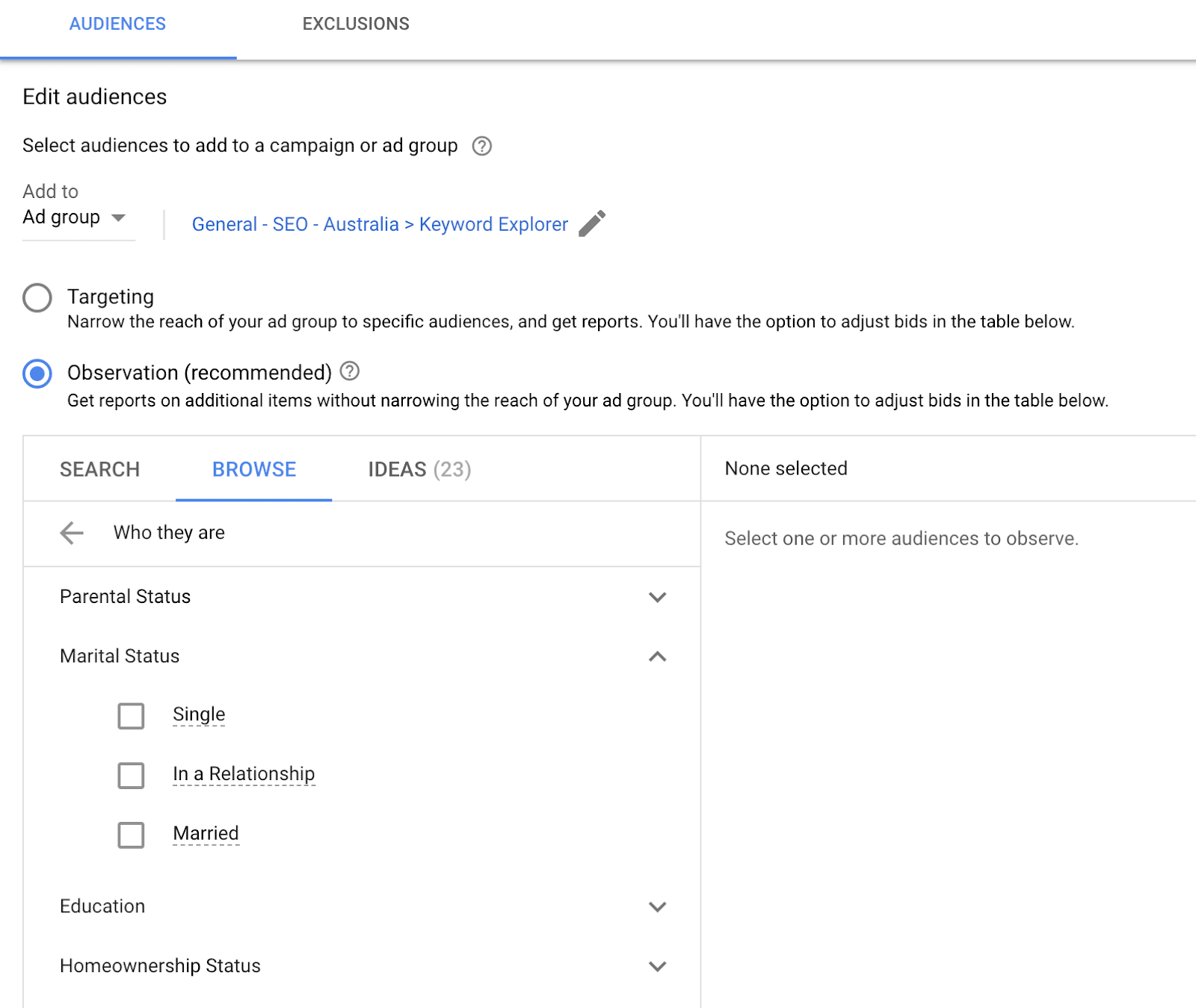 Granular targeting is one of its biggest selling points as the platform allows you to focus on your target audience which, in turn, will give you key insights into their behavior. You can then use these insights and other information to create more appealing content as well as adjust your campaigns accordingly. 
Google Ads Cons You Should Know
Read on as we discuss the disadvantages of Ads or paid ads in general. 
Breaking-the-Bank Kind of Expensive
PPC ads can get very expensive very fast, especially for those operating in competitive niches. For instance, if you're in the insurance niche and want to bid on the keyword "car insurance," it can cost you $40 per click on average.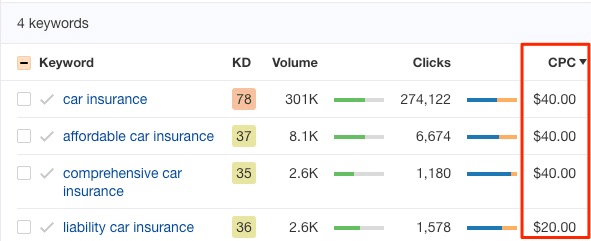 Even scarier was Dropbox's campaign back in 2009. While experimenting with Google ads, the cloud-based platform realized their cost-per-acquisition was approximately $233-$388 — for a product that cost $99. Yikes.
If you want results with PPC advertising, you need money — or at least a higher budget. Keep in mind that you'll have to pay every time someone clicks on your ad. You should also be prepared to lose money in the first few months. Think of it as a training period.
It's true that paid advertising campaigns are easier to scale, but the scale effects can also work against it. 
According to marketing experts, the longer you run your PPC campaigns, the less effective they become. It's due to something known as ad blindness.
As the name suggests, ad blindness is when your viewers don't notice your advertisements anymore. To avoid this, you'll have to constantly come up with new copy ideas and keep refreshing your existing ads to maintain their appeal.
So this covers the basics of SEO and Ads. Let's talk about their suitability next. 
How to Know Which One Is Better for Your Business, SEO or Google Ads?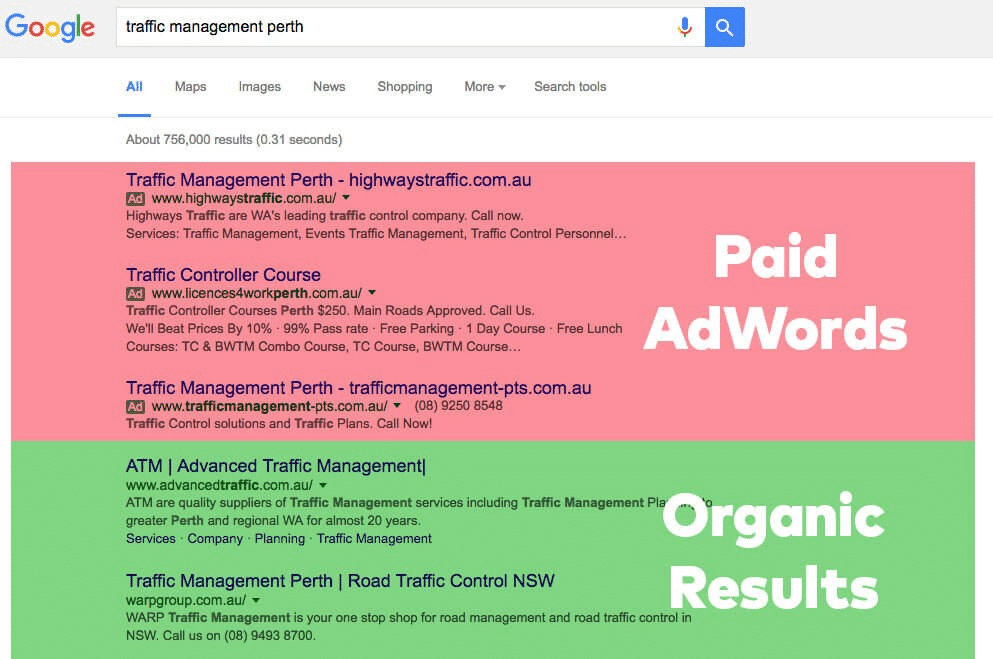 Image Source: Medium
Finally, to the whole point of this article!
To understand the suitability of each strategy for your business, you simply have to figure out the answers to the following four questions:
Question 1: What's Your Current Website Condition?
Take a long and hard look at your website. 
Wait… do you even have one?
No? The good news is that Google Ads creates an optimized and custom landing page for each one of your ads. So, even if you don't have an existing website, it's not that big of a deal. Ads would obviously be a better fit for those with no websites.
Yes? Great. 
What condition is your website currently in? What is the load speed like? Is it accurate and can people contact you? What are your bounce rates?
I may sound outrageous for asking all these questions, but your site and landing page can really help you choose between SEO and Google ads. 
Let me explain with an example.
Suppose you have an eCommerce store. If you don't have a checkout page or easily navigable product pages, you're simply wasting your time and money on that click. Your customers are only going to bounce off once they realize these faults.
So what should you do?
You should identify and execute the necessary changes to make your site a better place for your visitors before launching a Google Ads campaign. In the meantime, you can use SEO and work on getting more organic traffic by focusing on the best keywords.
Question 2: Is Your Website a Work in Progress?
This question is for you if your site is still being built or requires some big changes. 
Here, you should work on keeping your website ready for organic clicks the minute it goes live. Obviously, you'll need someone to get your website ready — maybe an agency or an ads expert. But while you wait, you can start using Google ads to get more traffic. 
This can also be a great way to offset your web design and development costs as you get more leads and boost conversions.
Question 3: Is Your Window Frame Long or Short?
This is the more obvious question on my list, which I'm sure you must've already thought about. 
You should find out whether you need immediate results or you're okay waiting. SEO is a long-term marketing solution. Therefore, while it may take longer to get more business, it's worth it as you can reap the benefits of higher-ranking content for months — or even years — forward. 
Contrarily, if you desire more business right away, PPC ads would be a better fit as opposed to SEO. You will, of course, need a good digital marketing strategy, or enlist an experienced advertiser's help to come up with a solid campaign. Remember, the second your campaign goes live, people will start clicking on your ad and enquiring, so be sure whether you have enough bandwidth to handle the sudden influx of traffic.
Question 4: Does the Cost of Marketing Outweigh Your Price Points?
Nobody wants to make the mistake that Dropbox did, which is why you should consider the price of your products or service before choosing between SEO and Ads.
As Google ads are expensive, make sure the product you offer makes up for the costs. For example, if you run an air-conditioning business where your air-conditioning installation sells at $10,000, and you're able to convert one out of every ten inquiries, it'll cost you just $80 to make a $10,000 sale (assuming every click costs you $8). Totally worth it!
On the other hand, if you're selling a $10 item, and have to pay $4 for every click, it'll cost you $40 to make a $10 sale (assuming one in every ten inquiries convert). For such cases, adopting SEO and trying to get more organic leads would be better, as otherwise, you'll find yourself cutting a loss of $30.
SEO and Google Ads: What's the Final Verdict
SEO vs paid ads is a debate with no definite answer. It all boils down to your business goals and budget in the end.
Companies that want more business faster and prioritize lead generation and boosting sales would benefit more from Ads or PPC ads. While you can get immediate results with this strategy, you must have the bandwidth to handle the sudden increase in traffic.
SEO can help people who are aiming to create a steady flow of organic search traffic over the years to build their online brand. It's the better alternative for companies with limited resources and those who prefer long-term rewards.
Between SEO and Google ads, what is your go-to digital marketing strategy? Let me know.