9 Best Real Estate Affiliate Programs 2022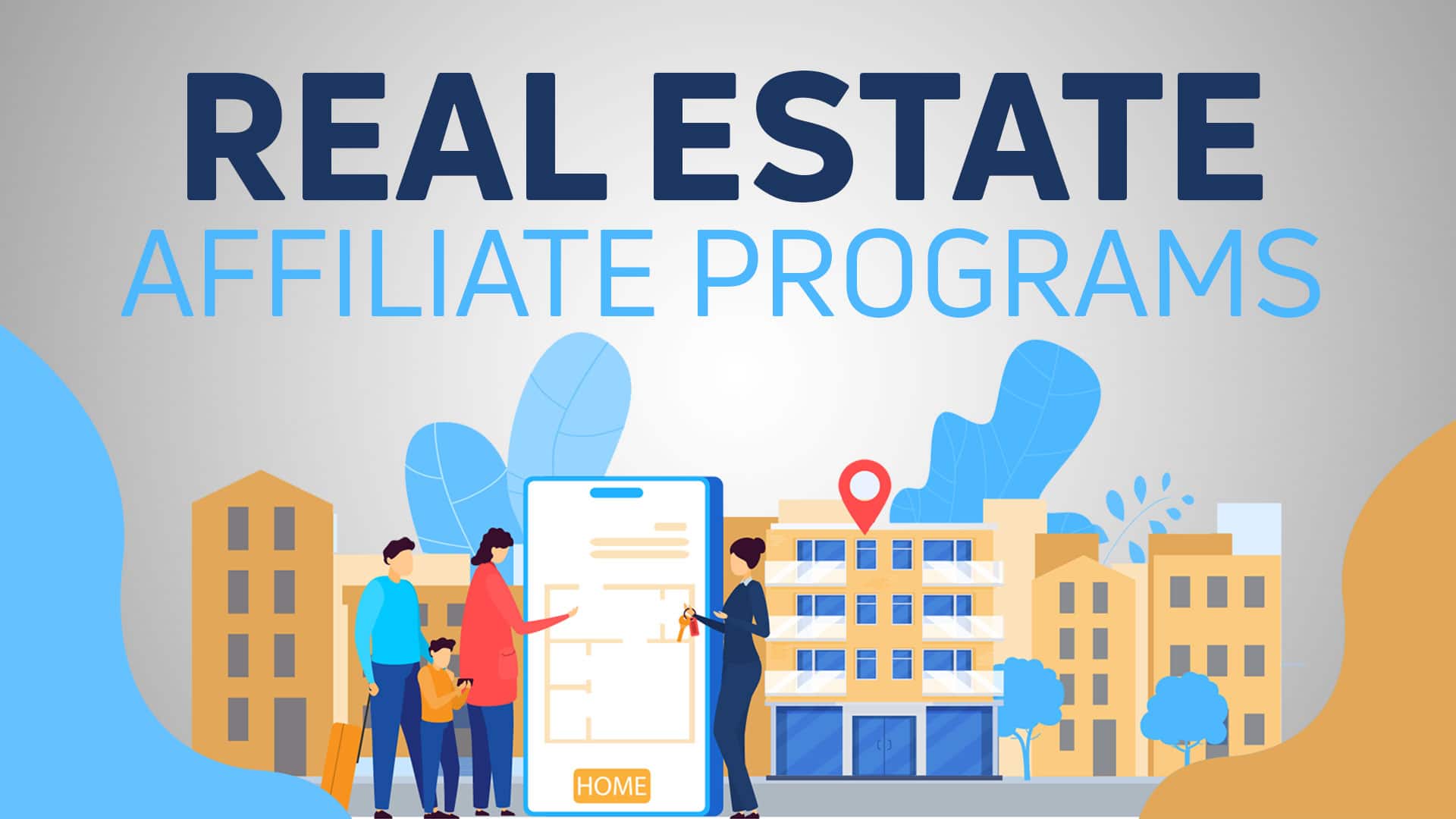 If you're in real estate, you know that this industry has huge potential for profit.
In fact, according to the World Property Journal, the U.S. housing market is now worth a staggering $33 trillion.
It's safe to say that this is a profitable niche.
Now, you don't have to be a real estate agent to get a piece of the pie.
While there are many affiliate programs you can use to make money online, I want to focus on the real estate niche.
What most people don't know, is that there is a diverse and abundant selection of real estate affiliate programs out there that can help you bring in a passive income.
These real estate affiliate programs range from custom house plans to property management solutions.
So, whether your target audience is real estate agents or potential home buyers, there are programs that will work for you.
If you're just starting out in affiliate marketing, I highly recommend checking out my affiliate marketing guide so that you can craft an airtight strategy.
Without further ado, let's take a look at some of the best real estate affiliate programs available.
Best Real Estate Affiliate Programs
LendingTree Affiliate Program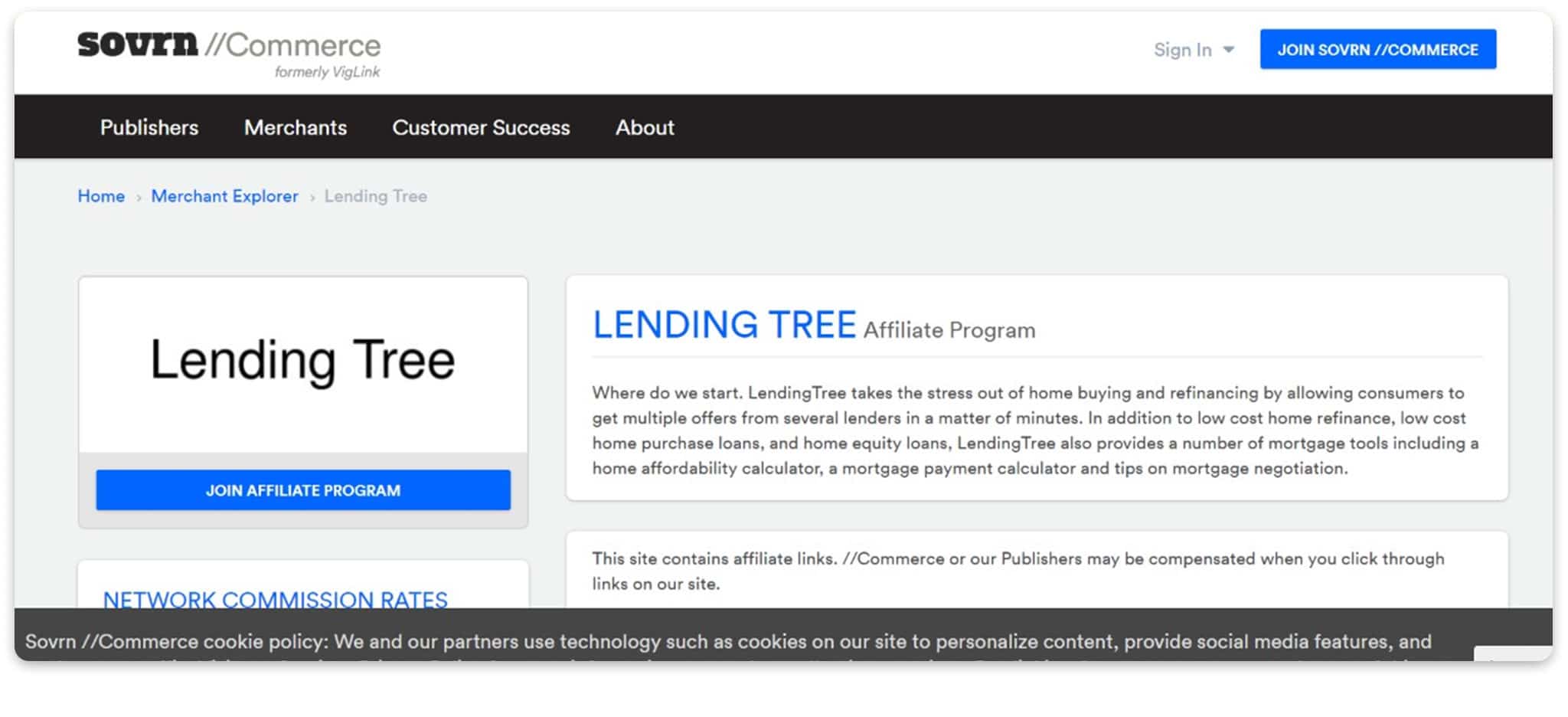 About: Lending Tree is a trusted loan marketplace that helps people find loans for various needs including auto loans, small business loans, personal loans, credit cards, and most importantly, mortgages.
This company has been around for over two decades and served over 100 million customers, making this company one of the most reputable options out there.
In terms of home loans, they offer options for home purchase, refinance,  home equity, and reverse mortgages.
In order to help people find the right option, LendingTree asks users a series of questions to find out exactly what they're looking for.
All in all, Lending Tree is a helpful service for anyone who needs help finding the right loan for home-related purchases.
Program Features: Lending Tree is a fairly well-known company so it's not hard to promote their services. For each successful signup, you can make up to $60.
Now, just to be clear, this program doesn't use a percentage-based commission rate. Rather, you receive a fixed payment for every signup.
That being said, $60 per referral puts you in the position to make a fairly good supplemental paycheck. At just five referrals a month, your bringing in an extra $300.
Commission: Up to  $60 per lead
Cookie Length: 14-days
Visit the program: LendingTree Affiliates
All Things Real Estate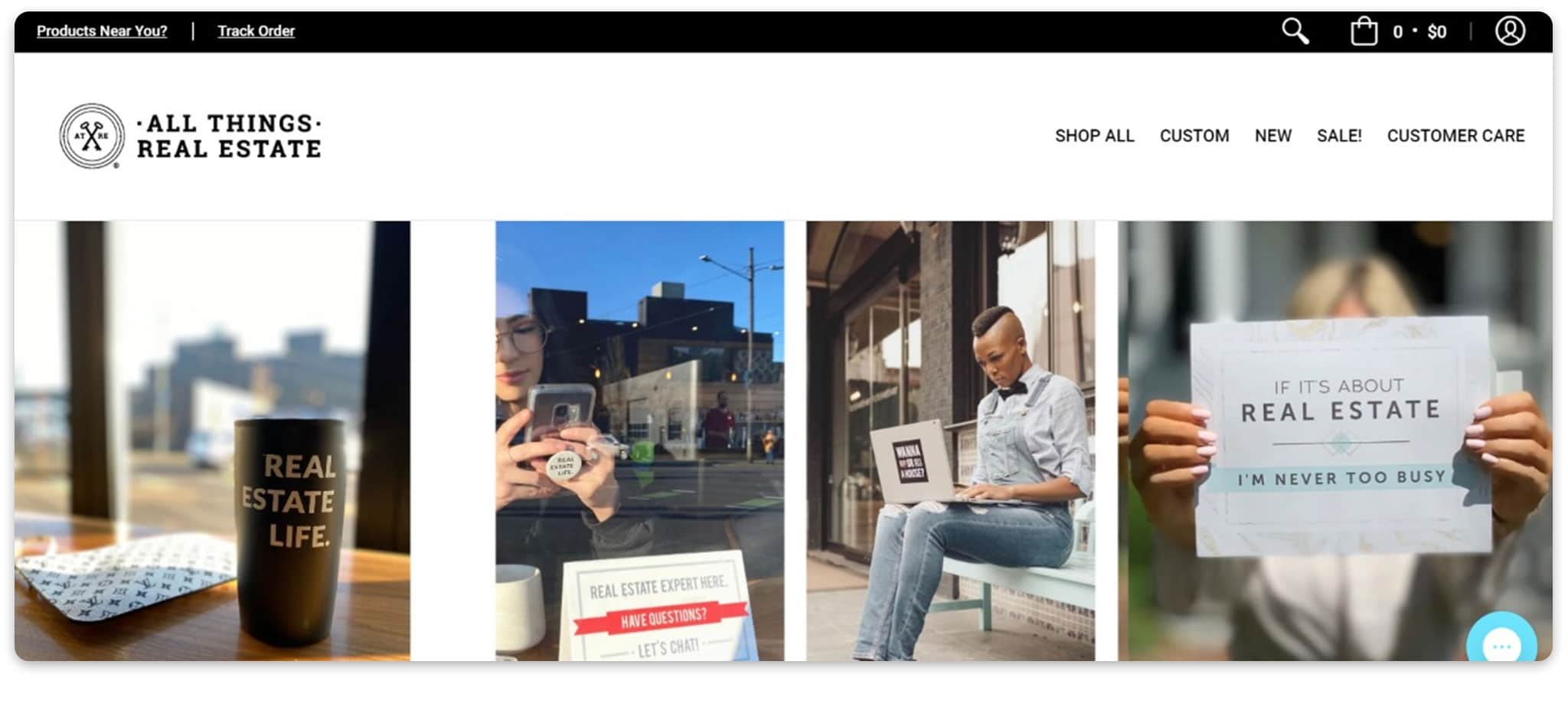 About: All Things Real Estate is exactly what it sounds like. Established back in 2014, All Things Real Estate has made it its mission to provide realtors with well made, modern, and customizable products.
This site offers an absolutely huge selection of products that are all related to real estate. This includes t-shirts, sweatshirts, books, agent signs, journals, and more.
Ideally, this program is best if your target audience is realtors and real estate agents.
Specifically, this site offers a whole host of customizable products such as signs, keychains, homebuyer journals, banners, and sign toppers.
Program Features: As I mentioned, this option is for those of you who cater to realtors.
What I like about this site is that there is a good mixture of high and low priced products that you can promote.
All Things Real Estate offers a decent commission of 15% per sale made via your referral.
Commission: 15%
Cookie Length: 30-days
Visit the program: All Things Real Estate Affiliates
House Plan Gallery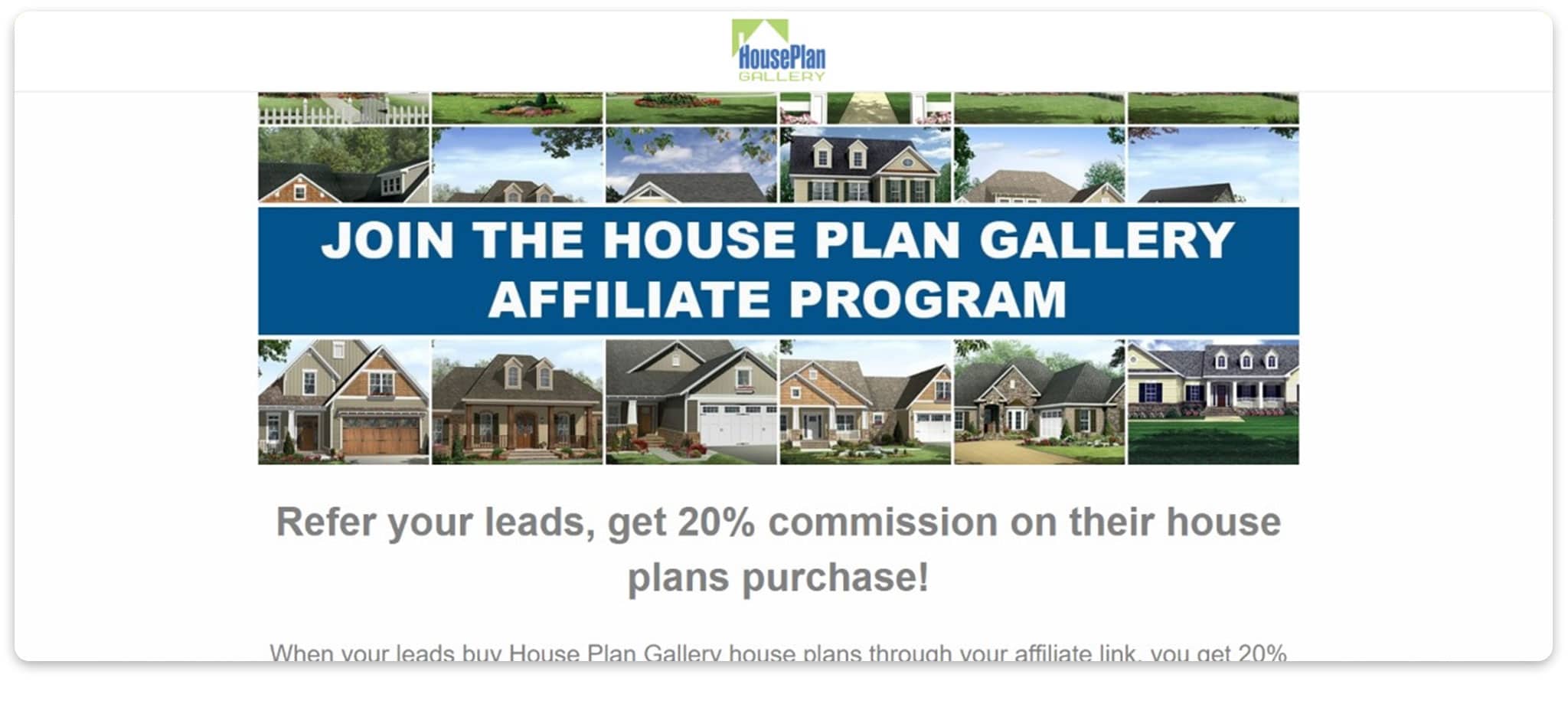 About: Up next, we have a super cool site that offers tools for home design. House Plan Gallery offers its customers premade house plans and insider's guides to financing and building homes.
Customers can choose from ready-made floor plans or customize a floor plan according to their specific needs.
All in all, this site offers a unique and helpful tool for potential homeowners.
Now, you may have already guessed but this service is not cheap. Your typical 3-bedroom, 2-bathroom floor plan costs around $1575.
Yes, this is pricey, but considering it costs up to $130 per hour to hire a draftsman for custom plans, this price is not unexpected.
This is obviously good news if you're in affiliate marketing.
In terms of real estate affiliate programs, this is the high ticket item you've been looking for.
Program Features: On top of offering high-ticket items, House Plan Gallery offers its affiliate marketers 20 percent of every sale.
If we do the math, that comes out to an extra $1260 per month if you made four conversions on the house plan I mentioned above.
Now, obviously, this real estate affiliate program is best for those of you whose target audience are home buyers.
In my opinion, this is one of the best real estate affiliate programs for making a significant paycheck.
Combine this option with a recurring commission affiliate program and you have a passive income in the making.
Commission: 20%
Cookie Length: N/A
Visit the program: House Plan Gallery Affiliates
Buildium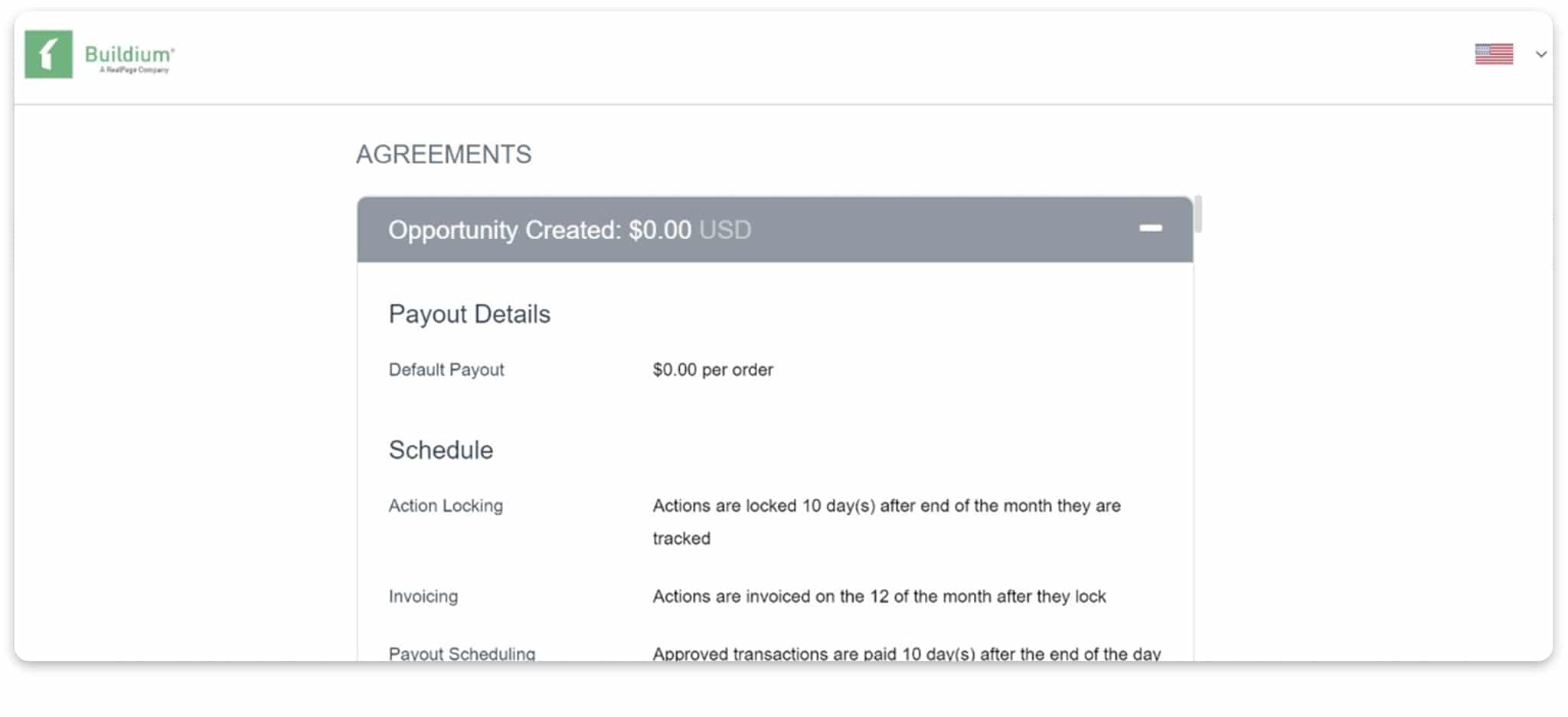 About: Buildium is a property management software company that offers a full host of real estate solutions.
One very popular product that they provide is property accounting.
Their accounting software helps you track payments, manage what's owed, generate reports, and file tax forms.
Aside from this product, they offer several products to help manage rentals. In particular, the rental listing software gives you the ability to share your listing on several major platforms with one click.
Now, as an affiliate marketer, I would highly recommend the affiliate program offered by Buildium.
First off, they offer their products as part of a subscription-based plan.  That means you get paid for every monthly subscription that was referred by you.
These plans range in price from $50 to $460 per month, with the most popular option priced at $160 per month.
If you've ever visited my site before, you know that I always recommend choosing a mixture of high-ticket items and subscription-based commissions.  In this case, the program offers you the best of both worlds.
The products are fairly high-priced, and you get paid on a monthly basis for active subscriptions.
Program Features: Not only are the products set a decent price, but the commission rate is also great as well. For each monthly subscription, you'll earn 25% of the sale.
That means if your referral purchased the mid-tier plan at $160, you're taking home $40 per month on a single conversion.
Not too shabby.
They also pay you for each qualified lead you bring in.
Commission: 25%
Cookie Length: 60-days
Visit the program: Buildium Affiliates
Real Estate Express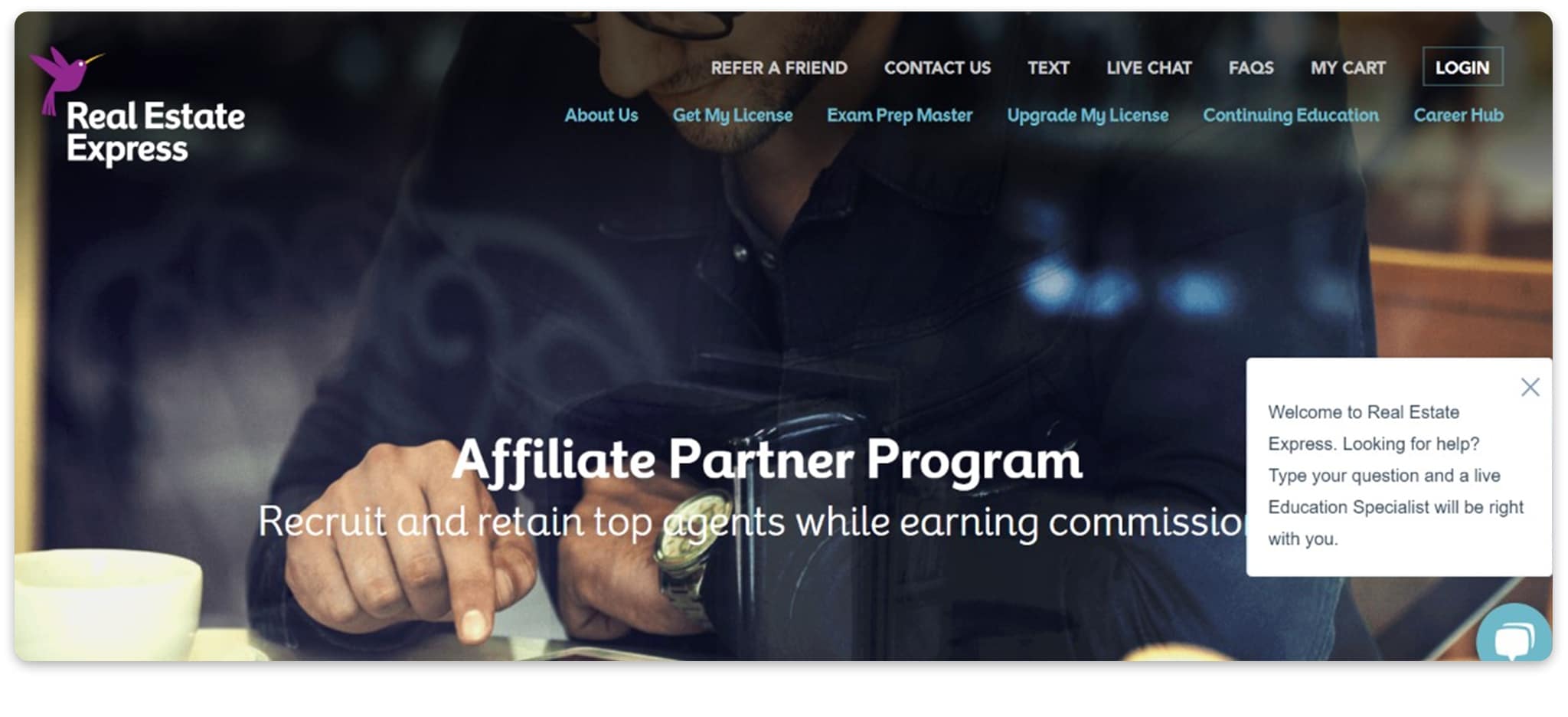 About: Real Estate Express is an online school where people can earn their real estate license. They offer exam prep, continuing education, license upgrades, and the ability to get your license.
Again, this option is best for those of you whose audience is primarily real estate agents and aspiring real estate agents.
Let's talk a little bit about the services this company offers.
For people who are primarily interested in gaining a real estate license, Real Estate Express has several options.
They offer a basic package that includes the necessary online classes, instructor support, and necessary textbooks.
At the high end, they offer everything in the basic package plus a suite of support features to help people pass the exam with flying colors.
These packages range from $83 to $314 respectively, so you can make a decent check from promoting these products.
Program Features: Real Estate Express offers its affiliates a 20 percent commission on all sales made with your affiliate link. This program also offers one of the longest cookie durations on this list at 99 days.
Commission: 20%
Cookie Length:99-days
Visit the program: Real Estate Express Affiliates
Foreclosure.com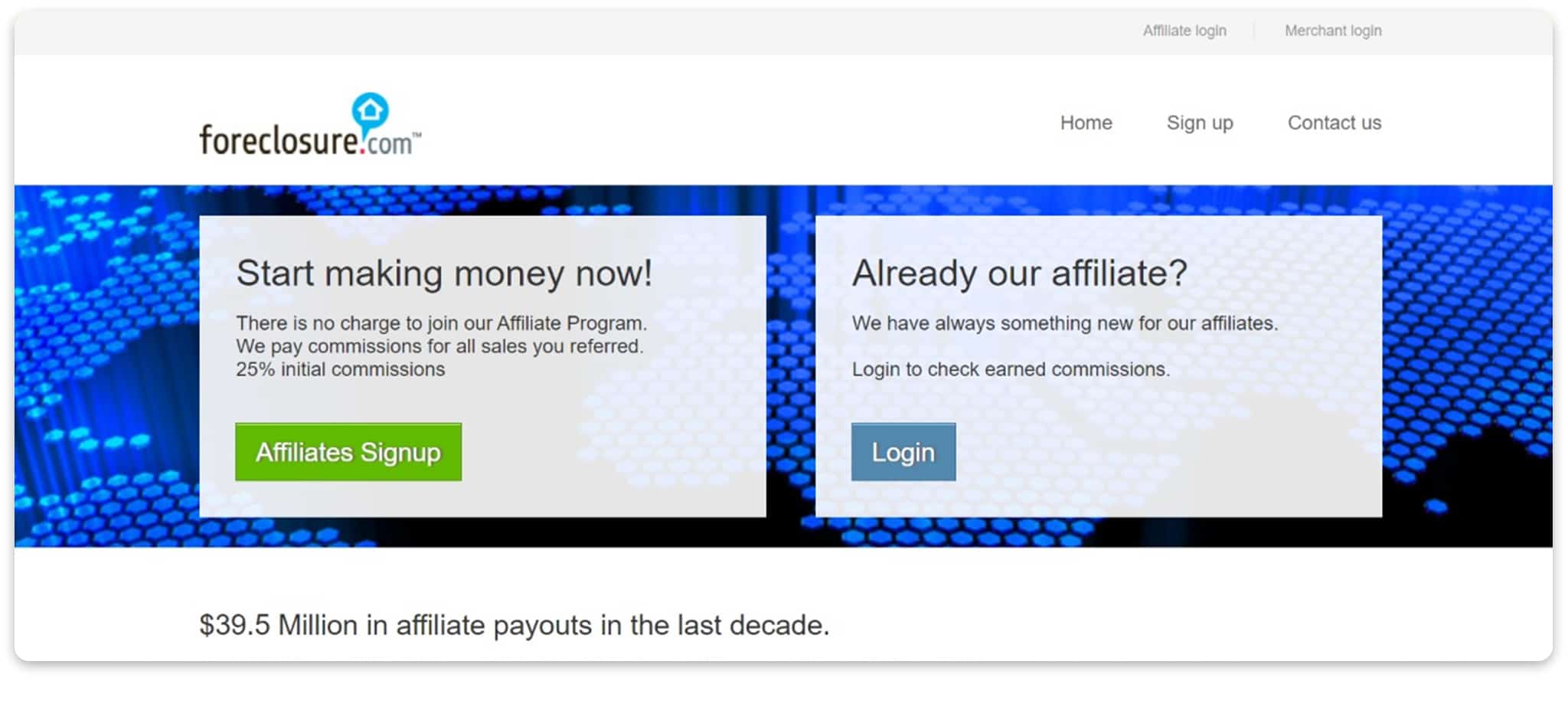 About: Forclosure.com is a website with a simple mission. They consolidate the vast majority of new foreclosures into one place.
The purpose of this is to make it easy for potential buyers to see all of the available foreclosures for sale in a given area.
Each listing provides important information such as location, asking price, number of bedrooms, square footage, and property type.
For $40 per month, users get all the benefits of the site which includes access to the largest national listing of foreclosed homes.
Program Features: Forclosure.com gives its affiliates a 25% commission for each referral. Now, what really makes this real estate affiliate program stand out is the cookie duration.
This program has a whopping 6-month cookie duration. That means if you refer a customer and they subscribe at any time within the next 180 days, you get paid.
Commission: 25%
Cookie Length: 180-days
Visit the program: Forclosure.com Affiliates
Profusion 360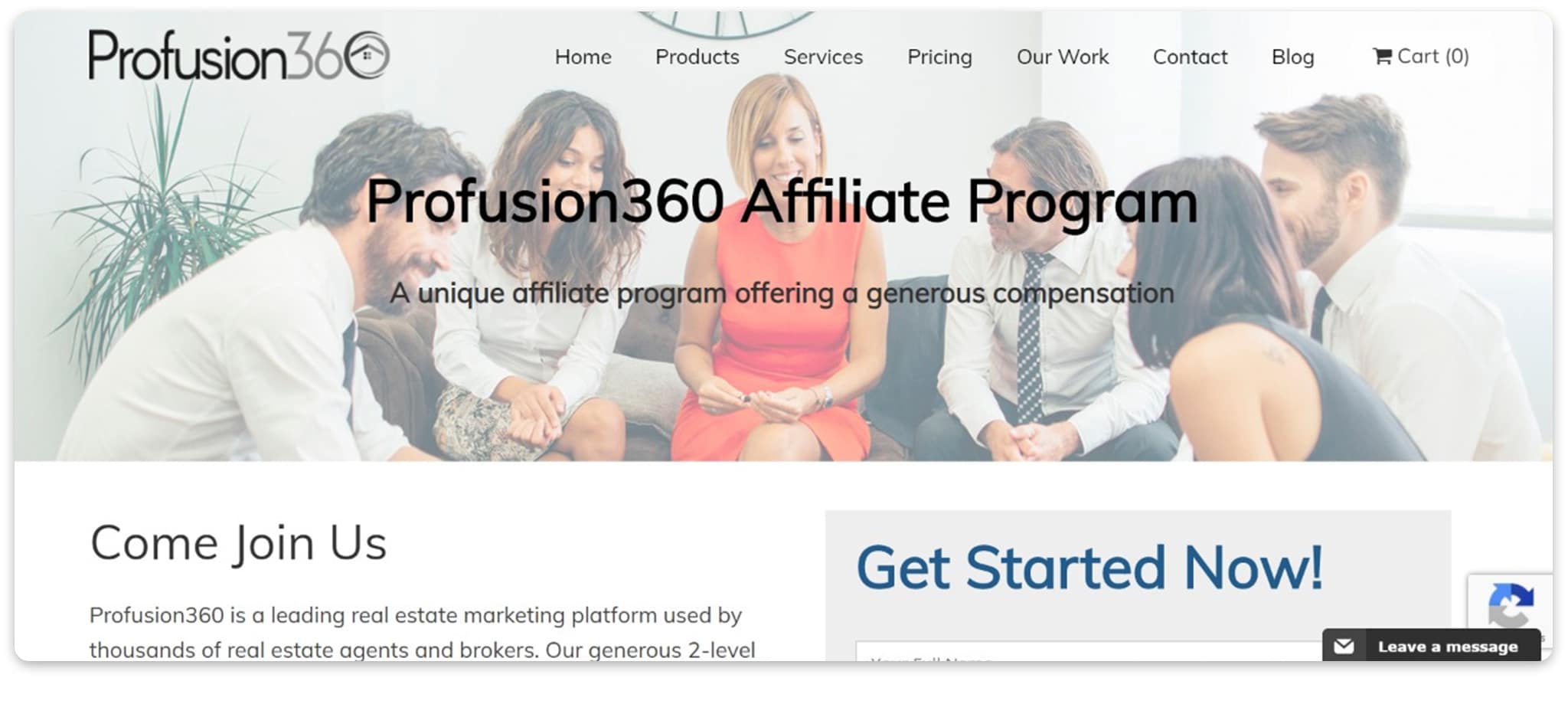 About: This company offers a unique service for real estate agents via several marketing solutions.
Profusion 360 offers a comprehensive, all-in-one marketing platform created specifically for real estate agents and companies.
Its marketing platform includes landing pages, websites, listing marketing, and a customer relationship management system.
This service is pretty robust, and the pricing reflects that. People will have to be willing to drop a pretty penny for these services.
On the plus side, that means the affiliate marketer has a chance to make some real money if they can successfully make conversions.
The service comes in two options: one for single agents and one for teams.
The single-agent package costs $180 per month and the team package is $250 per month. They also offer several add-ons for each package for an extra cost.
Program Features: Profusion 360 offers affiliates 10 percent of each sale made.
Now, you may be thinking this is a low number, but I'll tell you why I think this is such a great real estate affiliate program.
For each customer you successfully refer to, you earn a 10 percent commission. Now, if this customer then refers the service to somebody else, you earn an additional 10 percent on that sale.
On top of that, you'll be earning that commission on a monthly basis, as long as the subscription is active.
So, in reality, if you refer to five customers, and they each refer to five more customers, you would be bringing in at least an extra $540 per month.
And in all honesty, you can probably refer a lot more than five people once you get the ball rolling.
For that reason, I think this is one of the best real estate affiliate programs out there.
Commission: 10% recurring
Cookie Length: N/A
Visit the program: Profusion 360 Affiliates
Zilculator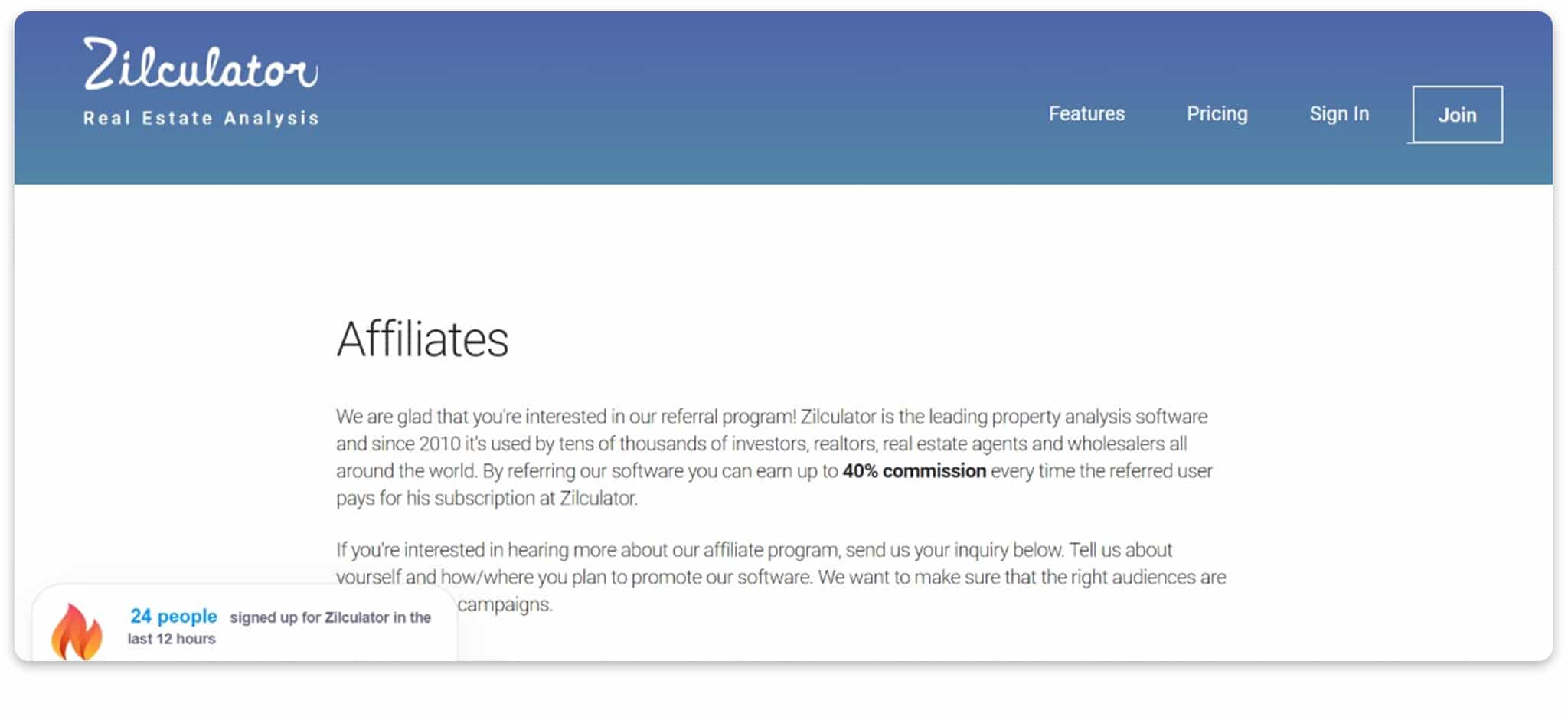 About: Zilculator is an easy-to-use, property analysis tool used by people in real estate. This tool makes it super easy to generate property reports and see how your properties stack up.
Aside from real estate agents, this product is great for anyone looking to invest in property.
To use this tool, all you have to do is follow a few simple steps.
First, enter your property details. This will generate a comprehensive report including financial and operating analysis.  From here, you can check out the analysis and make informed decisions.
Zilculator offers several plans and they all come at fairly affordable prices. In fact, they even offer a free plan, although the features are pretty limited.
Paid plans range from $13 to $23 per month.
Program Features: Okay, so I know the price of these plans is on the low side, but this real estate affiliate program offers an extremely generous commission to its affiliates.
Zilculator offers a 40% recurring commission on sales which is about as good as it gets for any type of affiliate marketing.
I would definitely check out this real estate affiliate program if your target audience is looking for property investment tools.
Commission: 40% recurring.
Cookie Length: N/A
Visit the program: Zilculator Affiliates
Property M.O.B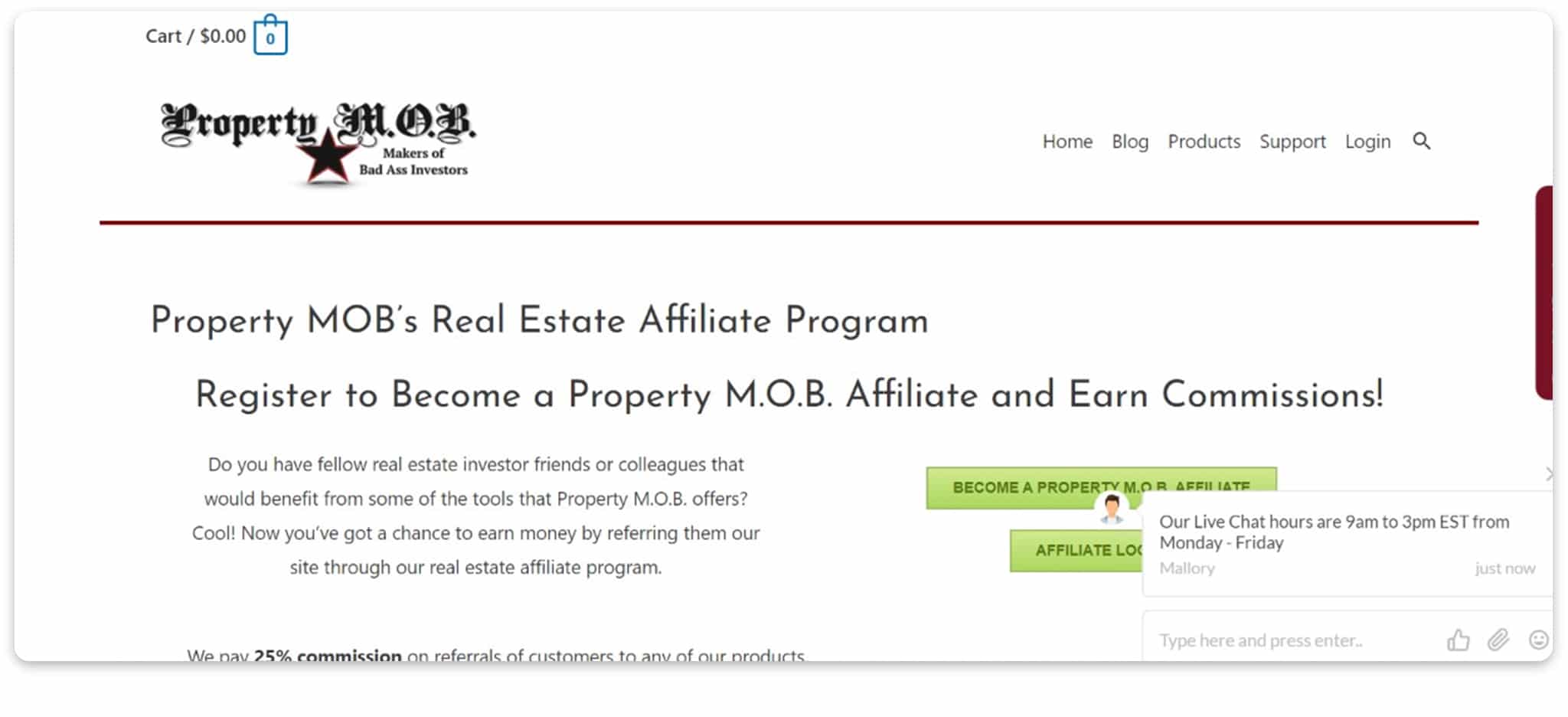 About: I promise you, this site is not as ominous as it sounds. Property M.O.B. is a site that offers tools to real estate agents and real estate investors.
Their products range from online wholesale coaching to automation training.
Essentially, this site helps people make better investments, make more conversions, and generally scale up their real estate business. They even offer a virtual assistant service to take care of tedious tasks.
Now, this company has several individual products that are priced between $47 to $697.
There is also an option that includes all of the products in a single package that is priced at $1495.
Because this product is really focused on real estate education, I would suggest this affiliate program to those of you who cater to real estate agents and investors. Your average home buyer probably won't be interested in a product like this.
Program Features: Now, in terms of the affiliate program, Property M.O.B offers a great commission on sales. For every sale you make, you'll receive 25% and that includes recurring subscriptions.
As you can see, this gives you a real opportunity to bring in cash.
The products are both recurring and high-ticket in many cases, so you can start to build a proper affiliate marketing strategy through this program.
Commission: 25%
Cookie Length: 30-days
Visit the program: Property M.O.B Affiliates
Final Thoughts
There's really no shortage of real estate affiliate programs out there for you to choose from.
Now, I tell this to everyone who is just getting started in affiliate marketing: be patient.
Just like real estate, affiliate marketing is an industry that requires time and effort. Don't expect to build your passive income overnight.
On the flip side, if you're willing to put in the work, you can see real profits from affiliate marketing.
But don't take my word for it.
Check out these examples of successful affiliate marketing sites to see for yourself what's possible.