How To Make Money On Twitch in 2023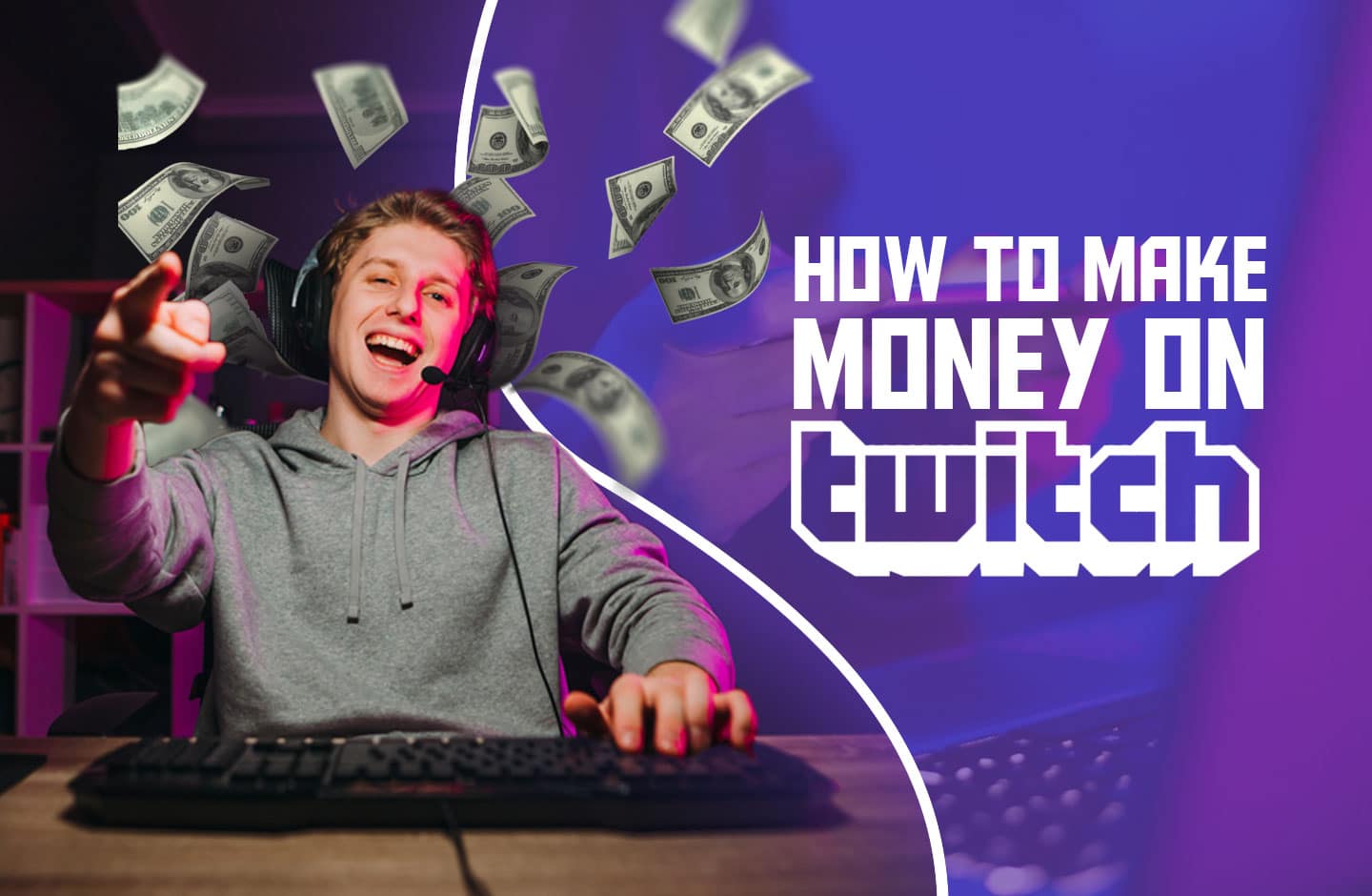 In an age where millions of people spend time watching video games, a new lucrative revenue stream has emerged — live streaming video games.
Millions of people make money through tips and donations on platforms like Twitch and Youtube Gaming.
You might be wondering if this is something you should consider. Luckily, you don't need to be an elite user to cash in. Here's how to build a Twitch audience and start making money.
What Is Twitch?
Twitch is a live streaming platform that focuses on video game live streaming, including broadcasts of eSports competitions, in addition to music broadcasts, creative content, and other gaming-related shows. The company was founded by Justin Kan and Emmett Shear in 2011. 
There are also big gaming events that stream on Twitch. For example, the League of Legends World Championship attracted 16.7 million viewers in 2013, making it one of the most popular eSports events ever held. Twitch is now the fourth largest source of peak Internet traffic in the United States.
Who Uses Twitch?
Twitch is popular with the younger generation, with most of its users being males under 34 years old.
Twitch has more than 4 million broadcasters monthly, with over 17 million daily users that enjoy watching others play video games.
While some users enjoy the platform purely for entertainment, others have found ways to turn their favorite hobby into a money-making machine with recurring income sources. Here's how you can do the same.
How To Make Money On Twitch
Making money on Twitch is the ultimate dream for any video game streamer. But how can you earn a living from live streaming video games? It's not as difficult as you think.
There are many different ways to make money on Twitch, but today I'm going to cover the most effective ways Twitch streamers can generate revenue. 
Before you can even think about making money on Twitch, you must understand the different types of users that exist on this platform, including:
Everyday Twitch users

Twitch Affiliates

Twitch Partners
Everyday Twitch Users
If you just joined the platform and found yourself wondering how to make money on Twitch, just remember that it takes time and effort. This isn't something that will happen overnight.
You must stream consistently and build a decent following before you can even consider monetization. As you grow over time and develop a connection with your viewers, you can consider asking for donations to help you spend more time entertaining them on Twitch.
Everyday Twitch users cannot take advantage of Bits (more on this later). They need to collect donations via PayPal, Stripe, or Venmo first. You can make donation requests in your Twitch streams and set donation goals to motivate your fans. 
Twitch Affiliates
Twitch users that have a following can join the Twitch Affiliate Program. To be eligible for Twitch affiliate status, however, you must meet the following criteria: 
Stream for at least eight hours in the last 30 days

Stream on at least seven days in the last 30 days

Receive an average of three viewers per stream

Grow your audience to 50 followers
Twitch Affiliates have access to Twitch Bits, which are digital donations from viewers. Twitch Bits are like digital tokens that users can spend to support their favorite gamers. Twitch pays its Affiliates and Partners one cent for every Bit. 
Affiliates can also make money from advertising and subscribers. Subscribers pay $4.99, $9.99, or $24.99 per month, giving creators a steady revenue stream. Unfortunately, Twitch does take upwards of 50% of this revenue. 
Here is a breakdown of the subscription tiers:
$4.99/month (or $49.99/year) – Regular Subscriber (Gain access to the subscriber badge)

$9.99/month (or $99.99/year) – Turbo Subscriber (Gain access to the badge, monthly channel highlights, and Twitch Prime benefits)

$24.99/month (or $239.99/year) – Super Turbo Subscriber (All of the above plus an ad-free viewing experience for all videos except live streams.)
Twitch Partner Program
Twitch Partners are an elite group of Twitch users who have an insanely large following. Partners are essentially the celebrities of the gaming world. Unlike the Affiliate program, the Partner program is invite-only.
While there aren't specific criteria to become a Partner, Twitch looks for users who influence members, engage with the community, start trends, and have a large following. 
Twitch Partners can make money in various ways. Partners can make money on Twitch by partnering with sponsors and making revenue from ads, donations, and subscriptions. Partners can also sell games and merchandise. 
How Much Money Can You Make On Twitch?
While some everyday users can make money through donations, the big money comes from becoming a Twitch Affiliate or Twitch Partner. 
The amount of money you can make on Twitch varies widely based on how many viewers watch your live streams. Ultimately though, the larger your audience, the larger your income.
How Many Subscribers Do You Need To Make Money On Twitch?
Viewership is a critical component of your money-making opportunities on Twitch. Still, there is no concrete answer about how many viewers you need to make money on Twitch.
For the most part, users that average 100 viewers per stream can make $1,000 to $1,500 per month, while creators with over 50,000 viewers per stream might make six figures.
Overall, becoming a Partner is the best way to maximize your earning potential. 
How To Become A Twitch Partner
If you've watched any of the popular Twitch streamers in Fortnite, League of Legends, or any other game, chances are you've seen a few people who have become Twitch Partners.
It's like being an Instagram influencer or YouTube star — it's a little bit of fame and fortune. But how do you actually get there? And what does it take to really become successful and make money on Twitch? 
Make Sure Your Channel Is Eligible
You need to have at least 3,000 followers and 30 minutes of content uploaded each week to be eligible.
Additionally, you'll need a good ratio of chatters-to-viewers to be eligible for the partnership. This can be tricky because it's difficult to tell how many people are actually watching your stream if they're not interacting with the chat.
In addition, as mentioned above, you must be 18 years old or older and have a non-offensive channel name.
Produce Great Content
To become a Partner on Twitch, you must stream on the platform regularly.
In addition, you must have a minimum of 3,000 followers and 4,000 hours watched per month. This can be done either through live streaming or pre-recorded content.
Amass a Fandom if Twitch Followers
Your channel needs to have a substantial following and regularly produce content that is high quality and of interest to your concurrent viewers.
You also need an engaged audience willing to subscribe to and support the content they watch on their favorite streamers' channels through subscriptions, donations, etc. 
Be Consistent 
Lastly, becoming a partner will require more than simply uploading and playing video games on Twitch every now and then. You'll need to be active on the platform, along with other websites and social media accounts like Twitter and Instagram.
That way people can find out about new streams being added together, major announcements, or changes happening within the community at large.
The Big Question Is, How Long Does It Take To Become A Twitch Partner?
The answer to this question really depends on you and your current situation. If you're just starting out, it could take anywhere from a few months to a couple of years before you become eligible for a partnership. 
The answer also depends on who you are as a streamer, your goals, your audience, how much money you want to make per month, and how much time you can devote to Twitch streaming.
Once you're verified as a partner, you'll get your channel's badge and a custom URL. You'll also gain access to the partner dashboard, which gives you stats about how many minutes people are watching, what games they watch, where they're from, and more.
The partner dashboard also overviews how much money you've made so far (or lost). In addition to that information, it tells you how many subscribers and followers you have. If someone subscribes or follows your channel through the Twitch site or app (or any other method), it will also show up here.
Finally, there's also a section on this page where partners can see what games their viewers prefer watching them play. Partners can adjust their gameplay accordingly.
Becoming a Twitch Partner isn't easy. It takes time, effort, consistency, and hard work. If you are just starting out, it can feel like the odds are stacked against you, but don't give up! 
Ad Revenue For Twitch Streamers
Twitch only serves advertising on the channels of Partner and Affiliate Twitch streamers. The advertisements play in front of or during a streamer's broadcast on the Twitch platform.
There are three types of running ads on Twitch: video ads, audio-only ads, and sponsored content. You can earn a percentage of any ad revenue generated during your stream.
Any Twitch ad can be placed in the chat, on the streamer's channel and video page, and in ad space between streams. As a marketer, you'll have access to various creative options depending on where you want to run ads.
You can also use custom overlays to increase brand awareness during live streams by placing an overlay over top of your Twitch channel art or live video feed. Your overlay options include:
A static image file such as a logo or banner that sits at the top left corner of the screen while a stream is streaming.

A banner with motion graphics that animates across the screen while someone watches a stream.
Targeting Audiences On Twitch
If you're wondering how to make money on Twitch, it all starts with targeted and building an audience. There are a few ways you can do this:
Game Targeting
You can target audiences based on the games they play. This is especially useful for advertisers who want to reach a specific audience. It's also beneficial for streamers who want to advertise their own Twitch channel and stream.
Streamer Targeting
You can target many Twitch streamers by channels, allowing you to engage viewers with specific content. This feature is useful when you're looking to promote your own product or channel; however, it can be abused by competitors who want to flood the market with ads that don't align with user interests.
Region Targeting
Regional targeting lets advertisers target specific countries and regions and smaller areas like cities or even neighborhoods within cities (if geotargeting data is available).
For example, if you sell online streaming services or video games specifically in Canada, then region-based audience targeting would help ensure that only Canadian users see your ads on Twitch streams!
Measuring Engagement And Analyzing Results On Twitch
Measuring Twitch engagement can be tricky, as there are many different ways to interact with a streamer.
The best place to start is by looking at the number of viewers who have watched at least 30 seconds of your ad. Then, check out the video metrics for views and average session duration (the amount of time spent watching your ad).
You may also want to measure how many people clicked through your ad directly on your website or social media accounts.
This can help you understand which ads are working best and what types of messaging resonates most with prospective customers.
If you don't see any clicks on your ads after they've been running for a while, it might be time to re-evaluate what message you're sending out in those spots–and maybe even change up the format completely!
How To Join The Twitch Affiliate Program
While becoming a Twitch Partner is undoubtedly an exciting goal, becoming a Twitch Affiliate is more feasible for most users. 
As a Twitch affiliate, you'll get access to things like custom emotes, custom badges, and more. You can also use your channel banner or overlay image on your stream! Twitch Affiliates must accrue 500 minutes of broadcast time, seven unique broadcast days, and an average of 3 concurrent viewers or more.
To apply for the program, users can go to the Affiliate tab while logged in as a streamer on Twitch. Tv
If you haven't already, go to the Twitch website. Once there, click on the 'Twitch' tab in the upper right corner (which should be red) and then click on the 'Affiliate' tab. You'll see a link that says, "Apply to become a Twitch affiliate". Click this link and follow the instructions!
How To Make Money On Your Twitch Channel: Key Takeaways
Making money on Twitch isn't an overnight endeavor. It requires time, effort, and consistency. While everyday users can collect donations, the top earners are almost always Affiliates or Partners.

Twitch Affiliates have access to Twitch Bits, i.e., digital donations from viewers. Affiliates and Partners receive one cent for every Bit, which can quickly add up and create a steady stream of passive income.

Twitch Affiliates also make money from advertising and subscribers. 

Twitch Partners can monetize their channel by partnering with sponsors and making revenue from ads, donations, and subscriptions. 

Partners can also sell games and merchandise. 

Twitch only serves advertising on channels of Partner and Affiliate streamers. Twitch ads are advertisements that play in front of or during a streamer's broadcast on the Twitch platform.
Bottom Line
Streaming on Twitch is a great way to meet new people and make money. But how can you get started? If you're new to the world of Twitch, you might not know all your money-making options.
Donations are probably the first thing that comes to mind when considering ways to make money on Twitch. As a streamer, it's important to have donation links where viewers can donate any amount they choose for their favorite streamer to receive steady income directly from their viewers.
When viewers donate money to Twitch streamers, the streamer can use the donated money for more equipment or other purchases and pay bills.
Twitch streamers can make money through platform subscriptions in which subscribers gain access to exclusive perks such as badges. There are three different subscription tiers, each with its own price point.
While streaming on Twitch, viewers can purchase virtual items known as bits. Bits work similarly to donations in that viewers can send them to their favorite streamers to help support them.
Selling merchandise is another way that streamers make money on Twitch. Merchandise may include t-shirts and stickers. Streamers often receive a portion of the profits from sales of these items. For example, if you sell 10 t-shirts for $10 each, you get $100, and Twitch gets 50% of that ($50). You're left with $50 (minus costs for printing) for your efforts.
As a streamer gains popularity, it may be able to negotiate advertising partnerships with brands they trust and want to support. This allows them to get paid even when they are streaming offline!
Now that you know about all of the different ways Twitch streamers can make money, what are you waiting for? Get out there and start streaming!