How to Make Money on Twitter?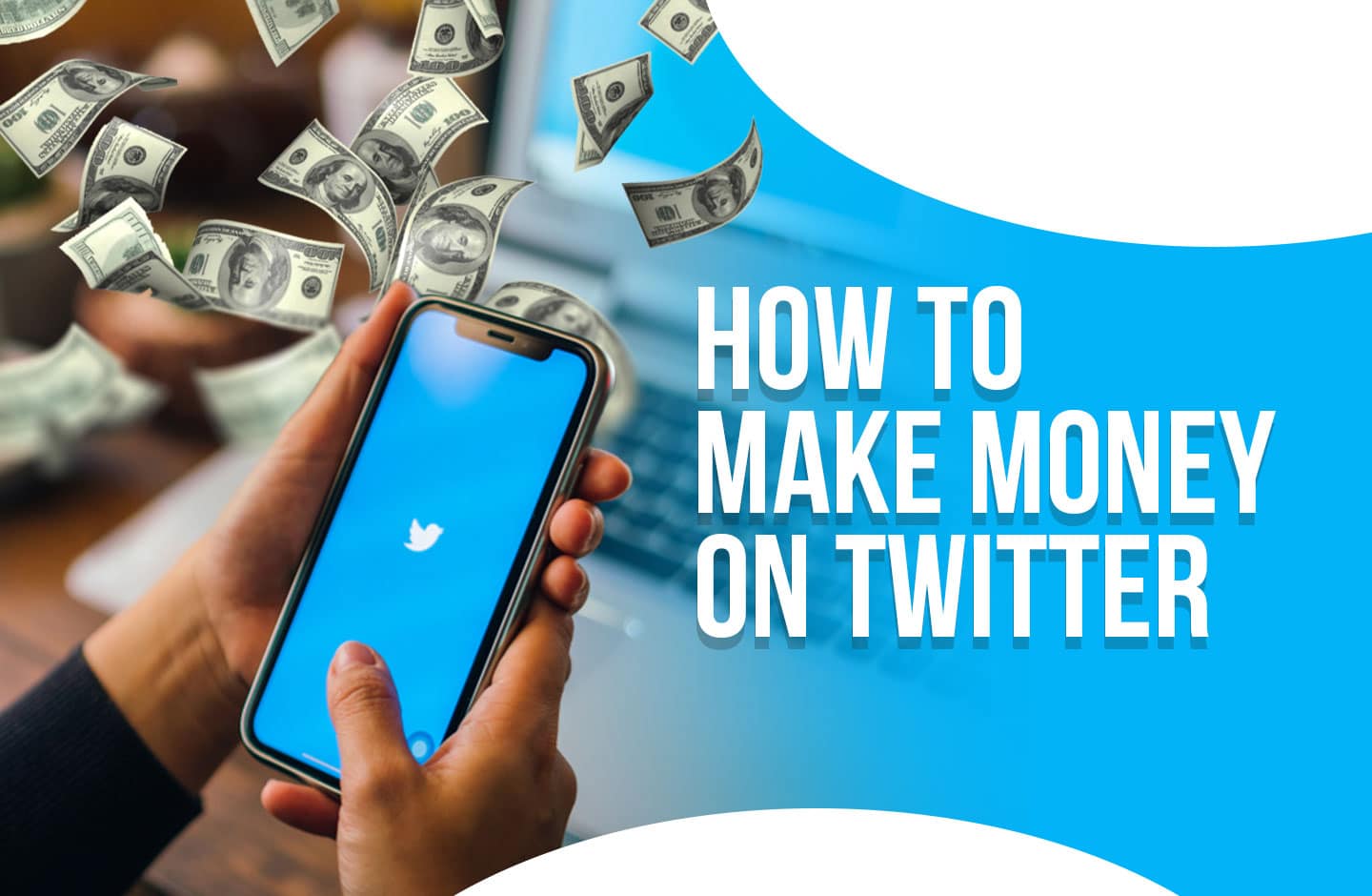 People spend a lot of time on social media today. The biggest social media platforms like Twitter, Facebook, Instagram, and TikTok are great places to have a personal and meaningful conversation. There are also plenty of ways to make money on social media with the proper marketing efforts.
But every social media platform is different. They each have their own purpose, audience, and algorithms. As an affiliate marketing expert, I'm going to walk you through the process of making money on Twitter.
In this article I will help you to understand:
How Twitter works

How to create and grow a killer Twitter profile

Different strategies that can be used to grow your Twitter account

Different ways to incentivize your target audience and make money on Twitter
If you want to learn how to make money on Twitter, this is your go-to guide. Let's get started.
How Does Twitter Work?
Twitter is one of the most popular social media platforms. This service provides a space for friends, family, and coworkers to stay connected through short, frequent messages.
Many users post Tweets constantly, which can include text, photos, videos, and links. Tweets are posted to your Twitter profile, shown to your Twitter followers, and become searchable on the Twitter feed.
What Makes Twitter Different?
Twitter is not the largest social media platform and its growth is nowhere near the likes of TikTok. But, I'm going to let you in on a little secret as to why marketers and advertisers love it: Twitter users are extremely engaged.
While other platforms are designed for scrolling through content showing the latest dance fads or cultural memes, Twitter is where people go to learn about what's going on in the world.
Because breaking news typically hits Twitter first, the platform helps users stay in the loop. It is the place to go if you want to reach people interested in business, politics, finance, and other serious topics. That's why Twitter is often used by journalists, politicians, and financial moguls.
But, that's not all Twitter is used for. For example, comedian Ryan Long has built a sizable Twitter presence by getting people to laugh with his funny Tweets. He can then capitalize on his following and drive ticket sales for his comedy tours on Twitter.
Major enterprise-level companies are also monetizing Twitter. For example, Netflix routinely runs ads on Twitter promoting their new shows and movies.
Unlike online platforms that focus on building a younger audience, Twitter users tend to be a little bit older. This simply means there are more opportunities to sell products and earn money, which is ultimately what advertisers want.
How to Grow Your Twitter Account
Before you can earn money on Twitter, you have to create a quality Twitter profile that people want to follow.
Once you gain more followers and your account starts generating traffic, it'll be easy to monetize your marketing efforts. This is true of Twitter and most other social media platforms.
Here are some proven hacks that can help you grow your Twitter account.
1. Identify Your Niche & Audience
Just like any other business, you need to build a strategy and plan centered around your target audience. If you want to make money on Twitter, you must identify your niche and grow an engaged audience. Then you will start to get sponsorships and paid advertisements.
The Twitter algorithm is designed to show your content to people who are most likely to engage with it. So, the first step is to create a clear plan outlining exactly who your target audience is. This will help to build your Twitter profile and follower count.
To determine what your particular niche will be, ask yourself:
Do I already have a background that gives me authority on a particular subject?

Do I have a particular interest that is unique?

Do I have perspectives that I can offer on that subject that are different from competitors?
To grow a sizable audience, especially when it comes to Twitter followers, you have to give people a reason to follow you.
If you don't already have something in your background that gives you authority or expertise, don't worry, that's something that can be built.
But, you do have to have something that you are passionate about. This will become the subject of your Twitter account and your tweets.
2. Prioritize Quality Followers
Most people think that the only way to make money on Twitter is through sponsored ads, but there are several other ways you can start making money on the platform.
However you plan to make money on Twitter, there is one thing that you can't get around: your Twitter followers. The more followers you have, the more opportunities you will have to monetize Twitter.
It may be tempting to take the easy route and purchase followers, but believe me, that isn't worth the money (or effort). Plus, there are multiple tools companies can use to determine whether a majority of your audience includes bots or quality followers. And one of the key metrics used by both advertisers and the Twitter algorithm is engagement.
It's best to grow your Twitter account organically. If you have a potential sponsor and they find a large following with low engagement, they may not want to work with you.
3. Try the Follow-Back Method
One of the best ways to begin building and growing your Twitter account is through the "follow back" strategy. So, when someone new follows you, return the favor by following them back. This will help you build an engaged audience that feels connected to your Twitter profile.
4. Post Original and Valuable Content
One of the easiest things to do on Twitter is to simply "retweet" someone else's content that you see and like.
I cannot tell you how many people I've spoken with who were frustrated because they haven't been able to grow their Twitter accounts despite trying for months. It only takes a moment of scrolling through their timelines to see why: they haven't put out any original content and are only retweeting other people's content.
The key to building an audience is to provide valuable, original content – not driving traffic to someone else's content. You have to consistently deliver unique content to the Twitter world.
5. Use Quote Tweets to Your Advantage
Rather than simply retweeting a headline, hashtag, or article, you can "quote tweet," which allows you to add your own two cents to the Tweet.
There are multiple benefits to using quote tweets rather than simply retweeting headlines. First, it allows you to further establish yourself as an expert in whatever niche you are building. You get the benefit of adding your opinion to an emerging headline, story, or news byte.
Additionally, if you can learn to master the art of the hashtags (#) you can use quote tweets to extend your reach even more.
6. Add Comments to Trending Tweets
Another way to extend your reach beyond your own following is to find Twitter influencers or large accounts also within your niche and comment on their trending tweets. This allows you to offer your thoughts to the community that you are targeting.
 It cannot be overstated how great of an account-building tool this can be. The only cost is the time invested. If you can master the art of creating witty, insightful, and topical comments within the 140-character constraints of Twitter, you can begin building your audience to significant numbers using this strategy.
7. Create Tweet Threads
Once you've begun to build a following, Twitter threads can help supercharge the algorithm to drive your content to others, especially if you use hashtags relevant to the content.
While your individual tweets are constrained to 140 characters, tweet threads allow you to create multiple posts on the topic. By pressing the "+" button at the lower right-hand corner of your tweet, Twitter will allow you to add a new tweet to the same thread.
These tweet threads increase engagement and keep people interacting with your profile longer. The algorithm gives these threads more "push" than it does with a single tweet.
This strategy is used by many Subject Matter Experts (SMEs) who want to share a discussion that requires more than 140 characters.
Just be careful and pay attention to your text when using tweet threads. It is important to keep your train of thought and allow your readers to easily follow along, even when your thread is broken at every 140-character interval.
You can actually create your tweet thread in another writing program, like Word Docs or Google Docs, and then copy and paste it into Twitter. This ensures the text flows in a way that is pleasing to readers.
How to Make Money on Twitter
Let's get into why you're really here. Today, I'm going to show you how to make money on Twitter.
Let's get started!
1. Make Money on Twitter Using Affiliate Marketing
If you've visited my website (jontorres.com) then you know that affiliate links are one of my main areas of expertise.
Affiliate links are great because anyone can use them to make money online. If this is an avenue that you want to explore, I suggest reading my Ultimate Affiliate Marketing Guide for Beginners. The guide will give you a more comprehensive understanding of bloggers promoting affiliate products.
When you promote affiliate products, you can be paid either per sale or per click, which means that every Twitter follower that clicks an affiliate link on your profile can help you earn money.
There are affiliate programs for just about any niche or industry out there. All you have to do is sign up for affiliate marketing networks such as ShareASale, FlexOffers, Amazon Associates, etc.
2. Start a Substack
Substack is a platform that allows influencers, writers, and podcasters to publish directly to their audience and make money through subscriptions. This is a relatively new tool that first became popular with journalists, but it's now being used by content creators of all stripes.
Once you build brand awareness, you can begin to build a subscription-based infrastructure with Substack. For example, writers can send digital newsletters and marketing emails directly to subscribers (who pay a small fee to get the content).
The most successful Substacks provide some free content to entice people to sign up. Then, they can pay $5 per month or more (you set the price) to access all of your content.
3. Build Your Own Website
Many content creators simply use Twitter as a way to drive people to owned content, like a business website. A website is a great way to make money by bringing all of your followers to one central location.
You can use your Twitter following to drive website traffic. From there, you can start making money countless ways. For example, you can build an email sign-up form for website visitors, create a paywall for exclusive content, advertise other revenue streams that you have, start a blog filled with affiliate links, and share sponsored content.
4. Sponsored Tweets
Paid sponsored tweets are one of the best ways to make money on Twitter. But this is only realistic once your account has at least 10,000 followers. Of course, the larger your following, the more advertisers will pay you to post sponsored tweets and promote their products/services. You can make a lot of money doing this.
If you've followed the steps outlined above and have built a sizable following, there are 3rd-party platforms that work to pair influencers with companies who will pay them to post sponsored tweets and content. This is an easy and convenient way to get started with sponsored content.
5. Enable Super Followers
A relatively new addition to Twitter is the super follows feature. Super Follows is another way for engaged profiles to earn money from Twitter for their contributions on the platform. This function is only available to those with follower counts of 10,000 or more.
Keep in mind this is a new feature that's still being tested. So, you may have +10k and not be granted a super follow account, but it's worth a try.
 If you're above the magic number (of legit followers, not bots) and meet certain requirements (over 18 years old, live in the USA, and tweet more than 25 times per month), you can follow these steps to enable super follows:
Navigate to your Twitter menu

Click on the "monetization" button

Click on the "super follows" button

Complete the application
6. Use Ticketed Spaces
When the app Clubhouse became popular, all of the major social media platforms began scrambling to launch their own voice-based applications in response. In November of 2020, Twitter launched its own version called Ticketed Spaces, which allows users to join a voice-based conversation hosted by a user.
Because Ticketed Spaces became so popular, the platform decided to offer an "upgrade" and incentivize those with the largest followings to begin hosting their own session and promoting the application.
Ticketed Spaces is similar to Twitter Spaces in that it's voice-based, but in Ticketed Spaces the host can charge listeners to access the content. They have to buy a "ticket" for admission into the conversation.
You can set the price anywhere from $1-$999 per entry. This can be a significant source of revenue if you are seen as a subject matter expert in your niche, or if you have unique perspectives that interest a large number of people.
 To sign up for Ticketed Spaces, you must meet certain in requirements. You must be over 18 years old, reside in the USA, have a completed Twitter profile, and a verified email address.
To host a Ticketed Space, follow these steps:
Navigate to your Twitter menu

Click on the "monetization" tab

Click on the Ticketed Spaces icon

Complete and submit the Ticketed Spaces application

Agree to the Ticketed Spaces terms & conditions

Complete the onboarding process

Open and link a Stripe account with your Twitter & Ticketed Spaces account
FAQs
How do I monetize my Twitter profile?
Social media platforms use advertising as their main source of revenue and their algorithms are designed to support that. They aim to keep people engaged and interacting with the platform. Your job is to do the same.
Making money on Twitter follows the same model as any other small business: write your business plan, identify your potential customers, and grow your client list so that you can sell more of your product/service.
It doesn't matter whether you're selling sponsored ads and affiliate links rather than a physical product.
How much money can you make on Twitter?
You can make a lot of money on Twitter. Earnings will vary depending on the type of content you post, your follower count, engagement rates, and potential brand partnership deals. Many content creators make thousands of dollars on Twitter every month.
What are the best ways to make money on Twitter?
There are many ways to make money on Twitter, but the best methods are through sponsored tweets, affiliate links, and owned content. While there are official revenue paths implemented by Twitter itself, like Super Follows, it's more lucrative to put your efforts toward owned and sponsored content.
What are the benefits of Twitter's Super Follows?
Super Follows has many benefits. It is Twitter's version of a membership or subscription monetization model. In other words, creators who enroll in Super Follows can charge users a fee for bonus content.
Once someone subscribes to your Twitter feed and becomes a Super Follower, they will get a badge that shows them as a Super Follower of yours. Creators can then send personal tweets and replies that only their Super Followers can view.
How to Make Money on Twitter: Key Takeaways
If you are starting from square one and today is the first day on your journey to make money on Twitter, congratulations! It may seem like a daunting task, but if you've followed me this far, you obviously have the determination to take on a project like this. Once you put in the hard work, the big money comes pretty easily.
The hard part will be building up your audience and follower account on Twitter. The good news? There are plenty of tools and strategies you can use to boost your Twitter-focused marketing efforts and start making money in no time flat.
No matter what comes up during your journey, always remember to be engaging, valuable, and original. If you are willing to seize the opportunity that is sitting right in front of you, I will be here to lead you along the journey and teach you how to make money while doing it.
Build up a following on Twitter and start cashing in today!