GetResponse vs ConvertKit: Which is the Best Choice in 2022?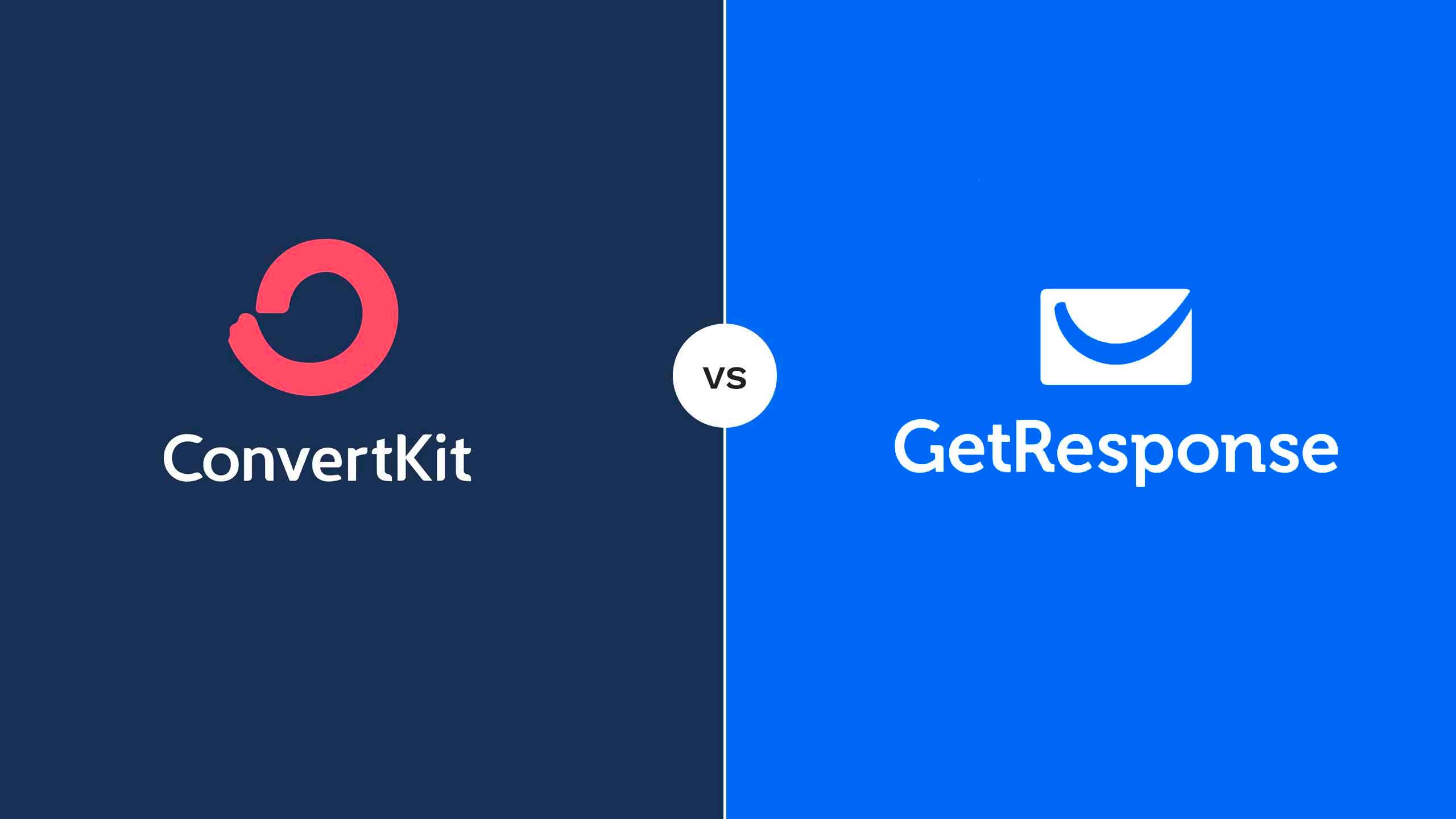 An email list is one of the most powerful assets for business owners. However, you'll need a way to make it easy to collect email subscribers, send automated emails, and more.
Choosing the right email marketing tool isn't just picking the tool with the cheapest price. In fact, by choosing the wrong tool you'll only end up making your life more difficult.
You'll want an email marketing tool that supports your needs. Maybe you want a very simple tool to collect subscribers and automatically send an email sequence? Or, you could want a more advanced tool that allows for in-depth segmenting, a/b testing, integration with a CRM, and much more.
You'll learn about two of the most popular email marketing tools on the market today, in this GetResponse vs ConvertKit showdown.
In this ConvertKit vs GetResponse review, you'll learn about the core features of each, the unique pros and cons, and the pricing breakdown, so you can choose the best tool for your needs.
Overview: GetResponse vs ConvertKit
ConvertKit and GetResponse are both popular email platforms used by small businesses.
Both GetResponse and ConvertKit have the following similarities:
Create enticing email sign-up forms
Create automated email sequences
Create standalone opt-in forms to collect your visitor's email address
Send email newsletters anytime you'd like, outside of automation campaigns
A/B testing to optimize your email performance
Obtain relevant subscriber data, including, clicks, percentage opened, the right time to send, and more
Ability to build a standalone landing page
Basic email templates to match your business
However, as you'll soon learn both platforms cater to different segments of the market and have very different feature sets, beyond the similarities highlighted above.
Pros and Cons: GetResponse vs ConvertKit
Pros of ConvertKit
Very easy to use. ConvertKit is one of the easiest to use tools on the market. The software is streamlined, there are a drag and drop editor, and it's built with beginners in mind. You won't find complex features that make the tool confusing to use.
Simple segmentation. ConvertKit tallies subscribers based on the number of unique subscribers, instead of counting people who subscribe to multiple lists, which makes list management much easier.
Personalization. You can segment your list by tagging individual users. based on certain actions. This helps you improve your conversion rate by sending more personalized emails.
Landing page creation. You'll find a bundled landing page editor that lets you build landing pages without a website. This can be helpful if you want to keep things simple or are running social media campaigns.
Cons of ConvertKit
Can be expensive. ConvertKit has a higher price tag than similar tools that offer more features. However, the monthly price might be worth it if you're looking for an easy to use email marketing tool.
Limited design options. The email templates ConvertKit offers are quite limited and mostly text-based. If you're looking to create more visually-oriented email newsletters, then you'll want to choose a different tool.
Lack of detailed reporting. You'll find basic analytics, like open, click-through, and unsubscribes, but you won't find detailed reporting data but your emails and subscriber actions.
Pros of GetResponse
All-in-one marketing platform. GetResponse has marketing features for everyone. You get email marketing and automation features, a robust CRM, webinar marketing tools, all in a single tool.
Advanced functionality. With this tool, you'll find advanced list segmentation and automation, double opt-in functionality, and detailed reports to help refine your marketing efforts.
Affordable plans. The plans start at $15 per month, which is less than ConvertKit while providing more advanced features. The more users you have the higher plan you'll need to subscribe to.
Additional marketing features. You can create sales funnels, landing pages, and unique automation sequences to help capture leads and turn them into customers.
Cons of GetResponse
Has a learning curve. If this is your first time using an email marketing tool, then there is a learning curve to set up your campaigns.
Not the best deliverability. There have been issues with email deliverability, which means that your emails might not end up reaching your list and your open rates could suffer.
Some plans have limited features. Only the high-level plans have access to all the features you might need. For example, if you have under 1,000 subscribers, but still require webinar features then you'll need to sign up for the Pro level plan.
Core Features ConvertKit
ConvertKit is an email marketing platform for those who demand simplicity. The core audience is creators like bloggers, YouTubers, online teachers, and more. You can quickly create landing pages, opt-in forms, and automation sequences without any existing tech skills.
Here are some of the main features of ConvertKit:
Easy to Use Platform
One of the best things about ConvertKit is that it's incredibly easy to use. It's built from the ground up to support business owners in creating automated email marketing funnels.
Small businesses have enough to worry about, your email marketing shouldn't be another source of stress.
Typically, marketing automation is difficult and most tools end up being too feature-rich for beginners. ConvertKit has a very clean UI and it's a very intuitive platform to navigate.
You can use the drag-and-drop builder to create your follow up sequence, with easy to understand logic. This is a common feature of most automation tools, but ConvertKit is one of the easiest to use by far.
Text-Based Focus
ConvertKit places a focus on text-based emails. Other email marketing software offer tons of different templates you can customize to send media-rich emails, ConvertKit forgoes this and focuses on simplicity.
Some people will see this as a disadvantage. But, text-based emails convert better than media-rich ones.
The emails you send to your list should be similar to what you'd send to your friends and family. Anything else is overkill.
Tagging
Tagging allows you to segment your audience based on how they joined your list, and actions they took once they became subscribers.
For example, you can have multiple opt-ins across your business website, or even article-specific opt-ins, once a user subscribes they'll be tagged. That way you can send specific emails to people who joined when reading an article about SEO versus a post about Facebook marketing.
You can also tag your subscribers based on actions they took when reading your emails. So, if you have a subscriber who buys a product you're selling, you can send them upsells, and other offers that you don't send to the rest of your list.
Subscriber-based Pricing
One big advantage of ConvertKit is that you pay per subscriber, not for total numbers. Other platforms charge based on the total number of subscribers on your list or lists, so if a subscriber joins more than one list the tool will count them double. This can lead to paying for one subscriber more than once.
With ConvertKit, you only pay per subscriber. Even if a person joins your list through multiple subscription forms, you'll only have to pay for them once. This might not seem like a big deal, but it could mean the difference between having to upgrade your plan when you go over the subscriber limit.
Core Features GetResponse
GetResponse is an all-in-one marketing platform that offers email marketing, CRM, webinar marketing, and automation features. It's geared more towards small businesses who are ready to scale and have diverse marketing campaigns.
Here are some of the unique features that GetResponse provides:
eCommerce Integration
With GetResponse you can easily integrate with most existing eCommerce platforms like WooCommerce, Magento, PrestaShop, and more. Or, you can even create your own store within GetResponse.
You'll find a ton of useful e-Commerce specific features like:
Automatic product recommendations to suggest to your buyers
Create abandoned cart sequences to generate more sales from people who didn't complete their purchase
Upsell and downsell sequences to increase the average order value
Customer retention sequences with valuable content and coupons for your most loyal customers
Feature-Rich CRM
GetResponse is not just an email marketing tool but also has CRM-like features. You'll find a lead scoring feature that lets you score the quality of your audience. You can also edit information about your subscriber including:
The date you closed the deal or they made a purchase
The date they moved into different levels of your sales funnel
Notes about the buyer during your sales conversations
By integrating a CRM tool into your marketing efforts, you can go well beyond email marketing and create a multi-channel marketing strategy. There are also a variety of integrations with popular CRMs like Salesforce. At the higher levels, you'll also get a dedicated account manager that can help with your campaigns.
Webinar Marketing
Webinars can be an incredible way to generate new leads and sell high-ticket products. Usually, when you're selling products or creating an onboarding sequence involving a webinar there are a ton of technical steps involved.
But, with GetResponse integrating webinars into your existing marketing strategy is easy.
Here's a look at what you can do:
Ability to set up the URL for the webinar
Choose your date and time
Set a password to keep it private for subscribers
Use pre-made opt in forms for webinar lead generation
Create real-time polls to gather audience feedback
Turn-on live chat to engage your viewers
You can even offer your audience the ability to attend a webinar via the iOS or Android app, so they can watch the webinar even if they're not at their computers.
Customer Support: ConvertKit vs GetResponse
ConvertKit Customer Support
ConvertKit has a very responsive and helpful customer support team. You can reach them from 8 AM to 8 PM EST via live chat or email.
There's also an extensive knowledgebase filled with helpful articles and tutorials, plus hour-long live workshops to get you up to speed using the tool.
GetResponse Customer Support
GetResponse also has a rock-solid customer support team. You can reach out to their support 24/7, 365. Email support is also available in 8 languages.
You can also search the Help Center database for articles and tutorials to help you solve problems yourself.
Pricing: GetResponse vs ConvertKit
GetResponse Pricing
GetResponse offers pretty standard industry pricing. You'll find four different plans to choose from, depending on the functionality you require. The biggest difference between each plan is the total number of users you're allowed per month and the total feature set.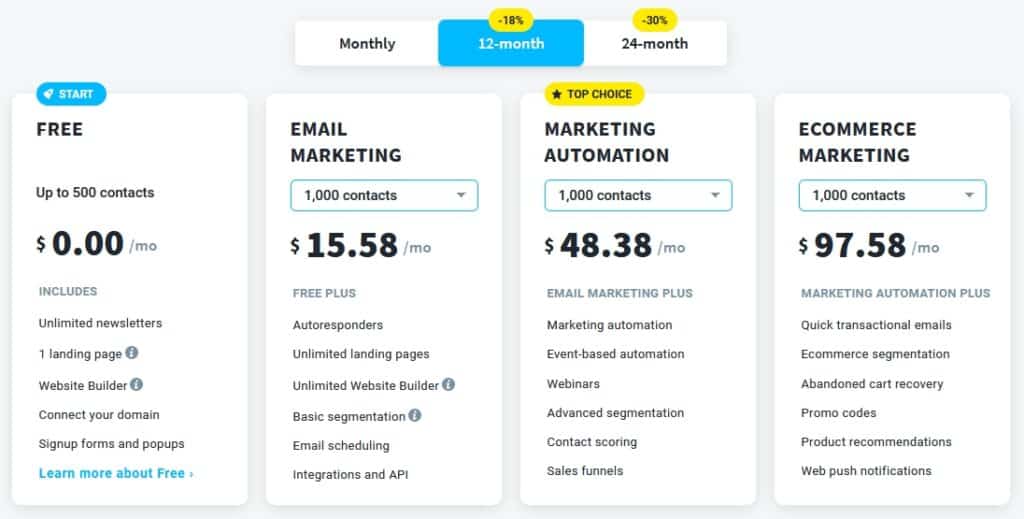 Basic. $15/month for basic features.
Plus. $49/month for webinars functionality.
Professional. $99/month for even more webinar features.
Max. Contact for custom pricing.
The Basic plan will probably be the best plan for most people. If you're just getting started with email marketing, then you'll have support for up to 1,000 people before you have to upgrade.
However, you will find limits on the marketing automation tools you have access to, like webinars, advanced tagging, and CRM integration. To get access to higher level functionality you'll need to upgrade your plan.
There's also a free trial that you can take advantage of for 30 days.
ConvertKit Pricing
ConvertKit offers three different pricing tiers to choose from to suit business owners of all sizes. Overall, the pricing is geared towards those with smaller list sizes, since the pricing scales up quickly if you have a larger list.
The price you'll pay is based on the number of users you have on your list and the feature set you need access to.

Here's a breakdown of the plans when you have up to 1,000 users:
Free. This plan is free forever up to 1, 000 subscribers.
Creator. This plan is $29 per month and gives you access to automated funnels and import from another provider.
Creator Pro. This plan is $59 per month and gives you access to advanced reporting that goes beyond Google Analytics, Facebook custom audiences, and more.
You'll notice that the pricing is a bit more expensive on the cheapest plan when compared to other providers. However, there is a free plan that'll give you support up to 1,000 users and access to basic features.
The higher-level plan you choose, the more you'll have access to.
Which is Right for You? GetResponse vs ConvertKit
Both ConvertKit and GetResponse are solid email marketing tools. However, besides this similarity, they are very different platforms overall.
ConvertKit offers solid functionality in a very user-friendly tool. Small businesses that are just getting started online will find a lot to love with ConvertKit. It's not the cheapest tool, but it provides every feature you need for creating sign-up forms, sending email campaigns, and building advanced automated funnels.
If your small business is growing and you have more diverse marketing needs outside of marketing automation, then GetResponse is a tool worth checking out. With GetResponse you get an all-in-one marketing tool. You get full automation functionality, plus tools that go well beyond email marketing.
For example, webinar marketing lets you connect with potential customers via recorded and live presentations, while the CRM functionality lets you better track your leads, so you can understand what part of your funnel they're currently in.
Those with bigger organizations, or have an in-depth sales pipeline will benefit from the advanced marketing functionality that GetResponse offers. However, small businesses who want an easy-to-use solution will probably find more value in ConvertKit.
You can also take advantage of the ConvertKit forever free plan, or the free trial offered by GetResponse.
Hopefully, this ConvertKit vs GetResponse has been useful in helping you choose between ConvertKit vs GetResponse, so you can choose the best platform for your business.