ConvertKit vs ActiveCampaign: Email Automation Comparison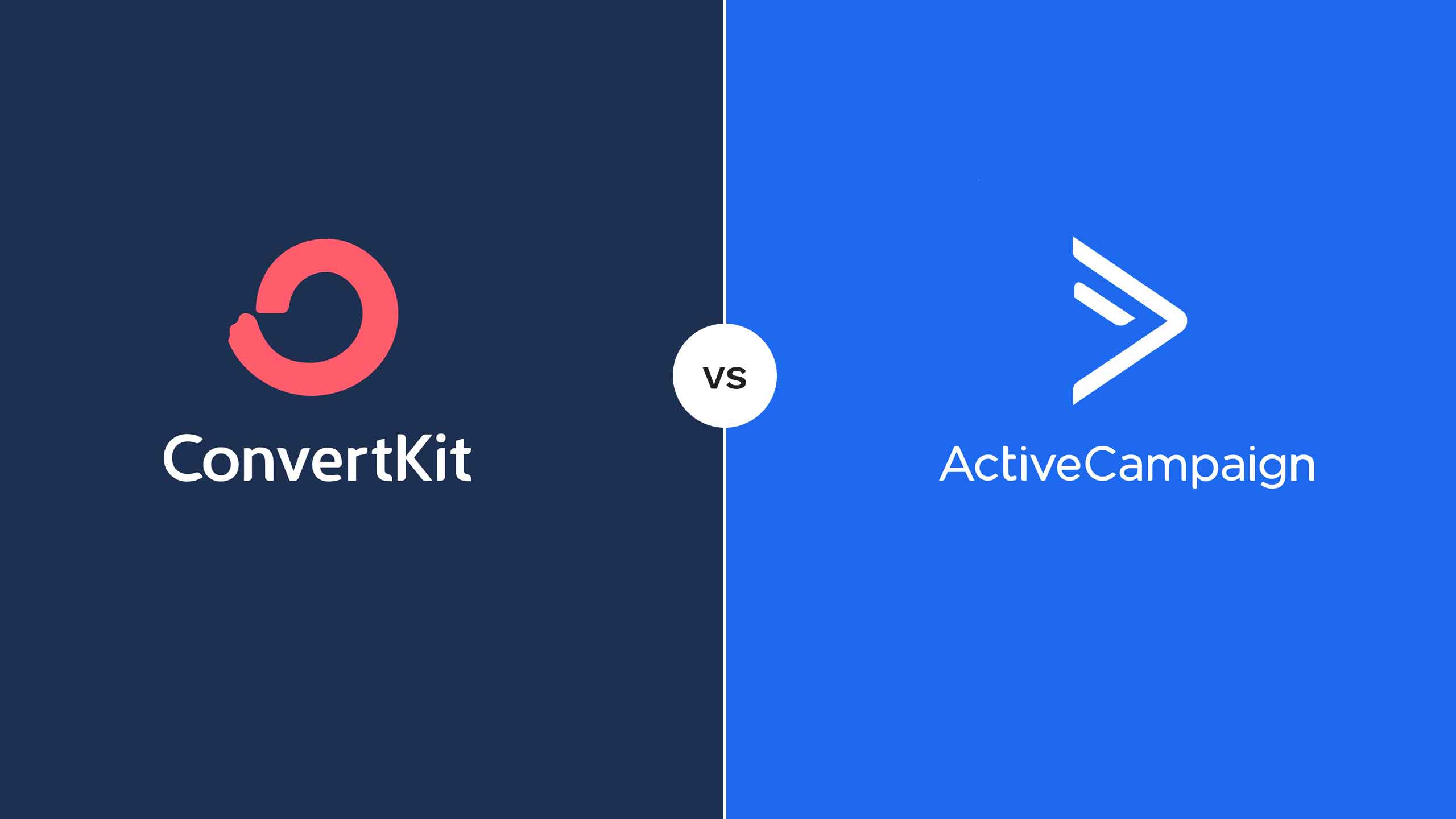 Whether you're running an enterprise business,  a blog, or brick and mortar,  you'd realize that marketing is king.  Marketing automation makes life less stressful by helping you maximize efficiency and increase revenue. 
The debate now is between the two leading brands, ConvertKit and ActiveCampaign. They are great tools for email marketing and visual list-building. In as much as the two have a lot in common, there is a gulf of differences between them.
ActiveCampaign has been around the corner as far back as 2003 and has gained several loyal users. But ConvertKit that just came into the limelight in 2015 has proven to be a worthy competitor. You don't need to rack your head so much as to which one you should be using. 
I've used the two solutions enough to run a comparison between them. So in this article, I will be showing you all the essential differences you should know before you make your pick.
What Is ConvertKit?

ConvertKit is one of the newest automated email marketing tools for bloggers. It's also a common choice among podcasters and other online businesses. It's pretty new when compared to its contemporaries such as Aweber and Mailchimp. But it's got loads of great features that make it one of the most popular tools in the market.
As stated earlier, ConvertKit became a reality in 2015. It's the brainchild of sensational blogger, Nathan Barry. From 2015 to date, ConvertKit has metamorphosed greatly. It once changed its name to Seva. But it was short-lived and was quickly rebranded to ConvertKit.
Likewise, the brand has grown in its user base from a few hundred to 22,000 users in 2019. That's proof of its wide acceptance among folks who want to grow their businesses through marketing.
Start your free trial of ConvertKit
What Is ActiveCampaign?

ActiveCampaign is a complete email marketing solution that gives you all the good features of Infusionsoft but at a lesser price. It is a go-to tool for anyone who wants to enjoy some cool CRM features without breaking the wallet.
Since its introduction in 2003, ActiveCampaign has quickly risen to the tier of the leading automation software. Lots of folks choose it as their number one autoresponder.
It allows users to build great workflows and also offers email segmenting functions. In 2018, ActiveCampaign celebrated 50,000 active users. That's a figure that has significantly increased since then.
Who should use ConvertKit vs ActiveCampaign?
Both products have certain features that make them great fits for certain kinds of users. The idea behind ConvertKit was to offer a solution tailored to bloggers. This is not surprising seeing that the founder is a renowned blogger.
But more than bloggers, this product is widely used by other kinds of users. It's great for podcasters as well as affiliate marketers. If you're pretty new to the world of email marketing or you need an easy-to-use tool, then this is for you.
ActiveCampaign, on the other hand, is designed for highly skilled professionals. Enterprise organizations are loyal users, primarily because of the CRM feature. It's also befitting for businesses with subscribers with a wide range of interests.
The Machine Learning tools in ActiveCampaign makes it easier to target them. The pricing structure of ActiveCampaign also makes it a good choice for users with a low budget. With as low as $9, you can get yourself a monthly subscription plan.
Which one has better pricing?
ConvertKit and ActiveCampaign have two totally different pricing plans. Let's take a look at them before we decide on the winner.
ConvertKit pricing plans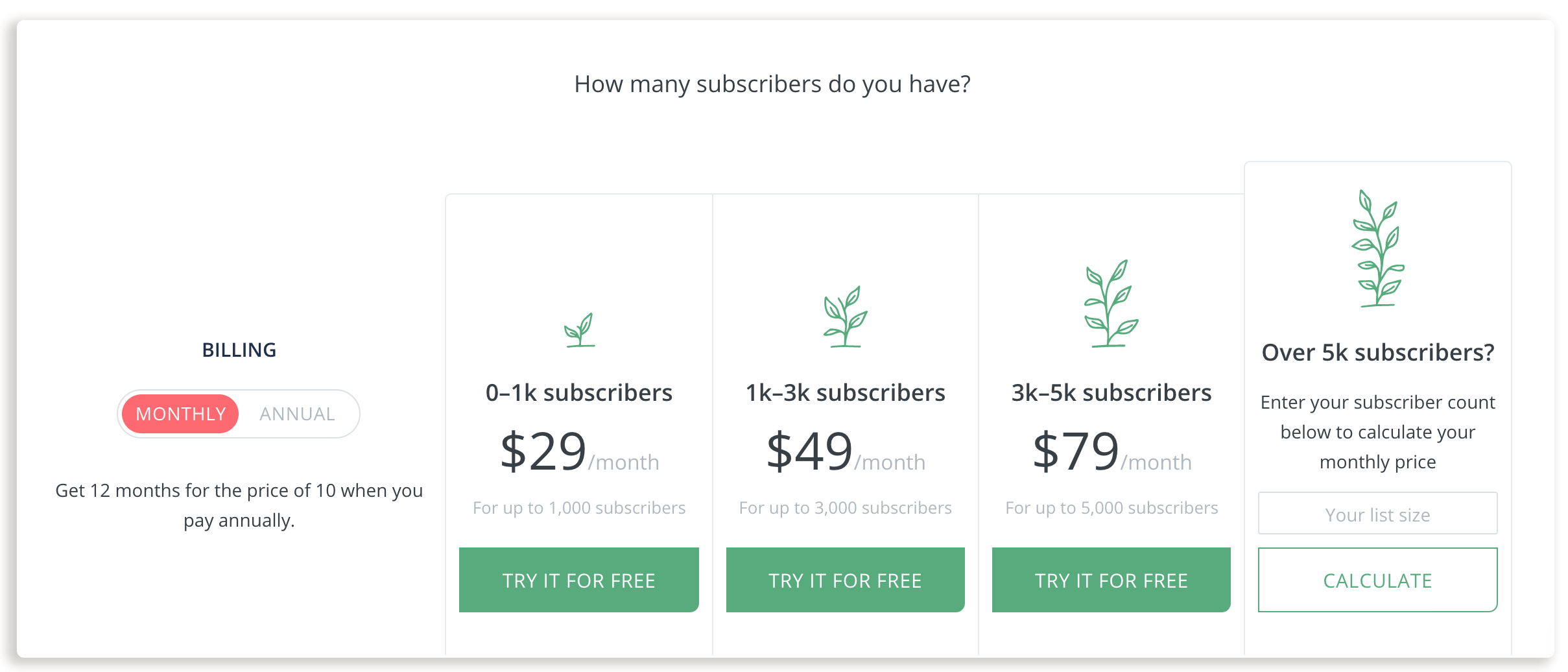 Convertkit four pricing plans are based on the number of subscribers you have on your email list. Each of these plans (except the highest plan) has a one-month free trial. That way, you get to analyze what you're getting into before you pay.
The plans and their prices are as follows:
0 –

  

1,000 subscribers at $29 per month

1,000 – 3,000 subscribers at $49 per month

3,000 – 5,000 subscribers at $79 per month

Over 5,000 subscribers: The pricing for this plan is dependent on the exact number of subscribers. You can use an on-site calculator to ascertain this.
The major difference among these plans is their cost and number of subscribers. Their features are exactly the same. This means you don't get to choose which feature you need before paying. All the plans have visual automation, unlimited customizable forms and unlimited email sends.
They also have reliable analytics that tells you which of your forms gets the most subscribers. This will enable you to target more efficiently. ConvertKit is also one of the few brands that use tag-based grouping.
This means you can sort your subscribers based on interests, age groups, and purchases. There are other yardsticks available though. One cool stuff about these plans is that they offer direct integrations with over 70 other tools online. But users can leverage on ConvertKit's API to create custom integrations.
ConvertKit also offers cool support features for whichever plan you choose. However, it's only on the highest plan that you can carry out free concierge migrations to other platforms.

ActiveCampaign pricing plans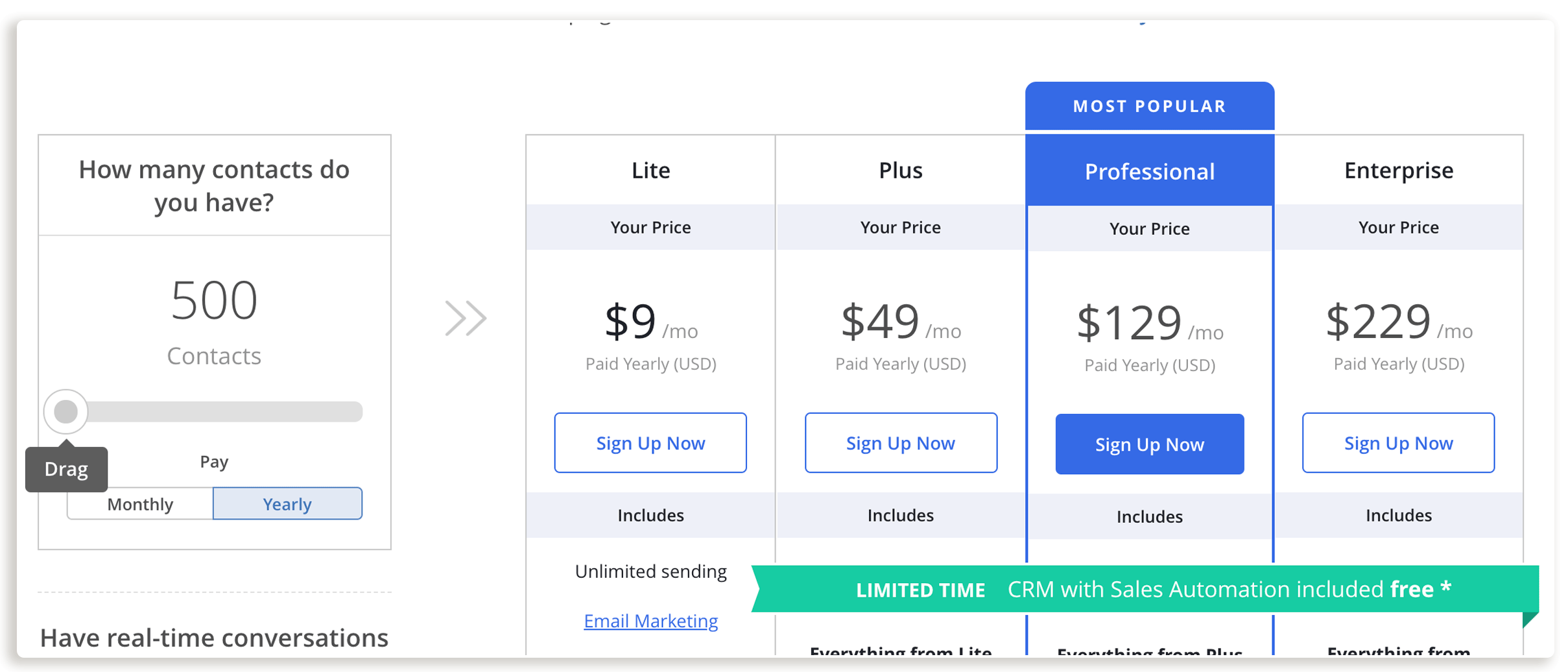 Unlike ConvertKit, ActiveCampaign has four designated plans with varying features. Instead of paying for a feature you won't use, opt into the one that best suits you. Each of these plans has a fixed monthly fee for 500 subscribers.
The fees increase with the number of subscribers. You can get the exact fee using the Price Calculator on ActiveCampaign's pricing page.
That means if a plan costs $49 per month, this fee is only for 500 subscribers. If you wish to know how much the same plan costs for 2,500 subscribers, adjust the calculator.
The four plans and their features are as follows:
Lite: This plan costs only $9 per month for 500 subscribers. Just as explained earlier, you can use this plan for as many subscribers as you need. But you'll have to pay more as the number of subscribers increases.
The plan offers unlimited sending of emails and newsletters. You also get to use subscription forms, email marketing features, and marketing automation. When you hit a gridlock, their live chat and email support teams will be available to help you out.
The downside is that you can have only a maximum of 3 users on this plan.
Plus: Starting at $49 per month for 500 subscribers, this plan offers all the features of Lite and so much more. Besides these, it offers integration for other tools, SMS marketing, and custom user permissions for up to 25 users.
With its Facebook Customer Audiences features, you can automatically target people based on their behavior on Facebook. It also allows you to track and identify the most promising leads in your email marketing list.
Professional: The ActiveCampaign Professional Plan is a direct improvement on the Plus plan. It costs $129 per month for 500 subscribers. All the cool features in Plus are here and so much more.
ActiveCampaign went the extra mile to introduce Machine Learning to their tool. The Machine Learning studies the contacts on your list and offers them emails tailored for them. It also sends out individual emails when they are most likely to engage with the emails.
This has proven to give higher conversion rates. ActiveCampaign also offers consultation services for users on this plan. More so, you can leverage the one-on-one monthly training sessions. The plan allows up to 50 users.
Enterprise: This is the last plan, and it starts at $229 per month for 500 subscribers. In addition to all the amazing features of the Professional plan, users are assigned dedicated account reps. In our opinion, that's the peak of support. You can also reach out to their support team via phone calls.
What makes this plan most outstanding is the provision of a custom domain and email server domain. It places you in a totally different league. Also, you get to enjoy an Uptime SLA and an unlimited number of users.

Winner
Let's just forget the features these two tools offer for now. Casting a blind eye to the features, ActiveCampaign is more expensive than ConvertKit. But ActiveCampaign has a plan well suited for users with a meager budget of $9.
Looking at the wealth of their features, ActiveCampaign allows you to pay for only what you need. The downside is that you may end up paying through your nose. The winner in this category is ConvertKit.
Which one is easier to use?
Irrespective of how sophisticated either of them may be, you deserve to know how easy they are to use. The first thing I observed when I logged into my ConvertKit trial account is its overwhelming simplicity.
It's designed so that everyone, including a beginner, could use it with ease. The navigation is top-notch.
At the left-hand side of the dashboard are the most salient menus for regular use. They include automation, sequences, subscribers, forms, etc.
Even without a guide, you can explore your ConvertKit dashboard with ease. It's not exactly the same for ActiveCampaign.
ActiveCampaign also has a simplified menu, but the interface is busier than its counterpart. Let's just say it's more comprehensive and advanced. A newbie may get lost or overwhelmed by the sophistication.
However, ActiveCampaign knew this minor challenge and made a way out. At the top of the dashboard is a "Getting Started" button. It's a start-up wizard. You can click it to get a tour guide on the entire tool.
Let me quickly add: ConvertKit's strongest unique selling point is its simplicity. So you can't easily beat it on this playing ground.
Winner
If you're looking for something very simple to use, then ConvertKit is your best shot. ActiveCampaign actually put up a good fight in this category. But ConvertKit is just better. It's taking the trophy here because you can use it with little or no guide.
Which One has better forms and landing pages, ConvertKit or ActiveCampaign?
There is no better way to build your email list than through forms and landing pages. Forms can be positioned strategically in different parts of your website.
Landing pages, on the other hand, take all the attention when someone visits the link. These two integral elements of email marketing offer an incredible level of conversion.
ConvertKit comes with a simple form with which you can collect names and email addresses of your site visitors. You can place this form in your blog post, top of the page, or among related posts.
With the form building tool, you can design any form you want. The same goes for landing pages. ConvertKit's landing pages are simple and straightforward. Using ConvertKit's plugin, you can integrate the landing page to WordPress.
You can also choose from a fair number of landing page templates.
ActiveCampaign has all the cool features of ConvertKit's landing pages. The landing page builder is quite comprehensive with features like CAPTCHA.
I can say for sure that ActiveCampaign has the edge. You can add SMS messaging features to your landing page depending on what you want to achieve. That's in addition to the CSS styling you can play around with.

Winner
ActiveCampaign takes the gold in this one. ConvertKit really has come prepared with great features, but it lost it. ActiveCampaign's SMS Messaging feature and Facebook Customer Audiences features made the difference.
These features and the template styling makes ActiveCampaign's landing pages to be more exciting.
Which one has better email templates and landing pages, ConvertKit or ActiveCampaign?
The two templates are equipped with cool email templates to suit different needs. ConvertKit's general simplicity played out in the type of email templates they offer.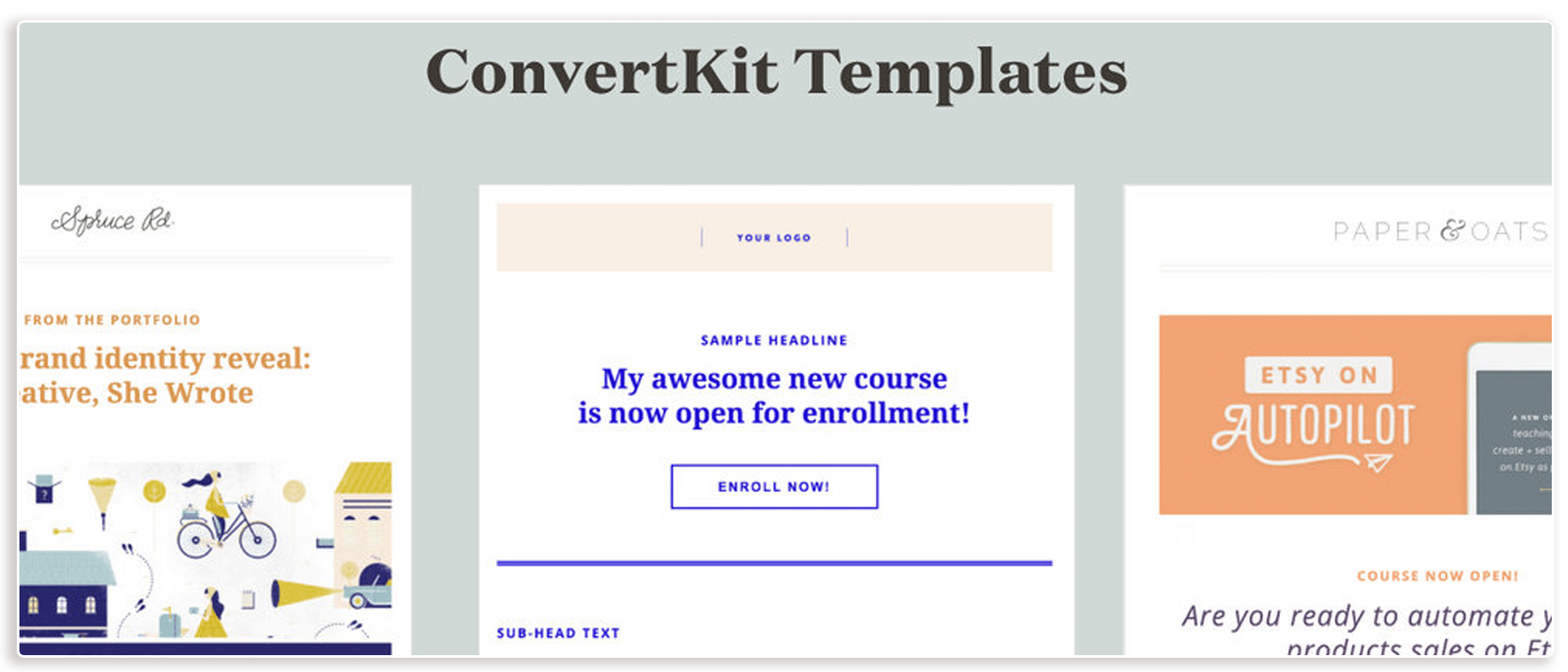 Some of them are rather too basic to a fault. A beginner can find them interesting to use. But as time goes by, one may need to settle for something a little more exotic.
It comes with only three email templates. One of which is "text only."
The good news is that you can create custom templates to suit your taste. You can add all the cool stuff like social media icons, pictures, colors, headers, etc.
You can also find tons of custom ConvertKit custom templates online.
ActiveCampaign went all out to ensure that all their email templates are nothing short of comprehensive. They've got a little more templates to choose from than ConvertKit.
You can also create as many custom templates as you want. It also offers a well-detailed reporting or analytics for your emails. That's in addition to the top-notch A/B testing.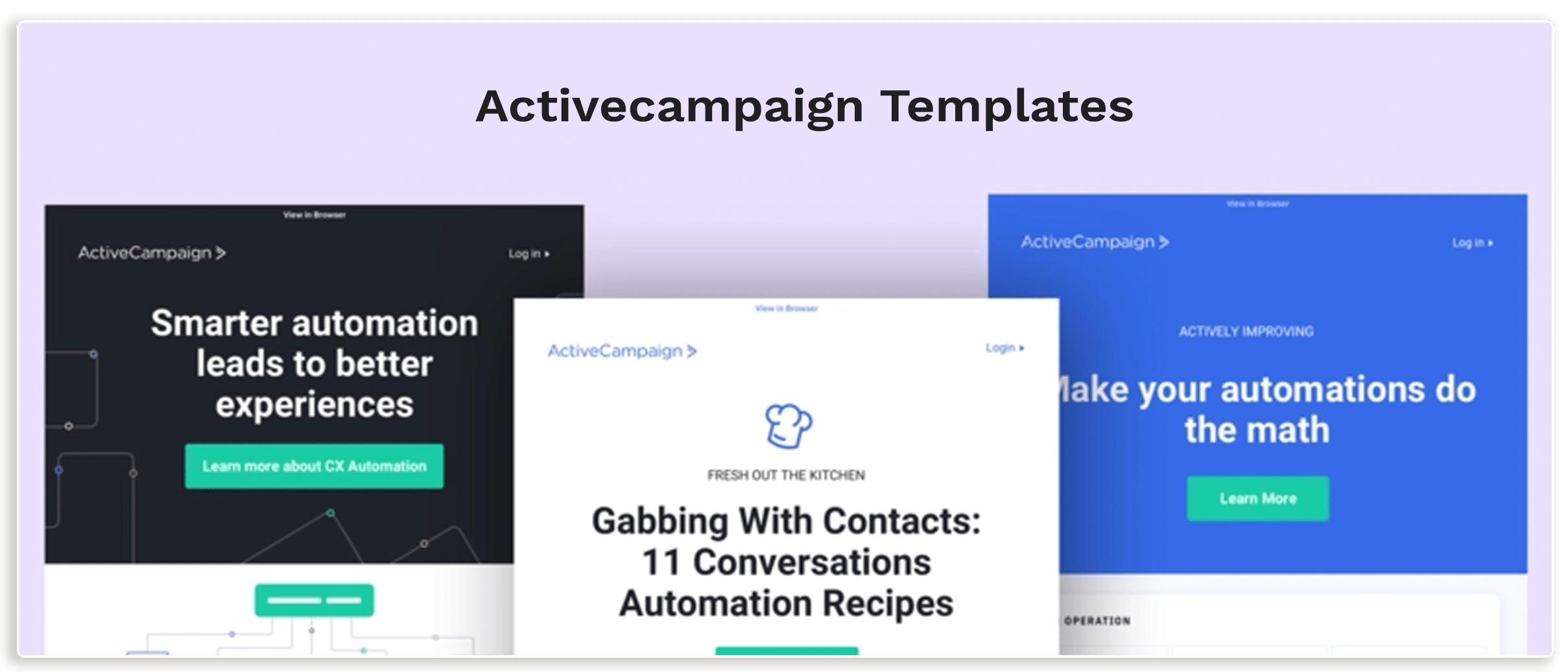 Winner
We've talked about simplicity a number of times as it pertains to ConvertKit. Once more, we'll bring up that yardstick.
ConvertKit offers the best templates as far as simplicity is concerned. But if you're gunning for something more professional, ActiveCampaign is the clear-cut winner.
Which One has better automation and features?
You can't talk about a good email marketing service without automation. That's the main juice of these two different solutions. This is a feature that both tools have a fair share of. More so, they have other great features as well.
ConvertKit uses sequences and automation. Sequences are automated emails activated with a delayed timer. The automation determines how the sequences are executed and what triggers them. You can also list your subscribers into any befitting automation as they join your email list.
Building this automation without a guide might pose a challenge. As such, ConvertKit offers users a guide to building cool automation using logic statements.
This is in tandem with the general ease of using ConvertKit. The interface is great for professionals and newbies as well.
The good thing here is that with little or no experience, you can send automated emails to your list. You can also direct your readers back to your blog without stress.
ActiveCampaign is just like ConvertKit but a little more sophisticated. It has a visual interface that makes it pretty easy to use. More so, ActiveCampaign allows you to categorize your subscribers into segments depending on the rules you set.
Another huge difference here is that ActiveCampaign also offers users CRM features. CRM is one major upper hand that sets the brand on a league of its own.
ActiveCampaign also has Machine Learning tools that help you tailor the right content to the right subscriber, and at the right time. Its analytic features, such as Lead Score, shows whether you should push ahead for a potential customer or not.
Winner
You may not get the same building ease that ConvertKit offers, but the sophistication of ActiveCampaign is off the hook.
The outright winner is ActiveCampaign. Its automation tools are designed to give as much conversion rate as possible.
Which one has better customer service?
Knowing that sometimes you might need extra support in handling your tools, it's best to consider this aspect. Here are a few noteworthy things about ConvertKit. For one, it gives you definite choices to choose from.
You can decide to open a ticket to get in touch with their support team. You could also visit the resource center for guides and articles. And if you're still not satisfied, ConvertKit gives you access to live workshops.
Convertkit, though, doesn't give you the option for a one-on-one session with their customer service personnel. This can be a pretty frustrating at times, as you might want to explain issues over the phone or through a live chat.
To make up for that, their knowledge base and workshops are quite broad and far-reaching. You most likely will find your answers without needing extra help.
On the flip side of the coin is ActiveCampaign, smiling. It provides you with weekly webinars to help you get acquainted with the fundamentals of the software.
It also allows you to communicate with their support team either through email or Live Chat. The great thing is you'll most likely be attended to in a matter of minutes.
Their "Education" section also allows you to quickly scan through numerous self-help videos and guides. If you want further help, you could also make bookings for a personal training session if you see the need to.
Winner
You might get whatever puzzle you have solved while using the ConvertKit support provisions. But it's pretty easier to resolve issues on a more interactive term. Which is where ActiveCampaign gets it right.
Obviously, the clear cut winner here is ActiveCampaign. This is because they provide a more extensive and more comprehensive range of interactive avenues for you to explore.
ConvertKit vs ActiveCampaign, which one wins?
Without a doubt, both tools are pretty high in utilitarian value as they both come with distinct and necessary features. Their prices are quite fair as well, especially when compared to some others.
They both have their ups and downsides, though.
ConvertKit is preferable if you're looking for something minimal, straightforward and uncomplicated. It works just fine if you need an easy but efficient option for handling your subscribers. You can also manage your triggers and set up your email automation easily.
Also, the billing system is very transparent with the ConvertKit tool. Since all the features are included irrespective of the pricing plan you choose, you can be sure that there are no hidden charges.
ActiveCampaign is the choice for top brands that wants CRM or more levels of automation. The use of Machine Learning makes it a pace-setter.
This means you will make more informed decisions as regards marketing. That accounts for higher conversion for less stress. The price may not be so fair compared to its counterpart.
It's not really for low budget businesses. But if you look at what they brought to the table, you'd agree the brand is worth every penny. The automation is not entirely easy to set up, but it's top-notch.
That said, the outright winner of this comparison is ActiveCampaign. Nonetheless, if ConvertKit matches your needs, please go for it.