Best Streaming Software in 2022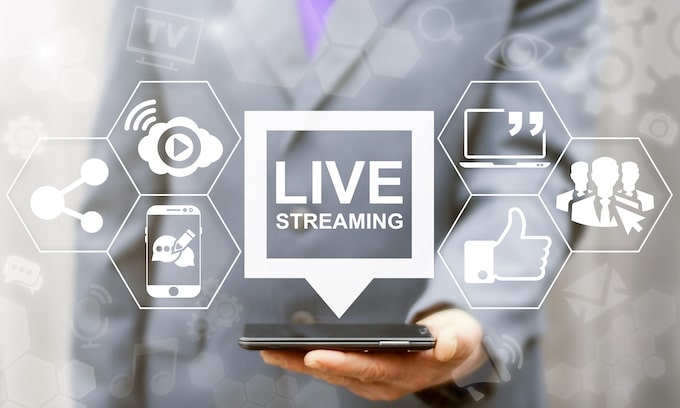 The video streaming industry has become increasingly popular in recent years and is expected to boom into 2022 and beyond. Research shows that 82% of all content will be video-focused in 2022 and the global enterprise video market will reach up to $25 billion by 2025.
All the major social media platforms — including Facebook, Instagram, Periscope, and LinkedIn — have integrated live streaming tools into their platforms and other brands are adjusting their software to do the same. Now is the time to incorporate video content into your social media strategy and capitalize on this growing digital landscape.
With this increase in consumer demand, new live streaming software options have started popping up at an unprecedented rate. So, sifting through the platforms and picking the best streaming software can be a challenge. We developed this guide to expedite the search process and help you find the best streaming software in 2022.
Best Streaming Software for 2022 (Twitch and Youtube)
OBS Studio: Best free streaming software

Streamlabs: Best price-conscious streaming solution

XSplit Broadcaster: Best for gaming and esports

Lightstream: Best for interviews and remote guests

Restream: Best native integration with other streaming software

StreamYard: Best for collaboration

Wirecast: Best professional-grade streaming solution

vMix: Best video mixing operating system
---

OBS (Open Broadcaster Software) is open-source software for both video recording and live streaming. It's free and compatible with several platforms, including Windows, Mac, and Linux. Furthermore, OBS supports RTMP broadcasting, switching between multiple sources, capture cards, webcams, chroma-key (green screen), video and audio streaming, and application windows.

OBS Studio is more powerful and customizable than most other free streaming software. It offers high-performing, real-time video/audio capturing and easy-to-use configuration options to tweak multiple aspects of broadcasts or recordings.

While this is one of the best free streaming software options, it does lack some premium features found in the paid versions of this streaming software. For example, it does not support any plugins or multi-bitrate streaming.

Overview

Type: Free open-source streaming solution

Price: Free streaming software

Compatible Operating Systems: Windows, Mac, Linux. 

Multiple Inputs:

Yes

Local Recording: Yes

Guests: Yes, but you have to use call software like Skype or Zoom.

Key Features

Create and mix scenes made up of multiple sources like window captures, images, text, browser windows, webcams, capture cards, and more.

Unlimited number of scenes and seamlessly, custom transitions.

Intuitive audio mixer with per-source filters, including noise gate, noise suppression, and VST plugin support.

Several configuration options to add new sources, duplicate existing ones, and adjust properties.

Streamlined settings panel and Modular 'Dock' UI allows you to rearrange the layout exactly how you want.

OBS Studio Mode allows you to preview scenes and sources, adjust them, and create new ones before making them live.

Pricing

OBS Studio offers free access to the software. There is no cost to download and use this open-source streaming software.

Pros

Easy-to-use for beginners

Free streaming app with frequent software updates

Fully functional on a low-quality internet connection

Cons

Lacks robust features

Some limitations on plugins

No multi-streaming or multi-bitrate encoding
---

Streamlabs is a California-based streaming software company that was founded in 2014 and acquired by Logitech in 2019. It is one of the best streaming software options for gamers and social streamers. This is a beginner-friendly platform with a variety of features that make streaming across Twitch, YouTube, and Facebook much easier.

Users can select specific themes from the built-in library of gaming tools and personalize pop-up alerts for new follow requests, subscriptions, participants, and more. Streamlabs OBS Studio also offers an easy-to-use mobile app for remote live streaming software options and communication tools. Additionally, content creators can add rolling credits to videos and view the total number of participants on each streaming platform.

Overview

Type: Cloud-based streaming software

Price: Open-source free plan and a prime membership option for $19/month

Compatible Operating Systems: Mac OS

Multiple Inputs:

Yes

Local Recording: Yes

Guests: Only with video streaming software like Discord or Skype

Key Features

Personalized video streams with pro overlays and pre-built themes for branding purposes.

Multi-stream features with tools to live stream across multiple platforms, including YouTube, Twitch, Facebook, and more.

Streamlabs app store includes over 62 different apps that give you more control, better analytics, and increased automation when interacting with participants.

Various widgets are available, such as an alert box, event wheel, and tip jar, to engage audience members and monetize your live stream.

Drag-and-drop components when building your page, with no coding skills required.

All streamers can access the free video editing tools, social reminder animations, and sounds for alerts, transitions, and intros.

Pricing

Streamlabs is free to download, but users must upgrade to the Prime membership plan to access the full suite of features. The price for this plan costs $149 for an annual subscription or $19 per month.

Pros

Free to download

Both Mobile and browser-based software versions are available

User-friendly UI and plenty of features for gamers/streamers

Cons

Limited professional streaming functionalities

Lacks advanced outputs like NDI, SRT, or SDI

Difficult to add remote guests
---

XSplit Broadcaster is an easy-to-use, highly customizable streaming software and video-mixing application designed exclusively for Windows operating systems. It offers extensive professional functionality and customization add-ons. XSplit Broadcaster is largely used for capturing gameplay for video streaming purposes.

This all-in-one streaming and recording application can be used for gaming, e-sports, and general content creation on multiple platforms. Many event organizers use XSplit Broadcaster to capture screens from several external applications, like Zoom, Microsoft Teams, and Discord.

Users can easily switch from an individual live stream to a full-fledged video with various guests, graphic assets, presentations, etc. The software also allows for custom transitions, animations, and broadcast effects throughout screens.

Overview

Type: Professional streaming and recording software

Price: Free plan, as well as premium plans ranging from $15-$200

Compatible Operating Systems: Windows

Multiple Inputs:

Yes

Local Recording: Yes

Guests: Raw video input from Skype

Key Features

Spit mode enables users to preview scenes, switch scenes, and adjust audio levels on multiple scenes.

Advanced media slideshow functionality, which helps to highlight sponsors and other supporters with multiple images and videos on BRB screens.

Source masking module allows users to change the shape of any camera or media source from a unified interface.

Application programming interface (API) that allows for custom integrations with several third-party solutions, including leading industry platforms and hardware.

Noise suppression tools to reduce any unwanted background noise in-app and adjust audio levels across each scene.

Chroma Key sensitivity and threshold for webcams, capture source, and media files.

NVENC encoding tools to fully enhance the live stream experience while easing up on your CPU.

Multi/custom RTMP streaming capabilities and native plug-ins to easily live stream to any of the top broadcast platforms simultaneously (e.g. Facebook and YouTube).

Pricing

XSplit Broadcaster offers a free version of its software that includes basic streaming with up to four scenes.

The paid Premium plan starts at $15 per month for a recurring subscription or $200 for a lifetime license. It offers additional features like unlimited scenes, watermark removal, high-definition streaming and recording, direct video input from Skype, multi-streaming, and customer 24/7 support.

Pros

Easy to use and highly customizable

Reliable streaming software

Great support for premium users

Cons

Only support by Windows

Watermarks on the free version

High CPU usage
---

Lightstream Studio is one of the best live stream software for content producers on Twitch, Mixer, YouTube, Facebook Live, and other popular streaming platforms. Lightstream offers free, cloud-based software that simplifies the design and development process with key creative instruments. Notable tools include board conversations, interviews, web recordings, item dispatches, and more.

There is no setup required and you don't need any costly, bulky equipment to fully utilize Lightstream Studio. Everything is accessed and controllable through a web browser, including remote guests, mixed live video feeds, and gameplay (no capture card required).

Further, you don't need to be a technical genius to use Lightstream Studio. The intuitive user interface and simple web tools allow you to create your vision with unrestricted control and go live in minutes. From there, you can build unlimited projects, scenes, and layouts for all your live streams and pre-recorded videos.

Overview

Type: Cloud-powered live streaming and broadcasting software

Price: $7 to $40 per month

Compatible Operating Systems: Web-browser-based

Multiple Inputs:

Unlimited inputs

Local Recording: Yes

Guests: Yes, the total number of guests varies by plan

Key Features

Various scenes are available (e.g., independent modes, an alternate perspective, BRB, screens, etc.) with options to switch between them freely.

Multi-streams to YouTube, Facebook, or even your site with Custom RTMP Destination choice.

3rd-party integrations that allow for motion graphics and animations, on-stream alerts, and messaging on popular social media platforms to increase engagement and interaction.

Remote control of live streams using your mobile device, with options to start and stop streams or switch between scenes.

One-on-one live support for answering any questions, fixing any technical issues, etc.

Flexible UI for improved usability, with branded overlays for full creative control and cloud capture for Xbox, PlayStation, and mobile streams.

Alerts and interactive widgets for optimized audience experience.

Pricing

Lightstream Studio offers two main plans: one built for gamers and one built for creators.

Gamer (Cloud-based console streams with overlays and alerts): $7/month for 720p 30FPS max resolution, $11/mo for 720p 60FPS max resolution, or $14/mo for 1080p 30FPS max resolution

Creator (Advanced live video production): $20/month for 720p 30FPS max resolution, $25/mo for 720p 60FPS max resolution, or $40/mo for 1080p 30FPS max resolution

All plans include PC screen share, auto live, remote control access with your phone, disconnect protection, cloud sync and storage, unlimited streaming hours, and live chat support. The Creator plan includes access to Gamer tools, plus: up to 7 remote guests, RTMP sources, and custom RTMP destinations.

Pros

3rd party integrations for alerts and dynamic content

Options to render live transfer in various video characteristics

Encoding advancements for better quality video with less CPU required

Cons

Expensive premium plans

No audience engagement or analytics tools

Limited post-production streaming features
---

Restream is a live streaming tool that helps individuals and organizations of all sizes distribute video content on multiple social media platforms, like Facebook, Linkedin, YouTube, and Twitch. The streaming software is used by millions of people around the world, including professional and amateur gamers, Fortune 500 companies, politicians, and even celebrities.

Restream provides a super simple video-based platform to create multi-stream live content and engage with audience members. Users can record and upload .mp4 or .mov video files across various channels. The software also allows for voice-overs, translations, and multi-camera modes with remote guests.

Overview

Type: Live video platform

Price: $0-$49/ month

Compatible Operating Systems: Browser-based

Multiple Inputs: Yes

Local Recording: Yes

Guests: up to 4

Key Features

Users can easily deploy customizable chat boxes to read and reply to messages within a unified dashboard.

Key data on live stream performance, with insights into audience sentiments and engagement levels across all platforms

Integration with other streaming software, like OBS Studio, SLOBS, Elgato, XSplit, Streamlabs OBS, and more.

Pricing

Restream is available for free and on monthly or annual subscriptions. The Free version supports streams for up to 30 platforms and allows you multi-stream up to 2 channels.

Paid subscriptions include:

Standard: $19 per month or $16 per month (billed annually): Multi-stream 5 channels, custom branding, 10 participants streaming on guest channels, 2 team seats, and 6 recording hours per stream

Professional: $49 per month or $41 per month (billed annually): Multi-stream 8 channels, split audio track recording, 4 team seats, and 10 recording hours per stream

Pros

Fair pricing with tons of features

Top-notch technical support

Easy to set up through Streamlabs OBS and OBS Studio

Cons

Inaccurate analytics and data reporting

Limited customizability on YouTube

Difficult to upload pre recorded videos
---

StreamYard is an all-in-one live streaming and broadcasting software that helps businesses interview guests, conduct screen shares, and engage audience members. Users can stream directly to YouTube, Facebook, LinkedIn, Twitch, and other popular live-streaming platforms. The software enables hosts to seamlessly manage several participants, display live comments, and upload pre-recorded video files and on-demand broadcasts.

With StreamYard, users are afforded key interactive and collaborative tools for an immersive live streaming experience. For example, you can broadcast with up to 10 people and multi-stream to all major channels at once. There are also options to respond directly to questions or feature specific comments on the screen.

This live streaming solution handles everything- from the complex stuff to minor details – so users can focus solely on content and brand growth.

Overview

Type: Live streaming studio

Price:

Compatible Operating Systems: Browser-based streaming service

Multiple Inputs: Yes

Local Recording: Yes

Guests: 10

Key Features

Multi-stream to up to 8 destinations, including Facebook, YouTube, LinkedIn, Twitter, Twitch, and custom RTMP outputs, for a wider reach and increased engagement.

Fully branded live streams, with options to add your logo, color, banners, name tags, scrolling tickers, backgrounds, overlays, etc.

Robust recording studio to create professional video files and audio recordings and edit video scenes.

Live giveaway contest tool that cycles through all participants and selects a winner at random. This is a great way to increase engagement, reward viewers, and give away prizes.

Audience analytics that displays performance data, participant demographics, traffic and retention stats, etc.

Video monetization tools that help you generate an income from video content on multiple platforms.

Pricing

StreamYard is available on both monthly and annual subscriptions, with a free version for life also available.

Free plan: Stream up to 20 hours per month, with 6 on-screen participants

Basic: $20 per month when billed annually: Unlimited live streaming, 6 recording hours per stream, 3 multi-stream destinations, and 10 on-screen participants

Professional: $39 per month when billed annually: Unlimited live streaming, 10 recording hours per stream, 8 multi-stream destinations, and 10 on-screen participants

Pros

Full HD (1080p) downloadable recordings

Custom RTMP destinations

Easy live streaming and recording

Cons

No video annotations or multi-camera feed options

Limited customer support

Does not support live polling
---

Wirecast is a professional-grade tool offered by Telestream – a production, processing, storage, and distribution software company. Wirecast is its live streaming software and on-demand broadcasting software for Mac and Windows. It's ideal for creating and streaming videos on YouTube, Facebook Live, and sports-related channels.

The software helps you create high-quality content, no matter the scale of your production. With innovative features and an intuitive, flexible UI, you can produce professional-looking videos with multiple stream layouts, layer-based compositing, and animated graphics.

This is the best live streaming software for capturing, producing and streaming high-volume events. This includes concerts, sports games, seminars, news, and other TV/radio services.

Overview

Type: professional-grade live streaming software

Price: $599-$799 for a lifetime license

Compatible Operating Systems: Windows and Mac

Multiple Inputs:

Unlimited inputs

Local Recording: Yes

Guests: Yes, varies according to the plan

Key Features

Unlimited input sources (e.g., cameras, microphones, webcams, IP cams, as well as web-based sources and wireless devices.)

Media capture for instant playback with videos, still images, audio clips, motion graphics, social media feeds, and more

Professional audio control, with multi-channel audio ingest, up to 8 independent audio tracks, and FX and processing.

Peer-to-peer conferencing and remote production tools come built into Wirecast. You can easily send live broadcast links and private messages to guests.

Screen-sharing tools for Microsoft PowerPoint or Keynote presentations, as well as application windows or programs.

Dynamic video and graphic editing tools to resize, position, crop, flip, rotate, add color correction filters, and more.

Preview thumbnails and real-time displays of all live source shots

Integrated stock media library with access to over 500,000 unique assets, including high-quality videos, music, lower thirds, overlays, backgrounds, etc.

Pricing

This professional streaming tool offers both license and subscription-based plans:

Wirecast Studio: $599 Lifetime License: Includes unlimited inputs, 2 remote guests, built-in, animated lower thirds title library, advanced audio mixer, integrated stock media library, unlimited destination outputs, and 1-4 slot multi-viewer output

Wirecast Pro: $799 Lifetime License or $35+/month subscription: Includes all the features of Wirecast Studio, and: 7 remote guests, ISO record of individual sources, PTZ camera control, multi-track audio recording, pro audio controls, and effects, sports production (instant replay, scoreboards), added output options (NDI, hardware and software), and 1-17 slot multi-viewer output

Pros

Advanced functionality and powerful features

Unlimited live camera inputs

Built-in multi-streaming and chroma key

Cons

Limited plans

Not always compatible with iOS updates

Steep learning curve
---

vMix is a top-notch live video and vision mixing software available only for Windows operating systems. It allows users to mix audio, switch inputs, record outputs, and live stream videos on 4 separate overlay channels. The platform is relatively easy to use for intermediate-level individuals, with a small amount of technical experience.

While a robust feature set and intuitive user interface, vMix enables users to create professional-quality productions for both large-scale, multi-camera events and simple one-person live streams. It's ideal when producing TV shows, online talk shows, esports games, and Church services.

Plus, all video content can automatically stream to multiple destinations like Facebook, YouTube, Twitch, Vimeo, and more.

Overview

Type: Live streaming and production software

Price: $60-$50 per month

Compatible Operating Systems: Windows

Multiple Inputs:

Yes

Recording: Yes, but not local

Guests: Supported only if you purchase Vmix Call

Key Features

Access to 100+ built-in animated titles, scoreboards, and tickers.

Support for all popular video file formats including AVI, MP4, H264, MPEG-2, WMV, MOV, and MXF.

Built-in virtual sets, with full-motion zoom and high-quality, real-time chroma key

vMix Call allows hosts to add up to 8 remote guests to live shows

Instant replay includes full eight cameras in slow motion and an array of other control options

Integrates with several 3rd party apps, such as DialogLoop, EasyWorship, Facebook Live, Facebook, Flowplayer, Vimeo Livestream, Periscope, PhoneLiveStreaming, Restream, Twitch, Vimeo, and YouTube.

Pricing

vMix offers lifetime licenses and subscription licenses for certain plans:

Basic HD: $60 lifetime license: Includes 4 total inputs, 3 camera/NDI inputs, 1 overlay channel, and 1920 x 1080 max resolution

HD: $350 lifetime license: Includes 1,000 total inputs, 1,000 camera/NDI inputs, 4 overlay channels, and 1920 x 1080 max resolution

4K: $700 lifetime license: Includes 1,000 total inputs, 1,000 camera/NDI inputs, 4 overlay channels, 4096 x 2160 max resolution, 2 recorders, 4 callers, and 1 camera

Pro: $1,200 lifetime license or $50/month subscription license: Includes 1,000 total inputs, 1,000 camera/NDI inputs, 4 overlay channels, 4096 x 2160 max resolution, 2 recorders, 8 callers, and 8 cameras

Pros

Advanced live streaming production tools

Robust functionality, with customizable branding, video editing, and audience engagement features

Flexible plans

Cons

Only compatible with Windows operating systems

Steep learning curve

No free streaming options
Frequently Asked Questions
What Is Live Streaming Software?
While many people use the term, "live streaming software", the technical term is a software encoding program. A software encoder is essential for live streaming video content. It can compress large amounts of data, "encode" it into a compatible format and make it transferable to the streaming platform of your choice.
Most encoders can perform several other functions aside from this video conversion process. Many offer various streaming tools and advanced features that allow you to create professional-quality content from your own computer. That's why it's often referred to as live streaming software, instead of an encoding program.
What Are the Different Types of Encoders?
Encoders come in two main forms:
Hardware encoders are dedicated devices that capture, compress (or encode), and deliver real-time audio and video data over local area networks (LAN), wide area networks (WAN), or across the Internet. Hardware encoding processors typically come in either smaller, portable boxes or larger, permanent solutions.
Software encoders are digital programs that rely on a computer's hardware to do the encoding. They obtain data from capture cards and send it via internet connection. Streaming software ranges in type and complexity. Simple ones can typically stream your video signal, while more robust encoders (e.g., OBS, Wirecast, and vMix) can assist with production work and broadcast customizations.
What Is a Live Streaming Platform?
Live streaming requires a form of source media (e.g. a video camera, an audio interface, screen capture software, etc.), an encoder to digitize the content for real-time delivery, and a content delivery network (e.g., a live streaming platform) to distribute and deliver the video across devices.
Essentially, a live streaming platform is a final destination for the content converted by your streaming software. It's a place to host and broadcast video clips. Popular examples include Twitch, YouTube, Facebook Live, and LinkedIn Live. 
Some live streaming software platforms even help you maximize reach and exposure by streaming the content across channels simultaneously.
What Is the Best Live Streaming Software?
Most video creators are looking for the best live streaming software available. While understandable, it isn't always that straightforward. The answer will depend on your specific budgetary, functionality, and content creation non-negotiables.
Before selecting a streaming software, here are a few important factors to consider:
Available Pricing Plans 
It's important to first figure out how much — if anything — you want to pay for streaming software. There are plenty of free streaming software options available that provide basic features and functionalities. This route is ideal for beginners just getting started with live video streaming. For experienced video content creators, paid plans will provide access to premium features, extended functionality, and advanced live production tools.
Video Inputs 
When live video streaming, it's critical to have the flexibility to include more than one video source. For instance, gamers may want to share their screen and make themselves visible at the same time. Make sure your live streaming software allows you to seamlessly switch between different video inputs during the live broadcast.
Live Mixing Abilities 
Aside from multiple video inputs, you should also have the freedom to include other media sources (e.g., audio and visual) in your live stream. Check that the live streaming software has live sound mixing abilities.
Supported Platforms 
Most live streaming software will support and be compatible with major streaming platforms, like Twitch, Facebook Live, LinkedIn Live, and more. Verify that the streaming software also allows you to broadcast content across several platforms at once. A multi-streaming platform will build brand awareness, maximize reach across diverse audiences, and improve lead generation efforts.
Pre-Recorded Videos
Even if a majority of your content involves live streams, you should also have the ability to locally record your broadcast in full HD, schedule pre-recorded videos, reuse the content, and allow viewers to replay the live stream. Both streaming and recording software are typically offered under a single plan, but it's a good idea to verify this beforehand.
What Equipment Do I Need for Live Streaming?
Every video creator's live streaming setup will look different. However, there are a few essential pieces of equipment needed for live streams:
Webcam or Camera
While most computers come with built-in webcams, an external camera or webcam will improve video quality. If you get a camera, make sure that it has an HDMI port and it's compatible with your capture card. There are various options available, though the decision will likely come down to your budget.
Microphone
A high-quality microphone is essential for live streaming. You should not compromise on your audio quality, especially since this is the main driver of audience engagement. There is a wide selection of mics available for every budget.
Capture Card 
A capture card is a device that captures footage from a wide range of sources, specifically PCs and gaming consoles. It transfers the video from your camera or webcam to your streaming software.
Internet Connection 
When live streaming video or audio content, it's important that you have a stable and reliable internet connection. This will ensure that your live stream is high-quality, consistent, and engaging.
Streaming Platform 
Once you have all the equipment and software in place, you will need to pick the final destination for your stream. The appropriate streaming service will depend on your content genre, target audience, and goals for the live stream.
Key Takeaways
When becoming a content creator and live streamer, it can be difficult to choose the best streaming software for your needs. It's important to think carefully about the key components of streaming software, including setup and functionality. Some of the best streaming software options will integrate across multiple platforms, provide an intuitive user interface, and offer tools to engage your audience and grow your brand.
OBS Studio is probably the most popular open broadcaster software for live streaming and screen recording. For large-scale, high-demand productions, opt for something more robust like Wirecast or vMix. Other options, like Restream, Streamlabs OBS, and Lightstream, are all user-friendly and great for beginners.