Best Online Course Platforms to host your online course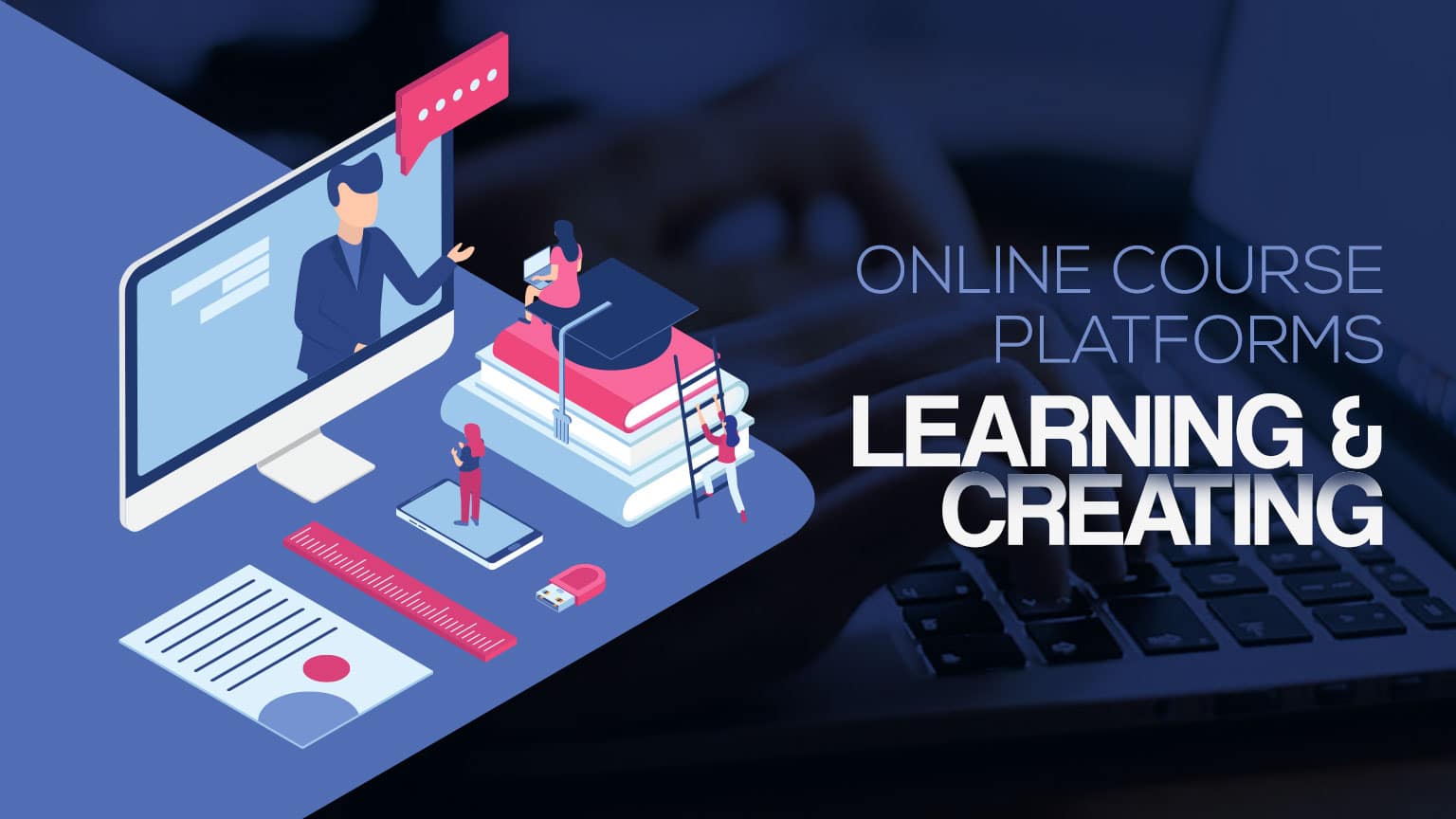 Are you looking for the best online course platforms to drive your business or help your students? In today's increasingly digitized world, it's easier than ever to share knowledge quickly and easily. Selling online courses is a great way to build a targeted community, monetize your audience, and ultimately expand your reach.
Online courses require a robust setup, with built-in marketing tools, course materials, sales pages, and much more. That's where online course platforms come into the equation. With intricate infrastructure and ready-made templates, these platforms streamline the whole process and make it easy to build an online course.
We researched and tested various providers within the online course marketplace for creating and selling online courses. This roundup covers all the information you need, including pricing, features, integrations, and pros and cons. Below are our recommendations for the best online course platforms.
What Are Online Course Platforms? 
Simply put, an online course platform is a type of Learning Management System (LMS) that gives users access to educational material from their mobile devices and computers. These platforms can be used to create and sell academic-based online courses or skill-based classes.
Students of the course can access tutorials, lectures, and other types of curricula by experts in various fields. Common topics for online courses include business and leadership, writing, photography, music, cooking, and more. Participants can learn a new hobby, explore their passions, or gain everyday wisdom.
The most successful online courses provide an immersive learning experience through high-quality video and audio, text, interactive features, etc. This helps to compensate for the lack of in-person connection.
What Makes a Great Online Course Platform?
While every online course platform has unique features and selling points, some criteria make for an ideal course creation solution.
Various forms of content supported (e.g., video, audio, PDFs, and images)

Editing features, marketing tools, and customization options

Support for assessments (e.g., quizzes, exams, certifications, etc.)

Integration with 3-party applications

A comprehensive plan and pricing structure for small and medium businesses, as well as large enterprises

Different payment options are available for course participants (e.g., credit card, debit card, PayPal, etc.)
Different Types of Online Course Platforms
When building an online course, it's important to decide what type of online learning platform to use. Every situation calls for a different solution.
While these platform decisions are complicated, using the best online platform for your program, certification, degree, or course can help you achieve your goals.
Below we define each online learning platform type in detail:
Learning Destination Websites
A learning destination site is a shared website that offers courses from several different instructors. Just as Amazon is the front end for many retailers, learning destination websites provide a similar storefront for online courses.
These types of platforms generally permit you to author your course using a learning management system or a dedicated authoring tool. Then, you can either upload or link the courses to the site. Learning destination platforms typically handle user registration and eCommerce efforts for you.
Traditional Learning Management System
A traditional Learning Management System is a type of commercial platform that provides the basic tools required for developing and hosting an online course. It gives the course creator the ability to author the course, store it, manage learning profiles, report progress, and other functionalities needed.
Open Source Learning Management System
An open-source Learning Management System is a type of platform that provides the basic tools necessary for hosting an online course — much like the traditional LMS solution. The difference is that they are usually free and can be customized based on your preferences and your course's needs.
WordPress Online Course Plugins
Learning Management System (LMS) plugins, such as WordPress online course plugins, allow 
you to create and run online courses with WordPress. This is an ideal option for anyone who wishes to keep their course content directly on WordPress.
Most plugins offer features for managing course content, handling subscriptions, running and grading exams, accepting payments, and more.
Learning Management Ecosystems
The learning management ecosystem model provides an all-in-one solution that goes beyond simple functionalities and basic creation tools. For example, course authoring software, adaptive learning engines, assessment tools, eCommerce sites and landing pages, and learning content management solutions are all integrated onto a single platform.
With learning management ecosystems, you'll be able to create courses and also run webinars, develop email sequences and digital downloads, access advanced marketing tools, and more.
10+ Best Online Course Platforms to Create and Sell Online Courses
---

Teachable is an online course creation software designed for creators, entrepreneurs, and businesses of all sizes. This all-in-one solution can help you build and sell engaging courses and coaching products, complete with lectures, quizzes, videos, and other unique content formats.

Teachable provides the tools needed to develop fully responsive educational content – all while growing and nurturing your audience. For example, there are several customization options to personalize the look and feel of your course. You will also be able to collect payments, track sales, get feedback, and view analytics for your online courses.

With Teachable software, you get built-in features and plenty of additional integrations for other third-party tools and apps. It's a great tool for educational institutions looking to provide accessible learning opportunities and large corporations looking to train employees. Teachable is also good for bloggers, industry professionals, small online business owners, and even hobbyists who want to earn extra money through online courses and coaching.

How Does It Work?

Teachable is available to everyone – whether you are already teaching in-person and want to start hosting these courses online or have expertise on a subject and want to start sharing this knowledge with others.

Before you start building your online business with Teachable, there are a few decisions to make and steps to take. First, you must create and build your school. A school is your main website on Teachable, where your products are hosted. One school can host an unlimited number of individual courses or products.

Creators can sell courses as their products—along with individual coaching or training sessions, and more. Upon setting up your account, you will be prompted to select either Course or Coaching as your product type. Courses on Teachable are considered products organized with a curriculum that includes text, video, quizzes, or other file types. Coaching, on the other hand, is considered a product where you schedule times to meet with clients one-on-one.

Unique Features

Course Builder: Every course is made up of a series of content blocks organized into lectures. These lectures are then grouped into chapters. There are several options to create multimedia lectures, videos, and coaching sessions with the power editor tool. And courses and coaching sessions are available across any device. 

Quizzes: Instructors can include multiple choice quizzes in all lectures to monitor how well students are learning. These are text-based questions and answers. 

Integration: Teachable has an extensive list of integration capabilities - including Calendly, Zapier, Zendesk, Olark, Intercom, MailChimp, ConvertKit, Zoom, HubSpot, Salesforce, AWeber, ActiveCampaign, and others. There are also many third-party forms and surveys for easily gathered participant feedback.

Course Delivery: Several delivery options to schedule your course content, teach live classes, and support student discussions. 

Extensive Data Tracking: Track sales and student insights with comprehensive dashboards and sales pages.

Pricing

Teachable offers coupons and flexible pricing options, including subscriptions, memberships, one-time payments, bundles, and more.

All instructors start with a free plan by default. All paid plans come with unlimited video bandwidth, unlimited courses and coaching services, and unlimited students. You'll also get student management features, lecture comments, and integrated payment processing. 

The four main plans include:

Free Plan: Includes all base features: unlimited students, $1 + 10% fee per transaction, instant payouts, unlimited courses, unlimited coaching services, product bundles, course design templates, 1 admin-level user, product support, third-party integrations, and basic quizzes

Basic: $29 per month: Includes everything in the Free Plan, plus: 5% transaction fees, instant payouts, members-only community, 2 admin-level users, course creator training, custom domain support, coupon codes, drip course content, integrated email marketing, and private student community

Professional: $99 per month: Includes everything in Basic, plus: No transaction fees, 5 admin-level users, priority product support, graded quizzes, advanced reports, unbranded website, course completion certificates, course compliance, integrated affiliate marketing, and group coaching calls

Business: $249 per month: Includes everything in Pro, plus: 20 admin-level users, priority product support, manual student imports, bulk student enrollments, custom user roles, and advanced theme customization

Overall Opinion

Teachable provides extremely professional virtual classrooms with a beginner-friendly user interface. Students can easily find classes from a huge selection of courses across various subjects and topics.

For students, Teachable is great for growing and improving job skills, in addition to personal hobbies and passions. For instructors, Teachable provides solid user support to help you with any issues or questions. Overall, Teachable is a great option for both students and instructors. This is one of the best online course platforms available.

Pros

Beginner-friendly platform and easy-to-use interface

Mobile app available

Unlimited courses at an affordable price

Cons

School designs are limited

Lacks marketing support

Transaction fees on most plans
---

For industry professionals interested in joining Udemy, it's easy to start an online course focused on what you're passionate about. First, you will need to choose a topic to teach with the Marketplace Insights Tool. You are welcome to teach any subject as long as it isn't on the restricted list. There are no approvals needed to get started, but you do need to meet the course minimum requirements: 

At least 30 minutes of video content 

At least 5 separate lectures 

Valuable educational content 

HD video quality (720p or 1080p) 

Audio that comes out of both channels and is synced to video 

Audio quality that is not distracting to students 

You can also add additional content such as exams, quizzes, and homework exercises to create a better learning experience. Udemy offers plenty of resources to help you get started, including an instructor dashboard and curriculum pages. All courses are discoverable within the marketplace and you'll earn revenue from paid enrollments.

How Does It Work?

For industry professionals interested in joining Udemy, it's easy to start an online course focused on what you're passionate about. First, you will need to choose a topic to teach with the Marketplace Insights Tool. You are welcome to teach any subject as long as it isn't on the restricted list. There are no approvals needed to get started, but you do need to meet the course minimum requirements: 

At least 30 minutes of video content 

At least 5 separate lectures 

Valuable educational content 

HD video quality (720p or 1080p) 

Audio that comes out of both channels and is synced to video 

Audio quality that is not distracting to students 

You can also add additional content such as exams, quizzes, and homework exercises to create a better learning experience. Udemy offers plenty of resources to help you get started, including an instructor dashboard and curriculum pages. All courses are discoverable within the marketplace and you'll earn revenue from paid enrollments.

Unique Features

Promotional Tools: Custom coupon and global advertising tools enable enrollment incentives and drive traffic to courses.

Instructor Support Team and Teaching Center: Various resources that help to answer your questions, review test video, and provide insight throughout the process. There is also an online community of experienced instructors that offer plenty of support.

Certificates and Awards: Paid courses feature a certificate of completion to document student accomplishments.

Udemy Business (UB): Subscription-based service designed for organizations that need to train employees and upskill the workforce.

Marketplace Data: Users can research course topics with marketplace insights to better understand demand and competition. This helps to refine the subject you want to teach and gain insight into what students are searching for on online course marketplaces. Marketplace data results are available in English, Spanish, Portuguese, French, and German.

Test Video: 2-minute test video and audio options to ensure quality and delivery meet recording standards.

Pricing

Udemy has a unique pricing structure for individual instructors. There is no subscription required to create and host a course on Udemy. You can publish as many free and paid courses as you want. However, Udemy does take a percentage of the revenue, which varies depending on how customers sign up for the course. For example, instructors receive 97% of the revenue for sales occurring through instructor promotions, coupons, or referral links. That number significantly decreases to 37% when Udemy advertisements or the Udemy marketplace drives user clicks.

For Udemy Business, there are pricing and plan options for companies of every size and growth stage:

Team: $360 per user per year: Access to 7,300+ online courses, custom logo and URL, analytics and adoption reports, and mobile app access

Enterprise: Must contact sales for pricing: Access to 16,000+ courses, custom logo, and URL, create and host proprietary courses, user groups, an international collection, add-on Udemy Business Pro, and mobile app access

Overall Opinion

Udemy is great for anyone who wants to take or create a course online. This online course platform is geared toward job skill development and online training.

For instructors, it's fairly easy to start selling courses on Udemy. The best way for instructors to make money on this platform is to recruit their own students. You can keep the majority of the revenue this way. Overall, Udemy is a good online course platform for both students and instructors alike.

Pros

It's free to become a Udemy instructor

There is a diverse array of courses available to students

Sleek video player for an elevated online learning experience

Cons

Incorrect course ratings

Instructors only keep 37% of the revenue in some cases

Low barrier of entry for instructors
---

Skillshare is an online learning community for people based in the United States who want to learn something new from educational video lessons. This New York-based company was founded in 2010 by two tech industry experts. Now, there are 8 million active users on the platform and thousands of online courses largely targeted toward creative professionals and entrepreneurs.

This online course platform is designed to be a source for exploration, learning, and application. At Skillshare, members are empowered to learn new skills, and teachers are given space to share expertise, earn money, and help others along their creative journey. Common class topics include illustration, design, photography, video, freelancing, and more.

If you're an experienced creative professional with tips to give, Skillshare is a great online course platform to get started. They offer an extensive suite of resources and tools to help you create classes that grow your online presence. The top-earning teachers make $100,000+ on Skillshare.

How Does It Work?

Skillshare has a different approach than other platforms out there. It offers an online course marketplace and a subscription fee model for earning income. This means teachers earn income on Skillshare through royalties and referral revenue.

Anyone can join Skillshare to start learning from online classes, create projects, and even become a teacher. To get started, sign up for an account and you'll be immediately transported to the My Class page. This is where you can upload video lessons, preview classes once built, and access editing tools.

Skillshare classes typically include a combination of video lessons and a class project. All classes are pre-recorded and average 30-40 minutes. The class project is a short assignment that helps learners put their new skills into use. Ultimately, you end up with high-quality video content and several opportunities to engage your audience. Skillshare has an intimate environment and a stronger sense of community, with multiple collaboration and feedback tools.

Teachers on Skillshare earn money through monthly royalties based on the number of class minutes watched. There is also a referral bonus for every student you refer to Skillshare.

Unique Features

Online Community: Skillshare is a highly collaborative platform, with an active and supportive online community. Students can connect with one another, share learning experiences, and give feedback on others' work. These interactions take place on the discussion boards.

Student Projects: The vast majority of online courses include class projects for learners to complete throughout the process. These projects are meant to provide students with real-world critical thinking and problem-solving skills.

Device Availability: Skillshare is available across all devices, such as computers, tablets, and mobile phones. The mobile app is available on both Android and iOS devices.

Multiple User Streams: Skillshare allows multiple members to stream courses on their devices at the same time.

Flexible Video Options: When creating or watching videos, you can opt to include closed captions in multiple languages, change the playback speed (0.5x, 1x [normal speed], 1.25x, 1.5x, and 2x), add notes to videos, and get digital downloads for offline viewing.

Chroma Courses: Create immersive, small group courses with multi-week lesson opportunities and exclusive content for accelerated learner progress.

Pricing

It's completely free to publish on the Skillshare platform and start selling online courses. Skillshare even pays instructors $10 for premium membership referrals and royalties based on minutes watched in a premium class per month.

For learners, classes are not available for individual purchase. Skillshare has a subscription-based pricing structure. There are various payment options for this online course platform, including a monthly membership option (monthly effective cost: $32, annual price: $384) and an annual subscription fee that is paid upfront (annual price: $168).

All plans include unlimited class access to 35,000+ online courses. There is also a 30-day free trial, which charges $168 for an annual Skillshare membership once the free trial elapses.

Overall Opinion

The community-focused approach makes Skillshare one of the best online course platforms for well-known creators with recognizable brands. For example, members can look through online courses, see your name, and get excited to buy your course. You can sell courses without having to do much marketing or promotion. This isn't to say that small, lesser-known creators shouldn't use Skillshare. The platform provides a wide-reaching marketplace to sell your online course business without having a huge audience or online presence.

Pros

An affordable option for online teaching

An engaged community of members

Large video lessons, workshops, and other class formats are available

Cons

No certificates are available to students who complete the online course

Limited quality control

Not many languages supported other than English
---

Formerly known as Lynda.com, Linkedin Learning is re-branded as an online learning platform predominantly for employee training and professional development. Content creators use this wildly popular professional social media network to sell courses, share knowledge, and create learning opportunities for all members of the global workforce. 

Despite the limited coverage as an online course platform, LinkedIn Learning is an excellent choice for people who want to start teaching a collection of courses on specific topics. LinkedIn Learning instructors can earn extra income by helping students reach both professional and personal goals. 

Linkedin Learning actively collaborates with various subject matter experts to create unique learning content and valuable online courses. There are also several opportunities to engage with the instructor community and work with some of the industry's top creatives, producers, directors, and editors. 

How Does It Work?

Linkedin Learning is very selective about the instructors permitted to join the platform. If you're interested in becoming a LinkedIn Learning instructor, you must fill out an application. 

Here is some of the information required on the Instructor Application:

First and last name

Email address

LinkedIn Profile URL

Number of LinkedIn followers

The language you would teach the course in

Examples of content on other platforms

The topics are you an expert in (e.g., business software, career development, finance and accounting, human resources, customer service, leadership and management, entrepreneurship, marketing, product design, and development, etc.)

After you submit the form, Linkedin Learning will reach out if you're a good fit. While they don't respond to every application, they keep all submissions for possible consideration in the future. 

Unique Features

LinkedIn Learning Hub: Comprehensive skill-building platform with several Hub partners to help instructors enhance online learning experiences and students build the right skills. Top content partners include Codecademy for Business, Coursera, Harvard ManageMentor Spark, Pluralsight, Udacity, and more.

LMS Integrations: Various integrations and deep-integration configuration guides to help instructors seamlessly fuse online course platforms. Some popular LMS integration providers include Adobe Captivate, Oracle Learning, 360 Learning, Blackboard, Cornerstone, DigitalChalk, Saba, and more.

LinkedIn Learning Live: Instructors can connect with their network and the LinkedIn Learning community in real-time with live events. These upcoming events are featured on a certain carousel on the LinkedIn Learning homepage. Live events introduce a new, dynamic learning experience and help instructors share expertise in an authentic and discoverable way.

Personalized Content: Upload and promote content from 3rd parties, online course platforms, or internal organizations, like onboarding or training documents.

Interactive Q&A Tools: All course pages include interactive communication tools, where learners can ask questions and share ideas with others.

Skills Insights: The platform identifies and tracks the skills learners are building and are interested in building. Instructors can use this data to create personalized content for specific groups of learners.

Pricing

If your LinkedIn Learning instructor application is approved, it's completely free to upload an online course on the platform. 

For learners, however, there are two main subscription options: annual and monthly. 

Annual: $24.99/month (or $299.88/year)

Monthly: $39.99/month

There are also individual courses where you make a one-off payment for a single course. It costs around $35-$40, depending on the course. 

Overall Opinion

LinkedIn is more than just a social networking site for professionals. It's also a learning tool, where industry experts can share skills and knowledge with others using the platform. 

While Linkedin Learning is very selective when approving instructors, one can only assume it's a lucrative venture to sell courses through this exclusive portal.

Pros

Intuitive interface

Options to collaborate with industry experts

Several integrations with other online course platforms

Cons

Strict application process

Courses are not accredited educational materials

All course content is limited to text and video
---

Kajabi is an all-in-one platform where creators, instructors, coaches, and experts can create and sell online courses. The software supports all kinds of content including online courses, coaching programs, podcasts, memberships, and more. 

The company launched back in 2010, empowering over 50,000 entrepreneurs to serve nearly 60 million students and make $3.5+ billion in sales. Kajabi has since grown a supportive network of industry experts that provide newcomers with real-time advice and guidance. This includes a Facebook Group of over 25K active members and ongoing virtual events hosted by other Kajabi members. 

Kajabi's industry-leading all-in-one online marketplace makes it easy to build an online course business. You will have access to a full suite of marketing tools and templates to help with new content creation, recurring campaigns, and full-funnel conversion strategies. Once launched, you can manage growth with the built-in CRM, track performance with informed analytics data, and collect payments using 3rd party integrations like Stripe and PayPal. 

How Does It Work?

Kajabi provides everything you need to successfully create, market, and sell courses from a single dashboard. The product blueprints, called Pipelines, help you create an entire marketing funnel with just a few clicks. First, potential students will reach your landing page. This is where you can collect their emails in exchange for a free digital download, like an eBook or PDF synopsis. 

When a visitor provides their email, they will be automatically subscribed to your marketing sequence. This is your opportunity to thank them for signing up and upsell the course. Kajabi offers templates for all of these pages and more. 

There are also automation options that are based on various if-then scenarios. For example, you can customize outcomes when a visitor finishes an assessment, fills out a form, cancels a subscription, registers for an event, or has been inactive. 

Unique Features

Locked Course Content: Kajabi allows you to lock modules until your students complete the appropriate lesson. This ensures a specific learning pathway for your students.

Automated Management: Automatic reminders for inactive students or those struggling to keep up with the course. Automation tools can also be used to send email promotions, follow-ups, notifications about upcoming events, etc.

Easy Uploads: Kajabi has several product blueprints and pre-built templates so you can quickly structure your online course content. There are sample structures for mini-courses, coaching programs, online training, and more. This makes online course creation super easy.

Product Themes: Kajabi offers 10+ themes for your online course. That means you'll be able to find a theme that works seamlessly alongside your online course training, membership websites, and academic courses. It also allows you to further showcase your unique brand.

Unlimited Wisteria Video Hosting: Wisteria is a popular video streaming service that is normally offered at $99 per month on its own. Kajabi plans include this service, with prices starting at just $119.

Student Participation: Online course hosts can easily create quizzes, discussions, and assignments to engage your students. More specifically, the Community Feature allows you to create a general forum for your students to interact and start discussions. The Assessment Feature gives you the ability to create multiple-choice or essay-style quizzes. Students can also submit assignments directly on the platform with the file upload option.

Kajabi University: Guided content, downloadable resources, and training videos specifically tailored for online business success. There are expert instructions for various topics, such as website building, courses, marketing, list building, and memberships.

Pricing

Kajabi has three main plans. Each comes with a 14-day trial period and the option to save 20% with annual billing. 

Basic Plan: $149 per month or $119 per month when billed annually: Includes 3 products, 3 pipelines, unlimited landing pages and marketing emails, 10,000 contacts, 1,000 active members, 1 website, and 1 admin user 

Growth Plan: $199 per month or $159 per month when billed annually: Includes everything in the Basic Plan, plus 15 products, 15 pipelines, 25,000 contacts, 10,000 active members, 1 website, and 10 admin users

Pro Plan: $399 per month or $319 per month when billed annually: Includes everything in the Growth Plan, plus 100 products, 100 pipelines, 100,000 contacts, 20,000 active members, 3 websites, and 25 admin users 

Overall Opinion

Kajabi is a quality service for anyone who wants to create an online business. This isn't a course marketplace platform, like Skillshare and Udemy, so it's up to you to find students and sell online courses. 

Luckily, Kajabi is an incredibly robust online learning platform and provides helpful marketing tools to boost course sales. Plus, you'll get excellent user support and automation features to help manage your virtual classroom. While Kajabi is pricier compared to other online course platforms, you are getting an all-in-one platform that can capitalize on your growth potential.

Pros

Responsive customer service team and insightful Help Center

In-depth course insights for a better understanding of student progress

SEO-optimized online courses that rank high across all major search engines

Cons

Priced higher than other platforms

Limited assessment customization options

Only premade certificates are supported
---

Podia is an all-in-one online storefront for selling online courses, digital downloads, webinars, membership subscriptions, and other products. With various creator-friendly tools and marketing features, this is one of the best online course platforms for creative entrepreneurs. Since 2014, over 50,000 creators have used Podia as their dedicated online course platform. 

There are a variety of features available to fit your specific business and customers' needs. Podia supports all file types and does not limit how much content you can create and sell to learners. You can easily upload standalone courses, drip courses, pre-sell courses, cohort-based courses, pre-launch courses, and other forms of content hosting. 

Further, Podia offers 24/7 support via live chat to help you get through your toughest challenges. The platform also has several guides, articles, videos, tools, and webinars to support your online course. 

How Does It Work?

Podia helps you build an online store, also called a storefront, for your digital content. All storefronts have a similar template and layout, with landing pages that include an overview of all information, like creator bios, about sections, FAQs, etc. The courses, memberships, and digital downloads being sold will have a separate landing page. 

After creating an online course, you can choose to publish it immediately or pre-launch it and collect emails in the process. If you have additional resources (e.g., cheat sheets, eBooks, videos, audio, text, checklists), you can sell them as digital downloads separate from the course. There are also options to bundle and sell them as a package deal. 

Podia allows you to create your own private membership site, with various membership plans, perks, and exclusive content for members. You can use this landing page to share updates with your audience and notify them about new products. This is a great way to build an online community beyond Facebook and LinkedIn and grow your business on your own terms. 

Unique Features

Customizable Branding: Podia enables you to customize the look and feel of your entire site, with no design or development experience required. You can add a logo and adjust color themes to match your branding.
Media-Rich Storefronts: All websites and storefronts support robust text, images, videos, and even testimonials on your sales/review pages.
Email Marketing Tools: Podia's embedded email marketing platform allows you to send broadcast emails, build automated email funnels, and get extensive email analytics. There are also options for automated campaigns, broadcast emails, embeddable signup forms, and triggered drip campaigns.
On-Page Live Chat: Live chat tools that allow you to actively engage on your website or when logged in to your digital products. This is a great way to engage leads, boost sales, nurture customer relationships, and maximize touch points throughout the funnel.
Custom Websites/Storefronts: The Podia editor helps you build a modern, mobile-friendly website. You can use a Podia-specific domain or choose a custom URL. There are options to create a homepage, landings pages, sales pages, newsletter signup pages, and more.
Affiliate Marketing Tools: You can develop your own affiliate program and set custom commission terms, invite affiliates, and rewards.
Embeds: Podia allows you to create customized buttons, product cards, or hyperlinks to sell your online course. The code snippet can be copied and pasted into other sites, like WordPress, Squarespace, Wix, Unbounce, LeadPages, and more. These site visitors will be able to purchase your products from there.

Pricing

Podia has three main plans and offers a 14-day free trial for each (with no credit card required). 

Mover Plan: $39 per month or $33 per month when billed annually: Includes a custom website, email marketing, customer messaging, community, unlimited courses, unlimited downloads, and unlimited coaching products. 

Shaker Plan: $89 per month or $75 per month when billed annually: Includes everything in the Mover Plan, plus unlimited webinars and affiliates. 

Earthquaker Plan: $199 per month or $166 per month when billed annually: Includes everything in the Shaker Plan, plus priority support, onboarding calls, and monthly creator calls. 

Overall Opinion

Podia is a great option for beginners who want to sell multiple digital products, as well as educational content. You can easily build several online courses, set up separate membership sites and landing pages, and host them on this all-in-one platform. 

The templates are easy to use and convert well. And when you finish creating your online course, Podia can help with the launch with lead nurturing campaigns, built-in email marketing tools, and teaser content. Overall, this is one of the best online course platforms to maximize your lead conversions and build your online business.

Pros

Simple user interface when creating courses

Regular platform updates and newly added features

No learning curve or tech experience required

Cons

The backend doesn't allow you to categorize or filter products on the storefront page

Limited custom embed codes

Not many customization options for developers
---

Thinkific is an all-in-one software platform to create, market, and sell your knowledge/expertise with total control of your business and overall brand. The company is aiming to revolutionize the way people learn and share knowledge. 

This software platform offers a user-friendly course builder for the creation of professional digital learning products of any kind. Thinkific provides simple and ready-to-use templates. There is no coding, development, or technical expertise required. That means you don't need any special skills to publish and sell courses. 

This platform also lets you insert multimedia content like video lessons, quizzes, surveys, discussions, and Captivate files. All content can be implemented using drag-and-drop functionalities. There are also templates available for membership infrastructure, private courses, prerequisite lessons, multiple instructors, and drip schedule content.

How Does It Work?

There are two main sections when creating a course on Thinkific: the course material and the landing page. Unlike other platforms and course builders, you don't have to start from scratch. Thinkific provides various templates and helpful tips for building a valuable course. 

You can choose from the following templates: mini-course, flagship course, pre-sell, membership resource library, and webinar replay. All course templates are pre-built with sample quizzes, downloads, surveys, and instructor messages. You can add and remove any as you wish. 

Unique Features

Live Lessons and Cohorts: Thinkific supports various types of learning experiences, including live, on-demand, and/or blended classes.
Assessments and Certificates: Options to incorporate comprehensive quizzes, engagement surveys, assignments, exams, and certificates into your online course.
Progress Tracking: In-depth insights and data reporting to track student progress and effort.
Drag and Drop Website Builder: Instructors can easily create a personalized storefront or school with pre-built website templates and options to customize them with drop and drog tools.
Ecommerce Included: Storefronts can optimize revenue with 0% transaction fees and payments accepted across 100+ countries. Pricing structures can also be customized through recurring monthly fees, subscriptions, and coupons.
Live streaming and Webinars: Thinkific supports many live streaming platforms, such as YouTube Live, Zoom, and Live Stream. Each is embeddable, which means you can add live video within your Thinkific course lesson.

Pricing

Thinkific offers four different plans to choose from, which include one free plan and three paid plan options. 

Free Plan: Includes limited courses with unlimited students, 1 site admin account, drag and drop course builder tools, full e-commerce capabilities, website templates, email and phone support, and access to the Thinkific App Store.

Basic Plan: $49 per month or $39 per month when billed annually: Includes all Free features, plus unlimited courses, students, and content, Live Chat support, custom domain, coupons and promotions, drip (scheduled) content, one-to-one student email, Thinkific Academy Basic Courses

Pro Plan: $99 per month or $79 per month when billed annually: Includes all Basic features, plus 2 site admin accounts, priority support, private and hidden courses, subscription and flexible pricing options, completion certificates, single communities, live lessons, advanced course building, and Thinkific Academy Pro Courses

Premier Plan: $499 per month or $399 per month when billed annually: Includes all Pro features, plus 5 site admin accounts, groups, onboarding package, 15 group analysts, unlimited communities, Brillium exams integration, white labeling, and API access. 

Overall Opinion

Thinkific is one of the best online learning platforms for established entrepreneurs looking to strategically grow another revenue stream from an existing audience. The robust course-building functionalities make it easy for course creators to build multiple classes, develop a website, and market and sell online courses all from one dedicated software. 

We recommend Thinkific mainly to creatives, such as podcasters, writers, videographers, and more. You can focus on running and building out the creative side of your brand, while Thinkific handles the backend logistics of your online business.

Pros

Excellent course builder for beginners

Dedicated app store within the platform

Extensive suite of built-in marketing tools for automation

Cons

No mobile app is available

Doesn't support EU VAT payments

Lacks advanced customization options
---

LearnDash is an online course platform that is primarily used by businesses, organizations, and educational institutions. It is the number one recommended online course platform for Fortune 500 companies, major universities, and training organizations all over the world. 

Universities can utilize LearnDash to provide and manage an online course for enrolled students. Businesses can use this platform to implement online training for their employees. Professionals and experts can share their knowledge by selling courses online with this platform. 

All instructors can create courses, assign quizzes and activities, give student awards, manage students, and download reports with this online course platform. LearnDash also provides excellent features to help instructors sell online courses and increase revenue. Here are some key perks that help boost conversions and enrollment. 

You can use any pricing model you want. 

Students can buy the course using a variety of payment platforms

There are automatic renewal reminders for students

Guaranteed refund protection for students. 

LearnDash is primarily a platform for large institutions to create and sell online courses to their student base. Unlike Udemy, students don't visit this site and browse available courses. Rather, an organization can create a customized learning platform using LearnDash. It then serves as an all-in-one platform where students can access specific online training and course content. 

How Does It Work?

LearnDash is unique because it's technically a plug-in and uses WordPress course integration. You can purchase WordPress web hosting directly from WordPress or similar companies like Siteground or Bluehost. To get started, you have to set up your WordPress site first using the following steps: 

Purchase WordHost web hosting or start with the free plan

Choose a domain name

Install the WordPress software on your computer

Once that's complete, you can download the LearnDash plug-in. To do this, you'll need to go to the LearnDash website and purchase a plan. You can find then download the plug-in from your account section. 

Make sure to install a LearnDash theme that's similar to your branding. Using a compatible theme will ensure that your website looks great from the beginning and won't require much customization. If needed, you can easily change the course layout, adjust your sales page, and more. 

When you're ready to create your first online course, you can use the LearnDash course builder to get started. This is where you will adjust course settings and choose payment programs. LearnDash offers several useful videos and tools to help get your courses up and running. 

Unique Features

WordPress LMS Plugin: WordPress integration is one of the most convenient features provided by LearnDash. WordPress is one of the best choices for managed web hosting. They offer free and affordable plans so that you can get started with very little overhead costs.
ProPanel Reporting: LearnDash uses a ProPanel for a seamless administration experience. The ProPanel lets admins see user activity in real-time, shows user progress, and allows management of assignments, quizzes, and essays.
Drag and Drop Course Builder: Provides an easy, intuitive way to build out courses. You can add new sections, lessons, topics, and quizzes with drag and drop tools.
Stripe and WooCommerce Integration: Learners can skip the shopping cart step and check out quickly with the Stripe or WooCommerce integration for LearnDash. This is a great solution for course creators who only have a few online courses and need an easy payment system.
LearnDash Widgets: Dynamic content and insertable widgets for seamless course navigation, course progress details, user status, and more.
Assignment Management and Detailed Reporting: Instructors can approve, comment, and award points on submitted assignments. There are also options to quickly run reports on enrollment, progress, and performance.
Course Certificate Builder: Create customized certificates for completed courses and quizzes. You can easily build them using the Gutenberg Block Builder using the add-on.
Themes and Integrations: Ready-to-use starter site themes and powerful integration with 3rd party apps, like PayPal, 2checkout, bbPress, BuddyPress, MailChimp, Slack, ConvertKit, Zapier, and more.

Pricing

LearnDash has three main plans: Basic, Plus, and Pro. All plans come with a 15-day money-back guarantee, in addition to unlimited courses, unlimited users, course content protection, drip-feed lessons, advanced quizzing, certificates and badges, course forums, email notifications, free integrations, and 1-year support and updates. 

They differ based on the number of site licenses provided:

Basic Package: $159 billed annually: 1 site license

Plus Package: $189 billed annually: Up to 10 site licenses

Pro Package: $329 billed annually: Up to 25 site licenses

Overall Opinion

If you have a big organization, such as a university or corporation, LearnDash can provide you with the tools needed to support a large-scale learning solution. The WordPress integration makes it easy to build a beautiful website, fully compatible with the LearnDash platform. 

Instructors can fully manage an online course with the custom ProPanel dashboard. Overall, LearnDash is a great option for large businesses and universities that need to host online classes and training. 

Pros

Drip-feed content

Dynamic forums for students

Several add-ons and application integration

Cons

It's not as good for individuals and small businesses

It's not beginner-friendly

Web hosting like WordPress required
---

Pathwright is one of the best online course platforms for creating online courses that are designed to be 100% actionable for students. This all-in-one platform aims to reinvent the world of online education through innovative design, learning, and teaching methods. 

Since 2009, Pathwright has been on a mission to multiply the impact of educators and access to information across the world. That's why the company is run largely by teachers and educators of all kinds. They continuously scope and test product features to ensure every course instructor has the tools necessary to create a step-by-step learning experience that's tailored to the students. 

Pathwright is the perfect online course creation software for organizations of all types and sizes–including large-scale enterprises, small businesses, online schools and classroom teachers, individual subject experts, coaches, and more. 

The platform practices a people-first approach, meaning you can teach online more personally. All courses are experienced with a group, with mentors and teachers playing a leading role. Anyone can discuss the content and what they're learning at any step. 

How Does It Work?

Creating online courses on Pathwright is seamless due to the intuitive user interface and fluid software. You will start by building out your course syllabus and adding specific actions for students to complete at every step. Actions are implemented with a dropdown menu that includes the following options: watch, read, take, submit, attend, listen, or to-do. This creates a clear path for learners making their way through the course material. 

After filling out the syllabus and actions, it's time to start adding content to each outlined step. You can incorporate all media types, such as video, audio, and written tutorials. There are also options to create projects, discussion exercises, and game-like practice quizzes or graded tests within each step. CSS-savvy users can code a customized design into their courses.

Most instructors who sell courses online with Pathwright opt for a points system to motivate learners and track official grades. At the end of the course, you can award course completion with printable certificates.

Unique Features

Learning Experience Design: Pathwright's Learning Experience (LX) team helps teachers design rich, interactive online courses. This includes personalized learning models, launch strategies, and innovative, cohesive learning experiences.
Interactive Content: Create appealing courses with active-learning blocks, like Annotated Images and Flashcards, and interactive text and images. These intuitive tools create faster workflows and improve student engagement.
Cohorts: Tech-based feature that helps learners actively learn together, while offering personalized paths. You can create as many new Cohorts as you want and customize each Cohort. Unique edits made to a Path will only sync to the learners in that Cohort, but won't change any other Cohorts.
Control Access: Teachers can make courses private, public, or for members only. You can also set registration and access windows, including seat limits. During the course, you can set a specific schedule, add start dates to lock access to the content until a certain date, and use due dates for assessments, live meetings, and projects.
Teach Anywhere: You can connect with learners from any device–including desktop, mobile, and tablet. To stay updated, set up in-app and email notifications for things you need to grade or respond to. When you reply to questions and discussion notifications, responses will automatically appear in the app.
Performance Data: Pathwright provides key performance insights for the whole course, each lesson, and each step to see what needs to be refined. These reports help teachers quickly evaluate completion rates and student progress.
Integration: Pathwright integrates with Google Analytics, Intercom.io, and much more. You can embed almost any type of hosted external content.

Pricing

Pathwright has three main plans: Starter (the basics needed to start selling courses), Essentials (scale-up solutions), and Complete (for multiple teams, departments, or organizations). Here are all the plan details:

Starter: $99 per month or $89 per month when billed annually: 1 staff member, teach up to 1,000 members, friendly email support, free course design classes, create unlimited courses, add more members and staff to your plan anytime, sell courses, 1 cohort per course, and 1 mentor group

Essentials: $199 per month or $179 per month when billed annually: Includes all Starter features plus: 5 staff members, offer 1 subscription plan, use your own domain name, integrate with 2000+ apps, guided course design classes, priority email support, 3 cohorts per course, and 5 mentor groups

Complete: $499 per month or $449 per month when billed annually: Includes all Essentials features plus: 20 staff members, offers multiple subscription plans, course certificates, member-created cohorts, priority email support + live demos, unlimited cohorts per course, and 20 mentor groups

Overall Opinion

Pathwright is especially good for educators in small to medium-sized businesses and teachers practicing both in-person and virtual learning. Its interface is clean and modern. Students can easily find what they need, what they should be doing, and what they should do next. This design is highly motivating and removes any confusion that could cause discouragement or disengagement. 

For teachers, there is definitely a steeper learning curve compared to other online course platforms. While it's easy to add videos, text, downloads, and uploads throughout, it's difficult to fully understand and implement the actionable blocks. There are also some limitations with the types of modules that you can create.

Pros

Supports webinars, live online, documentation training types

App-centric software

Flexible content capabilities and pleasing design aesthetic

Cons

Limited design customization

Lacks advanced browser functionality

Steep learning curve
---

Mighty Networks is a cohesive community-focused course website. The platform can help you build an active paid audience around your online course. The company was founded in 2017 by three industry leaders aiming to drive community innovation and offer a different kind of online course platform. 

Mighty Networks is an ideal community builder and management vendor for both course creators and YouTube creators. This SaaS platform serves creators interested in selling experiences, relationships, and expertise to members–all offered under the creator's brand across every platform. 

You can bring people together through branded content, sales pages, in-person events and conferences, videos and live streaming, and of course, online courses. Whether you're just starting out with 30 subscribers or have grown to 300,000, you can continue to scale without complexity or compromising on member experience and community management.

How Does It Work?

The Mighty Networks app focuses broadly on community-building, where users can choose to sell individual courses, community membership, or combine both options. Pricing for each course is 100% customizable. Memberships can be structured as a one-time payment or recurring subscription. Further, courses can be priced separately or provided for free to paying members.

All courses come with a built-in Activity Feed that improves engagement and drives conversation among members as they complete your course. Members can share content too, including quick text posts, images, and URL links. 

As the instructor, you can build live events (both online and in real life) into the course. There are also several engagement drivers, such as icebreaker questions, polls, and member feedback options. You will also have several verbiage customization options. For example, you can make custom names for the table of contents, course material, instructor name, etc. 

Unique Features

The Mighty Effect™: Personalization technology that generates unique activity feeds to each member and displays only relevant content. There are also Welcome and Discovery sections, which make it easy for new members to get oriented and organized on the platform.
Custom Branding: You can easily build a branded community across all platforms. This includes custom landing pages, domains, topics, and migration strategies (if you're moving social media followers or migrating from another course platform).
Intuitive ​​Course Builder: Flexible course creation features and tools to gate content, add a course community, or teach a live, cohort-focused course. You can charge for courses using recurring subscriptions or one-time purchases, charge in hundreds of local currencies, and even create an Ambassador program to incentivize existing members to refer new ones.
Engagement Tools: Includes detailed member profiles, private direct messaging, small group chat, member categories, and searches by location or interest.
Mighty Pro: You create a fully branded experience, including your own course website and native app available in the Apple App Store and Google Play Store. There are further customization options with image banners, background images, your logo, fonts, colors, and navigational links. You can also configure your audience in many different ways, like hosting subgroups for different programs, running mini-communities alongside live courses, charging for different levels of access, restricting areas for premium members, and more.

Pricing

Whether you're just starting your online business or ready to scale, Mighty Network has a plan that'll work for your growth stage. They offer three main plans: The Community Plan (best for building a basic website), The Business Plan (best for growing a business with an existing community), and Mighty Pro (best for scaling a thriving business). 

All plans include your own website, ​​unlimited members, complete access to Mighty Networks mobile apps, direct messaging, and SEO tools. Check below for all pricing and plan details: 

The Community Plan: $33 per month when paid annually: Includes native live streaming, video chat and messaging, events and Zoom integration, and paid memberships

The Business Plan: $99 per month when paid annually: Includes everything in the Community Plan, plus online courses, live Cohort course creation, analytics and member data, and Zapier APIs and workflows

Mighty Pro: Prices vary: Includes everything in the Business Plan, plus your own app with your own online courses, branded app notifications, and account management and strategy support

Overall Opinion

Mighty Network is the best choice for entrepreneurs, organizations, and creators who want to build a community-powered brand. Mighty Networks is one of the only platforms that offers events (in-person and virtual), memberships, and online courses as native features. There are no complex integrations to manage and you don't have to send members to different platforms to access your content. It's less complicated, providing a seamless pathway to scale your online business.

Pros

A community-based platform that hosts all branding and content in one place

Unique combination of structured features

Affordable pricing

Cons

Challenging sign-up process for new users

Difficult to manage more than one community on Mighty Networks

Tricky to navigate from the course content back to the network
---

LearnWorlds is an advanced course-building software application. This program is typically used by trainers, educators, and content creators. Learnworlds offers users an easy way to create personalized online courses, coaching sessions, and training centers. 

LearnWorlds offers several ways for instructors to interact and engage with their students. One of the top learning experiences they offer is an interactive video player. It includes a synchronized transcript that helps students better absorb information. 

Another great tool on LearnWorlds is the testing engine. It incorporates several types of tests to assess your students. For example, you can use simple quizzes, formal exams, and assignments to test your students. You can also create a large pool of questions that will be randomized for each student. Once students successfully complete the course, they can receive branded digital certificates for your course. 

How Does It Work?

Courses on LearnWorlds are created and displayed using the customizable course player. This player allows you to control whether your students can view the videos freely, sequentially, or by a set schedule. Students will also have the ability to add notes and highlight sections of the course for more effective studying. 

LearnWorlds also offers a complete e-commerce solution to help market and sell courses. There is a full suite of marketing tools, including coupons and promotions. You can easily create bundles, subscriptions, and membership plans for your students. You'll also be able to create your own custom domain.

With LearnWorlds, you can create a personalized virtual school and website to feature your online course. This landing page is where you will showcase your brand and philosophy, and hopefully improve conversions.  

Unique Features

Post-Production Interactions: You can add questions, titles, pointers, overlay images, and links to video content post-production. There are also options to add a synchronized transcript that's automatically extracted from the video.
Pre-Built Templates: LearnWorlds offers hundreds of beautiful templates to build your online business. This allows you to create a unique, personalized classroom.
Helpful integrations: Learnworlds has incorporated a huge selection of integrations to give you marketing and affiliate tools to help make more sales.
Sophisticated Testing Engine: Multiple types and formats of quizzes, tests, and assignments, such as graded/ungraded, formal/informal, close/open type questionnaires.
Mobile App Builder: LearnWorlds offers a powerful app maker for both iOS and Android devices. This easy-to-use white-label solution will help to build a community and elevate your online learning business.
LearnWorlds Reports Center: Access to advanced data visualization for in-depth intelligence of how clients interact with your school. This includes course design and performance insights, user segments and progress, and automated reports for important stakeholders.

Pricing

LearnWorlds offers several risk-free, affordable packages. Additionally, there is a 30-day free trial offer for all plans, with no credit card required at sign up. 

Starter Plan: $29 per month or $24 per month when billed annually: $5 fee per course sale, 1 admin, custom domain, unlimited paid courses, site builder (3 pages), popup builder (2 popups), built-in Community, 4 payment gateways, coupons, basic integrations, free SSL certificate, drip-feed courses, and 24/5 e-mail support.

Pro Trainer: $99 per month or $79 per month when billed annually: No transaction fees, 5 admins/instructors, unlimited courses, unlimited landing pages, complete site builder with a blog, unlimited pop-ups, subscriptions and memberships, installments, fully customizable course player, customizable checkout page, custom certificates, live classes and webinars via Zoom and Webex, form builder, 20 SCORMs / HTML5, file assignments, affiliate management, advanced zapier and premium integrations, question banks, 100% Off LW Academy, 24/7 priority email support

Learning Center: $299 per month or $249 per month when billed annually: 20 predefined and custom user roles, bulk user actions, full white-label options, interactive video, auto-transcripts and subtitles for your videos, Zoom and Webex multiple accounts, unlimited SCORMs / HTML5, user segments/progress reports, course insights reports, scheduled automated reports, advanced affiliate management, integrations with API, webhooks integrations, advanced SSO, iOS & Android App (extra fee), 100% Off LW Academy, premium onboarding, dedicated customer success manager, and 24/7 Premium Support. 

Overall Opinion

LearnWorlds is one of the best online course platforms for creating customized, professional landing pages with interactive courses. However, this option does not give you the convenience of a course marketplace, like Udemy. 

If you're seeking a basic program that offers full solutions for e-commerce, website building, and course creation, then Learnworlds is a good choice. 

Pros

Highly interactive

Very customizable

Robust mobile app builder

Cons

Comprehensive plans are pricey

Limited student progress overview

No course marketplace
---

Ruzuku is a learning management system that prides itself on being "ridiculously easy to use." They focus on providing helpful tools without overwhelming you with unnecessarily advanced options. If you're a beginner, this approach is ideal and can be used to your advantage. If you're more experienced, you might want to use a more versatile platform. 

Ruzuku provides a step-by-step guide to creating an online course in coordination with payment gateways. The software manages the enrollment process and payments from students. It also handles any service issues or technical difficulties relating to your online course. 

This online course platform is best for independent experts, coaches, and instructors who want to create online courses and training websites. Many of its users are small business owners and entrepreneurs looking for a fast and simple way to launch an online course. 

How Does It Work?

Course creators can get started without investing tons of time into learning the software. Ruzuku breaks down course creation into two simple categories: lessons and activities. These two categories are what comprise the content of your online courses. 

Here are the main steps to creating an online course:

Step 1: Create a Course: You can create online courses by visiting the Manage Courses page. From here, you can click the button that says "Create a Course." Next, you'll enter the title of your course. You can always rename your course by clicking "Rename" under course actions. Once this is done, Ruzuku will walk you through the steps to finish course creation. 

Step 2: Create Lessons: From the "Manage Courses" page, click on the title of the course you'd like to create a lesson for. From the pop-up menu, click on "Lessons" in the left-hand column. From the lesson section, you can choose to create a new lesson. Here you can title your lesson, and create a description and lesson schedule. 

Step 3: Create Activities

:

Once your lessons are created, you can add activities to them. Choose from polls, discussion forums, images, videos, audio, and text to create your unique course activities. 

By breaking down course creation into these steps, Ruzuku brings an element of structure and guidance to course creation. Adding content to your online courses only takes \a few minutes with this intuitive system. Again, the only downside to this is a lack of customization. You aren't given an array of flexible options like other platforms, but this can be beneficial for beginners. 

Unique Features

Webinars: Ruzuku supports live teleconferences and webinars so you can diversify your content. You don't have to stick to pre-recorded lessons to engage your students. Teleconference functionalities are limited to hosting 200 students and webinars can stream to up to 1500 students. That's not too shabby.
Email Marketing: Ruzuku has direct integration with MailChimp. This allows users to interact with your students, promote your courses, and manage your email list with ease.
Student Dashboard: the student dashboard shows student engagement, activity progress, comment rates, and course data.
Subscription or Single Payment Options: Flexible pricing structures for how you charge your students for course enrollment and material. They will log in through a secure, private portal and you can get payments directly in a PayPal or Stripe account.
Course Health: This tool shows students' activity completion and comment rates, which includes data for the whole course or lesson by lesson.
Other Key Features: Live (scheduled calendar-based) courses with automatic email notifications, discussion questions/prompts for specific activities/content, general course-wide Q&A and forum, and more.

Pricing

Ruzuku offers various plan options, with no transaction fees, unlimited students and courses, and more! 

Bootstrapper Plan: $74.75 per month or $79 per month when billed annually: Single Instructor, unlimited video, audio, and data hosting, your customers pay you directly, accept payments via Paypal or Stripe, and basic commerce with coupons

Up-and-Comer Plan: $83.08 per month or $79 per month when billed annually: All Bootstrapper features, plus: unlimited webinars, polls and quizzes, and subscriptions and payment plans

University Plan: $125 per month or $79 per month when billed annually: All Up-and-Comer features, plus: Your own domain, multiple Instructors, and multiple Site Managers

Overall Opinion

There is no doubt that Ruzuku is a beginner-friendly learning management system. You'll be able to quickly and easily create courses, lessons, and activities for your students. You don't have to spend time learning complicated software or online course tools. 

However, this ease of use means that it is fairly limiting when it comes to customization. Regardless, Ruzuku still provides clean course designs and suitable features to keep your students engaged. As a result, we recommend Ruzuku for small businesses and beginner course creators, rather than large-scale organizations and enterprises.

Pros

Diverse payment system

Responsive email support for instructors

Easy 5-step online course setup process

Cons

Limited customization options

There's no live chat support

Difficult to cancel a paid membership
---

Xperiencify is the world's first fully gamified online course platform built on neuroscience. They use seven psychological triggers to create a gamified learning experience. This unique approach makes the course feel more like a game versus a more traditional learning experience. Students will hopefully feel excited about the virtual lessons and keep coming back for more. 

Online courses have lower completion rates than one might expect. That's what Xperiencify aims to fix. When instructors gamify courses, it turns the learning into a more engaging and fun experience. Xperiencify even promises to increase your completion rates by at least 10% and ​​as much as 30%.

This is a course platform for creators that can invest time and effort into developing an in-depth and thoughtful online learning experience. Unlike the other platforms on this list, Xperiencify entails a lot more than simply uploading pre-recorded videos. You will need to figure out the various points within each training, build-out notes for each of those modules, and choose music and visuals that accurately represent your brand. 

How Does It Work?

Xperiencify is all about hyper-engaging and interactive video content. It offers an innovative gamification stack that prioritizes certain triggers to enhance the experience and keep students on track throughout the entirety of the course. 

Here are the main gamification triggers that can be implemented into Xperiencify online courses:

Points: Xperiencify puts points front and center. Students can earn points as they take action and meet goals and milestones through the course. This is a common strategy used by all of the most addictive apps and games. 

Variable Rewards: You can incorporate variable, or unpredictable, rewards into your course. This will add a suspenseful element and keep students guessing.

Social Proof: Xperiencify courses are not done in isolation. There are several fun ways to incorporate feedback and grow social approval among students. 

Celebrations: There are player milestones and achievements celebration features that can be added to your online course. This is an opportunity for students to feel celebrated for their effort and motivated to complete the class. 

Personalization: Xperiencify uses AI technology, called the Experience Engine, to define and calculate exactly what's needed for each student. This will help them engage further, take more action, and ultimately enroll in another one of your online courses. 

Unique Features

The Experience Engine: Automation strategies (e.g., emails, SMS messages, voicemails, celebration. badges, tags, etc.) to keep students engaged through the end of the course. For example, this technology will implement multiple opportunities to earn points after training and congratulate students for taking action via email, SMS, VM, and push notifications.
Custom Countdowns: Intelligent, custom countdowns that can be placed anywhere to build urgency to take action. Countdowns can be added to live cohort-based courses during different phases or modules of the course.
"Self-Destructing" Content: This type of content sets up offers, actions, rewards, automation, communications, prizes, and surprises for an exciting experience. This includes "self-destructing" announcements and special offers, automatic expiring status and achievement badges, and time-sensitive email flows.
"Use it or Lose It" Courses: Course styles where students automatically lose admission access if they don't take enough action within a certain time period.

Pricing

Xperiencify offers three main plans: Launch, Growth, and Enterprise. See the details of each below:

Launch Plan (for beginner course creators): $49 per month or $42 per month when paid annually: Unlimited Courses, unlimited Students, 1 named instructor, 500 GB of storage, chat support, full internationalization, and basic gamification (points, easter eggs, celebrations, countdowns), experience engine (basic actions & triggers), selling tools (built-in order forms, 4.9% transaction fee, installment plans), and video features (hosting and embedding). 

Growth Plan (for experienced course creators): $149 per month or $117 per month when paid annually: Includes all Launch features, plus: Content drip, community tools, page builder, quizzes and assessments, Zapier and basic API access, shopping cart abandonment, theme customization, custom domain and subdomain, and advanced gamification (variable rewards, leaderboards, badges, content tracks), experience engine (all actions & triggers), selling tools (affiliate tracking & management, coupons, bundles, subscriptions, memberships, installment plans, bulk student enrollment), and CRM (email broadcast, custom fields, tagging, automation). 

Enterprise Plan (for larger companies and enterprises): Starts at $500+ per month: All Growth features, plus: concierge Onboarding, priority Support, unlimited role-based admin accounts, unlimited instructor accounts, SSO, host on Intranet, SOC 2 Type 2 Highly Secure Environment, central user management, email domain auto-accept, advanced reporting, 2TB of storage, advanced API access, white-label, reskinning, and custom branding

Overall Opinion

Xperiencify is a unique option among the top online course platforms. Unlike its competitors in the marketplace, this software incorporates a structure that's based on powerful psychological triggers. These considerations have the potential to boost engagement and reduce dropouts. 

If you're willing to put in the time to create a cohesive gamified digital course, Xperiencify is worth the effort. As a result, we highly recommend this online learning platform. It provides extremely useful tools and thoughtful service offerings.

Pros

Built-in countdown timers

Zapier integration and tons of other useful tools

Low pricing

Cons

Limited customer support

Requires a lot of time and effort to build out a course

Lacks added features
---

If you're looking for a customizable online course builder to manage your business, Simplero is an excellent option. The platform offers a powerful yet intuitive interface that allows for seamless automation and triggers. While Simplero is technically considered an online course platform, it's also an advanced CRM, marketing automation, and online business tool–all in one package. 

Simplero uses its own software to run its business. Their web development, emails, billing, onboarding, and customer value journeys are all managed in-house. They are constantly making tweaks and adding new features to the product. 

Simplero gives you all the tools needed to start and grow a successful online education business all in one dedicated place. It is ideal for both beginners and experienced course builders. You can create various types of content – from simple workflows to advanced custom journeys. 

How Does It Work?

Creating and outlining the course curriculum on Simplero is super quick and easy. You simply click the "Create a new course" button, build out your curriculum, and start adding content. With robust automation features, you can build and market courses, track sales, and maintain customer lists all within the app. 

They provide various Done-For-You Campaigns, launch challenges, and automated sequences. All you need to do is enter the email content and set dates for the automation flow to run. It's an ideal all-in-one online solution for building courses and growing your business.  

Unique Features

Fully Integrated Websites: All-in-one system with no plug-ins necessary. Simplero websites have the tools and bandwidth to manage emails, product sales, payment processors, and content delivery. Plus, all website pages use the same editing system, including membership site pages and stand-alone landing pages.
High-Converting Landing Pages: Every account comes with pre-loaded templates for opt-ins, sales pages, registration pages, and more.
Affiliate Management: Built-in affiliate program that's feature-rich and fully integrated. This includes a two-tier system that handles both upstream and downstream affiliates and granular controls for varying commissions and programs.
Email Marketing and Automations: Easily automate communication and content with email campaigns that automatically integrate all customer information and insights. Simplero also offers powerful segmenting tools to pinpoint target audiences and widen reach among high-converting leads.
Payments and Subscriptions: Simplero integrates with Stripe, PayPal, and 120+ other 3rd-party gateways. This gives users the flexibility to create subscription payments for recurring revenue or one-time fees for a single course.

Pricing

Simplero offers multiple plans designed for individuals and organizations at varying growth stages. 

Starter Plan: $70.80 per month or $59 /month when billed yearly: Includes 1 product, 1 course, 1 membership site, unlimited landing pages, 250 GB of storage, 500 Contacts, and zero transaction fees

Scale Plan: $178.80 per month or $149 /month when billed yearly: Includes unlimited products, unlimited courses, unlimited membership sites, unlimited landing pages, 1024 GB of storage, 1,000 contacts, zero transaction fees, automation, affiliate program, help desk, member badges, recurring affiliate commissions, fixed affiliate commissions, upsells and downsells, and course completion certificates

Skyrocket Plan: $298.80 per month or $249 /month when billed yearly: Includes everything in the Scale plan plus: Unlimited storage, 5,000 contacts, recurring and fixed affiliate commissions, split testing, advanced payment features, and permissions granularity

Overall Opinion

Simplero is an all-in-one marketing software mainly used by larger businesses, organizations, and enterprises. It's easy to create a website, sell products, host online courses, build a membership community, and automate virtually all aspects of your business. And Simplero provides all these impressive service offerings via a simple and affordable web app.

Pros

Easy to implement automation, templates, and features

Versatile billing system and email marketing tool

Responsive customer service team

Cons

Limited starter plan

High pricing

Require some CSS skills to enhance designs
Tips for Success 
Recording: 
The bulk of your online courses will rely on great recorded lectures. When you record a lecture, make sure you have great lighting and clear audio. Consider investing in an external microphone for high-quality audio. You should also look into editing video software. HitFilm Express offers a free option for video editing. 
Course creation: 
When you create a course it's smart to keep a few things in mind. Identify your student's learning outcome. You should set a goal for exactly what your students will learn by the end of the course. Next, you should come up with an appropriate title for the course. The course title and description grab the attention of potential students. Lastly, make sure to make good on your promises. If your course claims to teach something, make content that delivers. 
Hiring help: 
Creating and managing online courses is a lot of work. This is especially true if you are self-hosting your courses. If you find yourself overwhelmed, don't hesitate to find help. Sites like Upwork and Fiverr can help you find and hire freelance workers. 
Frequently Asked Questions
How Do I Create and Sell an Online Course?
The first step is to decide what type, of course, you want to sell. Identify your expertise, skill, or hobby that would be valuable to others. After figuring out a topic, it's time to consider the various ways you can create course content. For example, you can record videos, write articles/blog posts, make podcasts, or simply host live webinars on the subject matter. 
The equipment required will depend on the form of delivery for an online course. Some of the essential items include a microphone, headphones, screen recording software, webcam, and audio/video editing software. Investing in high-quality software and equipment will create a high-quality product. 
After the content has been captured and edited, it's time to find the right online course platform for your needs. There are many options available on the market today. Some are more affordable and have basic tools, while others are more expensive and offer a broader range of powerful features. Choose software that supports the needs of your students and your marketing strategy. Teachable and Udemy stand out as two of the best online course platforms. 
What Are the Essential Features Every Course Platform Should Offer?
All of the best online course platforms will offer different features and most even have unique revenue models. However, every platform is built around one central concept: to help you create a seamless learning experience for your audience. As a course creator, your goals and intended outcomes are likely similar. 
To create that great online experience, you will need the help of a few basic tools. Here's what your online course platform should give you the ability to do:
Incorporate your own branding (e.g., fonts, colors, and customizable templates)

Upload multiple videos into the course, with the option to add more content in the future

Basic course sales page that shows the students who your course is for, what they will learn, and your established expertise on the topic. 

Sign up statistics on how many people registered for the course and performance analytics throughout all stages of the funnel
What Is the Best Online Course Platform?
There is no single best online course platform. All options have their advantages and disadvantages. It ultimately boils down to the best online course platform for you. 
You must have a clear understanding of your business objectives and the types of courses you are interested in building. Once these components are clearly defined, you can then find which online course platforms offer the services, features, and tools needed to meet your goals. 
Which Online Course Creation Software Has the Best Free Plan?
Thinkific, Udemy, and Skillshare all offer great starter plans for free. Although the suite of available features and tools is limited, there's enough to get your online course off the ground. Udemy and Skillshare will also take a bigger cut of your revenue. With online marketplaces, however, there are key benefits. These platforms are attracting students to your course and creating your audience. 
Once your course starts to gain momentum and grows an organic audience, you can consider upgrading to one of the paid membership plans for a lower percentage cut. You can even decide to go with another course platform altogether. 
How Much Money Can I Make Selling Online Courses?
The amount of incoming revenue from selling online courses will depend on a variety of factors: including the type of course created, the target audience, and how popular the course is. You can earn anywhere from a few hundred bucks to several thousand dollars per month from selling online courses. 
Regardless, it's important to be cognisant that you likely won't be an overnight success. While selling online courses can provide a viable source of passive income, it takes time to grow your audience and maximize this revenue stream. 
What Are The Most Popular Online Courses?
You can create an online course on virtually any topic – from business and leadership to photography and cooking. It ultimately depends on your industry expertise and the demand of your audience. 
However, some of the most popular online courses include:
Business and Entrepreneurship Courses (e.g., operations management, business strategy and messaging, leadership among teams, effective communication, building a career, etc.)

Science and Technology Courses (e.g., Scientific thinking and communication, space exploration, problem-solving, mathematical thinking, etc.)

Creative Arts and Entertainment (e.g., architecture, poetry, photography, graphic design, songwriting, filmmaking, advertising, choreography, dance, etc.)

Food and Nutrition (e.g., cooking, baking, gardening, mixology, vegetarian cooking, etc.)

Music (e.g. songwriting, producing, beat-making, singing, film scoring, music production, instrument lessons, etc.)

Sports and Gaming (e.g. chess and poker strategy, training and technique of a specific sport, mindset, mental strength, etc.

Wellness (e.g. self-expression, better sleep habits, mindfulness and mediation, yoga foundations, etc.)
How Can You Benefit From Building a Course? 
If you have proficient knowledge of a specific subject, you can make money by building a course. Aside from the extra income, there are several benefits to online teaching using a course building platform: 
You can teach in different time zones: Online teaching means you have access to a much larger student population. Students from all over the world can purchase your course and learn. On top of that, course marketplaces have a built-in user base, so finding students isn't a problem. 

You get to work from home: All of the work required to build an online course can be done from your home. Once you get your course running successfully, you can potentially work remotely full time.  

Engage users and boost business: You can use online courses to engage your visitors. You don't have to use an online course marketplace; you can incorporate video courses on your WordPress website. This gives your visitors helpful information, encourages longer stays on your website, and increases your credibility. 
What's the Difference Between a Course Marketplace and a WordPress Course? 
Course Marketplace: course marketplaces refer to online course platforms where instructors can create and market courses to a built-in user base. These sites aggregate online courses into several categories for people to purchase. Working with this type of course website provides users with customer support and diverse course options. 
One benefit of choosing a course marketplace is that you don't have to worry about marketing. The platform you choose will help bring students to you with powerful marketing tools. Another benefit is the credibility that comes with an established course marketplace. Potential students turn to these marketplaces because they provide quality courses. 
The downside to working with a course marketplace is that you lose a percentage of your sales. You also give away an element of control. However, if you are just starting out and don't have strong marketing skills, a course marketplace is a great option. Course marketplaces are great platforms for individuals and small businesses. 
WordPress Course: several course websites offer plug-ins so that you can build and implement courses on your WordPress website. This option relies on your own marketing skills to generate traffic. Rather than marketing your course on a large online learning platform, you're offering a course on your own website. 
The benefit of hosting your own courses is that you have full control. You have better access to your students, your branding is stronger and you keep all of your profits. The downside to all of that control is the amount of work it takes. Self-hosting your online courses means you are your own marketing team. 
This option is good for anyone looking to improve their website and engage their visitors. WordPress courses are ideal for large businesses and websites with substantial traffic. If you are confident in your marketing skills, a self-hosted online course platform can work for you. 
Conclusion 
Whether you're just looking to create and sell online courses or if you want to boost engagement on your website, there are quality options when it comes to online course platforms. The options listed here can provide you with the tools you need to successfully create, market, and sell courses and online training. At the end of the day, your success comes down to the quality of your course content, and these learning management systems will give you all the tools you need to do well.