6 Online Course Platforms for Learning and Creating (With Free Options)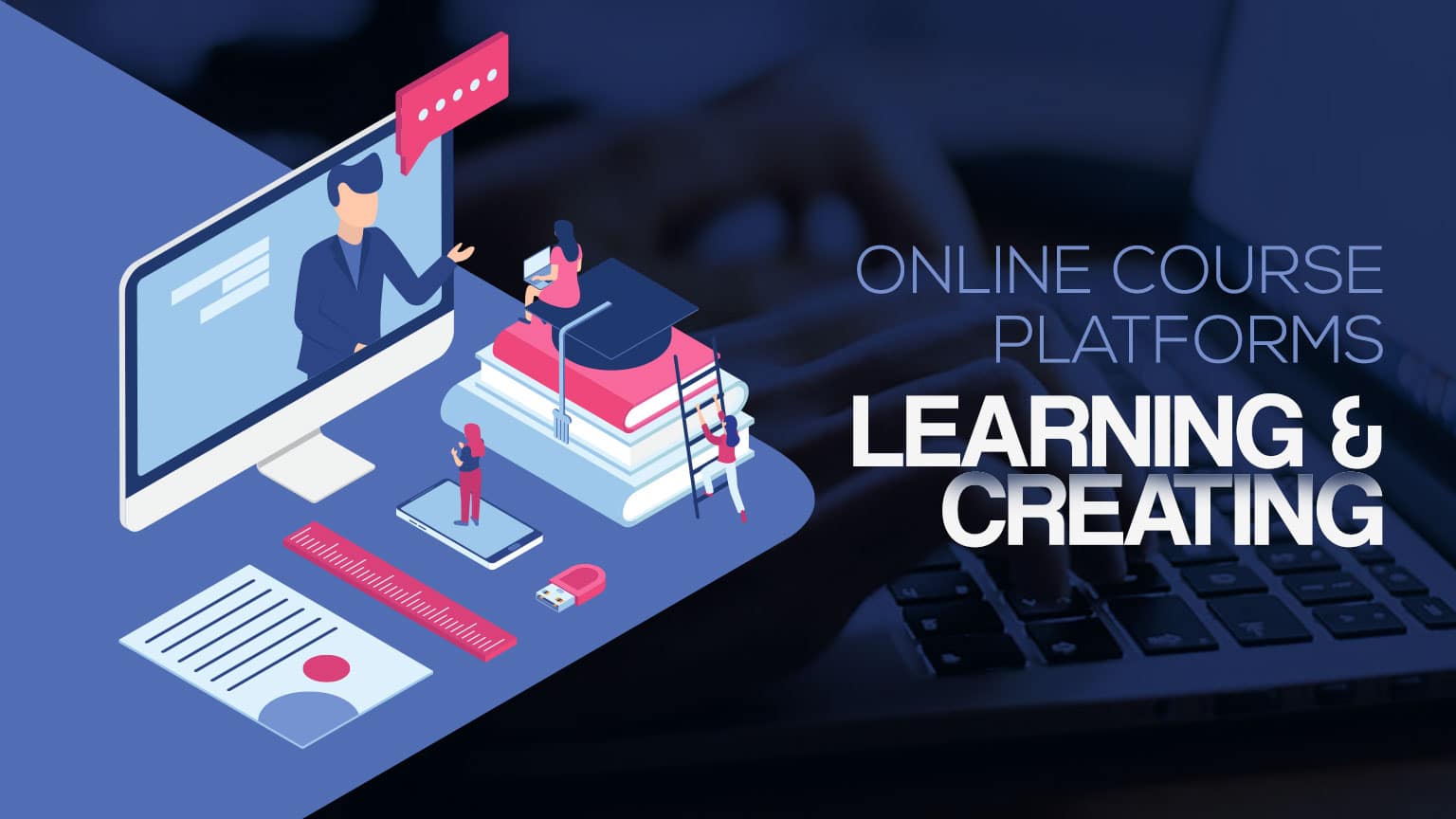 Disclosure: jontorres.com may receive a small portion of the sales of products or services listed on this page. For more information please visit our advertiser disclosure page. 
Experts, teachers, and enthusiasts can rejoice because creating and learning online has never been easier. Course building platforms have paved the way for virtual classrooms and online learning.
For anyone seeking a way to get a world-class education from home, online courses are the best way to go.
If you have expert knowledge on just about any subject, you can create and sell online courses. If you're interested in learning more about this opportunity, take a look at this list of the best online course platforms.  
What are online course platforms?
Simply put, course building platforms are learning management systems where people can create and access online courses.  People interested in learning can purchase courses on these platforms, from a huge selection of categories. These platforms can be used to create and sell academic online courses or training online courses. 
Experts and instructors can create courses and market them to potential students using online course platforms. The courses you find on online course platforms may have a similar structure to a university class or they may be structured as online training. Lectures, assignments, quizzes, and exams are all par for the course. 
How can you benefit from building a course?
If you have proficient knowledge of a specific subject, you can make money by building a course. Aside from the extra income, there are several benefits to online teaching using a course building platform: 
You can teach to different time zones: 

Online teaching means you have access to a much larger student population. Students from all over the world can purchase your course and learn. On top of that, course marketplaces have a built-in user base, so finding students isn't a problem.

 

You get to work from home: 

All of the work required to build an online course can be done from your home. Once you get your course running successfully, you can potentially work remotely full time. 

 

Engage users and boost business: 

You can use online courses to engage your visitors. You don't have to use an online course marketplace; you can incorporate video courses on your WordPress website. This gives your visitors helpful information, encourages longer stays on your website, and increases your credibility.

 
What's the difference between a course marketplace and a WordPress course?
Course Marketplace: course marketplaces refer to online course platforms where instructors can create and market courses to a built-in user base. These sites aggregate online courses into several categories for people to purchase. Working with this type of course website provides users with customer support and diverse course options. 
One benefit of choosing a course marketplace is that you don't have to worry about marketing. The platform you choose will help bring students to you with powerful marketing tools. Another benefit is the credibility that comes with an established course marketplace. Potential students turn to these marketplaces because they provide quality courses. 
The downside to working with a course marketplace is that you lose a percentage of your sales. You also give away an element of control. However, if you are just starting out and don't have strong marketing skills, a course marketplace is a great option. Course marketplaces are great platforms for individuals and small businesses. 
WordPress Course: there are several course websites that offer plug-ins so that you can build and implement courses on your WordPress website. This option relies on your own marketing skills to generate traffic. Rather than marketing your course on a large online learning platform, you're offering a course on your own website. 
The benefit of hosting your own courses is that you have full control. You have better access to your students, your branding is stronger and you keep all of your profits. The downside to all of that control is the amount of work it takes. Self-hosting your online courses means you are your own marketing team. 
This option is good for anyone looking to improve their website and engage their visitors. WordPress courses are ideal for large businesses and websites with substantial traffic. If you are confident in your marketing skills, a self-hosted online course platform can work for you. 
Here are my top 6 Online Course Platforms:
What is it?
Teachable is another great option for online course platforms. This platform is known for being user-friendly and affordable. Teachable is still a fairly new company, founded in 2014, but in that time, it's grown a vast and loyal user base. In fact, the company has been so successful, it earned an astounding $134 million valuation. Pretty impressive right? Needless to say, Teachable knows what it's doing when it comes to online classes. 
The courses on Teachable span quite an impressive range. Students can find classes on traditional topics like business and technology. You can also find unique classes like how to be a "travel hacker" or how to write a novel. Teachable is great for creatives, Youtubers, niche bloggers, authors, and entrepreneurs. 
For instructors, Teachable offers you your own online school platform. This platform comes complete with integrated payment processing, student management, and multimedia lectures. This learning platform gives your students a streamlined and professional online learning experience. 
How does it work?
Teachable has set up its online learning platform in two main categories: schools and courses. Teachable schools refer to the general site where an instructor can list all of their courses. Courses are the individual online classes that are available to students. Students on Teachable can choose to enroll in the school or just take an individual class. 
To enroll in a school, you can visit the front page of the school and click on the default enroll button.  This will give students an account for that school, which makes signing up for courses fast and easy. 
You can also choose to skip enrollment and just sign up for a course. This is a common choice, and you can always enroll later if you find an instructor that you love. As an instructor, you can choose to eliminate the enrollment option so that students are more likely to sign up for a course. 
Instructors can create an online course by selecting the "New Course" button in the sidebar. School owners will be given a wide selection of tools including links to: 
Students: 

Jump to the Users section of your school admin area to see students enrolled in the course.

 

Bundle Contents

:  Group multiple courses into a bundle that students can purchase all at once.

 

Reports: 

Review course reports on lecture completion, video engagement, quiz scores, and student performance."

 
Teachable also provides instructors with an array of helpful tools to help successfully set up your online school. 
Unique Features:
Available on any device

: students can access courses on any mobile device so you can take your course on the go.

 

Free domain name:

 instructors will receive a free domain and have the ability to link to a subdomain.

 
Pricing:
Once you decide you want to take a course on Teachable, you'll have to decide on the pricing plan that works best for you. When you visit a Teachable school, click on the Enroll button and scroll down to see all of the pricing plans available for the course. In some cases, there will only be one pricing plan. 
All instructors start off with a free plan by default. You can upgrade to a paid plan for more features. There are three paid plans for instructors when creating your online school: 
Basic: $39/month

 

Professional: $99/month

 

Business: $499/month

 
All plans include unlimited video, hosting, and courses. You'll also get student management, lecture comments, and integrated payment processing. 
Pros:
Beginner friendly and easy to use.

 

Lots of helpful support features.

 
Cons:
School designs are limited.

 
Limited marketing support.

 
Overall Opinion:
Teachable simultaneously provides extremely professional virtual classrooms with a beginner-friendly user interface. Students can find classes from a huge selection of courses in all subjects. Teachable is great for improving your job skills, but it's also awesome for growing your personal hobbies and passions. For instructors, Teachable provides solid user support to help you with any issues you encounter. Overall, Teachable is a great option for both students and instructors when it comes to online courses.
What is it?
Udemy may be the most popular course platform to create and purchase online courses. This company has been around for a full decade and now has over 50 million students and 57,000 instructors participating in the online course platform. Students and instructors come from around the globe with courses in 65 languages. Udemy has become the go-to for online job training and upskilling. 
The vast majority of Udemy students use their online courses to develop job-related skills and to improve their resume. Some of the course categories available include development, business, finance, IT, design and marketing. Many courses offer technical certifications to their students upon successful completion of the course. 
For instructors, this online course platform offers a convenient way to sell online courses to a huge audience. Instructors are paid to share their knowledge and help students further their careers. Creating a course is totally free so instructors don't have to worry about an extra cost. 
How does it work?
 For students interested in joining Udemy, you'll soon find that the course selection is incredibly detailed. After joining, start browsing the categories to find courses that may interest you. Once you find a course, do some research before purchasing it. Here are a few tips to help you choose the right online course on Udemy: 
Check out the course previews for the lectures you're interested in.

 
From the previews, decide if the course is offering what you need.

 

Look at the Udemy review for the course in question.

 

Carefully read the course description.

 

Try any free courses the instructor may offer to get an idea of their teaching style.

 
Once you've selected and paid for a course you can begin watching lectures on the course player. You can find the course player by going to the "My Courses" tab in the top right hand of your homepage. From here, you can click the course you're ready to take. 
For people interested in teaching a course, you are welcome to teach on any subject as long as it isn't on the restricted list. No approval is needed to get started on Udemy, but you do need to meet the course minimum requirements: 
At least 30 minutes of video content

 

At least 5 separate lectures

 

Valuable educational content

 

HD video quality (720p or 1080p)

 

Audio that comes out of both channels and is synced to video

 

Audio quality that is not distracting to students

 
You can also add additional content such as exams, quizzes and homework exercises to create a better learning experience. 
Unique Features:
Course Previews:

 As a student, you have the option to check out a preview of the lectures before purchasing. This is an invaluable feature when there are so many courses to choose from.

 

Udemy Reviews:

 Udemy actually reviews each course after the instructor posts it. This review will tell you if the course meets a certain standard of quality.

 
Pricing and Payment: 
For students, signing up for Udemy is completely free. Once you find an online course you like, there will be a cost associated with it. Each instructor determines the cost of their course, so prices will vary. Udemy often runs promotions so you can find discounted prices. 
It's free to sell courses on Udemy, however you need to apply to be a Premium Instructor. This process takes about 2 days to complete. Udemy keeps a percentage of sales from instructors. Here's what you can expect as an instructor: 
Instructor Promotion:

 97% revenue share on sales made by instructors where the student purchases their course using an Instructor's coupon or course referral link.

 

Udemy Organic:

 50% revenue share on organic Udemy sales where no Instructor Coupon is used. Udemy and the instructor share equally on these sales, which might occur after a user browses the Udemy marketplace for courses, or makes a purchase via a Udemy promotion.

 
Pros: 
It's free to become a Udemy instructor.

 

There is a diverse array of courses available to students.

 
Cons: 
Finding the right course can take time and effort.

 

Instructors only keep 50% revenue in some cases.

 
Overall Opinion:
Udemy is great for anyone who wants to take or create a course online. This online course platform is geared toward job skill development and online training. For instructors, it's fairly easy to start selling courses on Udemy. The best way for instructors to make money on this platform is to recruit their own students since you can keep the majority of your revenue this way. Overall, Udemy is a good choice for both students and instructors.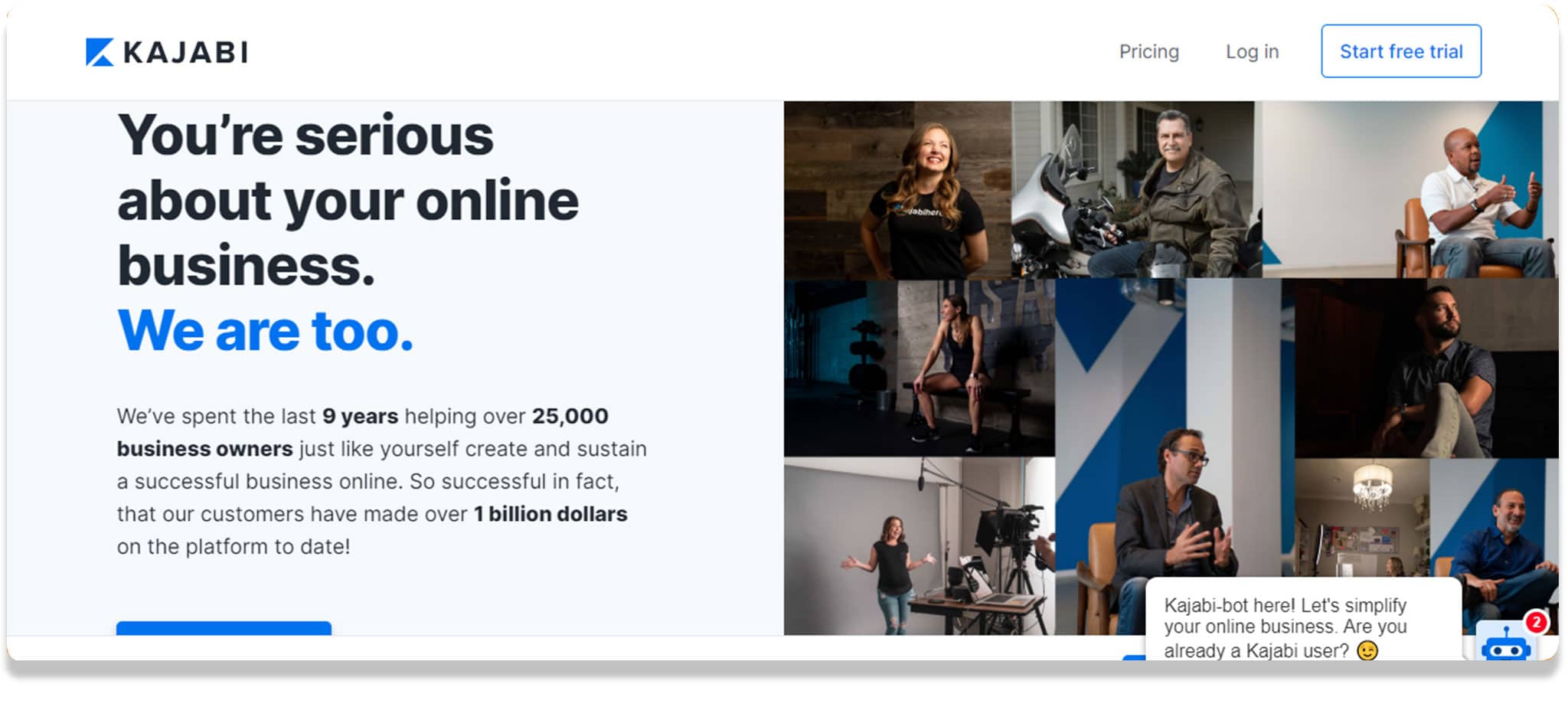 What is it?
Kajabi is an "all-in-one" app where creators, instructors, coaches, and experts can create and sell online courses. If you're wondering what "all-in-one" includes, here is some of what Kajabi offers: 
Customizable emails

Integrated course platforms

Website builder

Automations

Integrated payment gateways

Built-in video streaming

Marketing tools
Kajabi offers basically everything you need to get a website up and running, with courses and products for sale. The software is incredibly comprehensive, which makes it one of the most convenient online course platforms. This app is a happy medium between the WordPress option and the course marketplace. 
Similar to a WordPress site, Kajabi is best for people who have decent traffic coming through their site, and don't need a built-in audience. The benefit of using Kajabi is that you don't have to figure out the course plug-ins that come with using a WordPress course platform. Everything is built into one, simple platform.  This option is best for people who need a website builder and marketing tools along with an online course platform. 
How does it work?  
While Kajabi does offer extensive tools for content creators, I'm going to focus on the course builder here.  Kajabi offers several tools and features to help you build seamless, customized courses and a stunning virtual classroom. Here's why Kajabi is widely recognized for its excellent online course platform: 
Easy uploads

: 

Kajabi

 uses Product Blueprints so that you can quickly structure your online course content. These blueprints give your sample structures for mini-courses, coaching programs, online training and more. This makes online course creation super easy.

 
Product Themes: 

Kajabi

 offers 10+ themes for your online course area. That means you'll be able to find a theme that works perfectly for online course training, membership websites and academic courses. It also allows you to further showcase your unique brand.

 

Unlimited Wisteria video hosting: 

Wisteria is a popular video streaming service that is normally offered at $99/

mo

 on its own. 

Kajabi

 includes this service in its plans starting at $119. The value alone is part of what makes 

Kajabi

 great.

 

Student Participation:

 create quizzes, discussions, and assignments to engage your students. The community feature allows you to create a general forum for your students to interact and start discussions. The assessment feature gives you the ability to create multiple-choice or essay style quizzes. Students can also upload assignments with the file upload option.

 
  Cool Features: 
Locked course content:

 

Kajabi

 allows you to lock modules until your students complete the appropriate lesson. This ensures a specific learning pathway for your students.

 

Automated management:

 managing your students online can be a lot of work. 

Kajabi

 helps by automatically reminding inactive students about the course and sending resources to struggling students. Automation can also be used to send email promotions to current students.

 
Pricing: 
Basic Plan: $119/mo 
Growth Plan: $159/mo 
Pro Plan: $319/mo 
Pros:
Super responsive customer service.

 
Great value for the price.

 
Cons:
The starter pack is pricey.

 

Quiz features are limited.

 
Overall Opinion:
 Kajabi is a quality service for anyone who needs to create a landing page and online course content. This isn't a course marketplace platform, so it will be up to you to find students and sell online courses. Luckily, Kajabi offers incredibly helpful marketing tools to help you promote your online courses. You'll get excellent user support and automation to help manage your virtual classroom. While this option is pricier than course marketplace platforms, you will keep all of your sales, and receive high-quality features as a part of the package.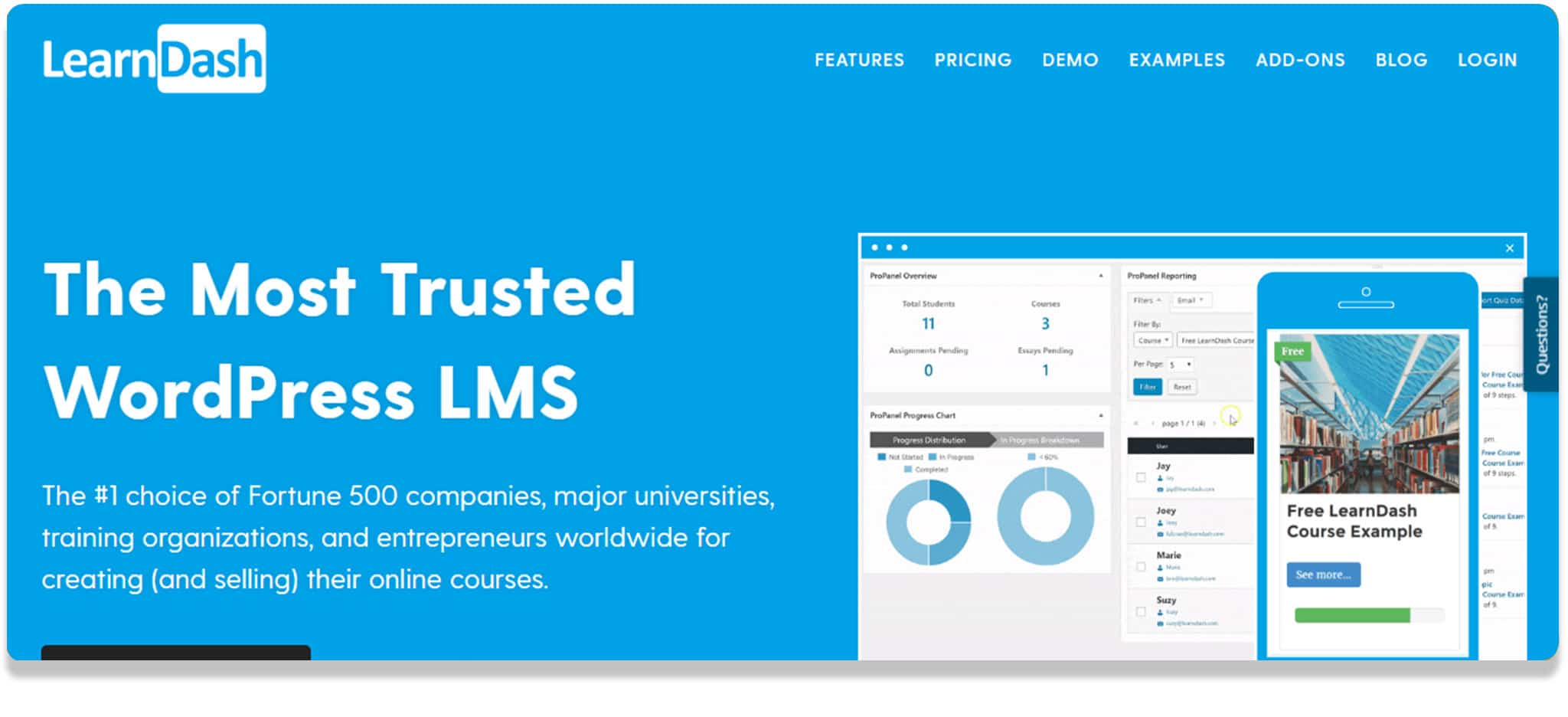 What is it?
LearnDash is an online course platform that is primarily used by businesses, organizations and educational institutions. It is the number one recommended online course platform for Fortune 500 companies, major universities and training organizations all over the world. 
Universities can utilize LearnDash to provide and manage an online course. Businesses can use this platform to implement online training for their employees. Professionals and experts can share their knowledge by selling courses online with this platform. 
Instructors can create courses, assign quizzes and activities, give student awards, manage students and download reports with this online course platform. LearnDash focuses on helping instructors sell online courses. They provide an excellent feature set to help you increase your revenue. Some of the steps they've taken help you sell courses are: 
The ability to use any pricing model.

 

The ability to use a variety of payment platforms.

 

Automatic renewal reminders for students.

 

Refund protection.

 
LearnDash is primarily a platform for large institutions to create and sell online courses for their student base. Unlike Udemy, students don't visit this site to browse courses. Rather, an organization can create its learning platform using LearnDash so that it's students can access online training and course content. 
How does it work?
LearnDash is unique because it uses WordPress course integration. You can purchase WordPress web hosting from WordPress directly or from companies like Siteground or Bluehost. To get started you have to set up your WordPress site using the following steps: 
Purchase  

WordHost

 web hosting or start with the free plan.

 

Choose a domain name.

 

Install the WordPress software on your computer.

 

 
Once that's tackled you can download the LearnDash plug-in. To do this, you'll need to go to the LearnDash website and purchase a plan. You can find the download in your account section. Make sure to install a LearnDash compatible theme, such as the Astra Theme. Using a compatible theme will ensure that your website looks great from the beginning. This lets you easily change your online course layouts, adjust your sales page and more. 
When you're ready to create your first online course, you can use the LearnDash course builder to get started. Here you can adjust your course settings and choose your payment programs. LearnDash has implemented several videos and tools to help you get your courses up and running. 
Unique Features:
WordPress Projects:

  WordPress integration is one of the most convenient things about 

LearnDash

. WordPress is one of the best choices for managed web hosting. They offer free and affordable plans so that you can get started with very little overhead costs.

 

ProPanel

 Reporting

: LearnDash uses a 

ProPanel

 for a seamless administration experience. The 

ProPanel

 lets admins see user activity in real-time, shows user progress and allows management of assignments, quizzes, and essays. 

 
Pricing:
Basic Package: $159/annually 
Plus Package:  $189/annually 
Pro Package: $329/annually 
Pros:
Dynamic forums for students

 
Cons:
It's not as good for individuals and small businesses.

 

It's not beginner-friendly.

 
Overall

Opinion

:

 

If you're a big organization such as a university or corporation, LearnDash can provide you with the tools you need to support a large student population. The WordPress integration makes it easy to build a beautiful website, fully compatible with the LearnDash platform. Instructors can fully manage an online course with the custom ProPanel dashboard. Overall, LearnDash is a great option for large businesses and universities who need to host large online classes.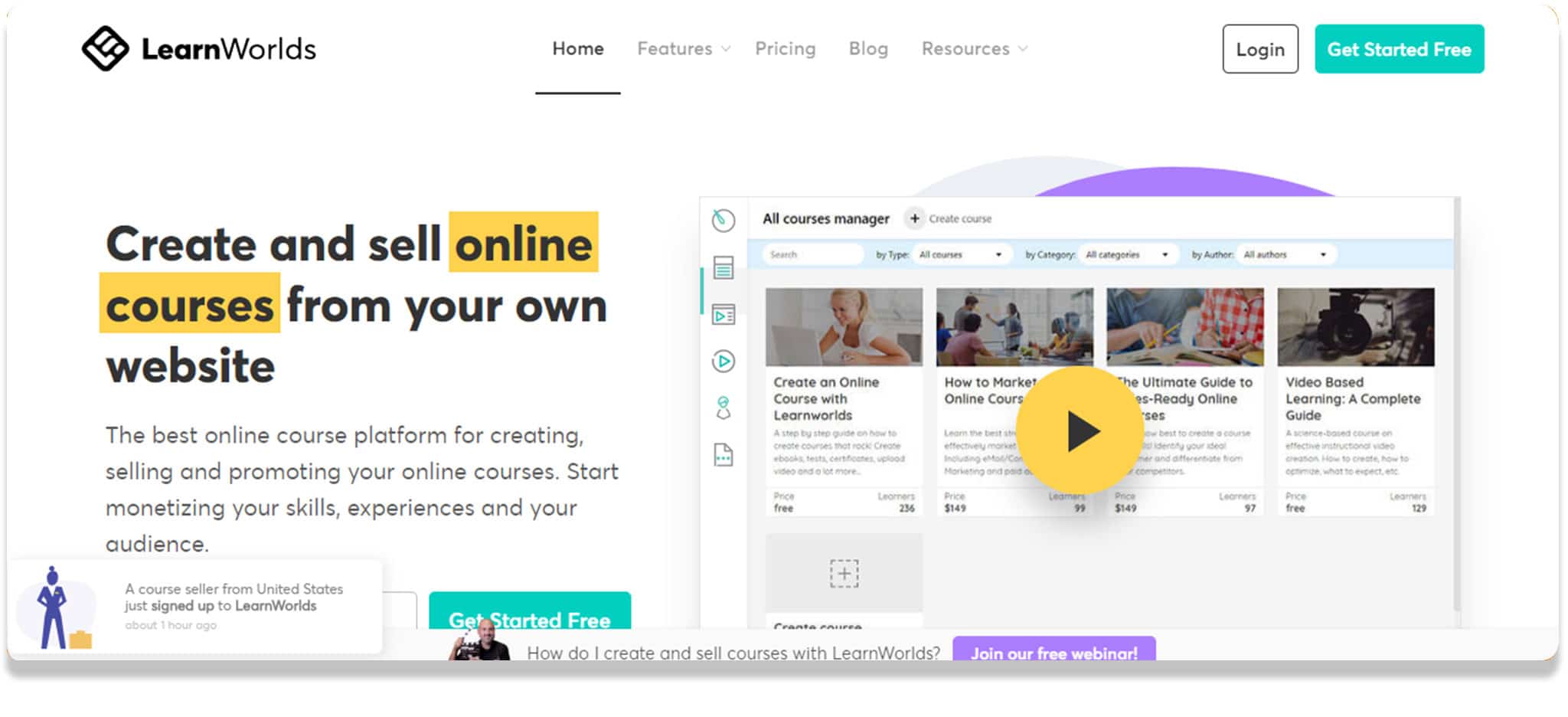 What is it?
Learnworlds is a course building software application. This option is typically utilized by trainers, educators, and content creators. Learnworlds offers users an easy way to create personalized online schools, classrooms and training centers. This software helps users create and sell interactive premium courses.  This app offers several useful features including: 
Unlimited courses

 

Custom domain name

 

Landing pages

 

4 payment gateways

 

Drip-feed courses

 

24/5 email support

 

Integrations

 

Page builder

 

Website builder with a blog (Pro Package)

 
Learnworlds offers several ways for instructors to interact and engage with their students. One of the learning experiences they offer is an interactive video player. The video player on this platform includes a synchronized transcript that helps students better absorb information. 
Another great addition to the course builder is the testing engine. Learnworlds has incorporated several types of tests to assess your students. You can use simple quizzes, formal exams, and assignments to test your students. You can create a large pool of questions that will be randomized for each student. Create branded digital certificates for your students once they successfully complete the course. 
How does it work?
There are three features from Learnworlds that help its users get an online school up and running: 
Build your courses

:  Courses are created and displayed on the customizable course player. The course player allows you to control if your students can view the videos freely, sequentially or by a set schedule. Students will also have the ability to add notes and highlight sections of the course for more effective studying.

 

Market and Sell Courses:

 

Learnworlds

 offers a complete e-commerce solution to help you gain students and make more money. They offer a full suite of marketing tools including coupons and promotions. Create bundles, subscriptions and membership plans for your students. You'll also be able to create your own custom domain when you use 

Learnworlds

.

 

Create your virtual school

: With 

Learnworlds

, you can create a beautiful website to feature your online course. A pleasant landing page equals more conversions, so this is an important feature for any course builder. This landing page is how you'll showcase your brand and philosophy.

 
Unique Features:
Full white-label

: This software makes it possible to remove the 

Learnworlds

 label from your online school.

 

Lots of templates

: 

Learnworlds

 offers hundreds of beautiful templates to build your online school with. This allows you to create a unique, personalized classroom.

 

Helpful integrations: 

Learnworlds

 has incorporated a huge selection of integrations to give you marketing and affiliate tools to help make more sales.

 
Pricing:
30-Day Free Trial 
Starter Plan: $29/month 
Pro Trainer: $99/month 
Learning Center: $299/month 
Pros:
Cons:
Comprehensive plans are pricey.

 

Lacking student progress overview.

 
Overall Opinion:  Learnworlds is one of the best online course platforms for creating customized, professional-looking landing pages with interactive courses. This option does not give you the convenience of a course marketplace like Udemy, so keep that in mind. If you're seeking a program that offers full solutions for e-commerce, website building, and course creation, Learnworlds is a good choice.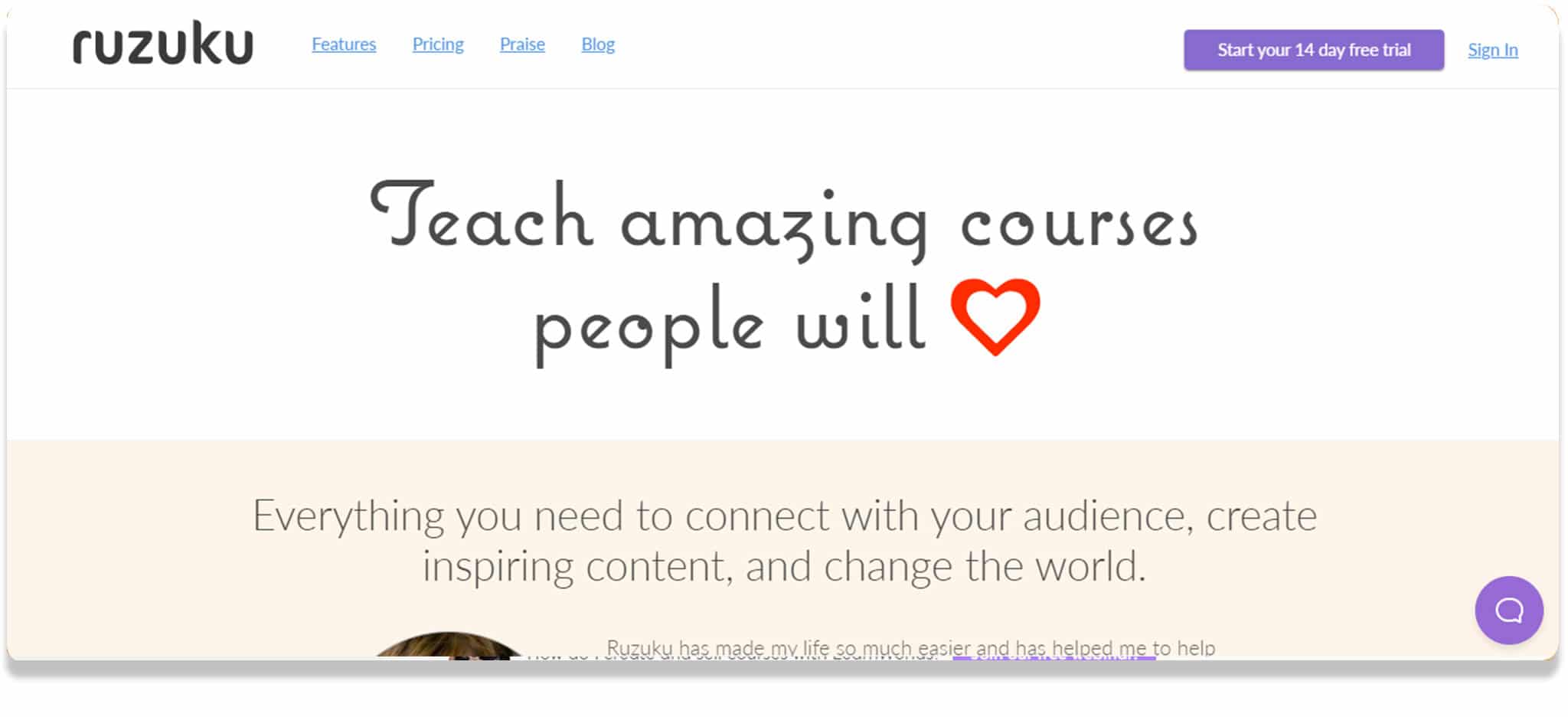 What is it?
Ruzuku is a learning management system that prides itself on being "ridiculously easy to use." They focus on providing helpful tools without overwhelming you with options. If you're a beginner, this will be to your advantage. If you're more experienced, you might want something more versatile. Still, the ease of use is a huge advantage to anyone looking to create an online course. 
Some of the key features you'll get with Ruzuku include: 
Helpful outlining tools for course creation.

 

Automated email reminders.

 

Automated course content delivery.

 

Built-in discussion forums.

 

Audio and video streaming.

 

Student progress tracking.

 

The ability to copy courses, lessons, and activities.

 
Ruzuku gives you a step-by-step guide to creating an online course with coordination with payment gateways. Ruzuku manages the enrollment process and payments from students. They also handle any "customer service" issues that your students may have as well as technical difficulties relating to the online course. 
Ruzuku is best for independent experts, coaches, and instructors who want to create online courses and training websites. Many of its users are small businesses and entrepreneurs looking for a fast and simple way to launch their online courses. Course creators can get started without investing tons of time into learning the software. 
How does it work?
Ruzuku breaks down course creation into two simple categories: lessons and activities. These two categories are what comprise the content of your online courses. Here's how Ruzuku guides users through course creation: 
Create a course: 

You can create online courses by visiting the Manage Courses page. From here, you can click the button that says "Create a Course." Next, you'll enter the title of your course. You can always rename your course by clicking "Rename" under course actions. Once this is done, 

Ruzuku

 will walk you through the steps to finish course creation.

 

Create your lessons

: From the "Manage Courses" page, click on the title of the course you'd like to create a lesson for. From the pop-up menu, click on "Lessons" in the left-hand column. From the lesson section, you can choose to create a new lesson. Here you can title your lesson, create a description and lesson schedule.

 
Create activities: 

Once your lessons are created, you can add activities to them. Choose from polls, discussion forums, images, videos, audio and text to create your unique course activities.

 
By breaking down course creation into these steps, Ruzuku brings an element of structure and guidance to course creators. Adding content to your online courses takes just a few minutes with this intuitive system. Again, the only downside to this is a lack of customization. You aren't given an array of options like other learning management systems, but this can be beneficial to beginners. 
Unique Features:
Webinars: 

Ruzuku

 supports live teleconferences and webinars so you can diversify your content. You don't have to stick to pre-recorded lessons to engage your students. Teleconference is limited to hosting 200 students and webinars can stream to up to 1500 students. That's not too shabby.

 
Email Marketing

:  

Ruzuku

 has a direct integration with MailChimp. This allows users to interact with your students, promote your courses, manage your email list with ease.

 

Student Dashboard:

 the student dashboard shows student engagement, activity progress, comment rates, and course data.

 
Pricing:
Bootstrapper Plan: $74.75/mo 
Up-and-Comer Plan: $83.08/mo 
University Plan: $125/mo 
Pros:
Diverse payment systems.

 

Responsive email support for instructors.

 
Cons:
Limited customization options.

 

There's no live chat support.

 
Overall Opinion:
There is no doubt, Ruzuku is a beginner-friendly learning management system. You'll be able to quickly and easily create courses, lessons, and activities for your students. You don't have to spend time learning a complicated online course platform. However, the incredible ease-of-use means that it is fairly limiting when it comes to customization. Regardless, at the end of the day, Ruzuku comes through with clean course designs and enough features to keep your students engaged.  Ruzuku will work well for small businesses and beginners.
Tips for Success
Recording: 
The bulk of your online courses will rely on great recorded lectures. When you record a lecture, make sure you have great lighting and clear audio. Consider investing in an external microphone for high-quality audio. You should also look into editing video software. HitFilm Express offers a free option for video editing. 
Course creation: 
When you create a course it's smart to keep a few things in mind. Identify your student learning outcome. You should set a goal for exactly what your students will learn by the end of the course. Next, you should come up with an appropriate title for the course. The course title and description grab the attention of potential students. Lastly, make sure to make good on your promises. If your course claims to teach something, make content that delivers. 
Hiring help: 
Creating and managing online courses is a lot of work. This is especially true if you are self-hosting your courses. If you find yourself overwhelmed, don't hesitate to find help. Sites like Upwork and Fiverr can help you find and hire freelance workers. 
Conclusion
There you have it. Whether you're just looking to create and sell online courses or if you want to boost engagement on your website, there are quality options when it comes to online course platforms. The options listed here can provide you with the tools you need to successfully create, market, and sell courses and online training. At the end of the day, your success comes down to the quality of your course content and these learning management systems will give you all the tools you need to do well.