The 14 Best Employee Scheduling Software of 2022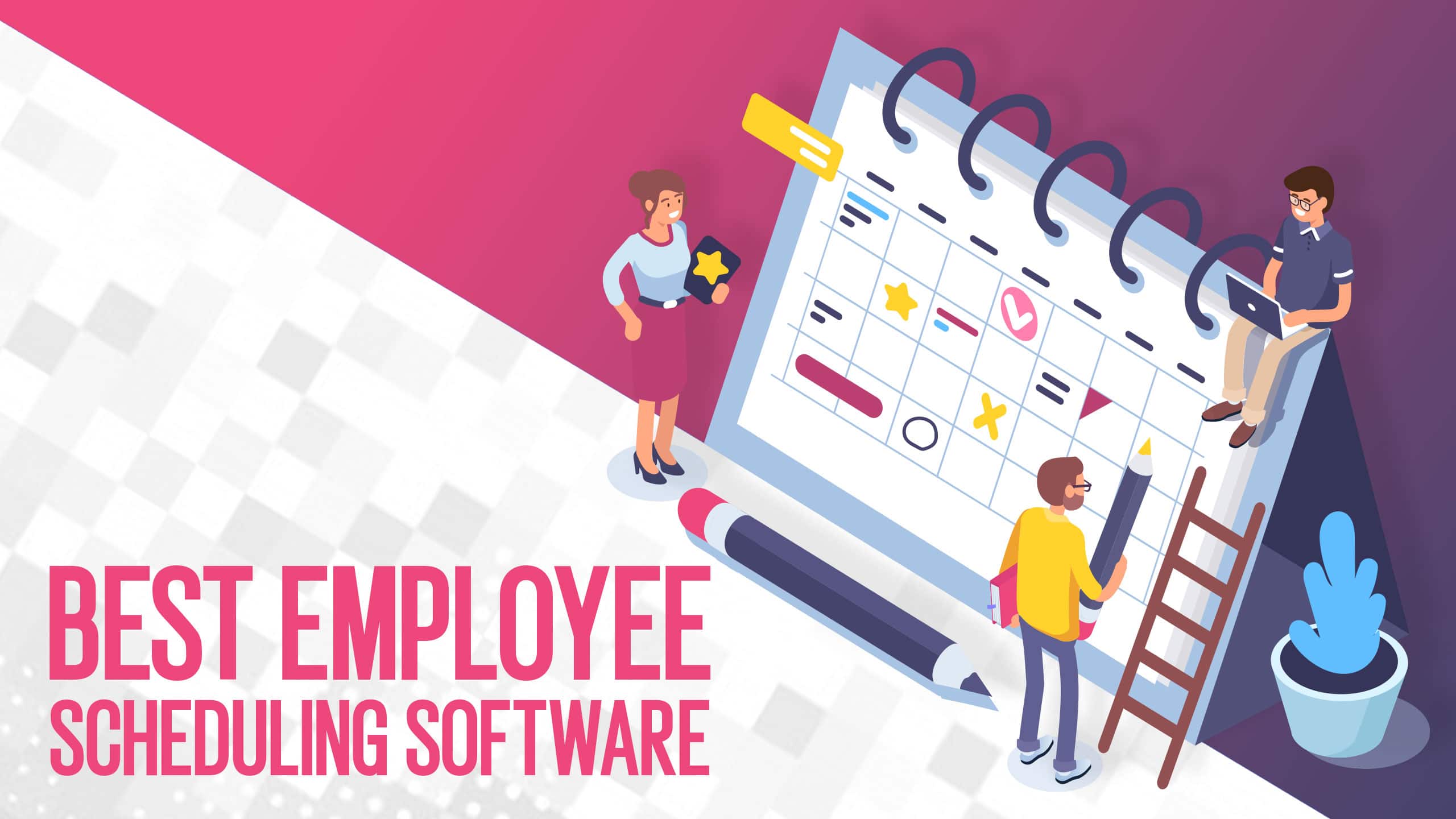 If your business is growing quickly, chances are you're managing more employees than ever before. That means managing onboarding, employee hours, and most tedious of all, the shift schedule.  
As a business owner, I'm sure you know just how time-consuming it can be to manage employee availability, requested time-off, sudden shift changes, and sick days.  
Luckily for you, there is a great selection of online scheduling software options that make this process exponentially smoother.  
I created this list so that you can find the right scheduling software for your business including free and premium options.  
I've also included a few options for those of you seeking an appointment scheduling software to make client bookings fast and easy.  
Let's jump into it. 
Best Scheduling Software 2021: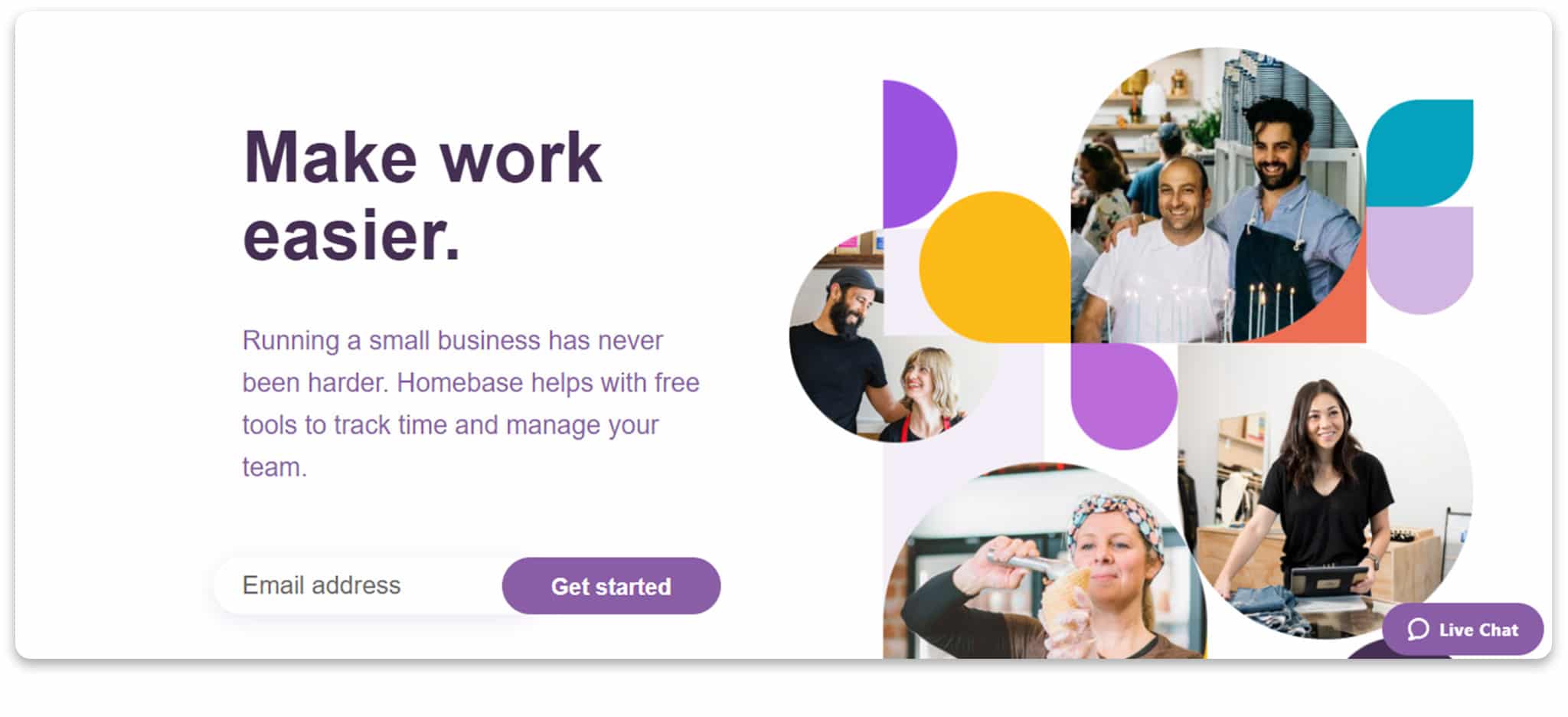 Pricing:  Homebase is totally free and includes unlimited employees. There are premium options if you want upgraded features. Paid plans start at $14 per month per location. Homebase is a great option for small businesses that are on a tight budget.
Description: Homebase is an easy scheduling system that helps businesses manage their entire team. This scheduling software allows owners and managers to create employee schedules in just a few minutes.  
The system allows employees to easily update their availability and request to trade shifts. Each request or update will be sent to you for approval.  
Once approved, the schedule is automatically updated by the system. Another great feature from Homebase is the ability to visualize labor costs by totaling weekly hours including overtime. 
Key Features:  
Keep track of availability

 

Shift change requests

 

Automatic updates

 

Manage labor costs

 

Online onboarding

 
Pricing:  Sling offers a free plan that gives you all of the basic tools to manage and communicate with a team. Paid plans start at $2 per month for every user.
Paid plans include several additional features such as a Google Calendar integration. Sling is another great option for small to medium-sized businesses and individuals who are handling a team.
Description: Sling is another great option for businesses that need to manage a team remotely. With Sling, you can easily build schedules, handle shift changes, and reduce missed shifts, just to name a few features.   
This software also supports remote communication with your employees via group and individual messages. You can seamlessly keep track of hours and reduce any unnecessary labor costs.  
Sling also allows you to assign tasks so that employees have a clear idea of shift goals. 
Key Features:  
Manage labor costs

 

Messaging platform

 

Time clock

 

Assign and manage tasks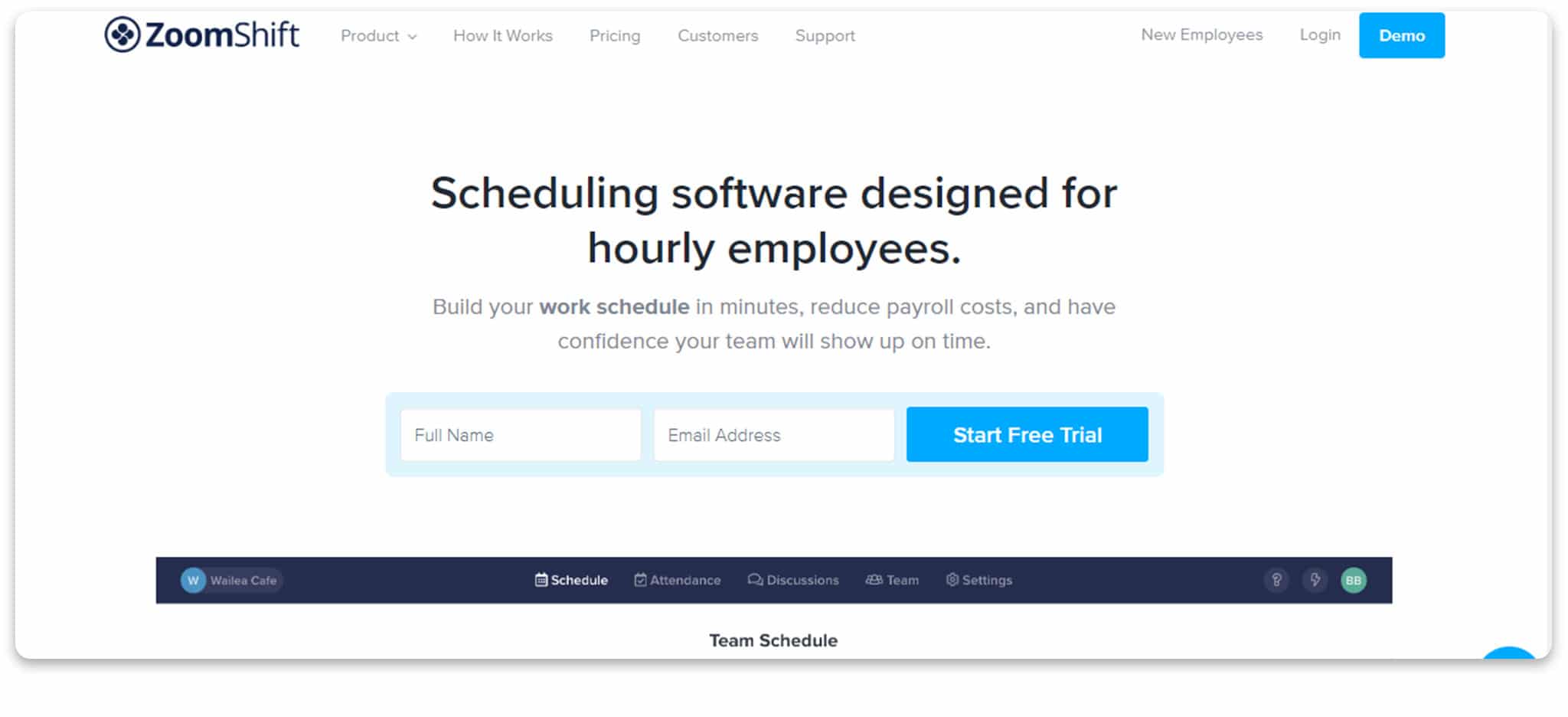 Pricing:  Zoomshift starts at $2 per team member every month. This plan is best for smaller businesses but if you're a large organization, there is a custom plan with powerful scheduling features.
Description: Zoomshift is an appropriate option for any sized business. It's a popular choice for both small retail businesses and large enterprises such as Walgreens and ACE Hardware.  
The main objective of Zoomshift is to create a platform where employee schedules can be built quickly and seamlessly.  
Zoomshift uses a drag-and-drop schedule builder which makes it super easy for users of any ability. Once your schedule is built, employees are notified via email. 
Key Features:  
Copy templates

 

drag and drop builder

 

Manage costs

 

Communicate with email, text and push notifications

 

Customize payroll information

 

Available as a mobile app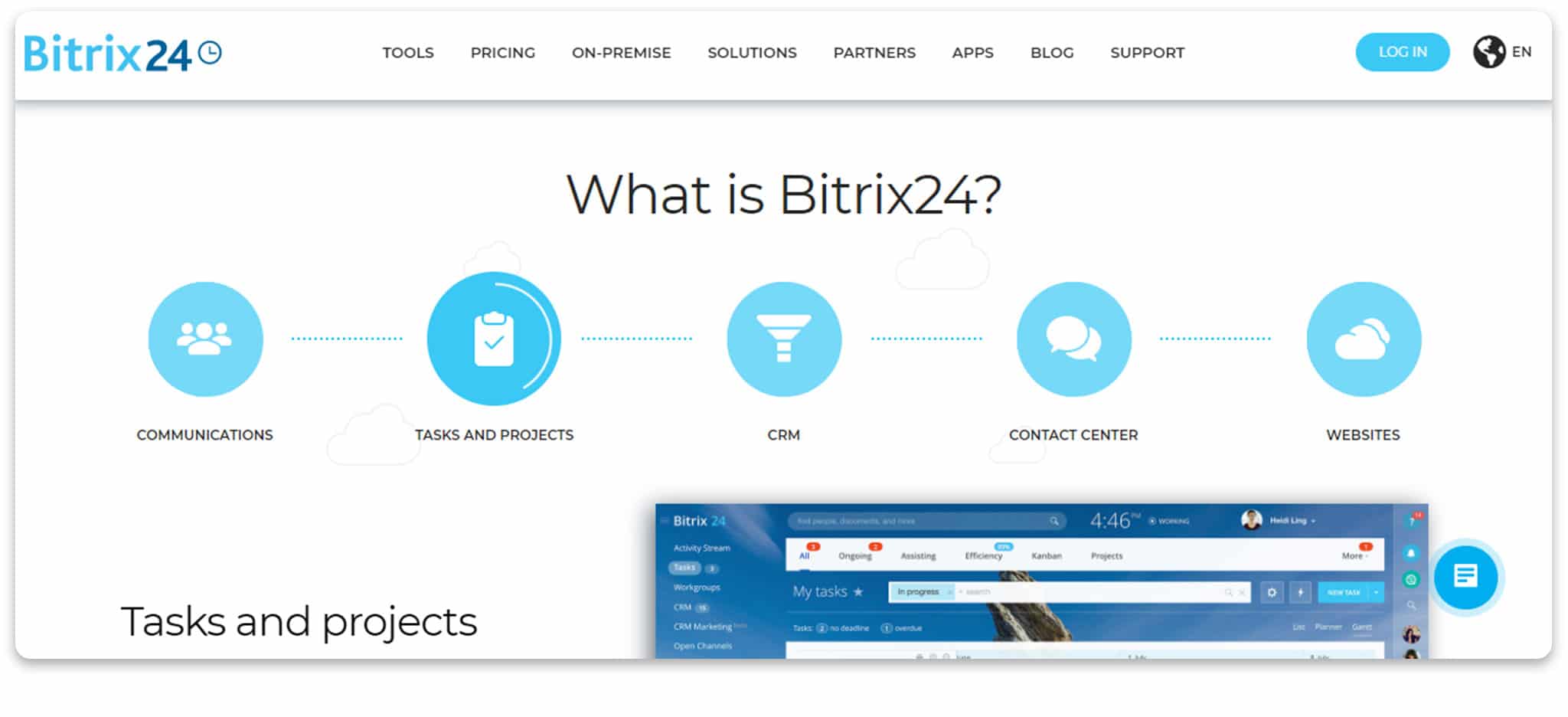 Pricing:  Bitrix24 offers a free plan which is pretty impressive considering the tools you receive. I would recommend this free plan to entrepreneurs who are looking for an affordable way to collaborate with others and manage events. Paid plans start at $12 for two users per month.
Description: Bitrix24 is a little bit different than the options we just looked at. This software is geared towards team collaboration rather than employee scheduling.  
This is perfect for remote offices and teams who work from home. You can also use this tool to manage clients, communicate with customers, and e-commerce management.  
Bitrix24 also comes in handy for event scheduling and meeting management. They offer several scheduling solutions for small to large businesses with options for a variety of industries and needs. 
Key Features:  
Share and store files

 

Manage calendars

 

Real-time communication

 

CRM

 

Human resource tools

 

Manage projects and tasks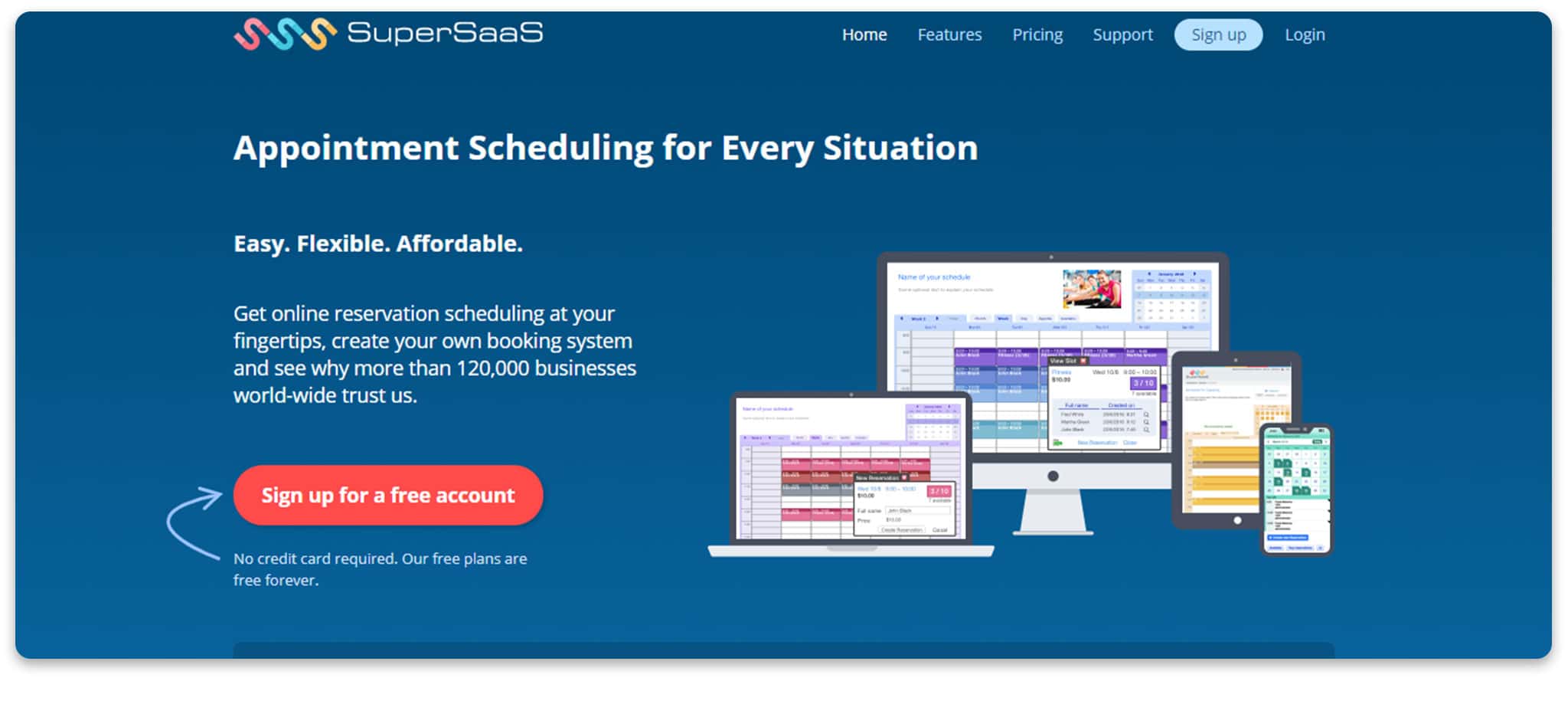 Pricing:  SuperSaas offers a free plan that supports up to 50 appointments a month.  Paid plans begin at $8 per month and include unlimited registered users. SuperSaas is great for any business that relies on online appointment scheduling.
Description: SuperSaas is a scheduling solution that helps you manage and book appointments. SuperSaas has gained a lot of credibility in the scheduling space, used by over 120,000 businesses for appointment scheduling.  
If your business is in need of an affordable booking system, this is the way to go. SuperSaas lets you customize your appointment platform, integrate your website, and choose your language setting so that it fits your brand perfectly.  
Use this software for one-on-one appointments, group scheduling, service appointments, and rental scheduling. Clients can easily schedule appointments using this platform during any time of the day or night. 
Key Features:  
Customizable online scheduling

 

Confirmation email reminders

 

Payment integrations

 

Reports and analytics

 

Calendar integrations

 

Assign and manage user roles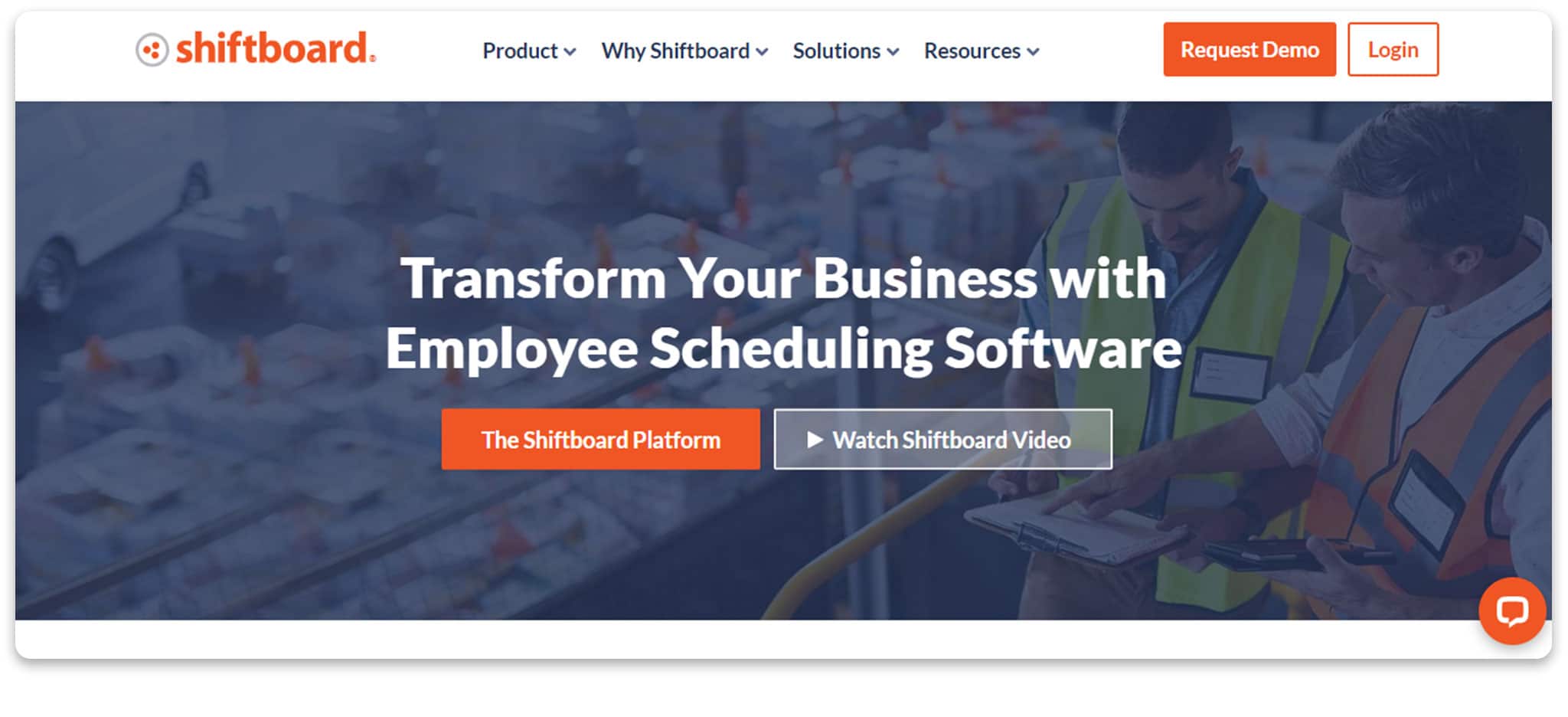 Pricing:  Plans start at $3 per user per month. New users can try a free demo to see if the software is a good fit for their business.
Description: Shiftboard offers cloud-based team management and shift scheduling. This software was built specifically for large enterprises in a variety of industries including healthcare, manufacturing, and call centers.  
Shiftboard offers a powerful set of features that gives managers the ability to track applicants, make schedules, communicate online, and onboard new employees. 
Key Features:  
Schedule workflow

 

Multi-language

 

Manage complex schedules

 

Automated notifications

 

Instant messaging

 

Manage employee credentials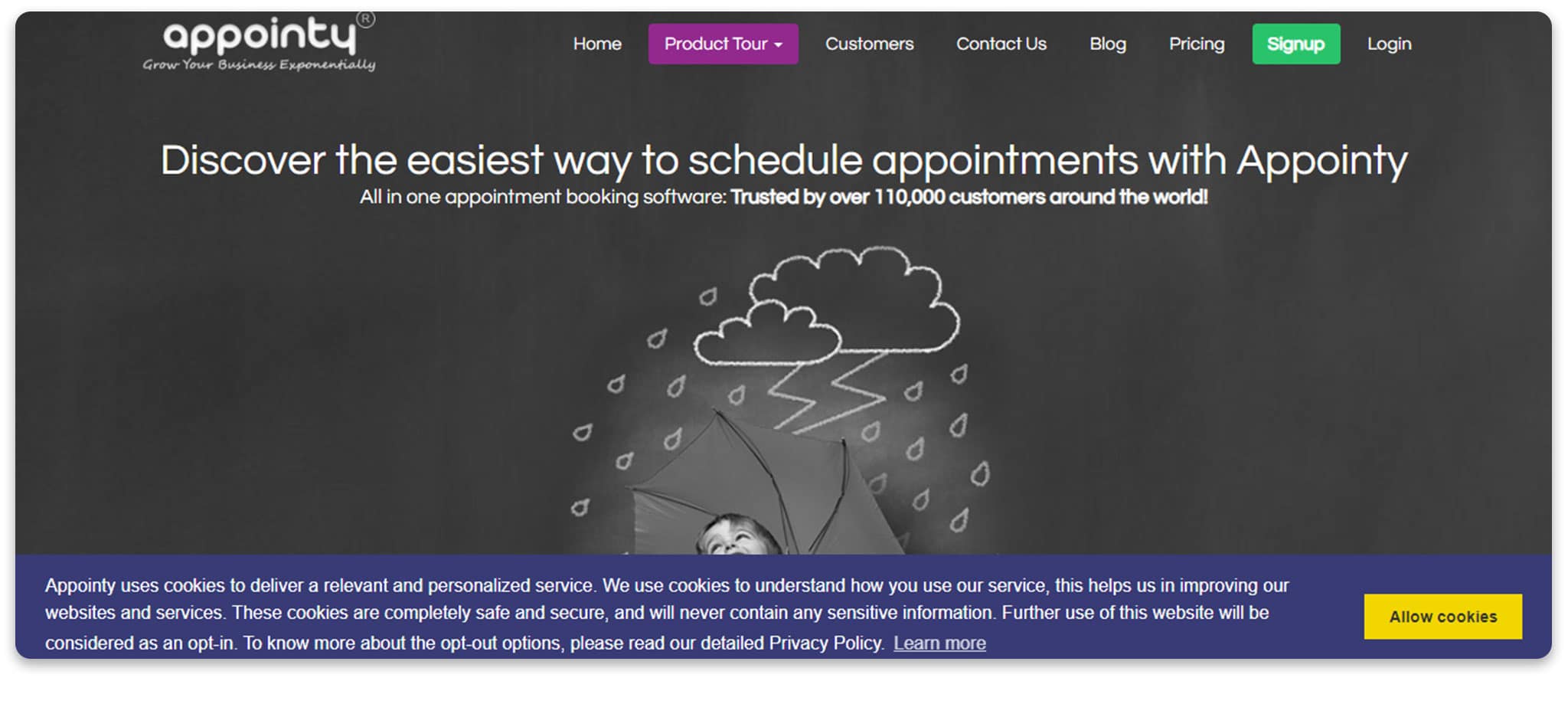 Pricing:  Ximble pricing starts at $1 per user per month. This is a pretty good deal if you manage a large number of employees. Another option to consider is the full payroll solutions that include payroll, tax-filing, reporting, and scheduling starting at $99 per month.
Description: Ximble is a traditional online scheduling solution that works with managers to create comprehensive employee schedules.   
This software offers web scheduling for industries in education, manufacturing, non-profits, restraints, and retail.  
The scheduling software features self-services so that employees can input their own availability, pick up, and drop shifts.  Ximble is well equipped to handle the needs of large businesses with big staff. 
Key Features:  
Budget planning tools

 

Set daily or weekly rules

 

Employee self-service

 

Online communication

 

Autofill shifts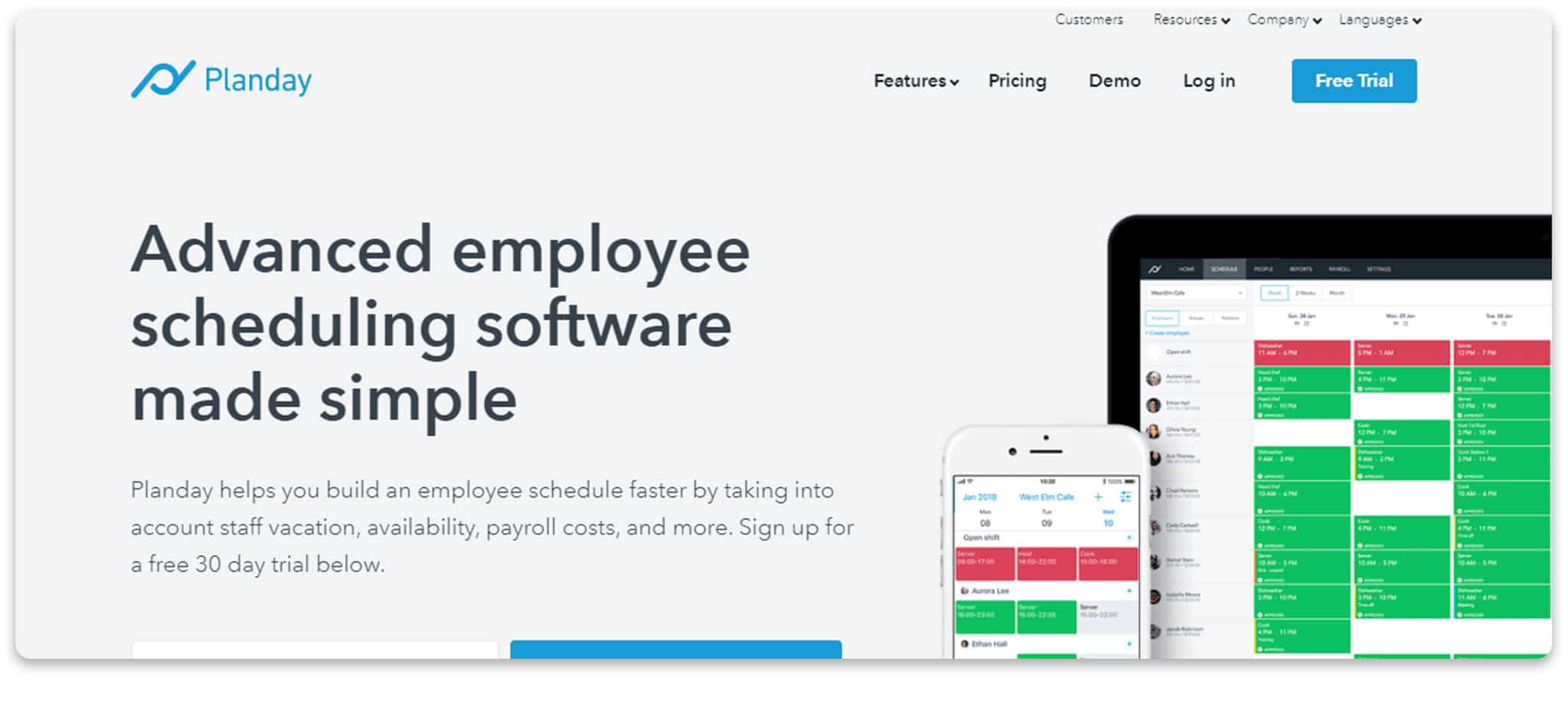 Pricing:  The basic plan starts at $2 per user per month. Keep in mind that they do require a minimum of 15 users to start and pricing is rounded up to the nearest 5 users.  This plan includes a comprehensive set of scheduling tools and is best for small to medium-sized businesses.
Description: Planday makes building a complicated schedule easy. You can build schedules that account for employee vacation time, availability, and payroll.  
This scheduling software is suitable for businesses with up to 300 employees. Planday is available as a mobile app so you can manage employee schedules from your phone.  
Aside from employee scheduling, you can also communicate with your employees using group messages or individual messaging right from the scheduling platform. Employees can use the app to clock in and out of work for easy hours-tracking. 
Key Features:  
Real-time messaging

 

Business overview

 

Manage staff activity

 

Mobile app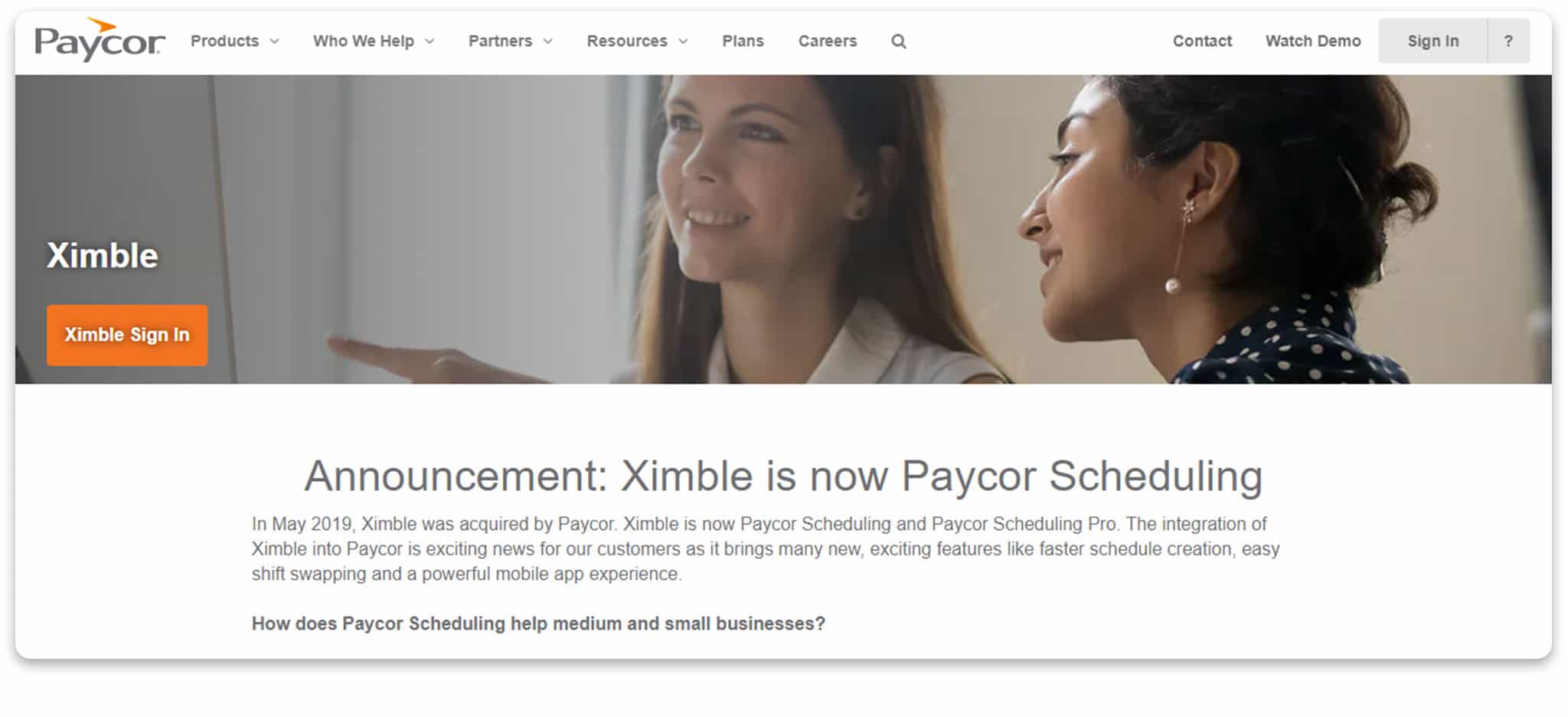 Pricing:  Appointy offers a free plan that includes one user and up to five services per month. Paid plans start at $19 per month and include unlimited services and appointments per month.
Description: Appointy is another option for businesses that rely on customer bookings. This appointment scheduling software makes it easy for customers and clients to book appointments online outside of business hours.  
This software has a Facebook integration so that customers can book appointments from the Facebook app. If you don't have a website, Appointy gives users the option to create a booking page with a unique subdomain for free.  
This online scheduling software is a great choice for solo entrepreneurs and businesses who need an affordable booking solution. 
Key Features:  
Flexible time-slots

 

Back to back booking

 

Recurring booking

 

Google booking

 

Mobile app

 

Automated reminders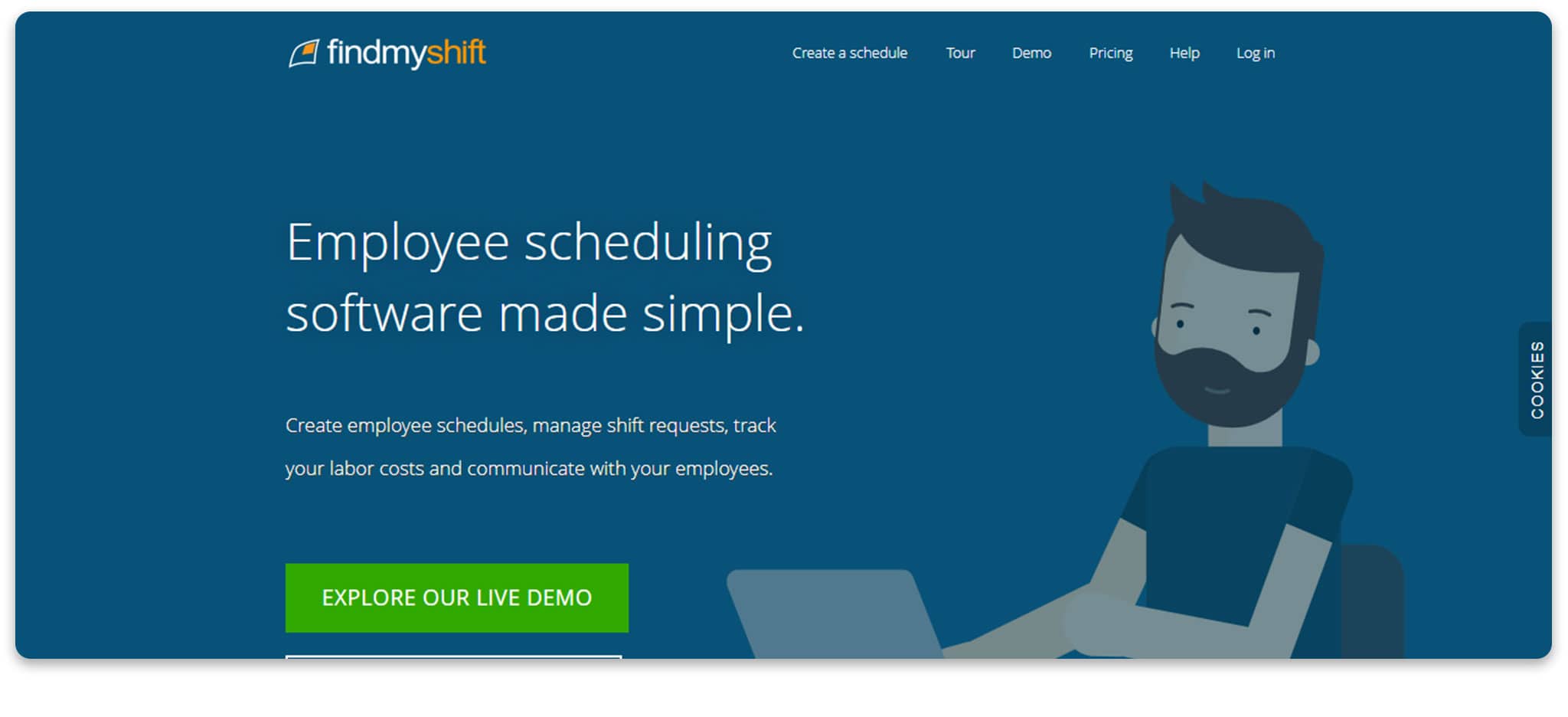 Pricing:  One of the coolest things about FindMyShift is that they offer a free plan for small teams. If you have five or fewer employees, you have access to a comprehensive free plan. For larger teams, plans start at $35 per month for unlimited employees. This is one of the best values you'll find.
Description: FindMyShift is an established employee scheduling software that is dedicated to constantly improving their software.  
This company has been in the scheduling game for over a decade and a half, making it one of the most reliable options on this list. 
FindMyShift not only assists in employee scheduling, but also with communication, attendance, payroll, and time-off. 
Key Features:  
Time-clock app

 

Unlimited employees

 

Remote management

 

Onboard employees

 

Drag and drop scheduling

 

Vacation management

 

Payroll calculator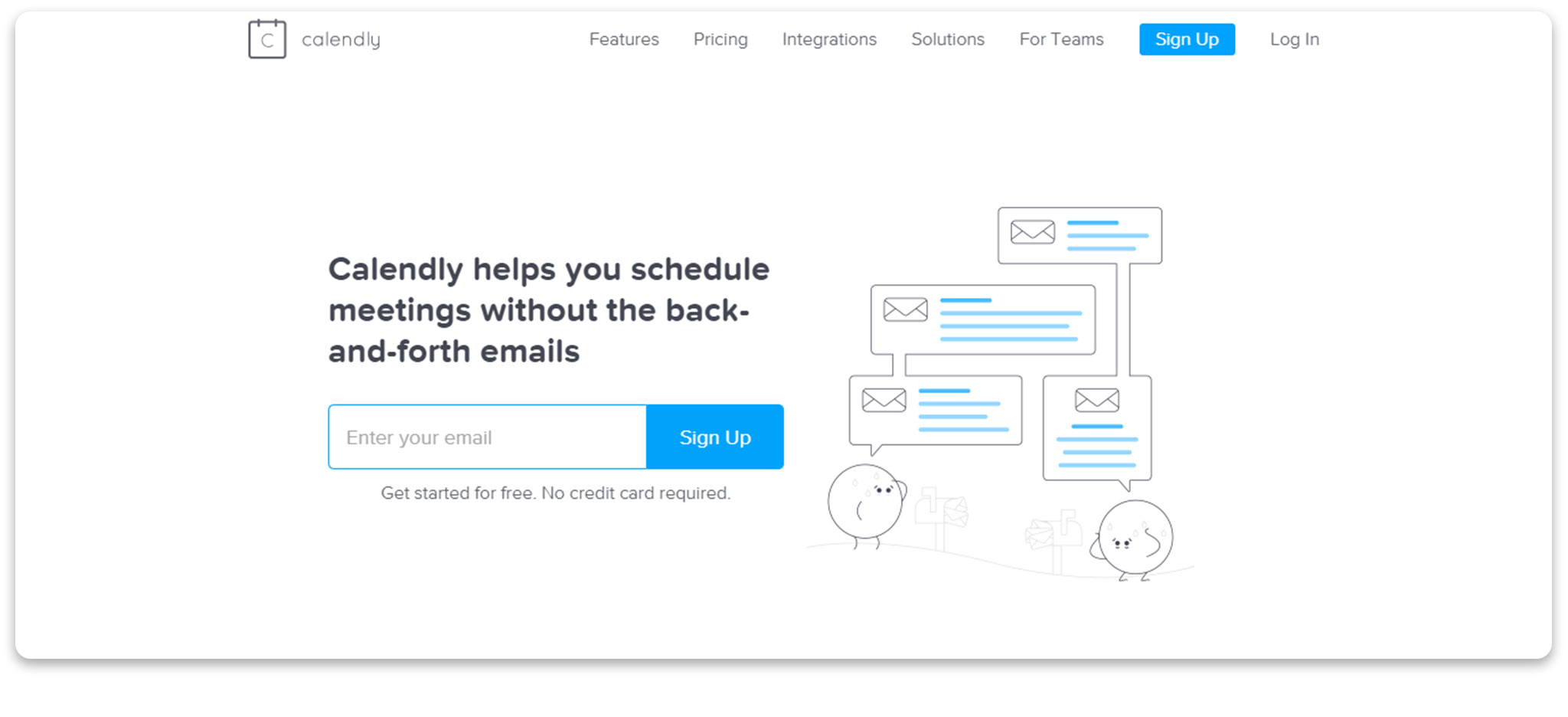 Pricing:  Calendly has a free plan that supports one calendar for one user. Upgraded plans start at $8 per month for two calendars and unlimited event types.
Description: Calendly is a super simple tool that helps you schedule meetings with little hassle. This tool takes your availability preferences and creates your schedule for you.  
You can share your unique Calendly link via email or put it directly on your website. People can use the link to schedule meetings with you according to your availability. 
Key Features:  
Calendar integrations

 

Set buffer times

 

Detects times zones

 

Flexible meeting types

 

Supports team growth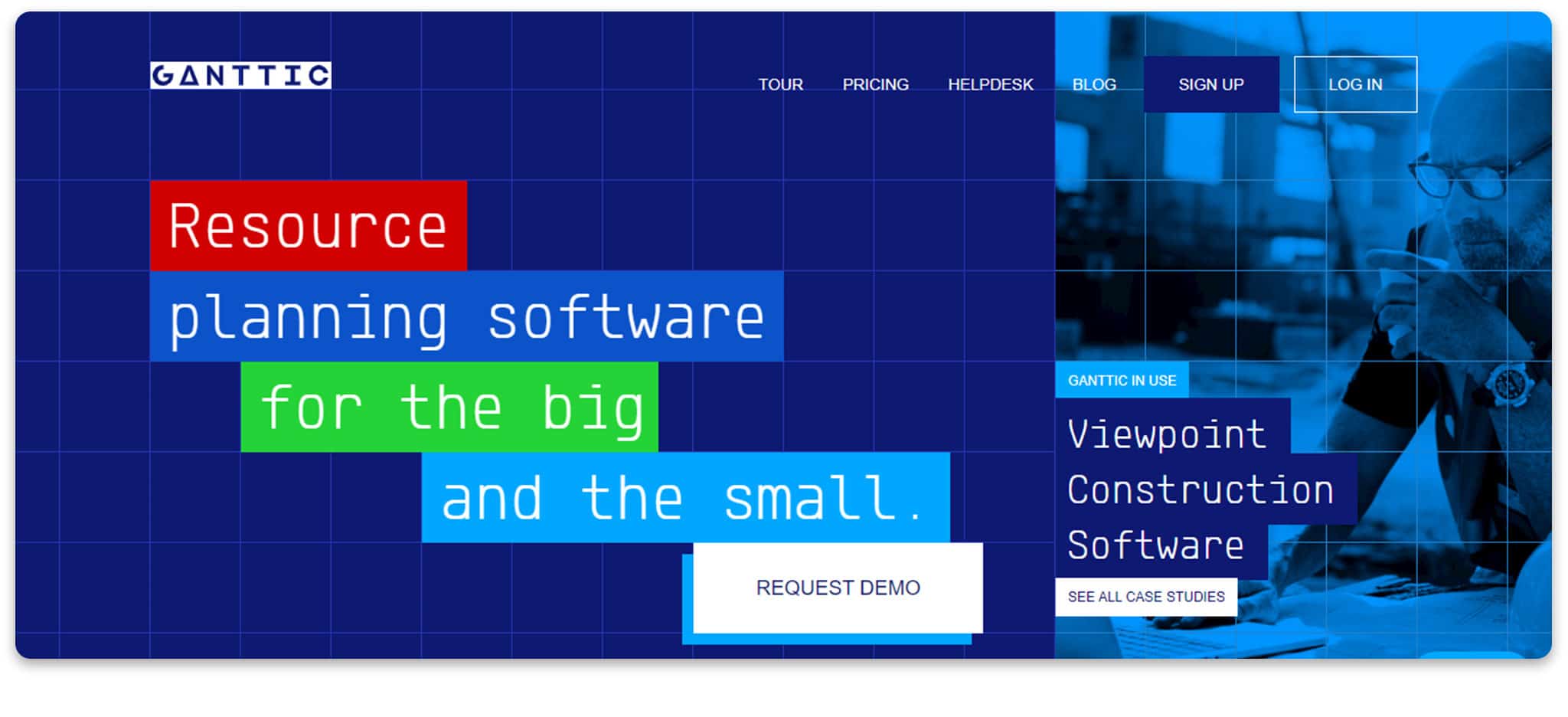 Pricing:  Ganttic offers a free plan for small projects that includes 10 resources. For larger projects, the paid plans start at $1.25 per month per resource for up to 20 resources
Description: Ganttic is a unique online resource planning software that helps teams collaborate on group projects. You can use this tool to build project strategies and visualize project resources.  
Schedule team members, machinery, vehicles, rooms, and any other resource that is relevant to your project.  
Ganttic gives you an easy way to manage an entire office, individual projects, and specific project resources.  
I will say, this software has an enormous capability, but it may be difficult for beginners to learn. 
Key Features:  
Customized data visuals

 

Time tracking

 

Personalized planner

 

Control user access

 

Set work hours

 

Plan by effort

 
13. Huma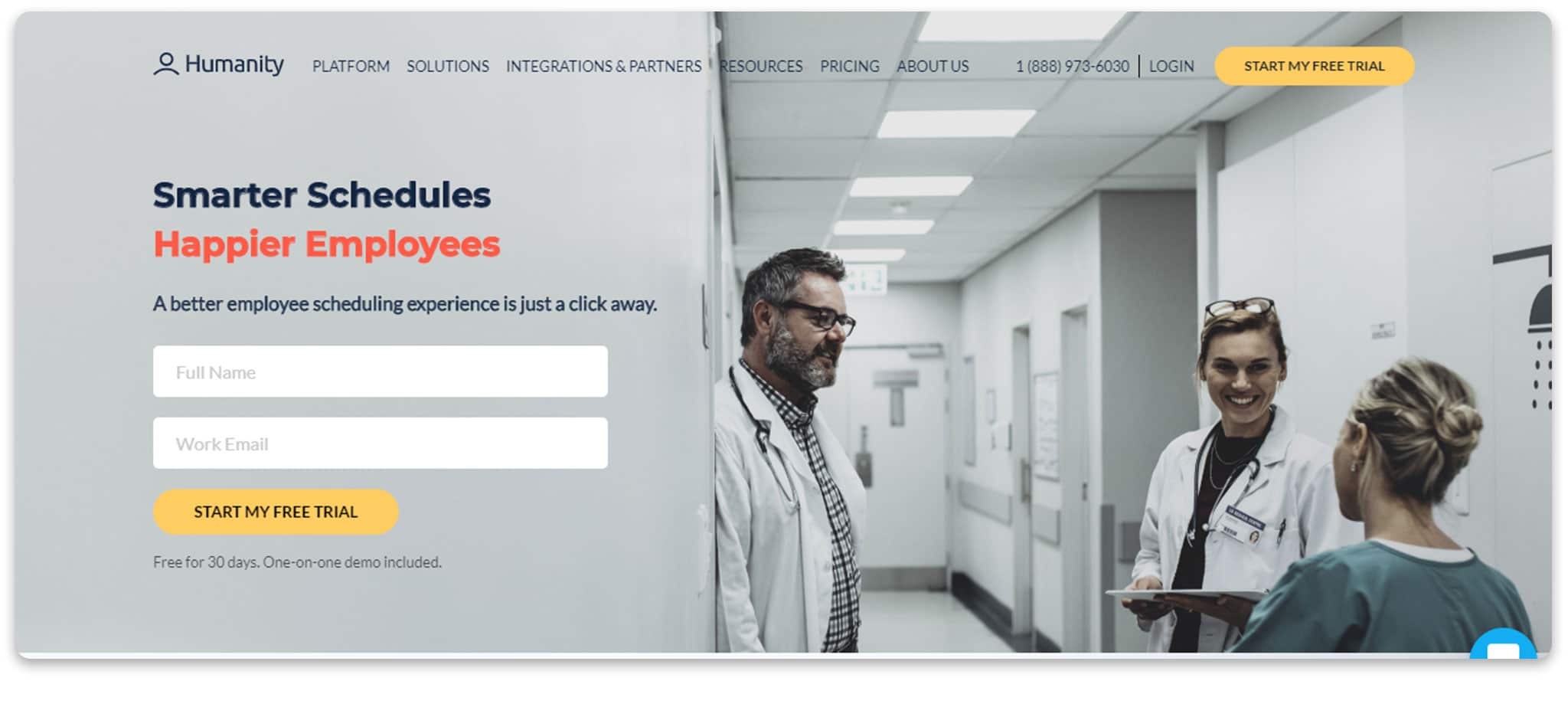 Pricing:  Plans start at $3 per user per month with a minimum of $80 per month. This tool is a popular choice with large businesses, and I think the prices reflect that.
You get a comprehensive feature set that is capable of handling complex schedules. On the flip side, if you're a small company with only a few employees this isn't the best option for you.
Description: Humanity is a cloud-based employee scheduling software. This scheduling software helps managers build shifts and schedule employees with the correct skillset to the right shifts.  
Humanity gives employees a fast and easy way to trade shifts and request time off in real-time. Managers can get a realistic view of labor costs and compliance issues.  
Humanity makes employee scheduling easy by implementing automation that matches employees to the correct time-slot.  
Key Features:  
Track employee attendance

 

Data-driven staffing

 

Customizable rules

 

Auto-scheduling

 

Powerful integrations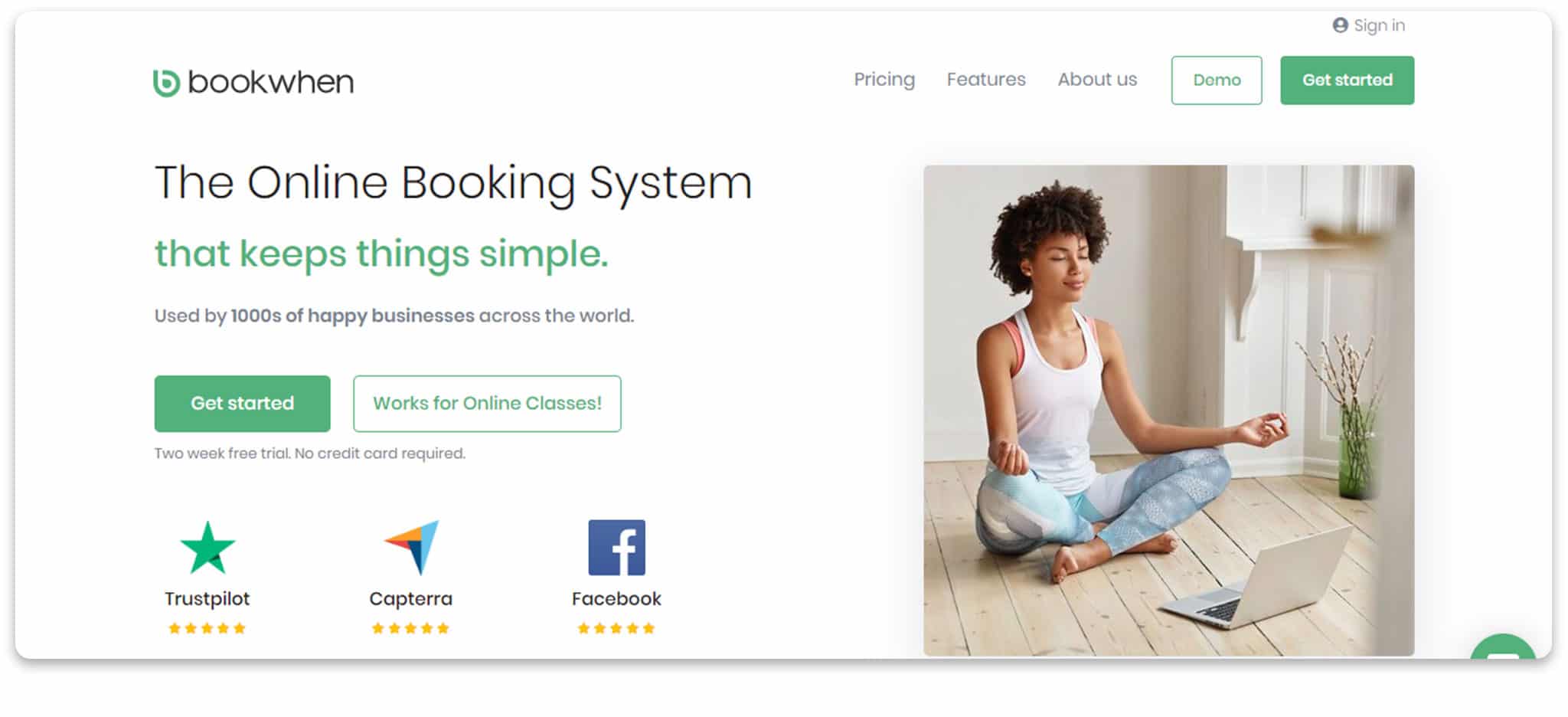 Pricing:  The free plan gives users up to 50 bookings per month and one booking page. The catch is that you won't be able to take credit card payments directly on the booking page. Paid plans with credit card payment integrations start at $15 per month.
Description: BookWhen is an online booking and scheduling software system. Bookwhen helps businesses with online appointment scheduling for a variety of services.  
You can set up this system for recurring or one-time classes, workshops, events, conferences, and activities.  
BookWhen will help you manage client payment, create custom forms, create customized tickets, and manage attendee registration. 
Key Features:  
Confirmation emails

 

Online payment

 

Class registration

 

Multiple ticket types

 

Recurring schedules

 

Embed on your website

 
Conclusion 
As you can see, there are a lot of great options for both small and large businesses with a variety of budgets.  
There are a surprising number of free software options for those of you who are just starting out or who have small teams. For large organizations, an option such as Shiftboard may have what you're looking for.  
As always, be sure to try out some of the free trials for new users.