9 Best Laptops for Blogging in 2023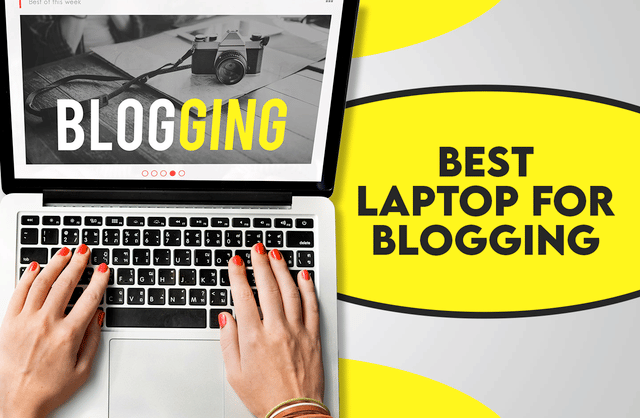 No matter what profession or side hustle you are working on, you want the best tools possible to increase your chances of success. If you're following my posts and suggestions for affiliate marketing, it's likely that blogging is or will be a big part of your strategy.
The idea for a new blog post may often come when you're on the move. It can be extremely helpful to have a top-notch blogging laptop with you at all times. In my mind, the best blogging laptop must have long battery life and a comfortable, easy-to-use keyboard. It should also be affordable and light enough for travel bloggers or those who are constantly on the move.
Whether you already have an established blog and are writing a new blog post daily, or are new to following my affiliate and marketing guidance and want to start blogging, this post will help give you the tools that you need to succeed by covering the best laptop for blogging in 2023.
The blogging laptop models that I will cover in this article are:
9 Best Laptops for Blogging in 2023: Overview
Why Do You Need a Blogging Laptop?
Getting a blogging laptop is definitely worth it if you're serious about blogging. Compared to desktop computers, laptops are specifically designed for portability. Blogging laptops also have comfortable keyboards, which are essential for typing long blog posts, and lightweight designs and long battery lives, allowing you to blog from almost anywhere.
What to Consider When Buying a Laptop for Blogging
Now that you know the best laptops for blogging, how do you decide which one is right for you?
Further, how do you know which ones are good, what the most important aspects are, and which laptop specs matter? Let's get into that now.
Price
Of course price matters. There are some real options out there that can provide a lot of power and give you what you need but are still priced as cheap laptops.
Some of the expensive ones provide better performance and more storage. It all depends on what you're looking for, but if you are on a tight budget, sometimes you just have to take what you can get.
The next factors of my list should help you understand which additional laptop specs are worth paying more for, and which aren't.
Storage
If the only thing that you ever plan to use your laptop for is Google Docs and writing blog posts, storage may not really matter to you. Always remember, however, that if you want your Google Docs files to work offline, the file will be saved to your actual computer, which will take up storage space.
While text docs don't typically take up too much space, travel bloggers, video editors, or anyone that has video content or a lot of photos, really should keep storage space in mind.
You can also buy external hard drives that can give you terabytes of additional memory. But, do you really want to remember to lug those along with you? Probably not.
Size & Weight
It's become quite popular for people to just ditch the desktop computer entirely and use a laptop that never moves from their desk. If that describes how you plan to use your laptop, then size and weight won't really matter that much, as long as you are comfortable with it.
If you will be lugging it to the office every day and then back home with you, or if you are a frequent traveler or travel blogger, the best laptop for blogging in your world needs to be extremely light and portable, yet durable.
In the world of laptops, 3 pounds is a pretty good benchmark. Anything lighter is pretty light, anything heavier is considered standard to heavy.
Battery Life
The battery life is an enormous part of the decision-making process when looking for a new laptop.
You also need to keep in mind that different programs/software will drain battery life in different ways. Watching HD movies at full brightness can eat up a lot of battery power, whereas word docs with the brightness turned down can deliver hours of battery life.
If you know that your laptop will constantly be on the move with you, or that you plan to be unplugged for long parts of the workday, you would probably be well-served to find one of the best laptops with a long battery life of eight hours or more.
Performance
The performance of the best laptops for blogging listed above typically comes from the processor and the amount of RAM.
The graphics card is also an important component if you plan on playing games, video editing, or doing anything else that is graphics-intensive.
Overall, every processor has its own features and specialties and will perform best for different needs.
RAM
People often confuse Random Access Memory (RAM) with storage space, but this is a different type of memory entirely.
RAM is where your computer saves temporary data that is used often and may need to be accessed quickly. You can think of the RAM as the short-term memory for your laptop.
If you are a multi-tasker or someone who works on a lot of projects, you want as much RAM as you can get. That way your laptop can stay up to speed with all of the information and functions that you need on a daily basis.
FAQs
How Much RAM do I Need for Blogging?
If you are truly only using it as a blogging laptop, you don't need more than the standard 8 GB of RAM that comes with just about any model. 
If you are using it for various business functions, personal use, and as a laptop for blogging, you may want to kick it up to 16 GB just to be sure that you don't face any critical memory or lag issues.
Is a Laptop Important for Blogging?
Yes, a laptop is important for blogging. You need a place to do your research, write your thoughts, and edit your website and content before you hit the publish button.
How much you need to spend, however, is another question. A cheap laptop will work if it's only needed for text blogging, but if video or photos are a part of your content strategy, you want the best laptop, not the cheapest.
What Is the Best Device for Blogging?
Professional writers (bloggers included) can be quite finicky when it comes to the medium they use to write.
I once met a New York Times multi-best-selling author who refused to write his novels on anything other than yellow legal pads in longhand. He said he couldn't find inspiration when using a keyboard.
Some choose to dictate their content, some write longhand like my friend above, and some even prefer the good old-fashioned typewriter. But at some point, your blog will have to be put on the internet, which means a blogging laptop will be needed somewhere in the mix.
Bottom Line
Technology has become a veritable arms race, with dozens of companies building faster, better, and cheaper laptops every year. That makes the consumer the winner because companies constantly have to compete for our money.
If you don't know much about technology, however, the terms and specs can be confusing and easy to miss. Should you get an Intel Core i7 or an AMD Ryzen? Do I need 1 TB of SSD storage or 256 GB?
I wrote the post above to be as helpful to my fellow affiliate marketers who use blogs to generate their income as I can. Stick to my list of blogging laptops above. There are more expensive, higher-performance options, like the MacBook Pro or Lenovo ThinkPad, but there are also cheap laptops that will allow you to write a blog on a budget.
Stick to the models that I reviewed above so you can get to writing your blog!