11 Ahrefs Alternatives 2021 (Free and Paid Options)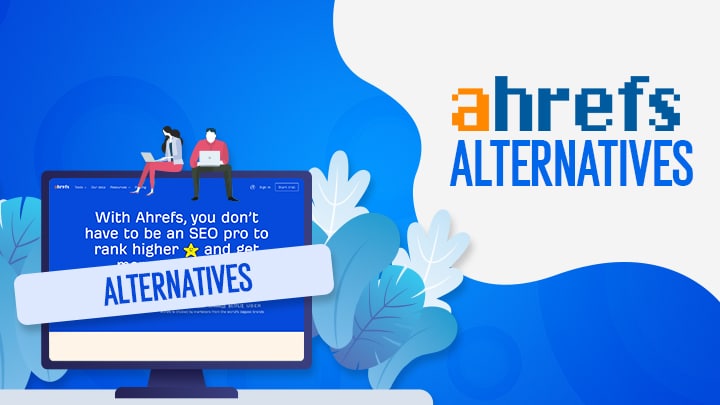 When managing your website or websites for your clients, you need a reliable SEO tool. When it comes to a popular tool that can help you research keywords, conduct competition analysis, track backlinks, and much more, Ahrefs usually comes to mind.
However, Ahrefs can be a bit overwhelming to beginners, and it's pricey, among other drawbacks. That's why we decided to cover Ahrefs alternatives in this post to help you find a suitable tool for your SEO needs.
So, if you think Ahrefs isn't the best option for you (or you simply want a different tool to supplement Ahrefs), take a look at the alternatives in this article.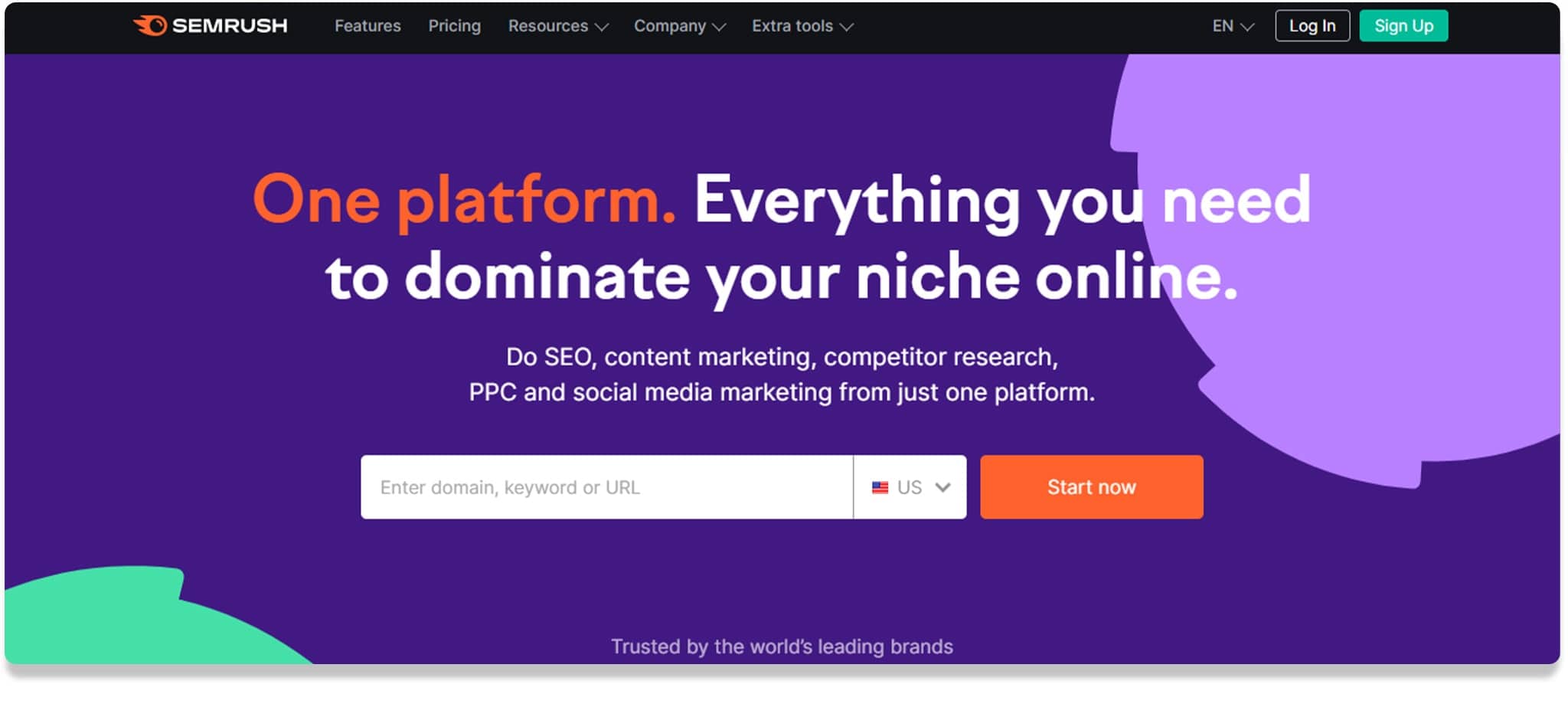 SEMRush is among the most popular SEO tools and for a good reason: it has tons of useful features all in one place.
In addition to SEMRush's standard keyword research functionalities (such as CPC, and search volume), you'll find other helpful features, including:
· On-page SEO analysis
· Backlink analytics
· Traffic analytics (the sources of a website's traffic)
· SEO site audits
· Rank tracking
· Social media management
· Local SEO
· Competitor analysis
· Link building
Comparison with Ahrefs
We think SEMRush is one of the closest tools to Ahrefs both with regard to the number and quality of features.
They are similar in pricing too.
However, we'd choose Ahrefs because it offers a better user experience. Therefore, while SEMRush and Ahrefs are similar feature-wise, SEMRush is a bit more difficult to use.
For instance, when looking for more information on Ahrefs, a list of useful links shows up on the left sidebar. These links give you access to essential reports, such as internal backlinks, top pages, broken links, link intersect, and more.
While SEMRush has such a sidebar, it only links to the various features. In other words, if you're looking for something specific on SEMRush, you need to analyze each feature further.
 According to some users, SEMRUsh has a better UX than Ahrefs. However, in terms of features, these two platforms are similar. If you're looking for an Ahrefs alternative whose features fairly similar, you may want to try SEMRush.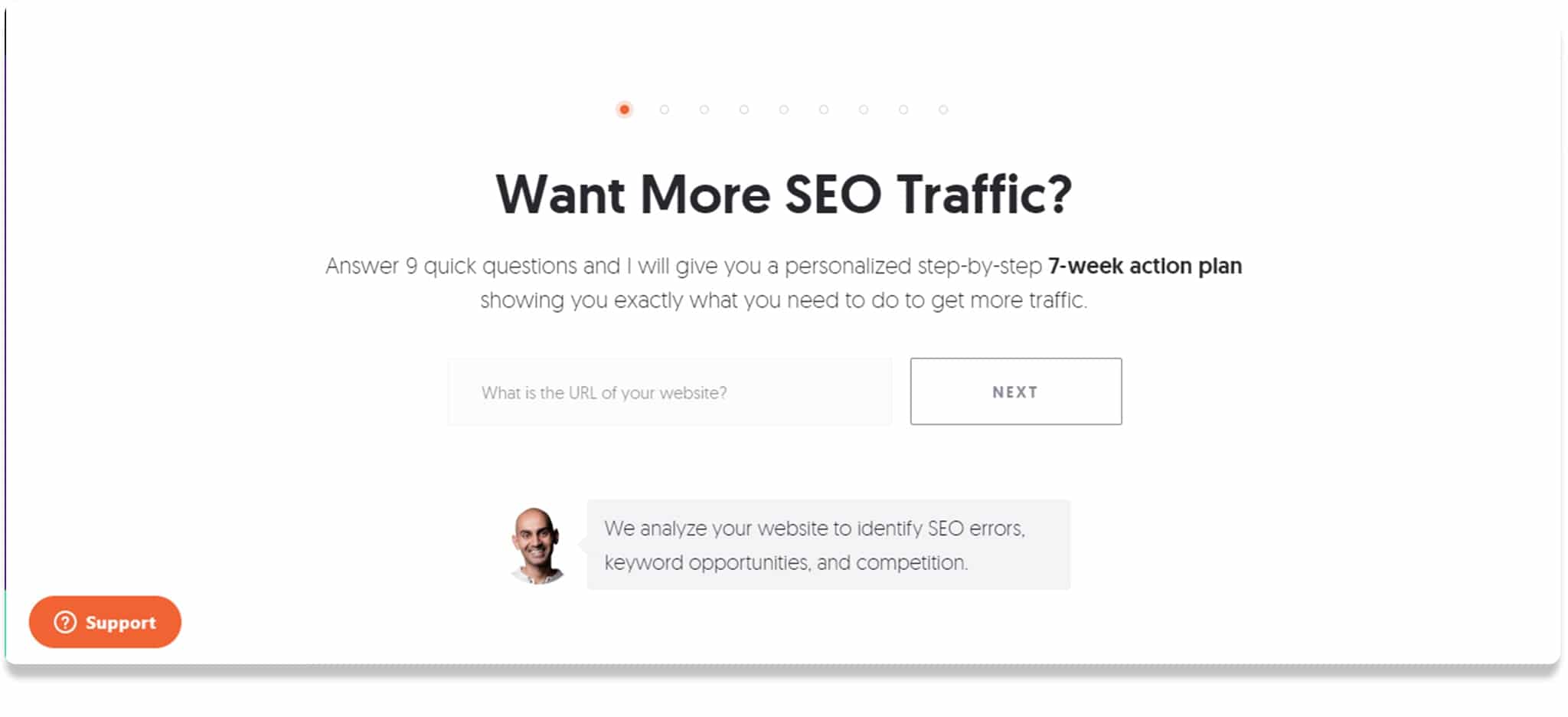 Ubersuggest is one of the best Ahrefs alternatives to help you generate content and keyword ideas. It can also help you analyze the competitors' backlinks, traffic, and top pages.
The platform grants you access to more than one billion content pieces, six billion keywords, and two trillion links.
Three of Ubersuggest's top features include:
Domain Overview:
This feature allows you to reverse engineer a competitor's content marketing, SEO, and social media marketing strategies. In other words, Ubersuggest lets you know the strategies your competitors are using so you can adopt the same, make improvements, and outdo the competition.
Top SEO Pages:
This tool allows you to discover the competitor's pages that rank for popular keywords and which ones are widely shared on Facebook and Pinterest.
Keyword Suggestions:
You can type any keyword in the keyword tool to see hundreds of suggestions. Furthermore, you'll see each keyword's search volume, seasonal trends, CPC, search difficulty, and more.
Content Ideas:
This feature allows you to write content based on what's already ranking and getting the most shares online. As a result, you find ideas to write on topics people are interested in.
SEO Explorer:
Under this section, you'll find the SEO Analyzer tool, which allows you to identify SEO issues on your site and fix them. It also includes the backlinks tool to let you see your competitors' backlinks, referring domains, and link history so you can reverse engineer their strategies.
How Ubersuggest Compares to Ahrefs
Ubersuggest is a high-quality SEO tool. However, in terms of features, Ahrefs is more feature-rich. For example, Ahrefs lets you know new, broken, and lost backlinks. It also shows anchor texts, link-intersect, internal backlinks, and more.
The other difference is in pricing. Ahrefs is pricey and starts at $99 per month. On the other hand, Ubersuggest starts from as low as $12 per month for the Individual Plan. The Business and Enterprise/Agency plans cost $20 and $40 per month respectively.
In this case, Ubersuggest wins because it's a top-notch tool at an affordable price.
This tool has a rich list of features including a great selection of SEO tools. The SEO tools suite comes with a keyword rank tracker, website audit, on-page checker, backlink checker, backlink monitoring, keyword research and suggestion, marketing plan, and keyword grouper.
Moreover, there's a competitive research feature, social media management, and a B2B feature that includes, lead generator, white-label, SEO reporting, and API.
How It Compares Against Ahrefs
As you can see, this app has some features you won't find on Ahrefs, such as the lead generation tool under B2B features.
You can integrate most of these features with Google Analytics, making SE Ranking an essential tool in multichannel or cross-platform marketing.
A feature like SEO localization puts SERanking ahead of Ahrefs, and you can use it, especially if you have a business in several locations.
Further, this tool is beginner-friendly with a smooth UI that allows you to carry out even complex tasks like competitor analysis and technical SEO audit without any difficulties.
SERanking is affordable too. Their basic (Optimum) plan costs $39 per month while the Plus plan (most popular) goes for $89 per month. The Enterprise plan costs $189 per month.
This tool has a more elaborate and extensive dashboard too. SERanking's remarkable quantity of features makes it a great Ahrefs alternative. The price point is attractive too.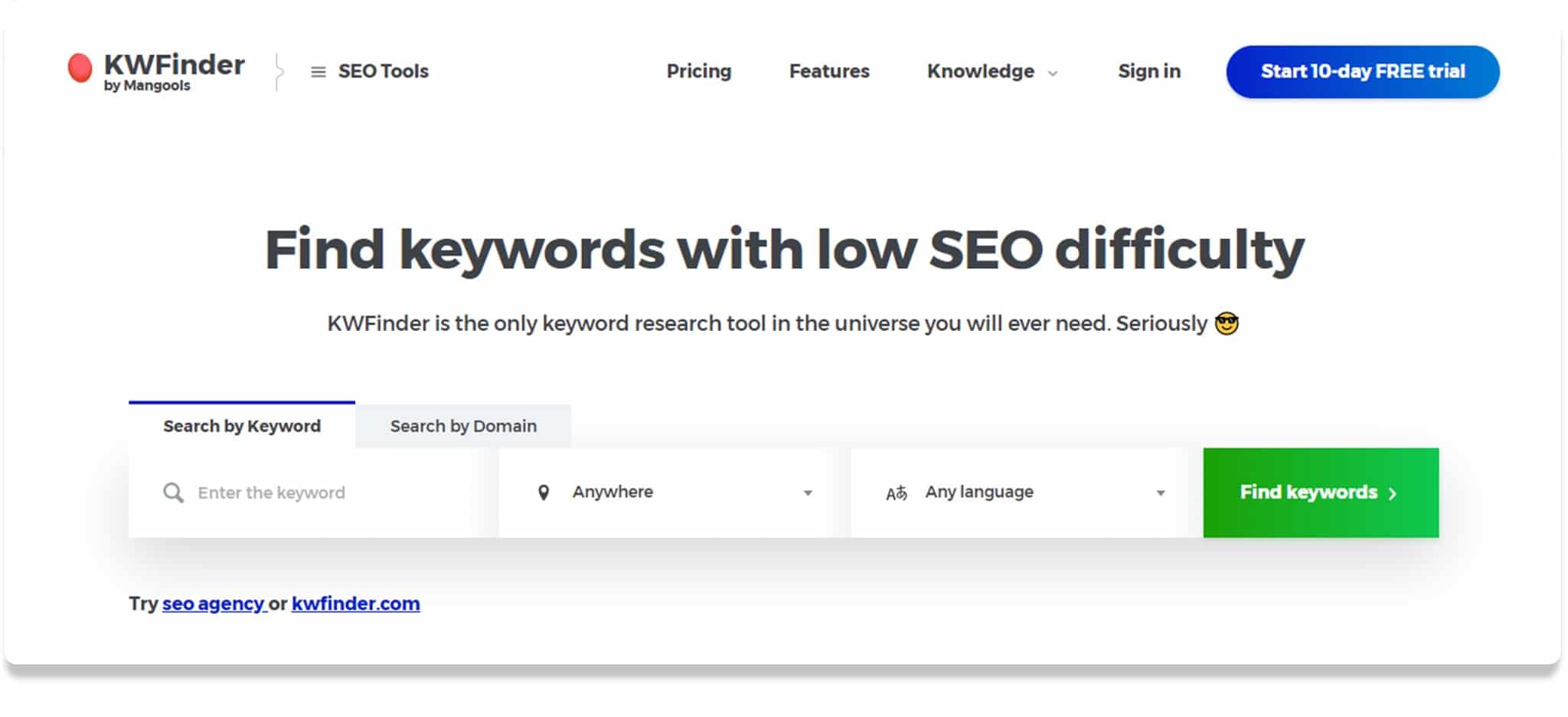 KWFinder is one of the products by Mangools. While Ahrefs is a well-rounded tool, covering different aspects of SEO, KWFinder gives more focus on keyword research.
So, how does KWFinder work?
Well, it all starts with a seed keyword. After typing a search term, this tool looks for possible keywords to explore. The total keywords displayed depend on your plan.
The tool will gather results from autocomplete, questions, and suggestions.
To give you a better understanding of data, KWFinder provides metrics like:
Trend

 – Gives the previous year's search volume trend

Keyword difficulty

 – Gives you a hint on the difficulty of ranking for a specific keyword based on the strength of its link profile.

Cost Per Click (CPC)

 – Gives the average CPC value as shown in Google Ads

 

Search

 – Shows a keyword's average search volume per month

 

Pay Per Click (PPC)

 – Gives you a clue of a term's competitiveness in Google Ads
How Does KWFinder Compare with Ahrefs?
Both Ahrefs and KWFinder have useful keyword research metrics, such as keyword difficulty and search volume. Both tools also allow you to type in the competitor's domain and see a list of their keywords.
But, the two have some notable differences. First, Ahrefs returns large volumes of data in all of its plans. KWFinder's Basic plan only lets you search up to 100 keywords per day.
Ahrefs's user interface can be a bit overwhelming for rookies. In general, KWFinder offers a better user experience; newbies can easily jump in and start researching keywords.
Ahrefs is more expensive than KWFinder. If you're only looking for a keyword research tool, you may be overpaying for Ahrefs's Keyword Explorer. Unlike Ahrefs, KWFinder is pocket-friendly, especially if you go with the annual billing option.
Here's the breakdown of their pricing:
Ahrefs
· Lite – $99 per month
· Standard – $179 per month
· Advanced – $399 per month
· Agency – $999 per month
KWFinder
· Basic Plan – $49 per month
· Premium plan – $69 per month
· Agency plan – $129 per month
To sum up, if you're looking for a comprehensive tool for researching, analyzing, and managing keywords, use Ahrefs. However, if you need a simple, inexpensive platform for researching keywords whose data is similar to that of Ahrefs, go for KWFinder.
Google SEO Tools (Free Alternative)
The three common Google SEO tools include Google Keyword Planner, Google Trends, and Google Search Console.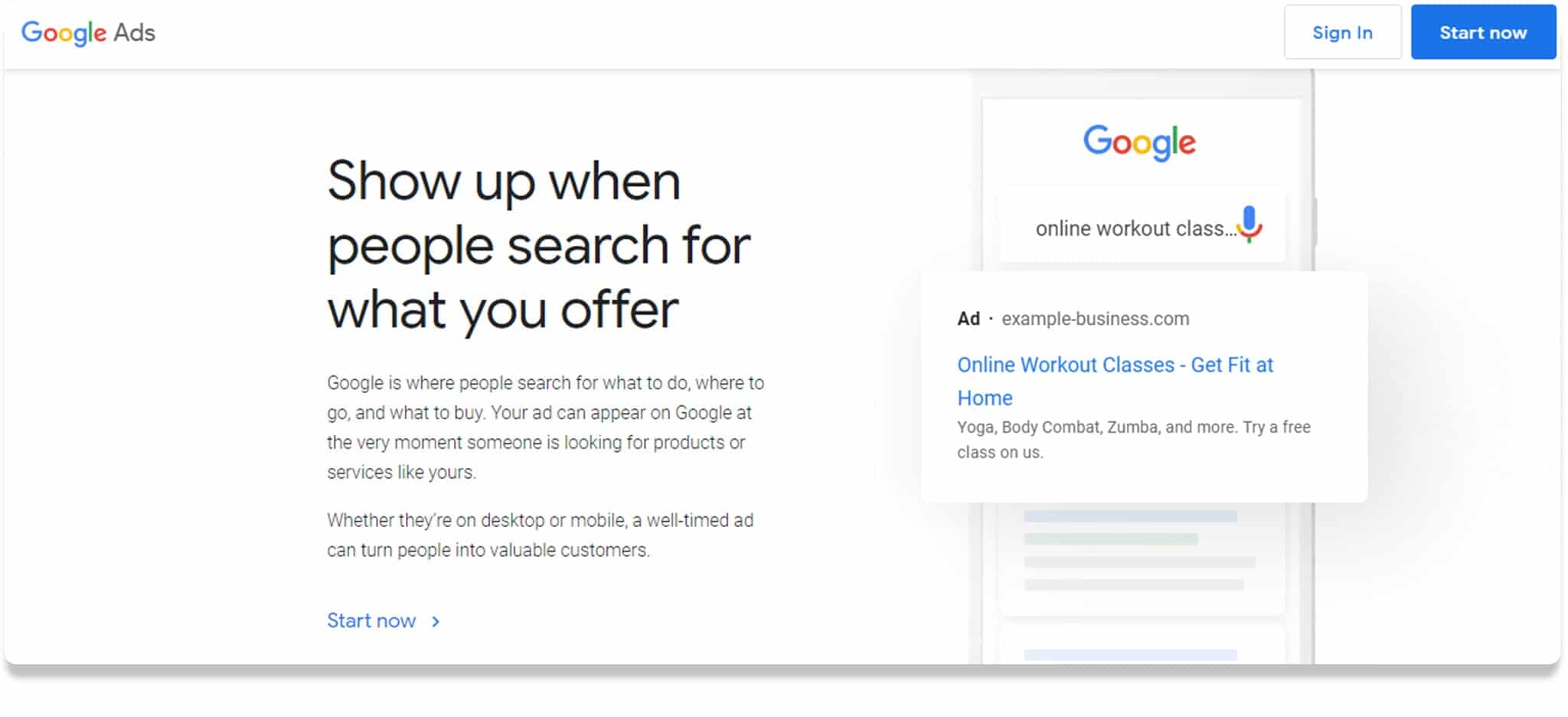 This keyword research tool is free and you need a Google account to access it. After typing a preferred keyword, you will see a list of keywords related to your query. To get more results, you should use a broader keyword.
Google Keyword Planner provides useful search volume and predicts data that can help you select the right keywords for your content marketing strategy.
In addition, the Keyword Planner shows you average monthly searches, the high range for top of page bid, the low range for top of page bid, and keyword competition.
Still finding it hard to navigate around this tool? Here's a more detailed tutorial to guide you on how to use Google Keyword Planner.
While useful, this tool doesn't have as many features as Ahrefs. Besides, SEO experts have argued that the tool doesn't display accurate numbers.
This app helps you to track your site's overall performance in search. In other words, it displays tons of data on the keywords you already rank for.
You must integrate Google Search Console with your website to get a detailed keyword analysis of the pages. The app helps to improve the click-through rate and hasten the process of your posts getting crawled.
Google Search Console can reveal your site's readability and indexing issues. It also shows an individual page's performance by device and location regarding the way it generates clicks that lead to your website.
In the Search Console's interface, you'll see details of which sites link back to the pages on your website.
Overall, Ahrefs provides more detailed backlink metrics than Search Console and shows more keyword metrics than Console. For example, Console only shows keywords you rank for while Ahrefs shows even the keywords you don't rank for as well as the keywords your competitors rank for.
In terms of user experience, both platforms are easy to work with for experienced SEOs, but newbie users may take a while to get used to these apps.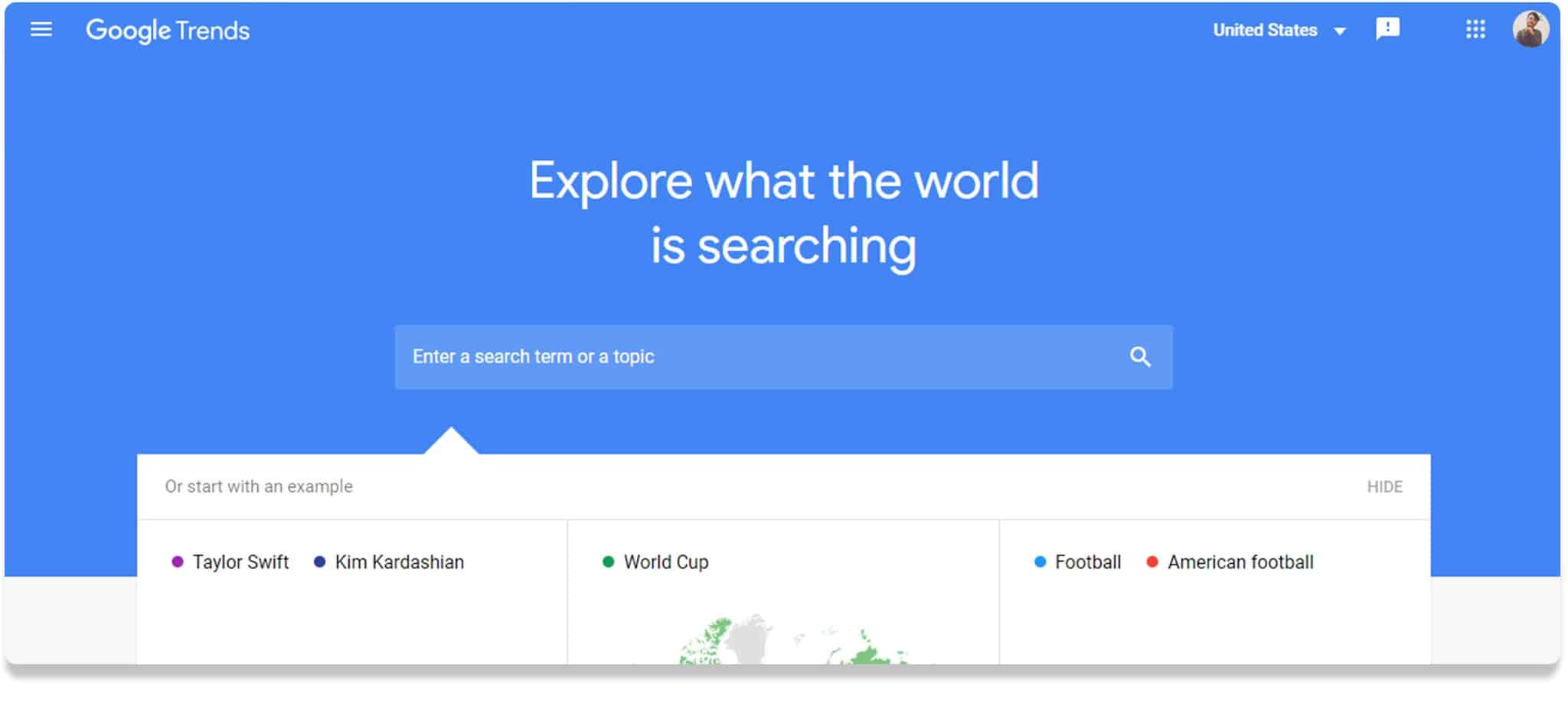 The search trends tool shows the frequency of a particular keyword. Most of the search spikes are triggered by events, and marketers can use this info to ramp up their marketing efforts when search terms related to their business are trending.
And it gets better–Google Trends also shows geographical locations where the search interest for a particular keyword is high.
Overall, Google SEO tools are effective when combined together rather than used single-handedly. That said, none of these tools has quite as many features as Ahrefs.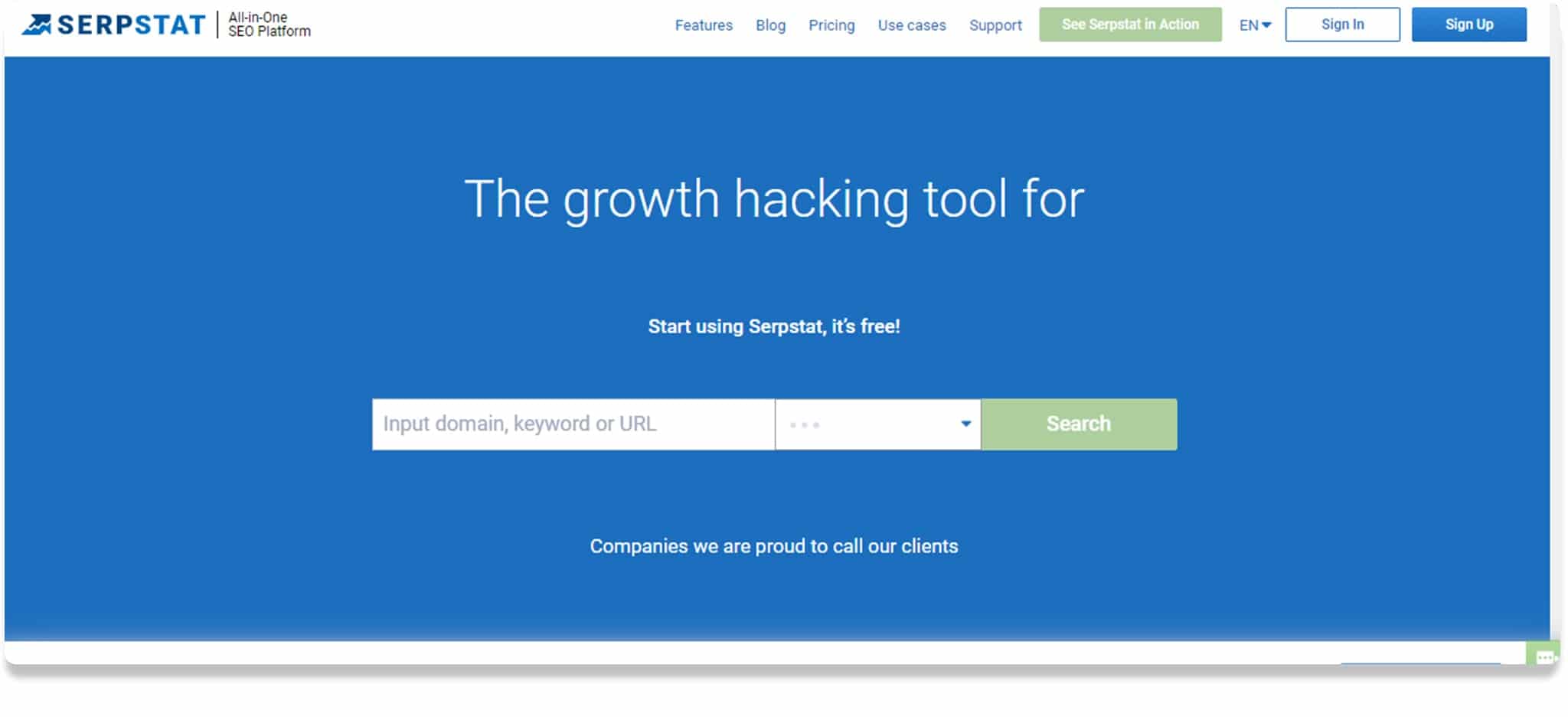 Serpstat is a cost-effective Ahrefs alternative that works solidly. This tool features basic SEO functions, such as keyword research for PPC and SEO. It also provides keyword suggestions and alternatives, giving you more ideas for an improved content marketing strategy.
Serpstat has a user-friendly interface to help you master every feature quickly. For example, the domain vs domain feature lets you compare your domain to two of your competitors. As a result, you can identify the common keywords, analyze rankings, and find growth opportunities.
How Serpstat Compares with Ahrefs
What makes Serpstat a reliable Ahrefs alternative is the fast, robust, and thorough site audit feature. This feature analyzes your website and identifies technical SEO problems.
Most importantly, Serpstat organizes your site's SEO issues by priority, allowing you to address the high and medium priority ones.
In general, Serpstat is both an affordable and usable alternative to Ahrefs. Its pricing plans start at just $69 per month, making it one of the most cost-effective SEO tools you can use. Having said that, Serpstat lacks some of the modern features and the data given isn't always accurate.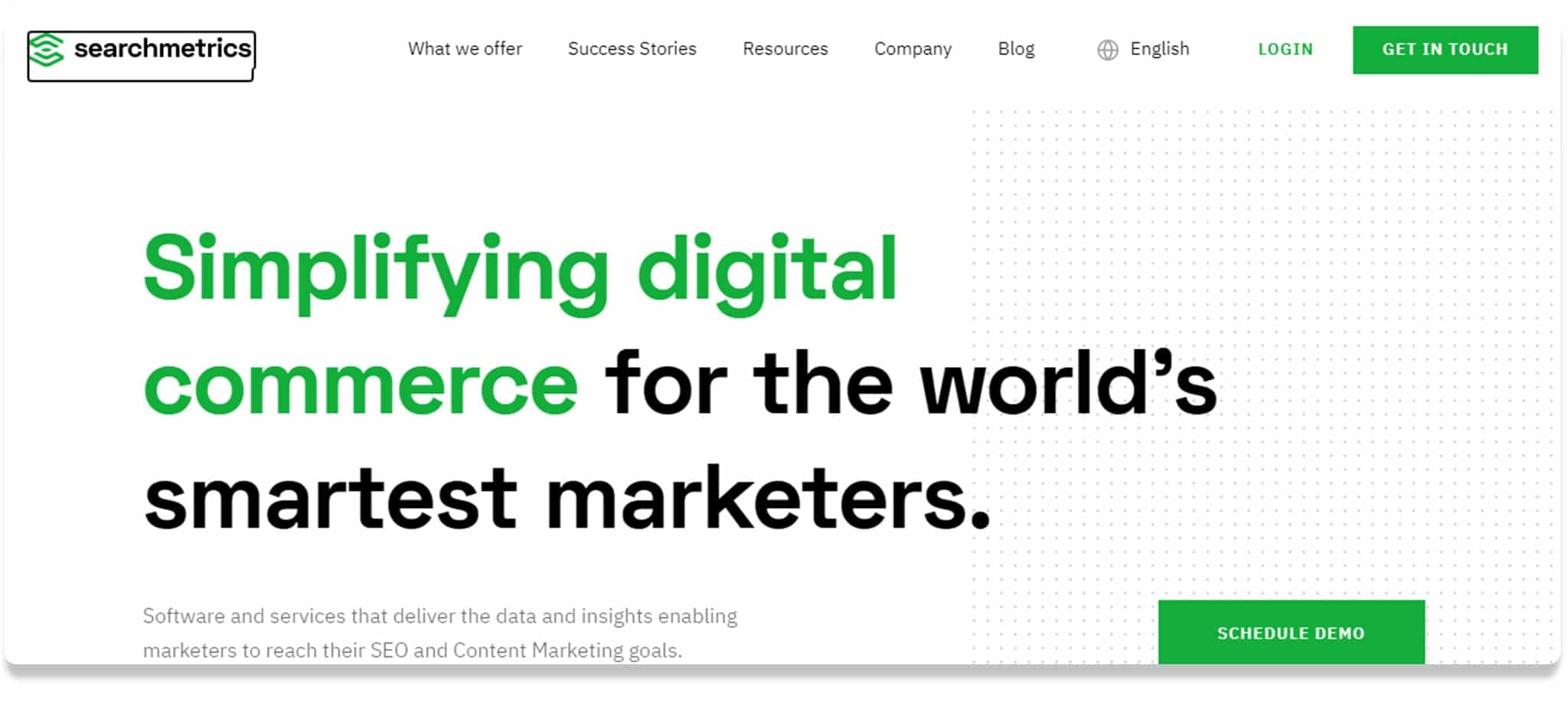 SearchMetrics combines classic SEO tools, such as keyword research with other newer features, including a detailed dashboard full of data-driven insights.
The other striking feature is access to historical SEO data. As a basic user, you can access 5 years of historical data, which helps you to see the historical performance of your target keywords. As a Suite user, you will have access to even more.
Another useful feature is the domain-level keyword research tool. All you have to do is type in a domain to see the site's performance in search engine results. Furthermore, you can compare your site to competitors and see the performance of your content.
SearchMetrics shows you the traffic sources, the devices people use to visit your website, whether traffic is coming from paid or organic search results, and more.
While finding keywords on SearchMetrics is easy, the tool lacks some intelligence. For example, when searching for a term and nothing shows up, Searchmetrics should recommend similar terms, but this doesn't happen.
How SearchMetrics Compares Against Ahrefs
Some of the features that are unique to SearchMetrics include PPC insights, site structure optimization, dashboard templates, complete visibility history, real-time visibility alerts, social engagement analytics, and more.
The pricing info for the two tools differ. Unlike Ahrefs where the pricing info is available on the website showing the four pricing plans (Lite, Standard, Advanced, and Agency), SearchMetrics doesn't have visible information on pricing. You'll need to contact support for a quote.
Therefore, if you're looking for an Ahrefs alternative with more features than what Ahrefs offers, you can try SearchMetrics.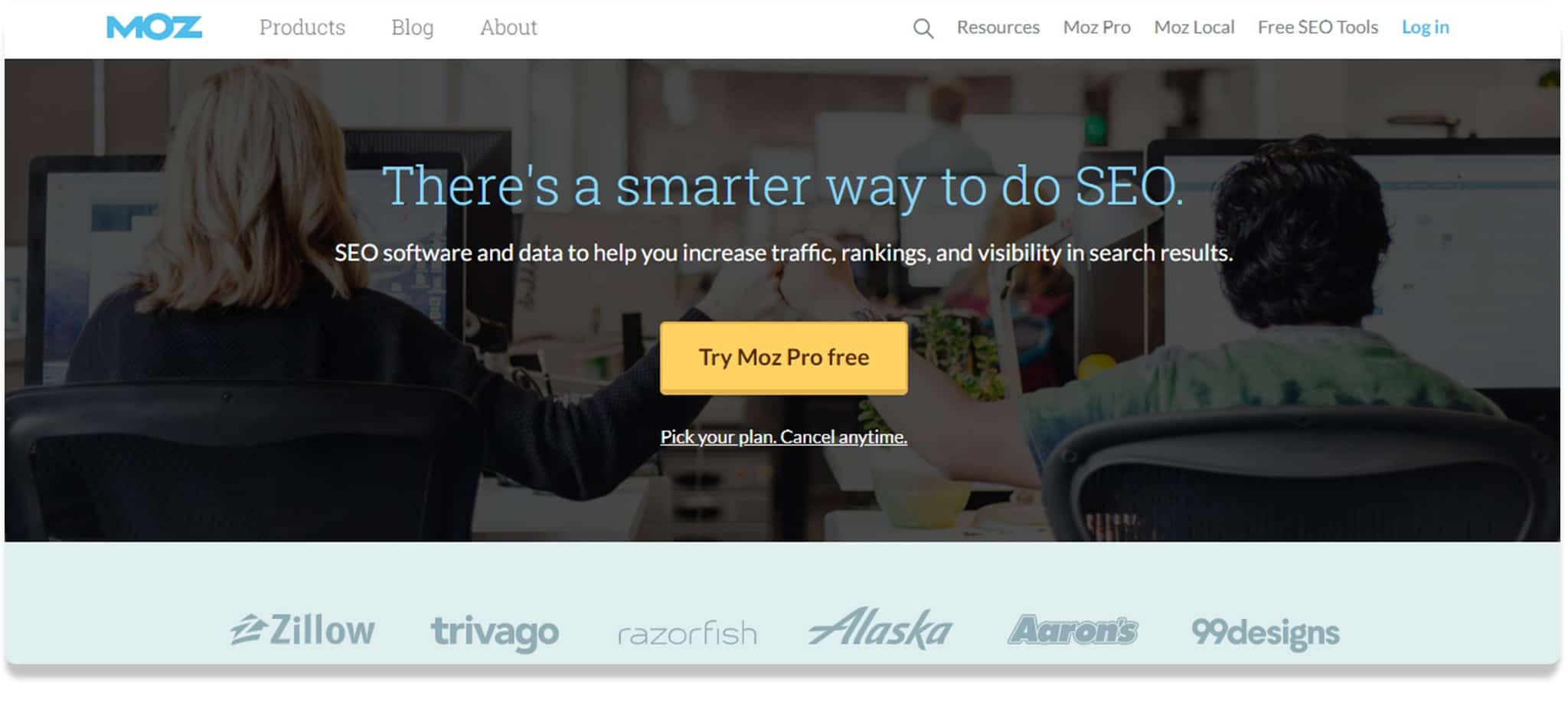 Moz is an all-in-one SEO toolkit you can use to find out almost everything about your competitor's marketing strategy and website. Besides that, it also lets you conduct keyword analysis and market research within your niche so you can identify profitable opportunities.
Moz's top features include:
· Keyword explorer
· Free chrome extension
· Ranking tracker
· Backlink checker
· Content optimizer
· Technical auditing feature
One of the reasons marketers like Moz is the user-friendly interface. Their rating scales and color codes make data use and interpretation hassle-free.
To get the most from Moz, you only need to enter the keywords or the competitor's URL. Furthermore, there's a personal dashboard and reporting data that you can easily use.
How Moz Compares to Ahrefs
Both SEO tools can be used for keyword research and analysis, link monitoring, and site rank tracking.
One of the most important features for Moz is the domain authority score usually provided by the MozBar browser extension. This can be compared to the domain rating by Ahrefs. These two metrics are slightly different such that a site may have a DA of 11 according to MozBar but the same site has a DR of 26 according to Ahrefs.
So, which one is more accurate?
Moz Domain Authority predicts the possibility of a domain ranking in Google search results based on the link profile that correlates with ranking. On the other hand, the DR by Ahrefs reports the link profile's strength of a particular domain.
In terms of pricing, Moz offers a 30-day free trial after which the plans start at $99 per month for the Standard plan. Upgrading to the Medium, Large and Premium plans cost $179, $249, and $599 per month respectively. You may also choose to pay annually and save 20 percent on each of these plans.
Moz's pricing is similar to that of Ahrefs except that Ahrefs doesn't offer a free trial.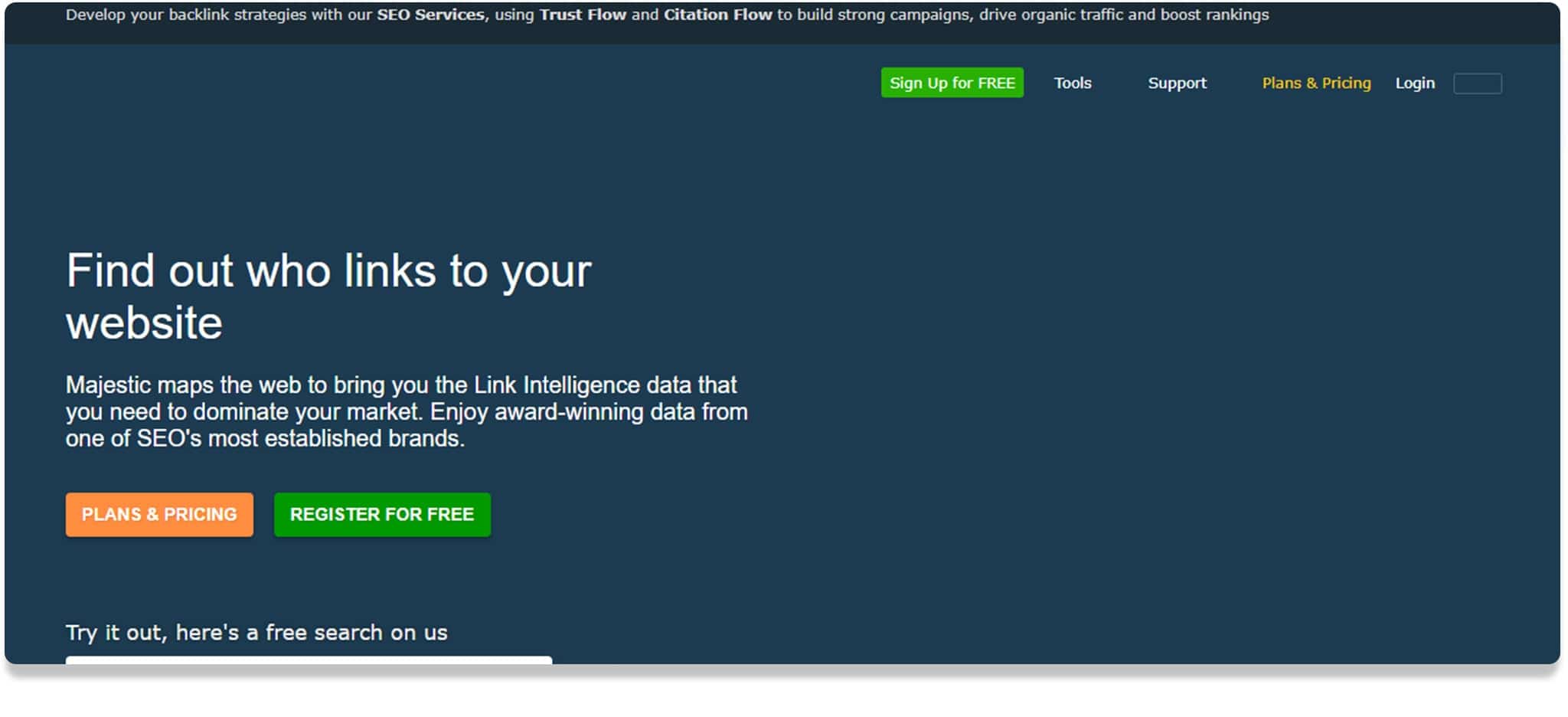 Majestic offers a variety of SEO features, including site analysis (site explore), domain comparison, link profile analysis, and more.
However, Majestic's major focus is backlink analysis. Therefore, if you're looking for a tool that handles all of your SEO functionalities in one place, Majestic might not be what you're looking for.
However, if backlink reports mean a lot to you, Majestic would be a perfect pick for you. Compared to major SEO tools like Moz, Ahrefs, and SEMRush, Majestic does a good job with its backlink reporting feature.
How Does Majestic Compare to Ahrefs?
An interesting selling point for Majestic as Ahrefs selling point is the pricing. Its basic plan, known as Lite, costs just $41.67 per month, which is more than half of the lowest plan by SEMRush or Ahrefs. In spite of the low price, Majestic offers comparable backlink analytics features as these two platforms.
However, in terms of other essential features, such as keyword analysis, Majestic doesn't do as well as Ahrefs and other alternatives on our list.
Compared to Ahrefs, Majestic's user interface looks outdated and is difficult to use. So, that's one thing that needs improvement.
Also, Ahrefs has several SEO features like backlink tracking, keyword research, competition analysis, and more. On the other hand, Majestic focuses 100 percent on backlink analysis.
Therefore, if you're looking for an affordable tool for backlink management, then Majestic is an ideal choice. But, if you want a tool that handles most of your SEO tasks in one place, backlink tracking included, you won't go wrong with Ahrefs.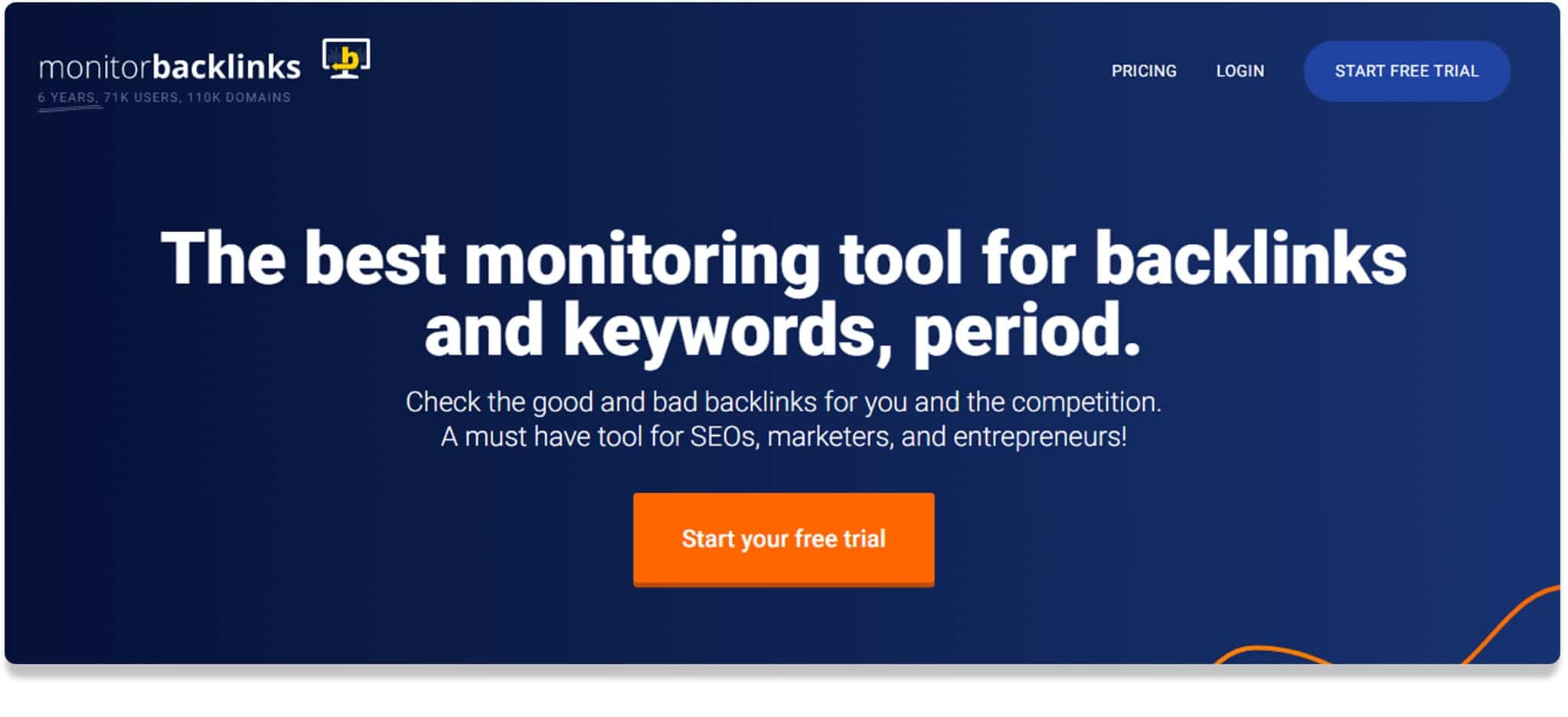 Like Majestic, Monitor Backlinks specializes in backlinks. Specifically, this tool handles link analysis and tracking, keyword rank tracking, and competitor checks.
But that's not all:
Monitor Backlinks features an on-demand link checker and a built-in disavow tool. More importantly, the site has a clean and user-friendly user interface that beginners won't find overwhelming.
How Monitor Backlinks Compares with Ahrefs
Both tools are excellent when it comes to checking link profiles, finding new link building opportunities, and link building competitor analysis. Let's see how the two tools stack up in light of the three top SEO features:
 

Checking link profile

 – Both tools are easy to use when adding a domain to check out its link profile. However, Ahrefs requires you to type in a domain every time you'd like to check its link profile. Unlike Ahrefs, Monitor Backlinks automatically tracks all of your domain's backlinks and you don't need to keep typing in the domain each time.

Competitor analysis

 – Monitor Backlinks presents the data under this feature clearly. However, Ahrefs does a better job through its Referring Domains feature and allows you to sort out the results using graphs.

Finding opportunities to build links

 – Both Monitor Backlinks and Ahrefs have this feature. So, it just comes down to personal preference.
More importantly, Monitor Backlinks is an inexpensive tool that starts at only $18 per month and has a free trial.
Summing up, Monitor Backlinks is for those looking to improve the backlink strategy, but Ahrefs is for anyone in need of an all-in-one SEO tool.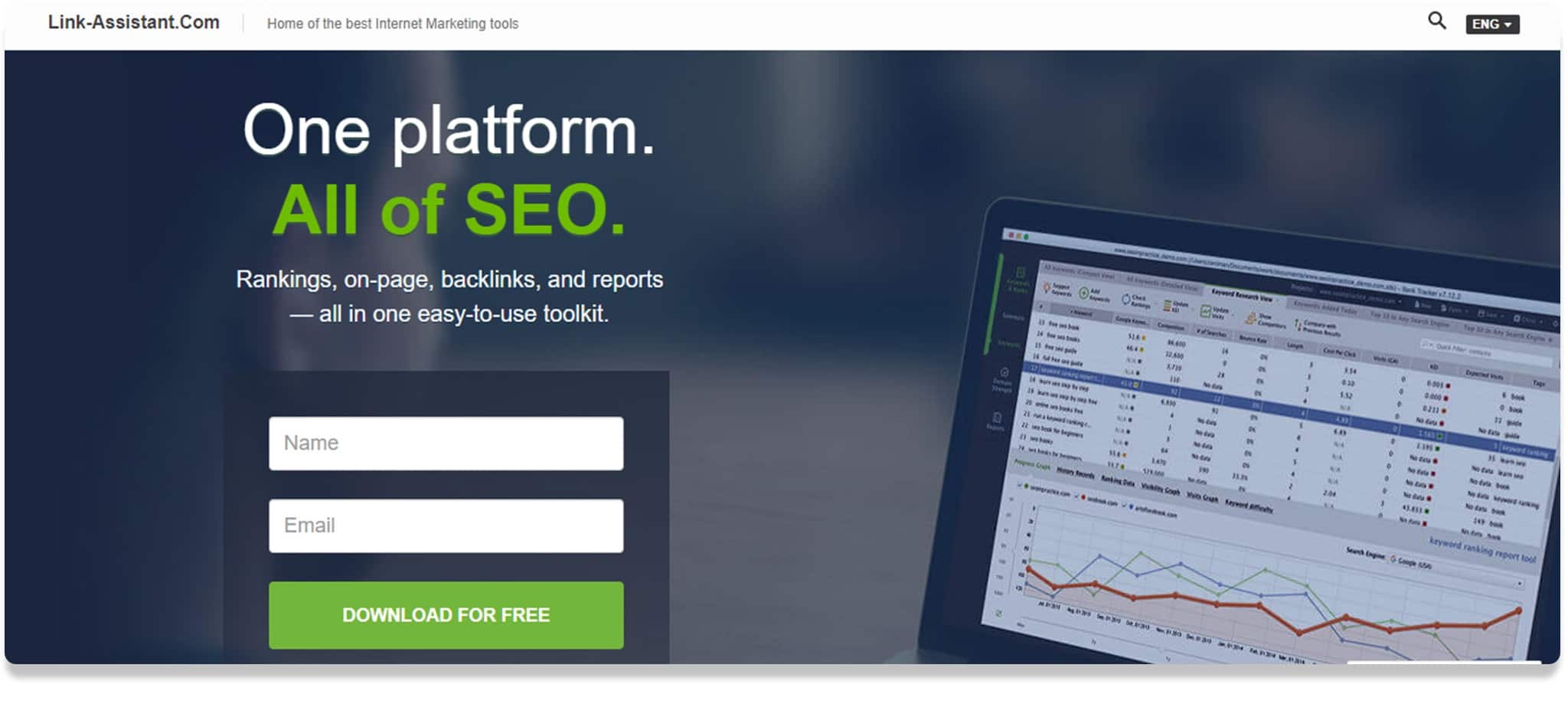 SEO PowerSuite is not an individual tool, but a suite comprising four individual tools. The four tools include:
· Rank tracker
· Website auditor
· SEO spyglass
· Link assistant
The set of tools is set on a desktop app rather than a web-based app. And that's the first difference between SEO PowerSuite and Ahrefs.
SEO PowerSuite shines in many areas. To begin with, it has features you'll find in Ahrefs and SEMRush, but it has features you won't find in other tools.
For example, it allows you to track geo-specific rankings. What users see in Google search results may differ based on their geographical location.
Tracking national-level results isn't enough; you need to do city-and street-level tracking, as well. This tool allows you to specify a street address to track the ranking progress in various geo-locations.
Regardless of your keyword database's size, it's not possible to include all the possible keyword variations. That's why each keyword tool is different.
To ensure you have access to as many relevant keywords as possible, SEO PowerSuite lists more than 20 keyword research tools, such as Google Autocomplete, People Also Ask, Google Keyword Planner. They also have suggestion tools for Amazon. YouTube, Bing, and Yandex.
Overall, SEO PowerSuite is among the best Ahrefs alternatives because it has tons of quality features you won't find in Ahrefs, but it also has features like those in Ahrefs. Their pricing is reasonable and you get good value for money as well.
Wrap up
All of the best Ahrefs alternatives discussed above have their own strengths and weaknesses. Some are affordable and others are quite pricey. It's best to select a suitable SEO tool based on your needs and budget so you can maximize cost-efficiency.