How to Make Money on TikTok in 2022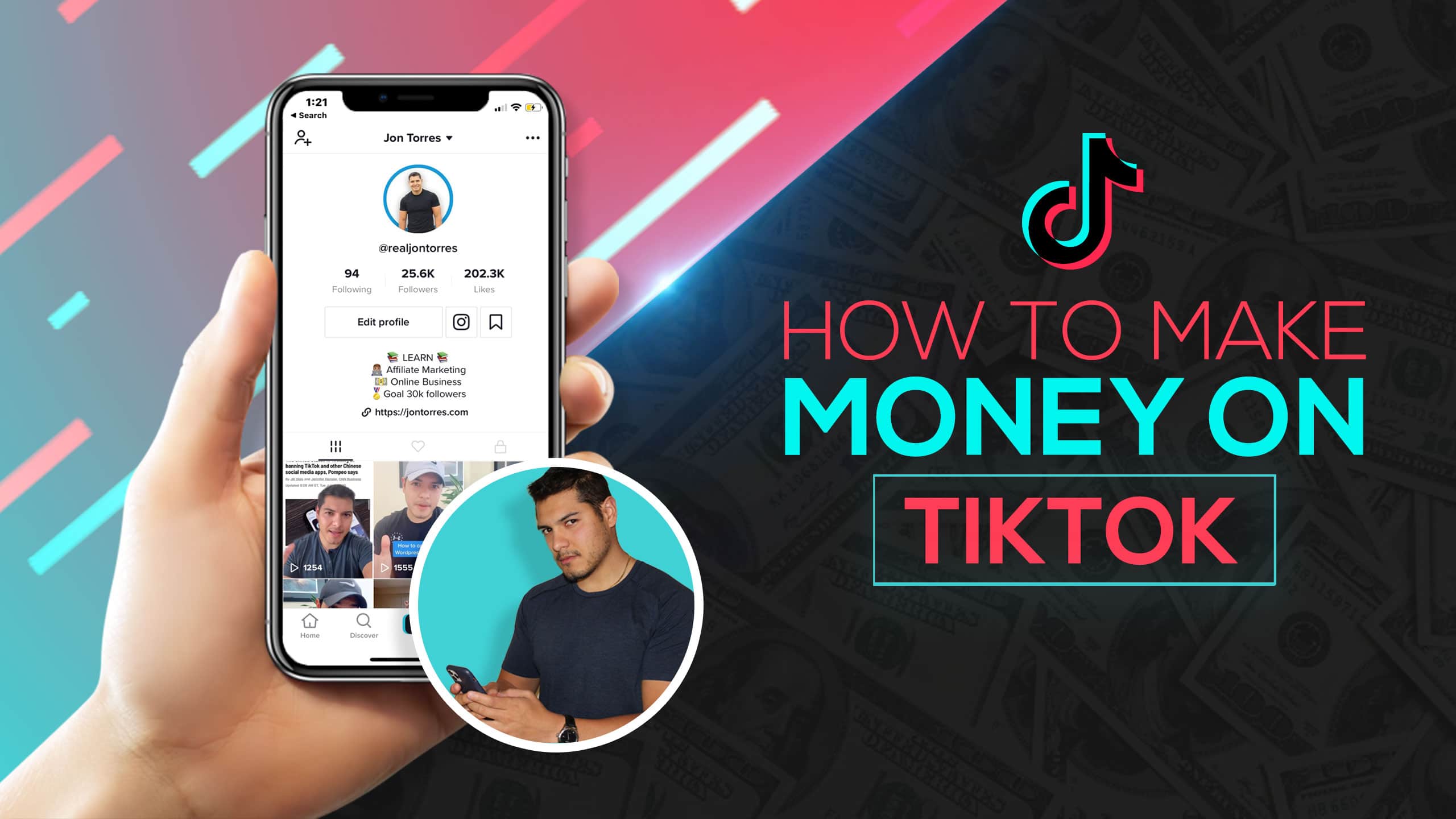 It's safe to say that TikTok has made a permanent mark on social media. With 800 million active users around the globe, TikTok is enjoying an insane surge in popularity. Unlike Instagram, Tiktok is a little more forgiving in terms of its algorithm. Users with highly engaging content are often rewarded with mega-numbers when it comes to views and followers.
Of course, this means TikTok is also becoming a promising platform for making money online. Users are flocking to this platform in a manner reminiscent of the gold rush. And it's no mystery why– TikTok royalty is pulling in up to $48k per sponsored post.
So, if you're asking, can you make money on TikTok, the answer is yes. But you don't have to be TikTok famous to make money from TikTok. Tiktok creators who are using the platform to make money focus on earning a dedicated fan base with lots of user interaction. So, even if you have a smaller following, you have the potential to make money as long as you have an engaged audience.
If you're not sure if your TikTok account is profitable, I recommend testing it with the TikTok money calculator. This tool gives you an estimation of potential TikTok earnings based on your TikTok account so you can predict your future Tik Tok net worth. If you're ready to jump on the TikTok bandwagon, let's go over exactly how to make money on TikTok.
Here are all the ways you can make money using TikTok:
1. Affiliate Marketing
If you want to make money from TikTok, affiliate marketing will be your bread and butter. If you've been to this website before, you know that affiliate marketing is a powerful way to make a passive income online. With TikTok taking off in popularity, it's a great opportunity to use videos to promote your affiliate products. Let's go over some basics.
First things first, let's define affiliate marketing. Affiliate marketing is a simple agreement between a brand and an influencer in which the influencer promotes a product and receives a commission for each sale made with their affiliate link.
Your affiliate link is the unique URL that the affiliate program uses to track your sales. If a customer visits a site purchases as a product using your affiliate link, you get paid.
In order to become an affiliate marketer, you need to join the appropriate affiliate program. You can use an affiliate network to browse through a large selection of affiliate programs. Or you can use Amazon Associates to promote Amazon products.
Once you have your affiliate links, you can put them in your TikTok bio for your users to click. Just remember to choose products that are within your niche, and that you actually like.
I recommend using Linktr.ee to add a list of the products you are promoting on your channel. You can also cloak affiliate links to help you manage and track affiliate links.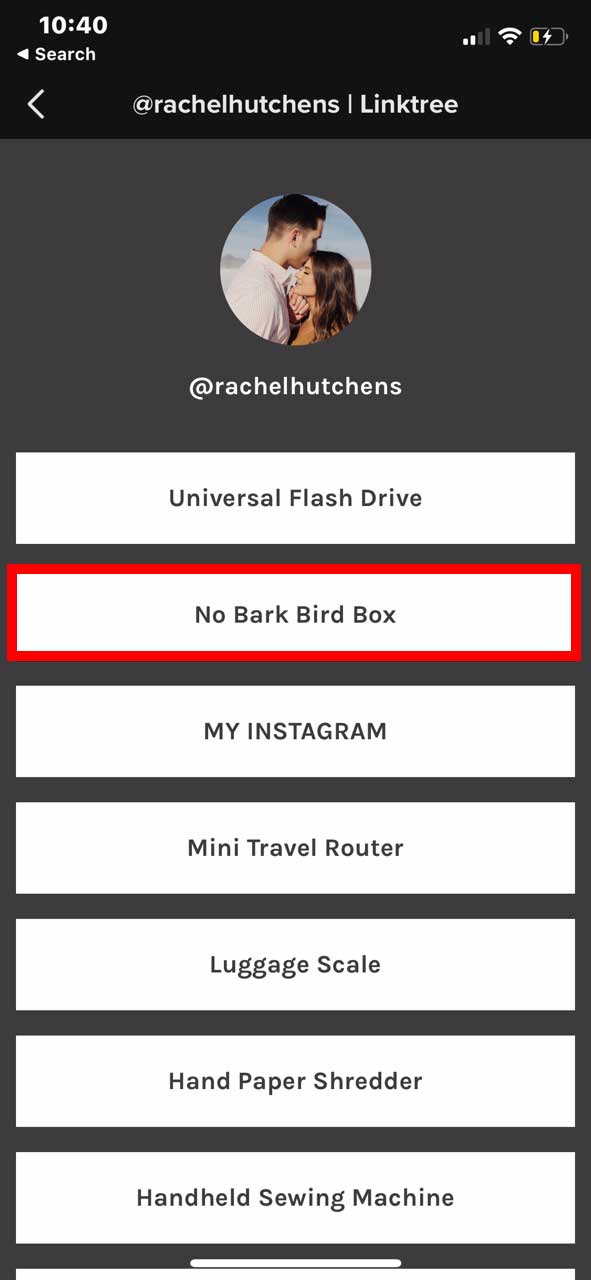 2. The TikTok Creators Fund
Without content creators, there is no TikTok. TikTok, as one of the most innovative social media platforms, knows this and wants to incentivize creators to keep producing content. The Creators Fund pays creators for their content directly. 
TikTok has not stated exactly how much you can expect to make from the Creators Fund and it appears they take a few things into consideration such as engagement, amount of followers, quality of content, and more.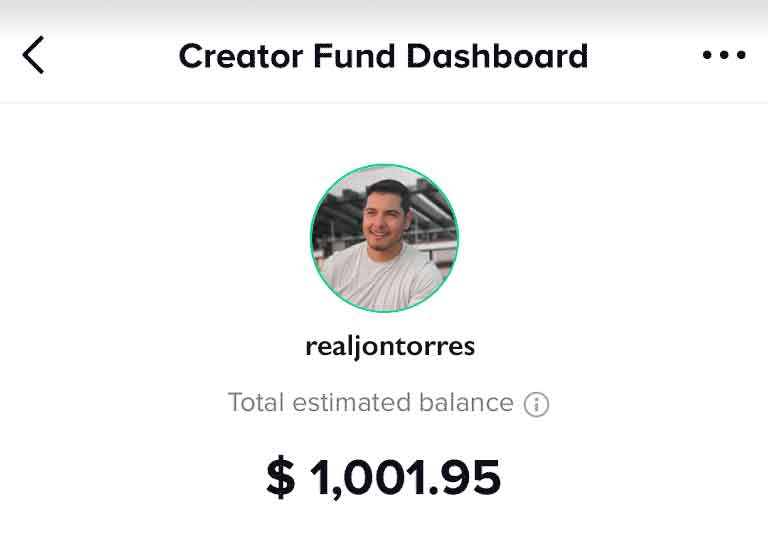 While it is nice that TikTok pays its creators the amount is not very much. From a video, with 500,000 views you can expect to make $20. A small amount but if you gain a huge following you might get millions of views on anything you post. This in conjunction with some of the other suggestions on this list could help make your TikTok a cash machine. 
There are some criteria you'll have to meet in order to qualify for the Creator's Fund.
According to TikTok you'll need to:
Be based in the US, UK, France, Germany, Spain, or Italy.

Be at least 18 years old

Have at least 100,000 followers

Have at least 100,000 video views in the last 30 days

Have an account that fits with our TikTok Community Guidelines and terms of service
Once you meet the qualifications above you can apply for the fund directing from the app as long as you have a Pro or Creator account.
3. TikTok Live Stream Donations
Here's an option that is very unique to TikTok. TikTok actually has a built-in way of monetizing your account. Users can earn real money by live streaming on their platform known as streaming royalties. If you've ever used Reddit before, this system is reminiscent of the gifting system used by Redditors except you can exchange gifts for real money.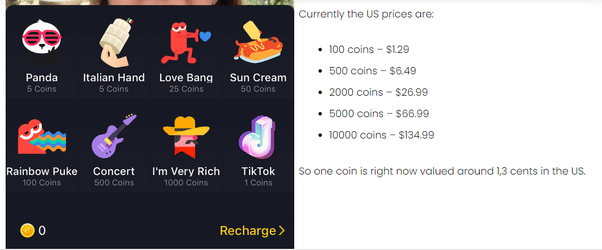 Here's how it works. Tiktok users can give virtual gifts to other users who are filming live stream TikTok videos. These gifts are purchased in exchange for TikTok coins. Tiktok coins are purchased on the TikTok app and come in packages ranging from 100-10,000. Gifts are essentially special emojis that range in price from 5-5000 coins.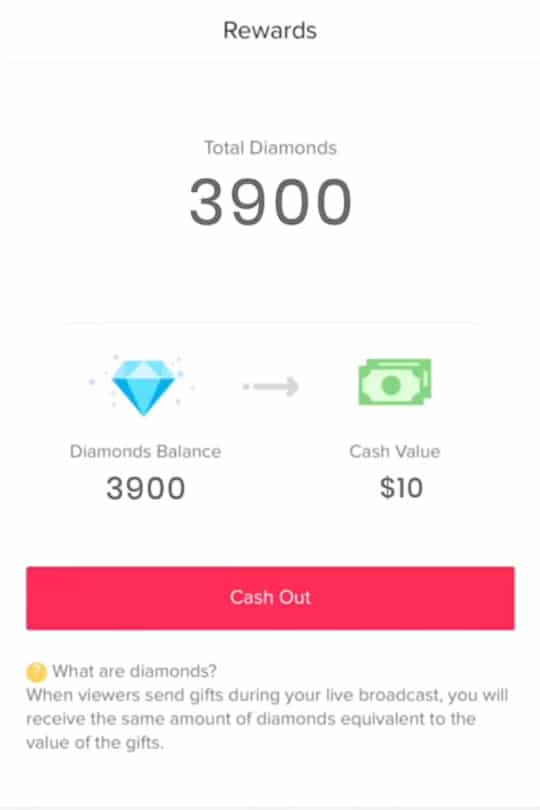 So, here's where it gets interesting. Once you have 1000 TikTok followers, start earning gifts on your live stream videos. Once you start earning gifts, your "Diamond" count will start to grow.
Diamonds are the TikTok currency that can be exchanged for real US dollars. TikTok Diamonds are worth half of the value of coins and each Diamond is worth about five cents. The minimum withdrawal rate is $100 per week and you must use a verified Paypal account.
If you have a decent following or a super dedicated following, you can incentivize people to purchase gifts. A popular method of doing this is by offering a TikTok duet to any user who purchases a certain gift on the live stream. Once the gift is purchased, you can include the follower on the live stream via the duet feature.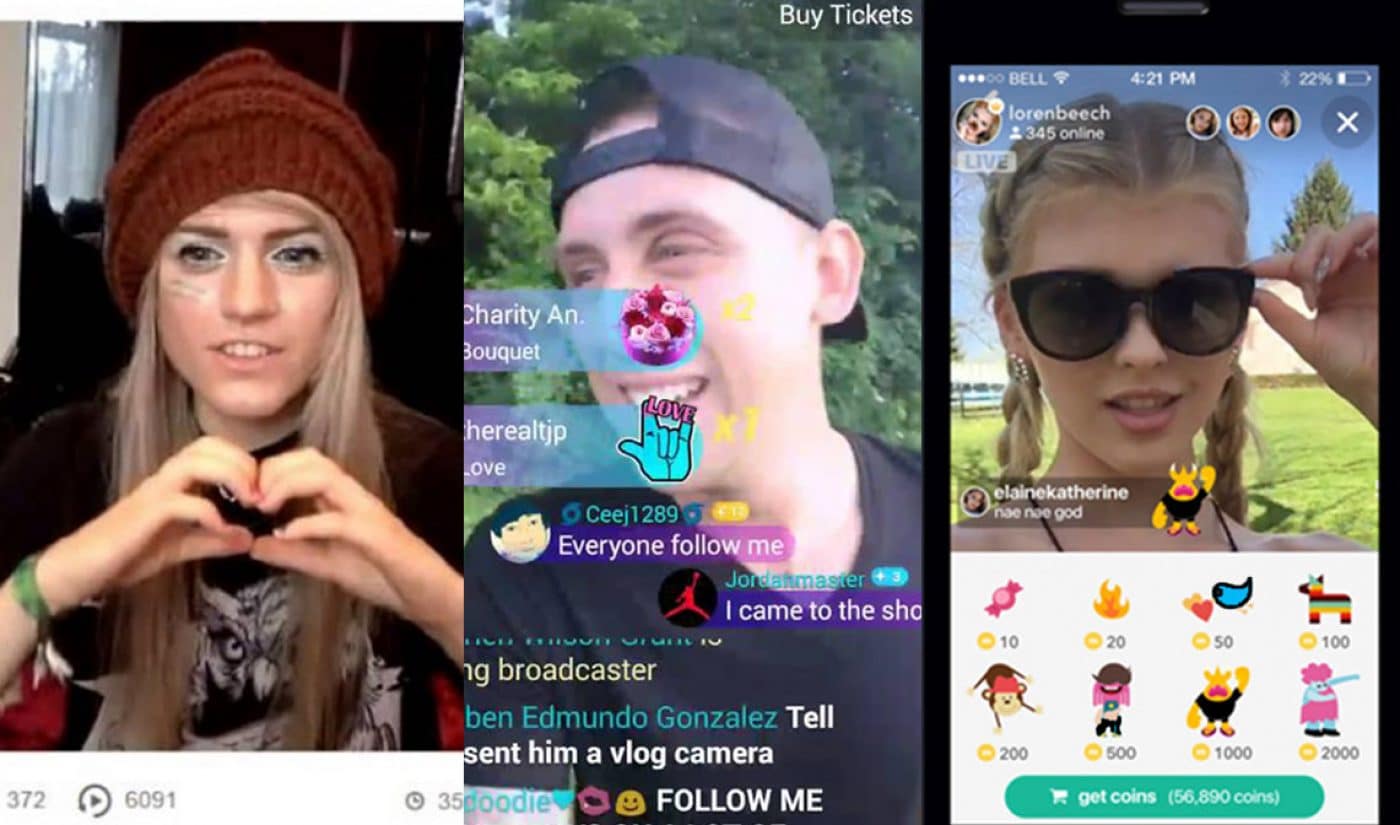 Admittedly, this method of making money from TikTok probably won't get you rich unless you are legitimately TikTok famous. At only 5 cents per diamond, you're going to have to haul in a ton of gifts to make the minimum withdrawal rate. However, it is an interesting tool to monetize your account directly on Tiktok, so keep it in mind as your account grows.
4. Consulting
If you know exactly how to grow an account, or plan to learn, you can sell your expertise. This option is great for those of you who know how to create a viral account but don't want to go through the work of creating one.
As you can imagine, there are tons of people out there who want to build a profitable TikTok account. If you can guide them on the best way to do that, you can make money doing it.
You don't need a full website to look professional, a simple landing page builder is enough to list your consulting services.
You can give advice on the type of content to create, posting schedules, gaining followers, choosing a niche, and crafting a strategy. If you think this is a promising direction for you, there are a few ways to go about it. And once you get traffic from TikTok you can start an email list by using email marketing software like MailChimp or ConvertKit.
The best part is that you don't even need a website. You can use a third-party website like clarity.fm to list yourself as an expert and charge for the estimated length of the call, based on your chosen per-minute rate.
As a consultant, it's going to be up to you to promote your services. Use every platform available to you. Make sure you have a solid LinkedIn account to showcase your expertise. Put yourself in networking situations as often as you can.
The best way to find clients is through real-life connections. Once you start building your client base, your current clients will likely refer you to other businesses.
5. Sponsored Posts
If you've ever used Instagram to make money, chances are you've encountered a sponsored post. This is content in which influencers are paid to promote a brand. The post will include #ad somewhere in the caption as an affiliate disclaimer.
If you're wondering how to make money on TikTok, the great news is that you can use this same technique. There are several ways to go about finding brand sponsors for your content.
The most traditional way is to manually reach out to relevant brands and make a pitch. This is a super direct method but it may take some effort and patience.
The other way you can find sponsors is through an influencer agency. While there are plenty of agencies for platforms like Instagram and Youtube, influencer agencies for TikTok are still relatively rare.
One option to check out is Tiny Sponsor. This agency helps influencers connect with relevant brands and find paid opportunities.
Here's how it works:
Influencers can sign up for Tiny Sponsor for free. The great thing about this agency is that there is no minimum follower count to be eligible. Anyone can join, with any number of followers, with any social platform. Once you create your account, you can set your rates and highlight your strengths.
Tiny Sponsor takes care of proposals for you by matching your skills to matching brands. If you're chosen by a brand, you'll receive a potential sponsorship. Once you've completed the job, you get paid in 1-3 days. Pretty simple!
Of course, before you attempt to find sponsors, you need to make sure your content is high quality, related to a niche, and extremely consistent.
6. Promote Local Businesses
We talked a little bit about sponsored posts earlier but I want to touch on a very specific way you can utilize this method of making money. Small businesses know how important it is to utilize platforms like TikTok and Instagram in order to stay relevant and connect with their customers.
The problem they face is that they often do not have a wide enough reach to be effective. So, in order to combat this problem, TikTok savvy people like yourself can offer to promote local businesses, such as restaurants, and direct attention their way.
Here's how it works. Tiktok uses geolocation to promote local TikTok accounts to users. If you have a niche account, promoting local business to your followers gives that business a boost in visibility to people in their area. If you have a successful account, you can charge businesses to provide them with helpful exposure in the form of Tiktok videos.
TikTok videos have the potential to reach hundreds of thousands of local viewers, so restaurants and businesses are willing to pay a pretty penny. Oftentimes, you can work out a deal in which the business pays a set price per view on the video. Let's say you set the price as low as 1 cent per view.
At 10k views, you're bringing in $100 for one post. Not too shabby. The great thing about this option is that it's often way easier to get sponsorship this way than with big-name companies. I highly recommended this method to small, community influencers who are looking for a realistic way to earn money from Tiktok.
7. Create Niche Accounts and Sell Them
If you find you have a knack for creating viral content and amassing TikTok followers, you can monetize this skill. Creating and selling niche accounts can be a profitable business if you do it right. If this sounds like something in your wheelhouse, let's talk about how to make money on TikTok using this technique.
As with any successful online endeavor, you'll have to start by choosing a niche. And by niche, I mean a true, sub-niche. Huge, overarching categories like fitness or cooking are way too general to really gain authority. Instead, take one of these large categories and choose a smaller, micro niche within the larger niche.
For example, if you're under the fitness category, narrow it down to home workouts or vegan bodybuilding. There is a handful of fitness affiliate programs to monetize your account. You get the picture. Choose something that's profitable, but relatively unique.
Next, you need to create an ample amount of content for your account. The content obviously needs to be entertaining, informative, and relevant. If you've created a popular account before, then you already know the ins and outs of hashtags, duets, and other TikTok tools that boost audience engagement.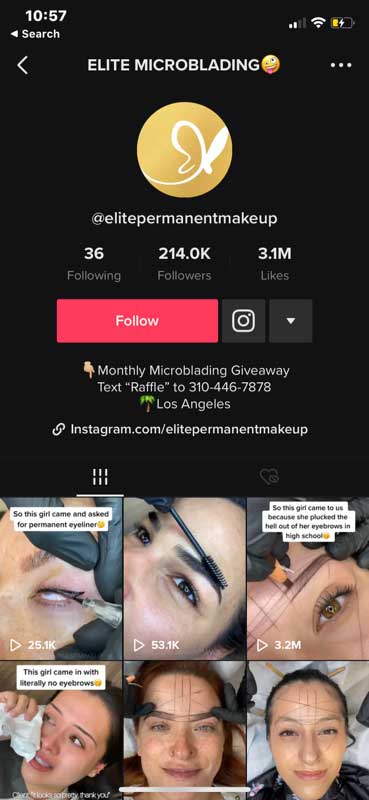 Once your account has gained a substantial number of followers, you can begin thinking about selling the account. The question is, how many followers do you need before you can make some cash? Unfortunately, the answer is not all that straight forward.
On a site like PlayerUp.com, you can find TikTok accounts with 10k-25k followers for anywhere between $25-$200. The value varies according to audience engagement, amount of content, number of likes, and other factors.
8. Start a TikTok Management Agency
Okay, so we already talked about consulting, but managing is a whole different ball game. As a consultant, you're merely providing the appropriate guidance on how to run a successful account. As a TikTok management agency, you'll have a much more hands-on job.
As people grow their Tik Tok accounts, they often become overwhelmed with the responsibilities of maintaining all that comes with a successful account. Or perhaps, someone is starting a new account and they need an agency to help them gain a following and do content strategy.
That's where you come in. A TikTok management agency helps find the target audience, build a following, boost follower engagement, run ad campaigns, post graphics, and accurately utilize metrics, just to name a few skills. Obviously, if you want to take this route, you'll need to hone these abilities to be successful.
You can use a crowdsourcing website like Fiverr and other alternatives to build a team and scale up your management agency,
Once you think your skills are ready to be shared with the world, you'll need to find clients. As I mentioned previously, local businesses are a great place to start.
Social media management is a great option in terms of online businesses. It requires very little overhead costs to get started. It's in your best interest to build a site to support your services. Other than that, all you need is a working computer and a good internet connection to start your own agency.
The other benefit is that you can specialize as much or as little as you want to. If your strength lies in content strategy, make that your main service. If you have a knack for growing a following, push that. You have total control of your business. Who doesn't like being their own boss?
9. Sell a Course
One creative way that you can make money from TikTok is by promoting an online course. Selling your knowledge is one of the best ways to start making a passive income on TikTok and other online platforms. The idea here is that you use TikTok to promote a paid course on another platform.
For example, let's say you have expert knowledge in graphic design. You can create sneak peek tutorials on TikTok showing short clips of what you can do. Use this content to promote your paid courses where TikTok users can find in-depth tutorials on graphic design techniques. That's just one example, but you can create an online course for just about any area of expertise.
Now, there are several platforms where you can create and sell online courses. The simplest way is to use an online course platform that's specifically made for online learning.
If you're looking for a fully customized platform to sell your courses, you can build a site specifically for your courses. Luckily, there are tons of easy site builders, such as Beaver Builder, where you can quickly build a site for an affordable cost.
Tiktok is a great tool for directing your followers to your online courses. The best way to direct your followers is to include a link to your site in your TikTok bio. If you want to include multiple links in your bio, use a service such as LinkTree to link to various sites.
Final Thoughts
If you want to make money on this unique platform, there's no shortage of options available to you. Think about where your skills lie and take it from there.
If you're great at building successful accounts, you can sell them online. Or, you can offer your services as a consultant or manager. If you'd rather use your own TikTok account to bring in some money, you can use a marketing agency to find sponsors.
If you don't know where to start, affiliate marketing is the way to go. And just for kicks, why not try out the live stream coin donations for some extra cash? Whatever path you choose, making money from TikTok is very possible with the right skills.