Best Business Marketplaces: 8 Places To Buy and Sell Online Business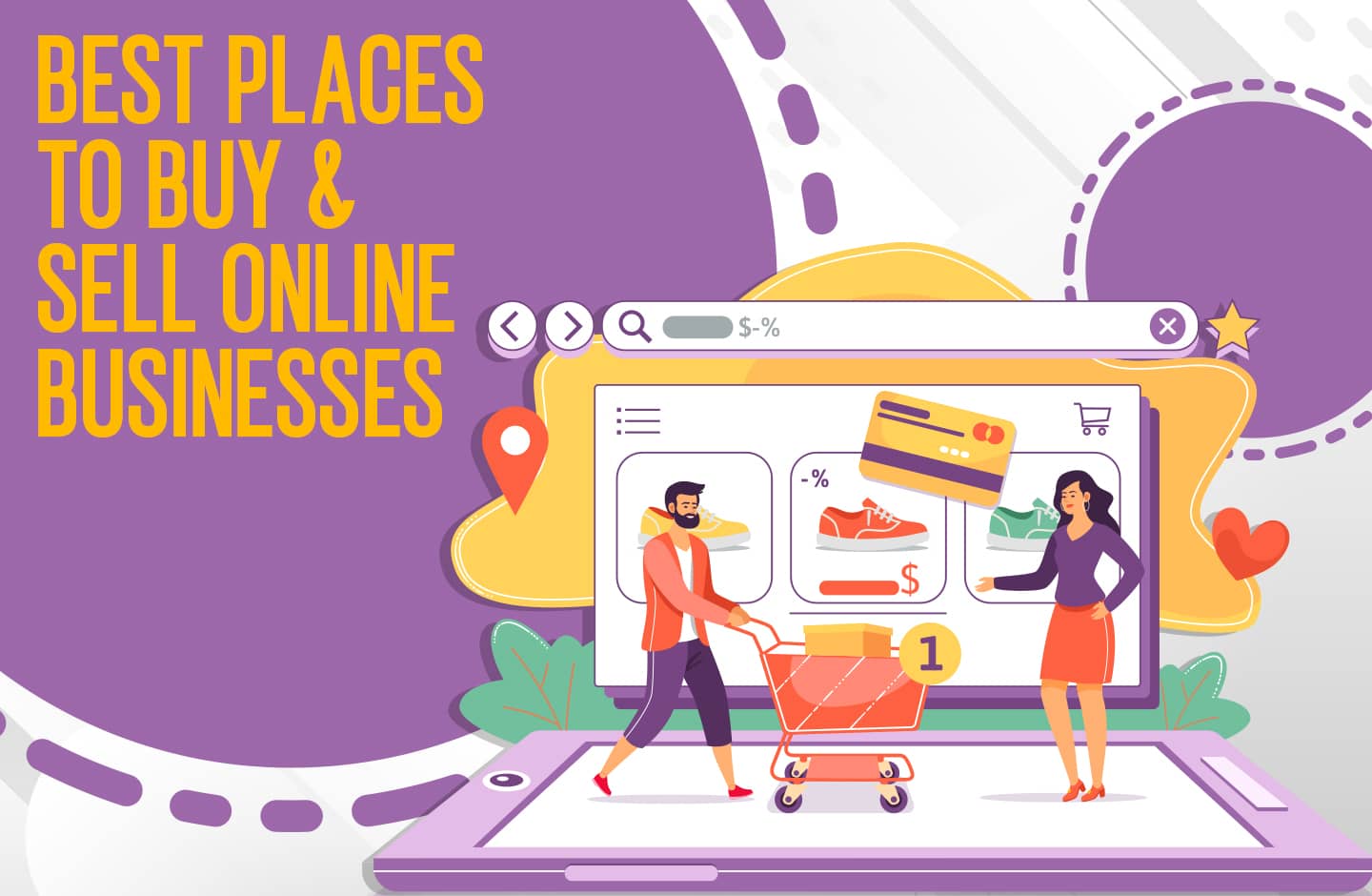 Buying and selling a company online can seem a bit daunting. With so many companies making the switch any business needs to have an online presence or even more so be completely online.
Did you know 1.79 Billion people shopped online last year? Every year people move away from brick and mortar for the convenience of online businesses.
There are so many online business models to choose from. Whether you're looking to purchase a successful online business or sell your own these marketplaces will help facilitate the transaction.
What You'll Learn:
The 8 Best Places To Buy and Sell Online Businesses

Pros & Cons of Different Types of Online Businesses

Considerations When Purchasing an Online Business

How To Value an Online Business
The 8 Best Places To Buy and Sell Online Businesses
1. MicroAquire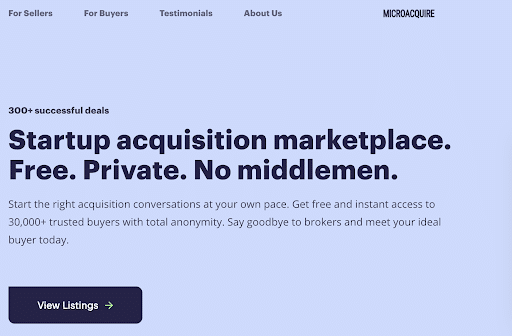 MicroAquire is a company that facilitates the buying and selling of startups. Getting acquired can be a time-intensive, cost-intensive, and labor-intensive process.
MicroAquire looks to bridge that gap by helping anonymous purchases and anonymous sellers meet in the middle, at their own pace.
MicroAquire does have a "premium" offer that allows buyers to be alerted to sales earlier than other memberships. Remarkably MicroAquire does not take a commission from the buyers and sellers using their platform. Premium is the only way they make money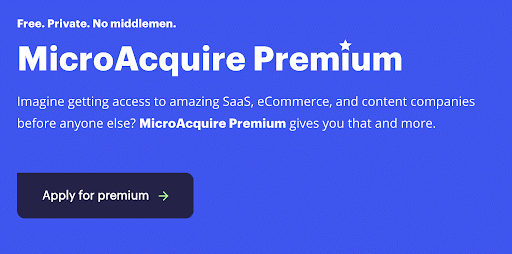 MicroAquire Premium Includes:
Instant email notifications for new listings

Premium buyer badge

Access to top startup sellers
For Sellers:
If you're a startup selling online businesses, MicroAquire is worth exploring. With over 30,000 users on the platform, it's likely someone is looking to acquire the online business you've created.
As a seller, you likely want to keep your sale the hush-hush. Maybe you're just trying to get a feel for the market value of your business and don't want to cause unnecessary drama. Later on, we will get into a few ways you can value your compy. MicroAquire keeps everything anonymous from who your company is to who potential buyers may be. This allows you to reveal the sale only once it's gone through and on your terms.
To Sell on MicroAquire:
Setup your account:

 This includes – Company name (which they keep private), website URL, what you do and why you're selling, asking price, growth forecast, financing or funding, and a team pitch deck.

Respond to private messages:

 Potential buyers will now be able to message you. Prepare any data they might want to see.

Meet buyer

: This part of the process is also private. You will receive a 30 letter of intent. Financials will be processed and just like that you've sold your online business.
For Buyers:
MicroAquire doesn't collect commissions from buyers either so the amount you want to pay for an acquisition is it. You also remain anonymous through the buying process.
To Buy on MicroAquire:
Sign up for premium: 

This will allow you to have first dibs on startups directly to your inbox.

Crunch the numbers:

 Startups will have provided key data for you to analyze. Comb through it and contact sellers for more information.

Sign the deal:

 Once you find a company to acquire, pull the trigger. Send over your intent to purchase and sign the paperwork.
Pricing
MicroAquire is free to sell your online business. The only cost involved is for potential buyers who want to purchase premium.
Premium costs $290 a year.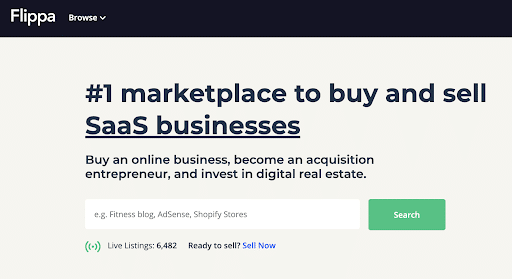 Flippa claims to be the number one marketplace to buy and sell online businesses, e-commerce stores, blogs, and digital real estate.
Flippa works pretty much as Zillow does for houses. The site will list a business for sale, give you an estimate of what it thinks the true value of it is, and provide you with relevant statistics.
For Sellers:
As a seller, you have an option to "Get a Valuation".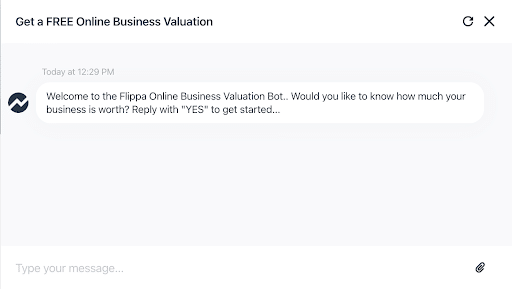 A valuation will provide you with: 
How much your business is worth

Insights to improve sellability

Historical sales data of businesses that have sold in your niche

Access to buyers
Getting a valuation on Flippa is free. Simply chat in with a rep and answer their series of simple questions. After that, you'll be ready to sell your business. 
You can sell on Flippa in just three easy steps.
List your asset for sale. Make sure you've evaluated the value of your company accurately.

Get matched to buyers. Flippa claims 30,000 new buyers join monthly.

Make the sale

. Flippa will charge a percentage of the sale as a "success fee".
As a seller, you can pay to have your listing boosted in the rankings and drive more traffic to it.
For Buyers:
When you're looking to buy an online business, you need as much information as possible. Flippa offers buyers a "Due Diligence" report.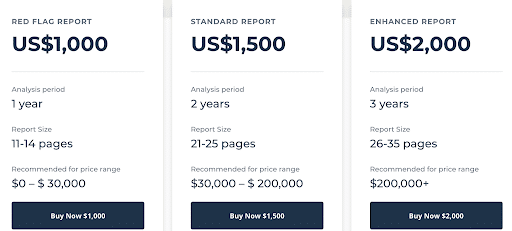 The Due Diligence report includes:
Revenue verification and analysis

Expenses verification and analysis

Inventory analysis

Profit risk assessment

Tax returns

Traffic auditing

Sales & marketing analysis

Industry & competitor analysis.
As a buyer, this is an investment. You wouldn't buy a house without a thorough inspection and purchasing this comprehensive due diligence report is just that. I think this report is worth every penny.
Pricing:
Flippa collects a success fee, or commission once a sale has gone through.
$50k or lower sale price – 10% success fee

$50k-$100k sale price – 7.5% success fee

$100k or more – 5% success fee
If you are a seller you will pay a listing fee.
$49 for established websites and online businesses

$15 for starter/ template websites, iOS, and Android Apps

$10 for domains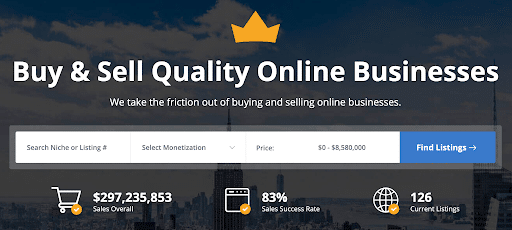 You're looking for online businesses for sale Empire Flippers is worth exploring. Every Monday Empire Flippers publishes a new list of businesses for sale on their marketplace.
This site is designed to streamline the process of buying and selling online businesses. While this site doesn't have the same volume of sites for sale it does have some high-quality sites.
The company is huge and they have entire teams dedicated to vetting buyers and sellers. They also have a team of migration experts to help transition the sale once it is complete.
For Sellers:
As a seller, you can use their "Valuation Tool" to get an idea of what your site might be worth.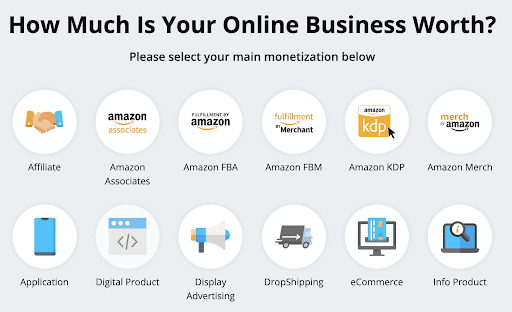 To use the tool you'll need to provide:
The date the business was created

Average monthly gross revenue and expenses

Average monthly unique visitors

How many email subscribers do you have (if any)

Number of social media followers (if any)

Plus, more specific information for some businesses like the number of products, downloads, revenue models, etc.
From there you follow these steps to list your business:
Submit your business

: Empire Flippers will conduct a review of everything you've submitted.

Listing review and approva

l: Empire Flippers will list your business and follow up with any final assets needed.

Publish and accept offers

: Empire Flippers will put your listing out to hundreds of qualified candidates.

Sell your business: 

Empire Flippers will help you structure your deal to get you the most money and even help facilitate the handoff of the business.
As the name suggests SideProjectors is a marketplace to list a business for sale or purchase. Besides that, it is a place to show off projects you've been working on or even find a co-founder.
The great thing about this site is that you don't have to sell a perfectly polished product. Got a site that you've lost passion for? You can sell your side projects as is with this site.
What to expect:
A summary of the project

What platform it is built on and how it came to be

Why the seller is looking to sell

Growth ideas for the future buyer
For Sellers:
SideProjector is a great place for sellers you can sell a website, e-commerce blog, domain, and more.
To sell on the site you'll simply click "submit a project" then select, "I would like to post a project for sale".
You will then submit the URL to your project and the tool will strip out as much information as it can from your site.
Besides the information that is automatically gleaned from your URL, you should spend time giving all the details of the efforts you have put into your site.
From there you can expect a 24hour analysis time before your listing goes live.
For Buyers:
Unlike some of the other buying and selling tools I've mentioned SideProjector does not facilitate the sale. It will be on you to do your due diligence. You'll want to read up on the seller's agreement to know their perspective.
Make sure to communicate with a seller in person and double-check all of their claims. SideProjector is not responsible for the buyer's and seller's communication or success rate.
Pricing:
The only price you pay is $3/ month to be a member of SideProjector. Since the site does not facilitate the sale it is simply a place to get in touch with fellow side project masters and collaborate on something special.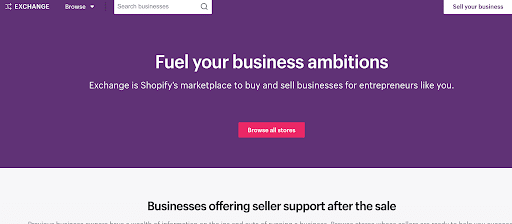 Shopify, as you likely know is an all-in-one commerce platform to start, run, and grow a business.
Did you know Shopify powers over 1,700,000 e-commerce stores?
With that much inventory, it's no wonder they've developed their marketplace dedicated to buying and selling Shopify stores.
If you've owned or operated a Shopify store you know how easy they are to plug and play. As a buyer, it's enticing to purchase a store you have familiarity with.
For Sellers:
As the seller of an online business you will need to follow these steps:
Create a public or private listing.

 We recommend keeping your listing private because you might not want to let your team or customers know the site is on the market.

Listing shown on exchange. 

Your listing is then shown on the exchange to thousands of potential buyers.

Buyers contact you

. Messaging is anonymous and the Exchange handles payment securely.

The site is transferred. 

Once the site has sold Shopify securely handles the exchange.
For Buyers: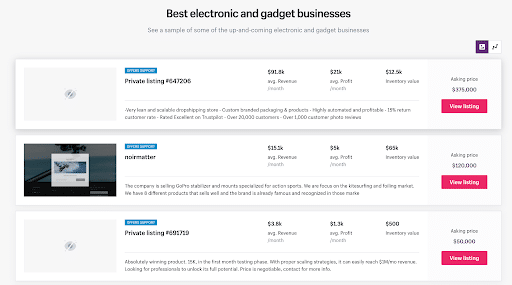 As a buyer of an online business when you visit the Shopify Exchange you can expect to find listings of all available businesses.
Since Shopify is both the host of these sites and the company facilitating the sale they have inside access to the key data points within the site. Sellers can not edit sales information since you're getting it directly from the source.
Shopify will give you metrics like type, location, product mix, sales information, and more.
Price:
You can expect to pay Shopify a small percentage of the sale once it is complete. There is no fee for listing your site for sale.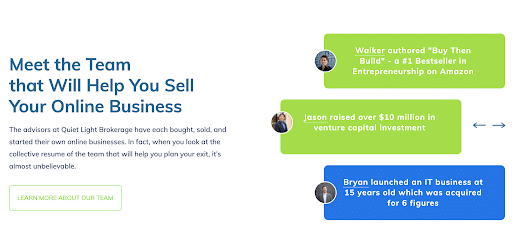 Whether you're looking to buy an online business or sell your online business there is a lot of complicated legal paperwork to navigate. Some of these deals can be multi-millions of dollars. You want a team to work through the deal with you.
QuietLight Brokerage offers just that. You get a dedicated team to help you find the right business or buyer for your business, do the due diligence on the company or buyer, and navigate the sale and transition.
For Sellers:
If you're looking to list your business for sale on QuietLight you can expect to get a free "valuation".
From the valuation tool you will get:
A valuation of your business.

Strategic advice. Even if you decide to sell at a later date.

A phone call with a broker. This broker will be your personal guide through your whole selling process.
For Buyers:
As a buyer, you can sign up for their emails to get listings sent directly to you. If you check the businesses listed you'll get a clean catalog of all the online businesses for sale.
You also get access to relative metrics you'll want in making your decision like revenue, income, and some background on the business.
Price:
Like any brokerage, QuietLight takes a percentage of the sale as a commission for the sale of the business.
Their email list is free to sign up for.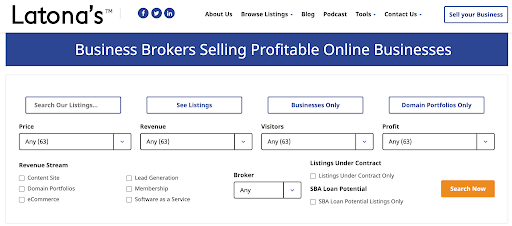 Latona's is a small Mergers and Acquisitions broker that specializes in profitable digital online businesses such as websites, eCommerce, membership, lead gen, and software-as-a-service businesses, and domain flipping.
Latona's was founded in 2008 with a mission to match investors with online business opportunities and entrepreneurs with investors that can take their business to the next level.
For Sellers:
You can either reach out to Latona's by phone or by filling out the form on their site.
From there they will provide you with a quick introductory guide. The guide will give you an overview of the approach Latona's takes to selling your online business.
Latona's method for matching your online business to the right buyer is based on three core components:
A comprehensive free evaluation process

Instant access to a large and active 

buyers' network

Fully guided transactions from their team of expert brokers, providing hands-on assistance with the sale and transfer process.
For Buyers:
As a buyer, Latona's offers a huge variety of businesses for sale listed out b type of online business. You have the option to filter the listings by keyword, price, revenue, visitors, and brokers. 
You do need to become a member of the site to receive the full listing information of the digital assets. The full listing information includes:
Full In-Depth reports on each listing

Access to Open Houses – Recorded screencasts with the business owner

Full Access to Listing Prospectus
Pricing:
There is no fee to sign up for a membership on Latona's. There will be a service fee charged as a percentage of the sale.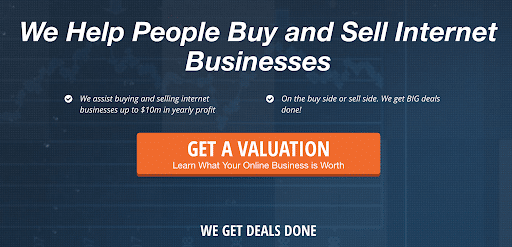 Digital Exits is a site that brokers the deal between potential buyers and sells of a digital business.
If you are looking to buy or sell a small-scale business this is probably not the site for you as they specialize in businesses with $250k- $5 million in annual profits.
The company claims to have a clear advantage of being "by entrepreneurs, for entrepreneurs." As a result, they know a lot of your fears and struggles and want to help you overcome them.
For Sellers:
To sell your business on Digital Exits you'll:
Submit a valuation request. 

You'll enter the details about your business into a form.

Wait to be contacted: 

On this call, you can expect to provide financials and traffic reports.

Digital Exits will provide an evaluation

: Digital assets will give you a report on what they believe is the true value of your company.
For Buyers:
As a buyer, you have the option to finance the business you wish to purchase. If you have $300,000 in the bank you can finance up to $3 million of a new business.
Pricing:
Digital exits charge a 10% gross commission on the sale of your business.
​​Types Of Businesses You Can Buy & Sell Online 
You can read my in-depth guide on the top online business models buy here is a breakdown of the most common ones.
Blogs:
Everyone wants to know how to make money blogging. All you really need is a robust SEO strategy, quality content, and affiliate links within the site.
If you are looking to buy a blog you should look out for:
How many visitors does the site receive?

Is the content on the site ranking?

Are there affiliate links that are generating reliable income on the site?

How many ways is the site monetized?
Example: Muscle & Fitness is a great example of a blog that would be worth acquiring. The site gets a ton of traffic and is filled with affiliate links.
Dropshipping sites:
Dropshipping sites are a great online business to acquire because you don't have to hold any inventory. If you want to know how to build a dropshipping business you can read my free guide.
If you are looking to buy a dropshipping business you should look out for:
Who is in charge of fulfilment for the site?

Do they have a good track record?

Are they international or domestic?

How much revenue is the site producing?
Example: Oddity Mall is an example of a dropshipping site that has products from a variety of vendors. You might want a site that only works with one vendor to simplify the relationships between yourself and the company responsible for fulfilment.
Domain Flipping
Domain flipping is a great way to buy and sell online businesses. You can purchase a domain that has some traffic going to it, give it a little refresh by improving the content on it, and then sell it for a profit.
When you're purchasing a domain look for short domains that other businesses might be interested in. Another option is to look for local domains like "San Diego dentist" Or "San Diego optometry". chances are a business will want to purchase that domain.
You can find great domains to buy on Sedo.com
Things You Need To Consider When Buying an Online Business
Traffic:
You need to pay attention to how much traffic the site is garnering. Traffic is the lifeline that will keep business coming into your online business. The more traffic you have the more people will see your offers and make purchases.
It can be hard to generate traffic to a site that has been flagged by Google as a problem site so do your due diligence beforehand and make sure the site or business gets a lot of monthly traffic.
Monetization:
You need to analyze all the ways the online business you are purchasing is monetized. For example, if you purchase a site that is filled with affiliate links you need to make sure those links get swapped over to your account.
You also need to look for opportunities to furth grow the site's revenue. Maybe there is an option to turn the online business into a membership site or to sell a course.
Expenses:
Even if a site is profitable and a good source of passive income you will still have fees. Everything from hosting to your domain will cost something. Make sure you are aware of all of the expenses and upkeep associated with your online business.
Reason For Sale:
You will get pitched on many businesses that are cash cows. You want to get to the root of why the seller wouldn't want to hold onto such a money-making machine. 
You can put contingencies into your contract that the business should continue to generate a certain level of money for you for a given time.
Things You Need to Consider When Selling an Online Business
The Value of Your Business:
As you saw above most online business brokerages value business for free. Shop around and pitch your business to a few of them to see who gives you the highest evaluation. You might be surprised at how much they can vary.
Are You Selling Your Team?:
Chances are your team has helped you become successful. Navigating a sale can mean you as a founder stay on for a period of time and your team is included in the purchase. You'll want to have a clear understanding of how much you want to let go of.
Maybe you want to sell just the business and retain your team for a new project. Either way, you'll want to ensure your team is taken care of.
Get Your Data Together:
Make sure you have financial statements, traffic reviews, monetization reports, and all KPIs, or key performance indicators ready to share with a potential buyer.
Having all of these pieces will justify a higher sale price for you in the end.
Conclusion
I hope this guide helped you find a few places to begin your journey of buying or selling an online business.
Building an online business can be so much fun but selling a successful one is a true sign that all your hard work was worth it.
Both buyers and sellers should do their due diligence when it comes to facilitating a sale to make sure the transition goes smoothly and both parties are happy with this outcome.